Beartaria Times Artists of the Week!
MC-Bear announces artists of the week.
We will feature 3-5 artists each week as artists of the week.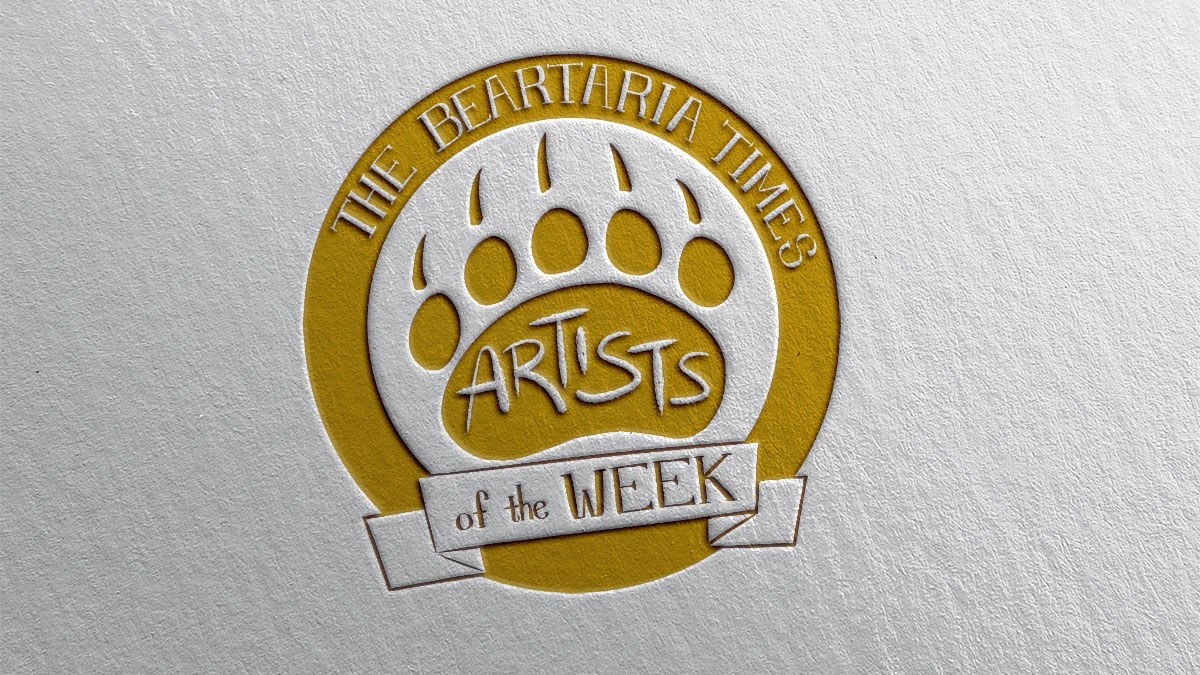 Greetings Bears! I'm very excited to announce The Beartaria Times Artists of the Week! This will be a weekly contest featuring 3-5 artists in our community! The goal is to promote Arts & Crafts within our community and give support back to the creatives that help make the world a beautiful place.

Whether you're a creative in the industry, like to paint on the weekends, or crochet for your local church bazaar, send in your submissions for a chance to be featured on the bear's number one source for ungrabbled media, The Beartaria Times!
Submission
Please send all media directly to arts@beartariatimes.com. Acceptable image formats are .jpg, .gif, and.png. If your files exceed 20mb please upload to your favorite personal cloud storage such as google drive, dropbox, or onedrive, and send a link. Videos are acceptable as well just make sure to provide a link to youtube or vimeo.
What to include in your submissions
Along with the media you like to feature, please consider sending along a short excerpt of who you are, your goals as an artist, and where you are located. Websites and personal social handles are also encouraged.
Deadlines
You will have until Friday 9PM EST each week to send in your submissions to be considered for the following week's gallery. All submissions after this cutoff will still be considered for the week after next. The artists of the week will be featured Monday's at 9pm EST
Rules
All ages are accepted and creative trades accepted. We would like to avoid macoronni fridge art but if the community desire is strong enough we may do a less competitive kids arts and crafts gallery in the future.
All submissions must be sent directly to arts@beartariatimes.com. All other forms of submission will not be considered.
Media deviating from the aforementioned formats will not be considered.
Multiple submissions will not be considered each week.
If you are not selected as one of the featured artists, and would like to be considered for the following week, please send reply to your original email as "resubmission" with any specific alterations
Good Luck!
We are experimenting with this format so lets have fun and promote some amazing artists & crafters! We will make necessary changes along the way but who knows what this will turn into! Monthly, quarterly, and yearly titles/prizes are possible. It is all up to you as a community how we will utilize this corner of Beartaria times to promote the Arts and Crafts!
Best Regards,
MC-Bear
October 19th 2020 Artists of the week
Good evening Beartaria Creatives! We are back up this week with some amazing traditional and digital art. Thank you for bearing with us while we updated our email security. If you tried to send a submission and received a kick-back, please send it again as our system is back in action. We hope you enjoy it!
Click on the gallery images to view at full proportion.
Please send all Artists of the Week submissions directly to arts@beartariatimes.com. Include a short bio, piece title, piece description, and social links.
Below are October 19th, 2020 Artists of the week!
Daniel Ramos | KatanaBear
An independent Artist based in Chicago (born and raised). Been a member of the Bear community for a few years now, its' awesome. Drawing is something I've always enjoyed doing. Whether it was just doodling in class or at home, it's just a fun time for as long as I can remember. I've always loved animals and nature as well as music, which is a common theme in my art. I'm beginning to take drawing more seriously and am striving to improve and develop my overall style and to help share the beauty of God's gift to us through art. Nobody is having more fun!
John Bradley
John's Social Galactic | John's Poster Archive
I had an art project from 2001-2010 wherein I produced close to 500 "historic racing posters / program covers" for a PC game called Grand Prix Legends, which simulated the 1967 F1 season.
The earliest ones were just cleaned-up scans of 'real' pieces from back in the day, but I quickly started doing my own designs using the tropes of the day (a lot of 2- and 3- color prints), and then went off the deep end with designs that had nothing to do with the reality of '60s design. (e.g. for "historic festivals" ostensibly taking place in the current day)
Most of the 500 were done at the low in-game resolution (281×431), or at a not-very high 3x size (843×1293), which is good enough for looking at on-screen. But around 100 of them were drawn at a 12x size (3372×5172), good enough for 20×30 posters – I have a bunch of them displayed in my house, and a full set of same in my portfolio.
They're free and un-watermarked for anybody who wants them.
All the work was done in Photoshop, Illustrator, or Metacreation's Painter 9, or some combination thereof, depending on the art style in question.
Dylan Smith | King Richard Bear
Daisy-Anne Dickson
Daisy's Instagram | Daisy's Facebook | www.theWOKEstudio.com
I am an artist living and working outside of Atlanta, GA. I have been drawing and painting ever since I can remember, as a small child. Creating and art is a way to rest and recharge my soul and I find enormous solace in it. I did go on to study art at Oglethorpe University and earned a Bachelor of Arts in 2004. Later, I would go on to earn a Bachelor of a Science in Nursing. I am currently working as both a freelance artist and a registered nurse in emergency services and surgery. I find time to create art and accept commissions in my "off" time. I am also a wife and mother of two. Finding a way to care for myself, so that I may better care for others, has become especially important to me this past year—and art has given me that.
My work could be best described as narrative and often combines both my love of art and science. My preferred media is acrylic paint, ink and paper collage on canvas or wood panels. I also enjoy printmaking and often implement concepts of printmaking, such as repetition. The use of vibrant colors and botanicals, especially roses, has become a recurring theme in my recent work.
I am submitting my painting "A to Z and Back Again, with Rose Colored Glasses". This painting is about removing our ego from a painful circumstance, where we feel we might have already failed or about to give up. It's about letting go of the past hurt and pain, to allow ourselves the chance to start over with a better outcome. Ultimately, it is rooted in the lesson of forgiveness.
Title: "A to Z And Back Again, with Rose Colored Glasses"
Size: 18" x 24"
Media: Acrylic, ink and gold on canvas
Jacob Whalen
Jacob's Instagram | Jacob's Behance | www.Jacobwhalen.com
I have been involved in this community since BB's video on the Notre Dame Cathedral last April. I am an independent Catholic artist and songwriter. I feel like this is a world where I tend to have more to say or share, especially in the public square.
Thank you to all the creatives who submitted their portfolios this week!
We look forward to seeing everyone's visual creativity! Continue to create and seek the Good, the Beautiful, and the True. Onward to Beartaria!
You can find out more about the Artists of the Week here.
Sincerely,
MC-Bear
Logos & Beauty. Bridging The Gap Between Traditional Art & Digital Design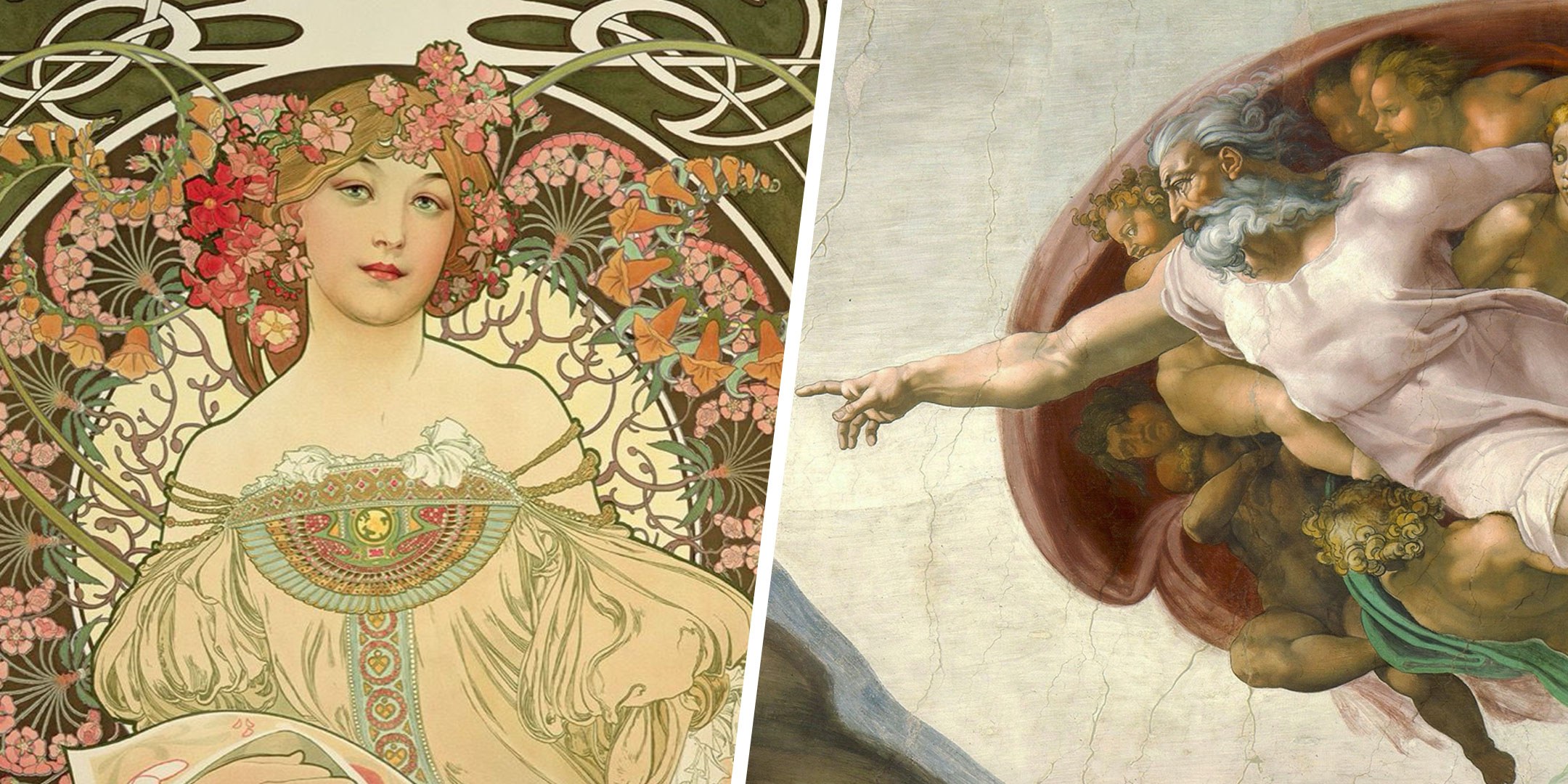 Visual Creativity can be a powerful tool and whether you choose to create with nature, on canvas, or on your MacBook pro, it is all based on two foundational elements, Beauty and divine order, or Logos. Do we create as God does? No, but we strive to follow and emulate the path that he lay before us. No matter your skill level or understanding of these elements, we each have an inherent intuition to strive towards beauty and live in logos.
The visual arts are a way to express and illuminate something greater than ourselves.
No matter the tools you choose to use, visual creativity can become a way to better understand and express the Divine. Are there certain tools or mediums which get closer to Beauty or become a purer form of visual artistic expression? No, toolsets evolve over time, and Art is naturally embedded within Design. There are, of course, Art forms that do not serve Beauty and the Divine, but that is a rabbit hole for another time.
Just as Beauty is better understood through Logos, so too is Art through Design.
Beauty exists through logos. You can debate whether or not this statement is true but there is no denying nature and reality. The argument of whether you can equate Art with Design is the same. With all things creative, the argument is often stirred by the subjectivity of personal style or taste, but this will only lead to more ignorance and uncertainty. Pitting Art and Design against each other, or separating them independently is just as superfluous as the war on the traditional family unit. Yes, Art and Design serve separate functions but they are inherently embedded within the same system. Art often appeals strongly to emotion while Design serves a function. Design is reductionistic and relies on information to communicate whereas Art relies heavily on intuition and feeling to convey meaning. so how do these two realms of creativity connect? To help describe the relationship, let's take a look at music.
Music is another realm of creativity that is often viewed as very subjective and polarizing. What sounds good to one person is often nails on a chalkboard to another, therefore all auditory sounds can be considered music, right? No, this is extremely wrong; there are natural patterns and structures which allow frequencies to vibrate harmoniously together. Personal perspective, style, or taste do not refute what works naturally. Just as the triadic formula of 1-3-5 creates a harmonious chord and subsequently leads to a progression, so do the natural principles of Design create a harmonious composition and lead to a beautiful piece of art.
Design is the inherent structure of art and allows it to function harmoniously.
The best way to bridge the gap between Traditional Art and Digital Design, and to better understand the relationship of the visual creative field, is to take a look at the underlying principles and elements of Design. There are four main Design principles that digital designers and traditional artists should utilize; Frame, Balance, Hierarchy, and Unity. Within these Design principles are elements. Each element can be used to achieve and ultimately strive towards harmony and Beauty. These elements are contrast, proportion, emphasis, and repetition.
First, let's define the elements of contrast, proportion, emphasis, and proportion so we can better understand the overarching principles.
---
The Elements of Design
Contrast
Contrast is the state of being strikingly different from something else in juxtaposition. Some basic examples of this are light versus dark, vibrant versus subdued, or textured versus smooth.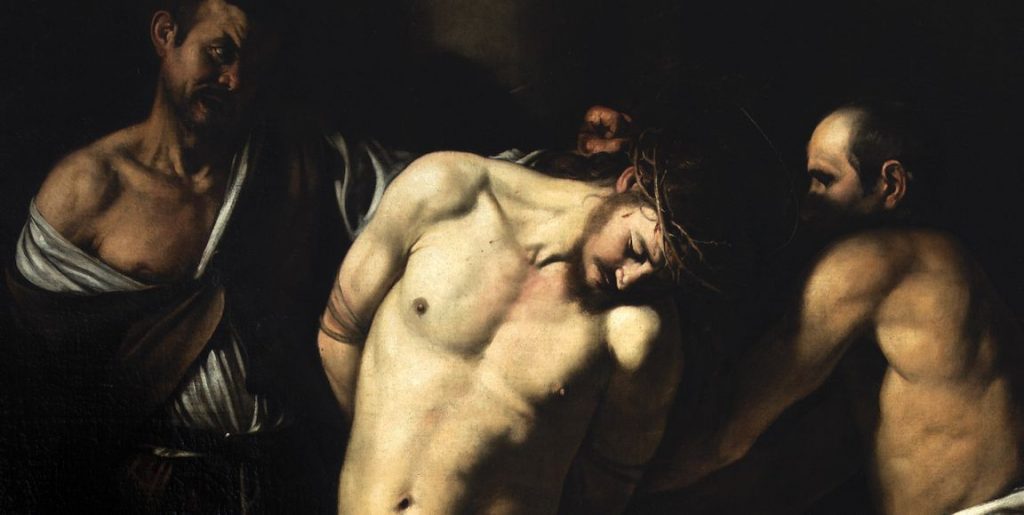 Proportion
Proportion is the comparative measure of scale between objects. Proportion is harmonious when the correct relationship between visual components is achieved.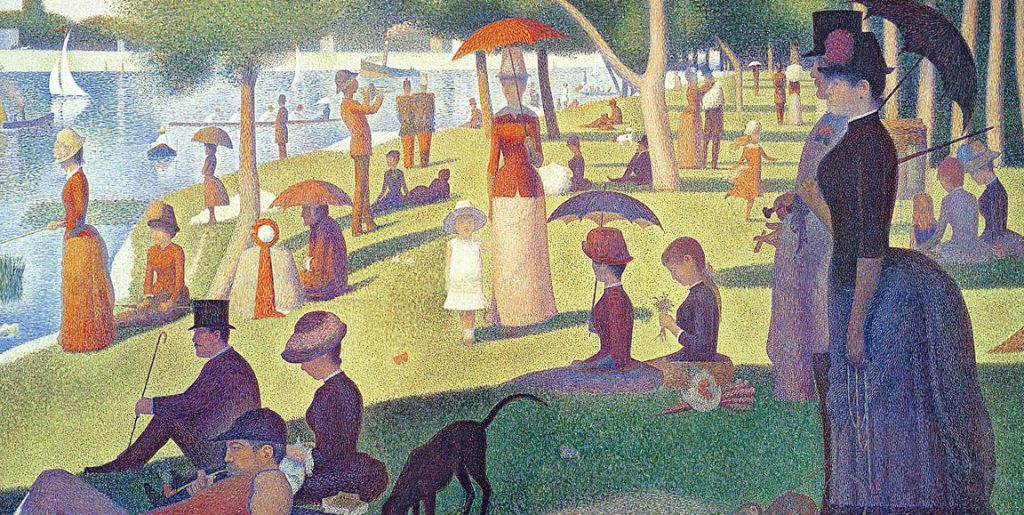 Emphasis
Emphasis is concerned with drawing attention to a specific visual component. When done correctly the eye naturally gravitates towards the component being emphasized.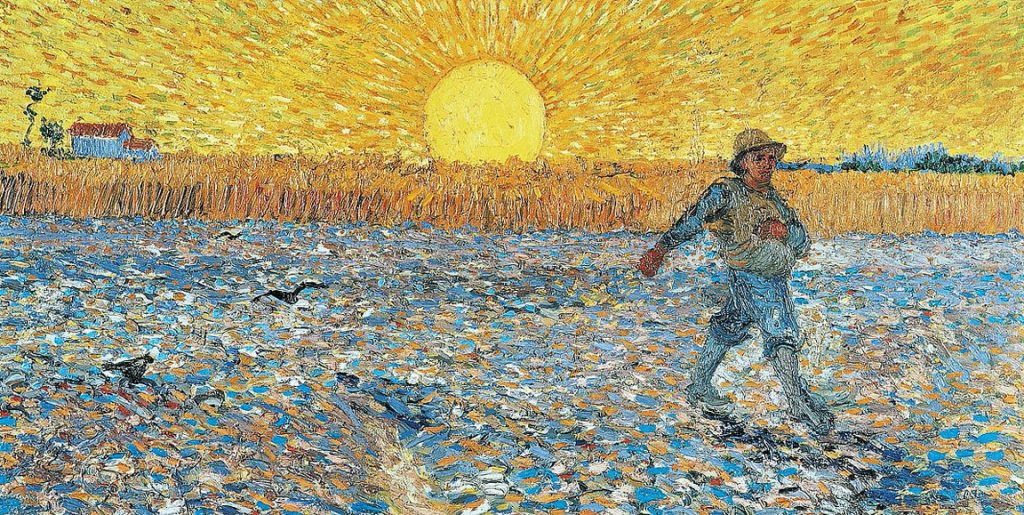 Repetition
Repetition is the number of repeating components within a composition. Using the same or similar visual elements throughout your design can ultimately help to create a cohesive whole.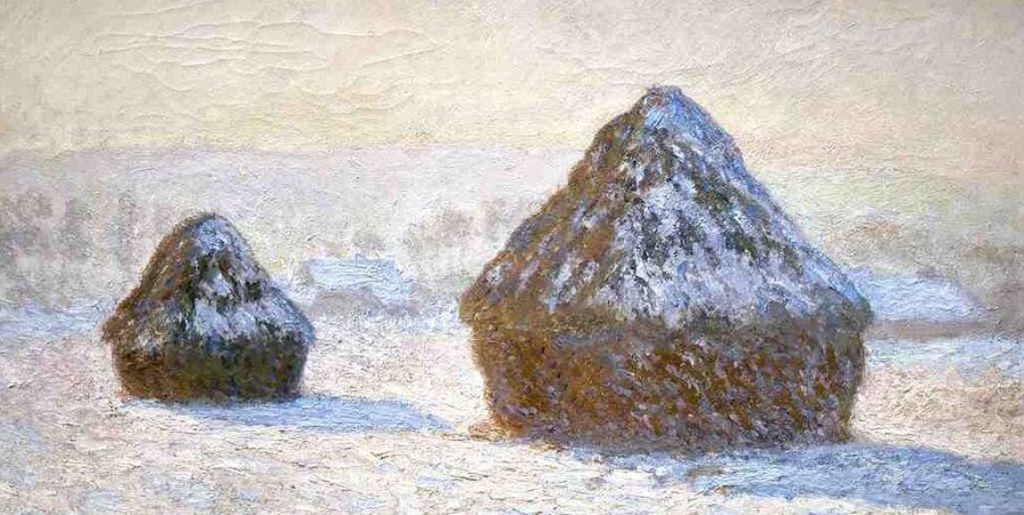 ---
The Principles of Design
With the elements of Design in mind, let's move on to the larger piece of the whole. Design principles can be utilized in order to create harmonious body of work.
Frame
Frame is the most important principle. All other principles and subsequent elements work within the frame. You must first identify the confines of your space and realm of which you will create. The size of your canvas comes before the paint medium, just as the paper size comes before designing a poster.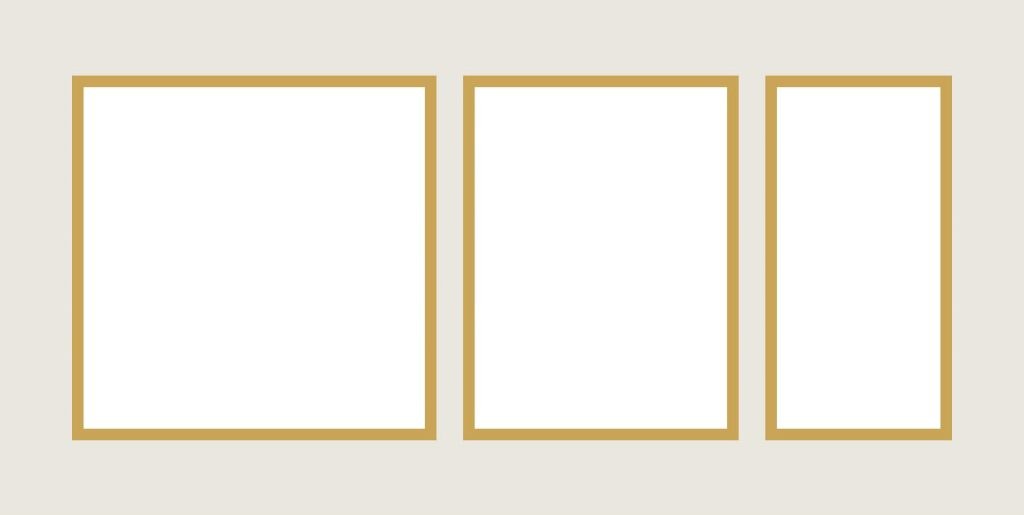 Balance
Balance is the visual distribution of weight. Each shape, brushstroke, or visual component takes up a certain amount of space and carries weight within the frame. Where you choose to distribute these components determines the balance of your work. Contrast, size, and shape can be used to achieve balance, as well as utilizing various forms of symmetry. A good example of this found in logo design. The visual relationship between the icon and the name will create a balance of the final mark.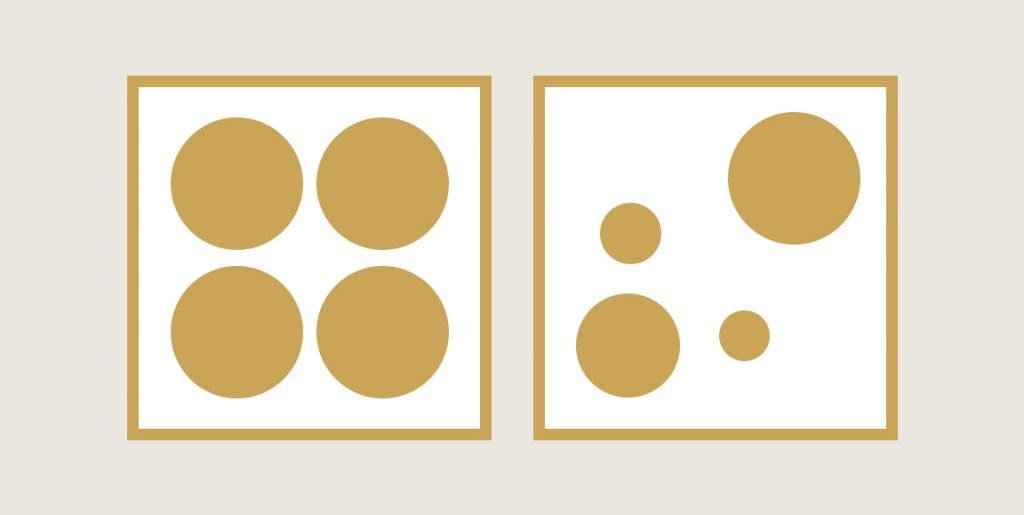 Hierarchy
Hierarchy is concerned with order and value. The visual components that are emphasized most will translate to the top of the hierarchy, whereas the components that are de-emphasized will support those at the top. It can be as simple as using proportion, shape, or color to establish a hierarchy. A great example of visual hierarchy is how any generic website is set up. The most important elements, the logo, navigation, header image, and call to action, are all at the top of the browser while supporting content is below.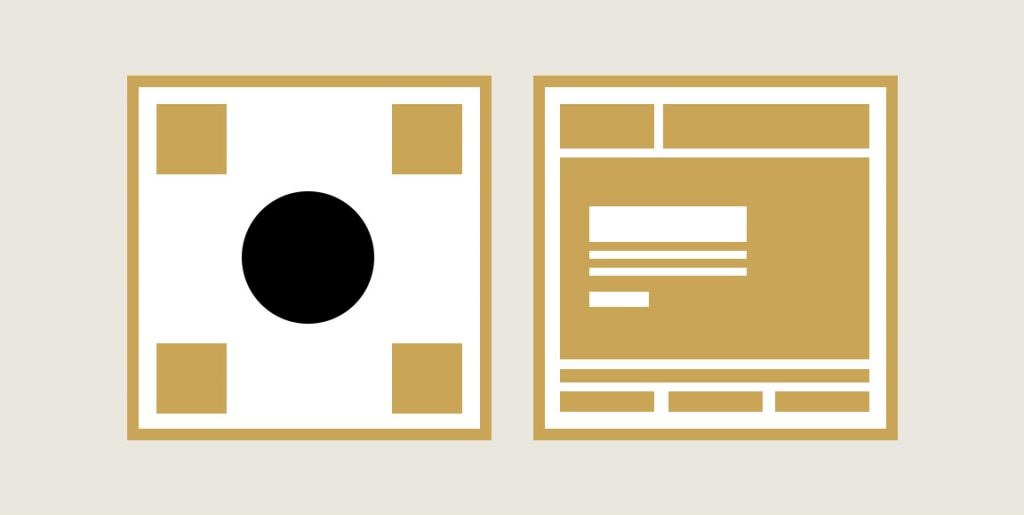 Unity
Unity gives your work a sense of cohesion and coherence. You are ultimately achieving completeness and connecting everything together. All other principles and elements work together in order to achieve unity. Creating an underlying grid can help achieve a sense of unity. Using natural geometric shapes and ratios to create an underlying grid allows you to work within patterns that naturally make sense. How will you tie the composition together in the end? This is what you should ask yourself while iterating and moving towards your final piece.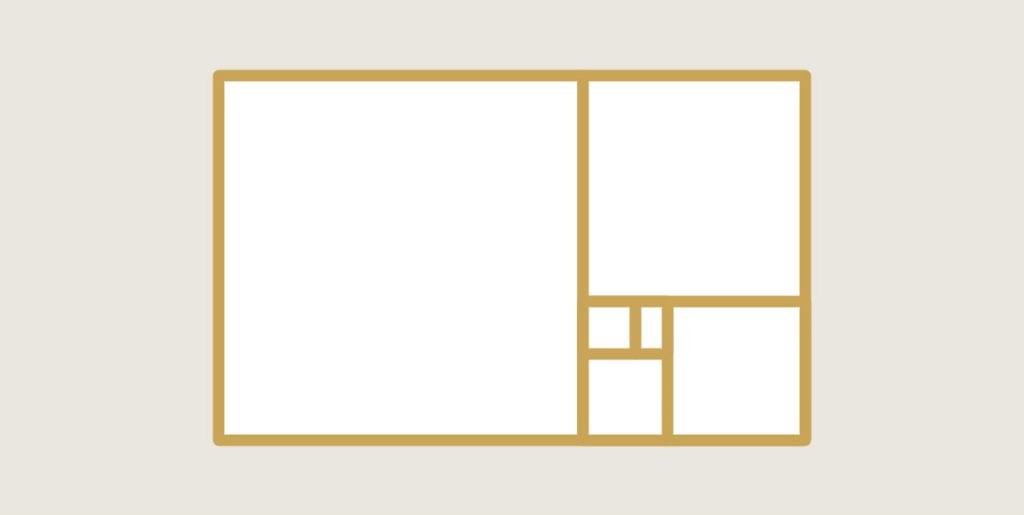 Utilizing these underlying principles and elements will help you create a cohesive and complete body of work. With anything creative, iteration, consistency, and practice lead to discipline and understanding. Whether you are naturally talented or have an interest in Art and Design, utilizing these principles will also help you get closer to Nature, Beauty, and Divine Logos in your work.
You will inevitably serve someone or something through your work, so choose to serve the Good, the Beautiful, and the True.
If you have any questions or insights on the matter of Art and Design please reach out directly to arts@beartariatimes.com.
MC-Bear

October 5th 2020 Artists of the week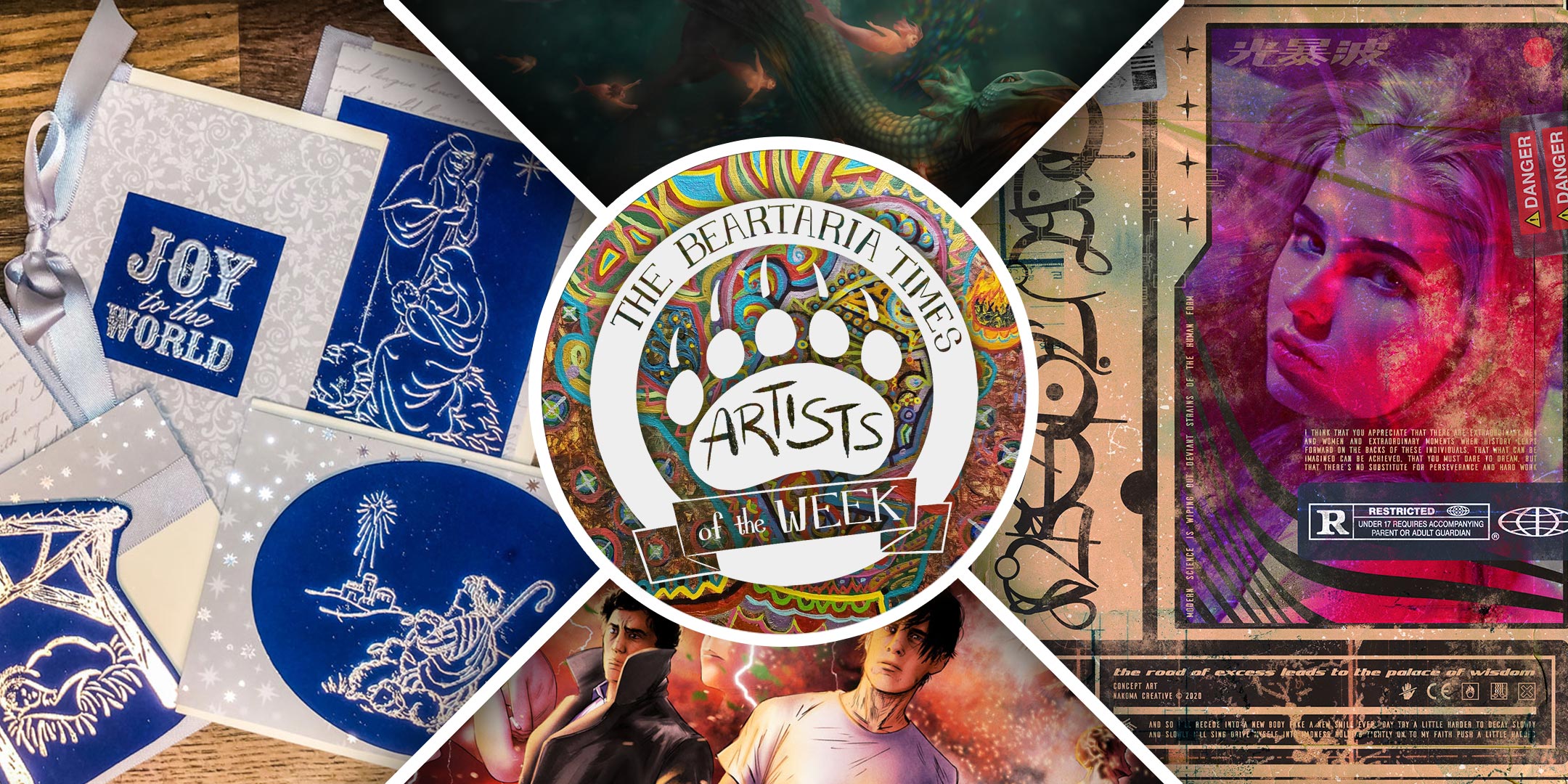 Good evening Beartaria Creatives! We had an astounding selection of creatives who sent in their portfolios this week! We are truly amazed by the visual creative talent our community has to offer. This week we see a little more from the professionals in the digital creative side, graphic design, as well as some seasoned Bears who go way back! Please enjoy.
Click on the gallery images to view at full proportion.
Please send all Artists of the Week submissions directly to arts@beartariatimes.com. Include a short bio, piece title, piece description, and social links.
Below are October 5th, 2020 Artists of the week!
Sean Mohler | OFB/Ohio Fire Bear
Ohio Fire Bear's Intagram | Sean's Art Instagram
My name is Sean Mohler also known as OFB/Ohio Fire Bear, I am a Christian artist from Cleveland Ohio. I have been painting for 15 years and specialize in the genre of abstract psychedelia. Colors, shapes and layering are my niche. It takes a long time to create a piece up to month at a time. No piece I ever do is complete I could keep working on it forever, but at a certain point it becomes good enough and I call it quits.
Titles: 1. Tangled | 2. Spirits | 3. Spiraling | 4. Moon Man | 5. Mufasa | 6. Salvation
Ty Mittelsteadt
Ty Mittelsteadt is a digital artist from Colorado and Chief Creative for Nakoma Creative
'Explore' is a work based on the Cold War era (and a design contest finalist).
'Mech' is a work about the future of the military and combat (if we continue the grabbling).
'Excess' is a work about breaking society's porn and vanity addiction.
Jessica Lynn Giroux | Lil' Doodle Bear (unbearified)
I am a soon to be mother of 3, specializing in watercolor, ink and pen drawings, papercraft and graphic design. I have been painting primarily with watercolor for the last two years and have taught myself graphic design for a marketing position I held at my previous job.
Art has always been part of my life in some form or another, as a child I loved to draw though I struggled with confidence in my ability and put it on the back burner through my college years. I picked it up again with card making/paper crafting especially after having children and have created handmade decorations and invitations for birthdays.
I started selling my paintings, drawings and cards after the advice and encouragement of my husband (Camera Bear). Together we have sold our artwork at local craft fairs and have had some commissions. What's better is that I get to share my love of art with my children. Getting to watch them grow and flourish as budding artists in their own creative way is a blessing.
Manuel Guzman | Lolo
Lolosart.com | In Search of Sacha
I've been a bear since before Owen Benjamin tweeted to James Dunn that he's a child abuser for putting his son on hormone blockers. I'm so happy to see how he and the community he formed has grown so much. Let's keep crushing.
Onward to Beartaria!
Thanks to hundreds of backers I held a successful crowdfunding campaign to complete my first book. Please be sure to check out In Search of Sacha, my fully illustrated fantasy storybook available now. Thank you!
Anthony Clark | Daydream Bear
Anthony's Instagram | Anthony's Comic Book Series Kickstarter
I'm a comic book artist that just launched a Kickstarter for the second volume of my series! SEASONS Volume 2: Summer is a fine piece of work, not suitable for young children, but has a good message. It's been independently made and has been my main focus since 2017. This book really exemplifies how far I've come as an artist
I don't know what you would call a professional comic book artist but it has been my profession for over five years now. Haven't worked for any of the major publishers so I guess I'm just considered independent. I've lived my whole life in San Fernando Valley California. I have no formal training. Drawing has always been something I have enjoyed doing.
As a kid I would get comic books and just enjoy the art. Eventually, I would read the stories associated with the art and realized my future as a storyteller. Movies played a big role and how I would visualize a panel. Especially Korean cinema. So everything I've learned I've learned through trial and error. No school. No college. Just experimentation.
I hope to one day make my own truly independent comics full time. My wife and I, along with our newborn son, are in the process of getting a house outside of Babylon. If God wills it, we can pursue a homesteading lifestyle.
Thank you to all the creatives who submitted their portfolios this week!
We look forward to seeing everyone's visual creativity! Continue to create and seek the Good, the Beautiful, and the True. Onward to Beartaria!
You can find out more about the Artists of the Week here.
Sincerely,
MC-Bear