Bloom Where You are Planted, A Letter From The Editor's Wife
Blooming where we are planted is what we're doing and we are so thankful we decided to do so.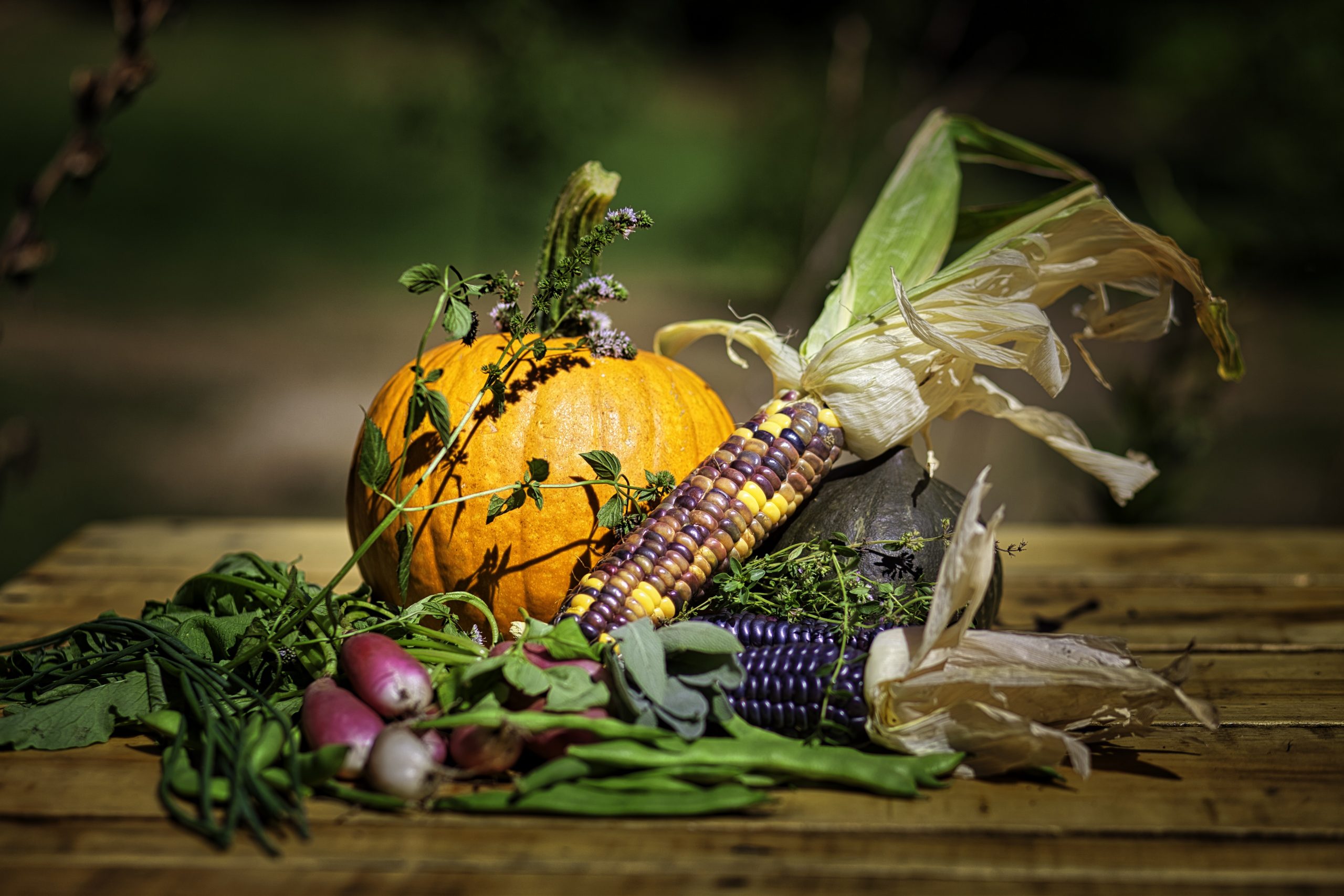 For a few years my husband and I have been discussing moving and having a homestead. We relished in the dreams of owning our own land somewhere south of Rhode Island where the growing season was longer and the weather more pleasant year round. A place of our own where we might have chickens, ducks, goats and a bountiful garden that could sustain us year round. However we have been on the outskirts of the system since the beginning of our marriage and made many sacrifices from the start to be able to have one of us at home with our children no matter what the cost. So we are here in Rhode Island living with his parents and forever grateful for the roof over our heads and a place to sleep at night.
It was late in 2019 when we really took the phrase "bloom where you're planted" to heart.

It really struck a cord with both of us. If we moved who would take over the roles we have assumed here? With his parents getting older and not in the best of health we have taken control of the more arduous tasks around the home. I had planted flower gardens that would need maintaining not to mention the snow removal in the winter to name a few. We still had some debts that needed to be repaid before we could make the move and money has always been a little more than tight around here, so we dug in our heels and said let's build a garden. We're going to bloom where we're planted and that's what we did.

Where do we start? How are we going to plant? What seeds need to be started inside? Which do we direct sow? What seeds do we even buy? Where do we get our soil and compost?
What spot in the yard is the best and how big should we make it? It felt a little overwhelming at first, with me at work and him at home starting the seeds and planning was difficult. I'm the family's green thumb though I didn't have experience with vegetable gardens. We ordered the bulk pack of seeds from Baker Creek and a few extras to start. We went to a local store where I knew we could get organic potting mix and pots for seed starting, purchased some grow lights from Amazon and we were on our way. It was a promising start. When our seeds arrived in the mail it was better than Christmas morning, eager to start I sorted through seeds that needed to be started early from those that could be direct sowed. It was late in February and the weather was looking promising for March which had us dreaming of what our garden would be. I started some seeds with my boys in cups and trays, properly labeled them and set them up with the grow lights. Boom we were on our way!

March came around and with it the start of the confusion that 2020 has turned into, but on we carried. While I was at work my husband built raised boxes out of pallets and placed them in the yard where we decided to put the garden! For the boxes we used the Hugelkultur method to save on soil and manure which was purchased from the same store as our seed staring supplies. We discussed in ground beds and where to place them, had the layout planned and the digging began. Meanwhile our seedlings were looking great, it was all coming together, then March came to a close and with it weather generally unheard of for this time of the year.

Living in New England there are risks of snow in March and April but what we got this year was not snow. It rained through most of April and the temperatures stayed in the low 40's. Not ideal for planting outside. It was a little discouraging to say the least and our seedlings were yearning for fresh soil in a new bed. When we had a break in the weather we planted the more cold tolerant seedlings. I soon discovered I was a little over zealous and not mindful enough when it came to the quantity of seeds I provided to my children when preparing the seed cups. We planted a few too many seeds in each cup. That was the first mistake. The weather improved once mid to late April hit and we were able to add more to our beds. The deeper into the current world situation we got the more we thought about expanding our garden. So we did. We added two more raised beds and a second in-ground bed. By mid May we had most of our direct sow seeds planted and all we could do was wait. It was at this point that we notice the lack of growth the plants in our raised beds were achieving. Confused and frustrated we started to analyze where we went wrong. It had to be more than just poor overcrowded germination pots. Poor soil quality? Not enough manure? Too much manure? We just weren't sure. We then stopped to consider what had been used for the Hugelkultur, pine branches from a tree that had been removed the previous year. The soil must be too acidic even for the tomatoes, nothing was growing properly. Mistake number two. So we started the boxes over, removed the soil, took the pine out, mixed in some new soil, added garden lime and filled the boxes again.

That was around the end of June, at the same time our local farmer's market had re-opened and we were able to reconnect with our favorite farmers. The connection was truly a blessing from God. We told them about our garden and shared our struggles. We exchanged business cards and they offered to give us some excess plants they were not going to be able to get in the ground this season. When we got to their farm we were more than surprised at the number of plants they were willing to give us. It was already the 4th of July at this point and the plants they gave us were going to end up in their compost so they were more than generous. The beets, tomatoes, eggplant, pepper and cucumber plants were more than enough to fill our boxes and some empty spots in our other beds! Not only did we gain plants for our garden but we formed a relationship with the farmers that allowed us to volunteer with them as a family and for my husband to go help a few days a week. Our time was compensated in fresh veggies and a discount every Sunday at the market though the experience and community building was payment enough.

From then on out as the weather continues to improve it was like magic. Our boys loved watching the plants grow week to week and I spent my mornings before work in the garden talking to the plants and checking to make sure every thing was growing well. After struggling a bit our greens finally took off, the potato plants looked amazing, we enjoyed peas and green beans fresh off the vine nearly daily. The pumpkins we planted were a lesson in themselves! Next time we will plant them in their own bed where they cannot climb all over the boxes and fence, though the fence made a lovely trellis.

Our mistakes have been good lessons learned. Less seeds per germination cup, bunny proofing before breeding season and preparing for pests of the insect variety before you find caterpillars on your kale in the fridge. The garden as a whole has been a learning experience for us and we know there are more mistakes to come. It's part of what makes this journey so beautiful. We started a new and smaller fall garden which is coming along though it didn't come without mistakes. You live and you learn, blossom and grow with your garden. If your family is involved it makes the experience all the more enjoyable.

Our 8 year old has read a book all about chickens, he knows all about raising chickens and can't wait to grow up and be a farmer. Our 4 year old absolutely loves playing in the dirt, digging the earth, looking for worms to add to the gardens and compost not to mention eating whatever he can get his hands on right off the vine. There is nothing like cultivating your land and watching your children enjoy the cultivation the land provides in return. Their homeschool curriculum is going to be based around gardening and nature moving forward which will only further their love for it. They have grown so much because of our humble garden this summer in so many ways as have my husband and I. Blooming where we are planted is what we're doing and we are so thankful we decided to do so. It has allowed us to see the path God laid out for us more clearly and presented us with new opportunities we never thought possible.

Who knew all we had to do was reach out to a neighbor with a jar of garden fresh homemade salsa and a job offer would be soon to follow. This opportunity is allowing me to come home for good, be with the children where I belong especially since we are expecting our third in December. It has also given my husband a new career path. We are blessed to be blooming here and look forward to all the adventures that come our way. This was the first of many beautiful things to come, God has and will continue to provide.
-Jessie (CameraBear's Wife)
@jessie_g_art_ on instagram
Metaphor in the Orchard
Even with near perfect conditions and preparation, unforeseen challenges will arise.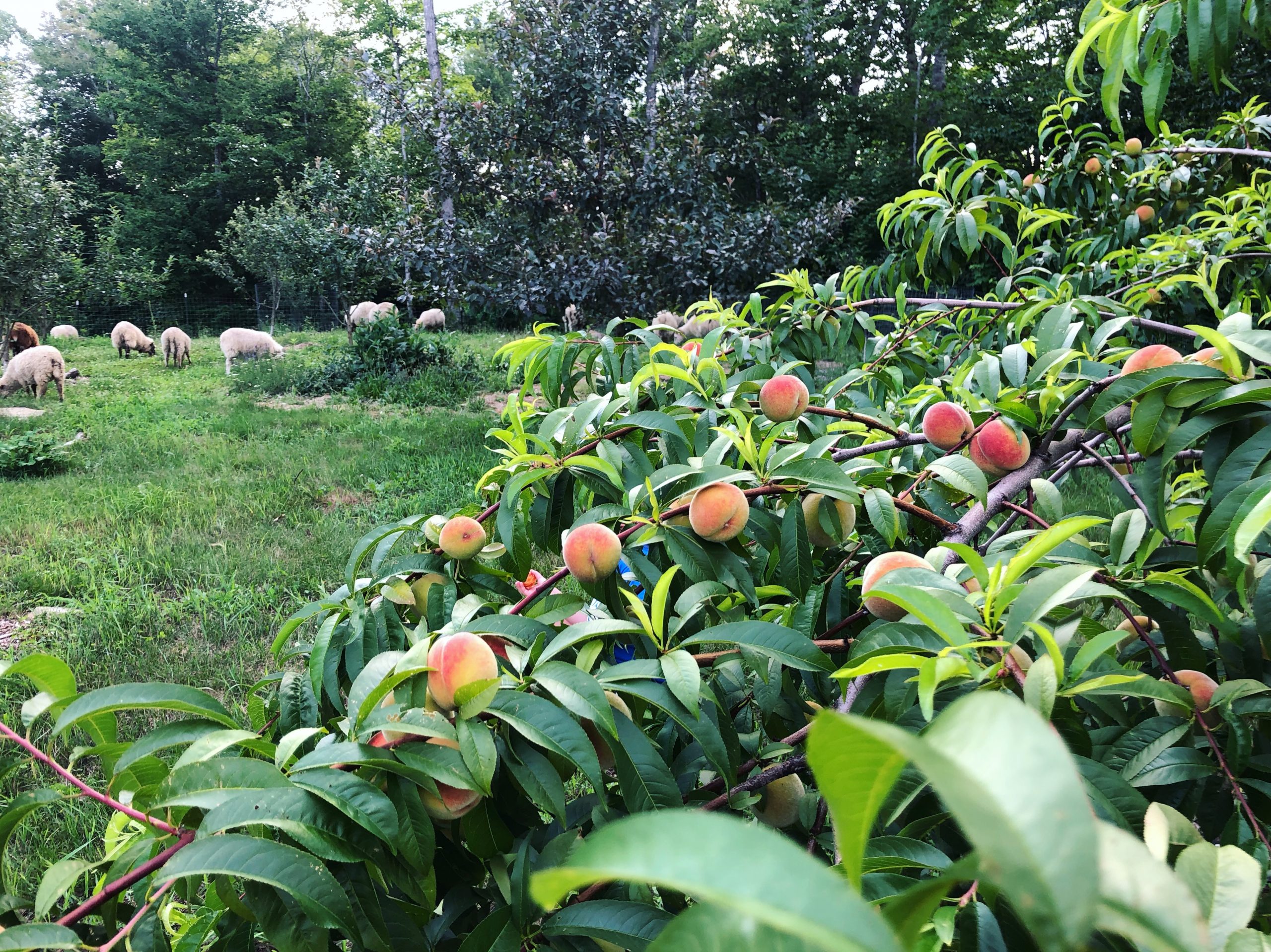 Our front "lawn" is an orchard. Apple, pear, quince, cherry and peach trees that our family started planting 4 years ago on freshly cleared, rocky Maine soil. It was dense woods full of maple, oak, beech, poplar, pine and hemlock.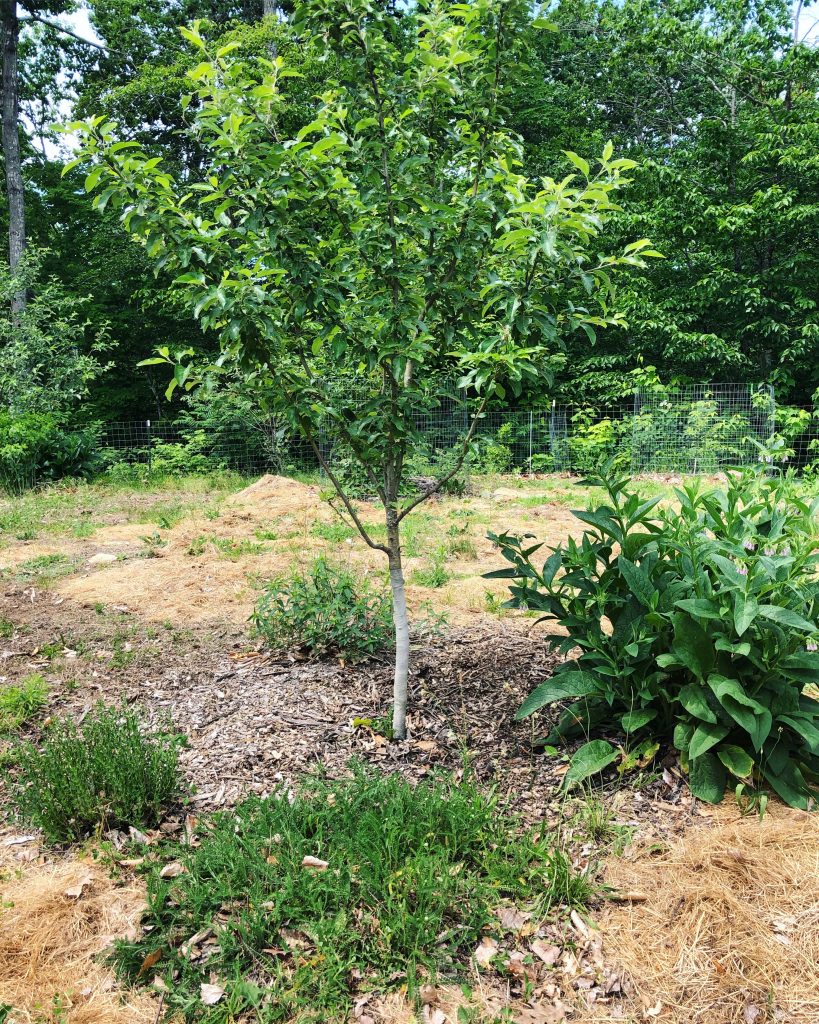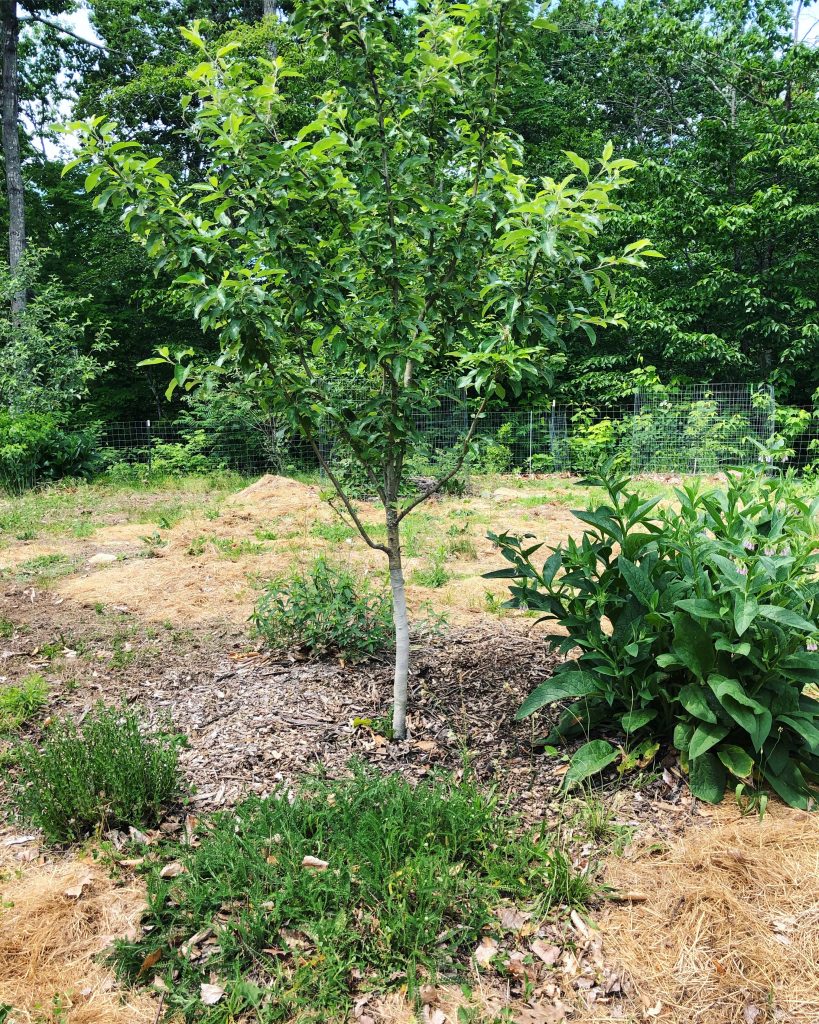 A neighbor has a business cutting trees so we rented his wood chipper to make lignin rich, ramial hardwood chips for mulching our fruit trees. The rapidly growing, spring, green budding tops (ideally a little less than one Rogan wide branches) of native hardwoods are rich in nitrogen, phosphorus, potassium, calcium, magnesium, and more! All nourishing elements that will feed a healthy, dynamic soil web, and eventually you! Mulching your fruit trees with hardwood chips provides additional benefits by keeping grass back from the trunk of the tree, some pest protection from apple Borers and of course creating a fulvic and humic acid rich humus that retains precious moisture for a heavy fruit set.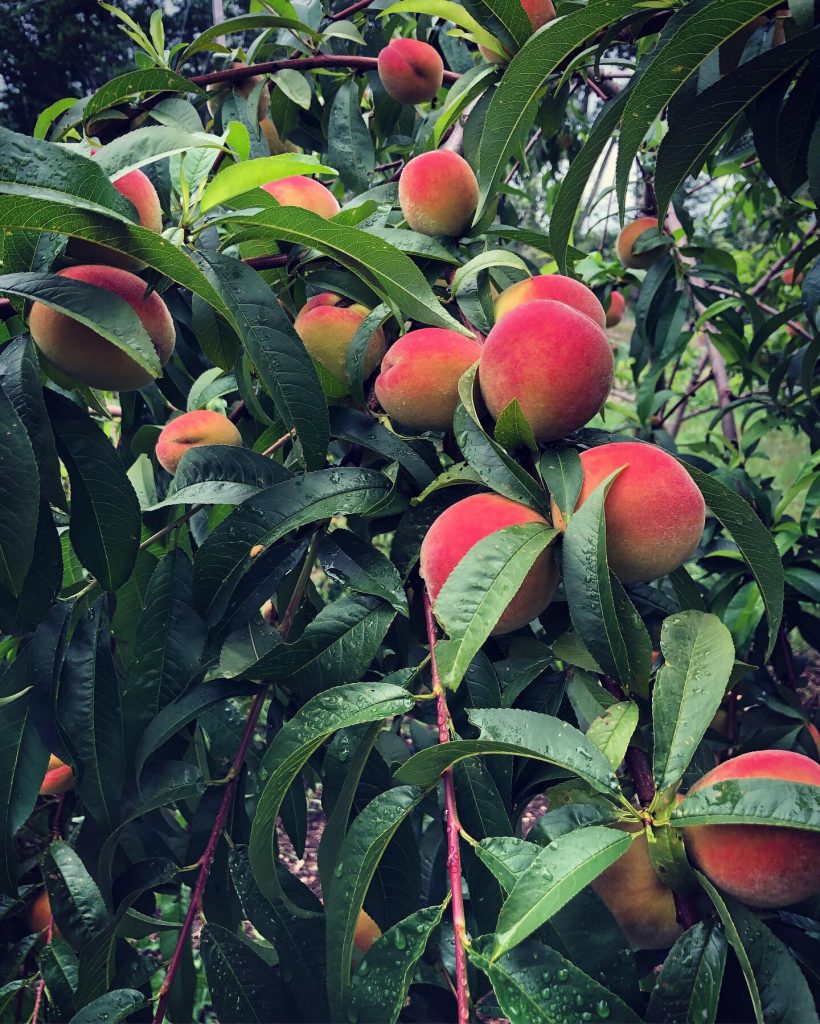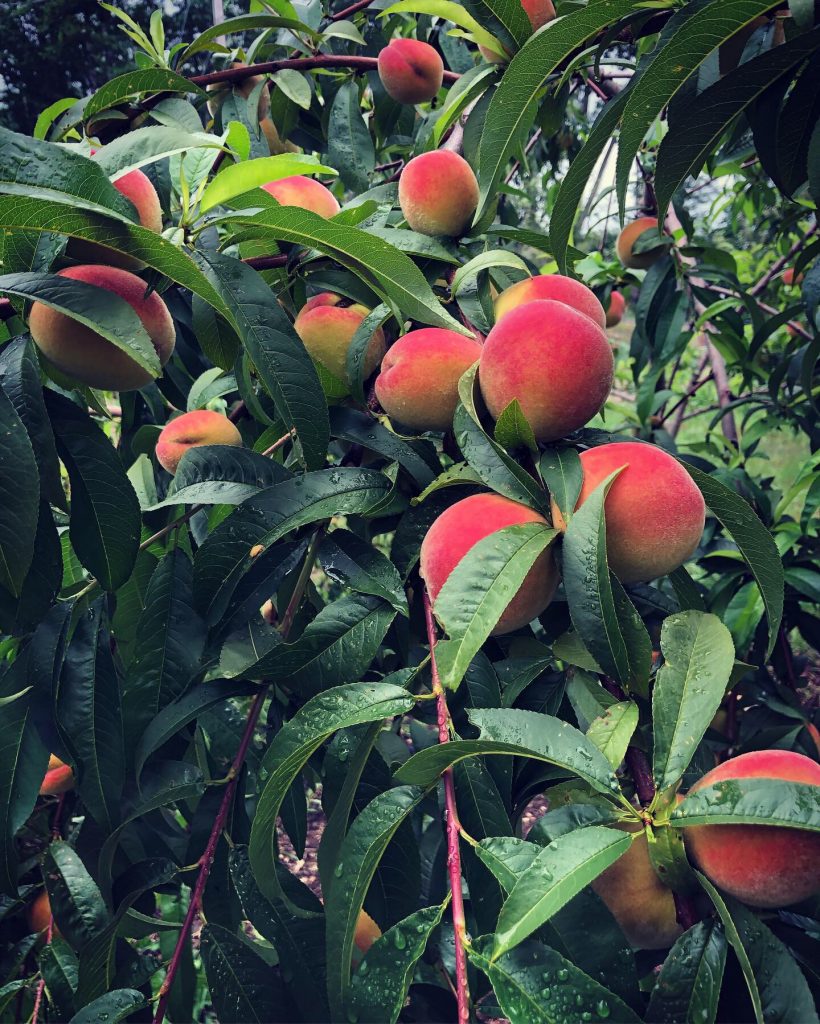 Mulching plants like Comfrey, "pest confusing" plants like Hyssop or common Tansy and beneficial insect attractors like Yarrow are great companions to plant next to fruit trees and contribute to a successful and multifunctional biodiversity. Most orchard companion plants have been used medicinally for ages for a variety of ailments. Fruit trees need our help to thrive, so if you fall from a ladder, standing on tip toes at the very top rung to reach a perfect fruit, put some Comfrey salve on it. 
Recently, it was not I who was injured, but one of my Garnet Beauty peach trees. 
I planted it as a whip in the best spot we had when it was only 8 rogans tall; Sun all day, on a knoll that has great drainage and protects from late frost, heaps of ramial wood chips, soiled hay from the sheep, chicken compost and consistent watering in dry spells. This past February, the tree was pruned and in the spring, it was covered with pink flowers that were very successfully pollinated. I ended up thinning a 5 gallon bucket of baby peaches that I then fed to the cows. It wasn't enough.
After showing off our beautiful peaches to a fellow shepherdess in the rain, the following morning homestead inspection had an emergency! The fruit was too heavy. One of the main lower branches was split in two and resting on the ground! I propped the branches up with rough cut 2x4s, filled the injury with black tree salve and then bandaged it. I think it will be ok to finish out the season, but in February I'll be pruning back some of the lower hanging branches.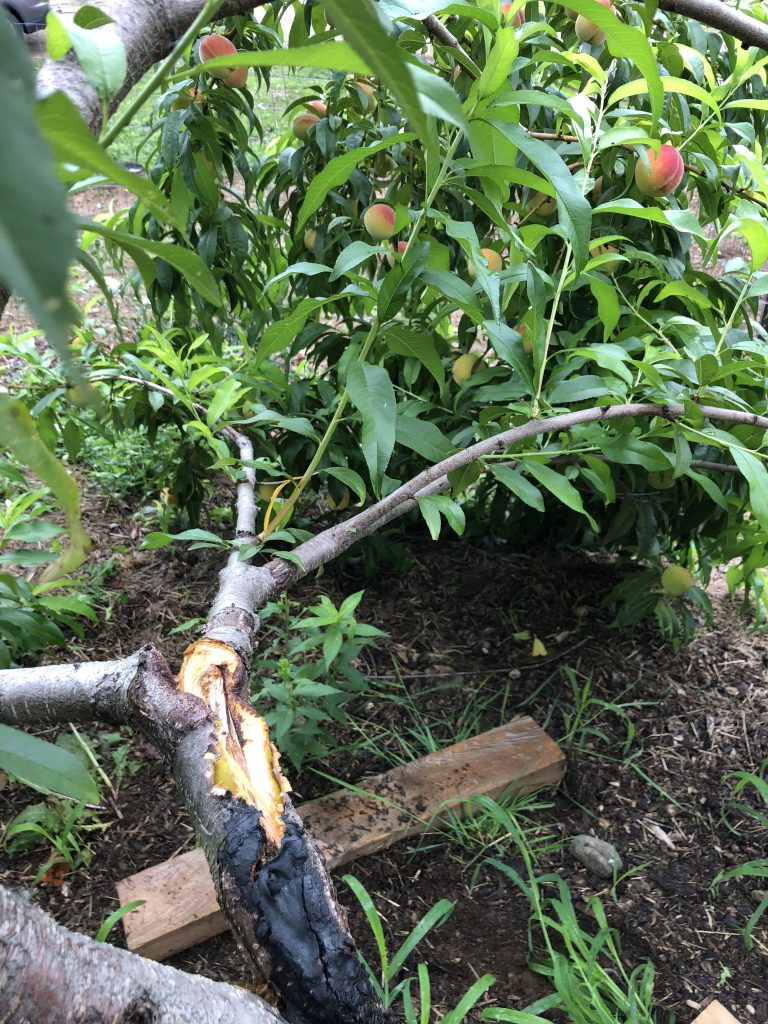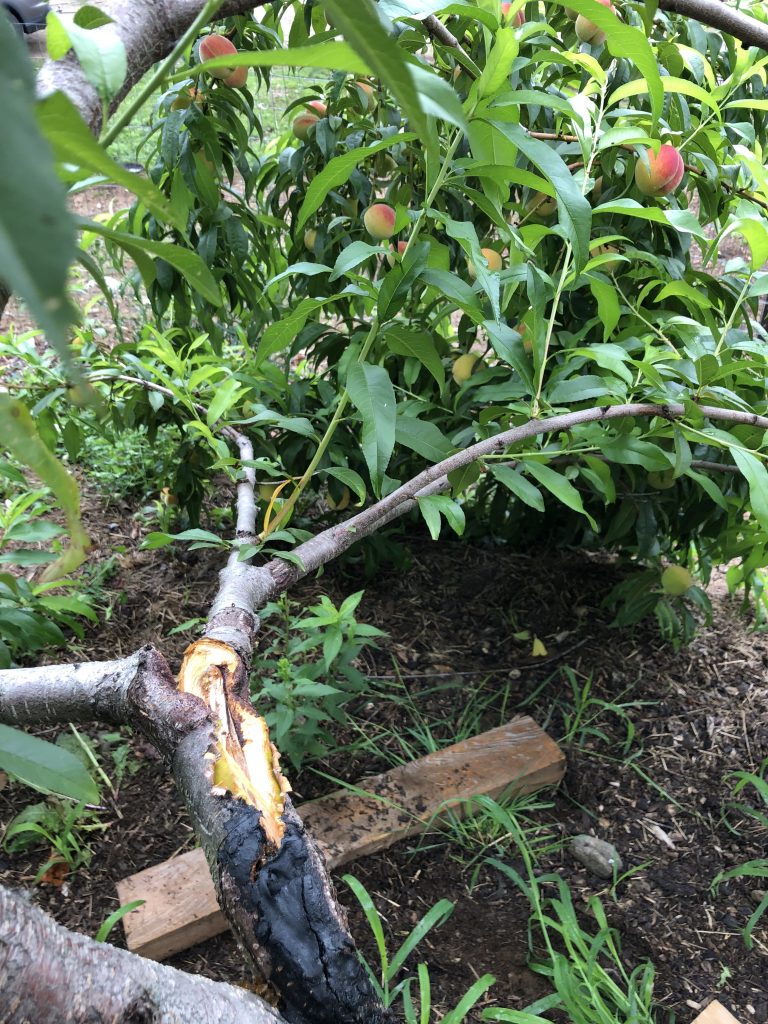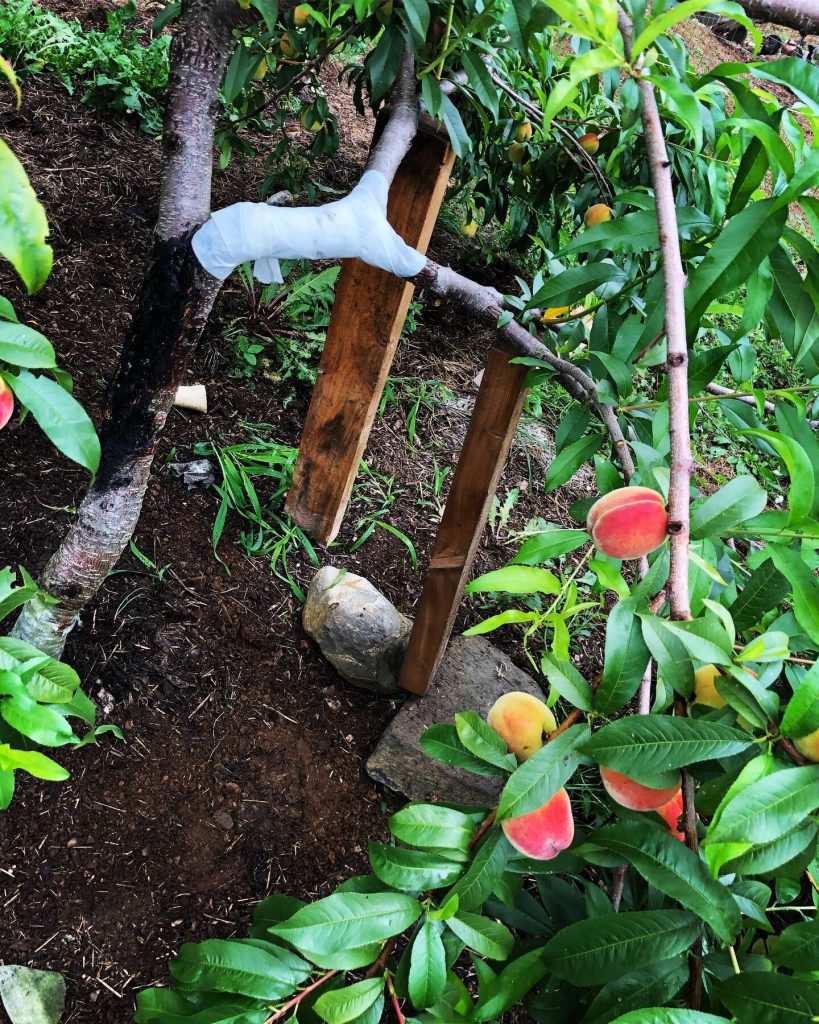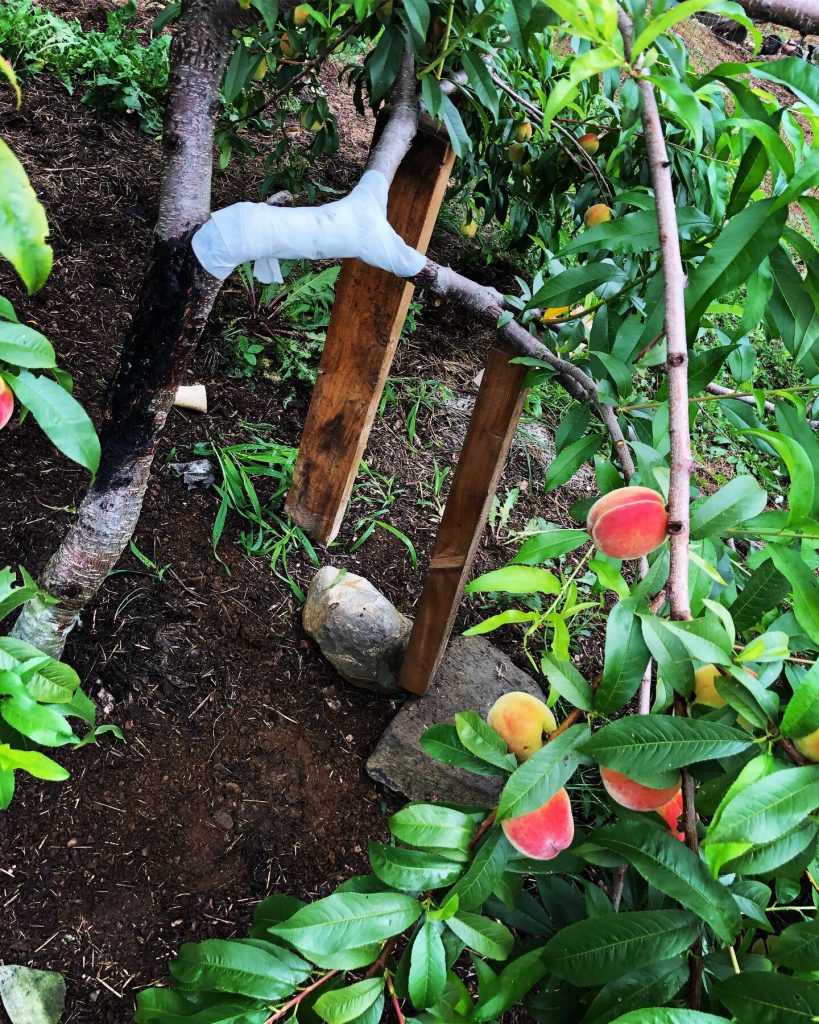 Even with near perfect conditions and preparation, unforeseen challenges will arise.Branches growing in the wrong direction must be cut and more thinning makes room for healthy, sustainable fruit while preserving the tree. Could it be that producing too much fruit, too fast can have complications? This was a reminder for me to rein in my projects and focus. 
Salt & Stone Bear 
Bear Trail Beef
One of those businesses with a crushing 2020 year is Winter's Farm owned and operated by Jordan and Hannah Winters.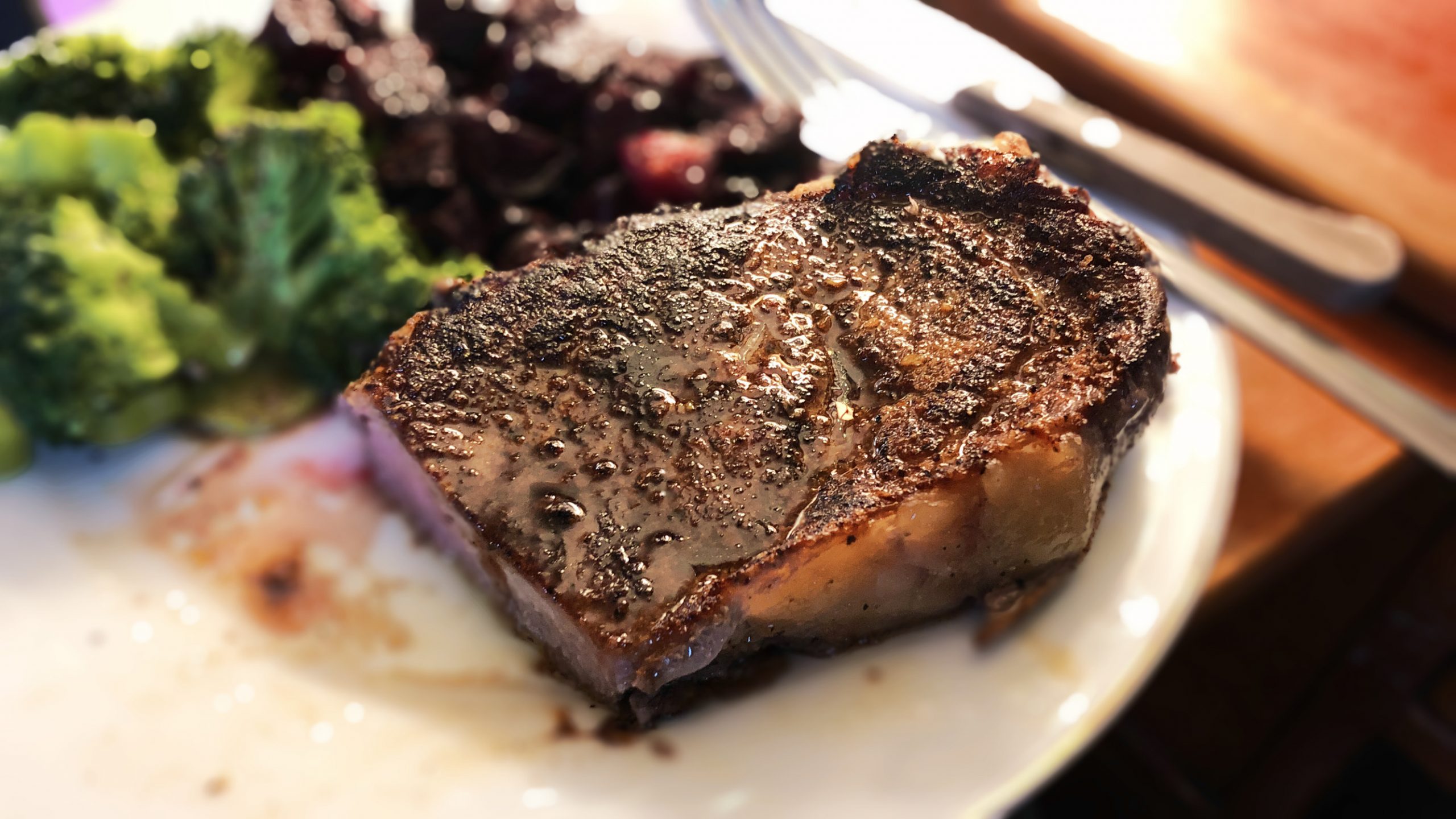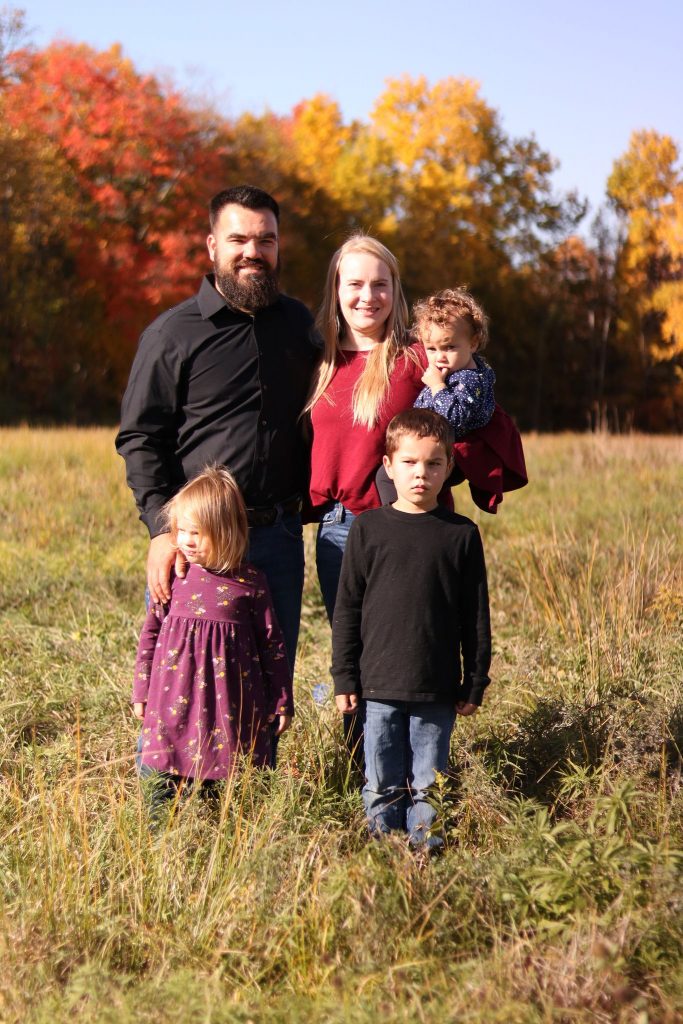 For many businesses 2020 was a year of hardship, struggles and loss. For the businesses in this community however, it was the best year ever. One of those businesses with a crushing 2020 year is Winter's Farm owned and operated by Jordan and Hannah Winters. Jordan and Hannah both spent their youth farming and started their current farm in 2015. They have provided grass fed and finished beef to their local community and have now added pasture raised pigs to the menu again. 
In late 2020 however they made the plunge and started Bear Trail Beef! Supporting our community is what we do best in the bears and like many we simply couldn't wait to purchase a package of meat from their farm. No strangers to mail order beef we jumped on the chance to place an order excited to support a small scale farmer and family. When the package arrived even the kids were excited to unbox it! We ordered the Beartarian Basics- Mixed beef bundle It was delivered promptly, well packaged and included a lovely family photo as a thank-you.  Included in the box was 10lbs of ground beef, 2 Tenderloin Medallions, 2 Delmonico/Ribeye Steaks, 2 NY Strip, 2 Sirloin steaks, 2 Roasts of their choice (we got a chuck roast and a shoulder roast). Each vacuum sealed package of beef was a stunning deep red color with beautiful marbling.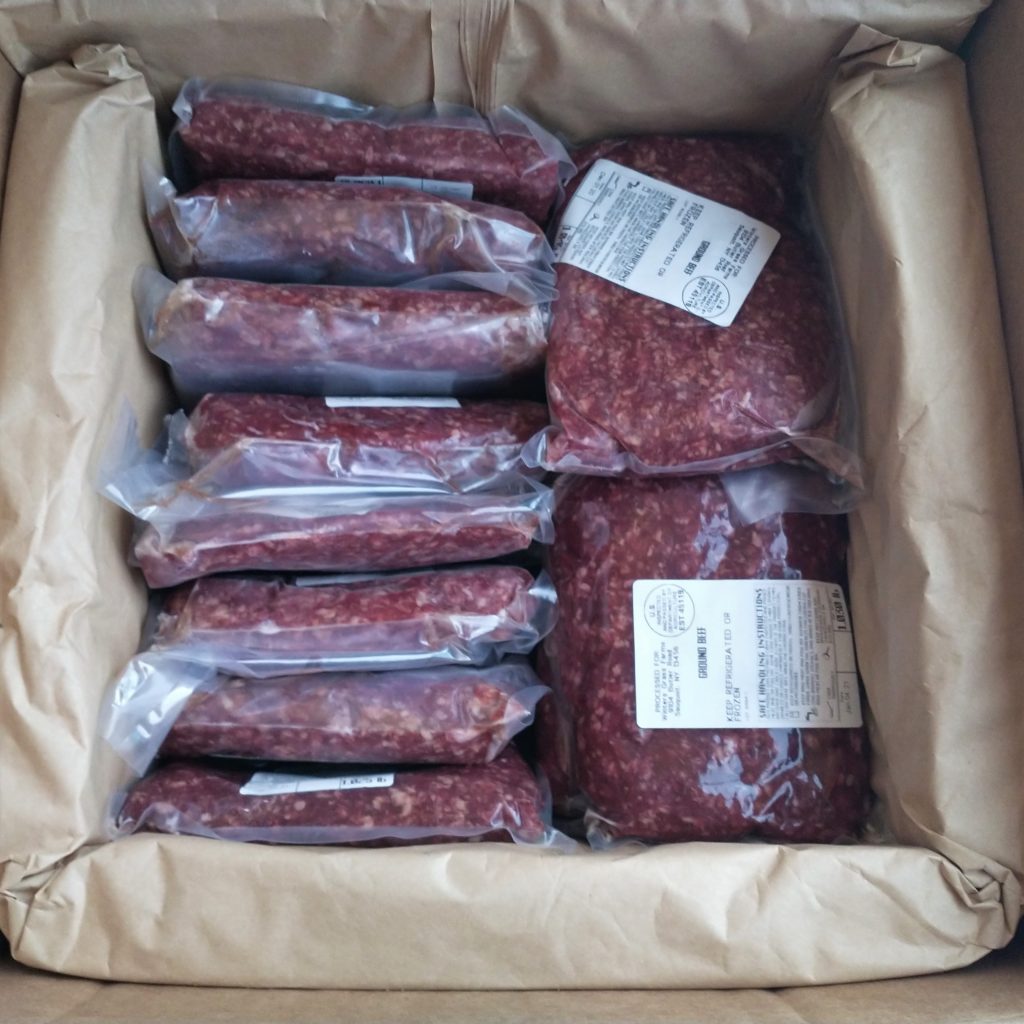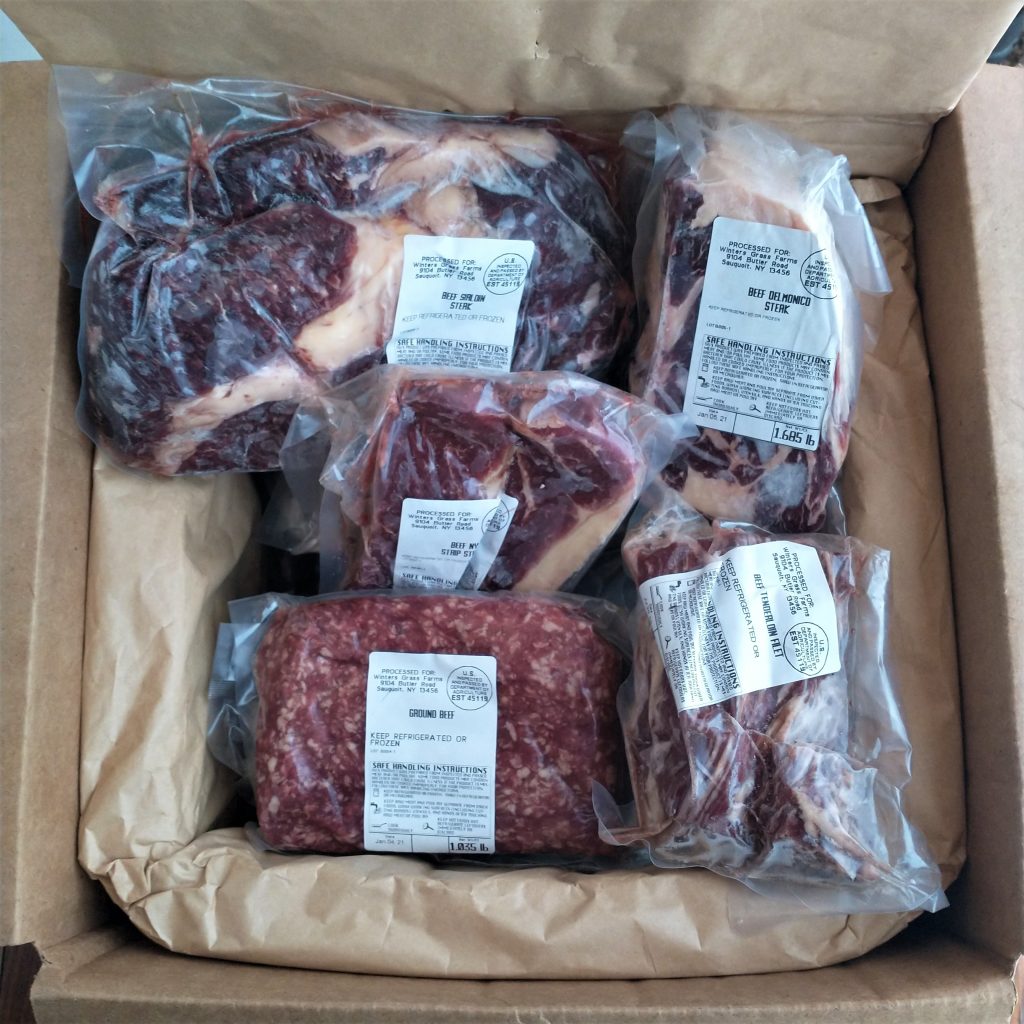 We have been purchasing grass fed beef for some time now and even just by the color you can see the difference between the beef from Winters Farm and the beef we had purchased. The steaks cooked beautifully to a wonderful rare to medium rare with ease. The ground beef was phenomenal and appeared more natural and unprocessed than any other ground beef we had tried yet. Everything was delicious and nourished our growing family well. The best part of the deal was knowing these animals lived a good life and that our purchase was helping to support a family like ours that was out there providing bears an essential service.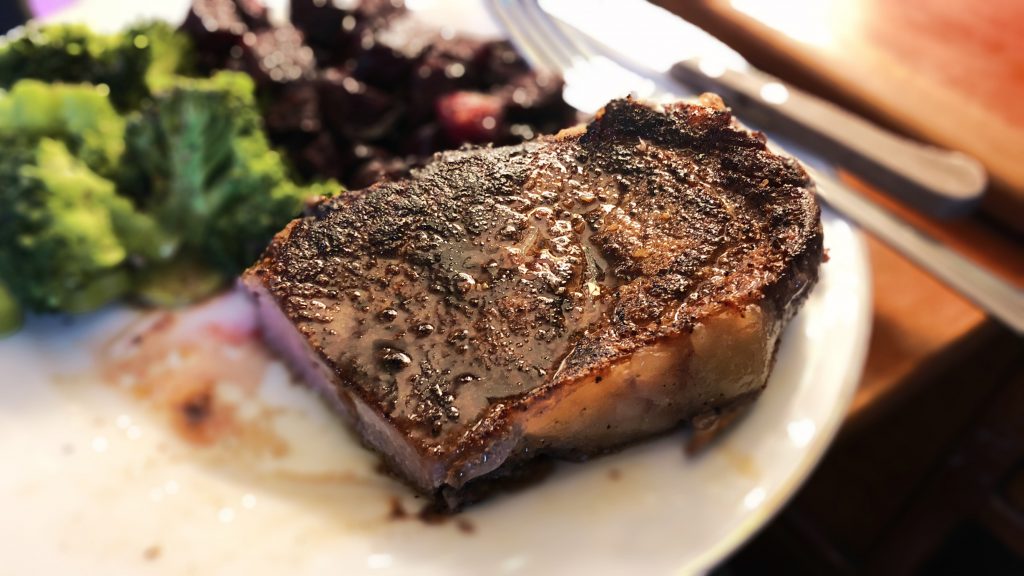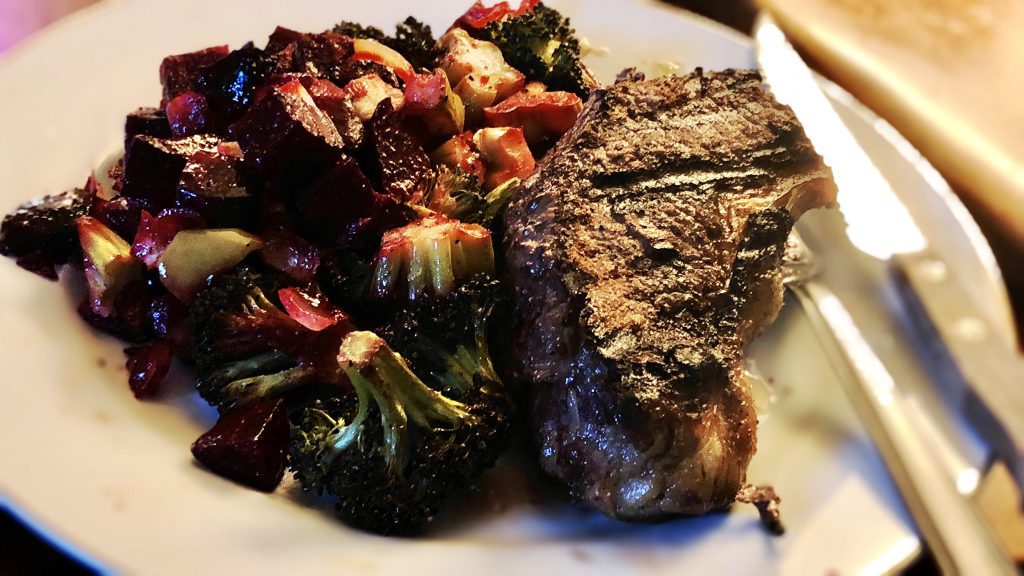 Their main goal and focus with Bear Trail Beef is to bless families with tasty, healthy, and nutritious meat, in order to grow strong heathy families and to provide access to homegrown food outside of the industrial food system. Here at the CameraBear household we would say they are absolutely crushing those goals! They are shipping to the contiguous US and you can order today at www.beartrailbeef.com . We are sure you will not be dissatisfied. 
Fancy Pants to Overalls
It's not all fresh carrots out of the ground and based moments in Beartaria, there is struggle. As each seed needs adversity to grow, the more it struggles the stronger it becomes.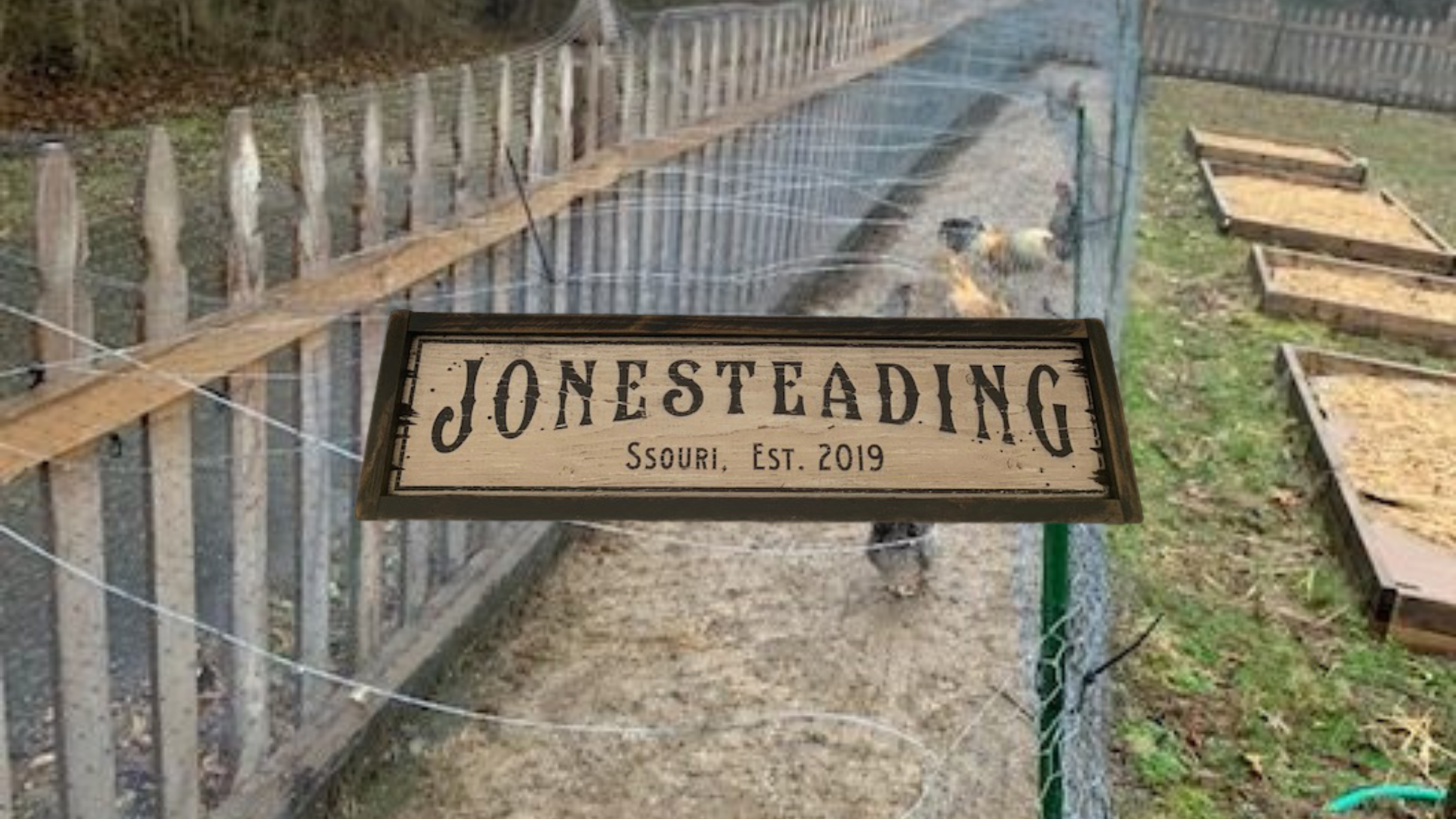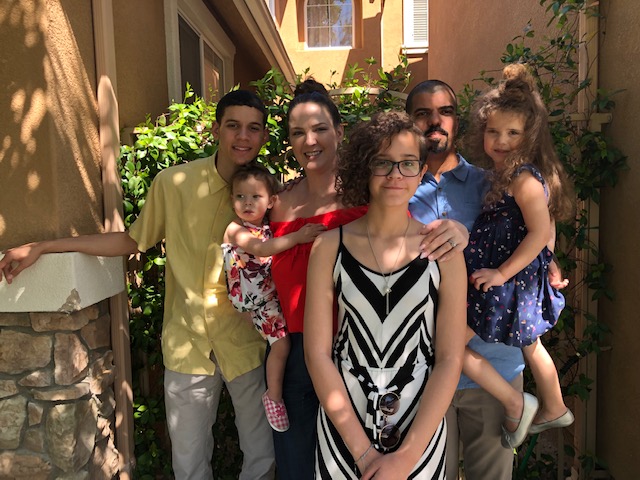 I had a dream, that one day little seeds will germinate as we procreate, this dream led the Bolar clan to pack up and leave Los Angeles where I was born and raised and take a leap of faith to move to middle America. We relocated to the rural part of a town of 8000 in Missouri. The laws are as based as they come in Babylon, the land is cheap and available, and only a victim mentality would be frightened by the stereotypes that the coasts and the cities of Babylon have to say about the area we decided to settle.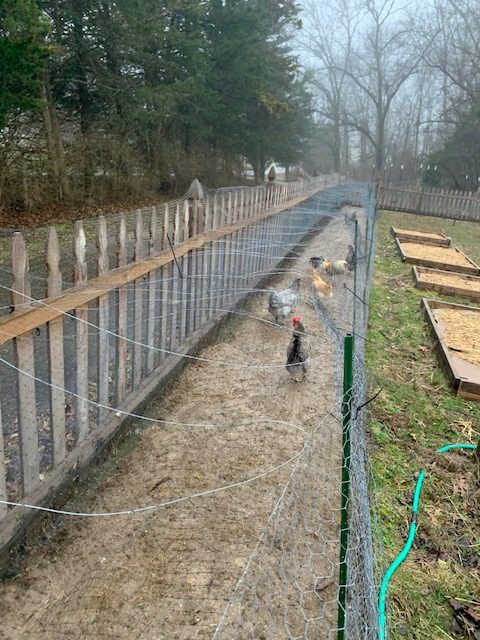 My wife and daughters had done some very small-scale gardening in our backyard that was mostly about fun for the kids and a cucumber or two to actually eat in about 2 sq. ft. I'm not good with following the advice I would give to all of you; start small, be realistic, and have fun with it. No one is having more fun than the bears, whether crushing in the culture war, in the development of our faith, or with our hands in the dirt. We did have fun but going BIG or going home is how I've always rolled so we went from 2 sq. ft to about 150 sq. ft, raised beds, a chicken area, coop, and chicken run around the garden for free ranging and bug protection. Mind you I work in Babylon and have no building skills or experience in gardening. We dove into the deep end and came out on the other side of our 1st growing season with as much success as lessons learned.  
We were successful in growing about 2/3rd of our crops but only successful in putting one third to good use. I have enough pickles to share with every bear across this realm but Brusselsprouts, corn, and a few other stables in the household were stillcoming from the grocery store.
Be thoughtful in what you plant; do you like it, will you eat it, how will you store it, when will it be ready for harvest, will it all be ready at once or spread out, and about 33 other things we should have figured out first.
Gardening is easy and complex at the same time and there are master gardeners amongst the bears that will be the 1st ones to tell you there is still a lifetime of learning in front of them. That's part of the fun; as bears we are meant to crush, and crushing takes effort and challenging yourself to grow; pun intended. Growing your own food is not just fun and great for your family's physical health but for your mental and family health as well. Sitting around watching a family movie can be fun, but watching your kids be a part of what your building for them and their future is priceless. Turn in their iPad and iPhones for some soil and seeds. Endless family bonding and growth will not only make your insides healthy but the health of your family as well.
It's not all fresh carrots out of the ground and based moments in Beartaria, there is struggle. As each seed needs adversity to grow, the more it struggles the stronger it becomes. Think about what challenges you have. Not just bugs, dry spells, or flooding but are you and your wife on the same page, your kids, are you being realistic with yourself? Just as many lessons in this arena as when battling the squash bug without roundups "help". Babylon is a heck of a drug and just because you have dreams and new ideas for your future, doesn't mean you can or will want to leave it all behind. 
Being realistic is the best place to start.
It may not be too hard to take a week off and get your garden or other aspects of your homestead up and running. Have you thought about who is going to and how you are going to water, keep out pests, weed to stay away from Babylonian poisons? If you're going even further who will feed these chickens and milk the goats and keep it all up and running daily. The Homesteads that fail have big dreams that don't match their reality or reality of your Babylonian magic square standing.
Its great watching the Smiths Crush it, but that's a lot of hard work and going from zero to Ursa Manor overnight isn't in most people's reality.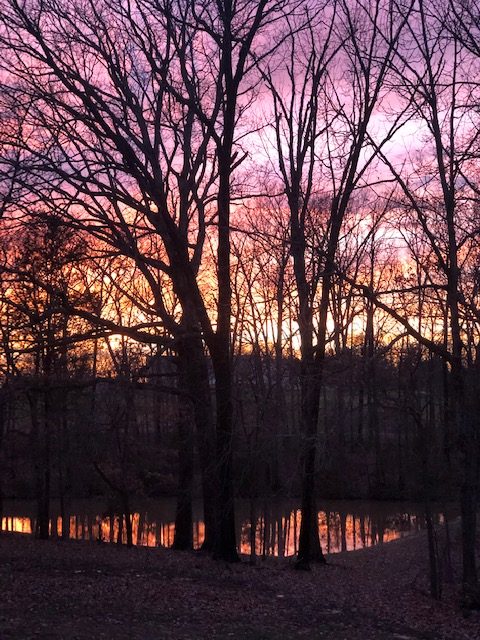 It wasn't in Owens reality, one fence post at time, one garden bed, one goat, it was a process and if you're like me the process can be overlooked. In hindsight that is the point, the process. The journey is the point that will lead to your destination and if you lead with logos in your heart and in your intention you may not get to where you planned but you'll get to where your supposed to be.  
This is not intended for the green thumb bears; this is intended for the droves of bears inspired by the crushing of our tent post and fellow bears. Crushing isn't always easy, but someone's got to do it. Approach this with love, not fear of supply chains failing. If you're going full homestead start with chickens, they are easy, and you don't know what real eggs taste like until they've come from the backyard. We've all spiraled and gotten caught up in some nonsense Babylon is currently perpetuating, so don't be so hard on yourself. But approaching anything including your 1st or 33rd growing season is so much better and sustainable when its about a lifestyle and not a toilet paper shortage.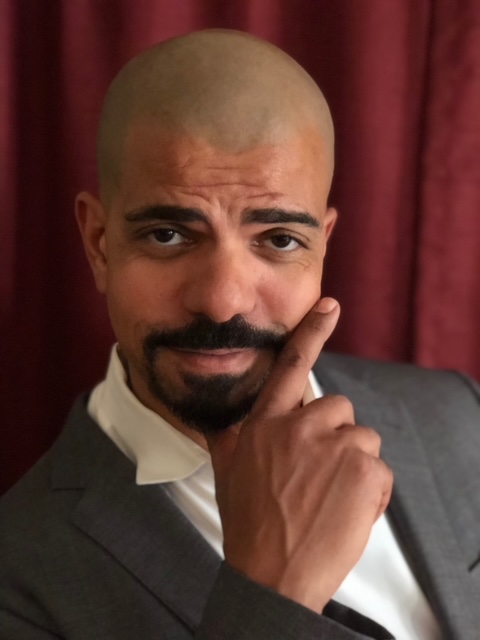 Keep Crushing Bears, this is just the beginning…
Bolar Bear