The Case for Suspenders
Built For Fancy Pants, Refined by the Working Man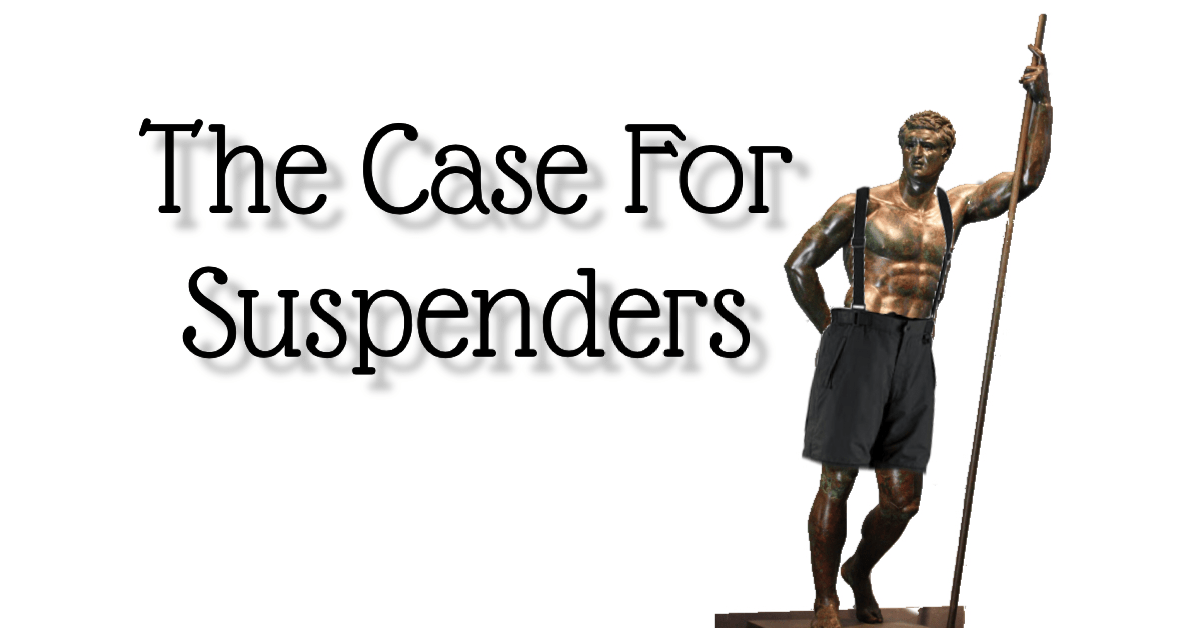 Before oversized children were buying fruity branded computers and expensive puffed-up coffees while thinking up names for their tiny imitation dogs, suspenders were what REAL men wore to their labor intensive jobs. This quick dive into the recent past of men's utility/work accessories will present what the modern man can hope to gain by adding this one item to their work attire.
While in the Army at Camp McCall, NC, I became friends with another combat medic from one of the Ranger battalions who had just gotten back from a deployment to Afghanistan. I noticed he always opted to wear suspenders instead of a belt when he was road marching. Now a road march (or "rucking" or "humping the tick" as its also called) in our "Small Unit Tactics" course was our way of carrying all our equipment on our backs as we stalked as a platoon through the woods. Sometimes it's also done for speed in a "timed road march" event, kind of like a marathon, but for men.
Having done this activity for years, I had never seen anyone wear suspenders until then. Once you're walking with the "tick" on your back, you're kind of stuck with whatever you've got on, in exactly the manner it wants to ride. There usually isn't any time to adjust things when you're on the move, so you need to be very certain about what you choose to wear.
I waited until we had finished a troop movement before I tried to gather intel on his setup. As I casually questioned the man about his over-the-shoulders method of commanding his pantaloons, I took mental notes and it all seemed to check out.
He explained:
"I went to a Korean tailor on Bragg Blvd where I had them sew buttons on my pants. These buttons were strategically placed so they wouldn't rub on my back when the frame from my rucksack lay against my torso."
God bless those tiny Asian hands.
Korean tailors are a form of "camp follower" around every Army base I'd been. They can customize any piece of gear or clothing for a good price. Additionally they give a mean hair cut and make some of the best BBQ you'll ever have.
He continued:
"I bought the suspenders at Ranger Joe's in Ft. Benning, Ga. They loop onto the buttons, and don't rub sores on my back like the web belt normally does when you're running through the woods or carrying a casualty on your shoulder."
I'd spent many days in the rain, walking and running with the "tick" on my back. When your pants are weighed down by water and mud, your belt isn't much good. The pants just keep sagging until one day you kneel down to take a break and the crotch rips out on your pants. I've seen this happen more times than I care to count. This wouldn't happen if you wore a sturdy pair of suspenders.
You can, of course, wear both at the same time. A belt and suspenders may sound like overkill, but if you need the upward pressure on the belt line, but also desire the knife-wielding utility of a belt, I see no better way.
Suspenders in Civilian Life
If John Rambo had just worn suspenders, he would have been way more comfortable just building useful structures and being an asset to his community. Suspenders would have acted as an emotional anchor to the way of life that built the foundation of America.
The closest civilian activity to "road marching" is your good ol hiking and backpacking. Some of you may even be familiar with the practice of "orienteering." You can click the link to read all about this valuable skill at Info Galactic.
I recently became reacquainted with the usefulness of these nylon shoulder harnesses. I was walking back and forth to the garage while working on my greenhouse, and noticed I kept pulling up my britches. Working outdoors on my feet all summer had trimmed down my love handles and I am back to being old Mr. Hipless Board Sides.
While at a farm and ranch supply store, I saw and instantly purchased a set of work suspenders. This, again, was a game changer for me. No longer hindered by saggy britches, I was free to run about and focus on crushing.
Although suspenders likely originated at about the same time that pants came on the scene, the first patent to improve the modern suspender was in 1871 by Mr. Mark Twain himself (under his actual name Samuel Clemens, of course).
Clemens wasn't a fan of the same garment accessory used by Napoleon. In that day, my understanding is that the common French application was a couple strips of ribbon attached to pants with buttons. These were clearly not for those in the blacksmith trade or the carpentry and masonry fields of labor. For those tasks, you need something a bit more sturdy than Red Riding Hood's hair ribbon.
It is likely that suspenders were also used by royalty because of their rotundness (being fat was a sign of wealth throughout antiquity). Large bellied individuals have trouble wearing a belt as any movement will send their knickers sliding. I sometimes wonder if comedian Chris Farley would have lived a few more years had he opted for a more definitive approach to trouser stabilization.
Farmers and ranchers have kept this tradition alive out of age old wisdom. I am very grateful for their longstanding wisdom. Nowadays, the stamped metal clamps that grip the belt line of the pants have improved slightly. You still have two basic designs, in case you were wondering. I opt for the clamps, but the button on ones are still widely available. With a needle and thread, you can place the buttons wherever you please. The design really hasn't changed since my great grandfather was getting bucked off his first horse and Teddy Roosevelt was knocking teeth loose in university boxing matches.
My grandfather used to get bucked off his wagon (yes, it's possible to be bucked off an entire wagon), and once he even break his leg. However, he never needed to break a sweat trying to realign his trousers because he was a man of suspenders.
So if you're a hard working man, and share the frustration with belts, try on a sturdy pair of suspenders. You can thank me later by sending us a short description of something useful you've built or fixed! Send your completed article (aim for less than 1,000 words) with pictures to the appropriate section editor. I look forward to reading about your accomplishments. Until next time.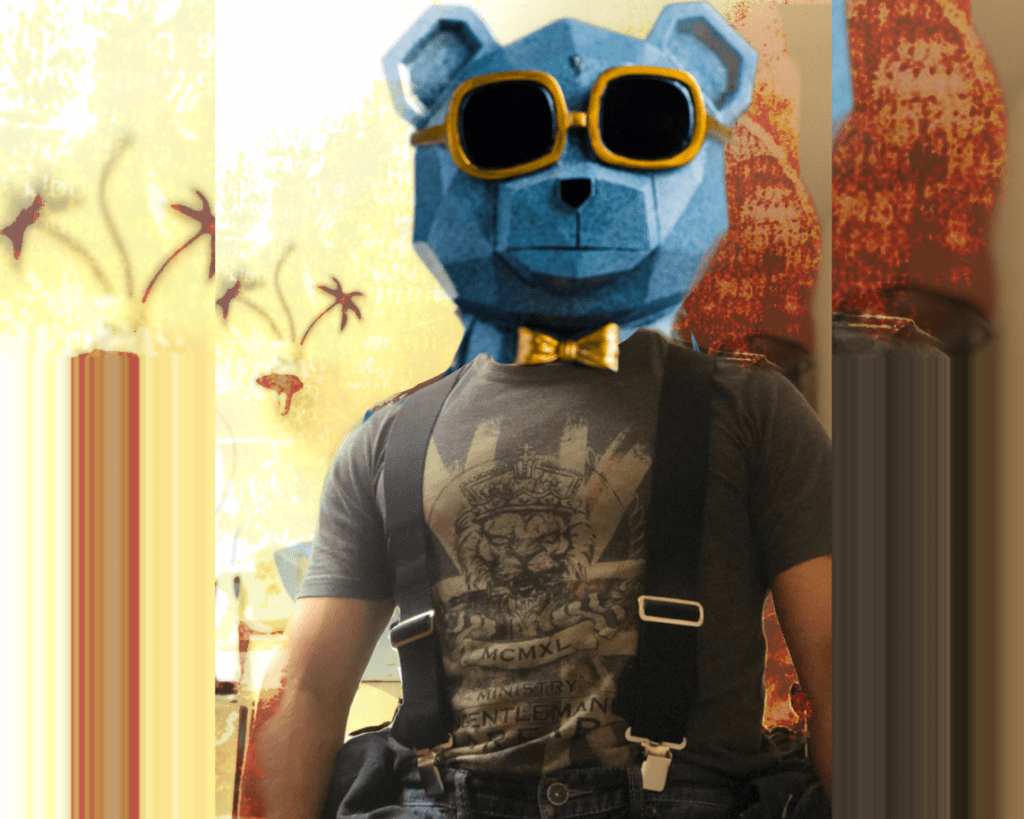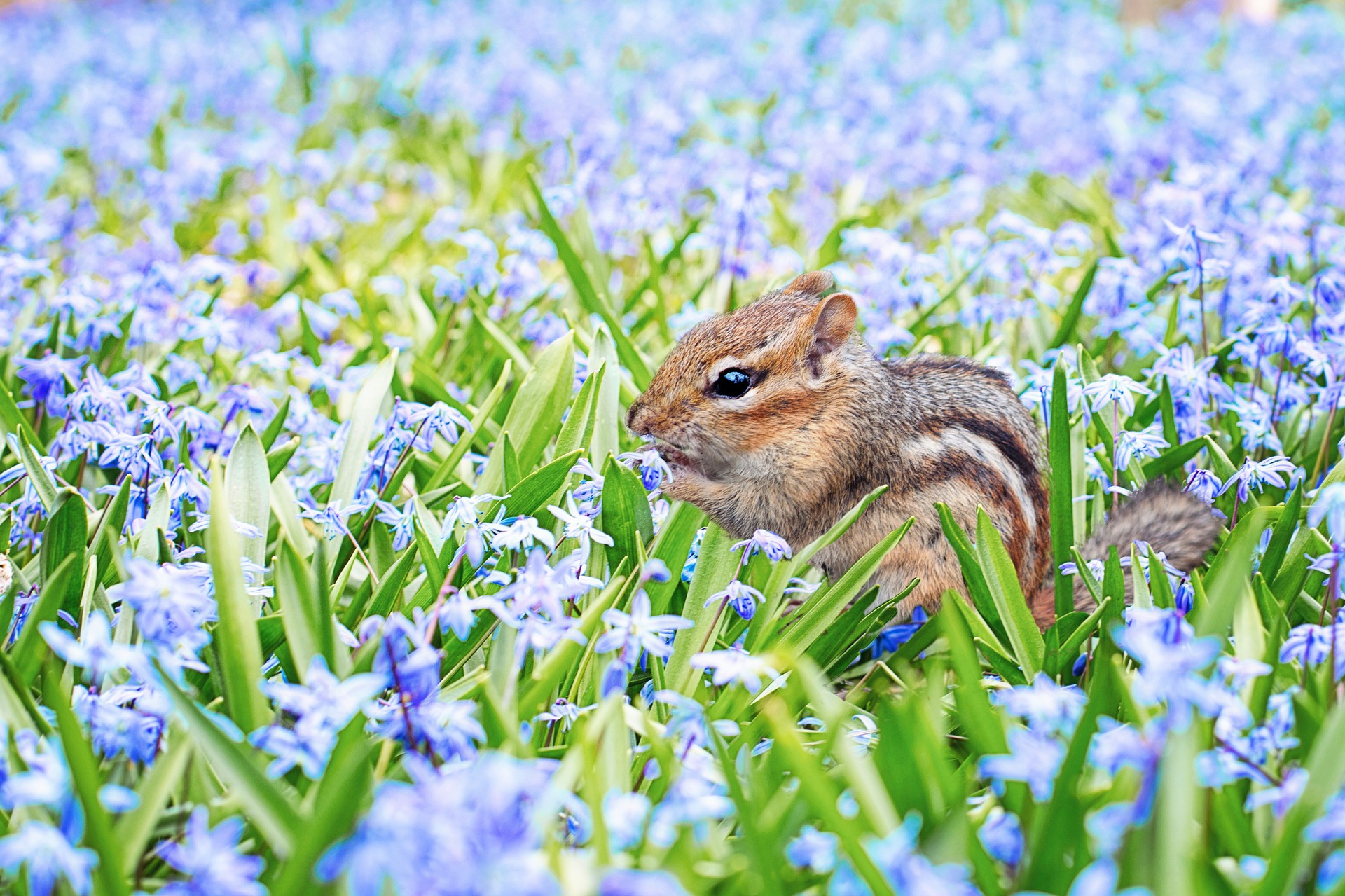 There are many reasons why we have seasons in this realm, and most of those reasons are never thought about by the vast majority of the population. Depending on your geographical location, seasons are typically associated with a complaint. It's too hot during summer, too cold during winter, too rainy in autumn and spring. Folks tend to always have some sort of grief with the weather, and society has morphed holidays into a way of getting through these seasons. We look forward to the "holiday season" of Halloween, Thanksgiving, Christmas, etc. We jam pack as many holidays into the course of a few months as we can to give ourselves something to look forward to in those wet, cold, dreary times. And in doing so I would argue that we've all but lost the true reasoning behind the changing seasons.
To start this, we need to view things (as best as we can) from God's perspective, and his intentions for us. If His intentions were for us to always be fed, have no hardships in life, have superficial relationships with family/friends, and simply have fun all the days of our lives, then we would live in perpetual summer. The sunlight would beat down all day every day, producing monstrous crops year round. We wouldn't have to worry about the cold. We wouldn't have to plan ahead. We wouldn't need to form communities with the sole intention of surviving.
But God's intention for us in this life is not that. His intention is for us to grow. Growth requires dark times, both literally and metaphorically, as much as it requires what we associate with good times. A plant will die if it just has sunlight and gets no water. It will die if it doesn't get the proper nutrition. It will die if it gets eaten by bugs. So to will we wither away if we don't have a proper balance of perspectives, reflection, appreciation, nutrition, emotional experiences, etc. A plant will grow better with companion planting. Corn grows well with beans and squash. They provide what the other is lacking. We too require community to really thrive, and the seasons are the ultimate factor in the creation of these communities.
Spring: Springtime is a wondrous time to experience. You can feel the life energy in the air as the trees start sprouting leaves again, the birds start singing, the flowers start to bloom, and you see all of the newly born critters running about. The persistent cadence of short rains and bright sunlight tells everything that it's time to wake from winter's slumber and start to grow. This too happens within us. Every year at this time we all experience that kick of energy. We all start to plan our gardens, plan what we'd like to accomplish in our lives for the year, what projects we'd like to complete, and where we'd like to be when winter rolls around again. We look at our bodies, full of baked goods and potatoes and think "yeah, it's time to start working out again". We have a primal urge to better ourselves. This is what spring is for.
Summer: Summer is typically viewed as the time to have fun. There's truth to this, but it's also a continuation of spring in terms of growth. In spring we plan, and in summer we build and maintain. Our crops need constant tending. Our bodies need constant hydration and nutrition. And although it seems easier to get things done in summer, anyone with any level of perception knows that although energy levels are high, you can quickly burn out with the constant heat and endless light. Again, we require balance. Towards the end of summer we all look forward to autumn, because we know it will bring rest. But until that day comes, summer is when we work hard. And we should be working hard to ensure we have enough food and supplies for the cold months. As spring was to planning, so is summer.
Autumn: After 6+ months of heat, sunlight, growth, work, fun, excitement, and joy, autumn brings with it a much needed respite. We are not made to crush nonstop 100% of the time, and autumn forces us to slow down and rest. The waning hours of sunlight change our circadian clock and our bodies start producing melatonin earlier in the evening, making us tired at 6pm rather than 10pm. We no longer have an abundance of those high sugar fruits that are ripe off the tree (or we shouldn't in a natural world), and we move towards meats and root vegetables which are stored more easily. This changes our digestive habits. It changes the flora in our digestive tract, which changes our mood. As we consume more calorie and nutritionally dense foods, our digestion slows, and we begin to slow. The almost manic energy that spring and summer bring fades into a calmness, a sleepiness, and a desire to curl up by a fire and read yourself to sleep under a blanket. Bears hibernate, as do we in a way. Autumn is designed to slow us down so we don't burn ourselves out, to reflect on what we'd like to do differently next year, to appreciate all of the blessings we have, and most importantly to begin resting our bodies.
Winter: The most trying season of them all, winter brings with it bone chilling cold, a minimal diet (or so it would be in a natural world), little light, no growth, and many hardships. Winter is still, and it is still for a reason. Everything on this earth needs a period of deep rest. Every animal rests during winter. Most plants go entirely dormant. Some animals sleep for months. Some bugs literally get frozen into a state of suspended animation until springtime when they thaw and their hearts start beating again. This is all by God's great design. We all know physical rest is needed. If you don't sleep for a couple of days you begin to hallucinate and your body begins shutting down. Nobody will argue the importance of a good night's sleep. But we also require emotional rest, mental rest, and spiritual rest. We need time to quietly reflect on not just the past year, but also on life itself. We need to reflect on our relationships, on our communities, on our jobs, on our life path, and on the trajectory we would like to see in our individual lives. God has given us a time to do this, and it is winter. It's almost forceful, in that most things we enjoy are stripped away for months, leaving us with only our primal desires. We want warmth, dryness, and food. And in that state of primal survival, we reflect. As we grow our physical strength in spring and summer, we should be growing our emotional and spiritual strength during winter. When all is lost, and we are cold and wet and hungry, we should be looking to God. We should be looking to our communities. We should be looking to our families, who are often overlooked during the excitement of all the chores and projects the other seasons bring. Winter is often seen as a bad thing solely because of the weather, but if you tap into what is actually happening during these months it is beauty beyond compare. We are resting. We are sleeping more. We are reflecting. We are seeking God. Our bodies, minds, hearts, and souls are healing. Most people literally purge toxins in the form of illness. Again, this is perceived as a bad thing, but it is our body making us stronger and cleaner. Winter brings endless blessings.
Many people view life by the year. They judge themselves on what happened during the course of a giant block of time. But there are seasons within that year. And if we overlook them, and do not pay them their property dues and work with them rather than against them, we can be sure to come up short each year in regard to our self-imposed expectations. If you don't rest during winter, you won't have the energy to crush during summer. If you don't crush during summer and prepare, then you won't make it through winter.
These natural rhythms have been thrown off with the adoption of cross-country and worldwide shipping, artificial lighting, climate controlled buildings and cars, etc. In a natural world we should not be able to get into our heated vehicle, drive to a grocery store, buy a papaya, go home, and eat it in a fully lit room at midnight in the dead of winter. It is entirely unnatural. And as a result, we feel like we're living unnatural lives. And it's because we are. We are not honoring the seasons, the reasons they exist, and we are working against them. This is, in my opinion, directly fighting God's plans, intentions, and reasoning.
To shift from an unnatural/artificial existence into one more in line with what we're intended to experience, one can simply make small changes. Those changes will have a massive affect on your health in all areas of life. Instead of having every light on in the house all night after the sun sets in winter, have a small lamp on. Let your body start the production of melatonin. When you get tired, go to bed. Don't stay up until 2am working. Eat hearty meals that are packed with nutrition and meat during winter, rather than exotic fruits. Let your body replenish itself with what it needs, rather than what tastes good. During summer, don't sleep in until noon. We're meant to wake when the sun rises. Don't pull your curtains shut before bed to block out that morning light. Let it wake you. During autumn, allow yourself to slow down a bit. Things can wait. If you're pushing through this season as if it's still summer, you will most definitely crash. One way or another you will get that rest. It's just a matter of if it's in a calm manner, or in a state of deathly illness. The choice is always yours.
Honor the reason for the seasons, which is God's great design, and your life will undoubtedly improve. You don't need high energy at all times. On the contrary, we are meant to store energy for times of need. We then use that energy, and it needs to be replenished. Replenish yourselves during the times we're meant to. Live a natural life, and you will not only strengthen yourself but will also bring so much more to your communities. Embrace the hot, the cold, the joy, and the melancholic stillness as blessings, because that's exactly what they are. 
Raising Children In Uncertain Times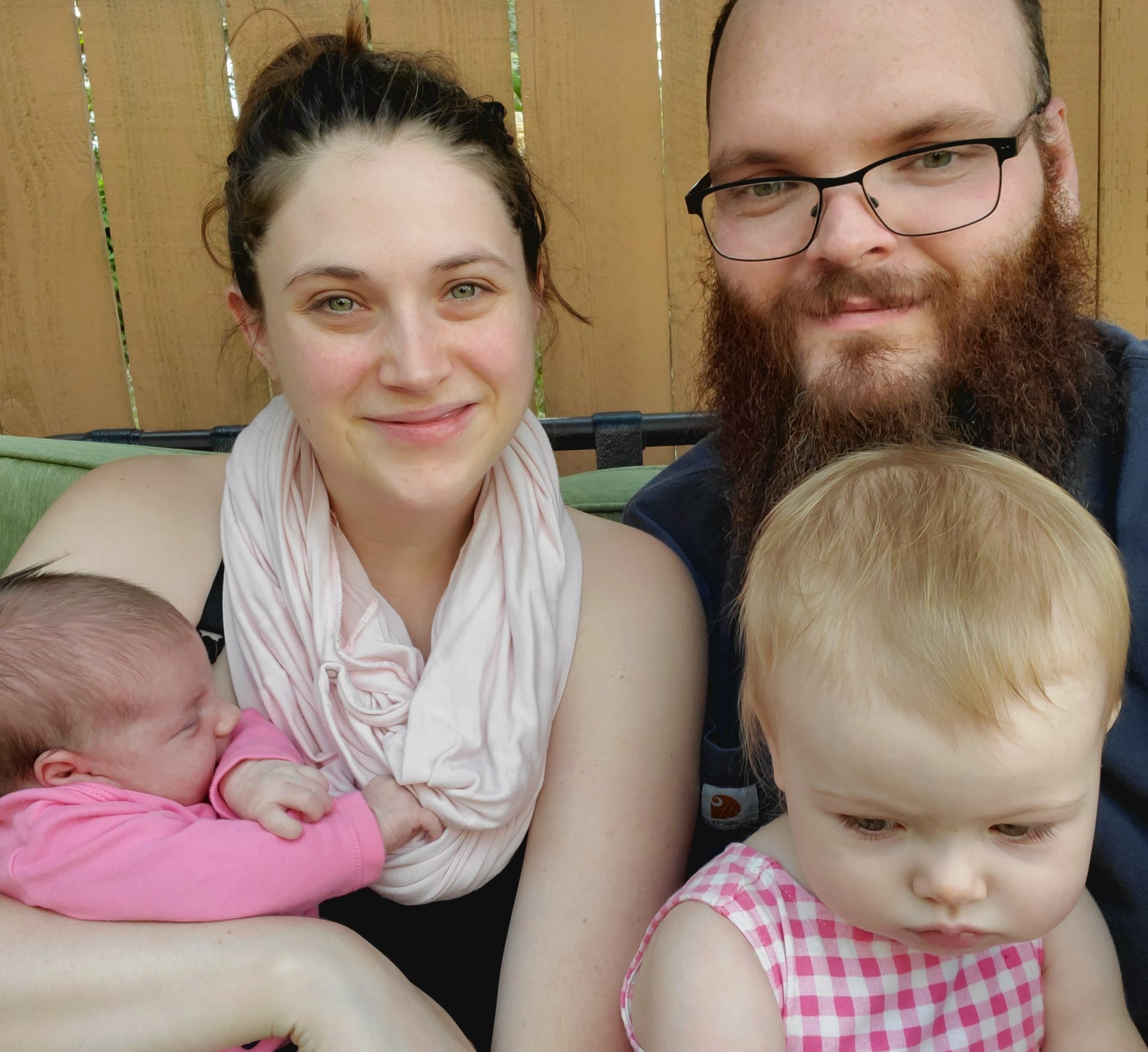 The scariest aspect of being a parent, by far, is uncertainty. Anybody with children will attest to this. When you are responsible for the health, happiness, safety, and security of a small child who cannot fend for themselves in any way, unknown outcomes become a constant thought and fear. But there's a very simple way to dispel of the irrational fears, which far outweigh the rational ones.

The day I found out we were expecting our first child I bawled like a child myself. That moment will forever be chiseled into my heart. Everything I'd wanted finally came true. Immediately after those first few minutes of excitement though, the panic attack began and I couldn't breathe. What if my wife were to miscarry? What if we got into a car accident while she was pregnant? What if I was unable to support my growing family? What if baby didn't make it through the delivery? What if my wife didn't? What if neither of them did? What if she got sick after being born? What if that shady looking guy at the grocery store pulled a weapon out and I didn't make it? How would they grow up without their father? Every conceivable bad thing went through my head all at once, and those thoughts lingered for months.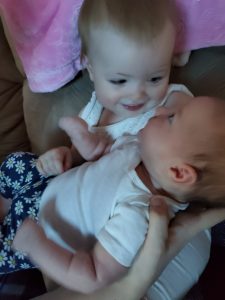 Everything went well, both baby and Mama were safe and healthy after delivery. And the fears began to change as the world did. 10 months after the birth of our first daughter we found out we were expecting another baby girl. Once again, the full range of fears washed over me. Some previous fears weren't there, and some new ones crept in, but it was still a lot. A couple of months later, in early 2020, those fears shifted entirely to ones I never imagined I'd ever have. What if my business didn't succeed because everybody is out of work and struggling to even pay their bills? What if the hospital wouldn't do my wife's scheduled c-section if she refused a certain test? What if they wouldn't let me be present for the birth of my child after refusing me admittance to every single appointment and ultrasound during the pregnancy?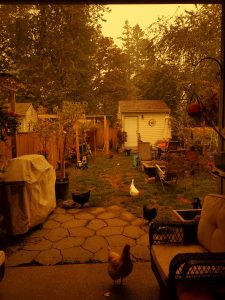 What if the riots in Portland moved 8 miles south to where we live? Are my children going to be okay with all of the smoke from half of Oregon burning? 2020 brought up a wave of possible scenarios which are absolutely terrifying to a parent, regardless of how strong that parent is or how unafraid they claim to be. We want nothing for our children but to provide a good, stable environment for them to learn and grow in. When the outside world starts shifting in a way that could potentially jeopardize that, our initial instinct is to worry.

But worrying is a reaction. It is a rocking chair. It gives us something to do, but it gets us nowhere. And as parents, sitting stagnant in the face of uncertainty is single handedly the biggest mistake we can make when it comes to keeping our children safe and secure. When the outside world becomes unstable, we parents need to work even harder to provide stability in the home for our children. This doesn't mean we should simply work more hours to get more money. Money can easily disappear. You can't eat money. Money only has value because people believe it does. What has true value are skills, tools, community, a healthy marriage and family, and high morality. With those things, you can navigate an ever changing world no problem.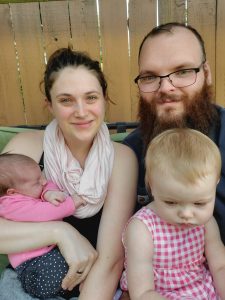 As a testament to this, here's a good personal story. With our first daughter, we spent a total of 5 days in the hospital. 2 days of labor, then 3 days of recovery. At the end, we were excited to go home but also nervous because we wanted to rely on the system in place. We were surrounded by professionals who knew what they were doing far better than we did. All my wife had to do was pick up the phone next to her bed and anything she wanted or needed was there in minutes. With our second daughter, my wife spent 2 days in the hospital and was counting the minutes until she could leave that place and come home. There was no desire whatsoever to stay.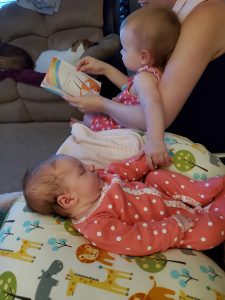 And the difference was, in the 17 months that had elapsed from the first birth to the second, we had built a stable home life for our family. We had chickens, had started a business so we weren't dependent on others for a paycheck, had gotten into a routine of raising our daughter, and we had welcomed more love into our home than ever before. We had built a life we wanted with what we had, and after experiencing an unprecedented level of nonsense in 2020 we had no desire to rely on the system for anything any longer.

As parents, we so badly want to provide for our children. Our most important role is to give them a safe environment to learn in. Part of that learning is getting hurt, and there are rational fears that we all have that go hand in hand with that. We worry about our children running with scissors in their hands because we know how quickly and severely they could be injured if they fell, which children often do. We fear what would happen if our newborn were to suffocate in the middle of the night, which they easily can. In these instances though, we simply don't let them run with scissors and we make sure there's nothing in that newborn's sleeping area that could obstruct their airway. We make the necessary adjustments to ensure their safety. And we should do this in the face of all uncertainty.

If you're worrying about the future of your employment because of new rules and regulations, start building a business of your own and diversifying your income.

If you're worrying about how you're going to feed your children then get chickens, plant a garden, start canning food, and get to know your community.

Worried about what will happen if the lights were to ever go out? Learn skills so if that time comes you can not only survive but thrive.

It is literally our job to ensure our children crush. And we need to act like it. Fear is a lack of preparation. What we saw in 2020 was billions of people around the world who had not prepared in any capacity for disaster. We saw heatwaves, forest fires that blanketed the country with smoke, power outages in the middle of snowstorms which crippled cities, and an untold number of businesses who had to close their doors forever because they had saved no money for rainy days. And the one common denominator to the reaction we saw through all of this was fear.

Beat the fear with high morality. Learn skills so you can help not only yourself, but others. Grow your own food so you can help others. Help your community so when you need help they're there.

The greatest gift we can ever give our children is the ability to watch us be strong in the face of uncertainty. When they see us out in that garden, or changing the bedding in the chicken coop, or working on our businesses, they're watching people work hard to provide and help others. They'll remember that.

And, finally, the most important thing to remember today, and in the future when things get crazy again is this: Our young children have no idea any of it is happening. While you're worrying about whatever it is that's got you down, all our children are worried about is why mommy or daddy is acting strange. Uphold the family above all else. Let their carefree laughter ignite a work ethic in you that will dissolve all fear, and crush harder than you ever have. The natural world and the world you see in the news are two entirely different realities. Make sure you're investing your time and energy into the one that actually matters.

-Woodshop Bear
Homesteading… Life in the Fast Lane
The Lessons Learned Through Failure and Loss…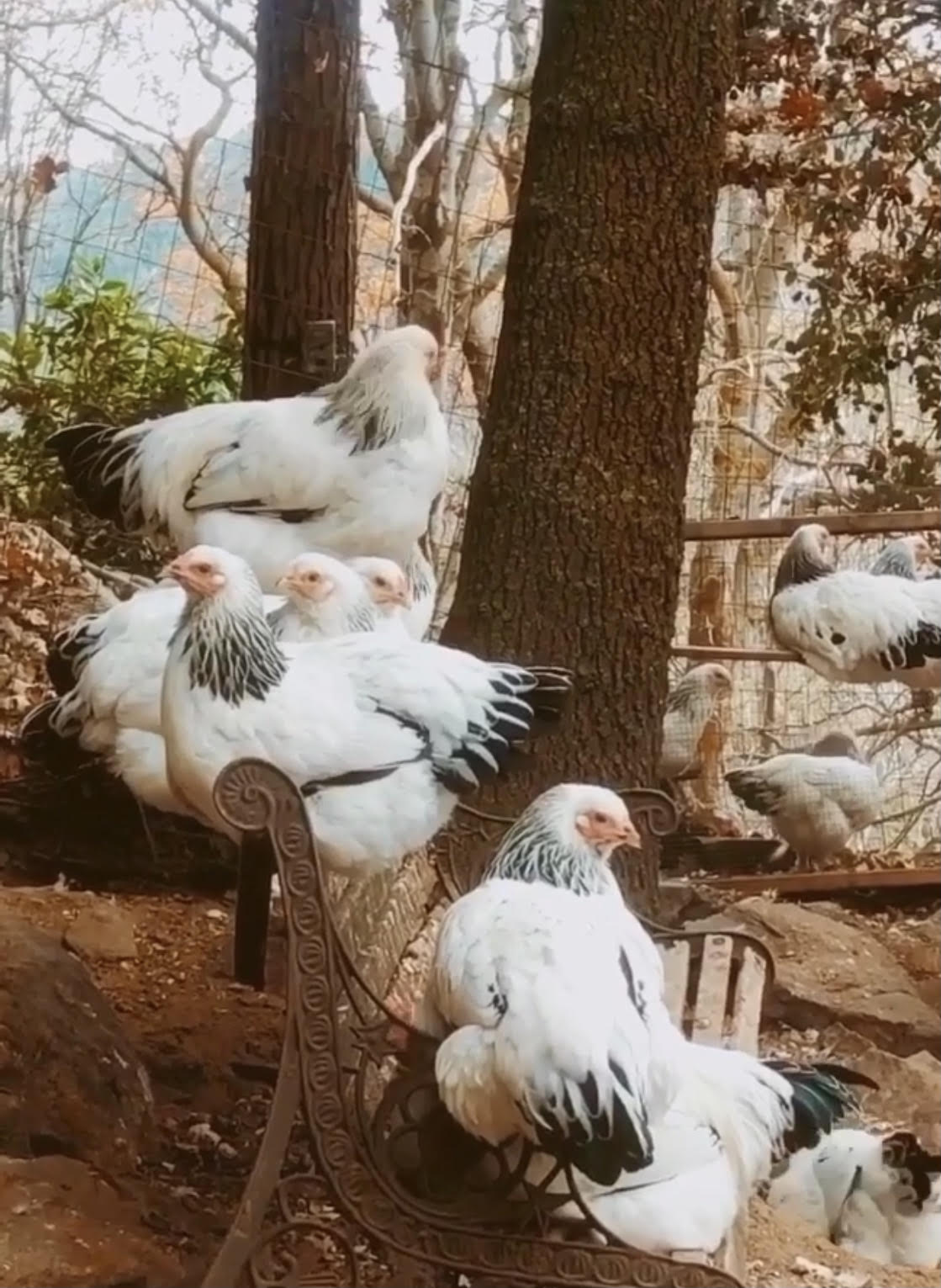 The Lessons Learned Through Failure and Loss…
A winter storm was rolling in, and that puts any homestead into high gear getting ready for the snow and freezing. The high anxiety and pressure gets everyone moving to prep the farm for the coming snow. It's quickly checking fences, filling and covering feed, adding extra fluff, filling and moving water troughs all at double speed. There was so much to think about and do with storms, but with a team of six helping , we were able to settle down around dusk, just before the storm rolled in.
A massive three feet of heavy snow fell quickly over the next twenty-four hours. The first night of the storm, our two puppy livestock guardian dogs, named Enoch and Eden, were barking relentlessly. Since we live in a community surrounded by other cabins, we have to be conscious of the non-stop barking that can naturally occur with LGDs. So, we have training crates for them to sleep in until fully trained. When they wouldn't quit barking at 5 A.M., I turned their crates around so they'd be quiet and stop being stimulated by looking out over the animals. It worked, and I went back to bed.
An hour later, it was time to get up and feed the animals. I let Enoch and Eden out, and they immediately went crazy barking and running towards the main chicken coop. I wasn't sure if this was simply an act of adolescence, or was there a predator there needing my attention?
The phone rang pulling me away; a call from my work letting me know that it was a snow day and I wouldn't be teaching students today. Yeah, extra sleep! Things were looking good. But, the loud barking brought me back to the situation at hand.
I hesitantly stepped out into the storm to take a look. I now had my "fancy pants" on, it was freezing outside, and I could actually sleep in another hour. So, I called the dogs back, locked them in their kennels, and went back inside where it was warm. All was well in the world. I fell back asleep.
My eldest son who is about thirteen took the liberty of checking on the birds for me when he noticed Mom and Dad were still sleeping past the usual time. That was when he ran inside into our room. With tears streaming down his face, barely able to speak, he said he thinks that all the birds froze to death. We couldn't believe it was that cold, and we ran out to check. Upon further inspection, we found the roof caging had broke making it vulnerable to predators. That's when, after closely looking at the birds, we knew it was a bobcat that had killed nineteen of our chickens and four of our ducks.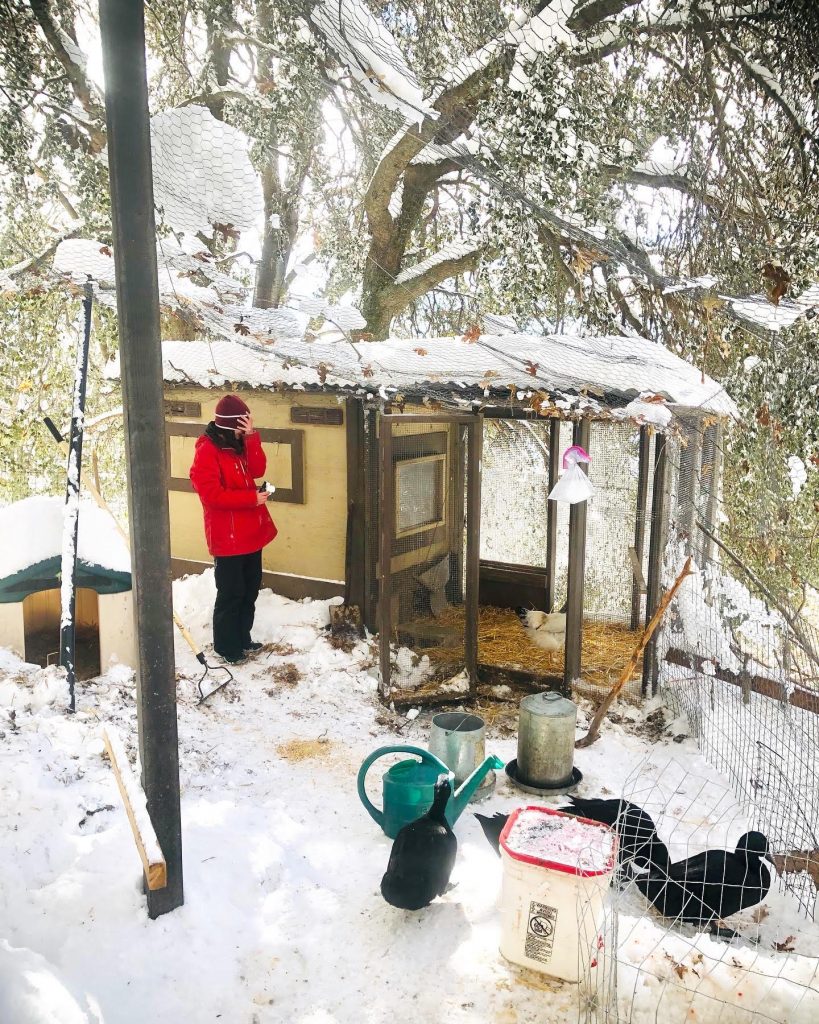 When I first looked at the massacre, I must admit, I didn't handle it very well. Immediately, I knew they were dead because of my mistake. I let out a very loud curse in front of my children and wife, and blasted out the energy and shame I was feeling with emotion. It was not the right thing to do. It's those moments in life, a family needs the father to be the strength. And, I failed them.
Homesteading puts your learning on an exponential curve. The extreme highs and lows that come several times a year for most, come almost daily when you homestead. It's God's accelerated school for learning Truth. I had to humble myself, pray, and quickly return as the role of father.
We processed twenty-three chickens that day. We had all the equipment, for we planned to process some birds in the future, however God had other plans. The saving grace to the horror and death we all experienced was to not let the meat go to waste. Our meat fridge was low on beef, but after processing the entire day as a family, our meat fridge was full again. Every lesson in suffering and hardship, God can work towards His glory.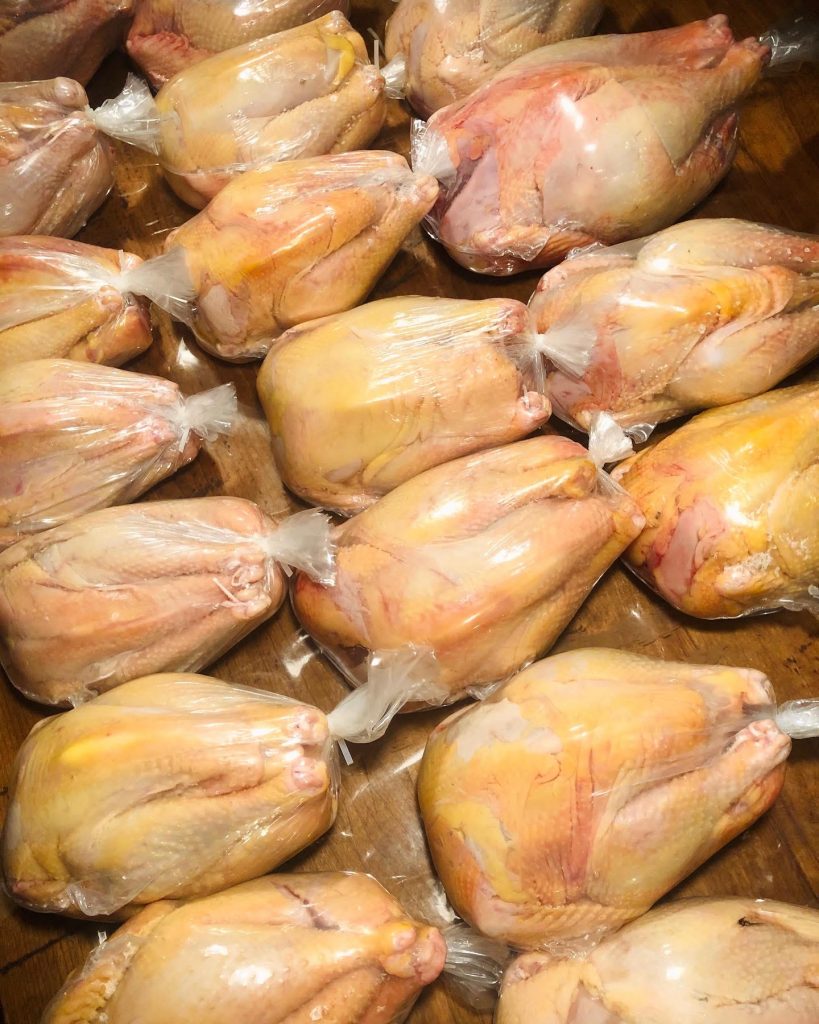 The birds were dead because of me. If a homesteader gets weak, for even one night, they can lose nine months effort in the blink of an eye. In all honesty, I did not handle this test very well but took a great lesson with it. I apologized to my family, took responsibility for mistakes I made, burned my "fancy pants" and grew from the experience. For that was all I could do. The damage was done.
Tough Lessons Learned
This heavy and terrible experience did not break our spirit though. That week, the fences and roofing were reinforced and repaired. We all stepped up to take better care of all the animals we still had in our care. When the dogs bark, I now head their warning. I get up several times a night now when the dogs bark. It's tiring, but the alternative is dead animals and a deflated family that feels like there's no point. Laziness is not an option with this much responsibility.
Living on a homestead, it does seem that I've asked for some accelerated learning. When the people started closing their businesses, I knew this was the "Go Time". I asked the Lord to allow me to finish strong and to teach me what I needed to know in order to finish the race worthy of Him. He said, "Build your homestead and control your mouth." I thought that would be such an easy task, especially the mouth part. I actually felt insulted. Boy, was I wrong and massively humbled.  
For all you Bears out there that are already homesteading, you have my utmost honor and respect. If you've been doing it for some time successfully, I can guarantee you are a human of high character and quality. I hope to one day reach that level. For those of you with little garden experience or a few chickens or quails, God Bless you! You are pushing yourself and learning serious life lessons daily. If you are still waiting for the right opportunity to begin, that time is now. Life's lessons speed up when you're in charge of other's lives.
When tragedy at the homestead hit. It taught me much more than how to fix fences, check for predators, and process meat. I learned that I have much to learn about character and leadership when life's challenges come my way. As a Father, how I handle the situation, in what I say and do, matters when the inevitable lessons of homesteading come my way.
If you want to accelerate your learning, it's time to take more responsibility for others, and in turn, you will get more responsibility over your own self. There is no hiding responsibility when homesteading. Yes, I failed. It was hard on the family. But, the rewards you get from overcoming challenges, learning from mistakes, and becoming better as a team is worth the struggle.