Our Story Begins
The following is an account of twenty-three legends that assembled at a campground in the Beara Peninsula of County Kerry, Ireland, in the first weekend of July 2021.  This is the story of the first Béara Clann camp trip.
Our story begins on Thursday, the first of July.  Kingdom Bear and his wife, Kerry Moma Bear, arrived at the campground to claim our corner of the camp.  Kingdom Bear, an avid camper, is also a veteran of the printing industry.  He brought with him a few surprises he'd made for the group, including a Béara Clann banner and flag.  With banner and flag in place, Kingdom Bear was ready to welcome the other members they arrived.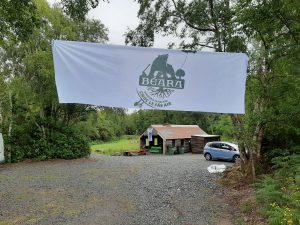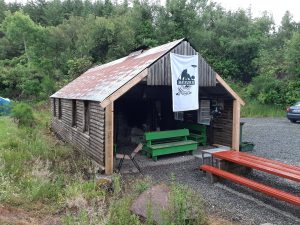 Béara Clann Assemble
Friday morning, members of the Béara Clann, the Irish Unbearables, began their journey from all corners of Ireland to the campground in County Kerry.  By the afternoon, most of the group had made their appearance.
Upon arriving, the Clansfolk were warmly greeted by the Béara banner and flag marking our little settlement.  There, we found a fire pit surrounded by tents on all sides.  Next to that, a small building for shelter from rain.
Kingdom Bear and Óbéara Bear welcomed the Friday arrivals with smiles and open arms.  Everyone joined in to help each other build their tents.  After setting up and a quick trip to a nearby village to stock up on food and supplies, everyone was settled in for the evening.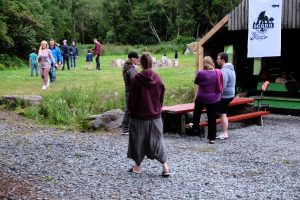 It was like old friends having a reunion, though this was the first time many of us were meeting in the real physical world that exists beyond the borders of the digital realm.  Handshakes, hugs, smiles and stories being shared were in abundance.
It was time to build a fire before nightfall.  A few bears spotted a huge broken tree limb and with teamwork, removed it from the tree with bare hands.  Then they began to break it down to smaller pieces using various saws and axes.  Everyone participated in a group effort.  As one got tired, another bear stepped up and continued the sawing.  This was also a great opportunity to teach the younger generation how to chop wood.  The Paddy Glassman Bear instructed Green Bear's sons, Strummer Bear and Pickle Bear, how to chop up some firewood.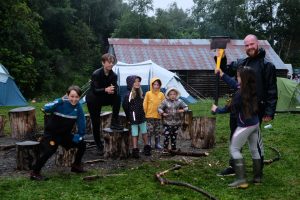 The positive vibes continued into the evening hours, as members gathered round the fire to tell stories, crack jokes and share their various interesting theories about this realm we call Earth.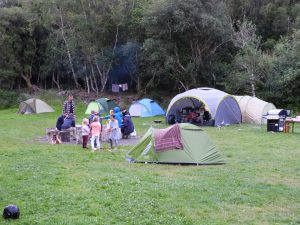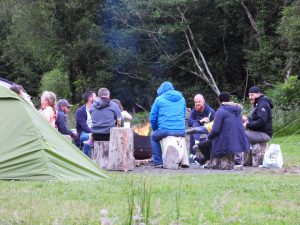 The Fellowship of the Clann
Saturday morning saw the arrival of several more members, completing our gathering of these Irish Beartarians.
That afternoon, several members embarked on a journey to hike to a hilltop where an ancient stone circle stands.  The group admired the elevated view while contemplating what the ancient people of this land had known to construct such a site.  After visiting this ancient place, some of the braver ones took a dip in the chilly waters of a nearby lake.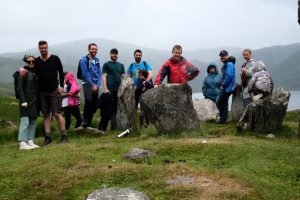 Once everyone was back at camp, the Béara Clann's Minister of Enthusiasm, Brayvy Bear, presented each of the children in the group with a gift bag.  The amazing Kingdom Bear and Kerry Moma Bear put together these lovely gift bags that included things like crayons, coloring book, bubbles and toys.  The Béara Clann children were most pleased.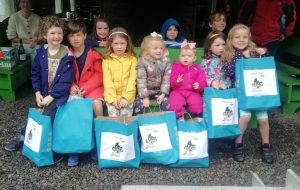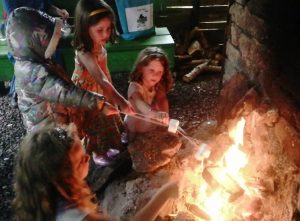 It was steadily raining that evening, so we all gathered under that nearby shelter for a dinnertime BBQ.  Spirits were high as we shared stories and crafted jokes.  There was an abundance of good cheer.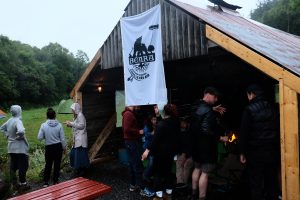 After dinner, Brayvy Bear presented all of the adults with a souvenir Béara Clann mug that he and Kingdom Bear had made for the group members.  To mark the occasion, Brayvy Bear also presented to the group a bottle of locally crafted Beara Irish Whiskey, pouring a little into each mug and proposing a toast to the Clann.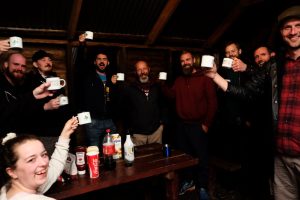 The "craic", as the Irish call it (stories, jokes and laughs), continued into the late night hours.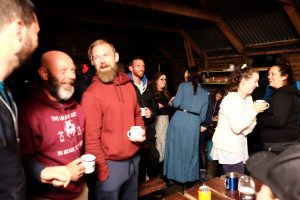 Making Our Own
Sunday morning, the group screen printed t-shirts with the Béara Clann logo.  Each member had brought with them the shirts they wanted printed.  Kingdom Bear set up a station in the shelter area to do the printing.  As mentioned earlier, he's a veteran of the printing industry, so he volunteered to man the screen printing station.  Brayvy Bear, always eager to help, stepped up to assist him.  The end result was beautiful, each member going home with a freshly printed Béara souvenir t-shirt.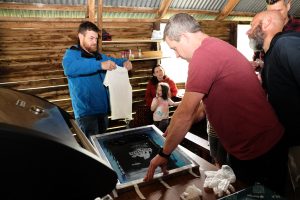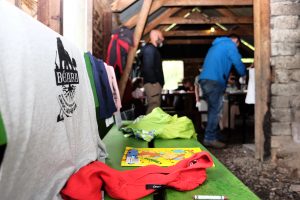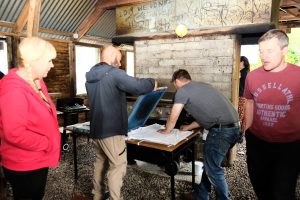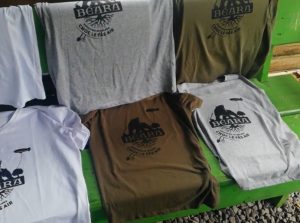 After printing t-shirts, Poppa J Bear hosted a livestream for Instagram.  The stream included a tour of the camp site and short interviews with several of the folk.  It was a great way to capture and showcase the energy of the trip.
Next, everyone gathered in front of the shelter for a group photo.  ConspiraBee Bear, an avid photographer who had been photographing the entire weekend of events captured the group photo of us.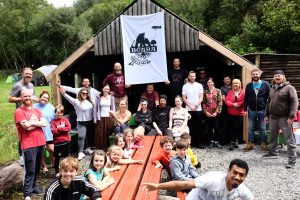 Further Exploration
Some members packed up to head home after the group photo.  The remaining members embarked on an expedition to see a famous secluded waterfall and lake not far from where we were situated.
The scenery at this location was epic, like something you would see on a postcard.  Passing through fields of sheep, you encounter the waterfall.  After a few photos were taken there, we proceeded to trek up the steep trail towards the lake.  At the lake, several in the party decided to again take a dip in the water.  The Buzz Wrecker Bear, Rua Bear, The Paddy Glassman Bear, Eire Bear and Defender Bear's girlfriend all went for a swim, those brave souls.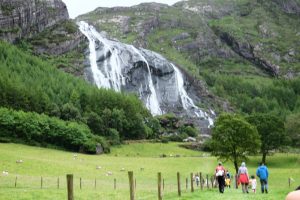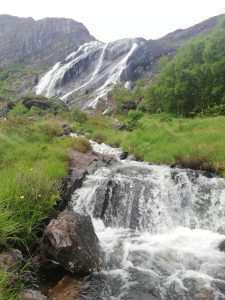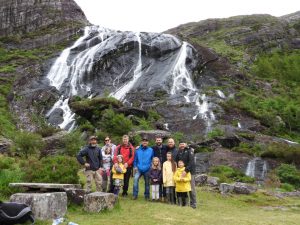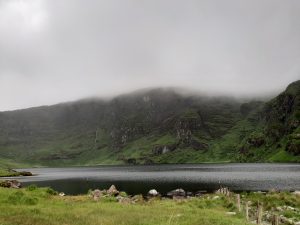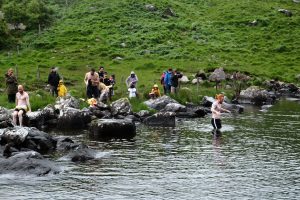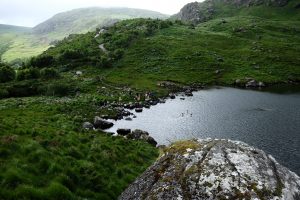 Once back at camp, the men set up a friendly axe throwing competition.  Logs were stacked for a target and the each man took turns throwing the axe.  Much fun was had, so much so that axe throwing will be a featured event at all future camp trips.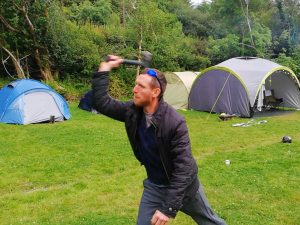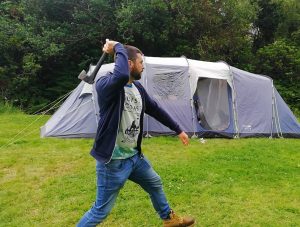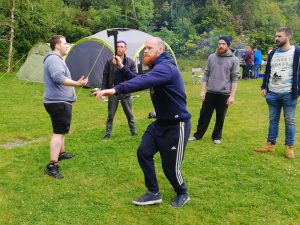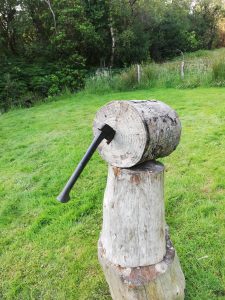 Onward to Béara!
That night, as the rain had ended, we all gathered round the fire again.  Future plans were discussed, including another camping trip, as well as the proposed formation of the Beartarian Horticultural Society.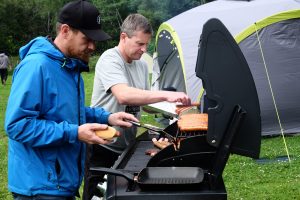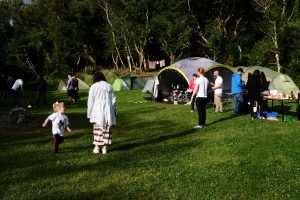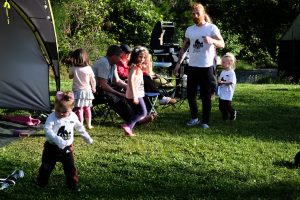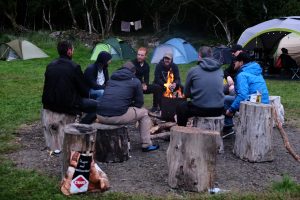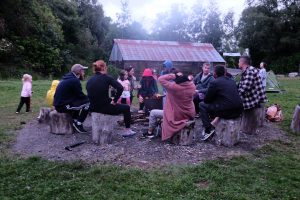 The common thread that tied this weekend camp trip together was teamwork and community building.  Each member of the Clann lending a hand to help another.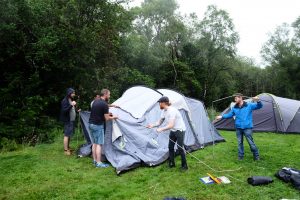 It was so good to see everyone get along so well, to see our children playing together in nature.  To watch the initially hesitant and wary wives and girlfriends go from polite conversation to genuine warmth and good natured joking, now eager to be a part of this wonderful group.  This is what community building is all about.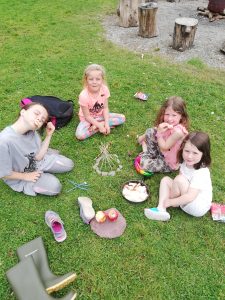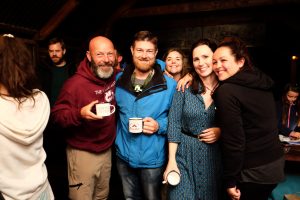 The friendships formed, friendships reinforced and memories made at this July camp trip will last a lifetime.  We, the Béara Clann of Irish Unbearables, are a young group, still growing and learning as we go, yet we show much promise of big things to come in the future!
On Monday morning, it was decided that we would all meet here again for the second weekend of August.
To be continued…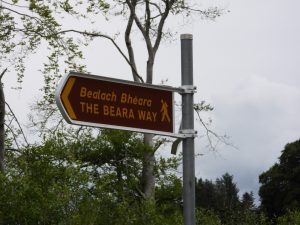 The Beartaria Times Community App introduces Weekly Community Activities.
This Wednesday at 6 pm PDT, we will host a Community App Activity similar to the reintroduction campaign we launched a couple months ago.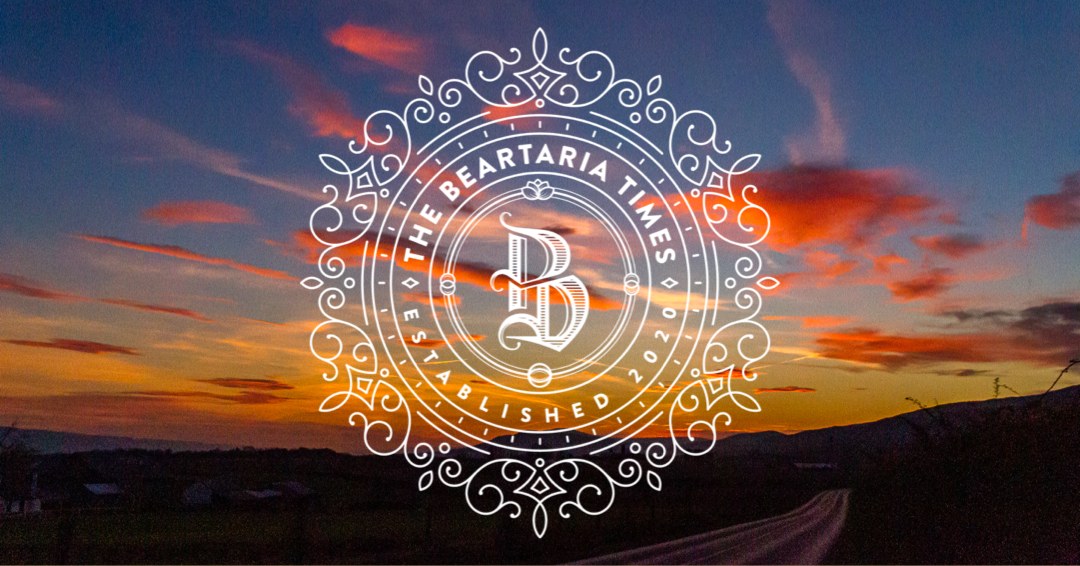 Here at The Beartaria Times, we have been busy recalibrating since our Second Annual Beartaria Times National Festival. It has been a labor of love, and we were so happy to see you all there. We know we have been quiet in other aspects of the community, but we have been preparing behind the scenes to be more active on our website, BeartariaTimes.com, and to encourage community dialogue on our community app.
This Wednesday at 6 pm PDT, we will host a Community App Activity similar to the reintroduction campaign we launched a couple months ago. This time we will be asking all app users to join the discussion and let us know, "What are you most grateful for this week?"
This will mark the beginning of what we hope will be a weekly activity of prompts from the Beartaria Times Official account to provoke thought and encourage engagement with each other on the app. Along with community wide questions like we have this week we will also have activities focused on specific groups in the app along with prompts to encourage a "Fruitful Focus" on things that highlight the good, true and beautiful.

Onward.
Thank You to Everyone who Made the Festival Possible
To say the second annual Beartaria Times National Festival was a success would be a massive understatement, and it could not have been done without the tireless work of many people.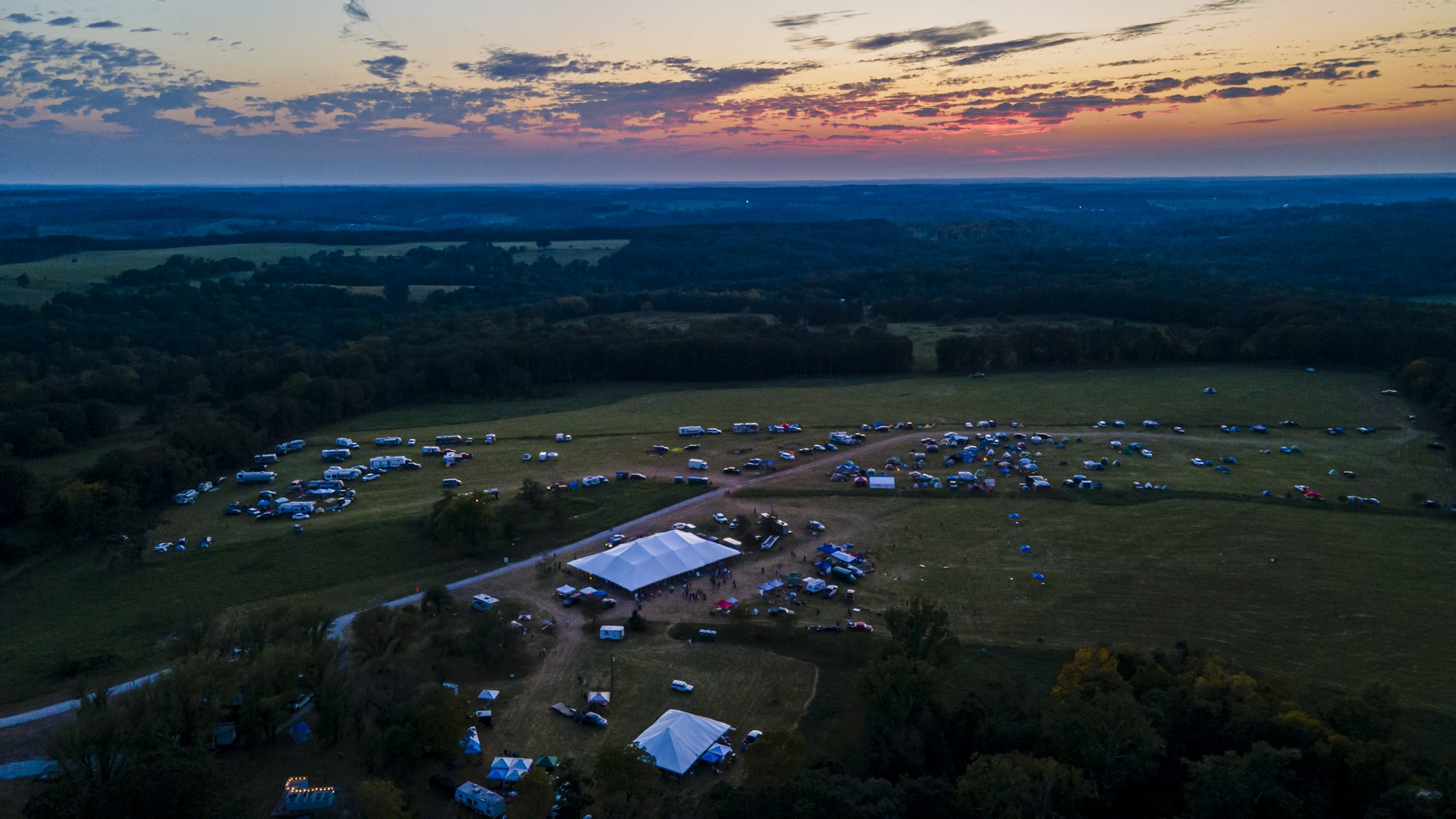 To say the second annual Beartaria Times National Festival was a success would be a massive understatement, and it could not have been done without the tireless work of many people.
We would like to extend our gratitude to everyone involved. We especially want to thank the stage crew, the musicians, the film crew, the speakers, the Texas County Sheriff Dept., the men who helped build the infrastructure and get the land ready, and everyone behind the scenes who made the event possible. We also want to thank Owen Benjamin for founding this community which has now grown a life of it's own. We have evolved from online culture wars to a realm wide network of homesteaders striving for a brighter future for our families, our communities and future generations.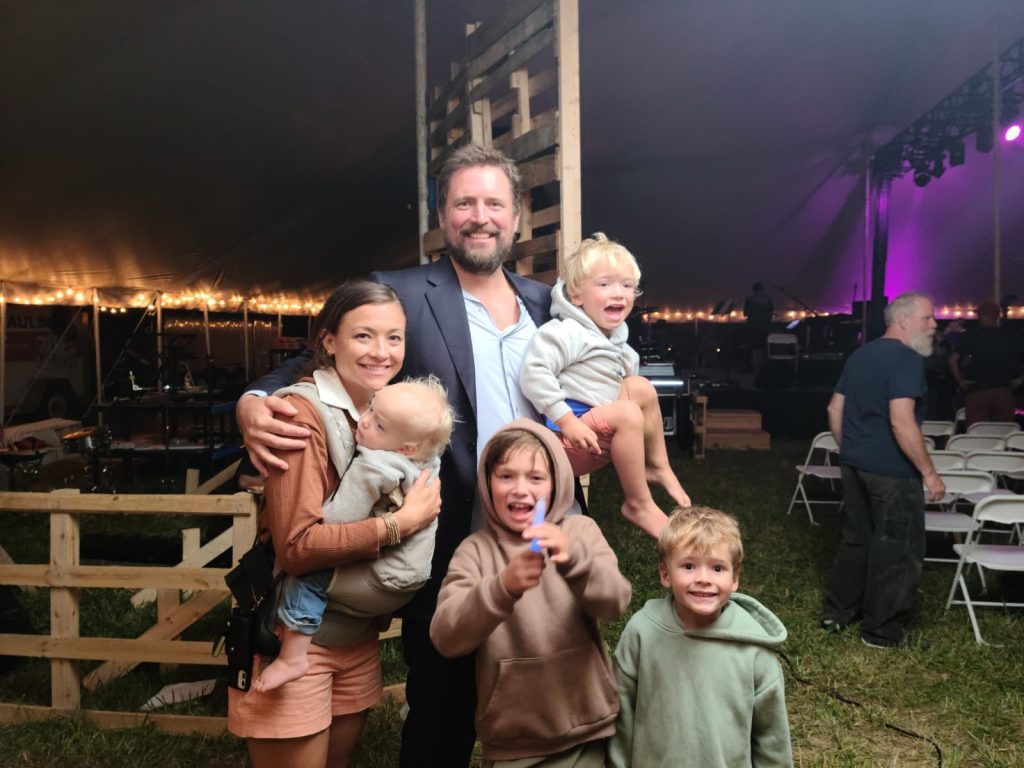 There were many significant improvements over last year. Adding the gravel road was comforting in case of rain, though we did not need to test it this year. Some of the crew built outdoor showers that helped our campers stay cool and refreshed. Our food vendors were 100% local vendors and kept the attendees well-fed throughout the festival. The music, speakers, vendors, games, and workshops all escalated compared to last year, while the addition of the Big Bear himself performing and speaking unmistakably brought us to another level.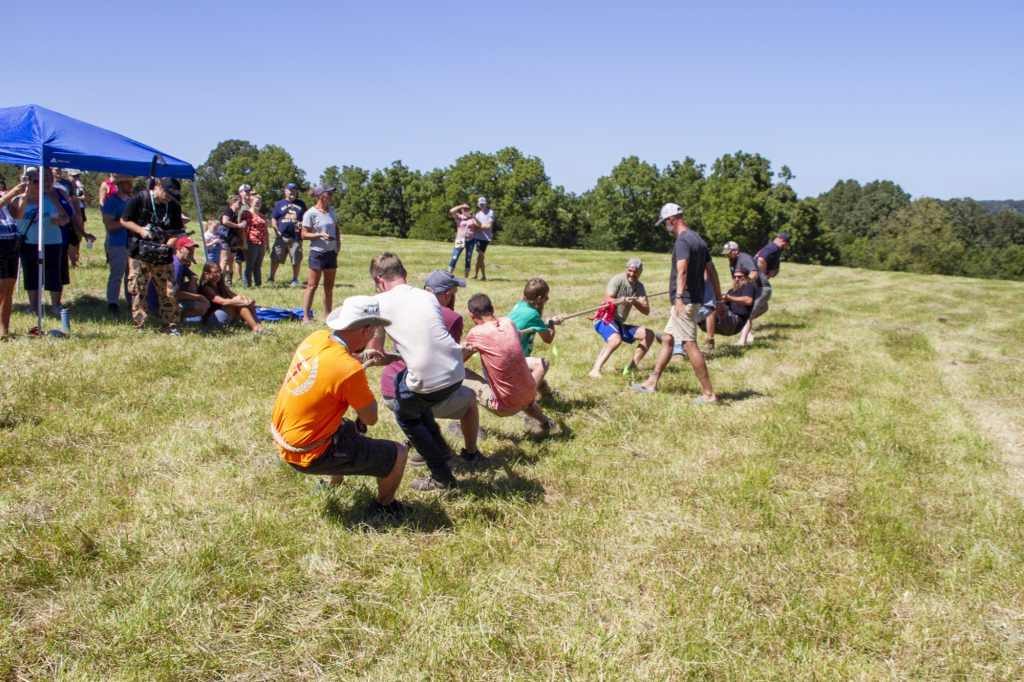 We aim only to keep spiraling upward for many years to come.
Onward to Beartaria!
The 2023 Beartaria Times National Festival Music Lineup Announced!
Musical Bears Dare To Crush!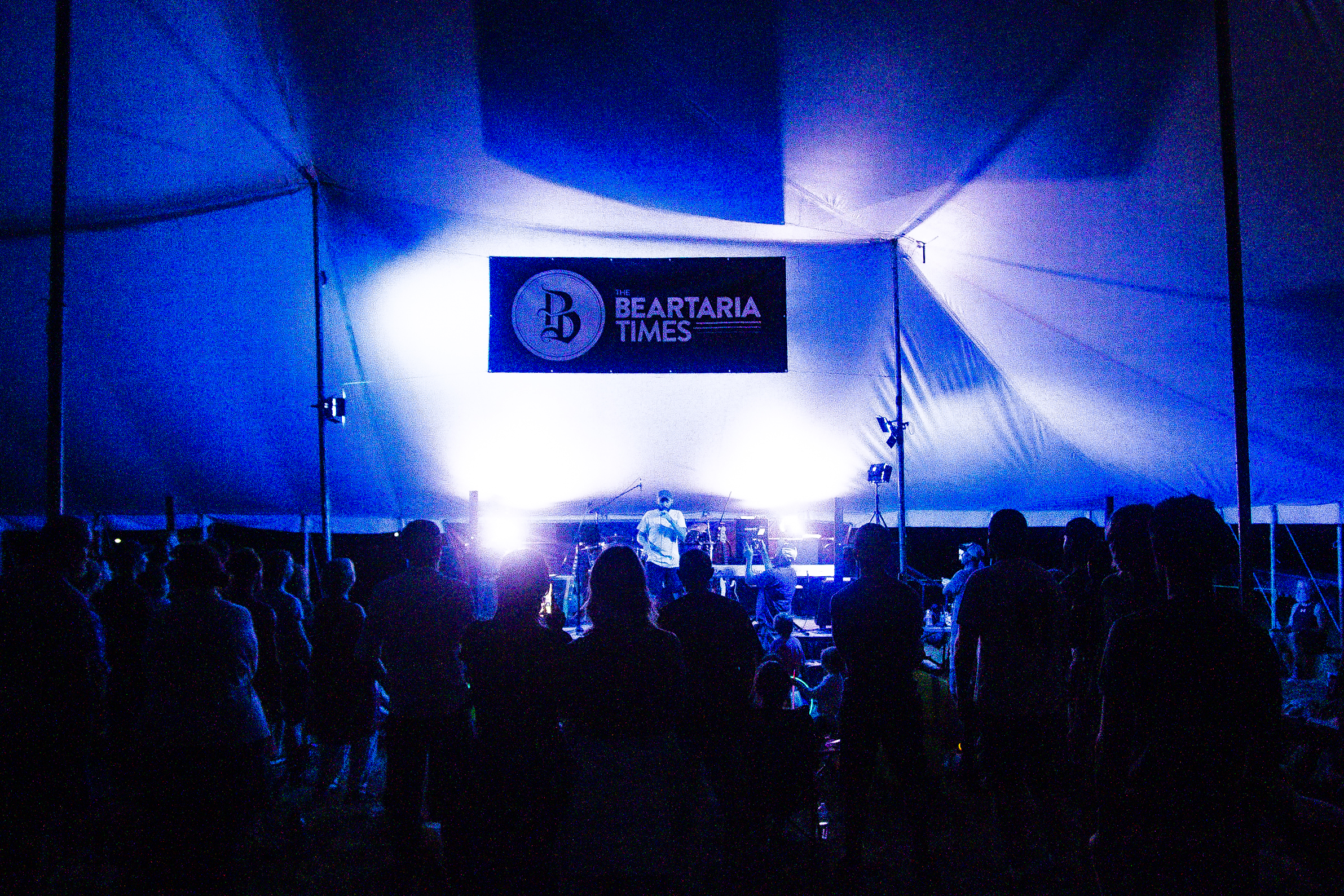 Musical Bears Dare To Crush!
The first annual Beartaria Times National Festival was a musical success.
Remarkable, considering the Bears were entering uncharted territory. Bear Musicians came from all over the United States, each having studied the music remotely, putting on great shows, despite minimal rehearsals in person. Anchor Bear and many others blew away bears of all ages as the performers gave their all.
This year, the lineup is three times larger!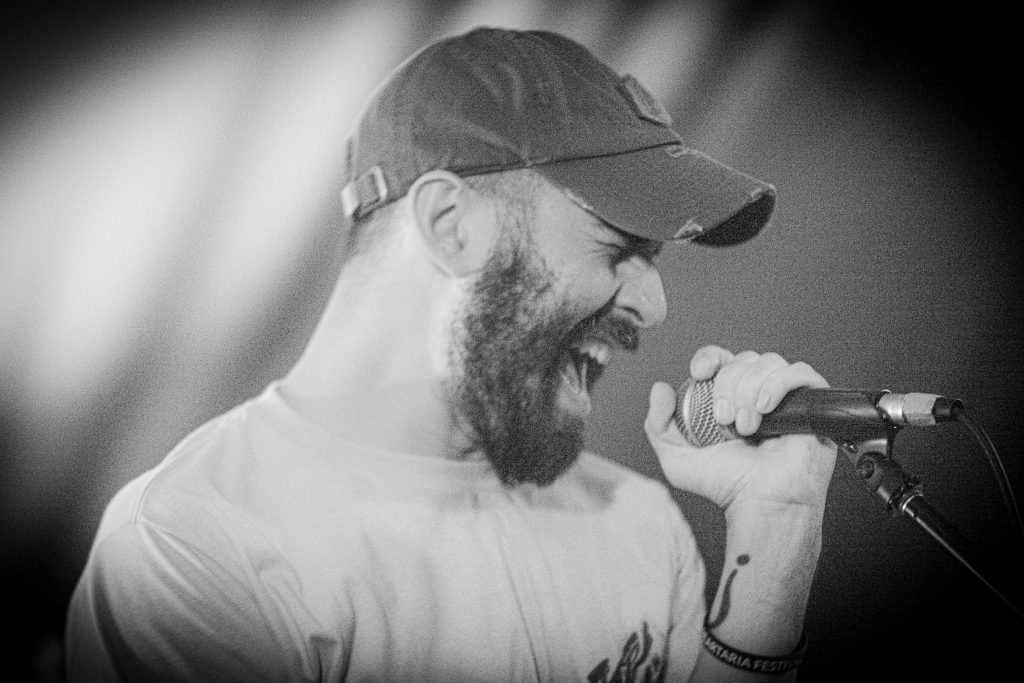 Bear Headliner
Once again, Anchor Bear is the Headliner, bringing his bear-famous brand of soul and energy! Owen Benjamin enthusiastically chose to have Anchor take the stage after his Saturday night comedy special filming. Thanks to the fresh setlist, Bears will hear their favorite Anchor Bear songs, even if they might have to stay up a little later than usual!
Bear Legends
The rest of the musical lineup is spectacular. The Vox Day/Dark stream contingent is represented beautifully by our very own Cactus Eater Bear doing Booster Patrol songs in the unique Vox-inspired Punk-Metal/Shred/Boomer Rock style. Many other long-time Bears are featured doing bear-themed originals and some great covers. The schedule features Flo Cal Bear, Grungy Blues Bear, Copper Bear, Cano Bear, and yes, even Jackobat doing acoustic versions of his unique originals, to be joined later in his set by Guest Bear artists!
Bear Variety
The hits keep coming. Colorado's Music Bear does a run of his Nature Soul/Alternative. Husband-wife Accordion/Guitar duo "A Couple of Yahoos" showcase their front porch Folk. Missouri Band "Simply Prodigal" brings their original Praise Rock, while Crrow777Radio Co-host/ Producer Jason Lindgren returns with this original Pink Floyd-inspired Rock set.
Bear Wedding
History is being made this year; Wobbly Bear and Hometown Bear's wedding is happening at the festival! The WobblyTown Wedding Band will play special music for the newlyweds on the main stage as the couple has their first dance and the Bears celebrate the happy couple.
Bear Band
Backing many of these Allstar Bears is a world-class group, with Bandleader Telecaster Bear and Drummer Peacemaker Bear returning from last year. Featuring Atlanta Guitarist Anthony Cappolino, Bassist Sea Level Bear, Music Bear on various instruments, Drummer Hoodilidaddle Bear, plus Surprise Guests.
Bears making music memories is a beautiful thing! Onward.
Bear Roster: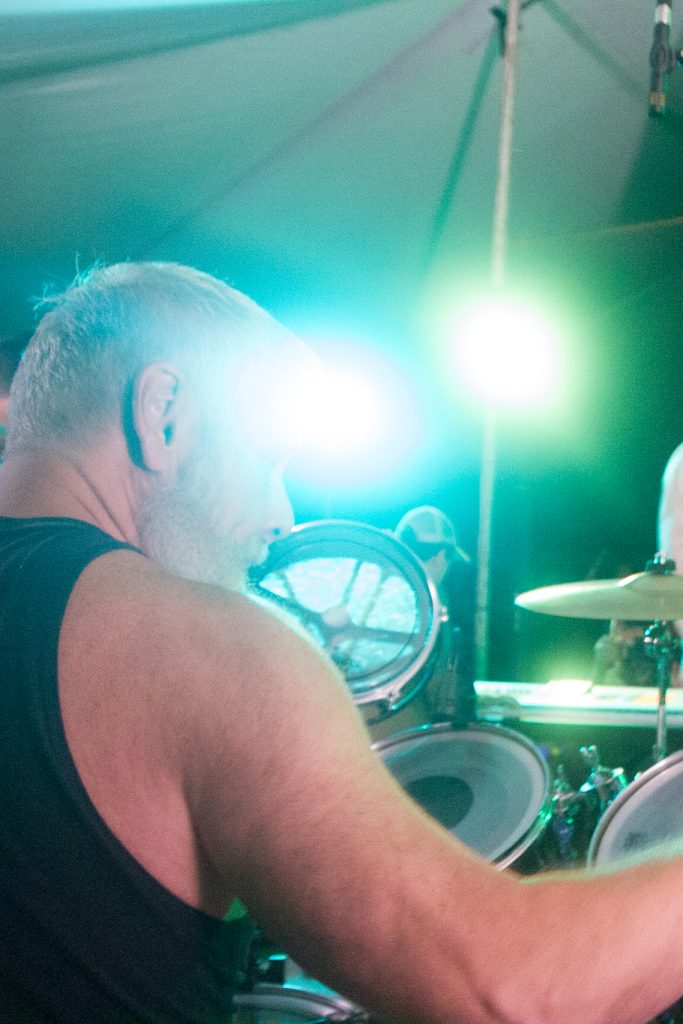 Make sure to pick up your tickets at BeartariaTimes.Events!