The Subtle Power of Growing Food
In 2008 I purchased a property that looked like a park, had amazing soil, and a seemingly endless supply of water, with the intention to experiment on the potential to strengthen my overall health by growing a large portion of my own food.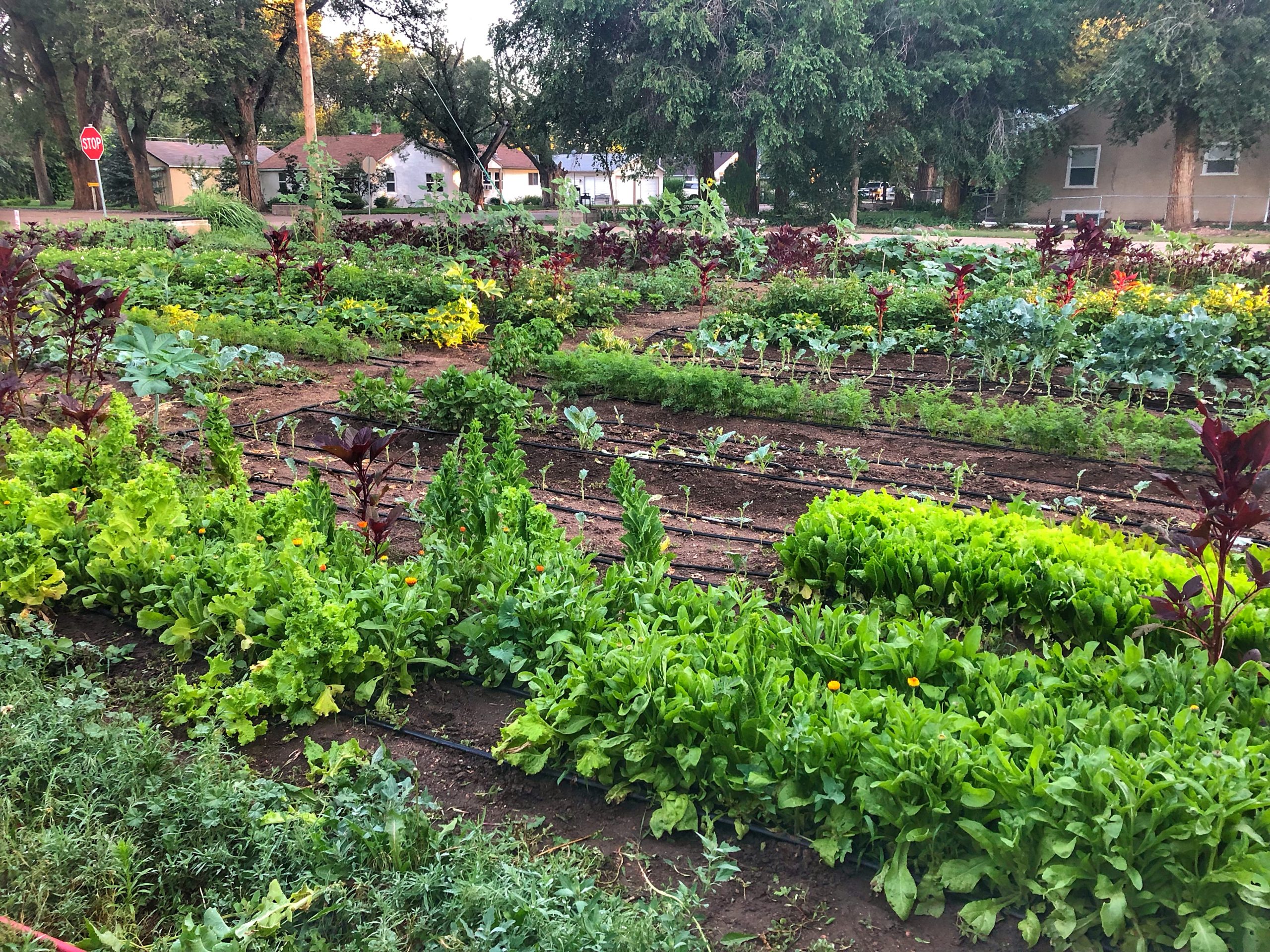 By Volgadeutsch Bear / Zachry Smith
This article was first printed in our very first issue of The Beartaria Times Magazine, Origins, A Revealing of Legends
I live in Evans, Colorado. It is a town with a population of around 25,000 people. It is a food desert. There are a smattering of excellent hole in the wall restaurants. There are a bunch of gas stations with crappy food. There are a couple of small Mexican grocery stores and that is it. Granted, Evans is a suburb of Greeley, which has all your normal food places and grocery stores and you can easily fulfill your needs by going to Greeley. Like most places in America, the people of Evans and Greeley are dependent upon an external system of supply chains for food. But I wonder; is it possible for the town of Evans to become food independent? What about Greeley and Evans, heck, I wonder if it is possible for all of Weld County to become food independent? What would happen if the people of these communities realized the vulnerability of the existing food system and decided to send significant resources and energy towards becoming food independent on a local level? Is it possible for any community, regardless of size, to make food independence a fundamental pillar of the communities existence?
In 2008 I purchased a property that looked like a park, had amazing soil, and a seemingly endless supply of water, with the intention to experiment on the potential to strengthen my overall health by growing a large portion of my own food. My property is basically divided into three sections. A one acre field with rich soil, the park section shaded with trees where my house sits, and another ¼ of an acre field with beautiful soil. A few of my neighbors and I joined forces and by the third year on the property we created 'Empire Gardens' and had an operation growing a little over an acre's worth of vegetables and herbs. From July through October, Friday through Sunday we created a farmers market in the front yard. We did this for two years when unfortunately my neighbors inherited land in Tennessee and split. The energy explosion and the wisdom revealed in those two years was remarkable. We built real community connections as the farmers market became the place to be. Neighbors got to know each other. Powerful discussions about health, food supply chains, what is value, debt slavery and the trajectory of the education system are examples of the depth of topics discussed. People were learning about nutrition, saving seeds, and preserving food. Many people within the community suggested that I run for mayor. I would jokingly always ask, "is it possible to be mayor without running for mayor?"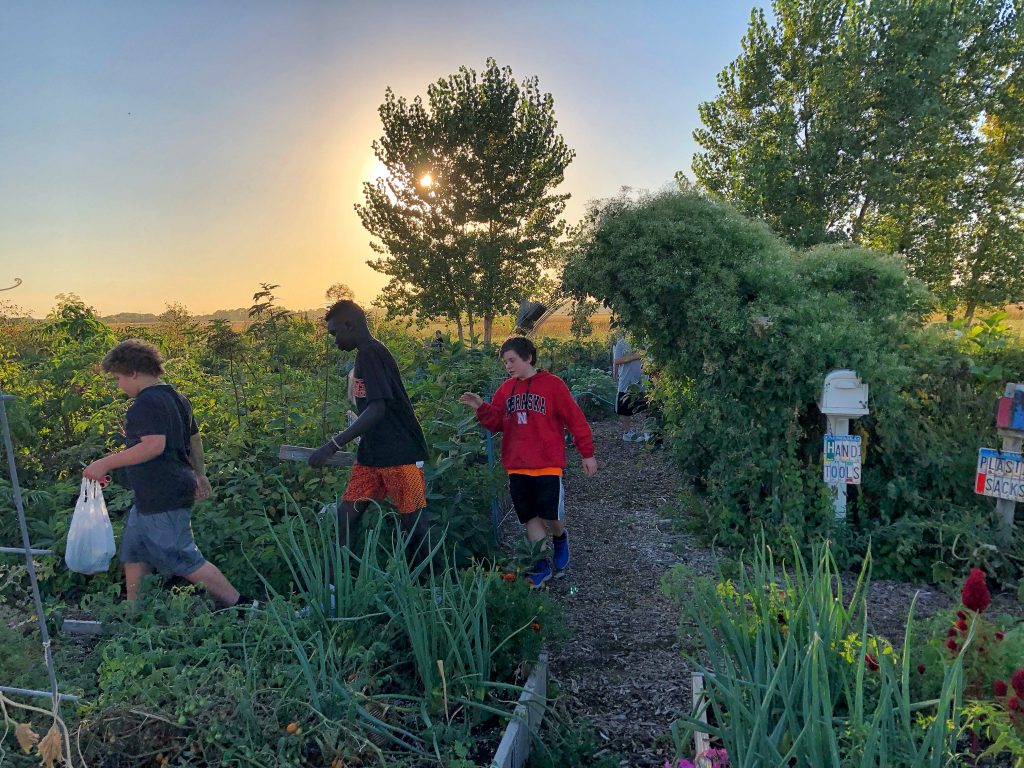 My buddy Jayson is a seventh grade biology teacher at a middle school in Hastings, Nebraska. Like Evans, Hastings has a population of around 25,000 people. Jayson spent a few days at Empire Gardens one summer during the peak of its operation. That experience and our conversations planted a seed in his mind. He envisioned the power of growing food and providing the opportunity to do so for kids. He went back to Nebraska and spearheaded the creation of the largest school garden in the state of Nebraska. This is where it gets interesting. One year in the late winter I drove out to Hastings to tandem teach with Jayson for an entire week. We hijacked a week of school to work on one project with the kids.
We asked them; Is it possible for the town of Hastings to become food independent? The kids quickly came to realize that the majority of the food they consume does not come from the vicinity of Hastings even though Hastings is surrounded by farmland.
By the end of the week, kids were presenting solutions on how to create and make available more food on a local level. One kid began mapping underutilized open spaces where food could be grown. One kid searched properties for sale to build an interconnected network of food stores that could be conveniently accessed by foot from anywhere in town. Kids realized we need people who can do stuff. We need growers, processors, marketers, lawyers, leaders, programmers, communications, money and so on. The more we contemplated building food independence for Hastings the more gaps kids realized needed to be filled. That became the game, 'Fill the Gap', who is interested in filling the gap? What will it take to Fill the Gap?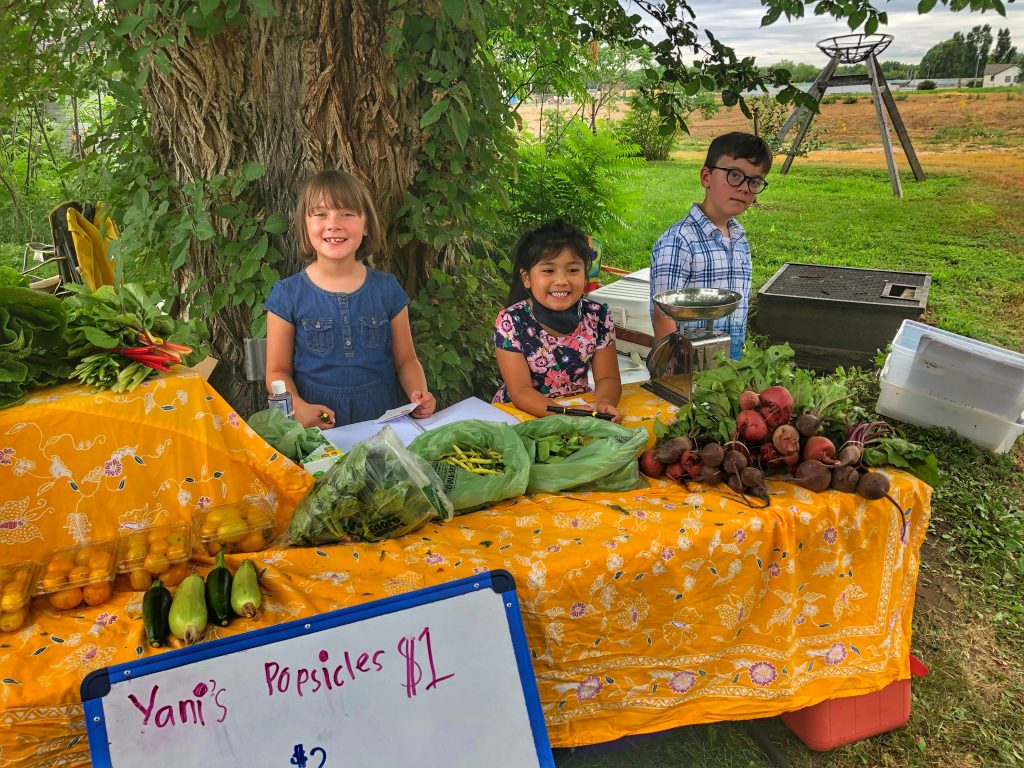 Kids can be the catalyst to build more harmonious, cohesive and resilient communities through food independence. What if part of the curriculum of growing up was to be a part of building food independence? Imagine if a team of kids presented to a bunch of investors a plan to make the town of Evans food independent? What if a team of kids ran the math equation, found a few ranchers outside of town and developed a method to provide a quarter of a cow to everybody in town? What if a team of kids ran a media operation with the intent to show the current state of food independence within the town by describing what is currently being produced, what gaps exist, can those gaps be filled, what do people want to eat, what should people eat, we have this need/who wants to help? Empire Gardens is simply the process to create food independence on a local level. Food independence is fractal. It begins with the individual and has the power to radiate from family, to neighborhood , to town, to county, to state, to country, to the world. We all know high quality, nutritious and energetic food when we see it. We all know that that kind of food is a fundamental pillar to achieving our best selves. We all know that a direction through food is a way for harmony to restore. What if we as communities utilize the energy of generation next, the wisdom of elders, the infrastructure that already exists and the super lofty goal of food independence on a local level as a mechanism to create a new trajectory for the good, true and beautiful?
Micro Greens – Macro Benefits
Having good nutrition is important, sure, but that's just scratching the surface of the benefits growing your own greens offers.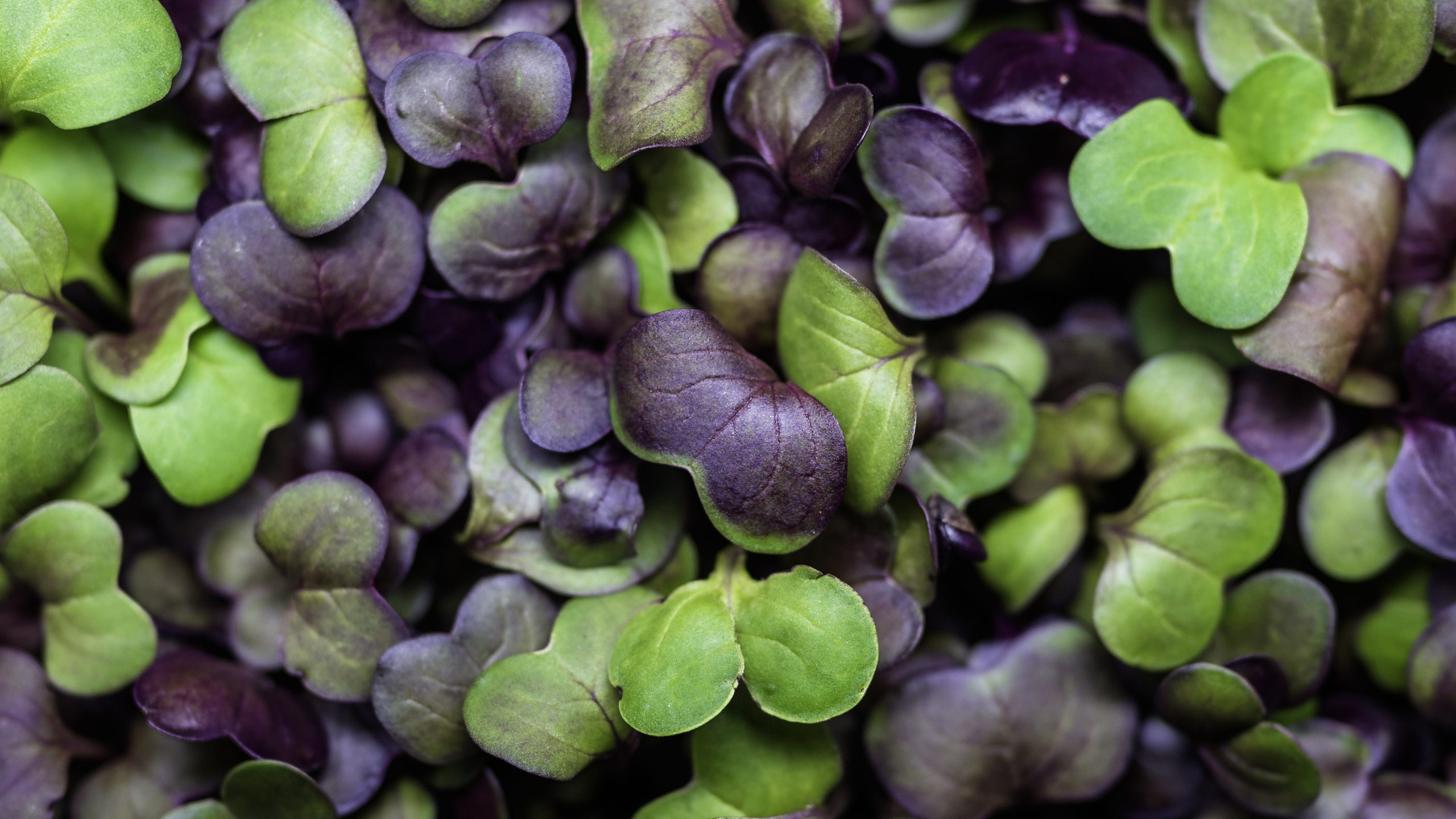 By: BalanceBear (aka @johnny.greenleaf)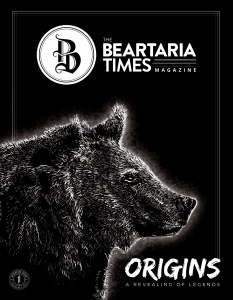 This article was first printed in our very first issue of The Beartaria Times Magazine, Origins, A Revealing of Legends
Microgreens, as the name suggests, are small by nature, but the benefits they offer are quite the opposite of their size.
What are microgreens and what exactly do they have to offer? Microgreens are vegetable greens harvested just after the cotyledon leaves have developed (7-10 days after germination for most varieties). The benefits? Well, they are countless. We'll get to many of them, but a few of the biggest advantages of growing microgreens over traditional vegetables are their space efficiency, time to harvest, & ease of getting started. Just because you don't have a yard, doesn't mean you can't grow your own food. With as little as a shelf in an apartment, and a few supplies, you can start sewing seeds and reaping the benefits of these nutrient dense greens in no-time. I was introduced to the world of microgreens this past year by the legendary Urban Farmer, Curtis Stone, and in just a matter of 8 months they have already had a profoundly positive impact on my life, and my community.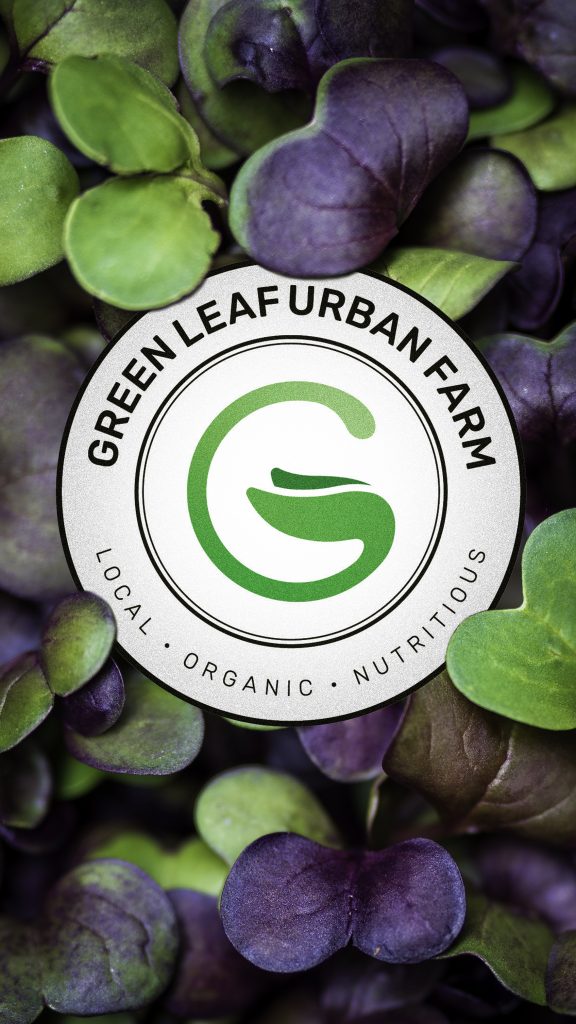 Now how could something so small offer so much? It's been theorized that the reason microgreens are so nutrient dense compared to the leaves of their mature vegetable counterparts is because they are harvested shortly after germination, when all of the nutrients they need to grow are there. Regardless if that theory holds true as to the why, nutrient tests have shown that microgreens contain 4-40 times more concentrated levels of various nutrients than leaves in the mature plants, depending on the variety & specific nutrient (i.e. red cabbage microgreens contain 40 times more vitamin E than mature red cabbage). Buying microgreens from a store can be significantly more expensive than normal mature vegetables, but growing them yourself, especially when you consider the time from planting to harvest, is much more affordable. Furthermore, when you buy anything from a grocery store, the vitality of the food has already been severely diminished due to the fact that it takes so much time for the product to be packaged and shipped off to the store. From the moment a fruit or vegetable is harvested, the nutrients begin to break down. This vitality can actually be measured. Realistically, the freshest produce you can get from a store is 4-7 days post harvest. The total time it takes to get from planting microgreen seeds to harvesting the greens is 10-14 days total (for most varieties), which is right up there with the nutrient density when it comes to the best benefits microgreens have to offer. When you compare that to typical times like 2-3 months for a mature plant to bear fruit, it's quite astonishing that the microgreens pack such a dense nutrient punch, and when you grow them yourself, you can eat them living, which means you don't lose out on any nutrients like you do when you get already deteriorated greens from a store.
Having good nutrition is important, sure, but that's just scratching the surface of the benefits growing your own greens offers. One of the biggest benefits I have personally experienced since becoming an urban farmer, is the community connection that has come from it. I believe that food and community are two of the biggest sources of energy in this realm, and when you grow your own food, and further when you exchange it within your community, the energy boost is multiplied. Picture a closed-loop energy cycle; that's what you get to experience when you buy, sell, or trade locally within your community. First, you get an energy boost from growing your own food, you then experience an additional energy boost when you exchange your food to someone in your community, because you see the joy it brings them, and you know that it will nourish them. They receive that same energy boost when you buy or trade for their food, and thus the communities' overall energy goes up by a multiple factor, and the energy loop remains closed. When people in your community buy food from a corporation, especially one that's not local, energy gets siphoned off into the ether, rather than being kept in your community where it can continue to cycle & recharge.
I'm speaking from experience here, as I have felt a tremendous difference since buying, selling, & trading with local bears at our Southern California Bartertaria Meetups, as well as exchanging my greens for fruit from my neighbors' trees.
Even if you live in an apartment in a city like I currently do, microgreens can be a great starting point for you to tap into that energy cycle. Furthermore, if you've never grown food at all, consider these greens as a great micro-step to start the journey that is gardening/farming.
I won't go too much into detail about the equipment you need to get started, as there are plenty of great resources online and on YouTube for that (seek and ye shall find), but I will tell you the basics of what you need to get started, and a few good online resources to look in to if you want more details. You will need some kind of tray or container to put the growing medium in (I use 10×20 trays from Bootstrap Farmer), seeds (I get mine from TrueLeaf Market), a growing medium (I use an organic potting soil from ProMix), and lights (I use 4' Sunblaster Fluorescents) if you want to grow indoor, otherwise you can obviously use sunlight if you have space and want to grow them outside. That's basically it. Anything else will just upgrade your operation. A few of the best online resources which helped me along my journey, from setup, to growing, all the way through harvesting are: Curtis Stone's From The Field TV, Donny Greens on YouTube, and OnTheGrow who have great experiments on YouTube & an ebook.
So, whether you just want to add some nutrient dense greens to your smoothies, juices, salads, or dishes as a garnish, have some sunflowers to snack on, take a micro-step towards learning to grow food, or go big & contribute to the energy cycle of your local community, the macro benefits of microgreens are there for you.
"To a man's heart it brings gladness to eat the figs from his own trees, and the grapes of his own vines", and to your heart gladness can come from eating the microgreens of your own stem.
Using Hay to Import Fertility and Feed the Pastures
A recent study I read indicated that pastures responded better to feeding hay directly on the field verses hauling manure and compost from the barn.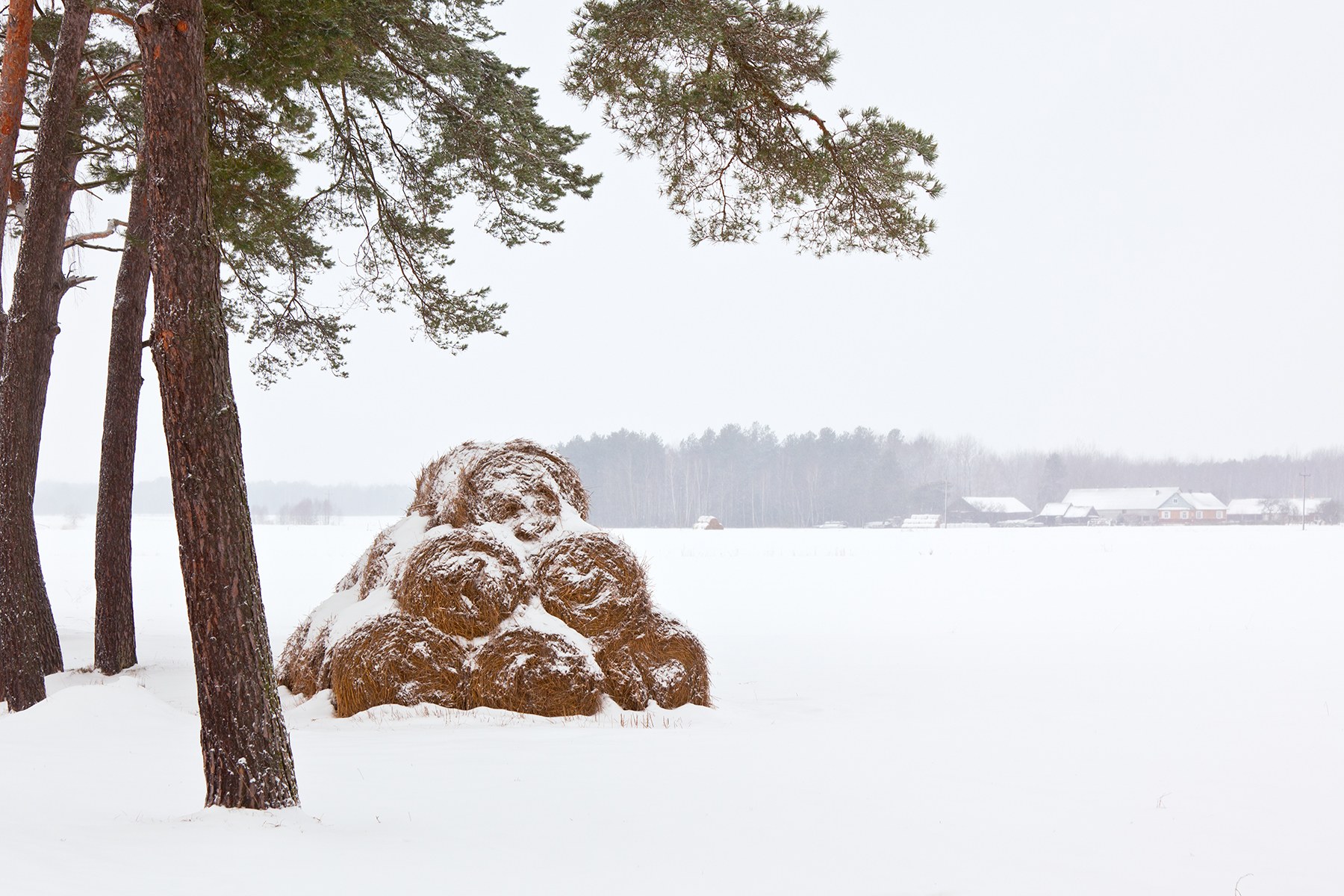 By: Mohawk Farmer Bear
When we took over the farm in 2015, the fields were constantly being cropped and hayed. Modern agriculture focuses on production at the expense of soil health and fertility. While we have good soils here, it's obvious that fertility is low, and the pastures are nowhere near as productive as they have the potential to be. This winter, rather than feeding the cows down by the barn as usual, I focused on rotating them around the pastures and feeding the hay directly on the pasture. By the time grazing starts in May, I will have fed 200 round bales of hay or 50 to 60 tons of hay onto the pastures. That's a lot of manure, organic matter from wasted hay, and fertility to spread on 50 acres. A recent study I read indicated that pastures responded better to feeding hay directly on the field versus hauling manure and compost from the barn. More fertility is captured with winter bale feeding on pastures. So, this summer, I'll get to see it. Either way, 50 tons of hay (5 tons to the acre) should have a huge impact on the pastures. More fertility means more grass, which means more beef.
Unrolled hay bale. It spreads the fertility around the pasture and gives all the cows access to the dinner table.
In early February, you can see where the cows have been without snow. I covered this part of the farm well.
The farthest and highest point on the farm. Typically the hardest to get manure spread on, but I fed a ton of hay up there this winter. It's a pretty good hill, so even with heavy baleage, I start at the top and push the bale down the hill to get it unrolled.
Building a Beartarian Homestead
So, how does one get into homesteading if you don't have any experience with it? The big thing is, to take it slow.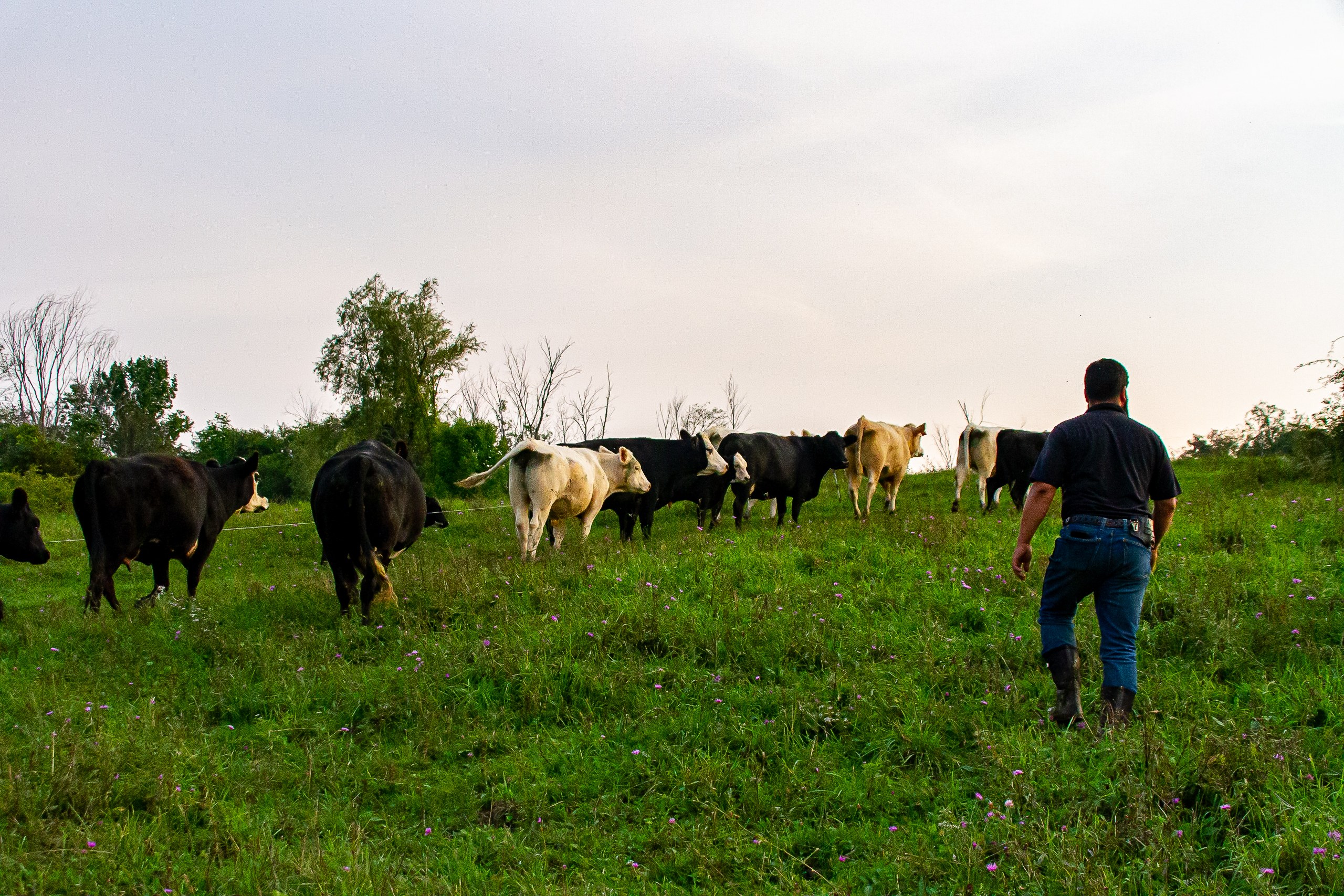 By: Mohawk Farmer Bear
This article was first printed in our very first issue of The Beartaria Times Magazine, Origins, A Revealing of Legends
There's something romantic about homesteading. Thinking about building a chicken coop, or milking your own cow. Making butter, cream, and cheese with that milk. Raising a few sheep and pigs that you slaughter yourself and put in the freezer. It all gives you a wonderful homey feeling as you daydream about all the possibilities of building your own homestead and growing your own food while reading homesteading books by a warm cozy fire with snow gently falling outside.
But then comes the daunting task of making it happen. Pounding that fence post into the ground or putting up dusty, scratchy, hay in 90 degree weather… all of a sudden it doesn't seem as romantic as that homesteading book made it feel. Truth be told, it's not romantic at all. But it is good, and it's extremely rewarding.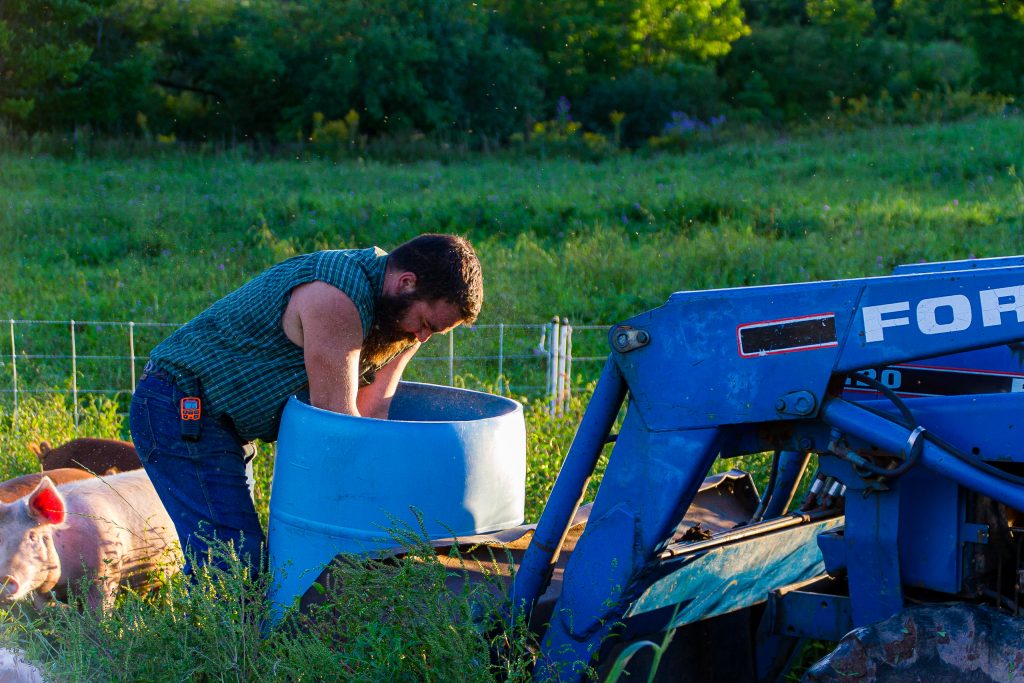 So, how does one get into homesteading if you don't have any experience with it? The big thing is, to take it slow. Raising animals requires building infrastructure and dealing with living animals, weather, and predators. There's a huge learning curve that usually takes years. So don't try to do everything at once. Start slow and work into it. Get good at raising chickens before getting a pig. Likewise get proficient at keeping a few pigs or goats before adding a milk cow. As you learn how farm animals behave and what is required to manage them, you will become more confident with keeping larger animals.
If you try to do everything at once… chickens, pigs, beef cows, milk cows… you're going to be overwhelmed. So take it slow, start with some chickens, and work up from there.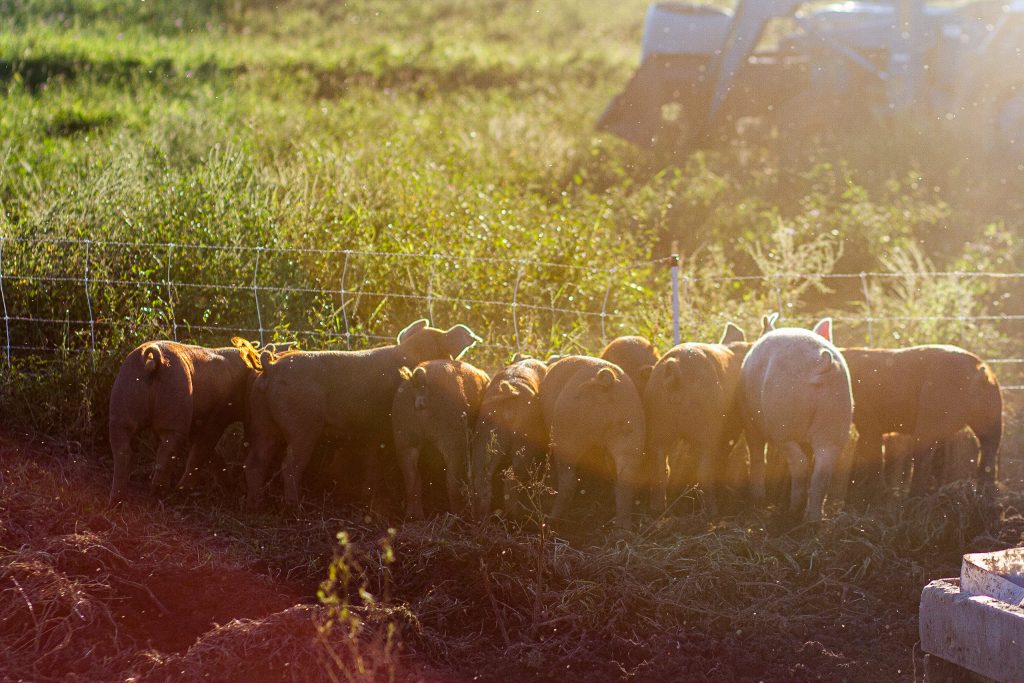 As you build your homestead there are a few things you should strive for.
Functionality
Remember, you are growing food to feed your family. While we do want to properly care for our animals, we also want to keep our costs down as much as possible. The goal is to grow the best food we can at a very affordable price. Don't let money be your go to solution for everything. When faced with a project or a problem, challenge yourself to think of solutions that don't require spending money.
Animal housing and infrastructure should be primarily about function, not looks. The chicken coop needs to keep the chickens comfortably out of the elements, give them a clean place to lay eggs, and keep the predators away. You can have an attractive chicken coop, just figure out how to do it without spending a boat load of money. If your homegrown eggs are costing you $50 per dozen, you probably overbuilt your chicken coop.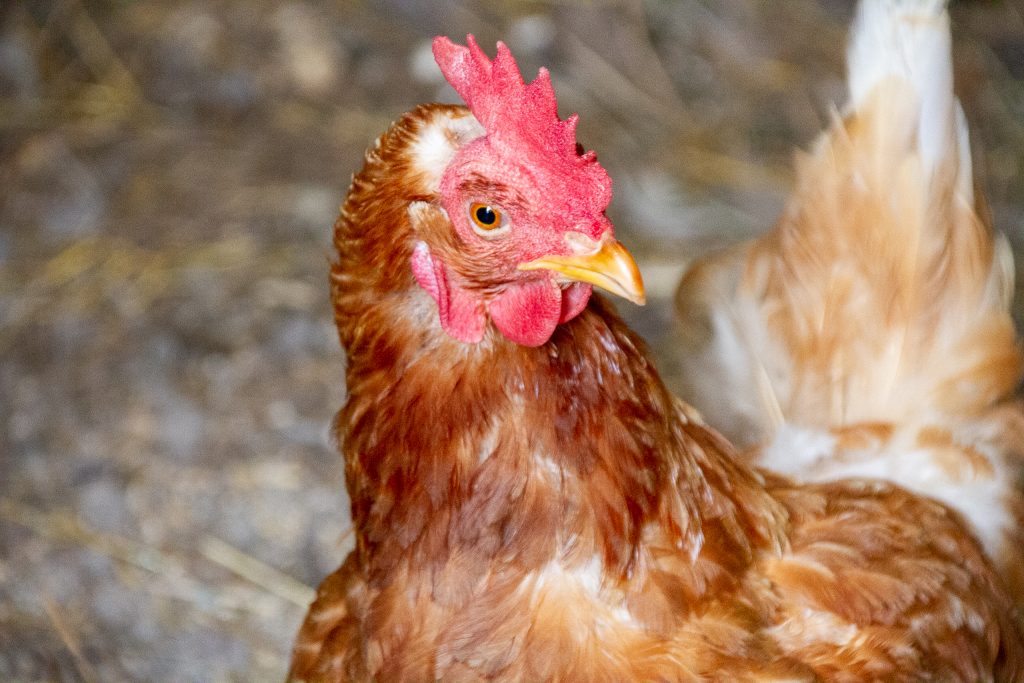 Efficiency
If you just got into homesteading, You're probably still working a full time job. That means everything you do needs to be efficient. Daily chores should be under an hour per day. Right now I have 11 cows, 1 milk cow, 5 pigs, 70 chickens, and 3 sheep. My daily chores usually take 45 minutes. Mostly this boils down to just a few things.
Sturdy reliable fencing, You don't want to be chasing animals that escaped. Good fencing is a must and it doesn't have to be expensive. Accessible water. Hauling water is a pain and very time consuming. Black plastic pipe is cheap. Run some over the ground to where you need and pump the water instead of carrying it. During the winter, keep the animals close to a central watering point so you don't have to carry buckets very far. Automatic feeders and waterers are a must. There's tons of options out there but the main thing is to always have clean fresh water available to your critters.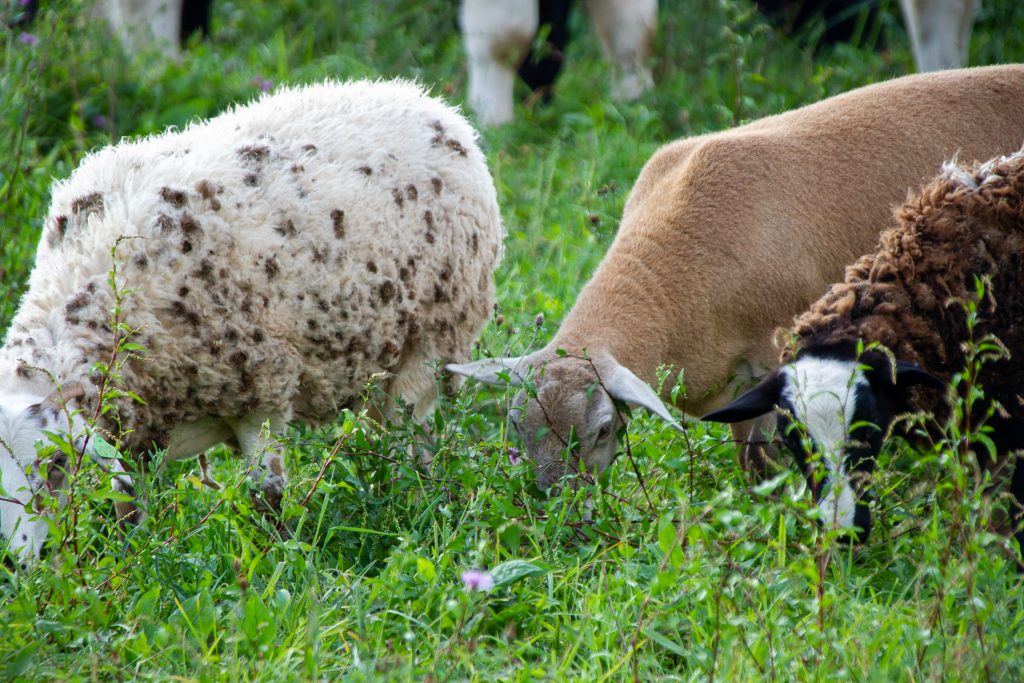 For Chickens I like the Poultry Bell waterers. They can be gravity fed from a 5 gallon bucket with a float valve filling up the bucket. All you have to do is check daily to make sure the water is flowing into the waterer. For pigs I like the Brower 85gallon field drinker. The weight of a full tank keeps the pigs from tipping it over and a float valve keeps it full.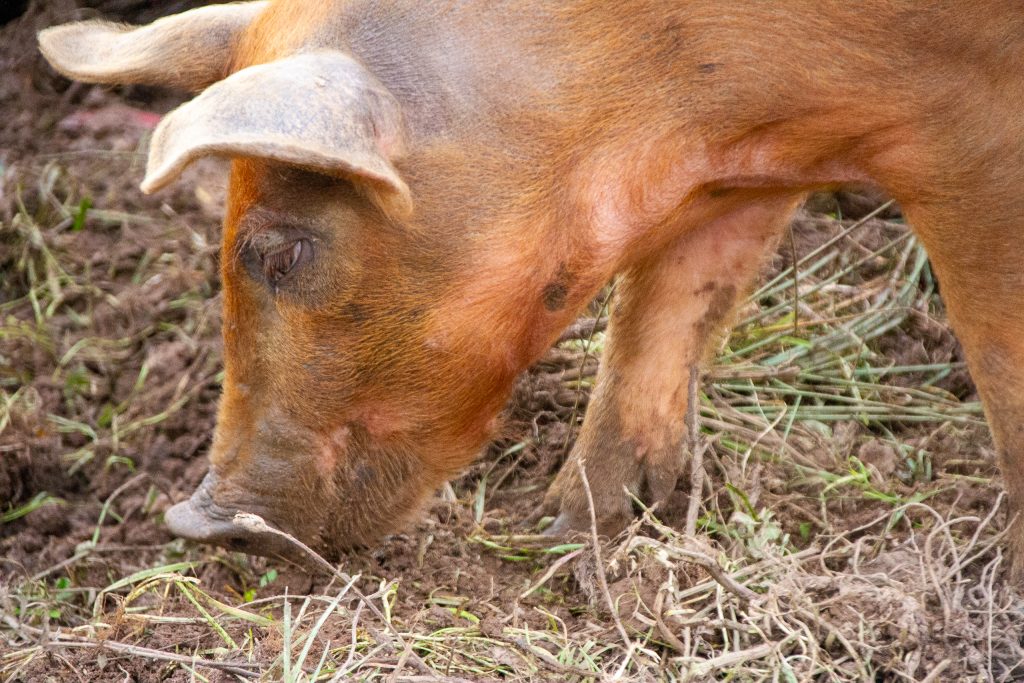 If all you have to do is collect eggs, add a little dry bedding here and there, do a walk by inspection to ensure feeders and waterers are working properly, then your daily chores won't take hardly any time. Occasionally you'll have to clean out the coop or load pigs to go to the butcher, but your daily chores will be minimal.
Forgiveness
Don't get discouraged when stuff happens. Things will go wrong from time to time. You're dealing with living animals, nature, weather, and seasons. A Pine Marten will massacre your chickens, your sheep will get out and eat your garden, drought will dry up your pastures. Whether your toddler steps on a chick, or your goat gives birth to stillborn kids, don't let the emotions overwhelm you. Life and death is all part of homesteading. Take a moment to ponder what happened, learn from it, and move on. After all, the other critters on the farm still need tending to. Just pray that God would give you the wisdom to learn, prosper, and crush despite the challenges.
Homesteading is about continually building, refining, getting more efficient and more self-sufficient. It's the journey that makes it so much fun. Enjoy the building process as you build your homestead.