A bears guide to keeping a milk cow
A couple milk cows can easily provide all the dairy for a half dozen bear families.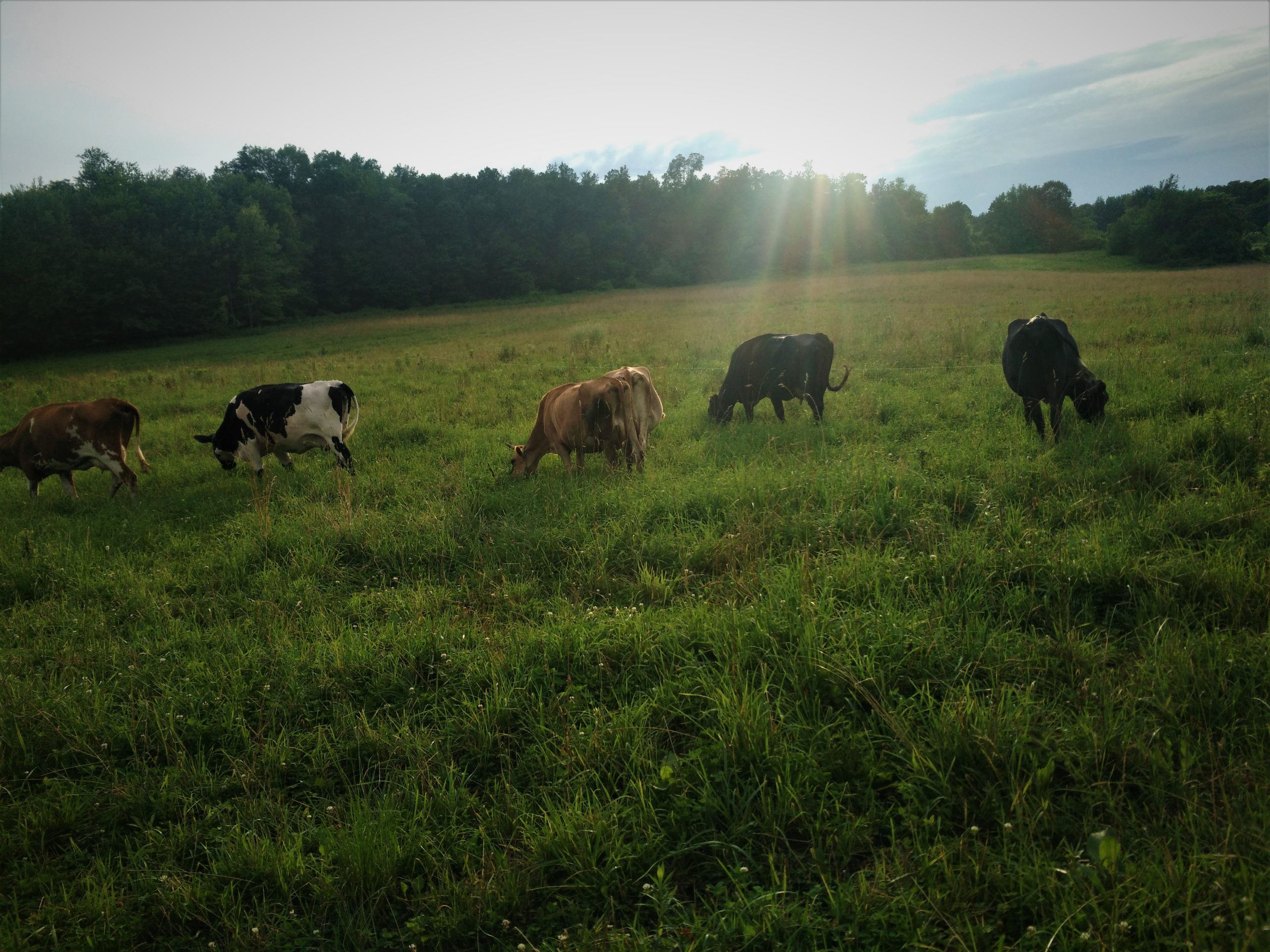 If you have the desire and ability to keep a milk cow, it can be one of your biggest homesteading assets. The amount of food that one cow can provide for your family is amazing. Raw milk, home made yogurt, raw butter, and if you have the time, cheese. The quality of such homegrown dairy products is so much higher that you literally can not buy it from your local grocery store. In most cases the only way you can get access to food that real and that nutritious is if you grow it and make it yourself.
The nutrition your family will get from daily access to the raw milk is incredibly high. I have noticed that many of the local giants come from multi generational dairy families. There's just something about that raw milk. If you want your boys to be above 21 rogans in height, keeping your own milk cow is going to raise those odds dramatically.
Buying a cow
I don't recommend spending a ton of money on a cow. The best cow I have was a 2 year old Jersey in milk that I paid $700 for. You should be able to find a good cow in the $1000 range. If you are new to cows I recommend going to a local farmer and seeing if he will sell you an experienced milker. Ask him if he has any 3 quarter cows that he wants to sell. (sometimes a cow will dry off a quarter due to injury or mastitis and will only milk out of 3 teats instead of all 4). A 3 quarter cow will still give plenty of good milk, but is usually higher up on the farmers cull list so the farmer may give you a good deal on the cow.
If you are new to milking a cow, I recommend going with an experienced milker so that you aren't both learning at the same time. Once you know what you are doing, training a first calf heifer to milk isn't hard. But it can be very frustrating if you and the cow are learning at the same time.
Don't buy milk cows at the sale barn unless it's a whole herd sale where the farm went out of business or retired or something like that. If the whole herd is being sold you should be able to get a good cow out of it.
If its your first cow, buy a cow that's already milking and bred back if you can (that will save you some hassle for the first year). When you go to look at a cow, bring a CMT kit with you and test the milk on the spot. The kit will indicate if the cow has a high somatic cell count and you can test each quarter individually. If the cow has a high SCC than you will likely have problems with milk quality and possibly mastitis. Pass on that cow and find one that is clean.
Cow care and feeding
Don't pay for genetics. That gets expensive. Expensive genetics are for fine tuning an already successful farm. Most cows if fed properly will be great cows.

Mohawkfarmer Bear 2020
Keep your cow clean. This will prevent diseases, mastitis, and contaminated milk. Provide plenty of dry bedding in the winter time and good pasture access in the summertime. Keep your cow out of mud and manure and all will be good.
Not all hay is equal. Early, early cut first cutting is the best hay you will ever find. A pattern in the old Testament is that God required offerings from the first fruits of a harvest. There's a reason for that. It's usually the best.
Don't be cheap by holding back on feed. Don't try to save money by buying low quality hay. If you want your cow to be healthy and provide you with plenty of milk, feed only good hay, and plenty of it. Good genetics won't do anything if you starve your cow. This may seem like common sense but I've seen it happen many, many times.
Of course, during the growing season, a well managed pasture is the cheapest and highest quality feed you can provide for your cow.
Once a day milking
The downside to keeping a milk cow is she needs to be milked everyday, even when you don't feel like it. If you stop milking your cow, she stops giving milk. That being said, if time is limited due to your job and raising a family, you can get by with once a day milking. You will get less milk, but it will still be plenty to provide what your family needs. When the cow first has her calf and starts milking you may need to milk her twice daily for the first 3 to 6 weeks because of the flush of milk. But after that you can safely settle into a more relaxed once daily milking.
Milk Quality
If you put the work into keeping a milk cow, you want to be able to enjoy sweet, delicious, quality milk. Here's some things to pay attention to.
Chilling – have a dedicated fridge to cool the milk down fast. This is important because if the milk is not cooled fast enough it will spoil sooner and have some off flavors. Quality raw milk if kept cold will last up to 2 weeks. Bottle the milk in half gallon containers. Larger containers just can't cool down fast enough.
Equipment- If its not properly washed, your milk will develop off flavors and spoil faster. After milking rinse of the equipment with warm water and then wash with hot soapy water. A hot water rinse will cook the milk leaving minerals from the milk on the stainless steel. That is called milk stone and it causes problems by holding bacteria from one milking to the next. It doesn't make the milk unsafe, but it will cause the milk to spoil faster shortening the shelf life. Your buckets should be nice and shiny when you shine a flashlight on the steel. If you see a white film, that is milk stone and you will need to use white vinegar or acid wash (from a dairy supply store) to get the milkstone off.
Somatic Cell Count – this is the white blood cells in the milk. There will always be some present but if the SCC gets too high the milk will spoil fast and will taste sour, or even salty if its really high. It will also reduce the yield of cheese you get from the milk. A high SCC (700,000+)can also be an indicator of mastitis, an infection in the cows udder. To prevent a high SCC keep your cow clean, feed her well, and provide her with a good quality mineral mix. Dipping the teats with an iodine solution before and after milking will also help prevent bacteria infecting the udder. For quality milk you want the SCC to be in the 70,000 to 100,000 range. The simplest way to check the SCC is to use the CMT kit.
Community
A couple milk cows can easily provide all the dairy for a half dozen bear families. Going in on a couple cows in order to share the daily care and responsibility of milking and feeding, as well as teaming up to make cheese and butter, can be a great way to enjoy the nutritious bounty without being overwhelmed by the work. Crush, grow, and milk a cow as you build your part of Beartaria!
Guest Article Written By,
MohawkFarmer Bear
@mohawkfarmer_bear on IG
From Kitchen Cuttings To A Garden
Anyone can grow these very simple roots.  More importantly, what would we do without them?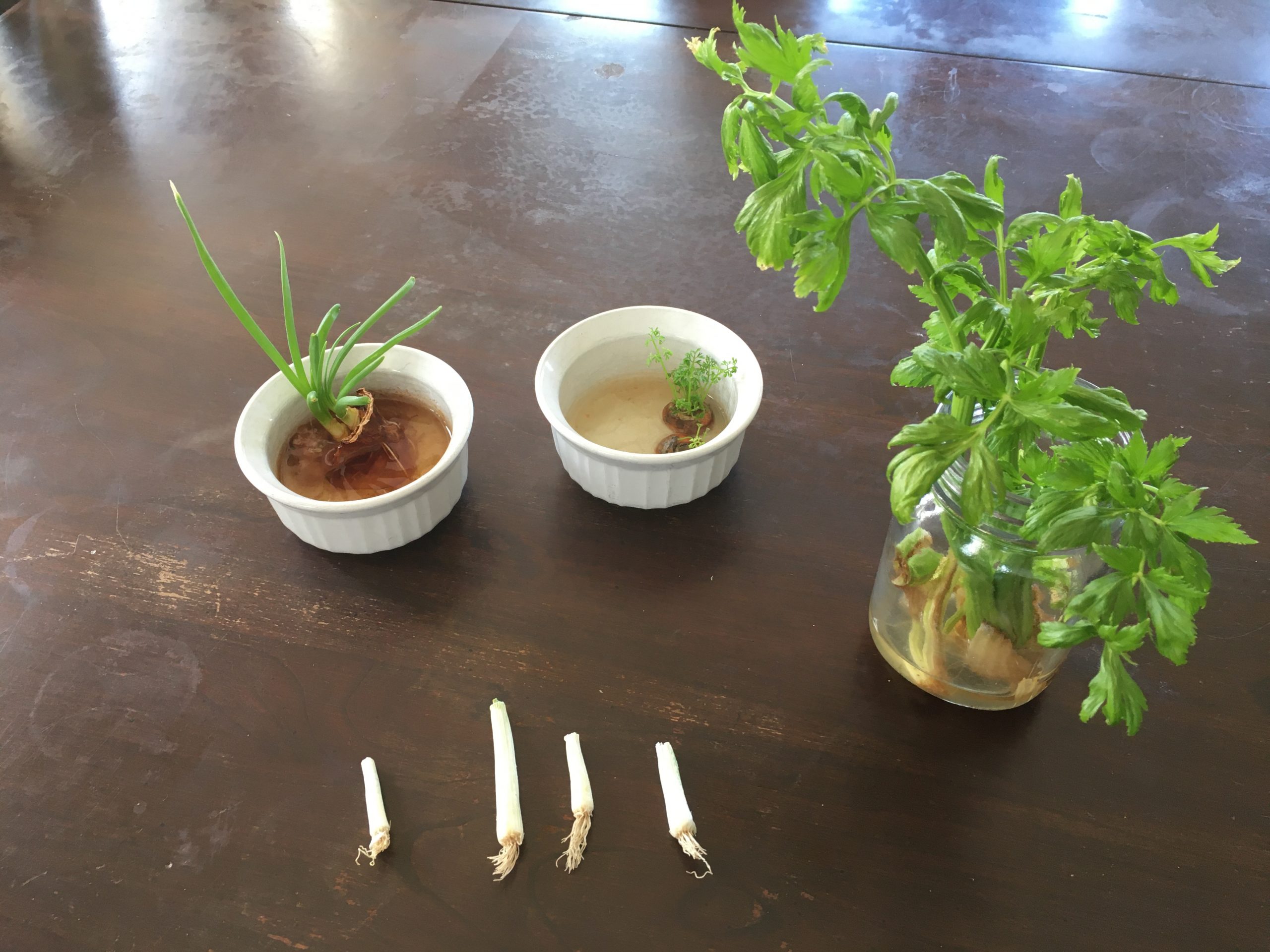 It cannot be said enough that "hard times are 'a comin'", and it's now more important than ever to acquire both food and the ability to reproduce it. Many people's minds turn towards gardening when this notion hits them, and at the outset they think; "Oh! I'll grow tomatoes!" But the season for growing tomatoes is very short in most places, and you can't very well depend on them. Enter the root crops.
"The Latin writers have only treated of this plant in a cursory manner, while those of Greece have considered it a little more attentively; though even they have ranked it among the garden plants. If, however, a methodical arrangement is to be strictly observed, it should be spoken of immediately after corn, or the bean, at all events; for next to these two productions, there is no plant that is of more extensive use. For, in the first place, all animals will feed upon it as it grows; and it is far from being the least nutritious plant in the fields for various kinds of birds, when boiled in water more particularly. Cattle, too, are remarkably fond of the leaves of rape; and the stalks and leaves, when in season, are no less esteemed as a food for man than the sprouts of the cabbage; these, too, when turned yellow and left to die in the barn, are even more highly esteemed than when green. As to the rape [turnip] itself, it will keep all the better if left in its mould, after which it should be dried in the open air till the next crop is nearly ripe, as a resource in case of scarcity. Next to those of the grape and corn, this is the most profitable harvest of all for the countries that lie beyond the Padus."
-Pliny the Elder on the turnip rape, Natural History, Chapter 34
Turnips, carrots, garlic, onions—root crops, all of them—are essential ingredients to our everyday diet. But perhaps most important of all: they are easy to grow, and they can be grown in multiple seasons. Anyone can grow these very simple roots. More importantly, what would we do without them? Sure, a survivalist might be able to hunt a decent amount of table meat from a successful outing, but isn't it also necessary to have some garlic to rub into the steaks?
But even more importantly is the fact that these crops are extremely easy to acquire. Here, in the First World of the 2020s, we have grocery stores. And there, we find ourselves purchasing bundles of green onions, garlic bulbs, bags of carrots, and so on. Yet, these grocery store foods have the ability to serve more than one purpose. True, we can cut them up and eat them. But also, we can take discarded cuttings from these foods and plant them.
For example, should you purchase a bundle of green onions in the grocery store, and you use the green stalks but plan to discard the rooted ends—don't. Keep those little white bulb ends. As you can see, they have small root systems hanging from them. Instead, take the ends of those green onions and plant them. They will take root in soil and sprout up naturally in prepared soil. If you have a whole onion, you can cut off the rooted end of it and put it in a dish of water. The dry roots will come to life, drink in the water, and within a couple of weeks you will have green stalks sprouting out of that "onion cap," and it will be ready to put in the earth.
If you bought some carrots, and there's a bit of green at the head of the carrots, cut those carrot heads off, put them in a dish of water, and watch the carrot return to life. You can plant the carrot in soil after it revives, and you'll be able to harvest fresh seeds from its stalk in the next season. Harvesting seeds from these plants is very important at this time, as most store-bought seeds have been on the shelves for a very long time, and they might not be as successful as you'd like.
Have potatoes growing "eyes" on them? Divide those potatoes up with a knife, plant them, and gather a few bundles. Aged potatoes can be a treasure. Do you have some spare garlic rolling around in your food stores? Plant them root down into your backyard's soil, and let them grow for a couple of seasons. Heck, you can even salvage unused portions of a celery stalk or cabbage in this fashion. Salvaging kitchen scraps can quickly fill up your empty garden space if you can't find any seeds.
Is the weather getting chilly? Well, another very useful thing about these particular plants is the fact that they are capable of growing in colder weather. They are biologically designed to survive and even thrive in the spring and fall. They don't always do too well in the scorching summertime. "Kitchen-cuttings" root crops like these are very useful, in the fact that they can be grown in at least three of our seasons. If the winter is mild, even four seasons.
In fact, if it is winter time, and you have crops of onion, garlic, or carrots in the ground, you can protect them from extensive frost damage by putting those fall leaves to use and surrounding the leaves of the plants, shielding them from weather that would potentially kill the crop. By doing this, by having your root crop in the ground through the winter, though it's true it will not grow much with its leaves, the root system underneath will continue to proliferate. Of course, if the winter is utterly terrible, you might not have such luck. But it is possible to succeed even through the darkest of the four seasons.
With scarcity on the rise, and a tremendous need for frugality, thrift, and resourcefulness, it would do everyone a world of good to acquire some of these rudimentary gardening skills, utilize that backyard, or if necessary, even launch into a guerrilla gardening campaign. There is a lot of dirt available out there that's simply not being used, and a lot of these small roots we eat don't require much space at all. With things going the way they are now, it's crucial we get some food systems going, pronto—which means it would do us good to utilize every method for getting a crop going as we can.
I've been a gardener all of my life to one degree or another, here in eastern Oklahoma.
I run the Trad Catholic blog known as The Forge and Anvil, and before that I was known for running The Hirsch Files. I've been linked to by Ann Barnhardt, OnePeterFive, Canon212, Vox Clamantis, and others. I've been published on sites such as Men of the West, Culture Wars, and Stares At the World. I wrote the introduction to Vox Day's Innocence and Intellect. I currently have an e-book titled Let There Be Signs: 2017, and under the pseudonym Jack Mikkelson, I've published the book Bovodar and the Bears, and I am also the author of the Bovodar and the Bears comic series on Arktoons.
Laramie Hirsch
Getting Started with Permaculture By Mr. Permie Bear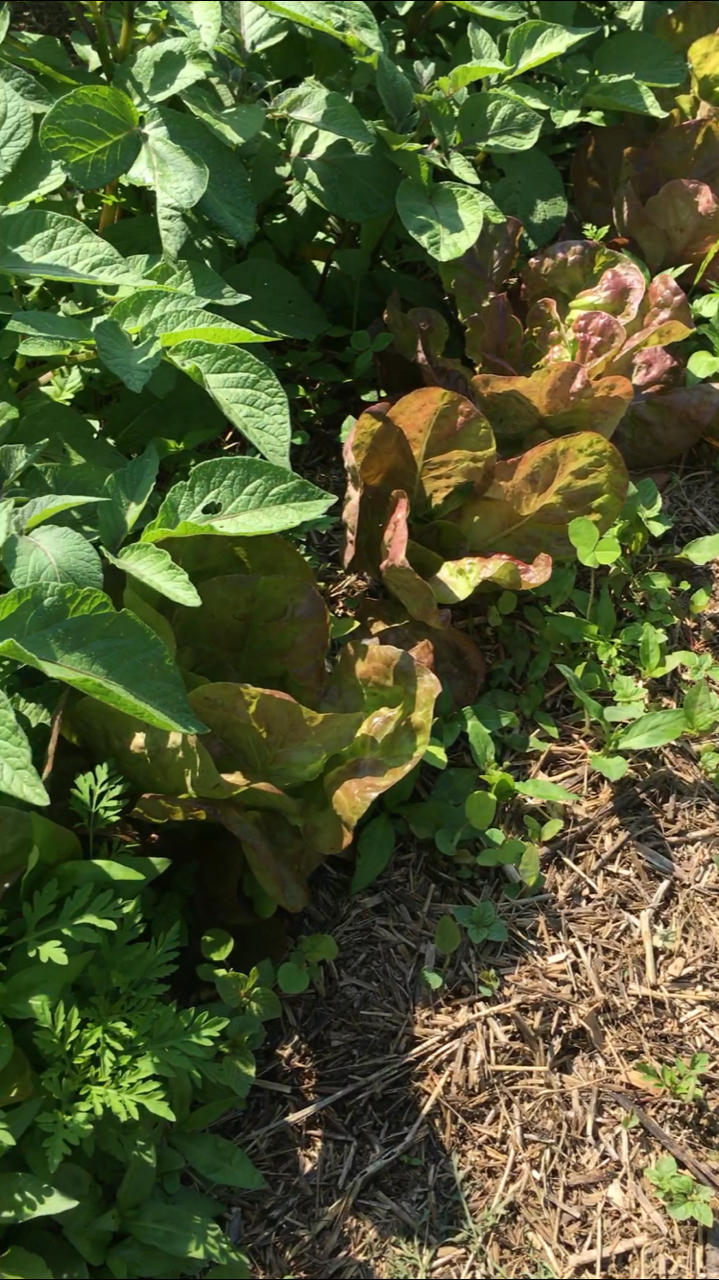 Sometimes getting started on something is the hardest part, it certainly was for me getting around to finally writing something. Now that the so-called pen is on the paper, what comes next is likely to feel somewhat like a whirlwind on my end, but hopefully not on yours. I hope that what follows will help you get started and help you crush on a whole new level.
Before we can really get into some of the details, we ought to start out with a simple definition of permaculture. It's a wonderful combination of amusing and inspiring when someone finds out that I am a Certified Permaculture Designer and comes up to me to say, "I just planted my first permaculture!". Sometimes their excitement just can't be contained (and for good reason) and I just can't bring myself to tell them that what they told me makes no sense, so I usually just share in their excitement. Let's not let that happen to you. By all means get excited, but do it with correct definitions. The word "Permaculture" is often defined as a combination of "permanent" and "agriculture" and while that's close, it's actually not quite the whole story. It's really more like a combination of "permanent" and "culture". It just so happens that often the easiest and most visible application is as it relates to agriculture. At its core, permaculture is a design language. It is a lens that we view and solve problems through. Ethics are at the core of permaculture and the tools we use to solve these problems are based upon patterns observed in nature. In essence, it is a way of thinking and designing systems to meet all of our needs as people living in this realm in perpetuity using ways that are not extraction based, but regenerative and therefore highly resilient and hopefully as permanent as anything can be. Systems and solutions that are Integrated and often times multidisciplinary, not singular and stand-alone. The three core ethics of Permaculture are:
1) Earth Care 
2) People Care  
3) Return of Surplus
These three ethics stem from the prime directive of Permaculture, which is the thought that in this life, we cannot rely on extraction based systems that value neither people nor the creation as a whole and that the only ethical thing to do is to provide for our own needs and the needs of our families. Something that many people in this and other communities really understand. Everything we do within the framework of Permaculture must look to those three ethics and if it does not uphold those, then our design needs work. So, for example, let's say you decide to plant a garden. Does the way in which you plant and manage your garden meet these ethics? If you prepare your garden by spraying roundup to kill the grass, fertilize with miracle-gro, spray chemical pesticides, and burn all the garden residues – I'd say that's a miss on 3 of 3. Let's instead say that you use light blocking tarps or heavy mulch to kill the grass, manage the garden organically, and compost all your garden residues-Now we just hit 3 of 3. We can of course do better, but all of the things done in the second example are life affirming, not life destroying. That's the kind of thinking we need. 
I guess there's one other critical part of permaculture that is really present in everything and that is the connections between systems. That's really what we are identifying and implementing when we look for patterns in nature. It is my belief that those patterns were made by God and there can be no better guide than what the Creator has set before us. 
The systems and patterns can be very simple, or very complex. Often times the more complex the system, the more stable it is because we have a plethora of redundancies. We already gave one example of a simple system, Plant a garden organically, compost everything you don't eat. But that's not many connections, and remember, as practitioners of permaculture, we are in the connection business. So, what if we add chickens? Chickens can turn the compost for us, get part of their feed from finding bugs in the compost, and add their manure so the compost is more fertile. If we got really crazy, chickens could also prepare our garden beds for planting. If we were to go absolutely bonkers we could add pigs to till the garden, chickens to level it back out and clean up after the pigs (who both eat the garden surplus, thus decreasing our need to buy food), the chicken and pig manure enriches the soil, we add guineas walking in and around the garden for bug control, have ducks around the perimeter eating bugs that would find their way to the garden, set up duck bathing pools around the garden perimeter so we can use the water from their bathing pools to water and fertilize the gardens (all in one shot), add certain plants to be used specifically for mulch and rabbit food (who have an area where their manure is collected for fertilizer), meat from these rabbits is used for people food and to feed the dogs that guard the sheep, which graze the grass in the orchard and fertilize it, which surrounds the garden providing a wind break and extra compost materials, more chicken food, and more pig food. See all the connections? Do you see how the needs of the system are being provided by the system? The nature mimicry? Rabbits garden, sheep fertilize, pigs dig, chickens scratch. They all eat. They have the chance to all exhibit these innate behaviors, each with inputs and outputs. We simply observed and designed. Returning to the 3 ethics:
Earth care – Are the plants, animals, and soil taken care of? Yes, Animals are able to express their innate and unique behaviors. They are fed varied diets. Soil is protected with mulch and enriched with manure and compost. Pests are kept in check by animal and insect predators, therefore pesticides aren't needed or used. (Note that I said, "Kept in check". There will be some pests in the garden, that's why they can be used as guinea food for example.)
People care – The people work less because the animals are doing a lot of the work. Sure, you have to move them around, but compare that to all the individual tasks you now have to do less of like mowing, weeding, turning the compost, tilling, picking bugs, spraying plants, etc. Not to mention the enjoyment of working with each part of the system and the extreme health that will likely result from eating such high-quality food. (You will still have to weed, especially as you just get started. Sorry, But if managed well, weeding should be less and less each year.)
Return of surplus – Compost is created and used. Manure is incorporated into the system whether as a compost addition, directly applying to the ground (as in the case of the sheep), or used to make liquid fertilizer (as in the case of the ducks). Nothing goes to waste. This system will yield more than we humans can possibly consume and so the excess goes back into the system and is used to further sustain it.
Another example of a permaculture practice that might be easier for many people to implement is the creation of plant guilds. I realize many people don't have room for pigs, sheep, large orchards, and the like, but we all have room for plant guilds. This can be as simple as companion planting in the garden. Perhaps this is planting a nitrogen fixing plant like a green bean next to or before a nitrogen using plant like corn. Perhaps this is using the famous "three sisters" guild which is pole beans, corn, and squash. The beans provide nitrogen, the corn gives the beans a place to grow, and the squash shades out weeds that would compete with the corn. This could also be as complex as a perennial polyculture under our fruit trees. "Say what Mr. Permie Bear? What is a perennial polyculture? I thought we were done with terms and definitions, then you throw this at me? How dare you?". A perennial polyculture is just a collection of plants that come back year after year that provide things like nutrients and mulch for our fruit trees, provide habitat and food for beneficial insects, and food/medicine for us. For example, we could plant an apple tree. Say 6 feet off the tree trunk (not a firm number), in the drip line of the tree, we could plant a ring of comfrey and daffodils. This will provide mulch and block grass roots from coming in. Under the tree we can plant lemon balm, yarrow, and mint for teas, medicine, and flowers for pollinators. We can then plant garlic and thyme for cooking and keeping away certain insects. Maybe we'll even throw in a currant bush for some more fruit and some Dutch white clover to keep out other weeds and provide nitrogen. The amount of plants you can cram in under a fruit tree is amazing! When we create plant guilds, what we are doing is stacking functions and also more fully utilizing our growing space by taking advantage of different layers (stacking layers). The stacking of functions is using that same space or system to achieve several different results such as food, medicine, pollinator support, and even beauty. Here's what stacking layers looks like in this simplified example: in the same space required for just a tree, by stacking layers we are using the tree layer (apple), shrub layer (currant), herbaceous layer (comfrey), ground-cover layer (clover), and even the root/bulb layer (garlic). 
When establishing plant guilds, it's important to know that some plants are neutral towards each other, some help each other, and some are antagonistic. Each of these behaviors can have its place in our designs so it's important to research relationships between plants based on what you are trying to accomplish, whether that's to help something grow or even to try and stop something from growing. 
Now that we have covered some of the specific aspects of plant guilds, we'll take a step back and look at the system as a whole and once again, we can compare this to the three core ethics and see we are on solid ground. 
It is truly remarkable that with proper design, we can solve or avoid many problems and create systems and gardens that are much more productive than they would be if left to their own devices. We can truly be stewards. There is a saying in the permaculture circles which is "the problem is the solution". One of my favorite examples of this kind of thinking is attributed to Bill Mollison, the co-founder of Permaculture. When someone was complaining about all the slugs eating their crops, he replied "You don't have a slug problem, you have a duck deficit." In this case, the excess slugs were the solution to growing ducks for meat and eggs without having to buy feed.
So, get started by looking around you. What do you see in God's design that is working well? What connections do you see? What connections can you make in your Beartaria? Find outputs that can be used as inputs.  Are you hitting the mark on the core ethics or do you need to redesign some things? The absolute, most important thing is to try. There is no "one right way" so don't let the fear of not knowing get in your way. With ethics at our core, it's hard to go wrong. Get out there and discover what works for you. In a word, Crush.
Bio-
Mr. Permie Bear is a former commercial banker turned Missouri farmer. He, his wife, and their 4 children operate Piney Creek Farm in the Missouri Ozark's and specialize in pasture raised meats and raw milk. He is also co-founder of Grateful Harvest Seed Company. His goal is to create a fully integrated permaculture farm which teaches and shows people what can be accomplished with permaculture on whatever scale they choose to engage, backyard to large farm. In his down time…. Oh wait, there is no down time.
God. Growth. Gravy. Serenity Valley Farm est. 2019 
Western Ranger Bear and I have so many ideas and things we would love to see happen here at Serenity Valley. When we talk about the future it's not just that we become self sustainable but that we are able to help the community in which we live.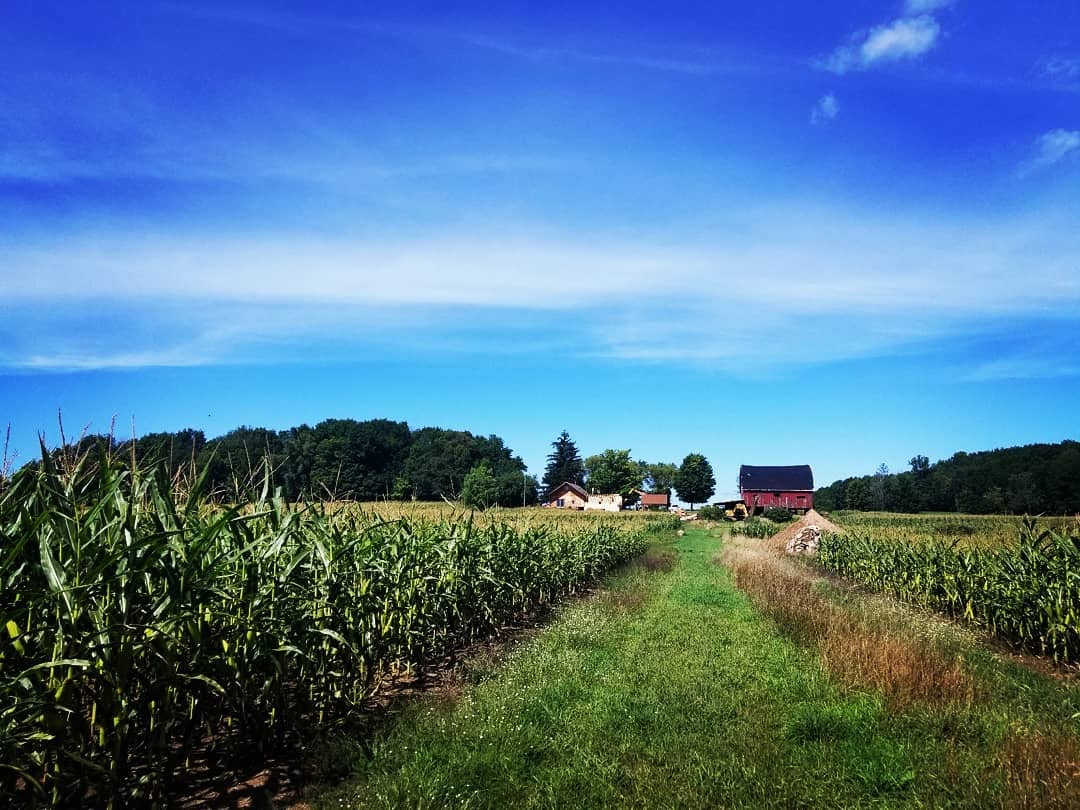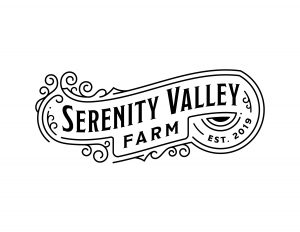 Good sun rising everyone! Birth Alchemy Bear here and I wanted to share a bit about the history and background of Serenity Valley Farm as well as our vision for the future! Western Ranger Bear and I met back in 2014, it was not love at first sight. That being said, it did become a great kind of love that comes from friendship.
We got married in 2017. Through many talks about our future we realized there were three things that we found to be fundamental in our relationship and how we approached life. Most importantly was our relationship to God, and what He was asking us to do. The second thing that we both cared deeply about was having kids and raising a family on a piece of land. Lastly, we both are deeply passionate about truth and the freedom that it brings. It was not until just last year we boiled it down to God, Growth and Gravy! But that is the underlying passion that burns the candles here at Serenity Valley Farm and we would not be here if it were not for those specific desires of our hearts. 
The land on which we live in Fremont Michigan was originally owned by my great grandpa Edward Lambert Gebben.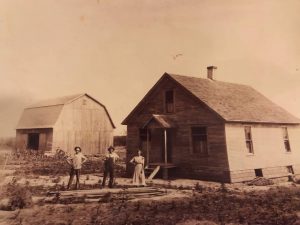 He is center in this picture flanked by his parents Albert and Alida Dunnwind Gebben. Edward was born in 1894 and was 25 years old when he cut down the trees which he milled to build this house and barn. The house was built in 1919.In 1924 Ester Helene was born to Gebben and his wife Lena Visscher. Ester was their first daughter and my grandmother. She was born right here in this house. I am hoping to homebirth (sooner rather than later! 40 weeks today!) and it really feels like coming full circle to be giving birth in the house which she was born in. 
Edward Gebben was known for being a very fun and slightly wild individual. He worked with dynamite and during the Great Depression when food was running low he would cut off a piece of dynamite and throw it in the creek at the back of the farm. The explosion would bring a bunch of fresh fish to the table for a week or two and created a lot of really deep swimming spots in the creek. He also was rumoured to have blown up the bridge down the road from his house just for fun one time, allegedly. A very hard working man who loved his family, he passed down a love of the land and independent spirit that I got to benefit from through my grandma. 
In this picture you can see Edward standing in front of the barn.
It has three floors, the first had two stalls, one for horses and one for cows. He kept about a hundred chickens on the second floor for his "egg route" where he delivered eggs in town. Third floor was for hay. He was an incredibly hard working man and had that indomitable spirit you can't help but admire. He ended up selling the farm to a neighboring family in the 70's. So while we purchased the property back in 2019 we cannot claim it is a centennial farm. So we just say it's "nearly centennial." Close enough. 
The house had several additions and the barn needed some extensive work but for us it was a labor of love. For Western Ranger Bear and myself we wanted a place where we could raise our kids on the land. A place where we could host events and grow. This place has an energy that is hard to miss when you walk around. It's a vibration and it's a freshness. The only way to really know is to visit and walk the land. It's a priority for us that everyone who comes to visit could walk away feeling blessed and refreshed.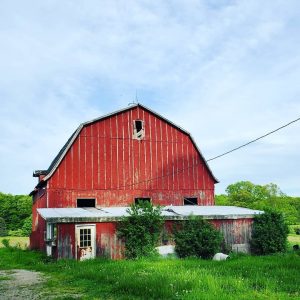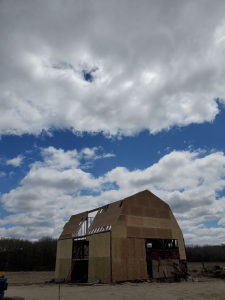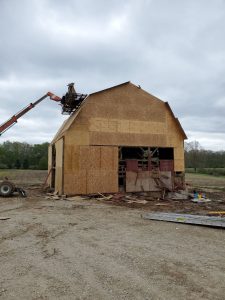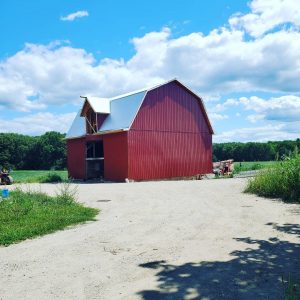 In these photos you can see where the barn was at and the extensive work we had to put into it to make it viable.
The roof had become so decrepit if we had left it another year it would have caved in. We are working on getting electric and water out to the barn to make it optimal for housing animals again. The third floor we are very excited about. We can't wait to utilize it for events and gatherings! This barn has so much potential and it's hard not to dream about all the things we could do. As all you homesteaders know, it's not that you don't have enough projects! It's that you only got so much time!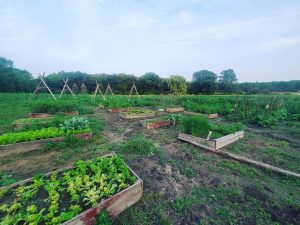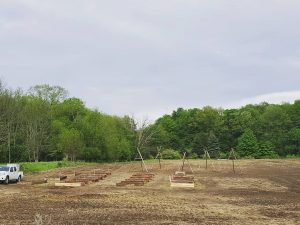 We have about 24 chickens here at SVF, our goal is to get goats and a milk cow. We are also working on getting and learning how to keep bees as well as working on turning our old basement into a root cellar which we can use for cold storage. We eventually would like to also build a smoke shack for smoking meat and cheese. This summer (2021) our biggest project was the garden. We had the ultimate builder buddie (Kit Kat Bear) agree to come stay with us and manage the garden when I was (am) super pregnant this summer. We built over 20 raised beds and planted over 100 different kinds of seeds and plants. We have learned so much this summer! We have learned about what grows well in our soil; what needs more care; pest control; and have prayed for rain a lot! As anyone growing plants knows you have to stay flexible. That was a big lesson for us this summer. From managing expectations and disappointments, equipment failure and communication issues we have all risen up to the challenges and are applying what we have learned to crush harder next year!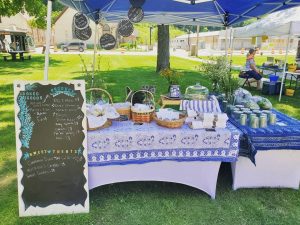 A big part of the garden work and stepping towards self sustainability was selling at the Newaygo Farmers Market this summer. We made some great connections with local farmers and craftsmen/women as well as made some extra funds. In the spring we focused primarily on baked goods because our produce had not really started producing yet. There was a wealth of knowledge to gain from the other farmers there and I definitely feel like it was a great way to meet local people who are also working on homesteading! We will definitely continue to sell at markets next summer, and hopefully increase our area by selling at multiple markets. Our produce now is going towards canning and preserving for winter for our family. We also tried to do a road side stand but after our free range chickens ate the produce we had out I decided that we would try that next year after we get a more solidified coop area.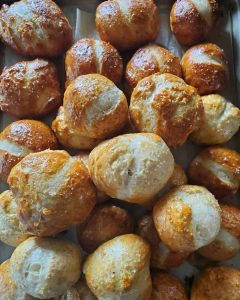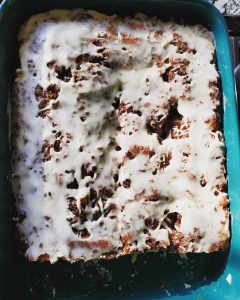 Western Ranger Bear and I have so many ideas and things we would love to see happen here at Serenity
Valley. When we talk about the future it's not just that we become self sustainable but that we are able to help the community in which we live. Making our garden big enough to help those in need and to help teach people who want to learn. We want to have a campground in the back by the woods for people who want to stay and try out living off the land. We want to be able to host classes and maybe even a homeschool co-op in the future.We want to build a life that our kids will really flourish in and be set up for success. More than any of that, we want to keep our hearts and minds open to whatever God is asking of us, because we believe that whatever He asks us to do will be even better than what we could imagine. So here is to whatever that is, whatever the goal, whatever the challenge we will continue to crush! More God, more growth and more gravy!