A bears guide to keeping a milk cow
A couple milk cows can easily provide all the dairy for a half dozen bear families.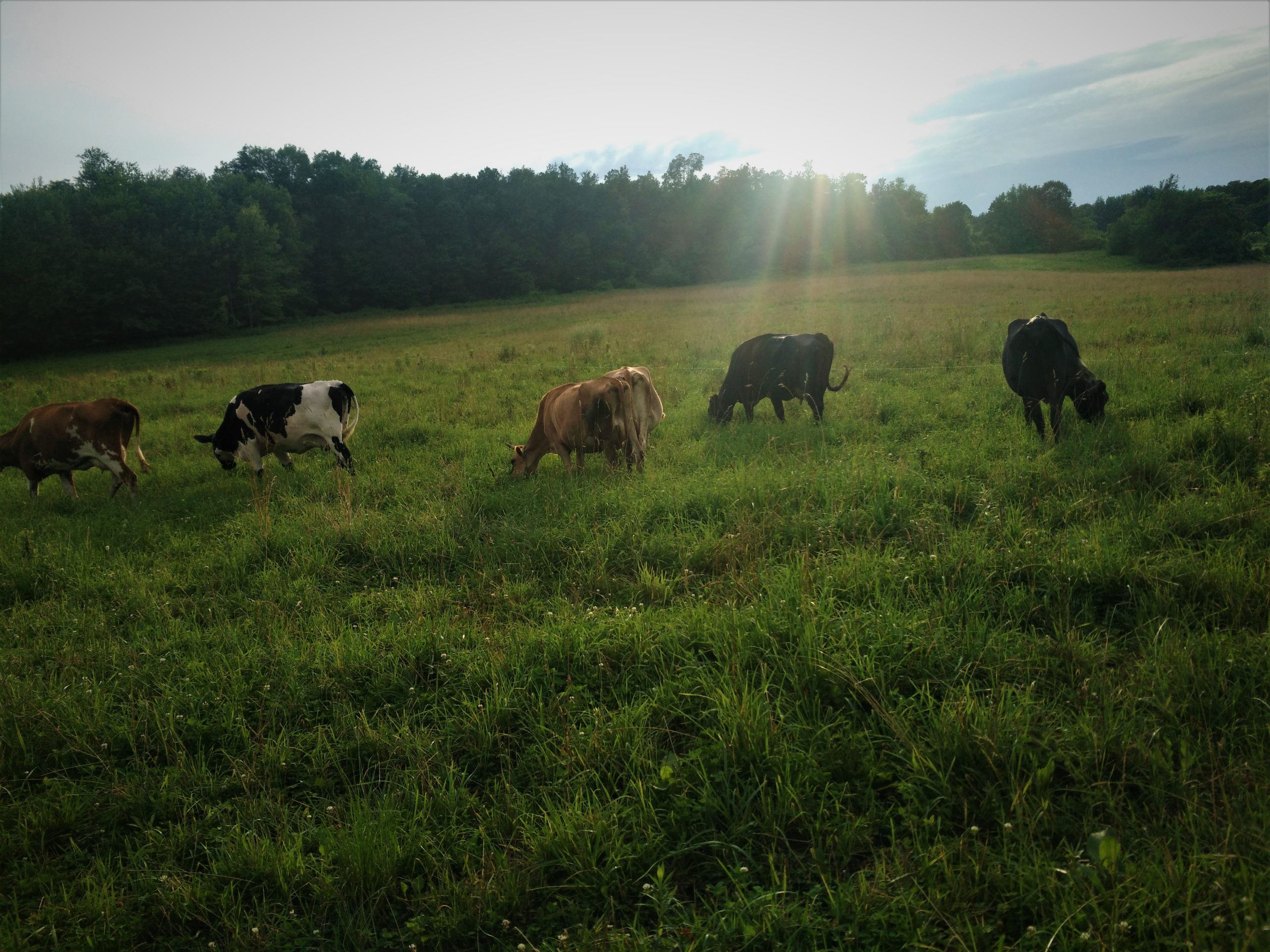 If you have the desire and ability to keep a milk cow, it can be one of your biggest homesteading assets. The amount of food that one cow can provide for your family is amazing. Raw milk, home made yogurt, raw butter, and if you have the time, cheese. The quality of such homegrown dairy products is so much higher that you literally can not buy it from your local grocery store. In most cases the only way you can get access to food that real and that nutritious is if you grow it and make it yourself.
The nutrition your family will get from daily access to the raw milk is incredibly high. I have noticed that many of the local giants come from multi generational dairy families. There's just something about that raw milk. If you want your boys to be above 21 rogans in height, keeping your own milk cow is going to raise those odds dramatically.
Buying a cow
I don't recommend spending a ton of money on a cow. The best cow I have was a 2 year old Jersey in milk that I paid $700 for. You should be able to find a good cow in the $1000 range. If you are new to cows I recommend going to a local farmer and seeing if he will sell you an experienced milker. Ask him if he has any 3 quarter cows that he wants to sell. (sometimes a cow will dry off a quarter due to injury or mastitis and will only milk out of 3 teats instead of all 4). A 3 quarter cow will still give plenty of good milk, but is usually higher up on the farmers cull list so the farmer may give you a good deal on the cow.
If you are new to milking a cow, I recommend going with an experienced milker so that you aren't both learning at the same time. Once you know what you are doing, training a first calf heifer to milk isn't hard. But it can be very frustrating if you and the cow are learning at the same time.
Don't buy milk cows at the sale barn unless it's a whole herd sale where the farm went out of business or retired or something like that. If the whole herd is being sold you should be able to get a good cow out of it.
If its your first cow, buy a cow that's already milking and bred back if you can (that will save you some hassle for the first year). When you go to look at a cow, bring a CMT kit with you and test the milk on the spot. The kit will indicate if the cow has a high somatic cell count and you can test each quarter individually. If the cow has a high SCC than you will likely have problems with milk quality and possibly mastitis. Pass on that cow and find one that is clean.
Cow care and feeding
Don't pay for genetics. That gets expensive. Expensive genetics are for fine tuning an already successful farm. Most cows if fed properly will be great cows.

Mohawkfarmer Bear 2020
Keep your cow clean. This will prevent diseases, mastitis, and contaminated milk. Provide plenty of dry bedding in the winter time and good pasture access in the summertime. Keep your cow out of mud and manure and all will be good.
Not all hay is equal. Early, early cut first cutting is the best hay you will ever find. A pattern in the old Testament is that God required offerings from the first fruits of a harvest. There's a reason for that. It's usually the best.
Don't be cheap by holding back on feed. Don't try to save money by buying low quality hay. If you want your cow to be healthy and provide you with plenty of milk, feed only good hay, and plenty of it. Good genetics won't do anything if you starve your cow. This may seem like common sense but I've seen it happen many, many times.
Of course, during the growing season, a well managed pasture is the cheapest and highest quality feed you can provide for your cow.
Once a day milking
The downside to keeping a milk cow is she needs to be milked everyday, even when you don't feel like it. If you stop milking your cow, she stops giving milk. That being said, if time is limited due to your job and raising a family, you can get by with once a day milking. You will get less milk, but it will still be plenty to provide what your family needs. When the cow first has her calf and starts milking you may need to milk her twice daily for the first 3 to 6 weeks because of the flush of milk. But after that you can safely settle into a more relaxed once daily milking.
Milk Quality
If you put the work into keeping a milk cow, you want to be able to enjoy sweet, delicious, quality milk. Here's some things to pay attention to.
Chilling – have a dedicated fridge to cool the milk down fast. This is important because if the milk is not cooled fast enough it will spoil sooner and have some off flavors. Quality raw milk if kept cold will last up to 2 weeks. Bottle the milk in half gallon containers. Larger containers just can't cool down fast enough.
Equipment- If its not properly washed, your milk will develop off flavors and spoil faster. After milking rinse of the equipment with warm water and then wash with hot soapy water. A hot water rinse will cook the milk leaving minerals from the milk on the stainless steel. That is called milk stone and it causes problems by holding bacteria from one milking to the next. It doesn't make the milk unsafe, but it will cause the milk to spoil faster shortening the shelf life. Your buckets should be nice and shiny when you shine a flashlight on the steel. If you see a white film, that is milk stone and you will need to use white vinegar or acid wash (from a dairy supply store) to get the milkstone off.
Somatic Cell Count – this is the white blood cells in the milk. There will always be some present but if the SCC gets too high the milk will spoil fast and will taste sour, or even salty if its really high. It will also reduce the yield of cheese you get from the milk. A high SCC (700,000+)can also be an indicator of mastitis, an infection in the cows udder. To prevent a high SCC keep your cow clean, feed her well, and provide her with a good quality mineral mix. Dipping the teats with an iodine solution before and after milking will also help prevent bacteria infecting the udder. For quality milk you want the SCC to be in the 70,000 to 100,000 range. The simplest way to check the SCC is to use the CMT kit.
Community
A couple milk cows can easily provide all the dairy for a half dozen bear families. Going in on a couple cows in order to share the daily care and responsibility of milking and feeding, as well as teaming up to make cheese and butter, can be a great way to enjoy the nutritious bounty without being overwhelmed by the work. Crush, grow, and milk a cow as you build your part of Beartaria!
Guest Article Written By,
MohawkFarmer Bear
@mohawkfarmer_bear on IG
How to Tan Fur on Hides With a Note on Making Leather
This is an art. Learning takes time, but don't be afraid to make mistakes. The hide is very forgiving.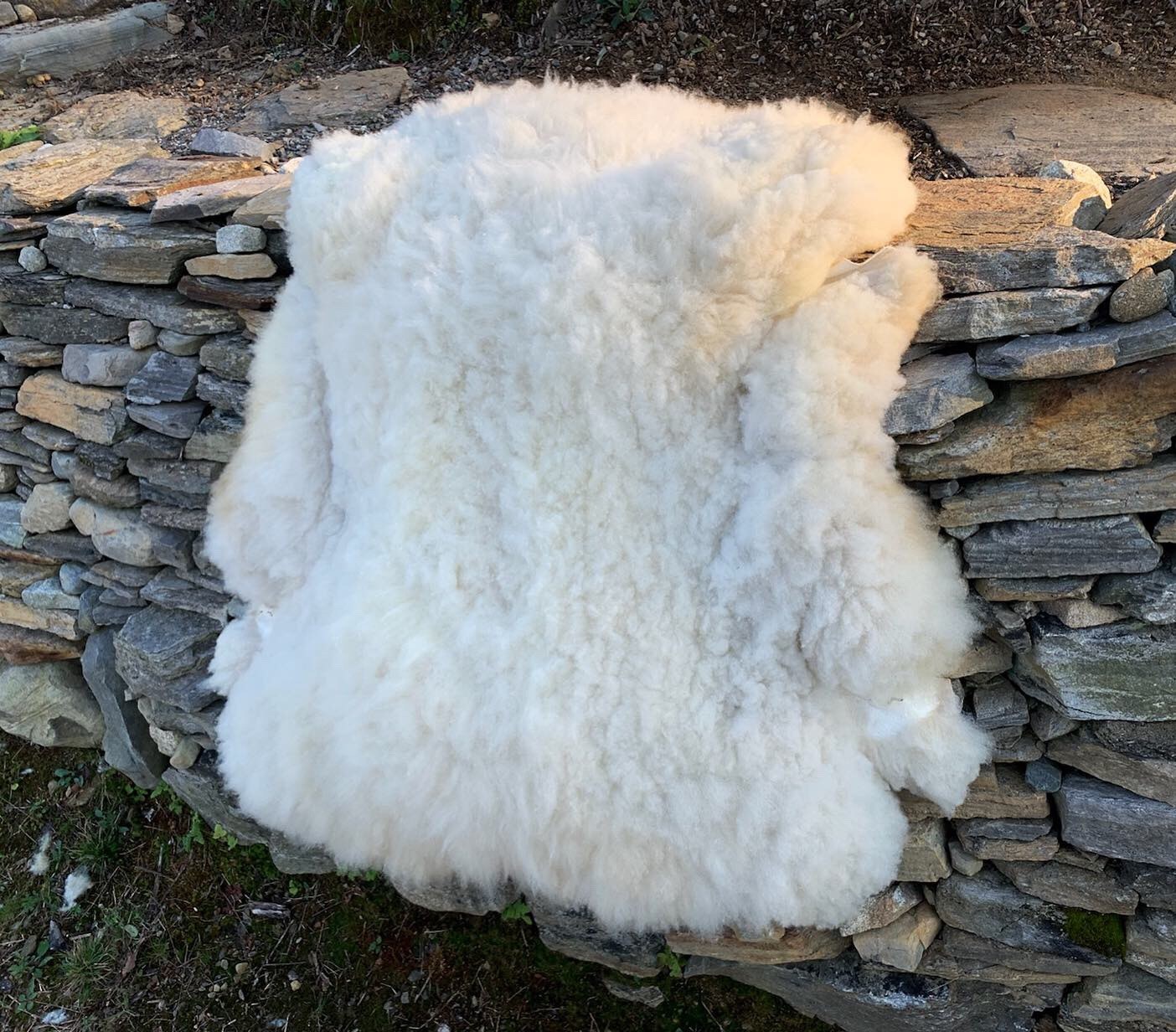 By: Salt & Stone Bear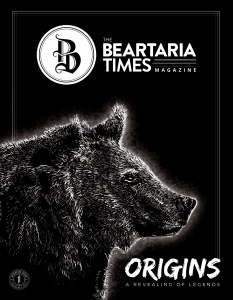 This article was first printed in our very first issue of The Beartaria Times Magazine, Origins, A Revealing of Legends
More and more folks are learning how to keep and butcher their own animals, so comes the need to learn how to tan hides. Tanning used to be a very common skill that has since been forgotten with modern textiles. Fabrics printed in China contain some nasty chemicals and the environmental impact is devastating. Buckskin pants were once as common as blue cotton jeans today, worn by people of all socioeconomic status. Currently, it is estimated that roughly 6 million deer are harvested annually and only a very small percentage of hides are ever used to make leather. Now add the endless numbers of sheep, goats, cow and even pig skin that could be used for a variety of applications. If you do not keep animals, not to worry, contact your local butcher and they will likely tell you to help yourself to whatever they have. It's a favor to them as they do not have to pay to dispose of them.
Skinning
If you are starting with a whole animal, there are plenty of online tutorials on how to do this. Mainly you just want to make sure the hide has not been "knifed up" which will leave marks on the leather. The ultimate goal being no holes or knife marks in the skin, as it will be more difficult (but not impossible) in the tanning process.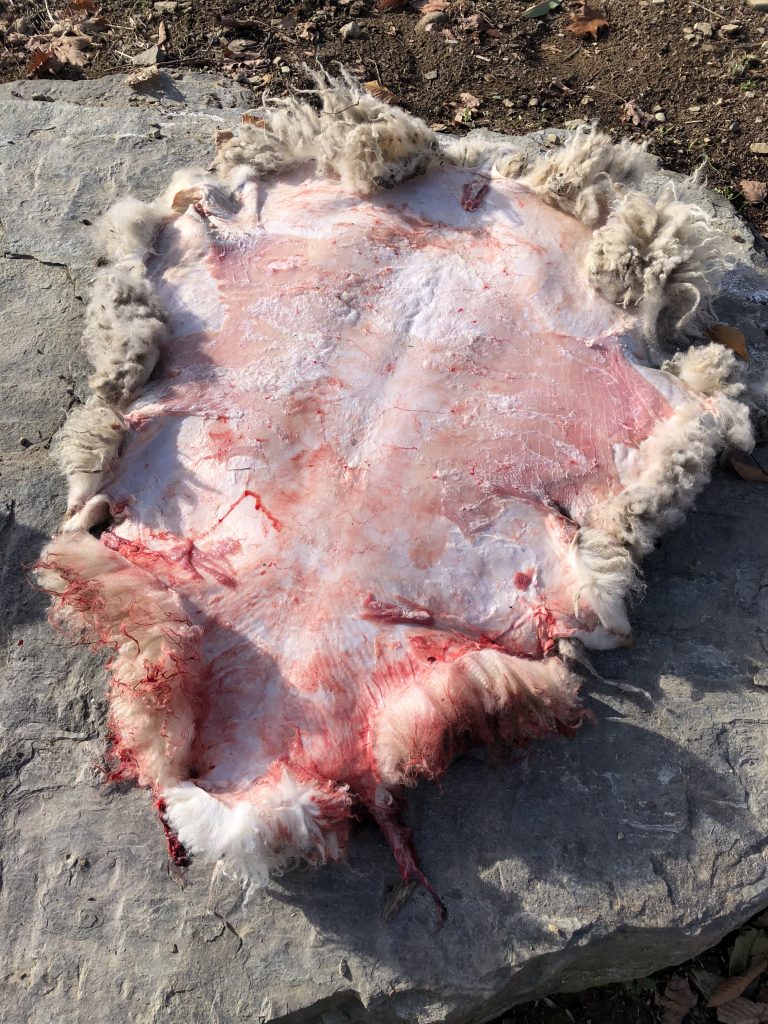 Salting
I use pallets that have hardware cloth stapled on them so that when the hide is laid out, there are no sagging or drooping parts as there are big gaps in a pallet. You could just lay it out on a tarp, but I think the air flow under the skin is helpful. Once the hide is laid out flat on the pallet, spread a good layer, about an inch of white canning salt or sea salt (no iodine) on all parts of the hide, being careful to get all the edges. Leave for 2 weeks or up to a few months if you don't have the time. I prefer wet salting (the salt stays damp) to dry salting as it makes a nicer finished product. But if you live in a very dry climate that dries out the salt, it will still be fine.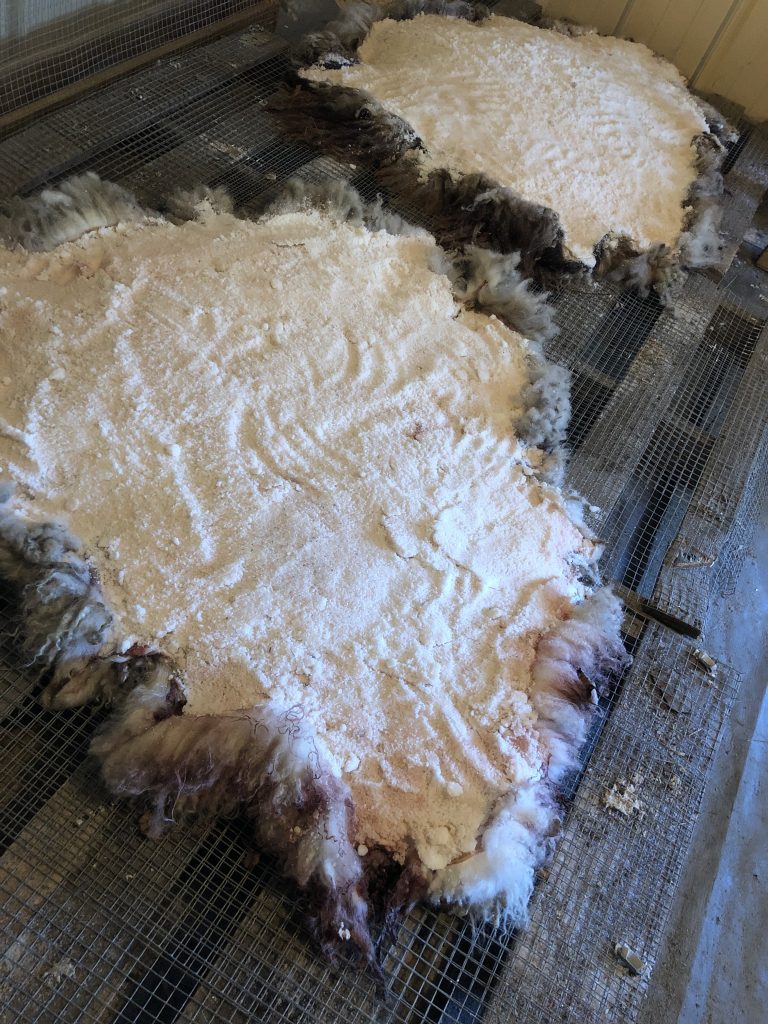 Fleshing
For this step, you will need to have a fleshing beam and fleshing knife. You can purchase them from a trapping outlet online or make a beam out of a very smooth log. Flip the salt from the hide into a rubbermaid tub or barrel as it can be used again. Then give the hide a good shake in the driveway or woods (probably not your lawn as it can kill the grass) to remove excess salt. I highly recommend watching a YouTube video on how to do this. You want to hit the right angle so you don't cut the skin.
Apply tanning solution
Once the hide is fleshed, lay the skin back on the pallet and apply the tanning solution. I like a brain/egg solution, but you can use just brains or just eggs. Or even Spinal cord fat/fluid. One brain will do one hide, but adding an egg and a splash of water will bulk up the solution, which I find to be very helpful. For a single hide, in a designated blender, combine brain(s), one egg and a tablespoon or two of water. Rub in the solution over all parts of the skin. Then, three options- cover with plastic wrap/ fold in half on itself or sandwich together with another hide if you are doing more than one. Allow to sit overnight- one day.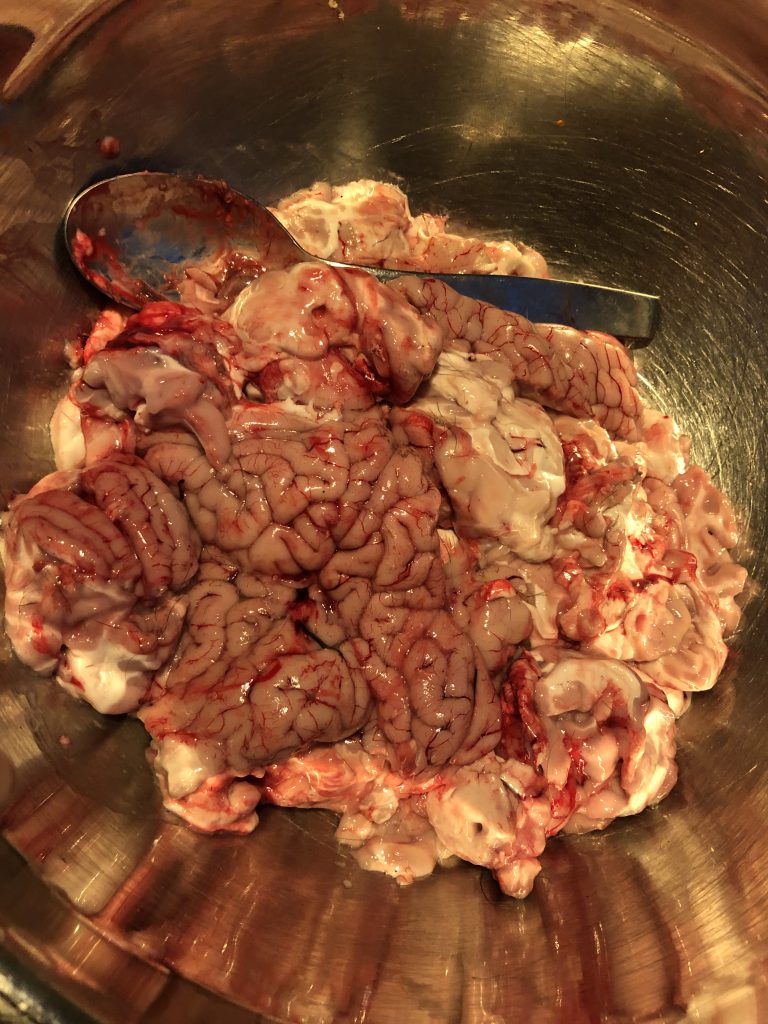 Stretching & Drying
You will need to build a frame that is a little larger than the hide you are working with. 2x4s are great for this. If you are doing something very small like a squirrel or rabbit, you can use a board with tacks to achieve the same results. Some will also bend a limb into a circle for a very small hide, or if you are doing a very large hide like a moose or cow, an old trampoline frame is great. You just have to innovate with what you have available. With a very sharp knife, carefully puncture the edge, 1/2" or so in on the skin. You don't want it too close to the edge or the twine will rip out. I really like to use butcher's twine as it holds a good knot. Start at the 4 corners of the hide, then fill in-between. Give a good pull on the string, but not too hard, stretching the skin very flat. Tie to the frame. You can go back and re-tighten the strings that become loose as you go along. Allow to dry. A dehumidifier is really great in helping this process along, especially for large hides.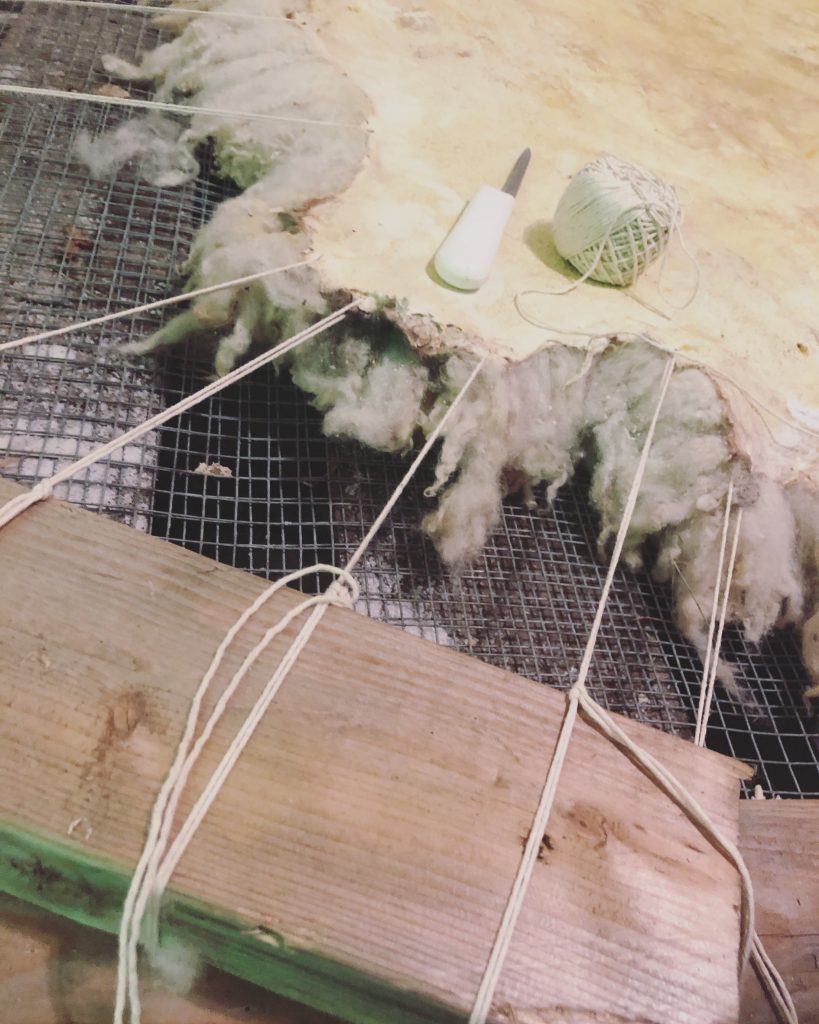 Scrape
Once the hide is completely dry to the touch, you can start scraping off the tanning solution and the layer of skin. You will need a scraping tool from a trapping outlet or you can sometimes find tools to do this at antique shops. Just nothing too sharp, more blunt. Scrape with good force, but not too hard. The skin will turn a beautiful white as you do this. It takes time. I like to give a good push on the hide with my hand as I scrape to aid in softening and stretching those skin fibers. You will know you are done when the leather is very soft. Cut the strings and remove from the frame.
Smoking
This is where tannins from wood and bark seal and finish the hide. Cut an old pillowcase in half long ways or some kind of fabric and pin on the bottom/ very edge of your hide. Then fold the hide in half long ways and use the existing holes and butcher's twine to temporarily sew it together. Make a loop at the top to hang. Go back and pin together the fabric at the bottom to essentially make a stove pipe. Collect rotten wood and bark that is wet from the forest then make a fire with dry wood until it gets down to coals. Add rotten/ wet wood and bark. Attach the fabric side to your stove pipe with a rubber band and smoke for 2-4 hours. You want to be VERY careful with this part. Do not leave unattended as you only want smoke NO fire. If it breaks out into a fire, it can scorch or burn your hide. Ruining all your hard work. You want cold-warm smoke only. Periodically check the color of the skin inside, you want a nice deep amber color. Take it down, bring inside and allow it to sit for a day to more thoroughly absorb the tannins.
Then rub in a finishing sealer. Lard is really perfect or a homemade mix of Lard, tallow and a little beeswax.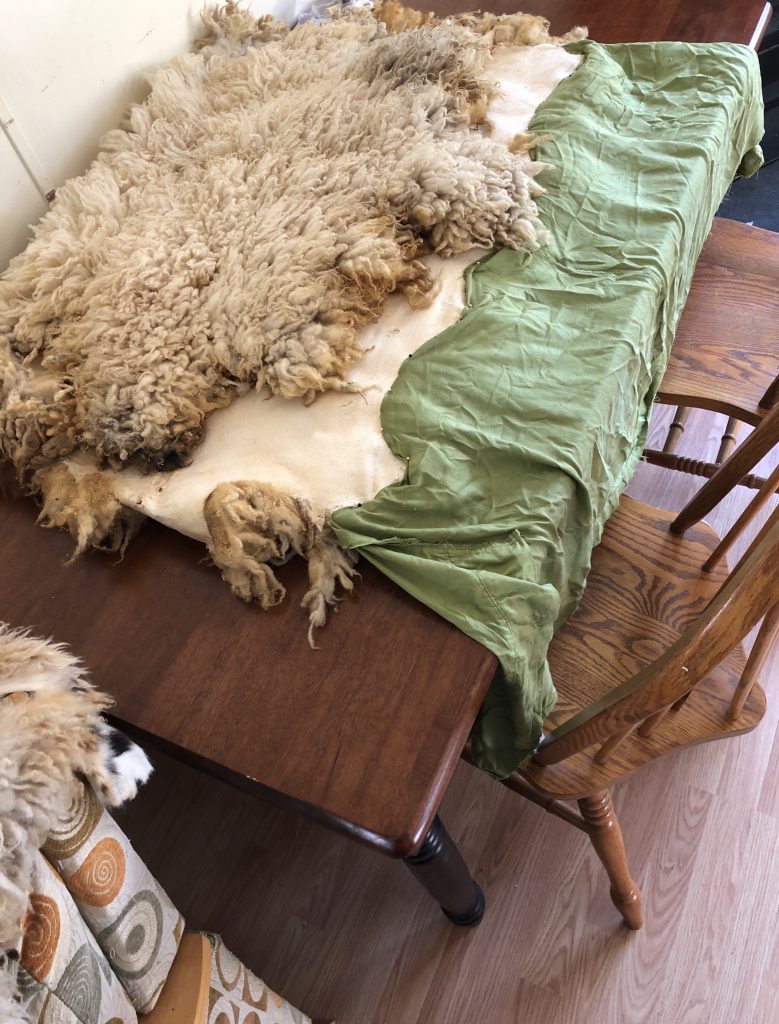 Finishing touches
At this point, you can carefully hand wash the finished hide with soap and cool water, but do not soak for too long. Try to be as speedy as possible. A designated washer is great for this stage. Run it on the spin cycle only to get the water out or shake out very well and dry.
With a razor blade, cut off the edges, about where your puncture holes are. Brush out the fleece or fur. Then celebrate haha.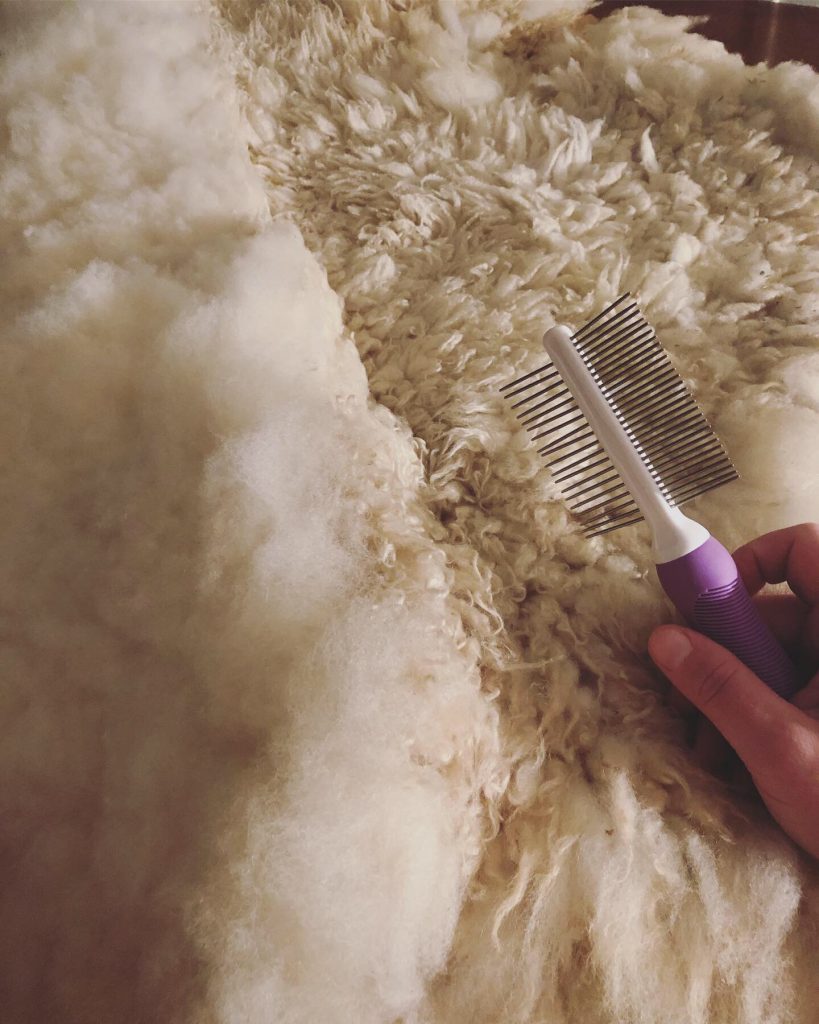 If you want to make leather without fur, dry scraping can be done at the point the hide is stretched on the frame. You can use a razor blade to carefully remove the fur, then scrape and apply tanning solution/ plastic wrap, similarly to how you did the other side. Scrape it down again. Smoke both sides in the same fashion.
This is an art. Learning takes time, but don't be afraid to make mistakes. The hide is very forgiving.
If you have questions, feel free to reach me on the Beartaria Times app – Salt and Stone Bear or Instagram @salt_and.stone
Happy Tanning!
Micro Greens – Macro Benefits
Having good nutrition is important, sure, but that's just scratching the surface of the benefits growing your own greens offers.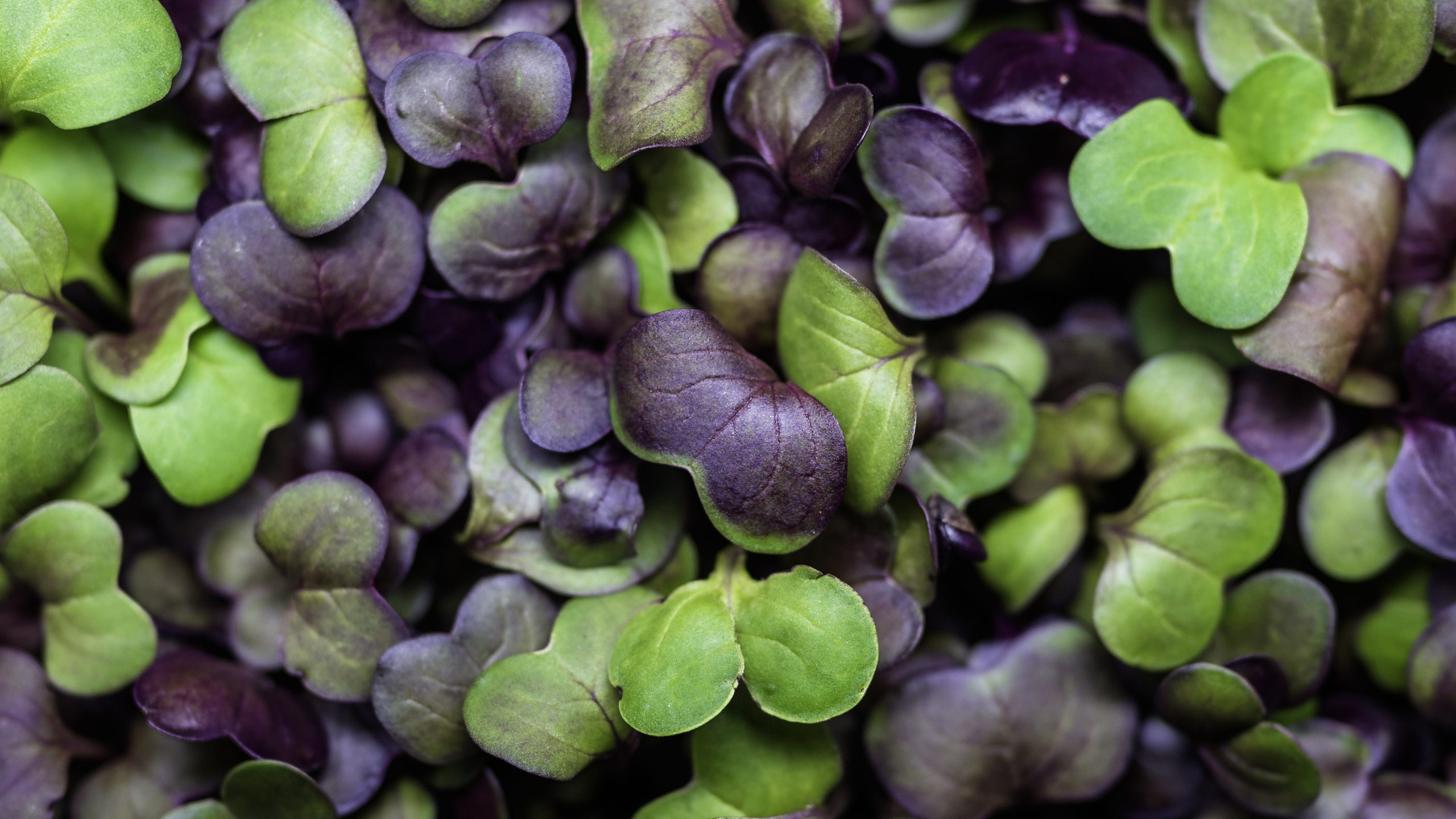 By: BalanceBear (aka @johnny.greenleaf)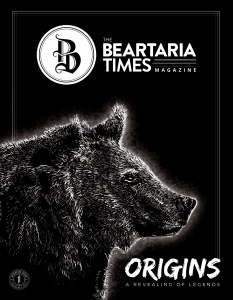 This article was first printed in our very first issue of The Beartaria Times Magazine, Origins, A Revealing of Legends
Microgreens, as the name suggests, are small by nature, but the benefits they offer are quite the opposite of their size.
What are microgreens and what exactly do they have to offer? Microgreens are vegetable greens harvested just after the cotyledon leaves have developed (7-10 days after germination for most varieties). The benefits? Well, they are countless. We'll get to many of them, but a few of the biggest advantages of growing microgreens over traditional vegetables are their space efficiency, time to harvest, & ease of getting started. Just because you don't have a yard, doesn't mean you can't grow your own food. With as little as a shelf in an apartment, and a few supplies, you can start sewing seeds and reaping the benefits of these nutrient dense greens in no-time. I was introduced to the world of microgreens this past year by the legendary Urban Farmer, Curtis Stone, and in just a matter of 8 months they have already had a profoundly positive impact on my life, and my community.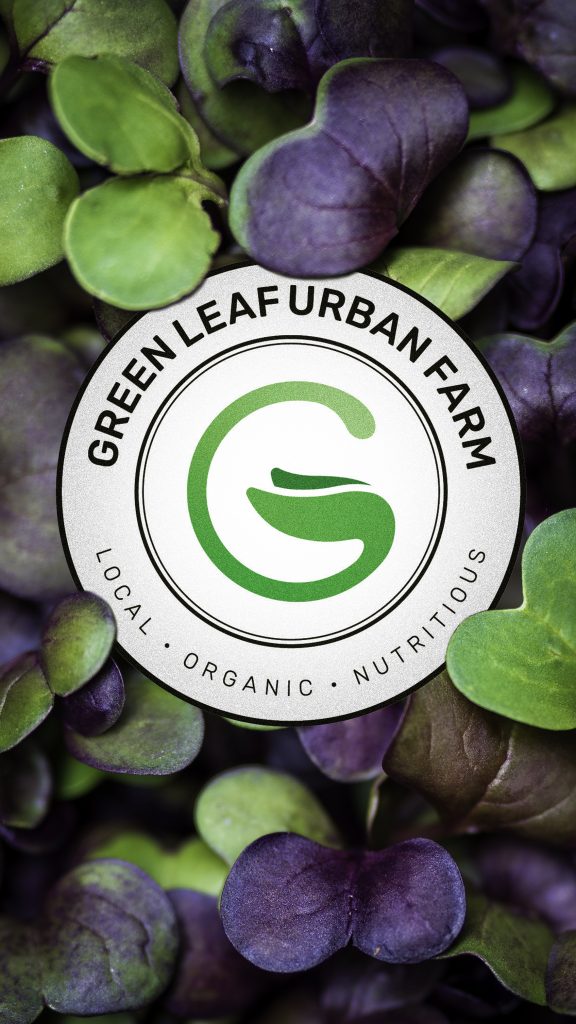 Now how could something so small offer so much? It's been theorized that the reason microgreens are so nutrient dense compared to the leaves of their mature vegetable counterparts is because they are harvested shortly after germination, when all of the nutrients they need to grow are there. Regardless if that theory holds true as to the why, nutrient tests have shown that microgreens contain 4-40 times more concentrated levels of various nutrients than leaves in the mature plants, depending on the variety & specific nutrient (i.e. red cabbage microgreens contain 40 times more vitamin E than mature red cabbage). Buying microgreens from a store can be significantly more expensive than normal mature vegetables, but growing them yourself, especially when you consider the time from planting to harvest, is much more affordable. Furthermore, when you buy anything from a grocery store, the vitality of the food has already been severely diminished due to the fact that it takes so much time for the product to be packaged and shipped off to the store. From the moment a fruit or vegetable is harvested, the nutrients begin to break down. This vitality can actually be measured. Realistically, the freshest produce you can get from a store is 4-7 days post harvest. The total time it takes to get from planting microgreen seeds to harvesting the greens is 10-14 days total (for most varieties), which is right up there with the nutrient density when it comes to the best benefits microgreens have to offer. When you compare that to typical times like 2-3 months for a mature plant to bear fruit, it's quite astonishing that the microgreens pack such a dense nutrient punch, and when you grow them yourself, you can eat them living, which means you don't lose out on any nutrients like you do when you get already deteriorated greens from a store.
Having good nutrition is important, sure, but that's just scratching the surface of the benefits growing your own greens offers. One of the biggest benefits I have personally experienced since becoming an urban farmer, is the community connection that has come from it. I believe that food and community are two of the biggest sources of energy in this realm, and when you grow your own food, and further when you exchange it within your community, the energy boost is multiplied. Picture a closed-loop energy cycle; that's what you get to experience when you buy, sell, or trade locally within your community. First, you get an energy boost from growing your own food, you then experience an additional energy boost when you exchange your food to someone in your community, because you see the joy it brings them, and you know that it will nourish them. They receive that same energy boost when you buy or trade for their food, and thus the communities' overall energy goes up by a multiple factor, and the energy loop remains closed. When people in your community buy food from a corporation, especially one that's not local, energy gets siphoned off into the ether, rather than being kept in your community where it can continue to cycle & recharge.
I'm speaking from experience here, as I have felt a tremendous difference since buying, selling, & trading with local bears at our Southern California Bartertaria Meetups, as well as exchanging my greens for fruit from my neighbors' trees.
Even if you live in an apartment in a city like I currently do, microgreens can be a great starting point for you to tap into that energy cycle. Furthermore, if you've never grown food at all, consider these greens as a great micro-step to start the journey that is gardening/farming.
I won't go too much into detail about the equipment you need to get started, as there are plenty of great resources online and on YouTube for that (seek and ye shall find), but I will tell you the basics of what you need to get started, and a few good online resources to look in to if you want more details. You will need some kind of tray or container to put the growing medium in (I use 10×20 trays from Bootstrap Farmer), seeds (I get mine from TrueLeaf Market), a growing medium (I use an organic potting soil from ProMix), and lights (I use 4' Sunblaster Fluorescents) if you want to grow indoor, otherwise you can obviously use sunlight if you have space and want to grow them outside. That's basically it. Anything else will just upgrade your operation. A few of the best online resources which helped me along my journey, from setup, to growing, all the way through harvesting are: Curtis Stone's From The Field TV, Donny Greens on YouTube, and OnTheGrow who have great experiments on YouTube & an ebook.
So, whether you just want to add some nutrient dense greens to your smoothies, juices, salads, or dishes as a garnish, have some sunflowers to snack on, take a micro-step towards learning to grow food, or go big & contribute to the energy cycle of your local community, the macro benefits of microgreens are there for you.
"To a man's heart it brings gladness to eat the figs from his own trees, and the grapes of his own vines", and to your heart gladness can come from eating the microgreens of your own stem.
Using Hay to Import Fertility and Feed the Pastures
A recent study I read indicated that pastures responded better to feeding hay directly on the field verses hauling manure and compost from the barn.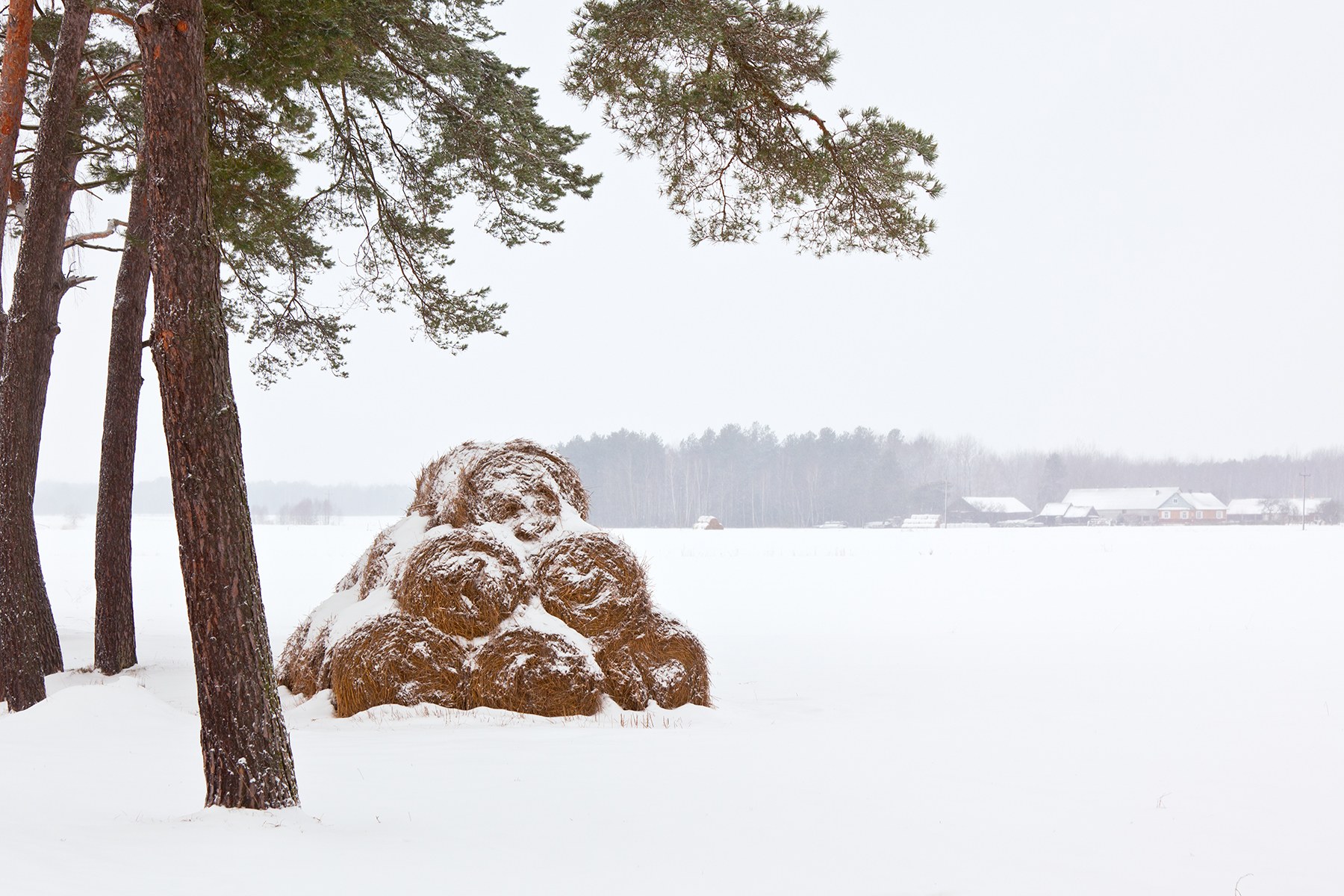 By: Mohawk Farmer Bear
When we took over the farm in 2015, the fields were constantly being cropped and hayed. Modern agriculture focuses on production at the expense of soil health and fertility. While we have good soils here, it's obvious that fertility is low, and the pastures are nowhere near as productive as they have the potential to be. This winter, rather than feeding the cows down by the barn as usual, I focused on rotating them around the pastures and feeding the hay directly on the pasture. By the time grazing starts in May, I will have fed 200 round bales of hay or 50 to 60 tons of hay onto the pastures. That's a lot of manure, organic matter from wasted hay, and fertility to spread on 50 acres. A recent study I read indicated that pastures responded better to feeding hay directly on the field versus hauling manure and compost from the barn. More fertility is captured with winter bale feeding on pastures. So, this summer, I'll get to see it. Either way, 50 tons of hay (5 tons to the acre) should have a huge impact on the pastures. More fertility means more grass, which means more beef.
Unrolled hay bale. It spreads the fertility around the pasture and gives all the cows access to the dinner table.
In early February, you can see where the cows have been without snow. I covered this part of the farm well.
The farthest and highest point on the farm. Typically the hardest to get manure spread on, but I fed a ton of hay up there this winter. It's a pretty good hill, so even with heavy baleage, I start at the top and push the bale down the hill to get it unrolled.