The Future of Business
Jacob Telling shares his thoughts and experience on business opportunity.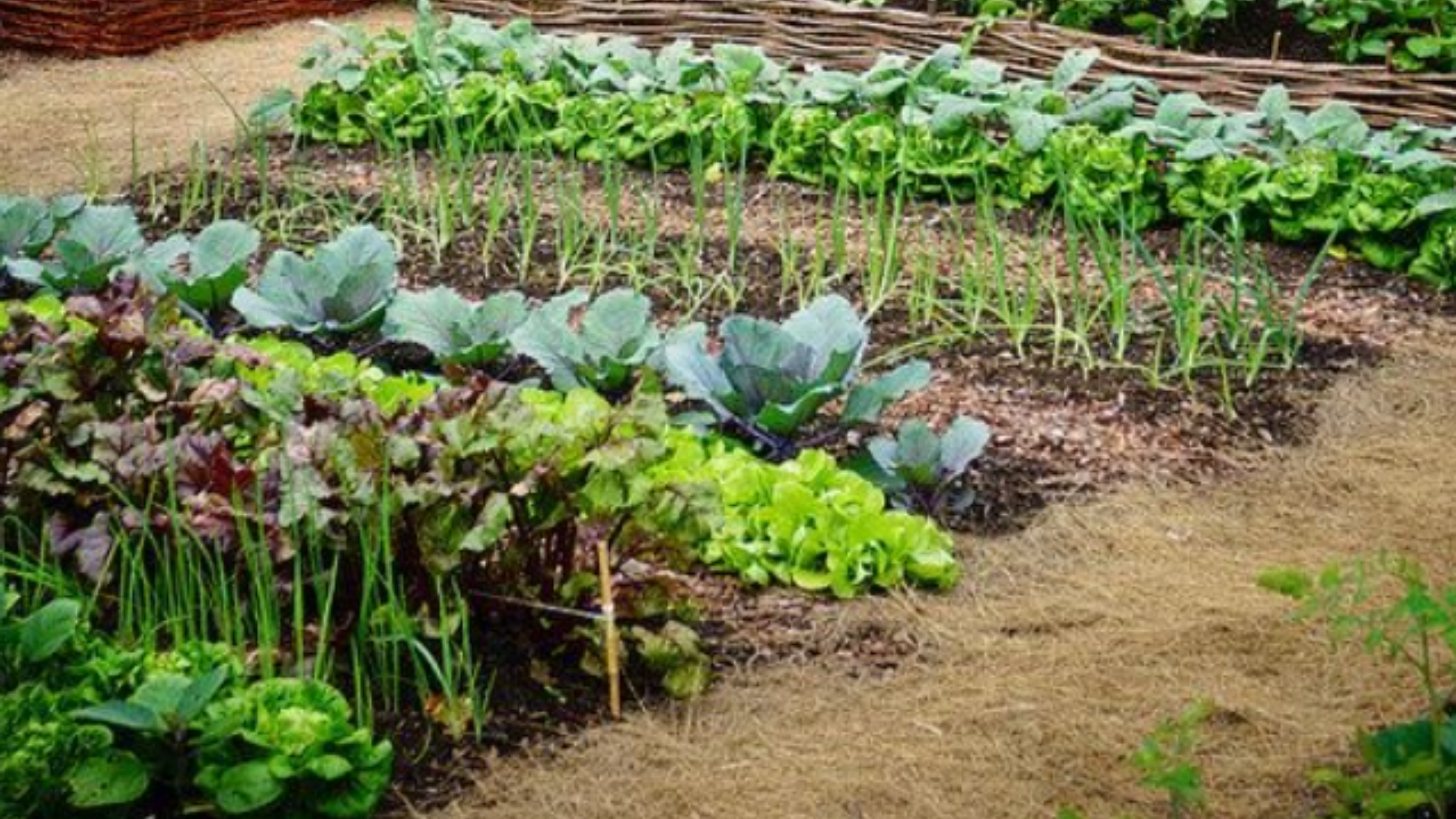 Despite popular opinion, right now is the best time for business. Or at least it can be. Amongst all this financial movement, there is enormous opportunity. Huge realm wide changes in the shape of the economic landscape are taking place. Mountains are being moved. Although it's true that many (debt-leveraged) businesses are shutting their doors, it's also true that many (antifragile) businesses have had their best year ever. This is especially true for brand new businesses that offer an honorable service. I fall in the third category. When the fearful consented to close their businesses, I did the opposite, opening one up. I started a small business building planter boxes out of the garage. It's been awesome. Empowering my community with their own means of food production is a great way to make some cash. This year I'm expanding: more than just providing planter boxes for pick up, I'm also offering in-ground gardens, delivery, and soil installation services. Prompted by @Libertysteadbear's brilliant comment about encouraging church gardens on the @Hanginwithbears livestream, I've put together the gardening version of a white glove turn key style garden program marketed at churches. At the push of a button, I do it all: planter boxes (or in ground beds), trellises, irrigation, seed purchases, planting calendar, garden plan, full installation, all of it. I want to provide churches the easiest possible opportunity to get in on the gardening game. I want to see churches become community leaders again, where they start using their space and their infrastructure to feed people high quality food and bring the community together. I have no idea how receptive my area will be to all this, but I'm happy to try because it's an ethical endeavor. And that's what really makes this the best time for business: the moral side of commerce is making a resurgence.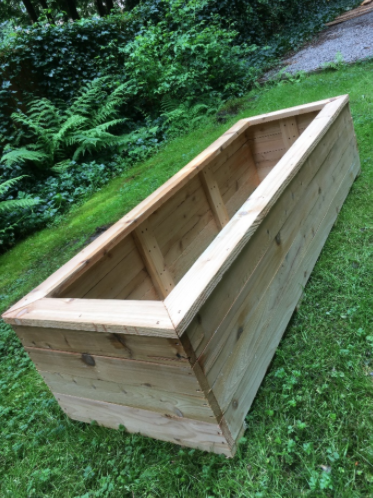 This is a sample from the flyer that I'm sending to churches:
Even if you put aside the health benefits, the financial return, and the unmatched quality, growing your own food still brings an aspect of biblical wonder. Churches are meant to be community leaders. And what better way to lead a community than to take tangible steps towards biblical living? With my faith, I believe that what the bible says is true: We are meant to toil in the field, and see our own food grow. We are meant to share in the great bounty and abundance that springs forth from rich soil and caring hands. We are meant to have a close connection with the glory of seeing creation do its work. It is the way of the honest Christian (and I'm sure many other religions as well) to build what is good, true, and beautiful. As a Christian, I hope to help others pursue this goal. As the owner of Backyard Eden, I've put together a garden program specifically with churches in mind. My offer is to install an effective, beautiful, bountiful garden for your church along with a customizable seed kit and planting schedule to take out all of the guesswork. It'd be an honor to help you lead the community by building your very own Backyard Eden.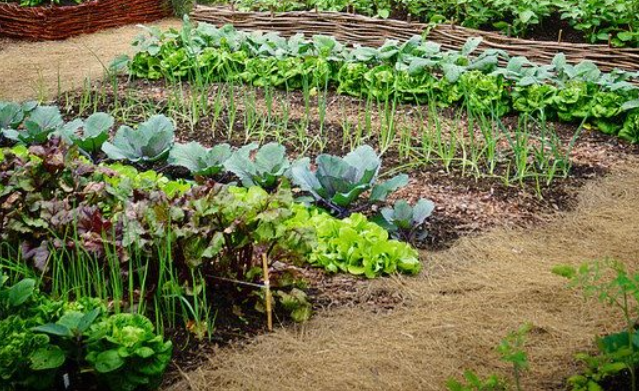 I guess that's what happens when a philosophising author takes a crack at designing a poster – it turns into something that more closely resembles a motivational speech… But I can't help it! It's in my passionate nature to get to the heart of the issue. I've noticed that this can get lost in translation. For example, sometimes when I say that this has been a great year, my enthusiasm gets internalized as a kind of forced idealism. People hear my passion as an optimistic half-truth… but this isn't the case. I'm speaking right down to the core. I fully believe it when I say it; what's been happening lately is a blessing. We're learning from stressors, and waking up to the authentic, transparent version of reality. What follows is a more honorable existence. For our diligence in pursuing the truth, what a breath of fresh air this whole process has been. Now, the authenticity is exhaling out into all sorts of realms. On the financial side, since marketplaces are driven by demand, the moral fabric of the vendor is woven by the thread of the vendee: with enough authenticity, moral buyers make for moral sellers. The two are inherently connected. Since a core part of the Beartarian ethic is to aim for moral truth, and since the world is waking up to the reality that moral living is important, right now we have the best opportunity to enjoy the process of building an honorable business. And what other kind of business would you want to be apart of anyhow? Given everything that's gone on, we have a wonderful opportunity to weave communities, infrastructure, and supply chains together with integrity. So forget the popular opinion of the mainstream. Forget financial naysayers. And especially forget about all the spiraling despair people have expressed about economics… because right now really is the best time for business.

Much love everybody,
Jacob Telling
Website: JacobTelling.com
Beartaria Times handle: @Runnerbear
How Dare You is available on my website, online, or at your local bookstore if you phone in and order.
What to Expect in Our Second Issue of the Beartaria Times Magazine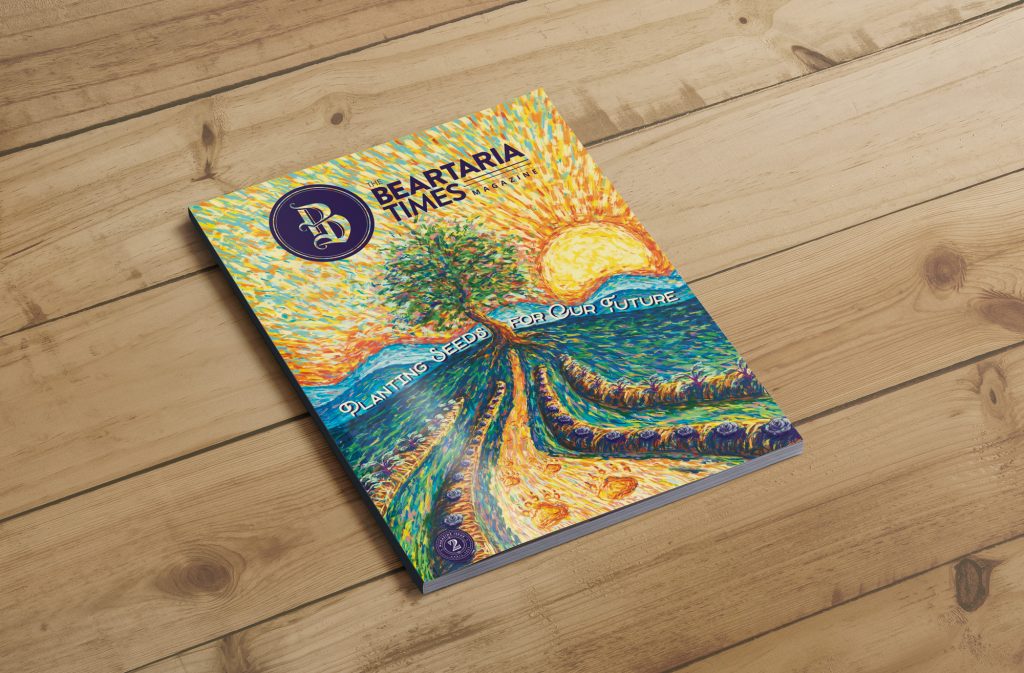 We are excited to announce the second issue of The Beartaria Times magazine! This second installment brings together community members from different backgrounds and experiences to share tutorials, knowledge, inspiration, and resources that we know our community will love and benefit from for years to come. We have compiled articles from the legends of Beartaria to build a catalog of information that will inform and inspire.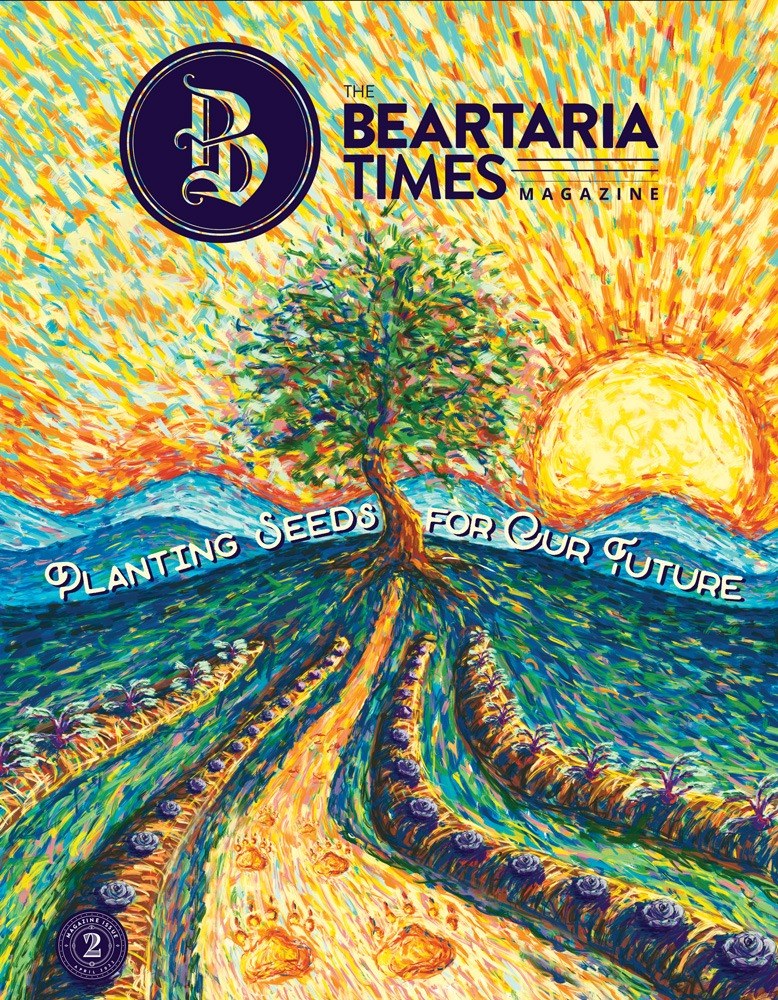 Some of the topics you can expect in this issue will include an intro to HAM Radio from the one and only Falcor. Mr. Permie Bear runs down ten ways to incorporate permaculture philosophy in your garden or homestead. The seeds of creation are sown in a piece by BearBrandt that takes you through the artistic design process. And Artos Survival's, WildMedBear gives us ten Wilderness Survival Essentials.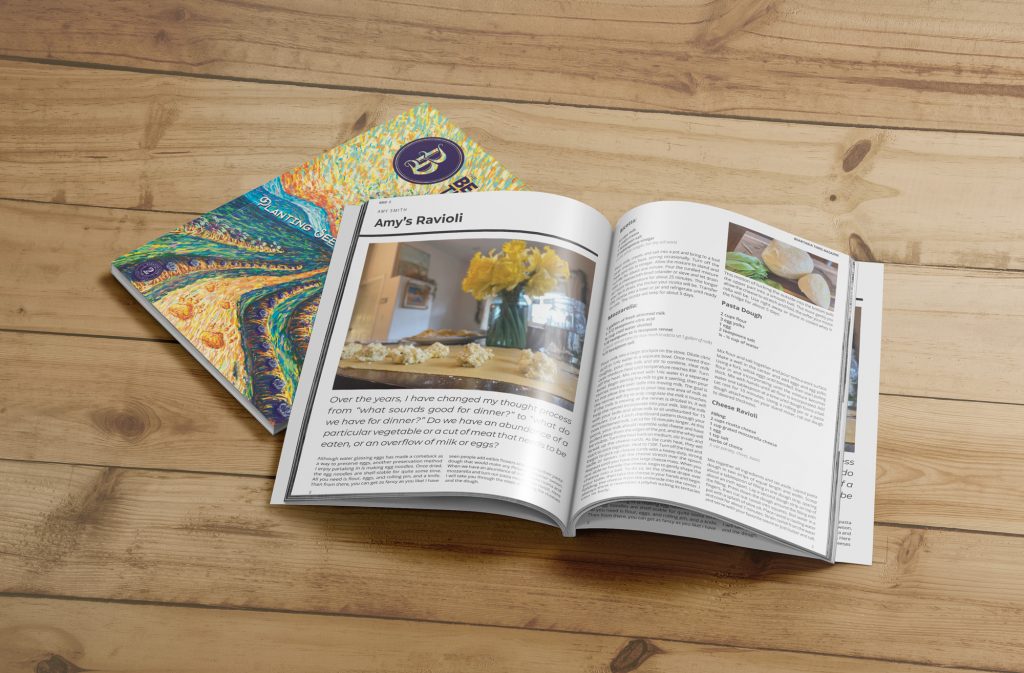 Big Sage Bear and Bolar Bear give us some insight into planting metaphorical seeds in their lives. While Orthodox Builder Bear lends some wisdom on how we can all benefit from continuing to do business with Babylon. And there is so much more!
Like before, this magazine will be a limited run based on the pre-order numbers. We are happy to have lowered our pre-order cost to $24 per magazine, and we reduced the Canada shipping cost to $9 instead of $15. For total transparency in sharing our goals, some magazines of similar physical quality sell for $12-$15 but print millions of copies. We believe we can begin to get our price more competitive if we sell around 10,000 copies. By supporting our magazine and pre-orders, you help us continue to lower the cost. We would rather sell many magazines at a low price and get good information out there!
We want to thank all of our contributors for making this another fantastic issue!
You can still pre-order a copy before Friday, April 29, at 9 pm PST.
The future is bright for The Legends of Beartaria!
Until next time, Keep Crushing!
Onward!
Sincerely,
– The Beartaria Times
The Beartaria Times First Magazine Is Now Available For Pre-Order!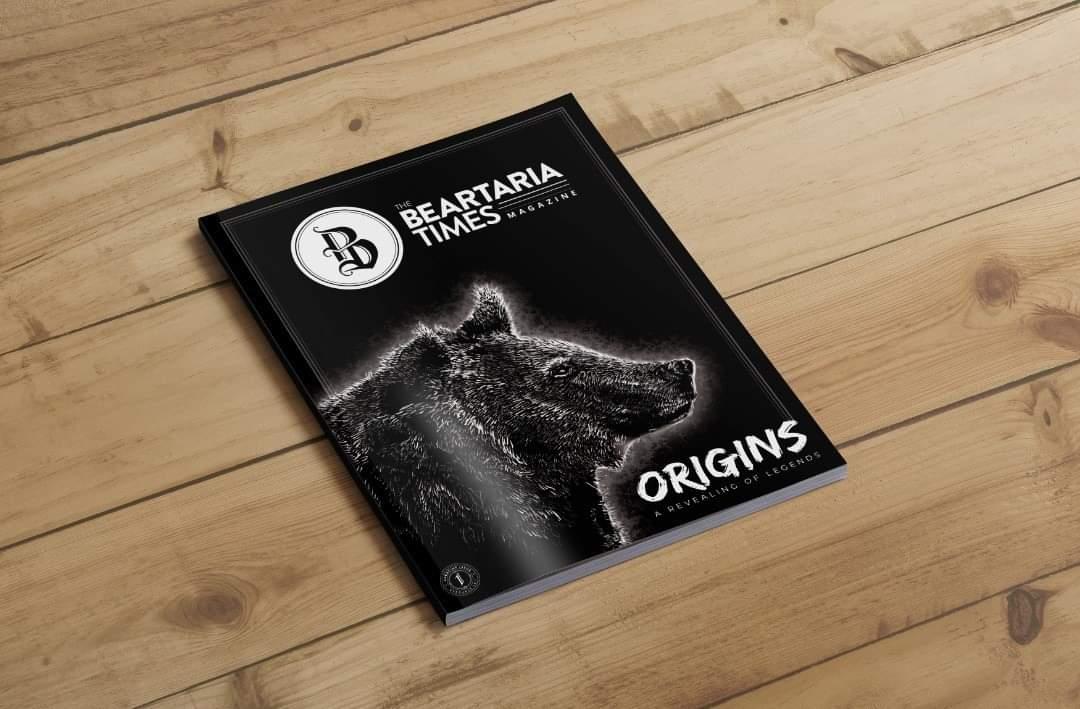 We are excited to announce that we are now accepting pre-orders for our first ever Beartaria Times magazine!
We are hoping this first 100 page magazine titled, "Origins – A revealing of legends" will be the beginning of a quarterly magazine series.
In this first issue we brought together community members from different backgrounds and experiences to share origin stories, experience, inspiration, lessons and resources that we believe our community will love and benefit from.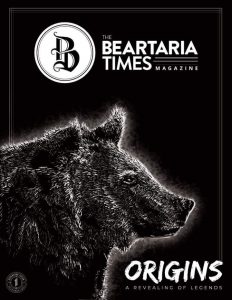 The Beartaria Times started as a free community news site that many generously donated to support which helped us launch our community app and it has been a huge success!
Supporting this magazine can help us secure an official editor to curate submissions for our website to continually and consistently share valuable articles as well as highlight businesses and entrepreneurs for free.
We can barely wait to share what we have planned for 2022 and this magazine can greatly help us get there.
We love being able to give a voice to legends and legends in the making, as well as offering a community app where a well intended community can come together to thrive!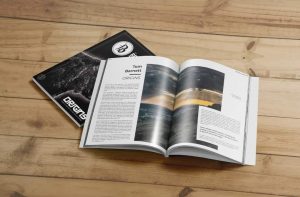 Our community app is an amazing piece of tech and we greatly appreciate all the hard work done by those that made it possible. The community that comes together and gives their best to share and support the good, the true and the beautiful things in life is what makes our app so enjoyable and valuable to us all.
Thank you to everyone that has contributed to this magazine as it could not have been done without you, your amazing stories and lessons!
A special thank you to Copper Bear, Camera Bear and Nero Digital Design for driving this magazine forward and getting so many great people involved.
We are thrilled we are able to offer this magazine and are excited to share what's next,
The future is bright for The Legends of Beartaria!
Until next time, Keep Crushing!
Onward!
Sincerely,
– The Beartaria Times
The Béara Clann – Irish Bears July Camp Trip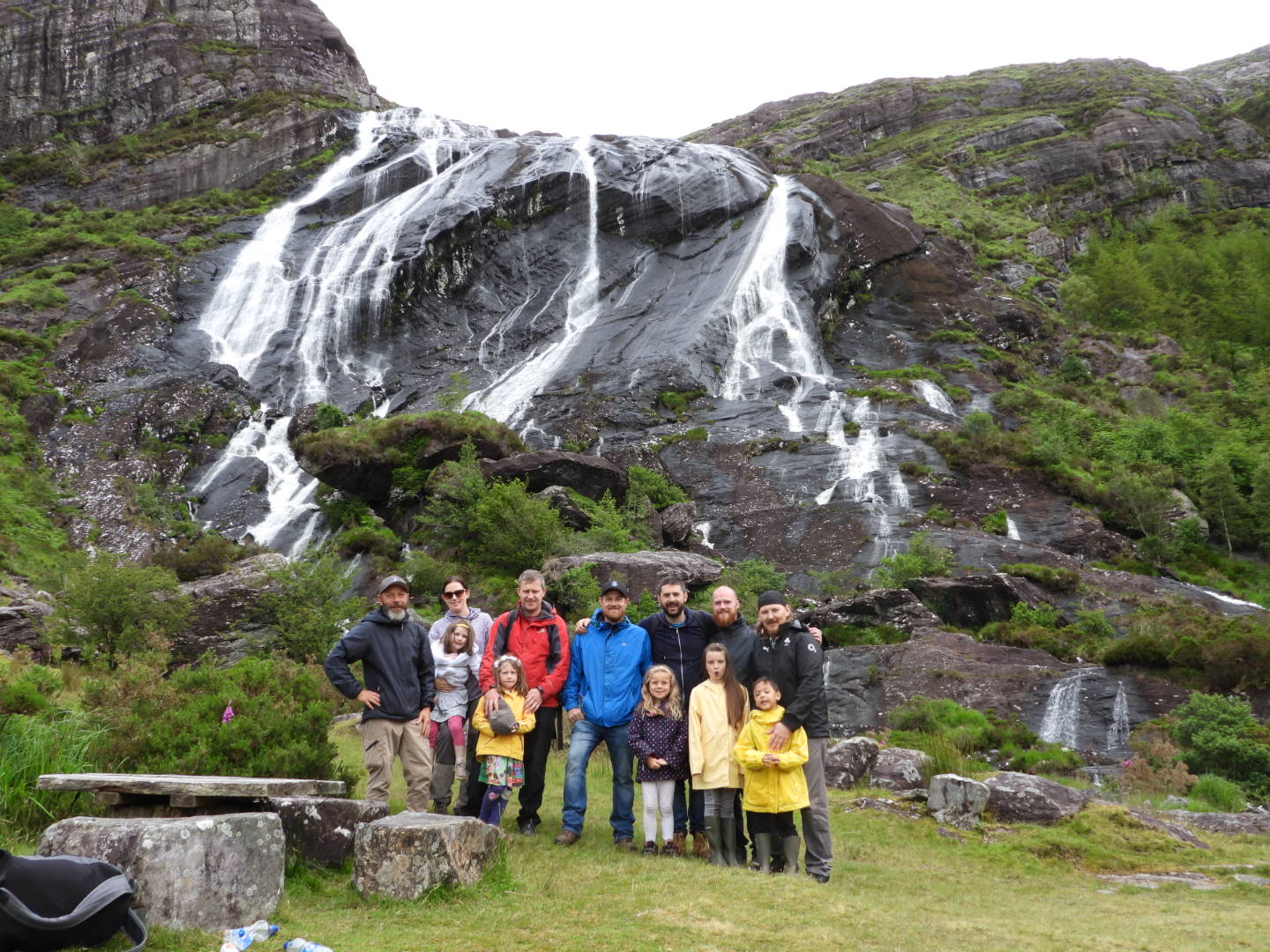 Our Story Begins
The following is an account of twenty-three legends that assembled at a campground in the Beara Peninsula of County Kerry, Ireland, in the first weekend of July 2021.  This is the story of the first Béara Clann camp trip.
Our story begins on Thursday, the first of July.  Kingdom Bear and his wife, Kerry Moma Bear, arrived at the campground to claim our corner of the camp.  Kingdom Bear, an avid camper, is also a veteran of the printing industry.  He brought with him a few surprises he'd made for the group, including a Béara Clann banner and flag.  With banner and flag in place, Kingdom Bear was ready to welcome the other members they arrived.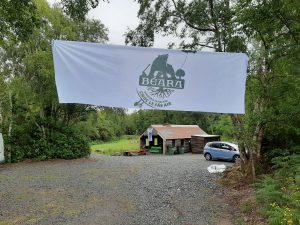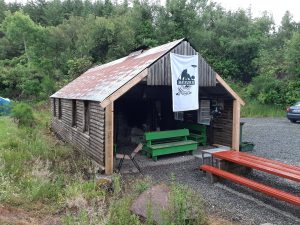 Béara Clann Assemble
Friday morning, members of the Béara Clann, the Irish Unbearables, began their journey from all corners of Ireland to the campground in County Kerry.  By the afternoon, most of the group had made their appearance.
Upon arriving, the Clansfolk were warmly greeted by the Béara banner and flag marking our little settlement.  There, we found a fire pit surrounded by tents on all sides.  Next to that, a small building for shelter from rain.
Kingdom Bear and Óbéara Bear welcomed the Friday arrivals with smiles and open arms.  Everyone joined in to help each other build their tents.  After setting up and a quick trip to a nearby village to stock up on food and supplies, everyone was settled in for the evening.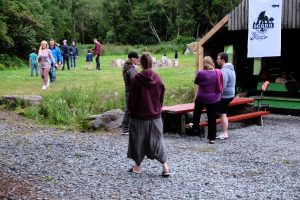 It was like old friends having a reunion, though this was the first time many of us were meeting in the real physical world that exists beyond the borders of the digital realm.  Handshakes, hugs, smiles and stories being shared were in abundance.
It was time to build a fire before nightfall.  A few bears spotted a huge broken tree limb and with teamwork, removed it from the tree with bare hands.  Then they began to break it down to smaller pieces using various saws and axes.  Everyone participated in a group effort.  As one got tired, another bear stepped up and continued the sawing.  This was also a great opportunity to teach the younger generation how to chop wood.  The Paddy Glassman Bear instructed Green Bear's sons, Strummer Bear and Pickle Bear, how to chop up some firewood.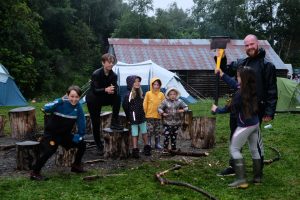 The positive vibes continued into the evening hours, as members gathered round the fire to tell stories, crack jokes and share their various interesting theories about this realm we call Earth.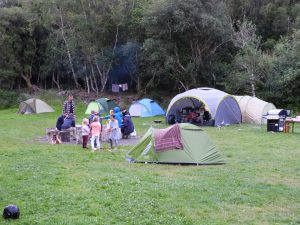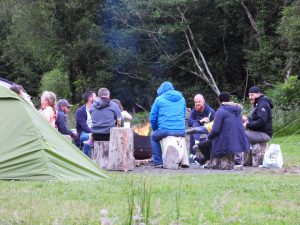 The Fellowship of the Clann
Saturday morning saw the arrival of several more members, completing our gathering of these Irish Beartarians.
That afternoon, several members embarked on a journey to hike to a hilltop where an ancient stone circle stands.  The group admired the elevated view while contemplating what the ancient people of this land had known to construct such a site.  After visiting this ancient place, some of the braver ones took a dip in the chilly waters of a nearby lake.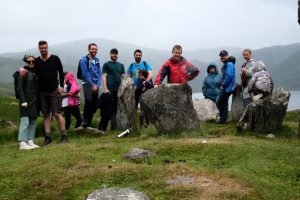 Once everyone was back at camp, the Béara Clann's Minister of Enthusiasm, Brayvy Bear, presented each of the children in the group with a gift bag.  The amazing Kingdom Bear and Kerry Moma Bear put together these lovely gift bags that included things like crayons, coloring book, bubbles and toys.  The Béara Clann children were most pleased.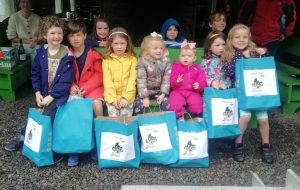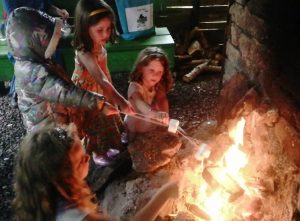 It was steadily raining that evening, so we all gathered under that nearby shelter for a dinnertime BBQ.  Spirits were high as we shared stories and crafted jokes.  There was an abundance of good cheer.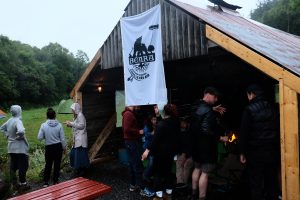 After dinner, Brayvy Bear presented all of the adults with a souvenir Béara Clann mug that he and Kingdom Bear had made for the group members.  To mark the occasion, Brayvy Bear also presented to the group a bottle of locally crafted Beara Irish Whiskey, pouring a little into each mug and proposing a toast to the Clann.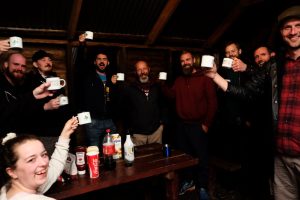 The "craic", as the Irish call it (stories, jokes and laughs), continued into the late night hours.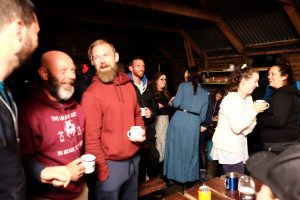 Making Our Own
Sunday morning, the group screen printed t-shirts with the Béara Clann logo.  Each member had brought with them the shirts they wanted printed.  Kingdom Bear set up a station in the shelter area to do the printing.  As mentioned earlier, he's a veteran of the printing industry, so he volunteered to man the screen printing station.  Brayvy Bear, always eager to help, stepped up to assist him.  The end result was beautiful, each member going home with a freshly printed Béara souvenir t-shirt.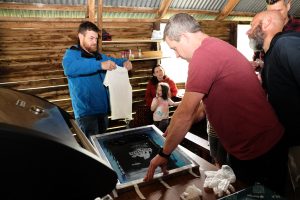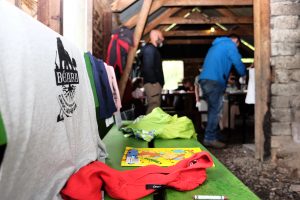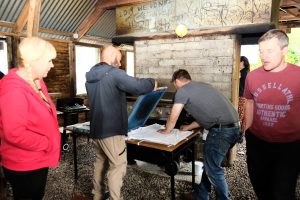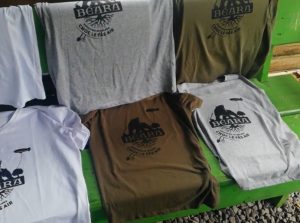 After printing t-shirts, Poppa J Bear hosted a livestream for Instagram.  The stream included a tour of the camp site and short interviews with several of the folk.  It was a great way to capture and showcase the energy of the trip.
Next, everyone gathered in front of the shelter for a group photo.  ConspiraBee Bear, an avid photographer who had been photographing the entire weekend of events captured the group photo of us.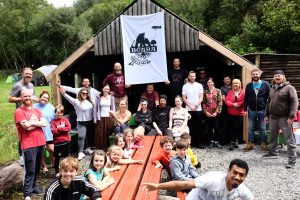 Further Exploration
Some members packed up to head home after the group photo.  The remaining members embarked on an expedition to see a famous secluded waterfall and lake not far from where we were situated.
The scenery at this location was epic, like something you would see on a postcard.  Passing through fields of sheep, you encounter the waterfall.  After a few photos were taken there, we proceeded to trek up the steep trail towards the lake.  At the lake, several in the party decided to again take a dip in the water.  The Buzz Wrecker Bear, Rua Bear, The Paddy Glassman Bear, Eire Bear and Defender Bear's girlfriend all went for a swim, those brave souls.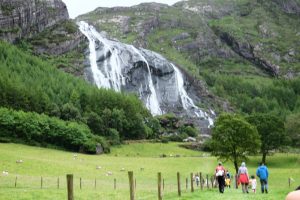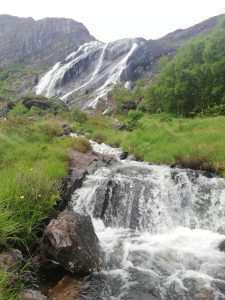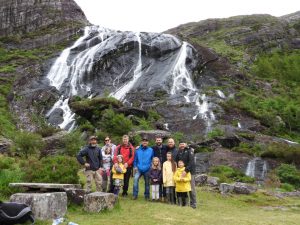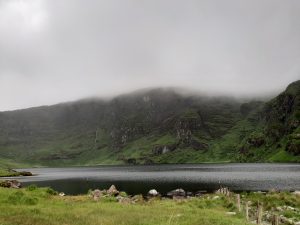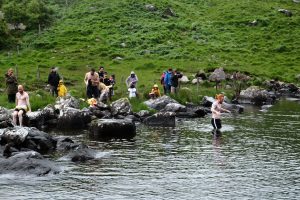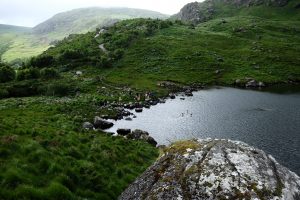 Once back at camp, the men set up a friendly axe throwing competition.  Logs were stacked for a target and the each man took turns throwing the axe.  Much fun was had, so much so that axe throwing will be a featured event at all future camp trips.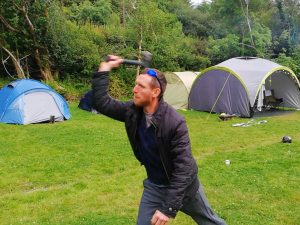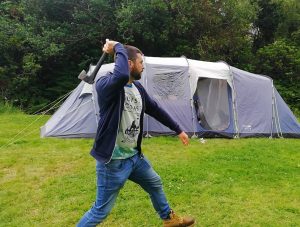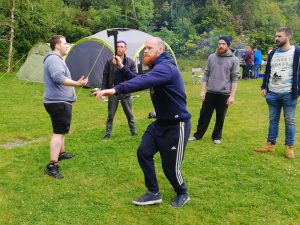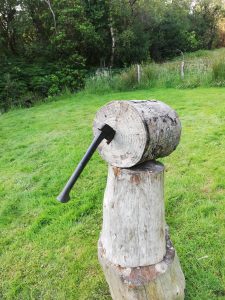 Onward to Béara!
That night, as the rain had ended, we all gathered round the fire again.  Future plans were discussed, including another camping trip, as well as the proposed formation of the Beartarian Horticultural Society.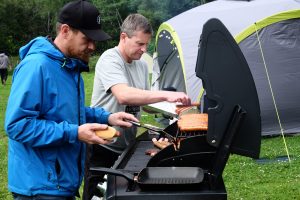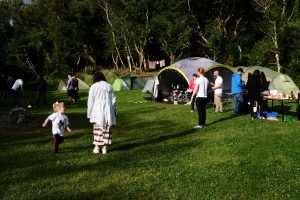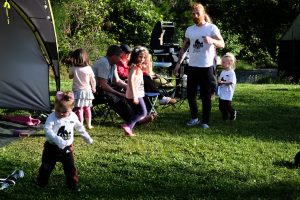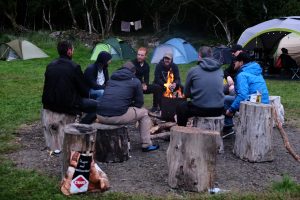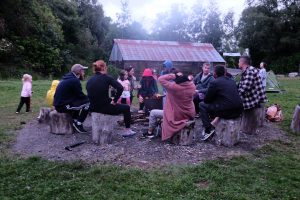 The common thread that tied this weekend camp trip together was teamwork and community building.  Each member of the Clann lending a hand to help another.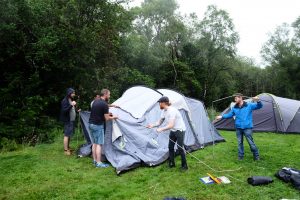 It was so good to see everyone get along so well, to see our children playing together in nature.  To watch the initially hesitant and wary wives and girlfriends go from polite conversation to genuine warmth and good natured joking, now eager to be a part of this wonderful group.  This is what community building is all about.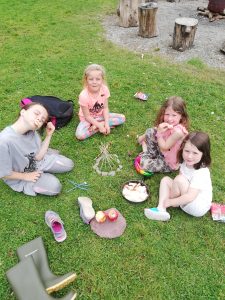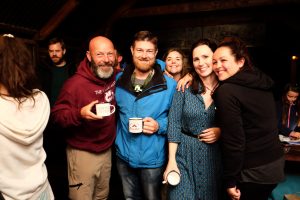 The friendships formed, friendships reinforced and memories made at this July camp trip will last a lifetime.  We, the Béara Clann of Irish Unbearables, are a young group, still growing and learning as we go, yet we show much promise of big things to come in the future!
On Monday morning, it was decided that we would all meet here again for the second weekend of August.
To be continued…