The Beartaria Times Projections Show Possible Printer Purchase Going Into Q2
Van Allen Bear reports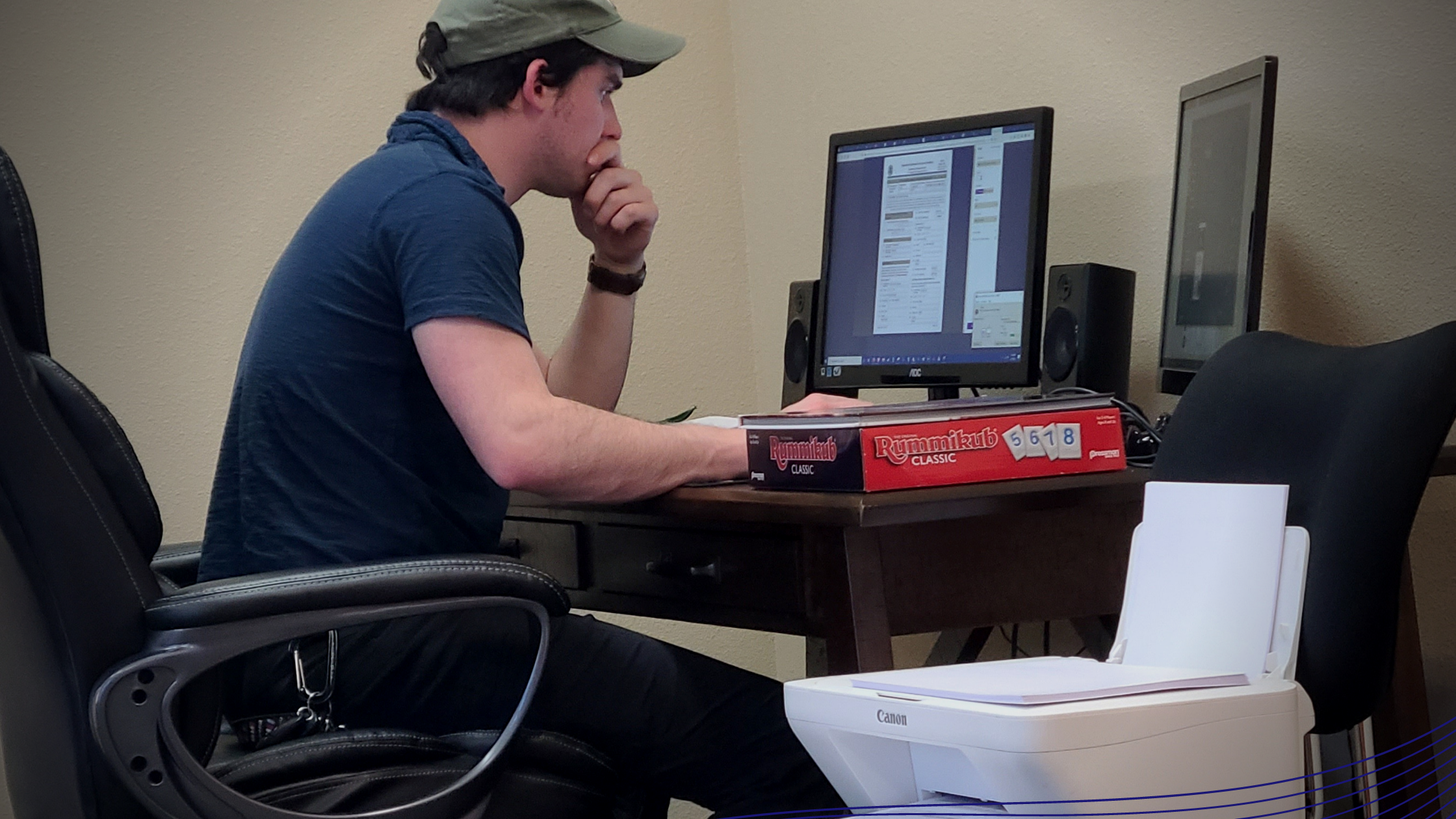 It's been a long time coming for The Beartaria Times to start competing with the billion dollar companies people have grown to be annoyed by. Rumors of The Beartaria Times' future strategic investment plans have spread rapidly across the thriving startup culture of North Idaho.
Until now, rumors were unsubstantiated. But, due to my close proximity and vast industry connections, I have been able to verify the elaborate rumors that has "crushers" gaining more interest in The Beartaria Times.
I have confirmed via multiple text messages that The Beartaria Times will indeed make a strategic purchase for a new ink dispensing compositor, commonly known as a printer. This is going to 'up' the company value by a percentage that can only be speculated at this time.
Speculators and analysts have gathered in high controversy over the logistics of the acquisition and future productivity projections.
"The Beartaria Times could get a new printer or one from craigslist that would be tried and true"

Gary, not Terry

Gary, not Terry, responded to a request for comment and he makes some excellent points. He also added, "They may not want to risk being asked to pay $16 for a warranty, such a question poses a potential work-stop creating congestion in the administrative duties of the policy-making department."
"Gary is a smart guy… when he talks, people listen, and warranty propositions do pose an increase in substantial thought processes," inside sources say.
"We originally wanted everything etched in stone, but with the global shortage of chisels we began using scribes."

Spokesperson for the beartaria Times
My sources at The Beartaria Times went on to say that they can no longer continue to use the scribes, "They have been on strike for weeks because Gary recommended it, people really need to stop listening to Gary."
The Spokesperson continued to reveal new developments in the strategic printer acquisition, "A reconnaissance officer was sent to a local supplier to gather intel on pricing possibilities and specs. Ammunition for the printer may soon be bottlenecked in the economic sector, due to the price hike of printer primers. The Beartarian Times R&D department has discussed the possibility of creating printer ammunition in-house, although this opens the doors for many new challenges for us."
The spokesperson is not revealing any more information at this time. A top consultant for The Beartaria Times has reportedly said, "Warranties are really not a bad idea, its better to have it and not need it, than need it and not have it."
So, is this even a big deal? Is this something to watch going into Q2? Only time will tell how this will play out in the imminent future.
It hasn't yet been disclosed that if a new purchase was in play which enterprise would land the contract. Multiple corporations are in tight competition. As of this time, not a single representative has reached out to The Beartaria Times. I am sure The Beartaria Times would be open to exclusive offers at this time if sales departments were on the cutting-edge of media culture, for they would assuredly be aware of this breaking news.
It would also be highly recommended for printer enterprises to make a generous contribution to The Beartaria Times, that would make them look really cool with 'The Bears.' This could also give The Beartaria Times the opportunity to do a one-off box opening video that could gain unprecedented levels of exposure and cultural presence to a trendy printer manufacturer. For those who are reading, it could be yours.
I will do my best to report on updates as this story develops.
Yours on the Trail,
Van Allen Bear
For Printer companies, please use info@beartariatimes.com
There is a First Time for Everything: A Lesson from a True Hunter
That evening as I sat down for supper, I watched as the snow began to fall, and after heartfelt prayer of thanksgiving, pork and sauerkraut never tasted so good.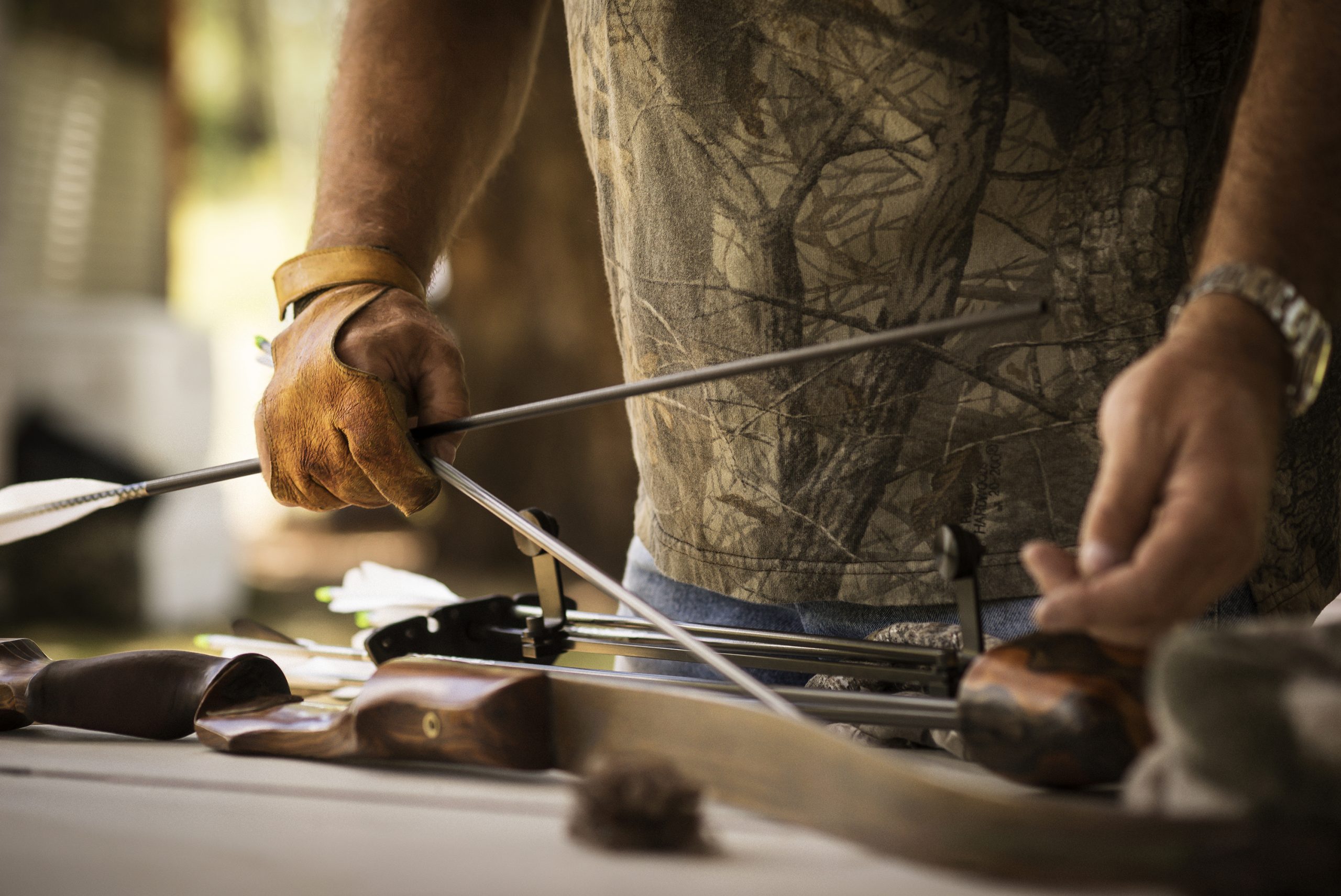 By: Longbow Bear
Every archery season is a new learning experience. Whether it's learning how the deer move through at a new stand location, how the cuts and draws in a mountain can manipulate the wind direction, or calling to a big buck that is outside of bow range. This year was no different. My week-long "rutcation" started with two warm days, but as Monday rolled around, the temperatures plummeted, putting bucks on the move searching for does that have come into heat. Monday was a blast, having two encounters with big 8 points, one in the morning and one in the afternoon. I found the short end of the stick with both bucks as the wind swirled, and eventually, both of them nosed me before giving me a clean shot. Tuesday morning picked up right where it had left off the day before. It was cold and crisp, 25 degrees, frosty, and very little wind. Perfect. It didn't take long for things to get busy in the woods. A little after daylight, I let a series of doe bleeds mixed with a buck-tending grunt echo down the mountain. It's one of my favorite blind calls to make. It gives an illusion that a buck has found a hot doe and is tending her.
I've had good luck in seasons past at piquing the interest of a buck I couldn't see to come to take a look. This was the case; minutes after making the call, I heard the crunching of leaves and a twig crack behind me. I arose from my seat, pulled my bow from the hook, and anxiously waited to lay eyes on what was coming through the thick. He cautiously made his way, zig-zagging through thick laurel and downed pine trees, finally showing himself and coming to a stop at 23 yards.
Getting dangerously close to directly downwind, I took a shot through a small window. My aim was true, but the location of the deer was less than desirable.
I put my pin a little too far front and caught some shoulder blade. As my arrow struck the deer, it gave a loud crack with what looked like little penetration. As I watched him run off with my arrow sticking in him, I felt sick to my stomach. What did I just do? Did I just wound a buck without making a fatal blow?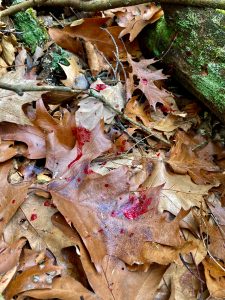 I gathered myself and got down from my tree to look and assess the damage. I found decent blood where I had hit him, my arrow was lying 10 yards from first contact, and if the blood on the arrow accurately showed penetration, I had about 8", which was plenty to reach the vitals, but I couldn't be sure, in my mind replaying the shot it didn't look like that had been the case. I began to track, finding little spots of blood and upturned leaves as he was on the run. After tracking him for the first 100 yards, I saw no sign of him stopping. It was time to back out and regroup. I walked the ridge back to my stand location. I felt terrible, gathered up all my gear, and hiked back down to my truck. After a two-hour coffee break with a lot of nervousness and second-guessing, I geared up and went back in to track him.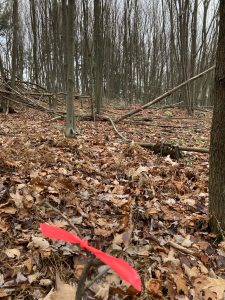 This is something I have not had to do up until this point in my hunting career. I've been fortunate enough to either have clean misses or deadly hits. I returned to where I had stopped, marked with my arrow stuck in the ground. Using pink ribbon, I slowly marked his travel, every spot of blood got a stick and some ribbon.
As I scoured the forest floor for drops of blood, a motivation kicked in, and the sickening feeling that I currently had started to fade with every drop that I found. Stick ribbon, stick ribbon, it was starting to be fun. Every now and again, stopping to take a break and look back at how he was weaving his way through the woods. He went about 400 yards across the ridge before hooking down into the thick laurel, where he eventually came to rest. I felt a lot of relief and gratitude when I finally saw him lying there. A hunter cannot have a worse feeling than to mortally wound an animal and never recover it. I've yet to experience it, and I hope I never do, but that risk comes with hunting, especially with a bow. Happy to get him back to camp, skinned out, and hanging ready for processing tomorrow. That evening as I sat down for supper, I watched as the snow began to fall, and after heartfelt prayer of thanksgiving, pork and sauerkraut never tasted so good.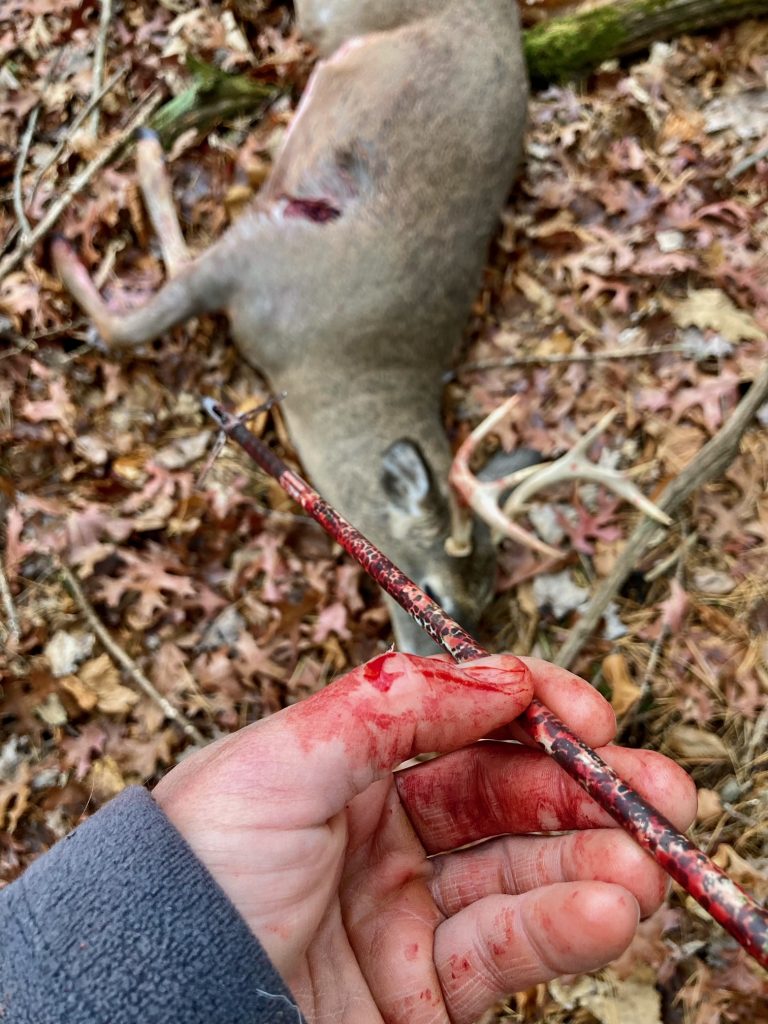 To any new hunters that find yourselves in that scenario, go look for blood and assess the damage at the place where the animal was when it was first hit. Find a trail and mark it. If there is any question on your shot placement or you didn't see or hear the animal crash. Pack out and give it 2 hrs before further tracking. The last thing you want to do is to keep pushing a hurt animal. A mortally wounded animal will usually head toward water or a thick area to find a spot to lie down. By not pressuring the animal, he will inevitably lie down and die as peacefully as possible. This is the best-case scenario now that you have made a less-than-perfect shot. I hit one lung, and this buck still managed to go 400+ yards from where I hit him.
Brett Pike- Founder of ClassicalLearner.com Launches New YouTube Channel
Homeschools Connected covers classical education and the classical trivium, Montessori, Charlotte Mason, and Unschooling.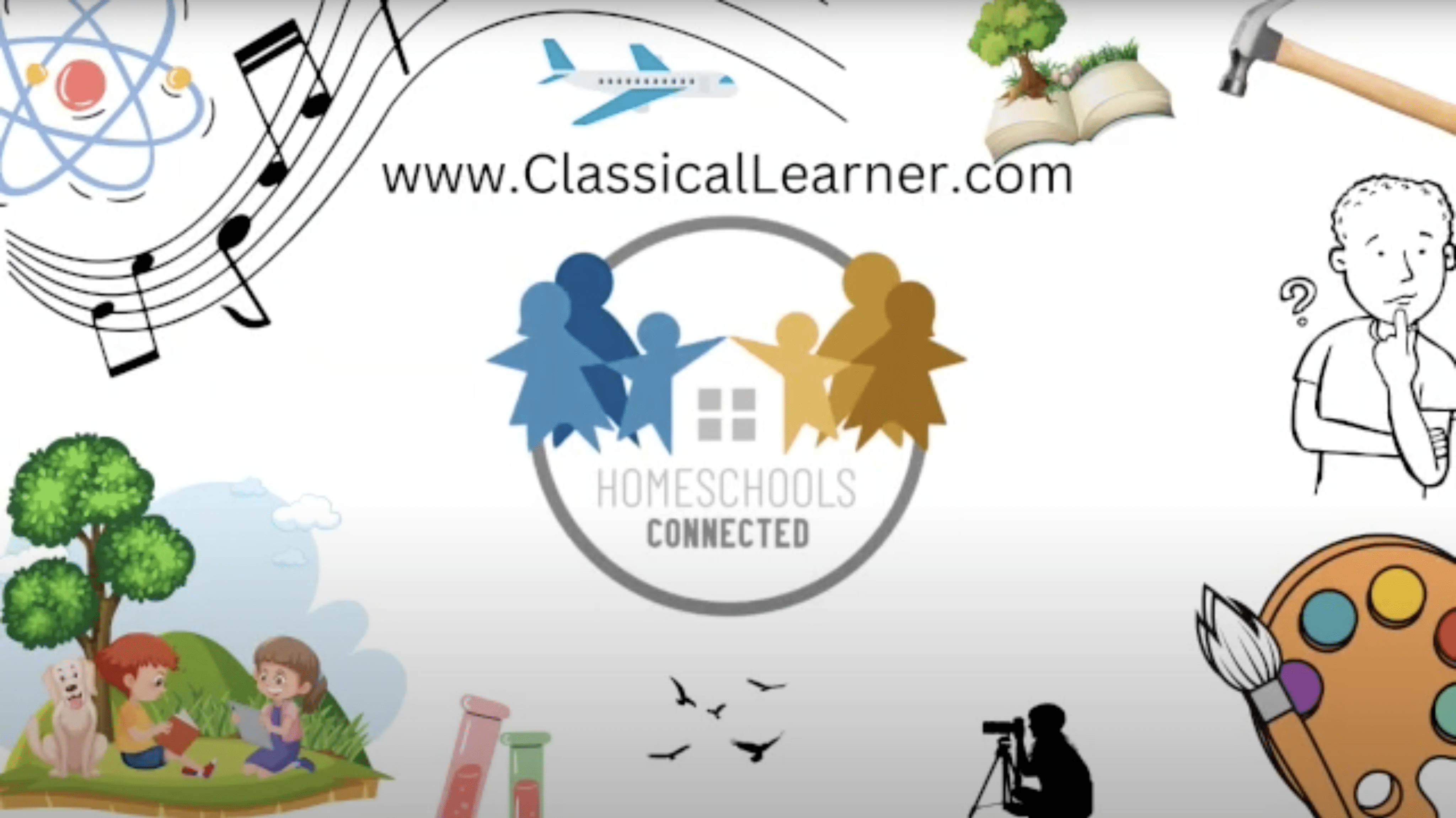 Homeschools Connected covers everything homeschool, homeschooling, alternative education, and parenting. Brett Pike is the founder of the Classical Learner Homeschooling company, the creator of the Classical Learner homeschool curriculum, and the author of the Cubs to Bears children's book series. Homeschools Connected covers classical education and the classical trivium, Montessori, Charlotte Mason, and Unschooling.
In the first video, he covers Homeschooling, unschooling, and following the interest of your children to get them entrepreneurial experience. A talk on how to unschool, homeschool tips, and alternative education. How to follow the interest of your child, develop skills, and get them real-world experience. Children should have experience being an entrepreneur long before they have to decide if college is the path they want to take in life.
Find the new channel here:
https://www.youtube.com/channel/UCG3g-dVwW6_sO9JQl_17lJw/featured
Find Brett's website here:
A Journey from City to Rural Living
Once the house was complete, they set their focus on the outdoors and making this an actual homestead.

For Cornfed Bear, a father of two boys, remaining in Cedar Rapids, Iowa, was not an option. He and his wife began looking for land outside of the city in 2018 after they saw the city slowly decay right before their eyes. So he decided to focus his search on the vicinity of his parents and in-laws. Last summer, he finally found the perfect spot in Center Point, Iowa. Now, he and his growing family are only 10 minutes from his and his wife's parents. His goal is to someday put tiny homes for all of them on his land.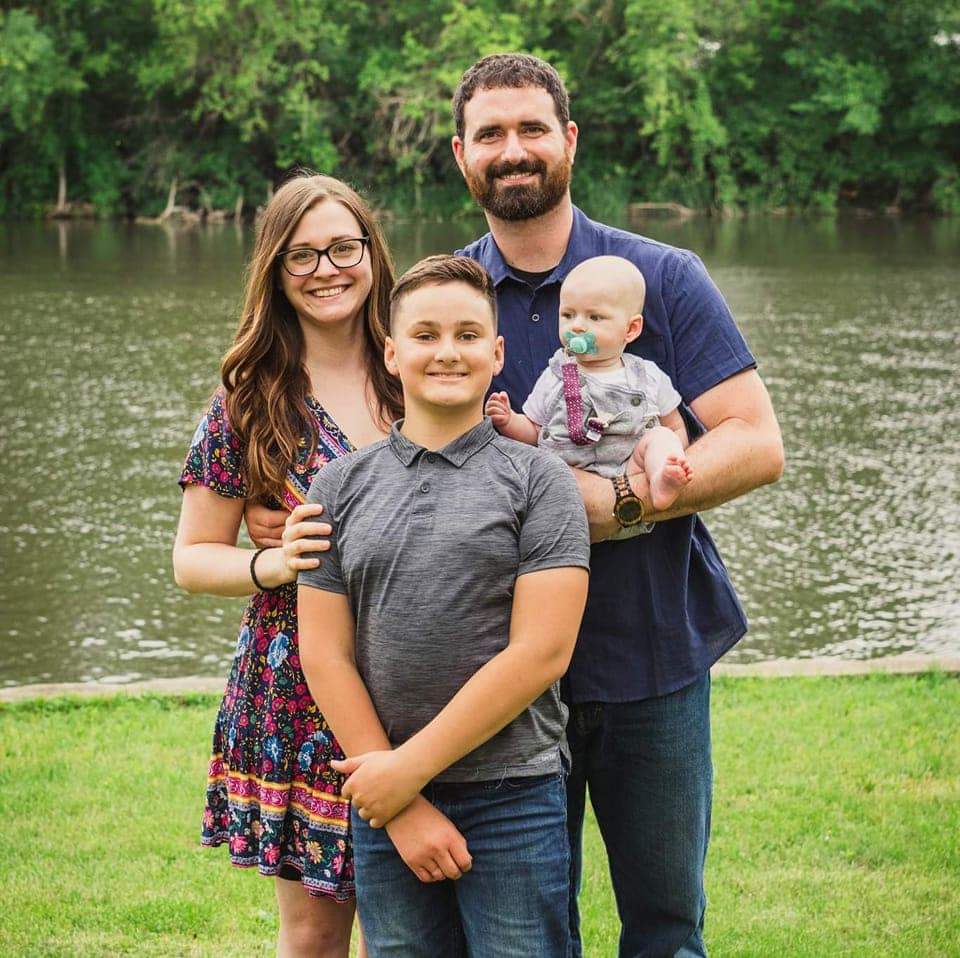 He and his wife had known for a long time that country life was what they always wanted but had never found the right spot until the summer of 2020. When they put in a bid for their perfect place, they were outbid by $7000, but God had a plan. The owner still chose to sell it to them because he wanted it to go to a family that would enjoy it for generations like his family once had. Being a mission-driven, task-oriented type of guy was a blessing because the house needed a lot of work. It was pretty much a complete remodel inside. First, they had to redo everything from jacking up the basement floor to all new plumbing and electrical. Then, they finished it off with brand-new flooring and paint.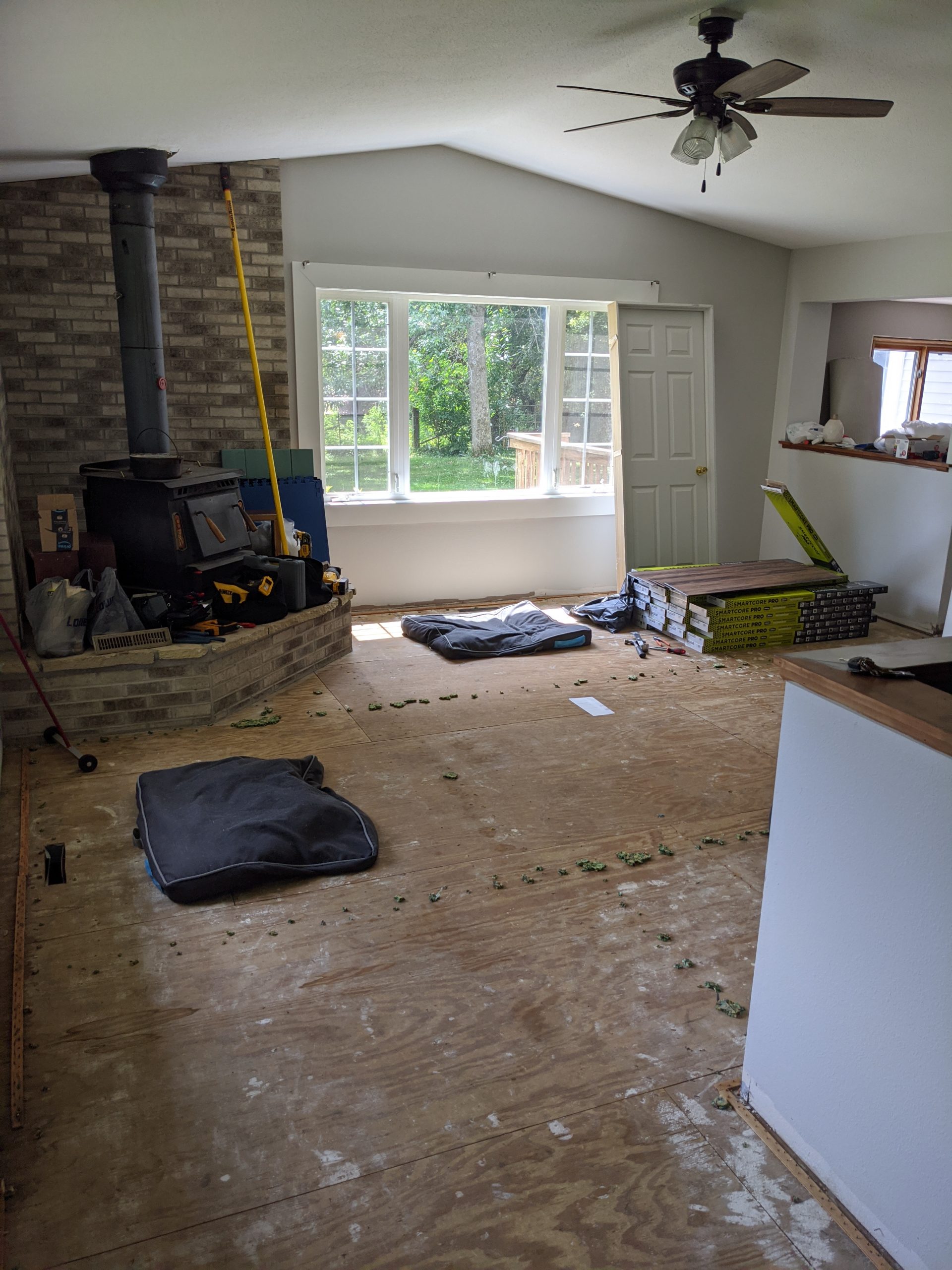 Once the house was complete, they set their focus on the outdoors and making this an actual homestead. It started with a chicken coop made from a downed fence and a hooped run that they could walk in. That now houses 13 chickens.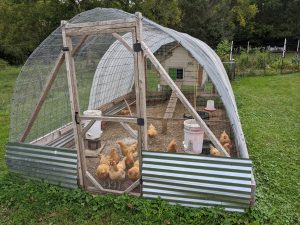 They created an 18×36 foot garden when just a year before, they could not even grow grass. It is now up to a 4000 sqft growing space! They even set up an indoor hydroponics setup for winter growing. They have planted an orchard of apple and pear trees and have future plans to expand. They plan to add eight more fruit trees. They have invested in a freeze-dryer to help preserve their harvests. They also hope to have goats soon and have built a new woodshed in order to use the old one as a goat shelter. I think we can all agree that the Cornfed Bear family is crushing and really sets an example of how to make the journey from city to rural living. They have recently hosted a bear meetup in hopes of building their local tribe and sharing their adventures, and it was a very successful event.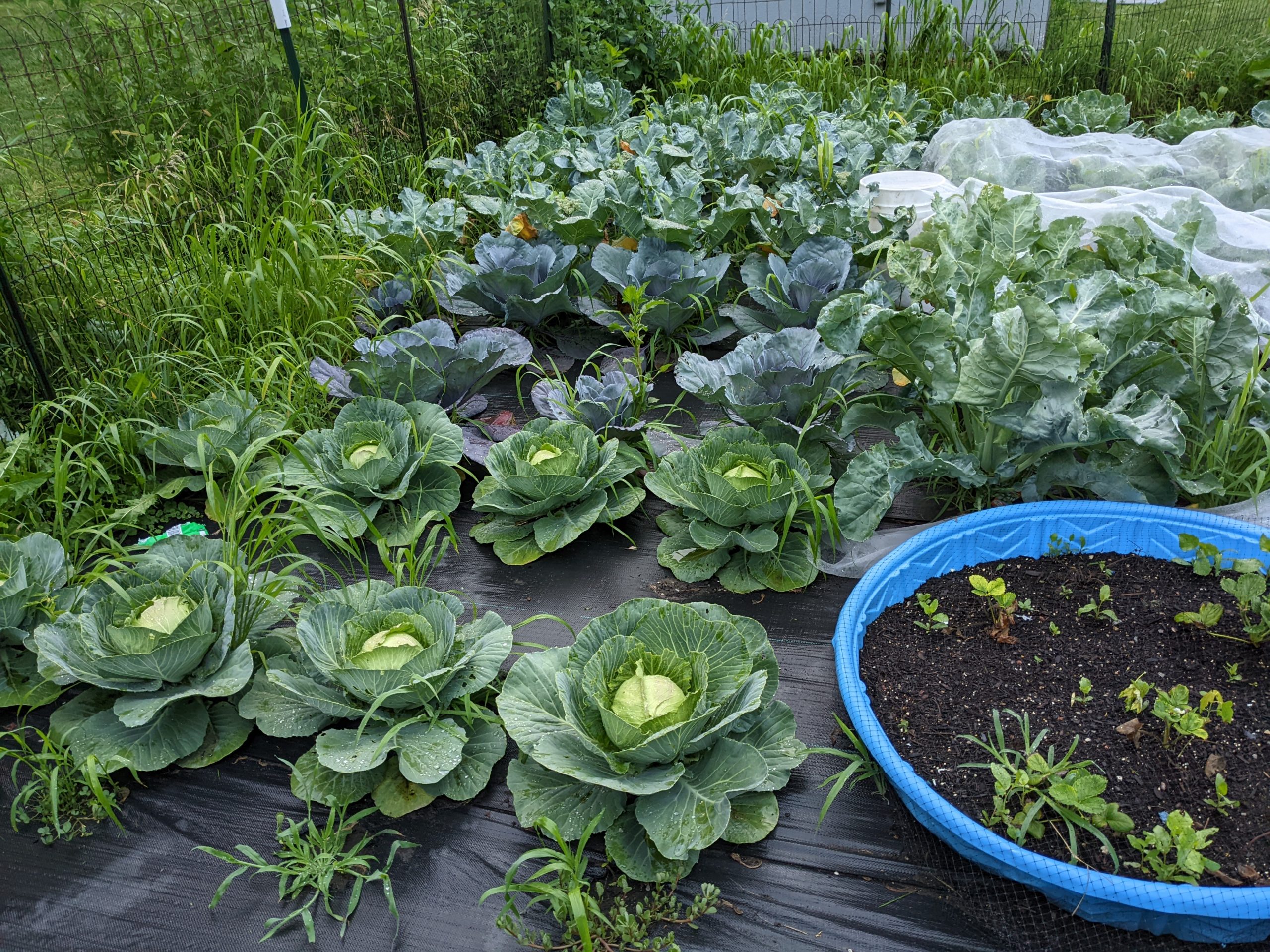 Crush on Cornfed Bear, thanks for sharing your story.