There is a First Time for Everything: A Lesson from a True Hunter
That evening as I sat down for supper, I watched as the snow began to fall, and after heartfelt prayer of thanksgiving, pork and sauerkraut never tasted so good.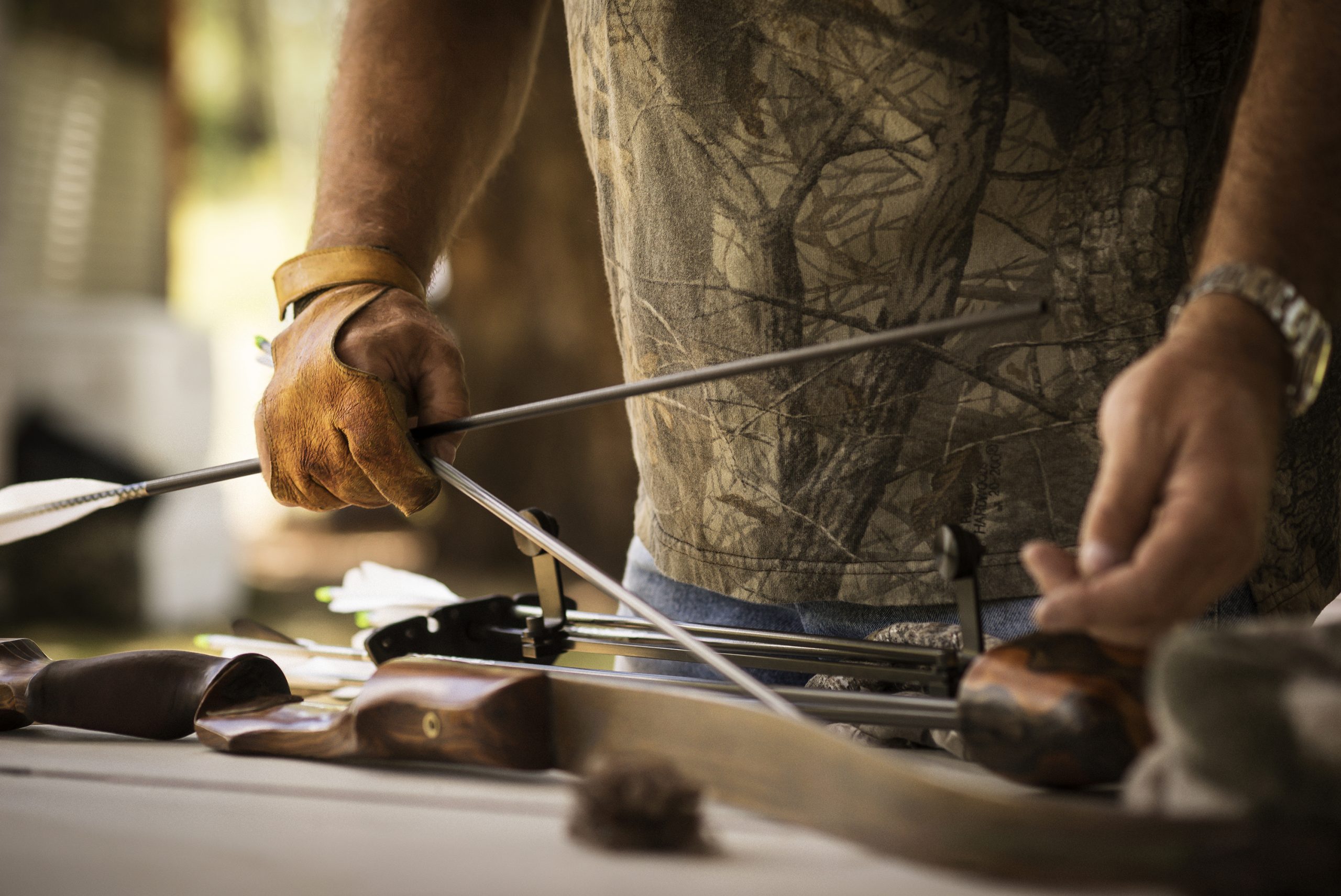 By: Longbow Bear
Every archery season is a new learning experience. Whether it's learning how the deer move through at a new stand location, how the cuts and draws in a mountain can manipulate the wind direction, or calling to a big buck that is outside of bow range. This year was no different. My week-long "rutcation" started with two warm days, but as Monday rolled around, the temperatures plummeted, putting bucks on the move searching for does that have come into heat. Monday was a blast, having two encounters with big 8 points, one in the morning and one in the afternoon. I found the short end of the stick with both bucks as the wind swirled, and eventually, both of them nosed me before giving me a clean shot. Tuesday morning picked up right where it had left off the day before. It was cold and crisp, 25 degrees, frosty, and very little wind. Perfect. It didn't take long for things to get busy in the woods. A little after daylight, I let a series of doe bleeds mixed with a buck-tending grunt echo down the mountain. It's one of my favorite blind calls to make. It gives an illusion that a buck has found a hot doe and is tending her.
I've had good luck in seasons past at piquing the interest of a buck I couldn't see to come to take a look. This was the case; minutes after making the call, I heard the crunching of leaves and a twig crack behind me. I arose from my seat, pulled my bow from the hook, and anxiously waited to lay eyes on what was coming through the thick. He cautiously made his way, zig-zagging through thick laurel and downed pine trees, finally showing himself and coming to a stop at 23 yards.
Getting dangerously close to directly downwind, I took a shot through a small window. My aim was true, but the location of the deer was less than desirable.
I put my pin a little too far front and caught some shoulder blade. As my arrow struck the deer, it gave a loud crack with what looked like little penetration. As I watched him run off with my arrow sticking in him, I felt sick to my stomach. What did I just do? Did I just wound a buck without making a fatal blow?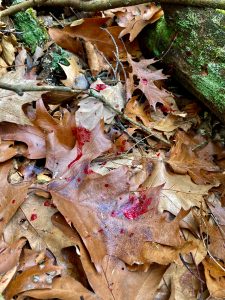 I gathered myself and got down from my tree to look and assess the damage. I found decent blood where I had hit him, my arrow was lying 10 yards from first contact, and if the blood on the arrow accurately showed penetration, I had about 8", which was plenty to reach the vitals, but I couldn't be sure, in my mind replaying the shot it didn't look like that had been the case. I began to track, finding little spots of blood and upturned leaves as he was on the run. After tracking him for the first 100 yards, I saw no sign of him stopping. It was time to back out and regroup. I walked the ridge back to my stand location. I felt terrible, gathered up all my gear, and hiked back down to my truck. After a two-hour coffee break with a lot of nervousness and second-guessing, I geared up and went back in to track him.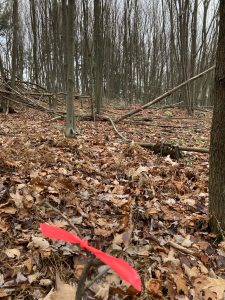 This is something I have not had to do up until this point in my hunting career. I've been fortunate enough to either have clean misses or deadly hits. I returned to where I had stopped, marked with my arrow stuck in the ground. Using pink ribbon, I slowly marked his travel, every spot of blood got a stick and some ribbon.
As I scoured the forest floor for drops of blood, a motivation kicked in, and the sickening feeling that I currently had started to fade with every drop that I found. Stick ribbon, stick ribbon, it was starting to be fun. Every now and again, stopping to take a break and look back at how he was weaving his way through the woods. He went about 400 yards across the ridge before hooking down into the thick laurel, where he eventually came to rest. I felt a lot of relief and gratitude when I finally saw him lying there. A hunter cannot have a worse feeling than to mortally wound an animal and never recover it. I've yet to experience it, and I hope I never do, but that risk comes with hunting, especially with a bow. Happy to get him back to camp, skinned out, and hanging ready for processing tomorrow. That evening as I sat down for supper, I watched as the snow began to fall, and after heartfelt prayer of thanksgiving, pork and sauerkraut never tasted so good.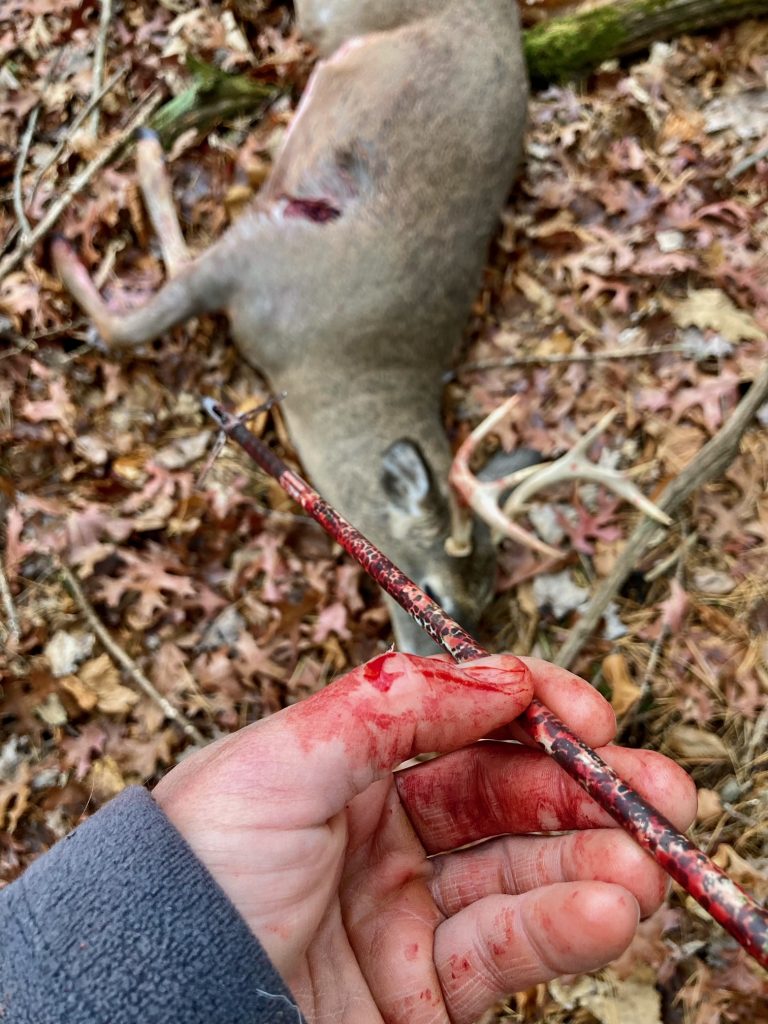 To any new hunters that find yourselves in that scenario, go look for blood and assess the damage at the place where the animal was when it was first hit. Find a trail and mark it. If there is any question on your shot placement or you didn't see or hear the animal crash. Pack out and give it 2 hrs before further tracking. The last thing you want to do is to keep pushing a hurt animal. A mortally wounded animal will usually head toward water or a thick area to find a spot to lie down. By not pressuring the animal, he will inevitably lie down and die as peacefully as possible. This is the best-case scenario now that you have made a less-than-perfect shot. I hit one lung, and this buck still managed to go 400+ yards from where I hit him.
Our Magazine Team Releases Details On Issue #4 Of The Beartaria Times Magazine
Available Now for Pre-Order and will remain open through Friday, March 17.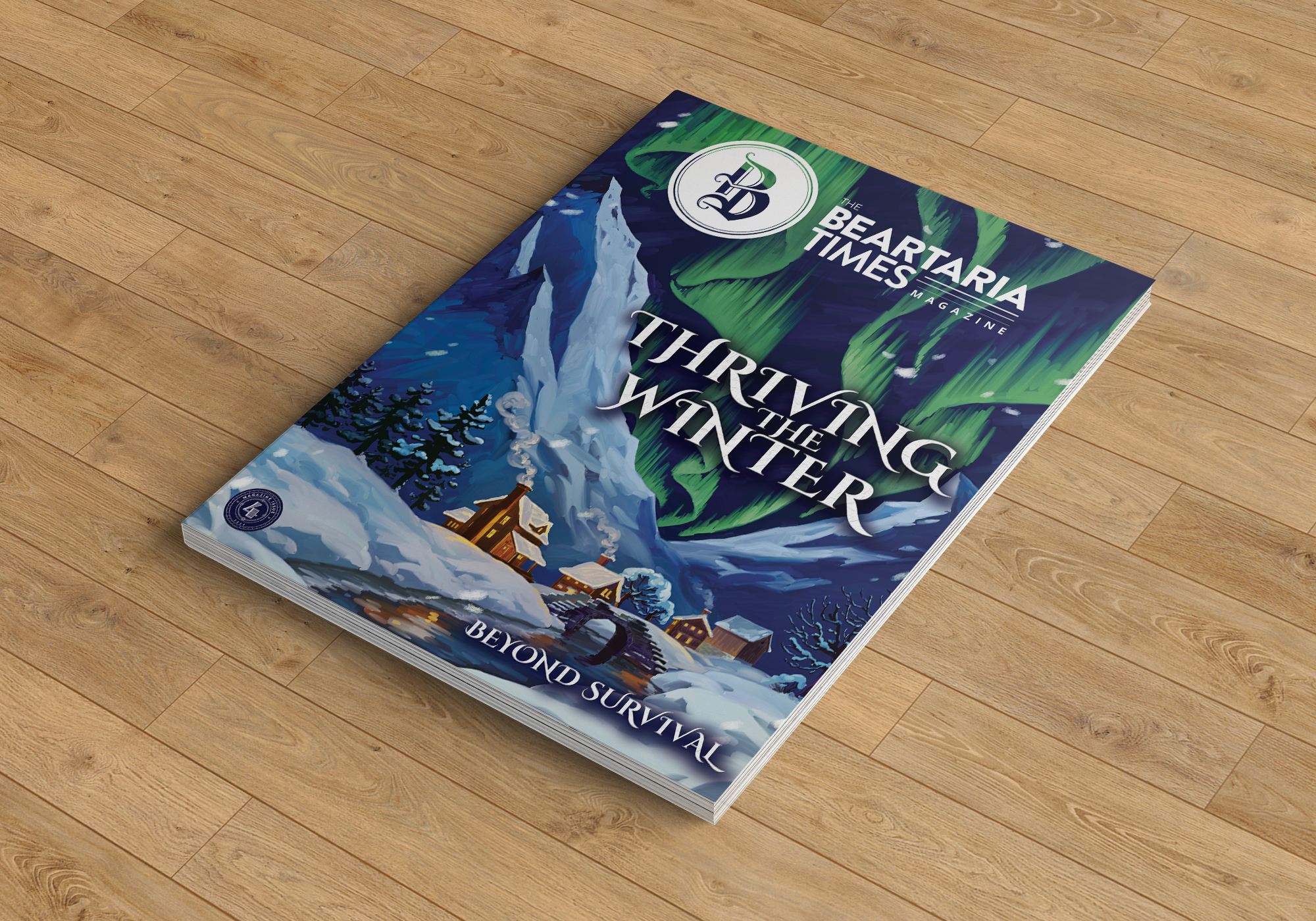 We are excited to share information on the next magazine issue! Issue #4, titled "Thriving the Winter – Beyond Survival," brings together valuable information and exciting stories from legends across the realm.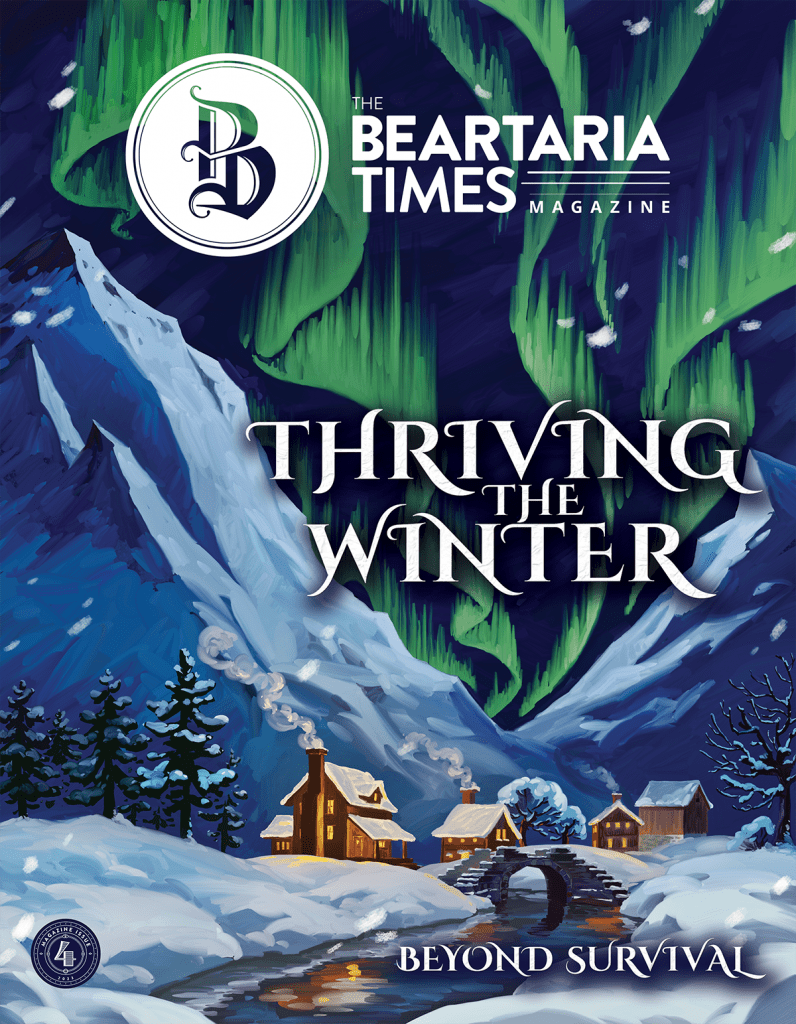 We get a story of the value of our community and what that can bring you from as far away as the wonderful Wobbly Bear in the land of New Zealand. TexMex Bear and Wordsmith Bear bring us life lessons they have learned over the last few years.
We have several valuable resources in this issue from valuable community members, such as Cinnamom Bear with some remedies for seasonal ailments and another helpful instructional from Knitting Mama Bear. In addition, Mr. Permie Bear shares useful information to help start your gardens this year. WildMedBear, Prairie Fire Bear, and Woodworking Gunny Bear also add their expertise to this issue with incredible resources.
Homesteaders like Mohawk Farmer Bear, PA Snowboarder Bear, and Pie Lady Bear give us insights into self-sufficiency and how they maintain their homesteads. Volgadeutsch Bear and several more also add their wisdom and experience to this practical section.
There are many more articles to find inside this latest issue, with many returning contributors and several first-time writers.
Pre-Orders will remain open through Friday, March 17. Click here to get yours now!
We also still have plenty of Issue #3, "Fruits of our Labor, Intentions Materialized," For Sale Here.
We are excited to send out issue #4! And appreciate all the support for these magazines!
Sincerely,
-The Beartaria Times
Bees Know Best
Bees are truly a marvelous part of God's creation and one I draw inspiration from daily as I begin the journey of tending to their homes and lives.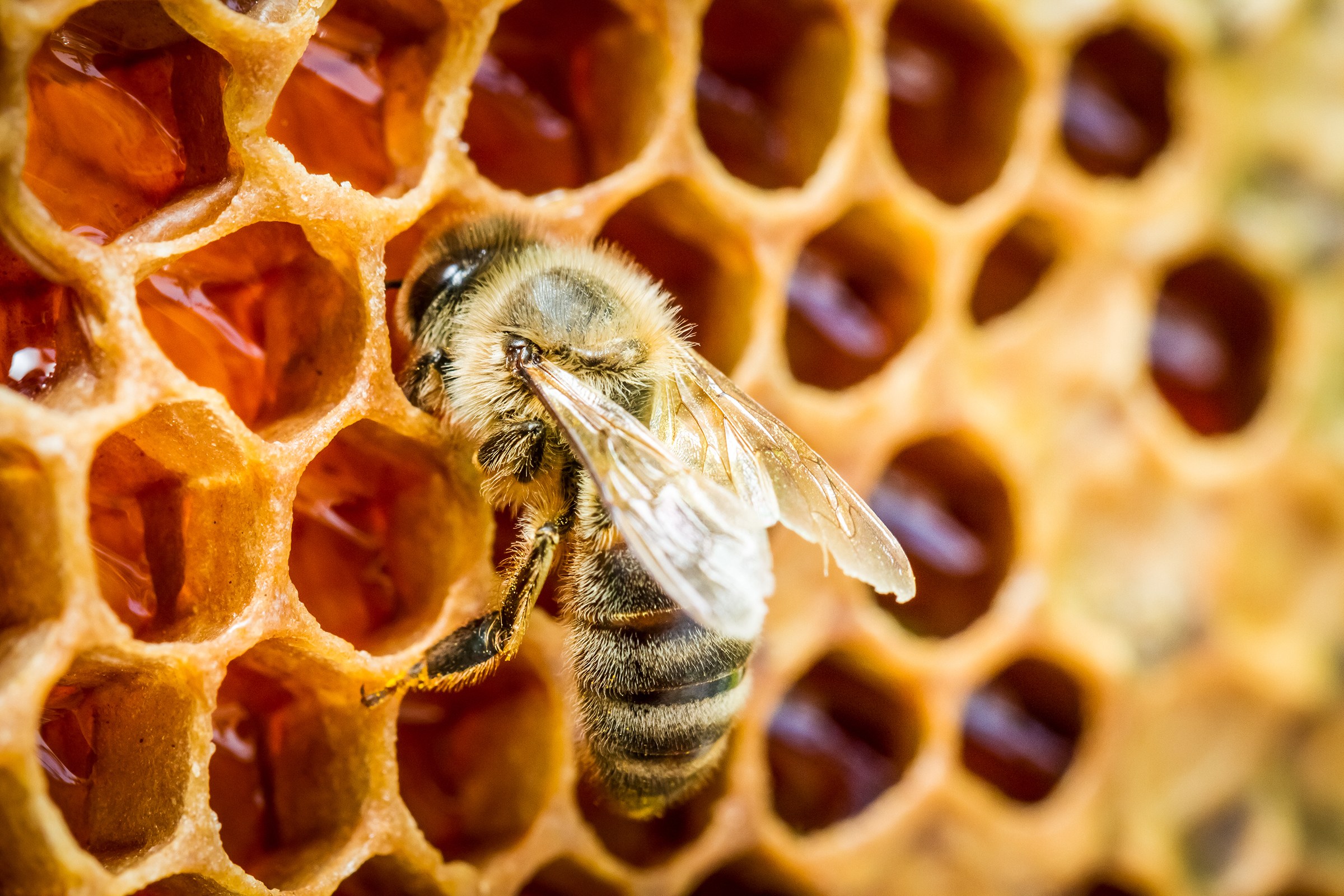 By: Pie Lady Bear
I will often sit and watch them. The importance of their continuous coming and going is apparent even at a distance. Bees are truly a marvelous part of God's creation and one I draw inspiration from daily as I begin the journey of tending to their homes and lives.
The substances that a hive uses to sustain and thrive are ones that we can also greatly benefit from, and, as the winter weather sets in and lips become chapped, were the illumination behind an impromptu batch of lip balm that you may also find useful!
Beeswax; If you can find it from a local beekeeper, who has taken it from a brace comb that is built in awkward places or melted down frames that are no longer in use, the benefit is the added propolis which is a glue-like material made by the bees from tree resins to seal cracks in their hive and contains exceptional healing properties as well as smelling incredible. My husband, DreadNaught Bear, has been making healing salves with beeswax, pine resin, and sunflower oil long before I began keeping bees. You can find his recipe in the second issue of the Beartaria Times Magazine to cure all that ails you! Beeswax can also be found at a local health food store or taken from pure beeswax candles.
Coconut oil; I prefer organic and use it in my cooking as well, so it's worth buying a jar.
Peppermint oil; I only added three drops for the small glass jar of lip balm as using more would cause a slight burning sensation and takes away from the amazing smell of the beeswax.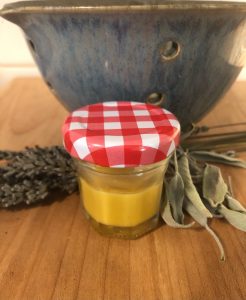 I made my lip balm in a small jar that is placed in a pot on the stove with about an inch of water surrounding it and a covered lid. Turn on low heat and frequently check until the wax and coconut oil have melted, then add the few drops of peppermint oil, stir and allow to cool. That's it! So simple, and depending on the amount you would like to make or the size of your container, I went with a ratio of 2:1 coconut oil to wax, and that made for a smoother consistency. God Bless the Bears as we strive to focus our lives around the good, the true, and the beautiful 🤎
Onward!
"Building Beartaria Part Three: The Ozark Legacy," Out NOW!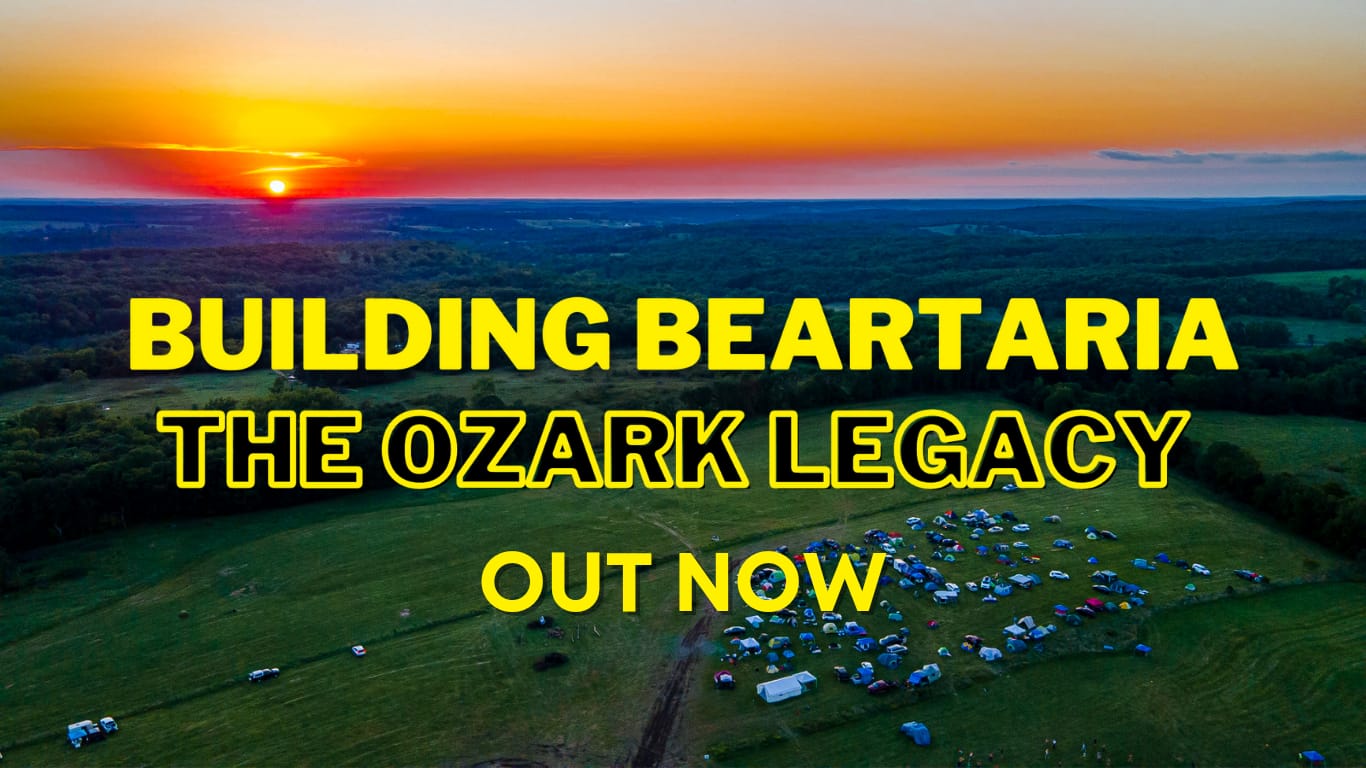 Unbearables Media and Filmgrain Studios come together again for the 3rd documentary in the series, Building Beartaria, covering the members of our Ozarks community that built a company and helped give manpower to The Beartaria Times National Festival.
When I first heard that Director Bear was going to be documenting the Beartaria Times National Festival, I reached out immediately to volunteer. I never expected that would lead to editing the documentary in a shipping container on Adam's land a couple of months later. Editing the doc was a whirlwind, I'd do it again in a heartbeat.

Red Panda Bear
Ozark BUILDER Buddy and Video Professional
This installment not only covers the first-ever, three-day festival hosted by The Beartaria Times but truly gets to the heart of a community of bears that have come together in one of the most inspirational ways we have seen yet.
"The opportunity to work with the team on this documentary was amazing. I had a chance to take the raw emotion of the stories of the community and add to the emotion with music. I experimented with many different genres of music to match the wide variety of emotions and personalities that were captured in the documentary. I wanted the audiences to resonate more with these epic stories from the bears that gathered"

Anchor Bear
Beartarian musician and Documentary Composer
The documentary is an hour and 51 minutes of unclipped material.
While the documentary is mostly clean, this original release is not child friendly as some topics are inappropriate for children.