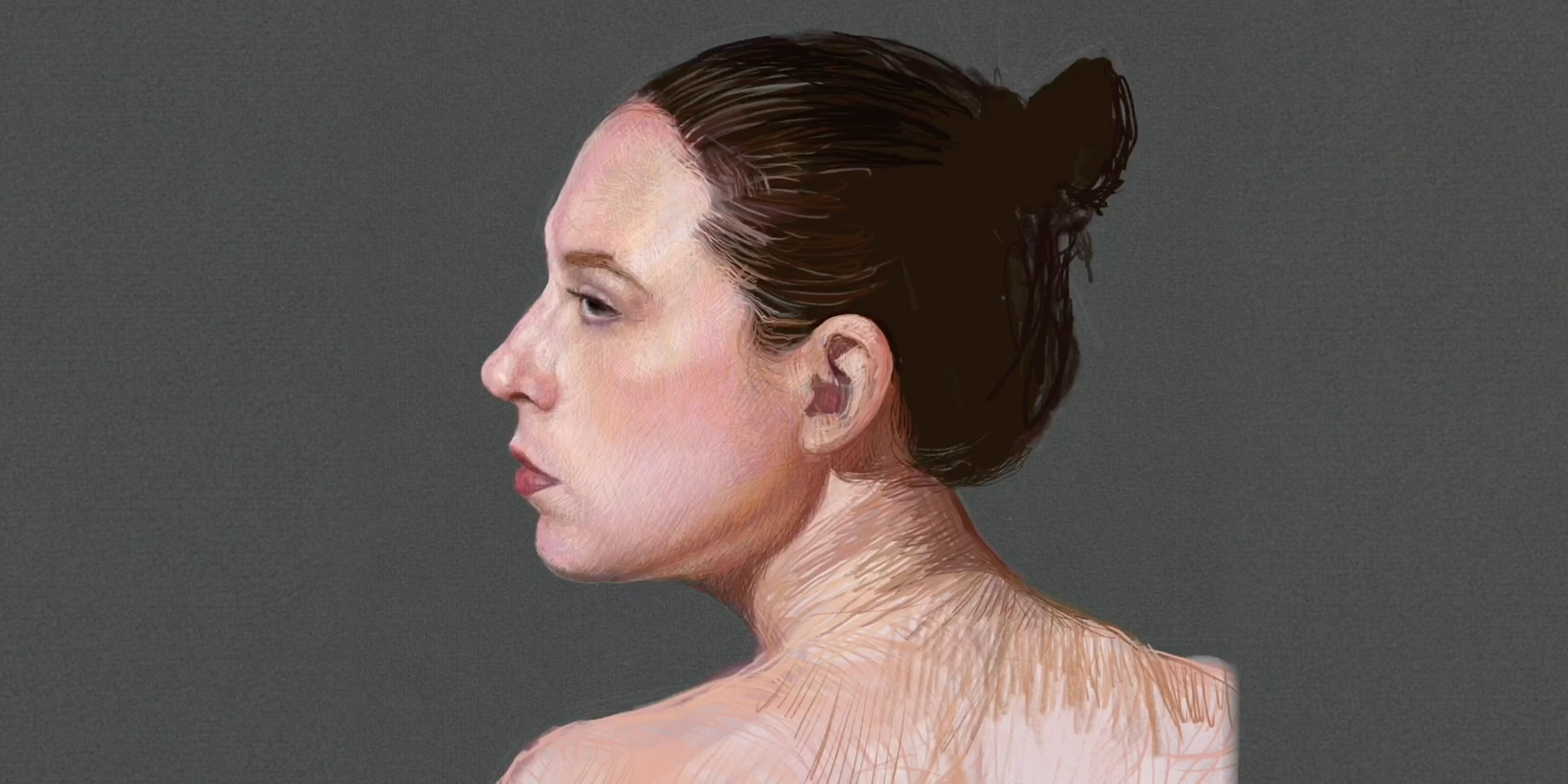 Good day, Beartarians! Today I'll lead you through a step by step guide of portraiture. In this example, I am using a hybrid of painting and drawing. I found the model on the vast ether but I encourage you to seek out your own model reference and follow along with me. I suggest referencing from an image, in profile position at first.
I've uploaded the full process video to youtube for your reference. Note that I am using an iPad and the app Procreate as my tools, but this guide can apply to traditional mediums as well.
If you would like to contribute any how-tos, guides, or simple overviews of your artistic process, please send your content directly to Arts@beartariatimes.com.
Step One: Roughing out the Shapes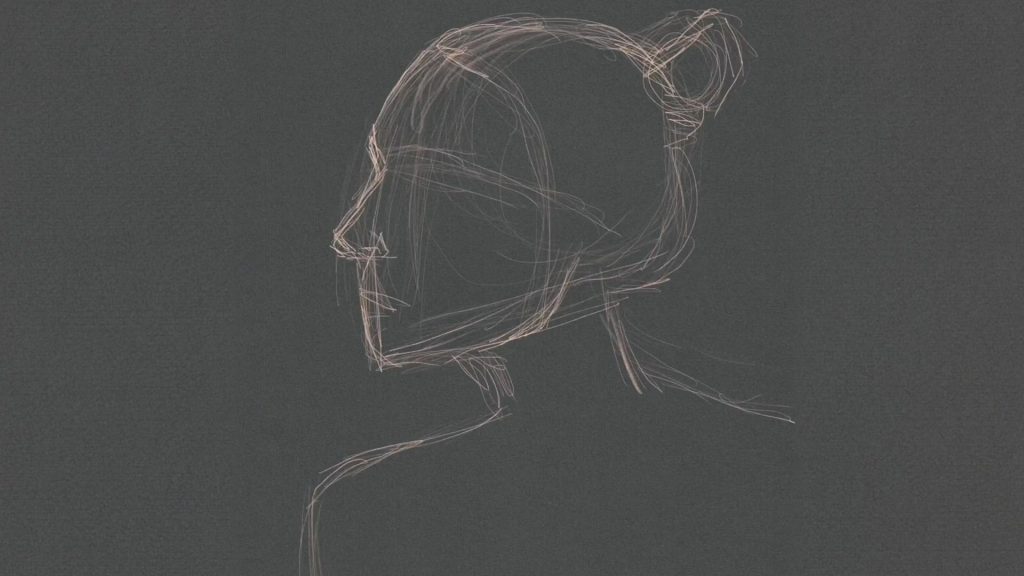 Using a light pencil, I outlined the rough profile in the middle of my canvas. I constructed the basic proportions of the head using very simple shapes. This allowed me to get a feel for the general composition as well as the proportions of the head. Keep it loose and allow your pencil to flow as you rough out your composition.
Step Two: Defining the Features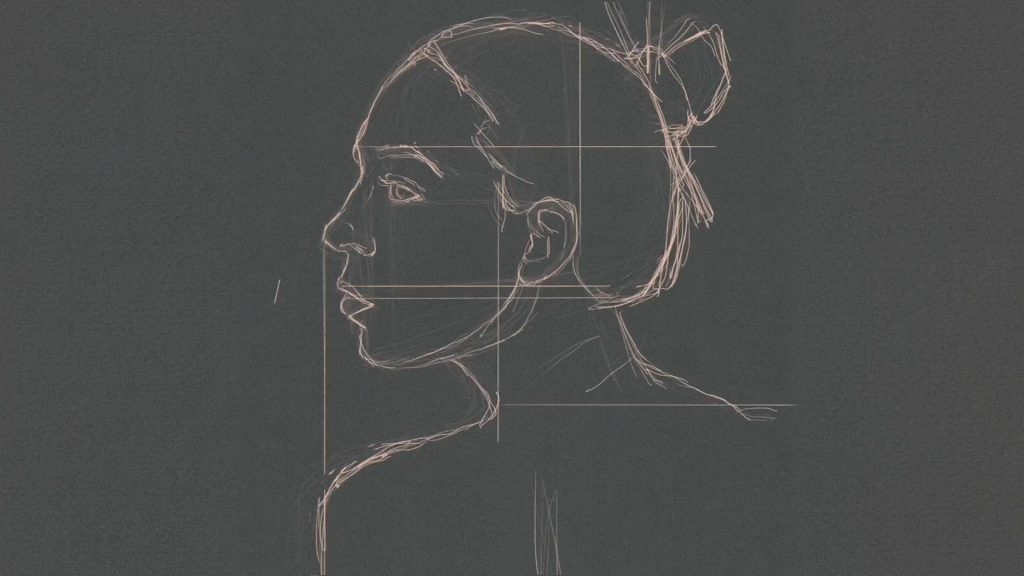 Once the general proportions were set, I started defining the facial features. Pay attention to the eyes, nose, lips, and ears. How do they exist in proximity to one another? Don't add unnecessary details or value at this point. Strictly use this stage to improve upon your shapes and align the facial features. I suggest drawing guidelines to help with placement and proportion.
Step Three: Improving Shapes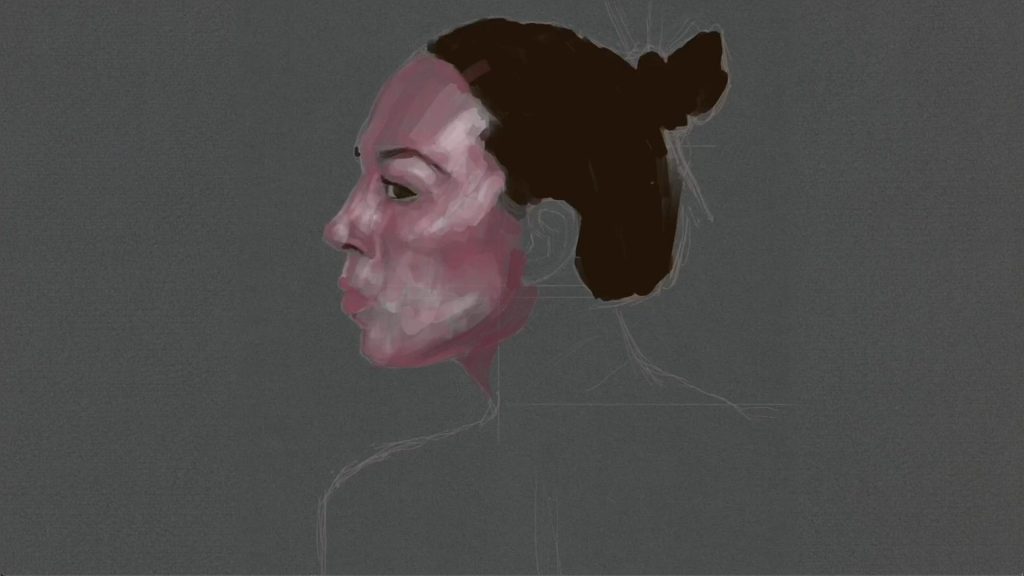 After the features were well defined, I started adding value and color to help improve the facial features. You will want to use this stage to double-check the accuracy of your proportions as well as make any large corrections to your composition. As you mass in the darks and mid-tones, you will start to recognize the individual you are referencing. Continually take a step back and make sure you are capturing the mood the individual is expressing.
Step Four: Massing in Color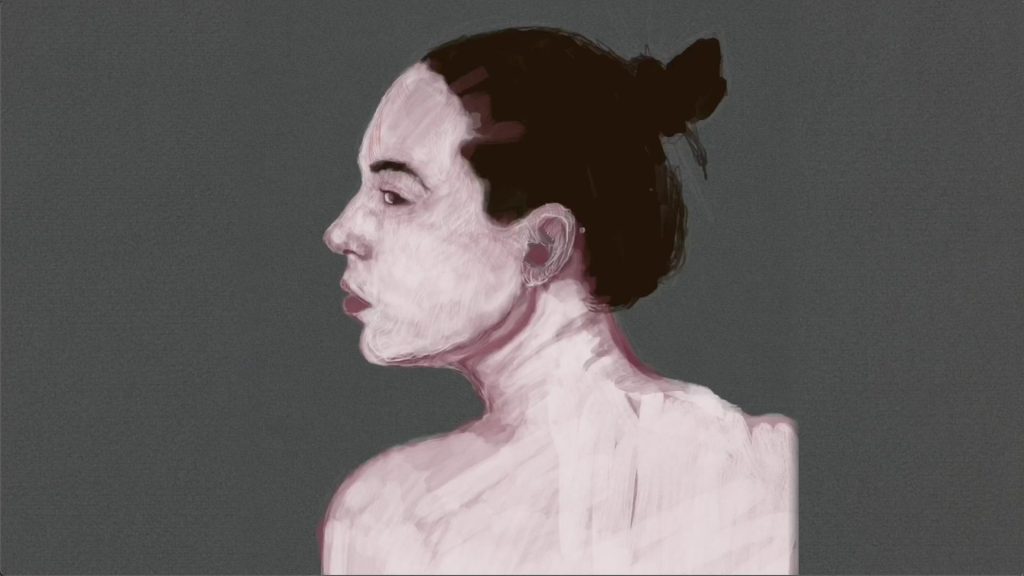 Since my canvas was dark, I massed in the lighter skin tones. This helped me to further define the facial features and provide an under base. You can use this stage to start layering in all the light to mid-tones and further contrast the darker shapes. I can't stress enough how important an under base is when it comes to painting. As you start adding flesh tones, the under base serves as a primer and adds to the vibrancy and contrast of colors on top.
Step Five: Adding Flesh Colors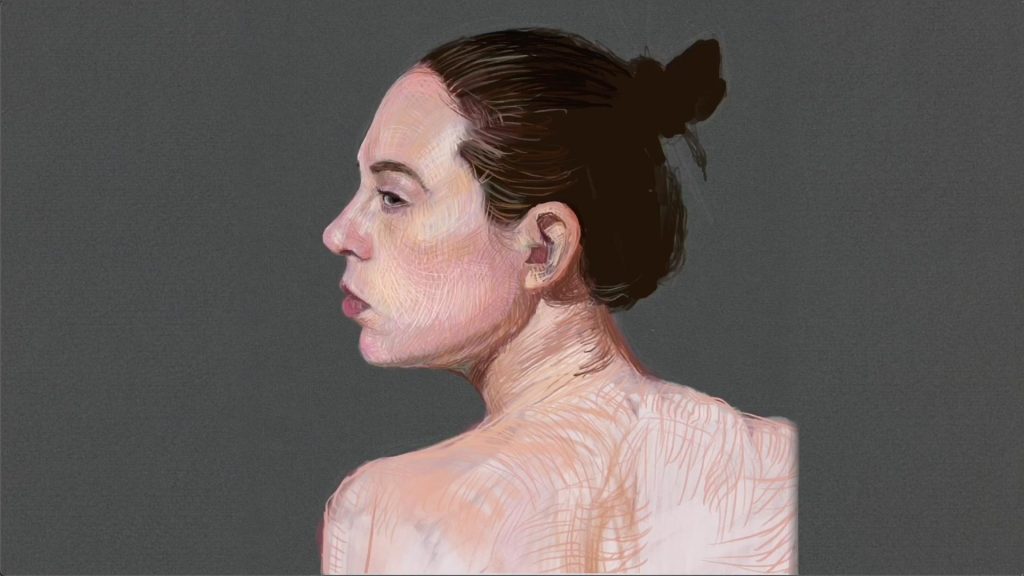 Adding flesh colors is my favorite part of the process. I added in light reds and yellows as well as a darker brown umber. As you are adding in color, continue to modify and iterate the proportions of the figure. Your own personal style can be used here so don't be afraid to experiment. I used a thinner pencil and a technique known as contour hatching.
Step Five: Developing Richer Colors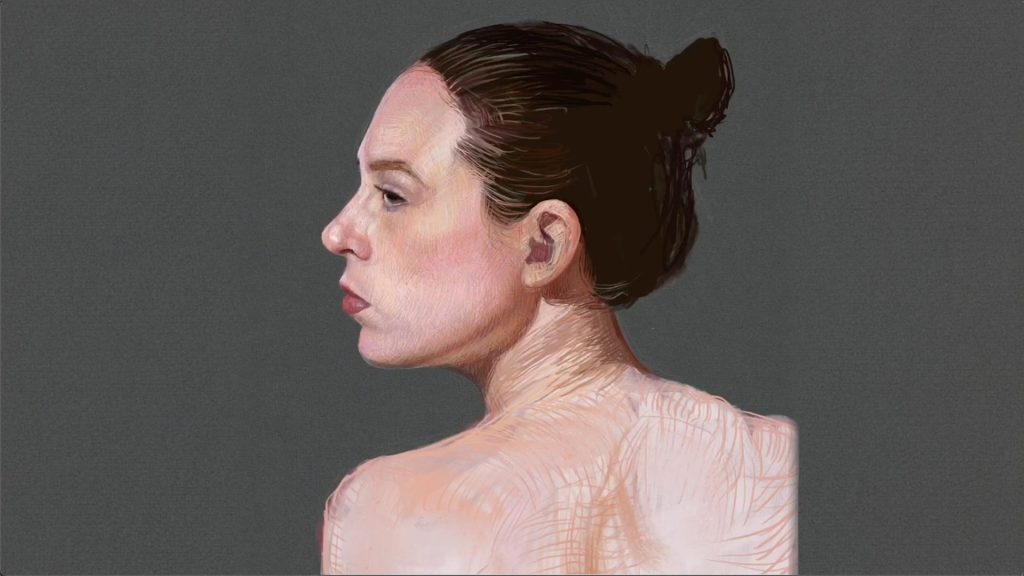 After setting up the proportions, values, and general style, I focused on developing richer colors. I was constantly improving upon the drawing by checking the proportion and alignment but it was now time to start adding in colors to elevate the final piece. Colors that you would not normally think existed in skin tones such as purples, greens, and oranges, are necessary to help bring your portrait to life. Take some time to focus on your reference, and see how these secondary colors can be applied.
Step Seven: Details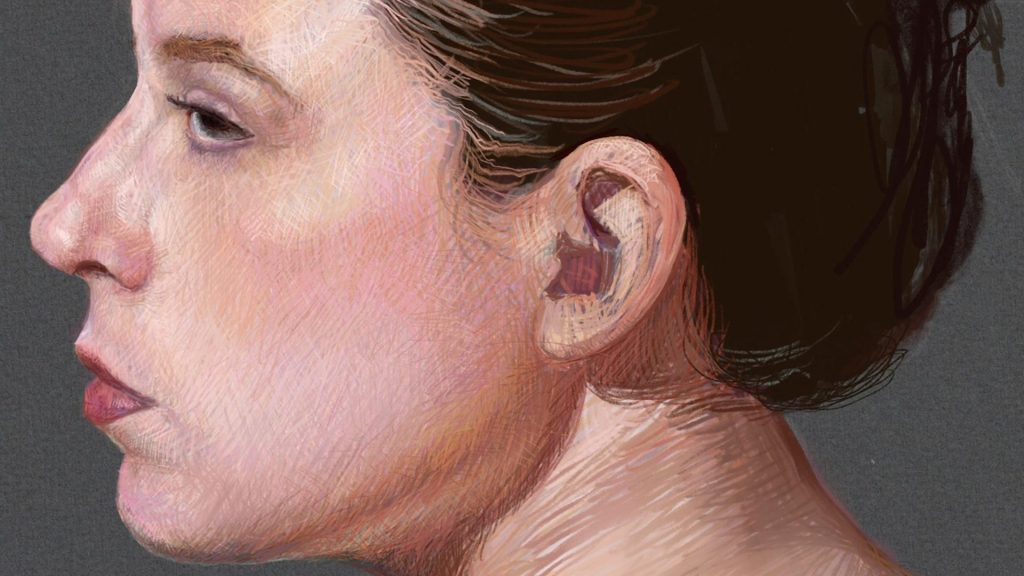 The final step in the process is deciding how much detail you would like to add for your final piece. As you move further towards the final piece, use smaller tool strokes for emphasis. In this example I chose to keep some of the areas undeveloped. This is a technique to add a focal point to your composition. I wanted the viewer to focus in on the Nose, lips, eyes, and jaw so I left the rest of the portrait less detailed.
Don't get too hung up on mistakes at this point. Practice makes perfect and no piece of art is truly finished. You have to learn when to move on to your next piece.
If you have any questions or would like to share some art with us, please reach out to us at Arts@beartariatimes.com.
Thank you,
MC-Bear (Nero)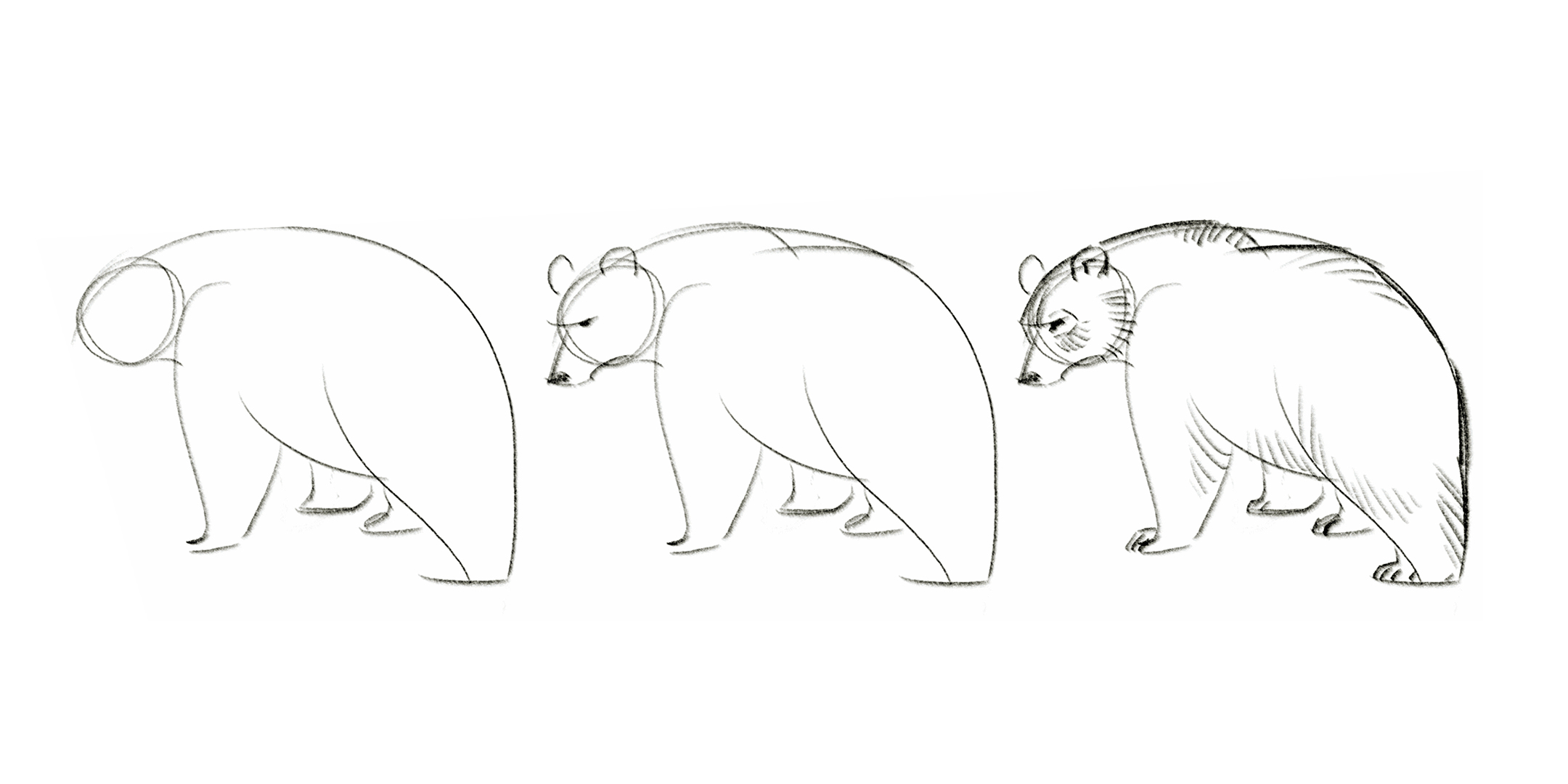 What is a line?
Lines don't exist in nature, it is a two-dimensional construct of the mind in an attempt to understand and represent three-dimensionality.
One might be tempted to think of edges as lines, that is how we describe a cube after all, but there are plenty of objects such as a ball, which has no edges, that also must be described by lines.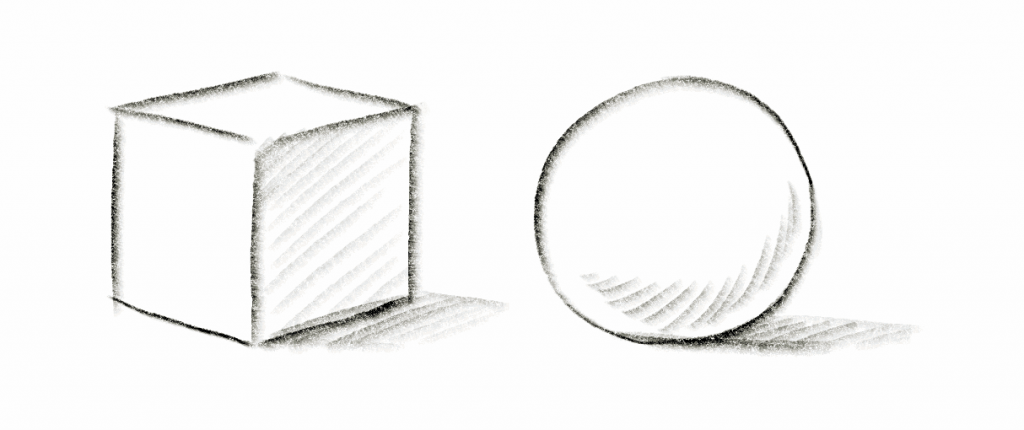 Lines are statements about where one surface ends and the next surface begins from our point of view. A line is used to define the limit of our perception, when an object or surface goes beyond our view; like the horizon line, it means we can see this much and no further.

How do we use a line?
It's more a question of where, rather than how. Lines can be used to describe any object, but first, determine your level of magnification. How lines are used will differ whether we're drawing a forest, a single tree, one branch, or just one solitary leaf.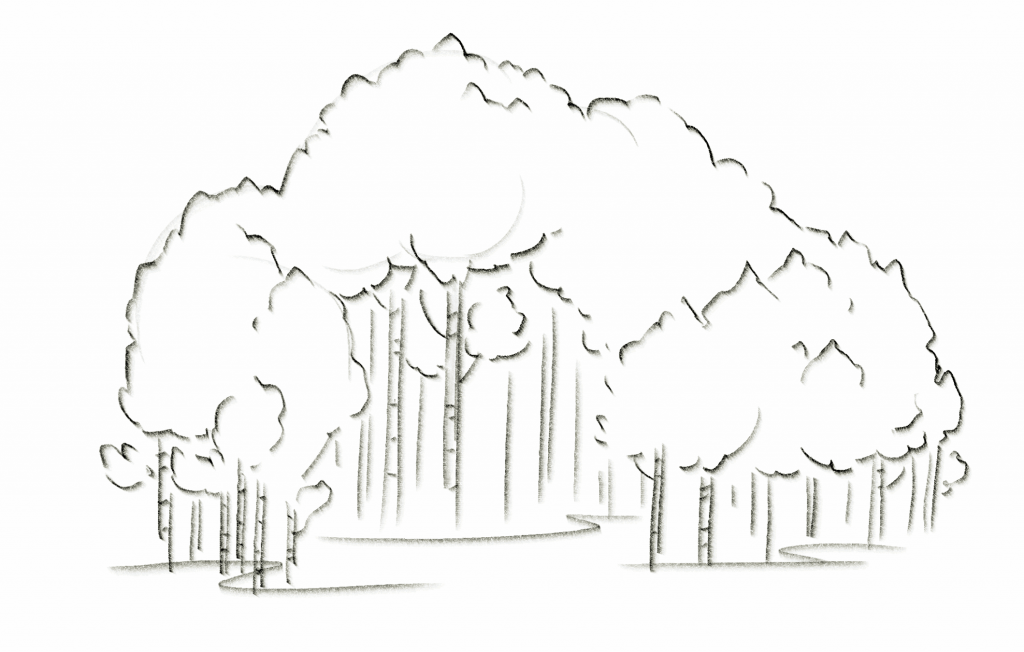 We are informing the viewer where the edges of our perceptions are for this particular drawing, which will be defined by the level of magnification of the subject.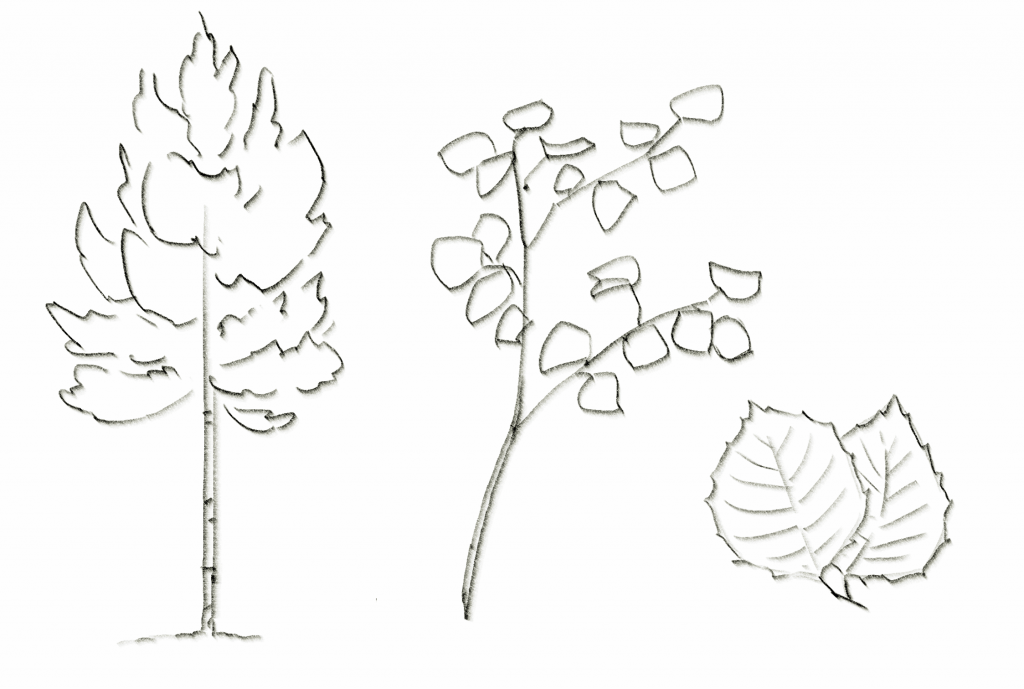 Drawing a forest means defining the edges and boundaries of the forest, therefore we must not concern ourselves with defining the edges and boundaries of each leaf.
Likewise, drawing a chicken means we can't be tempted to define each feather; drawing a bear precludes us from focusing on every hair. The whole is greater than the sum of its parts.
Handdrawnbear's approach to drawing.
I can only speak for myself here, but the approach I take with any drawing is to use the least amount of lines possible, and start with the most important lines. Just as brevity is to wit, economy of lines is to a drawing. No one likes a line-salad of a drawing.
Let me explain. Say we're drawing a bear, if you could only use one line to describe that bear, what would that line look like? I usually choose the line of the spine from nose to heel, which describes the posture of the animal.
Next, if you could only describe the bear using two lines, which line would you add? I'd put in the head in this instance. And then from there we continue to build the drawing from most important to least important lines, also known as drawing from the general to the specific.

This approach not only helps organize the drawing process, but also ensures that if we're drawing from life and the subject moves or wanders away, we have put down as much essential information on paper as possible.
These methods have served me well over the years, and I hope you find them helpful, too.
-Handdrawnbear
How to Draw Faces – A Quick Introduction
A written guide and video by Handdrawnbear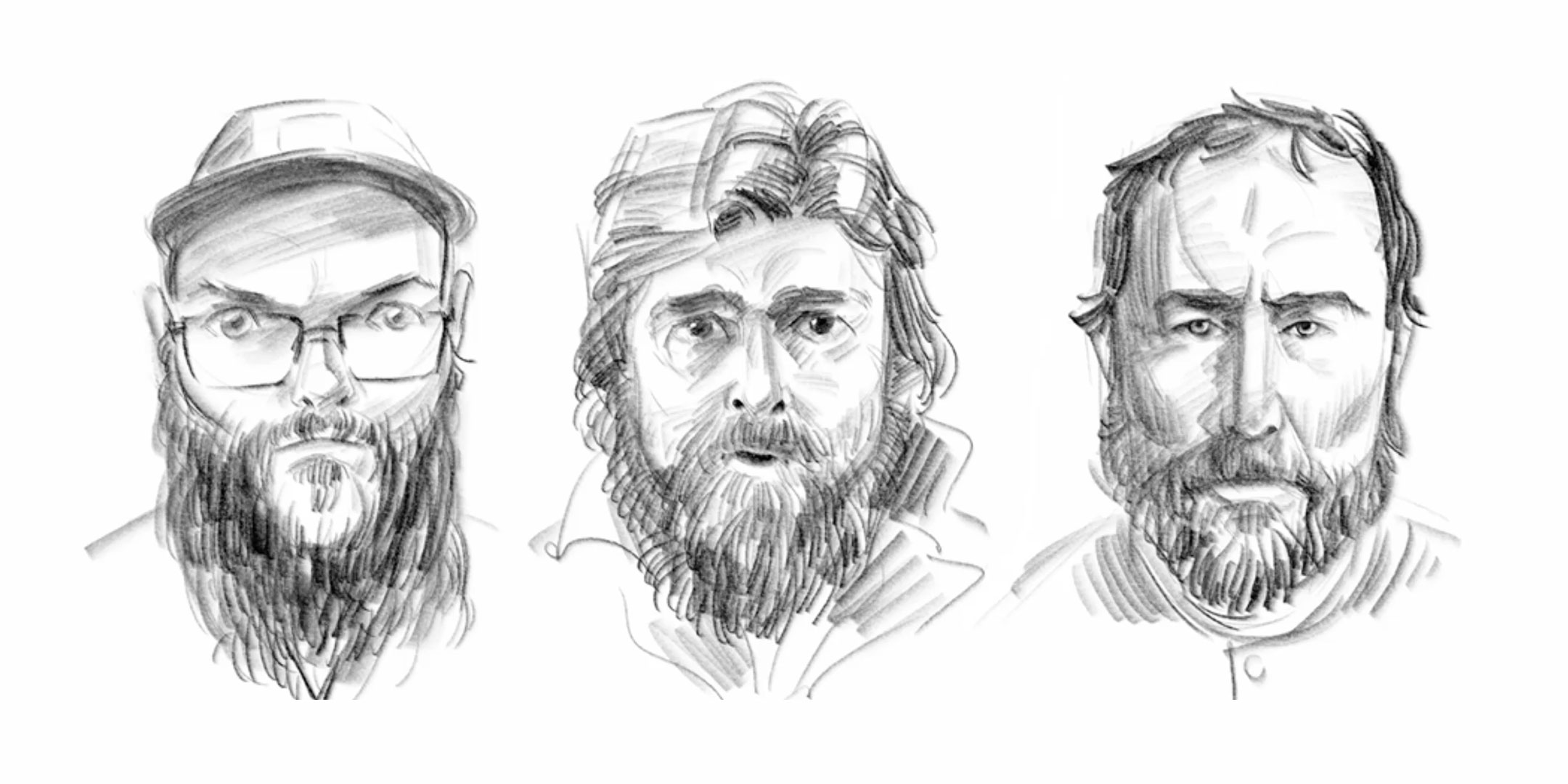 A written guide and video by

Handdrawnbear
There was a fat little Asian kid who sat alone at every lunch break, furiously scribbling on stacks of scrap paper salvaged from the classroom recycling bins.

This is how I spent my public school days, not a minute was wasted on "learning." Now, I confidently say that I can draw anyone I lay eyes on. It's not a boast, quite the contrary, drawing is the only way I can truly understand what anything actually looks like. My husband is often exasperated by how mechanically illiterate I am, I answer him honestly, "Dear, I've never drawn a car engine."

Now you might say, but Handdrawnbear, I'm not as weirdly wired as you, how can I learn to drawn everyone?

Let me first clarify, we are speaking here only of observational drawing, which differs from technical or architectural drawing in function and form.

Drawing is a language, but not a hieroglyphic one. Hieroglyphs are preconceived symbols, clichés if you will. How would you like to read a novel written only in clichés and figures of speech? You wouldn't like it at all. Even though symbols may be a shortcut to meaning, they are also extremely limiting; if you don't have a glyph for something, then you can't describe it.

Instead, when you draw from observation, look at it with the eyes of a blind man who's just been given his sight. Throw out your preconceived notions of what anything should look like and really see what you're trying to describe with your drawing.

When drawing someone's face, really look at them and see what makes it unique from other faces. These three legends below could all be described as "a bearded man", but they are actually so very different from each other.


Woodshopbear has a very striking countenance, his eyes are farther apart than the average man which gives him a very intense look.

Westsidebear's soulful eyes are like gems if you can find them in his sheer amount of hair.

BigBear's cheeks are like tall shields over which his sharp eyes pierce through and sees your browser history.

Everyone has an ideal average face in their mind, but it's the departure from the average that individualizes each face. There is a danger in exaggerating features however, as you veer further away from reality you may venture into the monstrous. The way to avoid this is love and charity, it may sound funny but it will show through your drawing. I am unable to make someone I despise look good, and I'm probably not alone.

Of course, practice makes perfect, or as close to perfection as we can get this side of the eschaton. So draw everything, draw all the time. Draw from life whenever possible. Don't be precious about your drawings. Craft comes before art, it's hard before it's easy. But whatever you do, never trace a photograph. Tracing is a useless exercise that gives instant gratification but no lasting benefit.

Drawing is observation and adoration combined. Because this realm is full of beauty, drawing is a reply in kind, a dialogue with creation.

Don't seek accolades, you'll only find emptiness; instead, give with your craft relentlessly to those you love, and you'll find tribe and so much kindness and gladness in return. This is the beautiful truth I've encountered with the community of Bears.

And that little fat Asian girl? Well, she's still drawing and learning to see.
Beartaria Times Weekly Arts & Crafts Gallery 1/25/21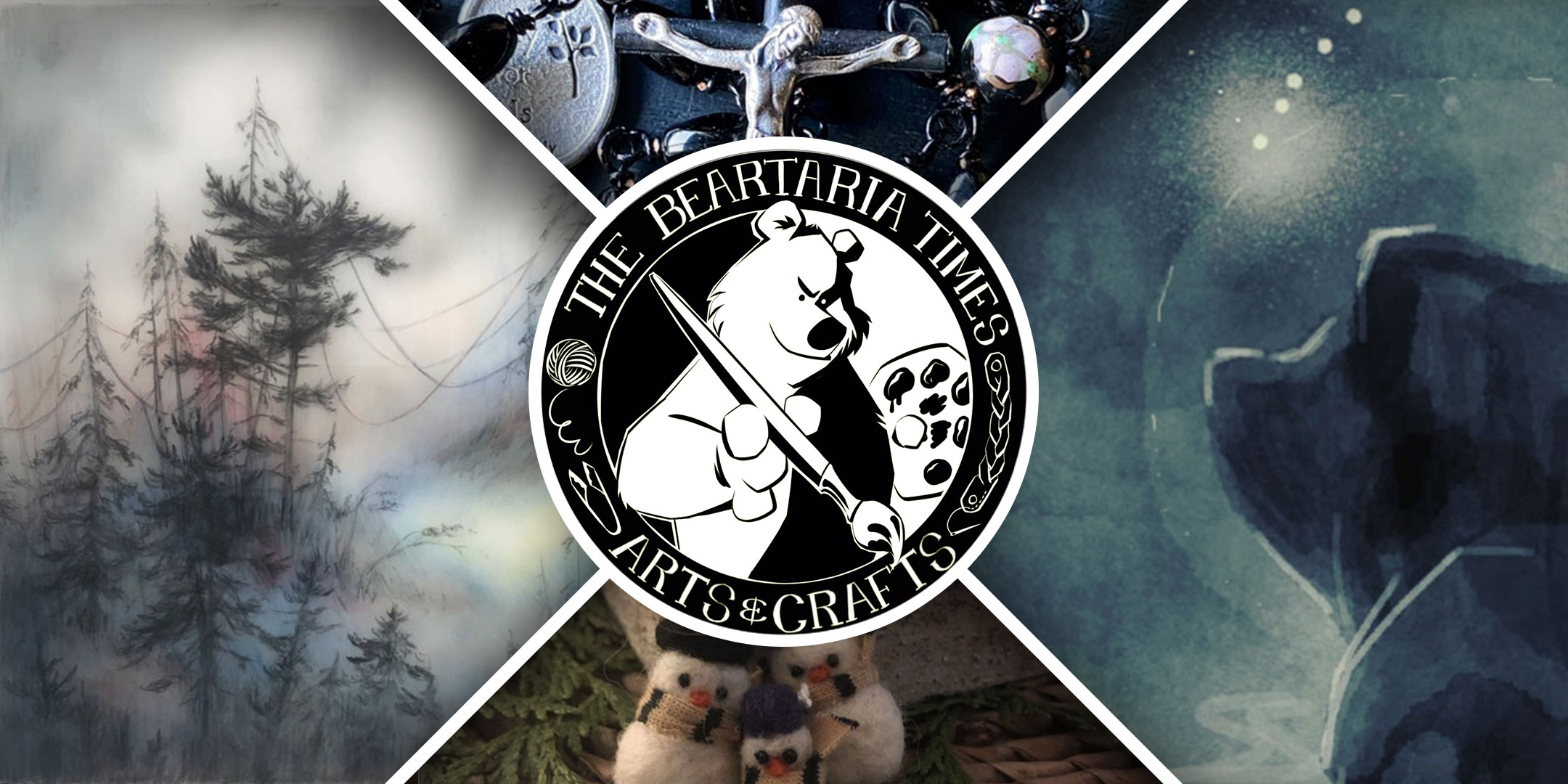 Greetings Beartarian Artists and crafters, We are starting this year of the blackjack with a powerful new gallery of creatives. The Beartaria Times App is crushing and the artists and crafters are displaying a unique set of creativity and skills. Take a look below at just a fraction of the amazing talent that is submitted through the Beartaria Times App.
Click on the gallery images to view at full proportion.
Handdrawn Bear
Harmony Bear
Holy Quail Bear
Bearing_Art
Tina MountainGoat
UvegFujoBear
PungPihPohBear
I'm continually amazed by the talent and skill that is community has to offer. I hope you continue to crush and seek the good the beautiful and the true. Onward to Beartaria!
Sincerly,
Nero