Seven Ways To Crushday
Let us doff our hats and lift our trumpets in salute to those who are leading and contributing in epic fashion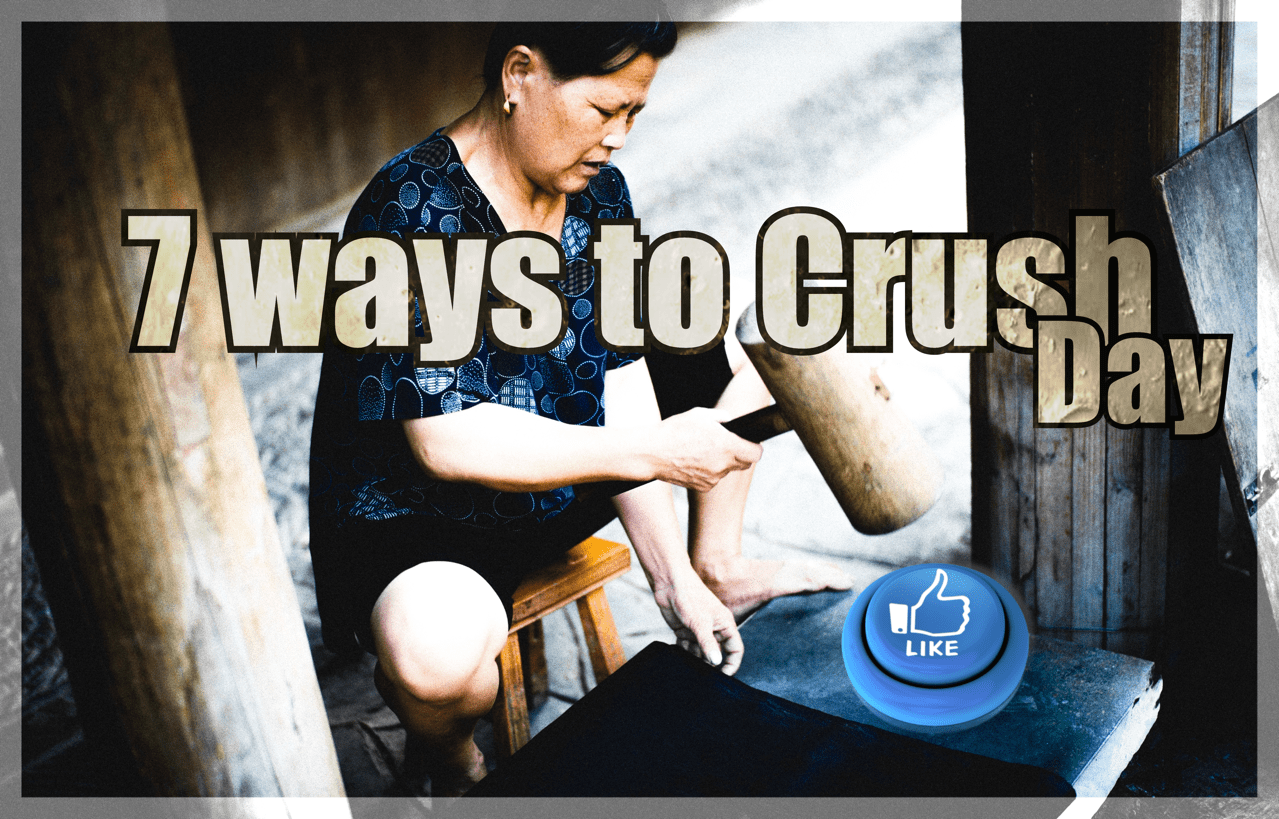 Kick off your Muck boots and throw on an Anchor Bear record because its time to crush. We're going on a journey down a winding path to the Cave of Crush where we'll span the Chasm of Krunk and destroy the Dragon of Despair. Afterwards we'll circle up around the Beartarian Round Table and regale one another with our stories of legendary acts and moments of hilarity. To start off the regaling, I am going to highlight some members of our tribe that consistently go above and beyond.
This is my 7 Ways To Crushday, where I will highlight 7 Bears who you may not be aware of and yet are building Beartaria in their unique manner. I hope they inspire you as they do me. This is of course not an exhaustive list, and is written in no particular order. If you'd like to send in stories of other legends who deserve recognition, email us at events@beartariatimes.com or crushing@beartariatimes.com. Without further ado, let us doff our hats and lift our trumpets in salute to those who are leading and contributing in epic fashion.
Busy as a Bear
First up is Busy Bee Bear. She has been busy setting up a book club in the Shebears group at Bearvibe.com. With the help of other amazing Bearettes like BloomerBearnBama, the book club has featured works like 'Keys to the Kingdom' and 'The Queen's Codd.' In true Beartarian fashion, the ladies in that group are elevating their minds and using that energy to bless their families. It's a lovely thing to see. If you are a lady bear and would like to see what they're up to you can connect on https://bearvibe.com/groups/59.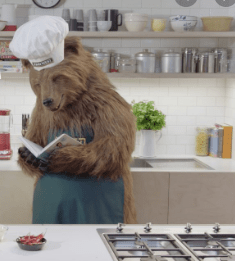 Tip the Piano Man
If you haven't heard of Unofficial Bear yet, then put down that daggone lollipop and get on over to Dlive on Monday, Wednesday, or Friday at 5pm PST. This legend is innovating the music stream game. His fingers may or may not literally be on fire as he plays Liszt's 'Sospiro' on his Yamaha keyboard. This High Beartarian Virtuoso became inspired to the point to losing sleep one evening. Unable to sleep, he decided to weave the melodies in his head into a fantastic work of art. And over the last few months we're all anxiously waiting for him to name it. This song and other amazing works are made even more enjoyable by his peaceful visualizations on the screen and the friendliness in the saloon. Stop in and throw some lemons his way. You won't regret it.
Zezzie Approaches! What Shall We Do?
"There's nothing left to do but flourish."

_ZezzieBear
When you have a grabbly day job and refuse to cower and shrivel but instead become a legendary community builder, your name might be Zezzie Bear. This epic Bearette has helped others bring the Rocky Mountain Bears up to a staggering 60 members and counting. Her effort has inspired others to reach out and bring more valued friends and future legends into the group. This along with constantly showing up and being a positive voice in the Dlive Big Bear streams and other community live streams and group chats make you wonder how she has time to fit in her regular day job. I for one am incredibly grateful and have gained so much from the hard work that Zezzie Bear has put into building our community. See what she's up to at our Beartaria Times App @zezziebear I proffer a bear salute and thank you for your service. 🐻7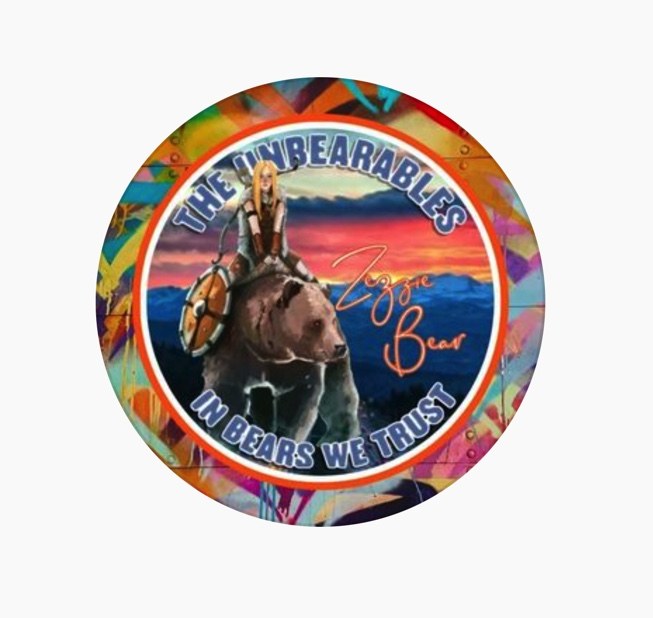 Pass the Ladle
"I'm a glorified ethernet cable, but when streams are hard to get or people are in need of gravy, I try to make them available"

_ WD41 Bear
You may be familiar with WD40. Every useful man had better be aware of the useful fish-based (yes fish-based) elixir of mechanical lube. But what this community needs more than to stop a squeaky hinge, is to spray on a healthy coat of logos. To help with hard to find Big Bear videos, we need WD41 Bear. This 46 y/o Scottish engineer legend is parked up the highlands somewhere and re-streams Owen, Jimbob, and others on his Dlive and his Bitchute channels on the regs. Show him some love and bury him in lemons.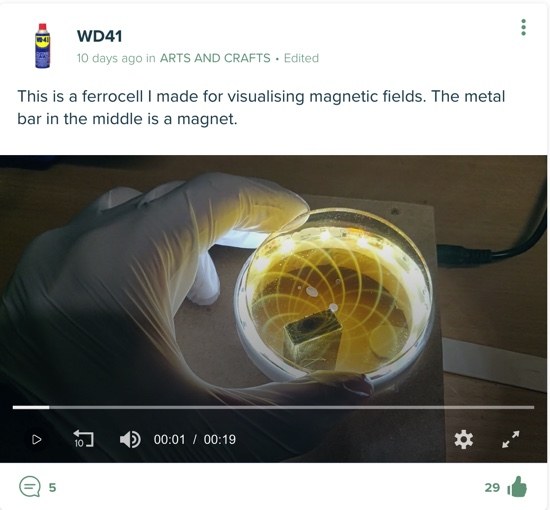 Hanging With the Bears
"What originally started as a way to connect on a more personal level has evolved into a real community building tool. It's been a great experience so far, and I'm looking forward to seeing where it goes."

_Robear
This year, Robear felt God put it in his heart to start a Bear's Interview channel and introduce the world to all kinds of amazing folks with incredible stories. We got to see Deep Blue Sea Bear's work training oilfield sailors to put out boat fires, Hogfish Sniper Bear's wife's pregnant belly, Stuntman Bear's jolly English face, and the legendary Poppa J Bear's epic headband. Their stories are also interesting, relatable, and just show how wide and truly diverse this community is. Three Cheers for Robear! For now he's still available on IG as @hangingwiththebears, or on Beartaria Times App @robear. Stay tuned for more greatness.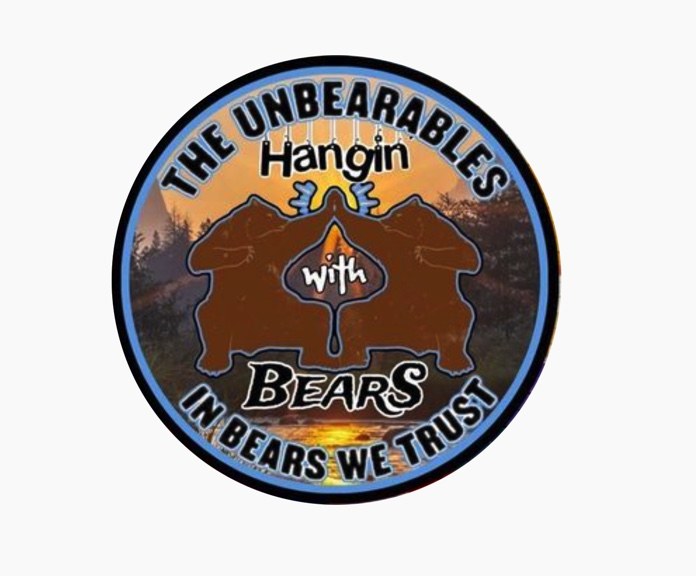 LEGION
"The New Patriarchs"

_Legionnairebear
Hail Legion! 2020 also brought the Legion to the bears. Legionnaire Bear has men all across the Earth getting up before 5 am (LST), maxing out on pushups, detoxing off of social media and abstaining from all the serious vices for 30 days. This is helping strengthen resolve, cultivate discipline, and really raise the bar for those who want to crush. The Legion isn't for the weak or faint of heart. But if you're committed, you will see a noticeable positive change. Legionnaire Bear himself quit smoking, and now looks 20 years younger could it be, allegedly? Check him out on Beartaria Times App as @legionnairebear and prepare yourself for greatness.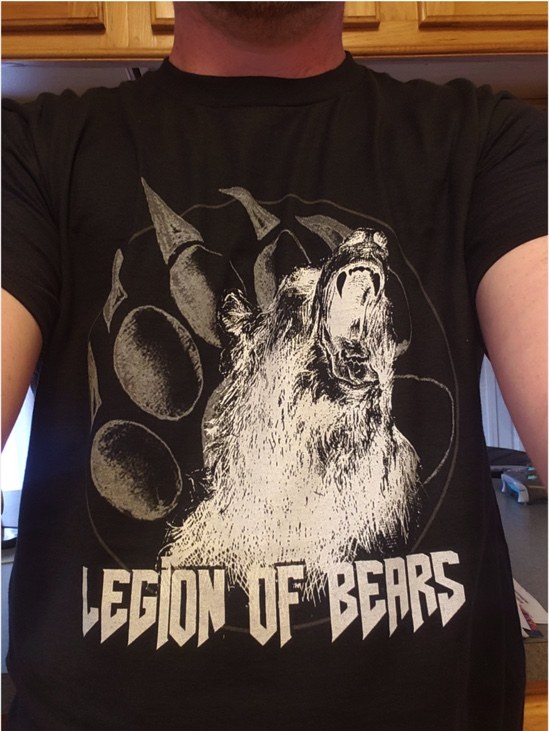 Johnny Appleseed was an Amateur
"Seed saving has brought me a deeper appreciation of "be fruitful and multiply"

_Copper Bear
You can't build an epic civilization on an empty stomach. And you can't get any better food than what's grown in Beartaria. Copper Bear has been hard at work preserving and sharing the seeds that will ensure these gardens never run out of the produce that is making us stronger, healthier, and happier. She has a scientific process where she calculates the germination rate and ensures her seeds are of the highest quality. She is working on setting up a website but for now check out her work on Beartaria Times @copperbear. She recently also started a "Beartarian Seed Ambassador" program. "Beartaria Seed Savers are seeds saved from my garden and previously purchased heirlooms. I have seeds for new gardeners and seeds for ambassadors who would like to take on a stewardship role to collect seeds and send some back for redistribution." For details email copperbearette@gmail.com.
Especially for the bears who've sought out bear meetups, private message groups on Instagram, Telegram, etc, this has been a fantastic year. The real game changer is the Beartaria Times App where you will see the next level of community taking form. This year really showed us the power of our commonwealth. I've seen new bears that pop in to our group and show up to help another member move, or assemble a timber green house. I've seen people that need a place to stay find shelter with trusted bears. The culture we're preserving here is truly amazing, and we're just getting started. We have everything we need to begin working on our dreams. If you have any stories of legendary bears you'd like to have highlighted, we'd love to hear about them! Email the written work (a short article) and any photos to Crushing@BeartariaTimes.com or events@beartariatimes.com. Until next time, Keep Crushing, and may the Creator of All Things bless your homestead with a flood of gravy, goat milk, and good cheer.
The Béara Clann – Irish Bears July Camp Trip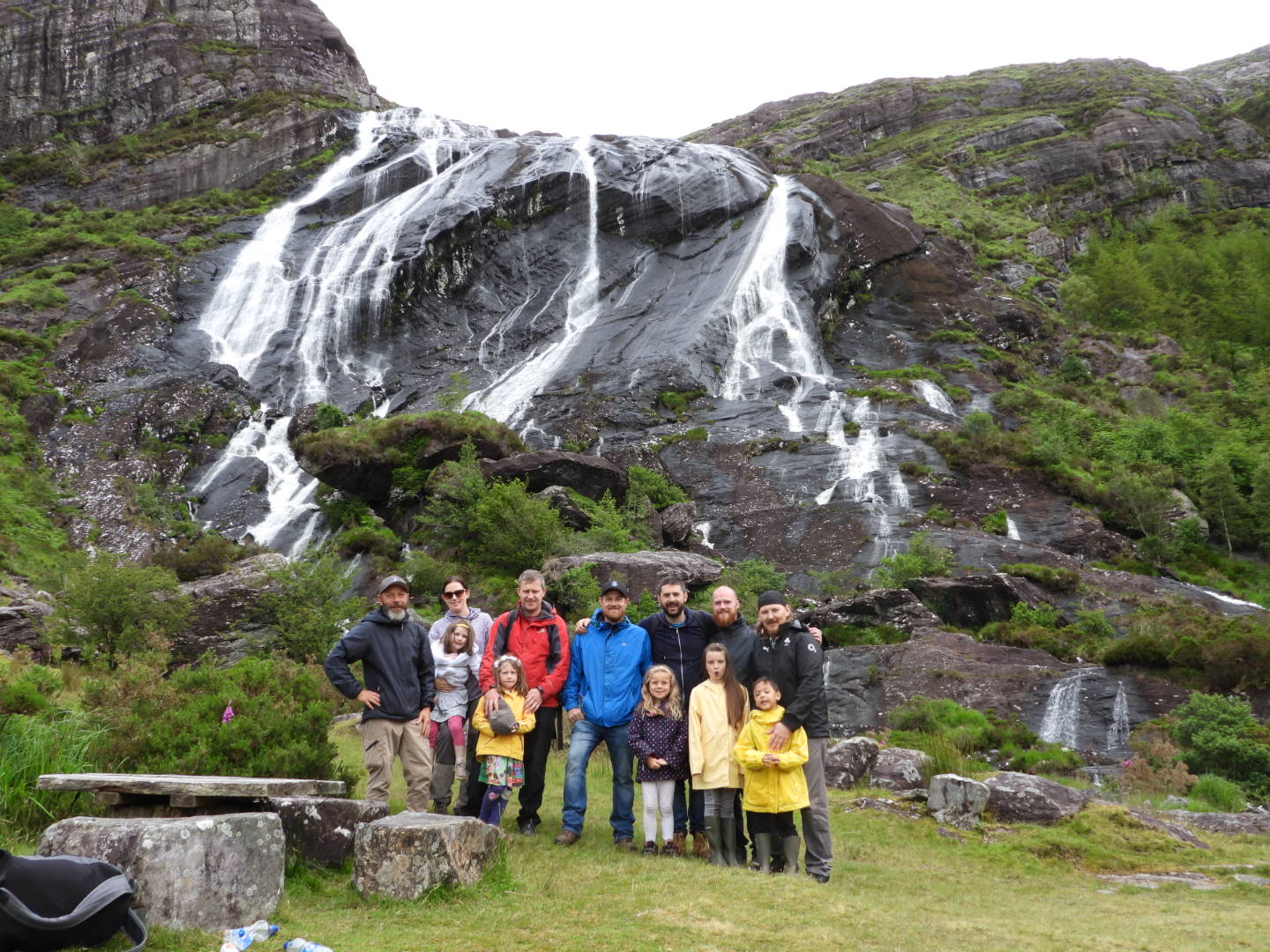 Our Story Begins
The following is an account of twenty-three legends that assembled at a campground in the Beara Peninsula of County Kerry, Ireland, in the first weekend of July 2021.  This is the story of the first Béara Clann camp trip.
Our story begins on Thursday, the first of July.  Kingdom Bear and his wife, Kerry Moma Bear, arrived at the campground to claim our corner of the camp.  Kingdom Bear, an avid camper, is also a veteran of the printing industry.  He brought with him a few surprises he'd made for the group, including a Béara Clann banner and flag.  With banner and flag in place, Kingdom Bear was ready to welcome the other members they arrived.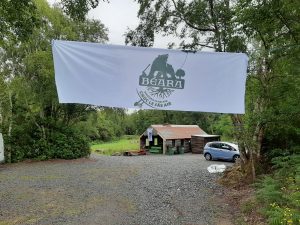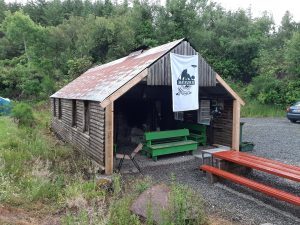 Béara Clann Assemble
Friday morning, members of the Béara Clann, the Irish Unbearables, began their journey from all corners of Ireland to the campground in County Kerry.  By the afternoon, most of the group had made their appearance.
Upon arriving, the Clansfolk were warmly greeted by the Béara banner and flag marking our little settlement.  There, we found a fire pit surrounded by tents on all sides.  Next to that, a small building for shelter from rain.
Kingdom Bear and Óbéara Bear welcomed the Friday arrivals with smiles and open arms.  Everyone joined in to help each other build their tents.  After setting up and a quick trip to a nearby village to stock up on food and supplies, everyone was settled in for the evening.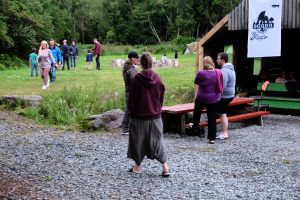 It was like old friends having a reunion, though this was the first time many of us were meeting in the real physical world that exists beyond the borders of the digital realm.  Handshakes, hugs, smiles and stories being shared were in abundance.
It was time to build a fire before nightfall.  A few bears spotted a huge broken tree limb and with teamwork, removed it from the tree with bare hands.  Then they began to break it down to smaller pieces using various saws and axes.  Everyone participated in a group effort.  As one got tired, another bear stepped up and continued the sawing.  This was also a great opportunity to teach the younger generation how to chop wood.  The Paddy Glassman Bear instructed Green Bear's sons, Strummer Bear and Pickle Bear, how to chop up some firewood.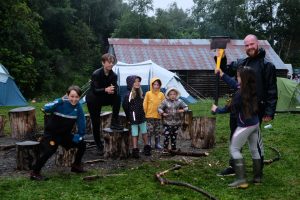 The positive vibes continued into the evening hours, as members gathered round the fire to tell stories, crack jokes and share their various interesting theories about this realm we call Earth.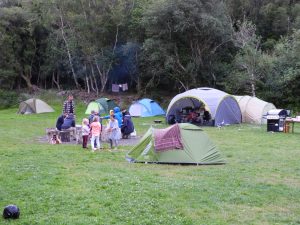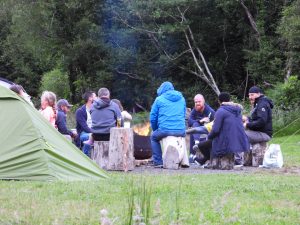 The Fellowship of the Clann
Saturday morning saw the arrival of several more members, completing our gathering of these Irish Beartarians.
That afternoon, several members embarked on a journey to hike to a hilltop where an ancient stone circle stands.  The group admired the elevated view while contemplating what the ancient people of this land had known to construct such a site.  After visiting this ancient place, some of the braver ones took a dip in the chilly waters of a nearby lake.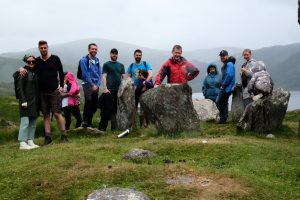 Once everyone was back at camp, the Béara Clann's Minister of Enthusiasm, Brayvy Bear, presented each of the children in the group with a gift bag.  The amazing Kingdom Bear and Kerry Moma Bear put together these lovely gift bags that included things like crayons, coloring book, bubbles and toys.  The Béara Clann children were most pleased.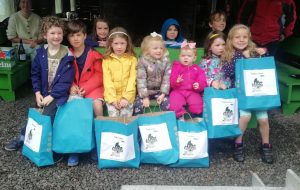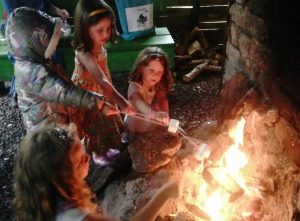 It was steadily raining that evening, so we all gathered under that nearby shelter for a dinnertime BBQ.  Spirits were high as we shared stories and crafted jokes.  There was an abundance of good cheer.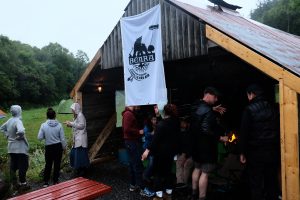 After dinner, Brayvy Bear presented all of the adults with a souvenir Béara Clann mug that he and Kingdom Bear had made for the group members.  To mark the occasion, Brayvy Bear also presented to the group a bottle of locally crafted Beara Irish Whiskey, pouring a little into each mug and proposing a toast to the Clann.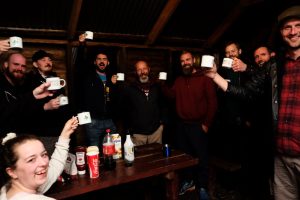 The "craic", as the Irish call it (stories, jokes and laughs), continued into the late night hours.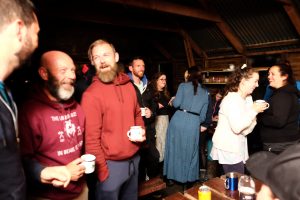 Making Our Own
Sunday morning, the group screen printed t-shirts with the Béara Clann logo.  Each member had brought with them the shirts they wanted printed.  Kingdom Bear set up a station in the shelter area to do the printing.  As mentioned earlier, he's a veteran of the printing industry, so he volunteered to man the screen printing station.  Brayvy Bear, always eager to help, stepped up to assist him.  The end result was beautiful, each member going home with a freshly printed Béara souvenir t-shirt.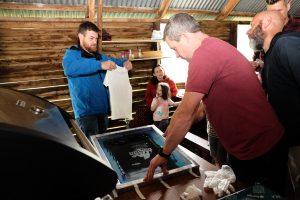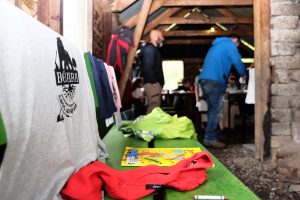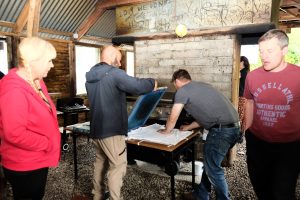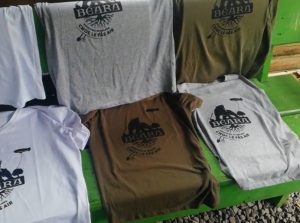 After printing t-shirts, Poppa J Bear hosted a livestream for Instagram.  The stream included a tour of the camp site and short interviews with several of the folk.  It was a great way to capture and showcase the energy of the trip.
Next, everyone gathered in front of the shelter for a group photo.  ConspiraBee Bear, an avid photographer who had been photographing the entire weekend of events captured the group photo of us.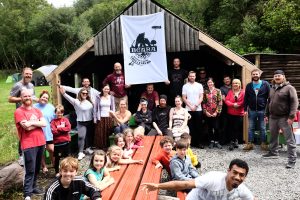 Further Exploration
Some members packed up to head home after the group photo.  The remaining members embarked on an expedition to see a famous secluded waterfall and lake not far from where we were situated.
The scenery at this location was epic, like something you would see on a postcard.  Passing through fields of sheep, you encounter the waterfall.  After a few photos were taken there, we proceeded to trek up the steep trail towards the lake.  At the lake, several in the party decided to again take a dip in the water.  The Buzz Wrecker Bear, Rua Bear, The Paddy Glassman Bear, Eire Bear and Defender Bear's girlfriend all went for a swim, those brave souls.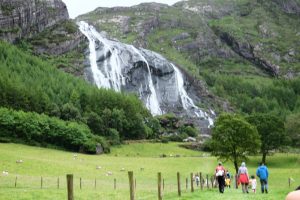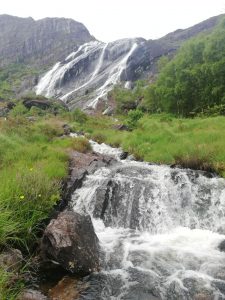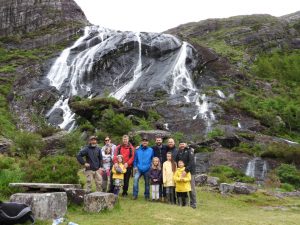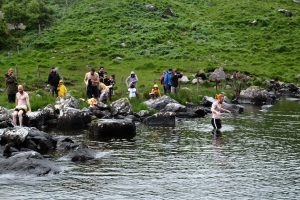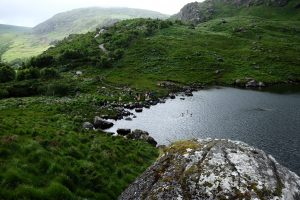 Once back at camp, the men set up a friendly axe throwing competition.  Logs were stacked for a target and the each man took turns throwing the axe.  Much fun was had, so much so that axe throwing will be a featured event at all future camp trips.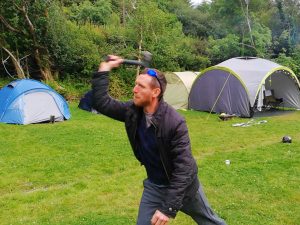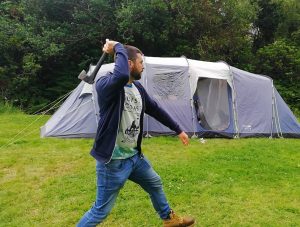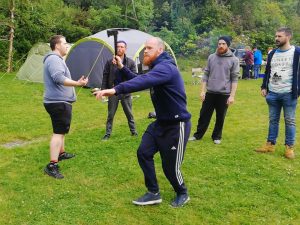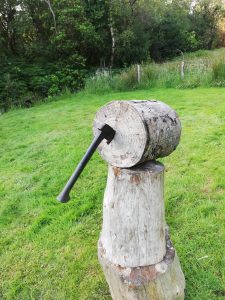 Onward to Béara!
That night, as the rain had ended, we all gathered round the fire again.  Future plans were discussed, including another camping trip, as well as the proposed formation of the Beartarian Horticultural Society.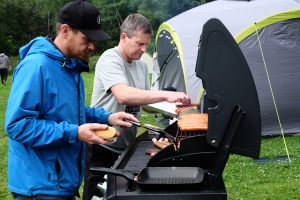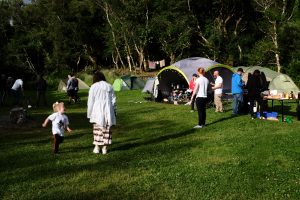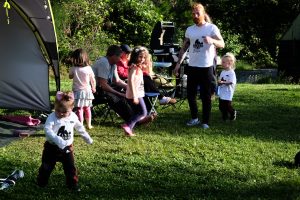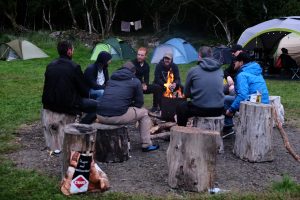 The common thread that tied this weekend camp trip together was teamwork and community building.  Each member of the Clann lending a hand to help another.
It was so good to see everyone get along so well, to see our children playing together in nature.  To watch the initially hesitant and wary wives and girlfriends go from polite conversation to genuine warmth and good natured joking, now eager to be a part of this wonderful group.  This is what community building is all about.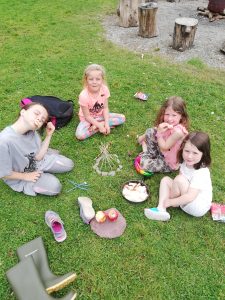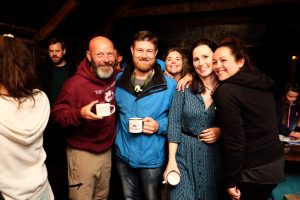 The friendships formed, friendships reinforced and memories made at this July camp trip will last a lifetime.  We, the Béara Clann of Irish Unbearables, are a young group, still growing and learning as we go, yet we show much promise of big things to come in the future!
On Monday morning, it was decided that we would all meet here again for the second weekend of August.
To be continued…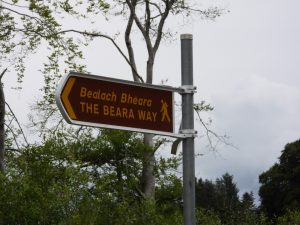 In Search of Sacha: Review
Book review by Van Allen Bear on the book In Search of Sacha, by Manuel Guzman from Lolo's art.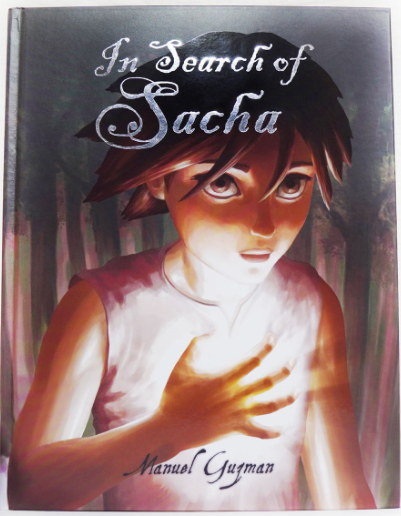 Recently I had read a book by a member of the community that was quite an enjoyable read. Many of you may know the book already, but for those like me who have read it for the first time: here is my first impressions and review.
For what I have come to understand, the author made a point to write the story in such a way that the reader is encouraged to take one, two, or three times to read through and each time draw new connections between the characters and their quest. If you haven't made it through the book already then I won't reveal too much information about the story as to do you a disservice. The summary is as follows: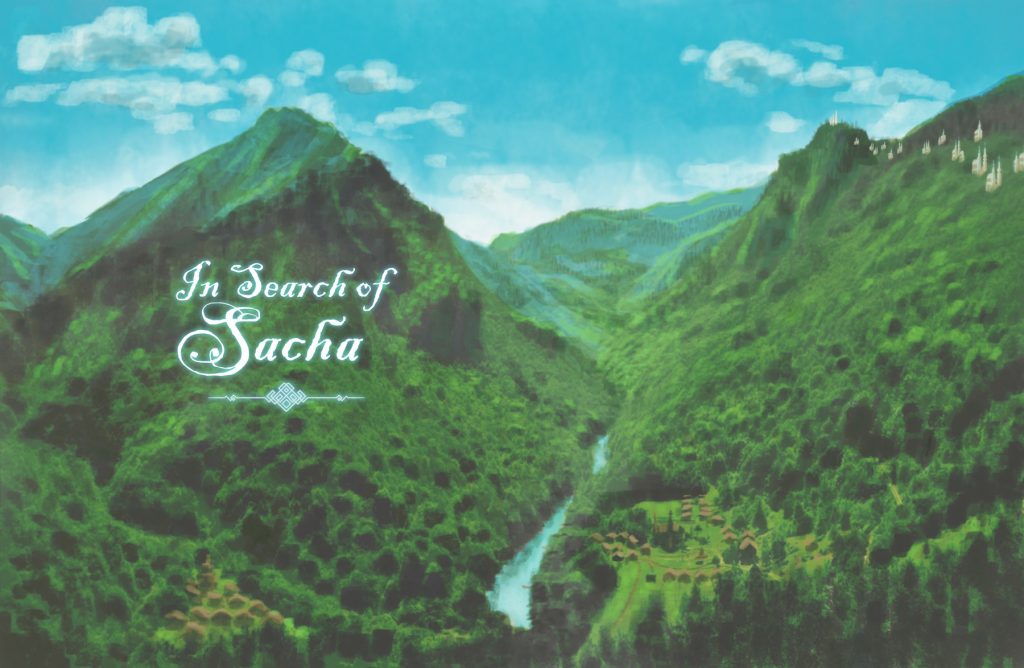 "A fully painted 80 page fantasy storybook about loving parents searching for their son in a dark forest. They are Elysia and Amar, guardians of the mountains and of Sacha. They contain a pure light within them which they have passed on to their son and can only hope it will protect him during his coming of age trials. In Search of Sacha is written and designed for all ages. Young adults as well as children and parents will find something to love from this ethereal fairy tale." – Manuel Guzman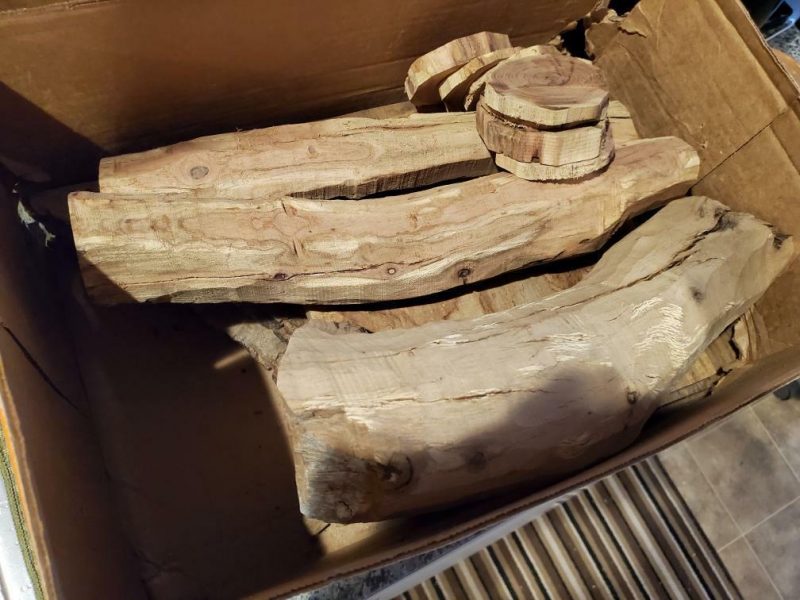 Little Bear Woodshop and I had reached an agreement, of sorts, where I send him proper currency accompanied with materials and he would use his facility to craft a pair of knives. What materials, you ask? I asked myself the same thing… If there was a knife you were going to carry with you all the time, what materials would you use? Naturally I am inclined to choose wood blanks, so I decided to take a saw to a few types of wood that were available nearby, which ended up being: mesquite, Spanish oak, cedar, and a local contact provided me with a few planks of Texan Pecan.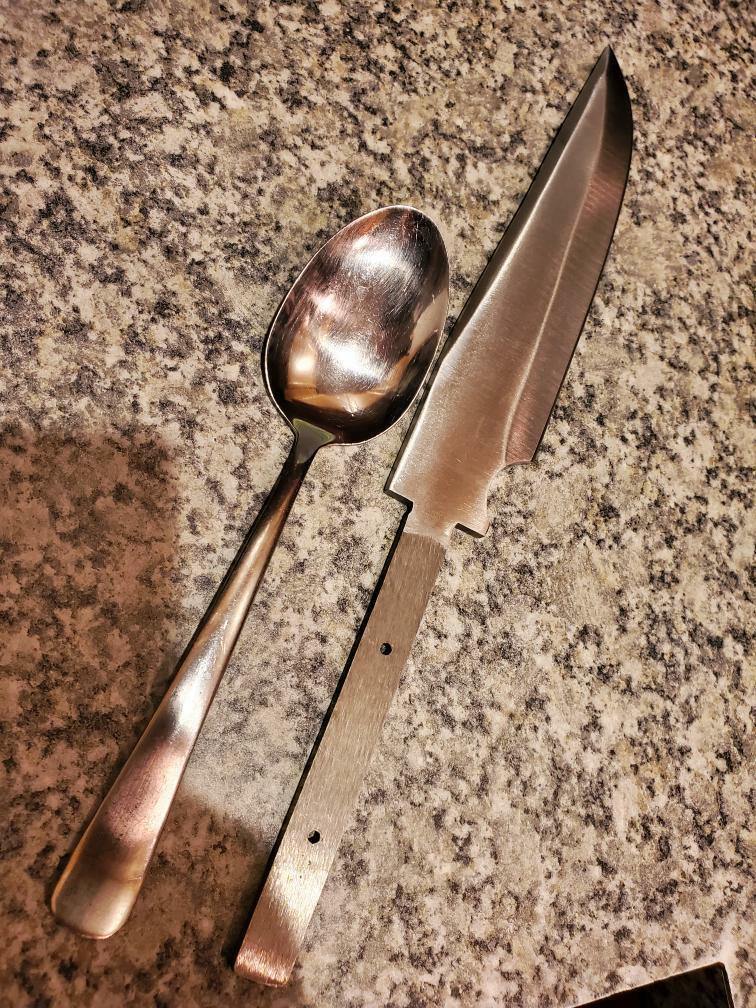 So, this was going to be quite easy, I merely send the wood to the craftsman and bark some orders. Once the materials are in his hands, then he's charged with making my cutlery. However, once showing pictures of my loot to the woodworker, I was informed that the bark had to be removed prior to both shipping and crafting. Naturally, I realized that I only had a few hours to de-bark the wood with a rotary table saw on hand. I set to it with my glasses on and table saw whirring in the garage.
The wood had been dry for quite a while, and I ran it sideways to grind off all the bark, strip by strip by strip. Curious, were these markings on the exposed hardwood beneath… what were they? Ovular and they seemed to be made of softer wood, they didn't look to me as being natural. I began cutting the wood across the diameter of the trunk when out popped a beetle the size of my thumbnail. I was fooled, thinking this wood was in tip-top shape!
"Good Heavens, what on earth is this beetle doing in my oakwood?! What corruption is this?"

surprised man, sawing wood, circa 2020
Confused and surprised, I made more and more cuts for coasters. Lo' and behold, there was another beetle that felt the sting of my rotary saw, and unfortunately had to take a very very long nap in the trashcan. The rest of the wood was untouched, for there were different cuts from different trees. Only some interesting ant-made markings marred the surfaces or the interiors of the other hardwoods.
As they were shipped out to and received by the man whom fabricates knives and things made from wood for a living, they were met with acclaim. The mesquite shall be turned into ladles, Spanish oak into spatulas, cedar into spoons, and a few planks of Texan Pecan shaped into Idaho State cutting boards. There are things to learn from this endeavor: never judge a cut of wood by it's bark. It's not that you shouldn't trust things unseen, but be prepared to slice up a couple beetles or so through your endeavors for there very well could be all sorts of insects lurking just beneath the surface.