Seven Ways To Crushday
Let us doff our hats and lift our trumpets in salute to those who are leading and contributing in epic fashion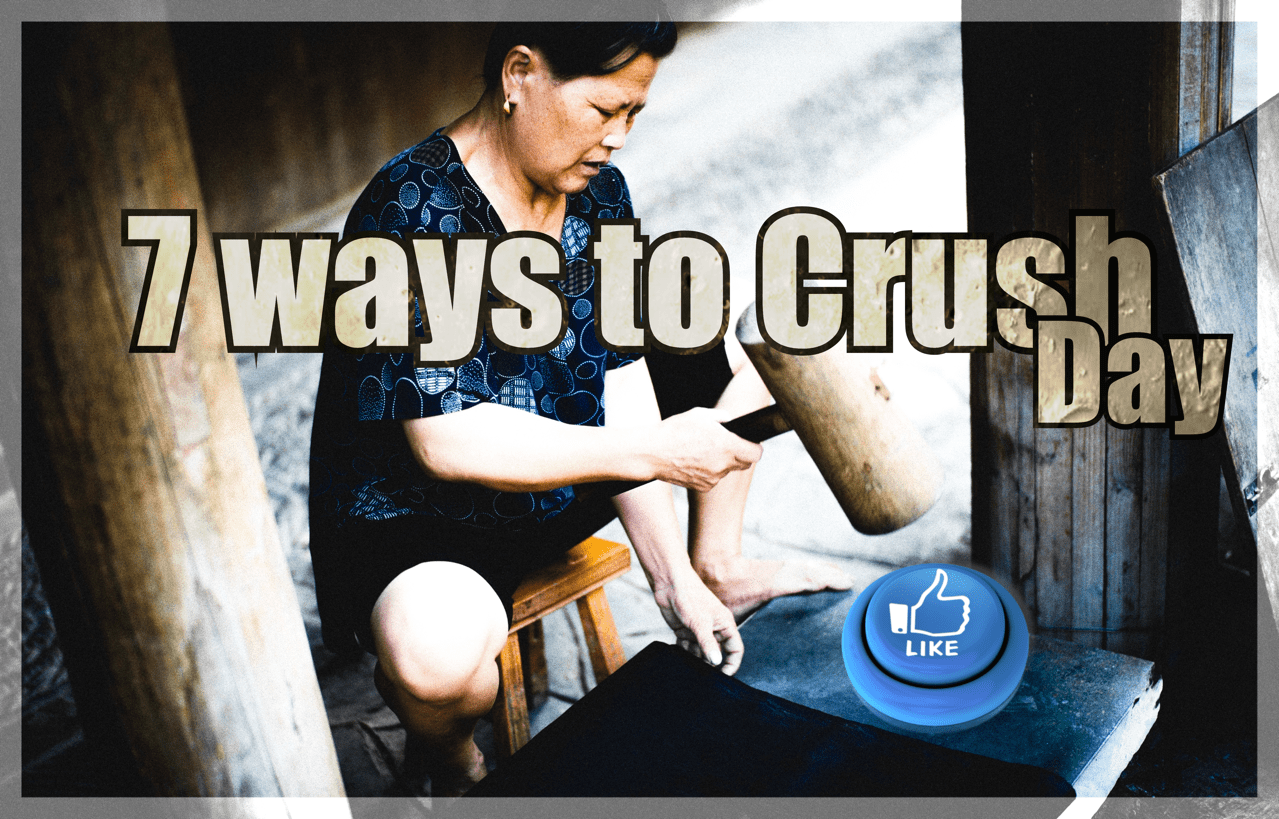 Kick off your Muck boots and throw on an Anchor Bear record because its time to crush. We're going on a journey down a winding path to the Cave of Crush where we'll span the Chasm of Krunk and destroy the Dragon of Despair. Afterwards we'll circle up around the Beartarian Round Table and regale one another with our stories of legendary acts and moments of hilarity. To start off the regaling, I am going to highlight some members of our tribe that consistently go above and beyond.
This is my 7 Ways To Crushday, where I will highlight 7 Bears who you may not be aware of and yet are building Beartaria in their unique manner. I hope they inspire you as they do me. This is of course not an exhaustive list, and is written in no particular order. If you'd like to send in stories of other legends who deserve recognition, email us at events@beartariatimes.com or crushing@beartariatimes.com. Without further ado, let us doff our hats and lift our trumpets in salute to those who are leading and contributing in epic fashion.
Busy as a Bear
First up is Busy Bee Bear. She has been busy setting up a book club in the Shebears group at Bearvibe.com. With the help of other amazing Bearettes like BloomerBearnBama, the book club has featured works like 'Keys to the Kingdom' and 'The Queen's Codd.' In true Beartarian fashion, the ladies in that group are elevating their minds and using that energy to bless their families. It's a lovely thing to see. If you are a lady bear and would like to see what they're up to you can connect on https://bearvibe.com/groups/59.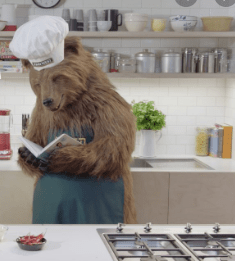 Tip the Piano Man
If you haven't heard of Unofficial Bear yet, then put down that daggone lollipop and get on over to Dlive on Monday, Wednesday, or Friday at 5pm PST. This legend is innovating the music stream game. His fingers may or may not literally be on fire as he plays Liszt's 'Sospiro' on his Yamaha keyboard. This High Beartarian Virtuoso became inspired to the point to losing sleep one evening. Unable to sleep, he decided to weave the melodies in his head into a fantastic work of art. And over the last few months we're all anxiously waiting for him to name it. This song and other amazing works are made even more enjoyable by his peaceful visualizations on the screen and the friendliness in the saloon. Stop in and throw some lemons his way. You won't regret it.
Zezzie Approaches! What Shall We Do?
"There's nothing left to do but flourish."

_ZezzieBear
When you have a grabbly day job and refuse to cower and shrivel but instead become a legendary community builder, your name might be Zezzie Bear. This epic Bearette has helped others bring the Rocky Mountain Bears up to a staggering 60 members and counting. Her effort has inspired others to reach out and bring more valued friends and future legends into the group. This along with constantly showing up and being a positive voice in the Dlive Big Bear streams and other community live streams and group chats make you wonder how she has time to fit in her regular day job. I for one am incredibly grateful and have gained so much from the hard work that Zezzie Bear has put into building our community. See what she's up to at our Beartaria Times App @zezziebear I proffer a bear salute and thank you for your service. 🐻7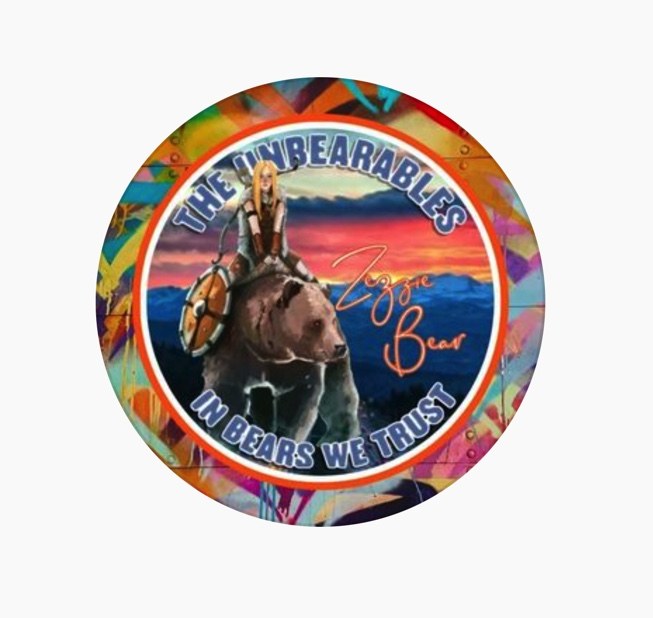 Pass the Ladle
"I'm a glorified ethernet cable, but when streams are hard to get or people are in need of gravy, I try to make them available"

_ WD41 Bear
You may be familiar with WD40. Every useful man had better be aware of the useful fish-based (yes fish-based) elixir of mechanical lube. But what this community needs more than to stop a squeaky hinge, is to spray on a healthy coat of logos. To help with hard to find Big Bear videos, we need WD41 Bear. This 46 y/o Scottish engineer legend is parked up the highlands somewhere and re-streams Owen, Jimbob, and others on his Dlive and his Bitchute channels on the regs. Show him some love and bury him in lemons.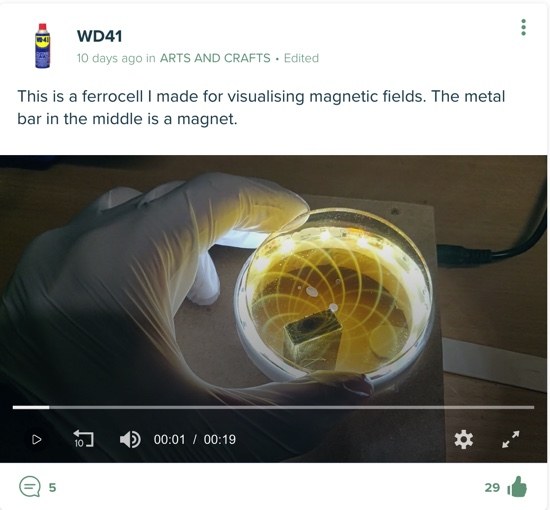 Hanging With the Bears
"What originally started as a way to connect on a more personal level has evolved into a real community building tool. It's been a great experience so far, and I'm looking forward to seeing where it goes."

_Robear
This year, Robear felt God put it in his heart to start a Bear's Interview channel and introduce the world to all kinds of amazing folks with incredible stories. We got to see Deep Blue Sea Bear's work training oilfield sailors to put out boat fires, Hogfish Sniper Bear's wife's pregnant belly, Stuntman Bear's jolly English face, and the legendary Poppa J Bear's epic headband. Their stories are also interesting, relatable, and just show how wide and truly diverse this community is. Three Cheers for Robear! For now he's still available on IG as @hangingwiththebears, or on Beartaria Times App @robear. Stay tuned for more greatness.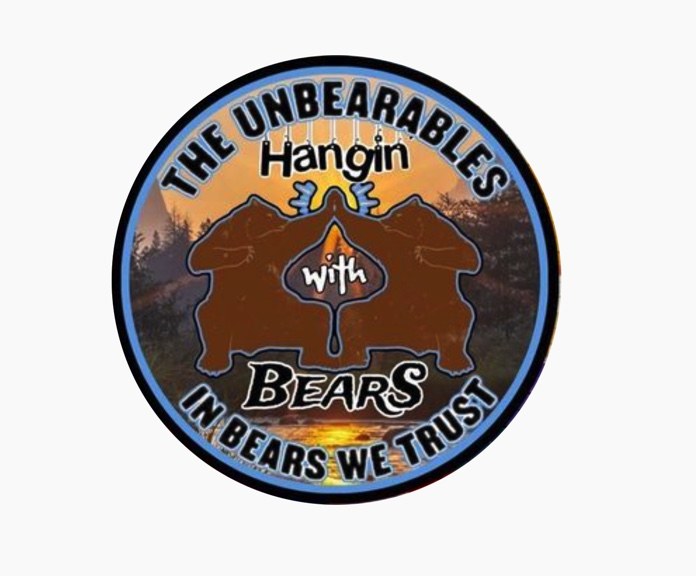 LEGION
"The New Patriarchs"

_Legionnairebear
Hail Legion! 2020 also brought the Legion to the bears. Legionnaire Bear has men all across the Earth getting up before 5 am (LST), maxing out on pushups, detoxing off of social media and abstaining from all the serious vices for 30 days. This is helping strengthen resolve, cultivate discipline, and really raise the bar for those who want to crush. The Legion isn't for the weak or faint of heart. But if you're committed, you will see a noticeable positive change. Legionnaire Bear himself quit smoking, and now looks 20 years younger could it be, allegedly? Check him out on Beartaria Times App as @legionnairebear and prepare yourself for greatness.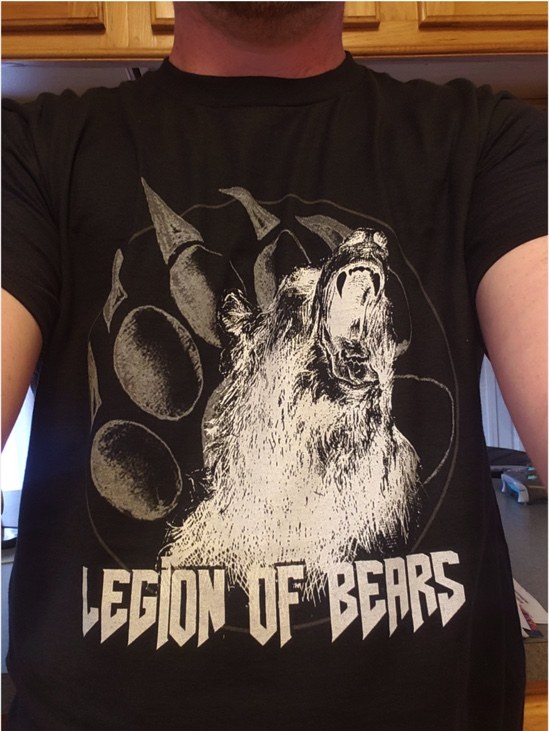 Johnny Appleseed was an Amateur
"Seed saving has brought me a deeper appreciation of "be fruitful and multiply"

_Copper Bear
You can't build an epic civilization on an empty stomach. And you can't get any better food than what's grown in Beartaria. Copper Bear has been hard at work preserving and sharing the seeds that will ensure these gardens never run out of the produce that is making us stronger, healthier, and happier. She has a scientific process where she calculates the germination rate and ensures her seeds are of the highest quality. She is working on setting up a website but for now check out her work on Beartaria Times @copperbear. She recently also started a "Beartarian Seed Ambassador" program. "Beartaria Seed Savers are seeds saved from my garden and previously purchased heirlooms. I have seeds for new gardeners and seeds for ambassadors who would like to take on a stewardship role to collect seeds and send some back for redistribution." For details email copperbearette@gmail.com.
Especially for the bears who've sought out bear meetups, private message groups on Instagram, Telegram, etc, this has been a fantastic year. The real game changer is the Beartaria Times App where you will see the next level of community taking form. This year really showed us the power of our commonwealth. I've seen new bears that pop in to our group and show up to help another member move, or assemble a timber green house. I've seen people that need a place to stay find shelter with trusted bears. The culture we're preserving here is truly amazing, and we're just getting started. We have everything we need to begin working on our dreams. If you have any stories of legendary bears you'd like to have highlighted, we'd love to hear about them! Email the written work (a short article) and any photos to Crushing@BeartariaTimes.com or events@beartariatimes.com. Until next time, Keep Crushing, and may the Creator of All Things bless your homestead with a flood of gravy, goat milk, and good cheer.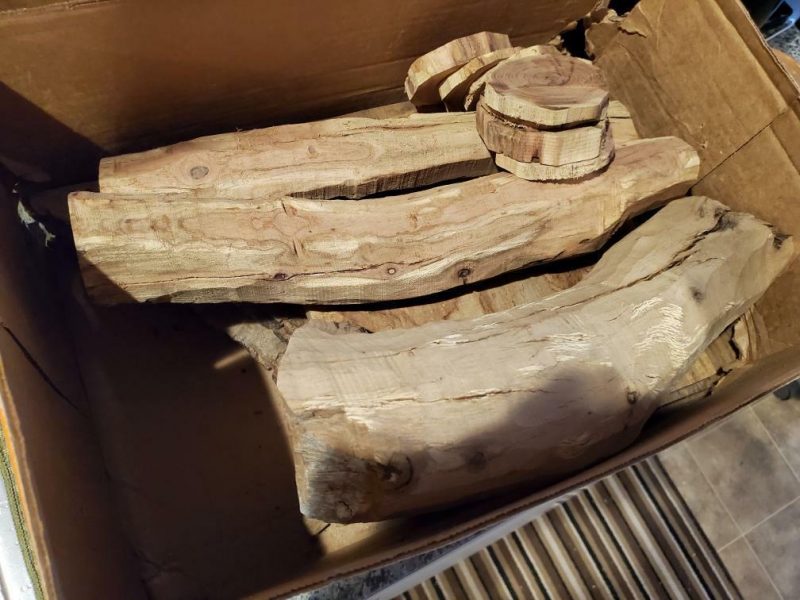 Little Bear Woodshop and I had reached an agreement, of sorts, where I send him proper currency accompanied with materials and he would use his facility to craft a pair of knives. What materials, you ask? I asked myself the same thing… If there was a knife you were going to carry with you all the time, what materials would you use? Naturally I am inclined to choose wood blanks, so I decided to take a saw to a few types of wood that were available nearby, which ended up being: mesquite, Spanish oak, cedar, and a local contact provided me with a few planks of Texan Pecan.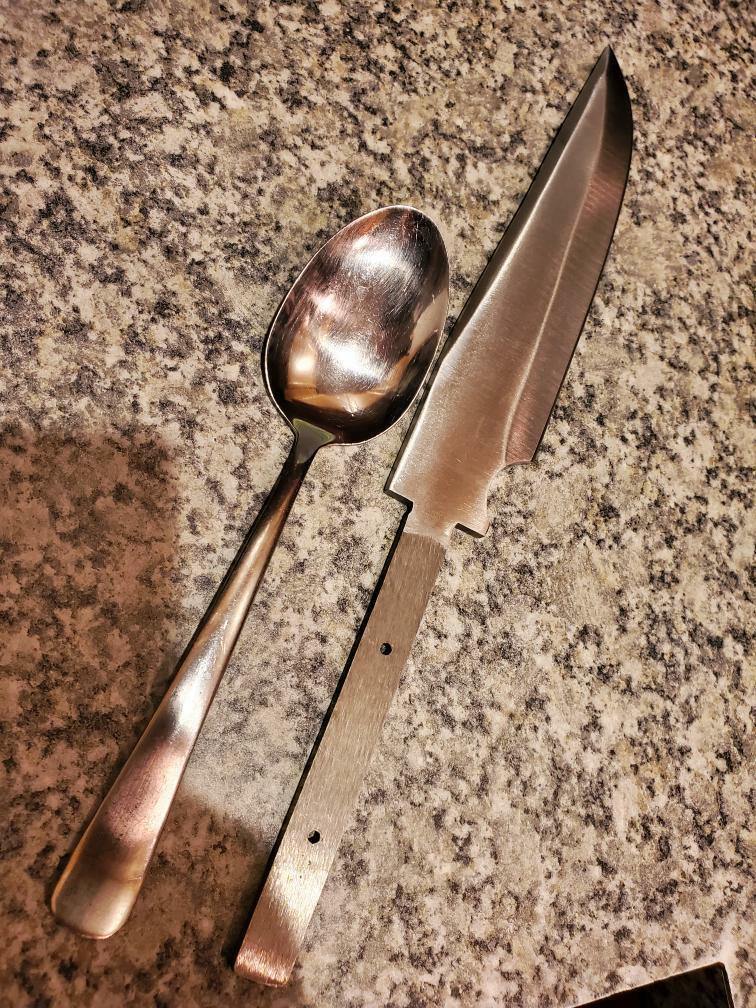 So, this was going to be quite easy, I merely send the wood to the craftsman and bark some orders. Once the materials are in his hands, then he's charged with making my cutlery. However, once showing pictures of my loot to the woodworker, I was informed that the bark had to be removed prior to both shipping and crafting. Naturally, I realized that I only had a few hours to de-bark the wood with a rotary table saw on hand. I set to it with my glasses on and table saw whirring in the garage.
The wood had been dry for quite a while, and I ran it sideways to grind off all the bark, strip by strip by strip. Curious, were these markings on the exposed hardwood beneath… what were they? Ovular and they seemed to be made of softer wood, they didn't look to me as being natural. I began cutting the wood across the diameter of the trunk when out popped a beetle the size of my thumbnail. I was fooled, thinking this wood was in tip-top shape!
"Good Heavens, what on earth is this beetle doing in my oakwood?! What corruption is this?"

surprised man, sawing wood, circa 2020
Confused and surprised, I made more and more cuts for coasters. Lo' and behold, there was another beetle that felt the sting of my rotary saw, and unfortunately had to take a very very long nap in the trashcan. The rest of the wood was untouched, for there were different cuts from different trees. Only some interesting ant-made markings marred the surfaces or the interiors of the other hardwoods.
As they were shipped out to and received by the man whom fabricates knives and things made from wood for a living, they were met with acclaim. The mesquite shall be turned into ladles, Spanish oak into spatulas, cedar into spoons, and a few planks of Texan Pecan shaped into Idaho State cutting boards. There are things to learn from this endeavor: never judge a cut of wood by it's bark. It's not that you shouldn't trust things unseen, but be prepared to slice up a couple beetles or so through your endeavors for there very well could be all sorts of insects lurking just beneath the surface.
The Beartaria Times Projections Show Possible Printer Purchase Going Into Q2
Van Allen Bear reports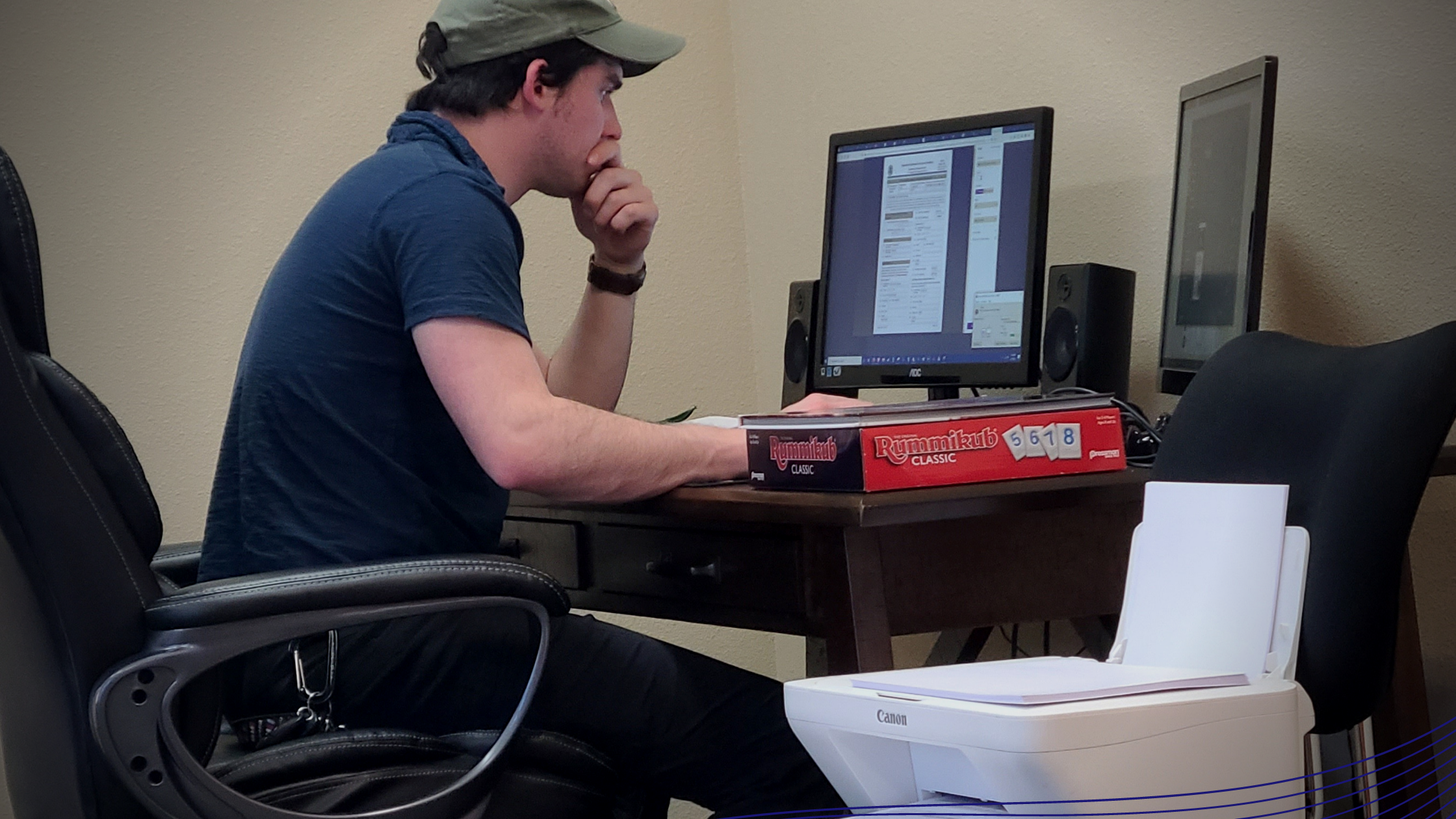 It's been a long time coming for The Beartaria Times to start competing with the billion dollar companies people have grown to be annoyed by. Rumors of The Beartaria Times' future strategic investment plans have spread rapidly across the thriving startup culture of North Idaho.
Until now, rumors were unsubstantiated. But, due to my close proximity and vast industry connections, I have been able to verify the elaborate rumors that has "crushers" gaining more interest in The Beartaria Times.
I have confirmed via multiple text messages that The Beartaria Times will indeed make a strategic purchase for a new ink dispensing compositor, commonly known as a printer. This is going to 'up' the company value by a percentage that can only be speculated at this time.
Speculators and analysts have gathered in high controversy over the logistics of the acquisition and future productivity projections.
"The Beartaria Times could get a new printer or one from craigslist that would be tried and true"

Gary, not Terry

Gary, not Terry, responded to a request for comment and he makes some excellent points. He also added, "They may not want to risk being asked to pay $16 for a warranty, such a question poses a potential work-stop creating congestion in the administrative duties of the policy-making department."
"Gary is a smart guy… when he talks, people listen, and warranty propositions do pose an increase in substantial thought processes," inside sources say.
"We originally wanted everything etched in stone, but with the global shortage of chisels we began using scribes."

Spokesperson for the beartaria Times
My sources at The Beartaria Times went on to say that they can no longer continue to use the scribes, "They have been on strike for weeks because Gary recommended it, people really need to stop listening to Gary."
The Spokesperson continued to reveal new developments in the strategic printer acquisition, "A reconnaissance officer was sent to a local supplier to gather intel on pricing possibilities and specs. Ammunition for the printer may soon be bottlenecked in the economic sector, due to the price hike of printer primers. The Beartarian Times R&D department has discussed the possibility of creating printer ammunition in-house, although this opens the doors for many new challenges for us."
The spokesperson is not revealing any more information at this time. A top consultant for The Beartaria Times has reportedly said, "Warranties are really not a bad idea, its better to have it and not need it, than need it and not have it."
So, is this even a big deal? Is this something to watch going into Q2? Only time will tell how this will play out in the imminent future.
It hasn't yet been disclosed that if a new purchase was in play which enterprise would land the contract. Multiple corporations are in tight competition. As of this time, not a single representative has reached out to The Beartaria Times. I am sure The Beartaria Times would be open to exclusive offers at this time if sales departments were on the cutting-edge of media culture, for they would assuredly be aware of this breaking news.
It would also be highly recommended for printer enterprises to make a generous contribution to The Beartaria Times, that would make them look really cool with 'The Bears.' This could also give The Beartaria Times the opportunity to do a one-off box opening video that could gain unprecedented levels of exposure and cultural presence to a trendy printer manufacturer. For those who are reading, it could be yours.
I will do my best to report on updates as this story develops.
Yours on the Trail,
Van Allen Bear
For Printer companies, please use info@beartariatimes.com
The Future of Business
Jacob Telling shares his thoughts and experience on business opportunity.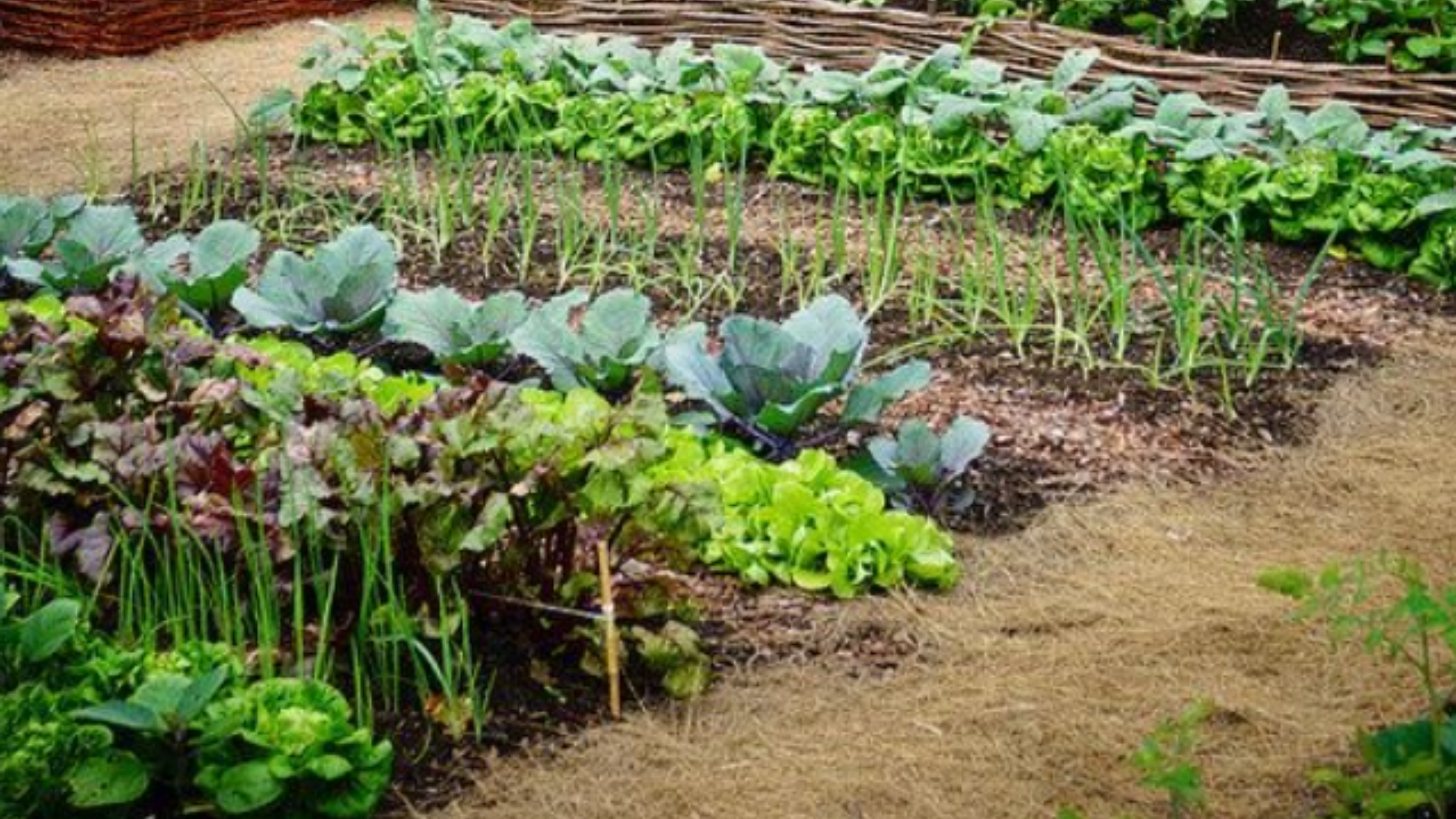 Despite popular opinion, right now is the best time for business. Or at least it can be. Amongst all this financial movement, there is enormous opportunity. Huge realm wide changes in the shape of the economic landscape are taking place. Mountains are being moved. Although it's true that many (debt-leveraged) businesses are shutting their doors, it's also true that many (antifragile) businesses have had their best year ever. This is especially true for brand new businesses that offer an honorable service. I fall in the third category. When the fearful consented to close their businesses, I did the opposite, opening one up. I started a small business building planter boxes out of the garage. It's been awesome. Empowering my community with their own means of food production is a great way to make some cash. This year I'm expanding: more than just providing planter boxes for pick up, I'm also offering in-ground gardens, delivery, and soil installation services. Prompted by @Libertysteadbear's brilliant comment about encouraging church gardens on the @Hanginwithbears livestream, I've put together the gardening version of a white glove turn key style garden program marketed at churches. At the push of a button, I do it all: planter boxes (or in ground beds), trellises, irrigation, seed purchases, planting calendar, garden plan, full installation, all of it. I want to provide churches the easiest possible opportunity to get in on the gardening game. I want to see churches become community leaders again, where they start using their space and their infrastructure to feed people high quality food and bring the community together. I have no idea how receptive my area will be to all this, but I'm happy to try because it's an ethical endeavor. And that's what really makes this the best time for business: the moral side of commerce is making a resurgence.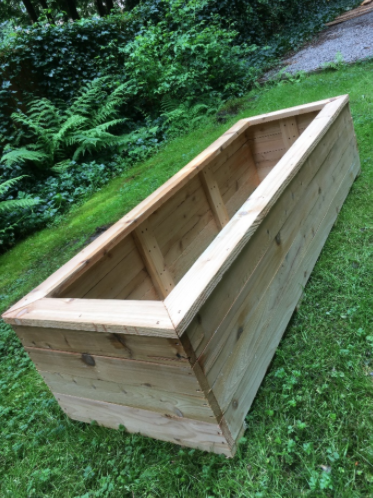 This is a sample from the flyer that I'm sending to churches:
Even if you put aside the health benefits, the financial return, and the unmatched quality, growing your own food still brings an aspect of biblical wonder. Churches are meant to be community leaders. And what better way to lead a community than to take tangible steps towards biblical living? With my faith, I believe that what the bible says is true: We are meant to toil in the field, and see our own food grow. We are meant to share in the great bounty and abundance that springs forth from rich soil and caring hands. We are meant to have a close connection with the glory of seeing creation do its work. It is the way of the honest Christian (and I'm sure many other religions as well) to build what is good, true, and beautiful. As a Christian, I hope to help others pursue this goal. As the owner of Backyard Eden, I've put together a garden program specifically with churches in mind. My offer is to install an effective, beautiful, bountiful garden for your church along with a customizable seed kit and planting schedule to take out all of the guesswork. It'd be an honor to help you lead the community by building your very own Backyard Eden.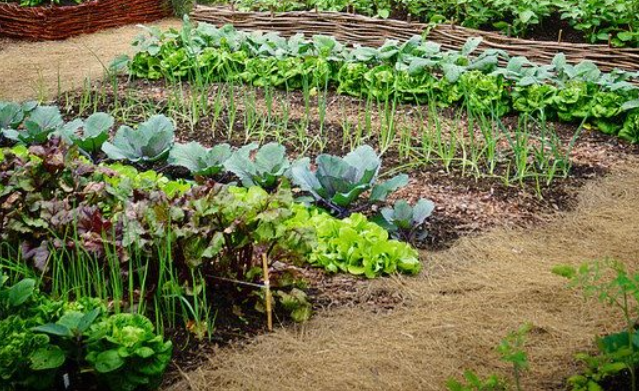 I guess that's what happens when a philosophising author takes a crack at designing a poster – it turns into something that more closely resembles a motivational speech… But I can't help it! It's in my passionate nature to get to the heart of the issue. I've noticed that this can get lost in translation. For example, sometimes when I say that this has been a great year, my enthusiasm gets internalized as a kind of forced idealism. People hear my passion as an optimistic half-truth… but this isn't the case. I'm speaking right down to the core. I fully believe it when I say it; what's been happening lately is a blessing. We're learning from stressors, and waking up to the authentic, transparent version of reality. What follows is a more honorable existence. For our diligence in pursuing the truth, what a breath of fresh air this whole process has been. Now, the authenticity is exhaling out into all sorts of realms. On the financial side, since marketplaces are driven by demand, the moral fabric of the vendor is woven by the thread of the vendee: with enough authenticity, moral buyers make for moral sellers. The two are inherently connected. Since a core part of the Beartarian ethic is to aim for moral truth, and since the world is waking up to the reality that moral living is important, right now we have the best opportunity to enjoy the process of building an honorable business. And what other kind of business would you want to be apart of anyhow? Given everything that's gone on, we have a wonderful opportunity to weave communities, infrastructure, and supply chains together with integrity. So forget the popular opinion of the mainstream. Forget financial naysayers. And especially forget about all the spiraling despair people have expressed about economics… because right now really is the best time for business.

Much love everybody,
Jacob Telling
Website: JacobTelling.com
Beartaria Times handle: @Runnerbear
How Dare You is available on my website, online, or at your local bookstore if you phone in and order.