Leaving a Legacy
It means being willing to mend broken fences and rebuild some wells that have been long overgrown with weeds.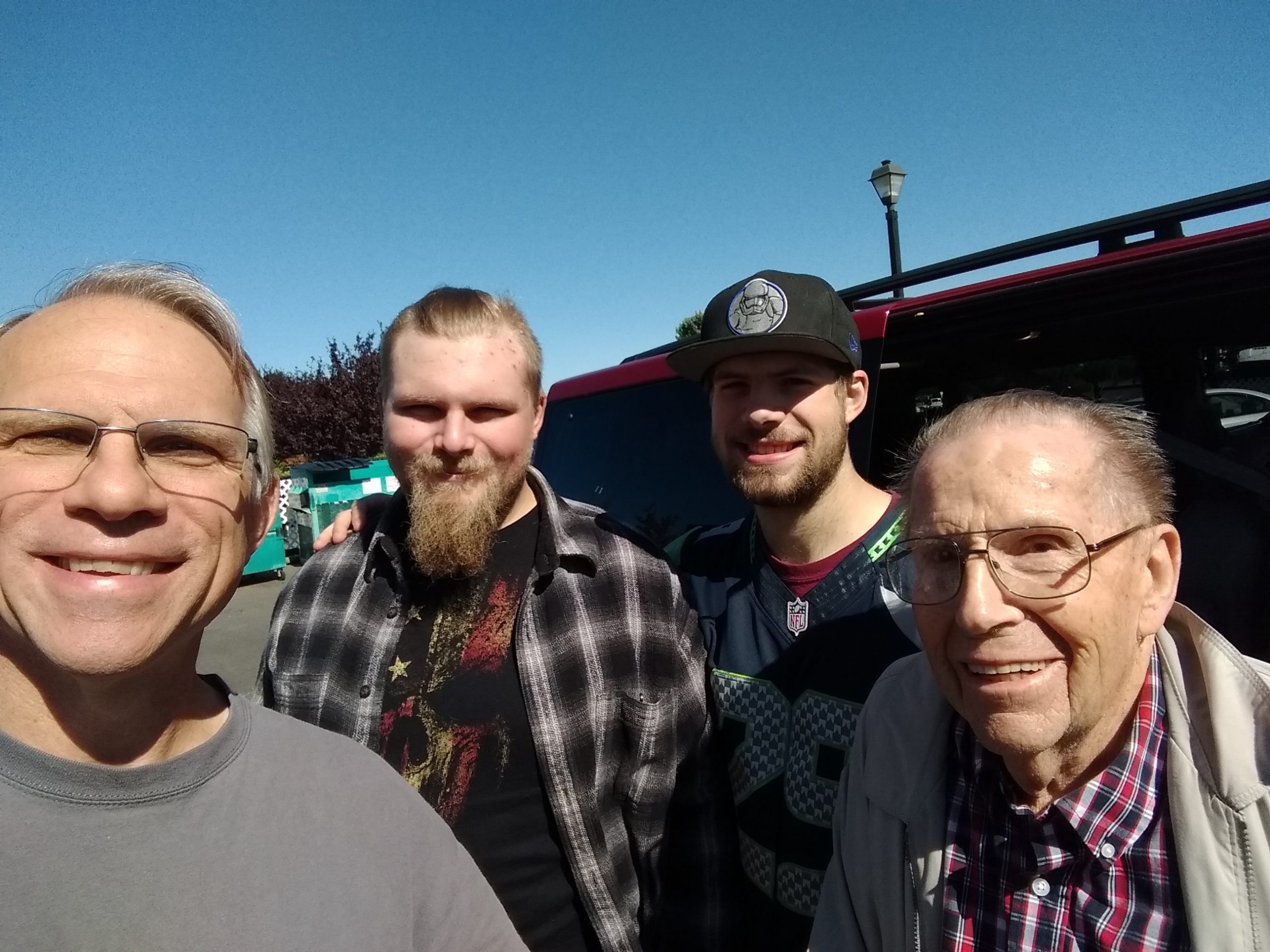 It's been said the best way to live today is to think about what you want to be remembered for after you've died. Question: When you leave this Earth, how will you be remembered?
A Tale of Two Lives
Three years ago I spoke at my Mothers memorial service after she died at 87. There were a small number in attendance made up of friends and family. Keep in mind many of her friends and family had already passed on before her. My Mother loved her God, her family, her friends and her community which she demonstrated a thousand different ways. Even on her death bed, she would share Jesus with her attendants. Mom and Dad were married for 63 years demonstrating true love and fidelity. Overall, my Mother had a lifelong positive impact on me and those she came into contact with.
35 years ago I attended the memorial service of Jack, an Elder at the church I was a member of. Jack was a retired welder who spent his time assisting and mentoring those around him. I spent many a day in Jack's home soaking up his wisdom. Jack took a close friend of mine and taught him how to weld to the point he went on to become a certified welder. He ended up opening his own heating and cooling company.
Jack's funeral was attended by nearly 300 people with standing room only in our little church building that day. The service lasted three hours as one person after another shared how Jack had supported him or her along life's way. When I left that day, I had two thoughts: First, was how grateful I was to have known Jack. Second, was I want my funeral to be the same as his knowing my life had a positive impact on those I come into contact with.
It was the deaths of those two very special people, where the desire to leave a positive legacy was born.
Leaving a Positive Legacy
When you leave the company you're currently working for, what will you be remembered for? Will you be missed or will your coworkers be happy you're gone? What about the friendships you've cultivated over the years will these friends be sad at your passing? Or will they remember all the turmoil you brought them through? What about your children? Will they miss you or will they feel as if they were robbed of not really knowing you?
My contention is most of us don't spend enough time determining the legacy we want to leave behind. Like it or not, we leave a living legacy of everyone we have ever touched for the good or the bad.
With this in mind, why not begin right now and determine to live out a positive, Godly legacy. Start with ridding yourself of anything that detracts from being a person of integrity. Get rid of habits that keep you from operating at your full capacity. Get rid of attitudes that prevent you from seeing God's will.
It means being willing to mend broken fences and rebuild some wells that have been long overgrown with weeds. It means being a servant minded person and not a hard hearted person who sees people as a meal ticket.
Sometimes leaving a positive legacy means standing against the evil being foisted upon you by politics, religion, business, media and peers. Taking a stand is not a popularity move, it's a Godly move. Standing for what is right takes courage and fearlessness and has a cost to it but one well worth paying. Even if you're the single candle in a dark cave you bring light and that's power!
Action Steps
1) Call your parents and tell them you love them or at least you are grateful they did their best to raise you and take care of you. Even if you come from a very abusive background, acknowledging them as humans will go a long way in healing your broken heart and not passing the bitterness onto your children.
2) Call three friends you haven't talked to in 6 months or longer and tell them how much you are grateful to have them as friends.
3) Listen to your co-worker or your employee the next time they are hurting and they need a shoulder to cry on. Don't pass judgment just listen.
4) Hug your children and tell them you love them and demonstrate it by spending more time with them.
5) Hug your spouse and tell them how much you love them and that you are grateful to have them as your partner and friend.
6) Thank your clients for doing business with you.
7) Be a mentor, teacher and demonstrate ethics in all you do.
8) Stop procrastinating and launch that long dreamed about venture.
9) Stop the pity party and get on with life before it passes you by.
10) Don't give into tyrants, but resist them.
11) Create an A-Team of trustworthy friends who will have your back
If you apply some of these ideas and add your own, I know for certain you will leave a positive legacy and be fondly remembered at your funeral.
Here's to leaving a positive legacy.
Steve Johann
P.S. Feel free to email me how this article impacted you and the results of your actions after reading it. Contact me at www.stevejohann.com and use the contact form. You can also find my work on my YouTube channel under Steve Johann and soon other digital outlets.
About: Steve Johann is a follower of Jesus, father of 3 God fearing sons and husband of their beautiful mother of 30 plus years. He operates Steve Johann Productions, has been Podcasting since 2007 his show is www.horsepowerchromeandrust.podomatic.com lastly he is passionate about educating, inspiring and motivating people through his God based teaching and writing.
A Recipe from the Kitchen of Big Sage Bear
It turns out sourdough starter discard makes for a delicious tempura-style batter! Crispy outside, not heavy or too greasy, just wonderful.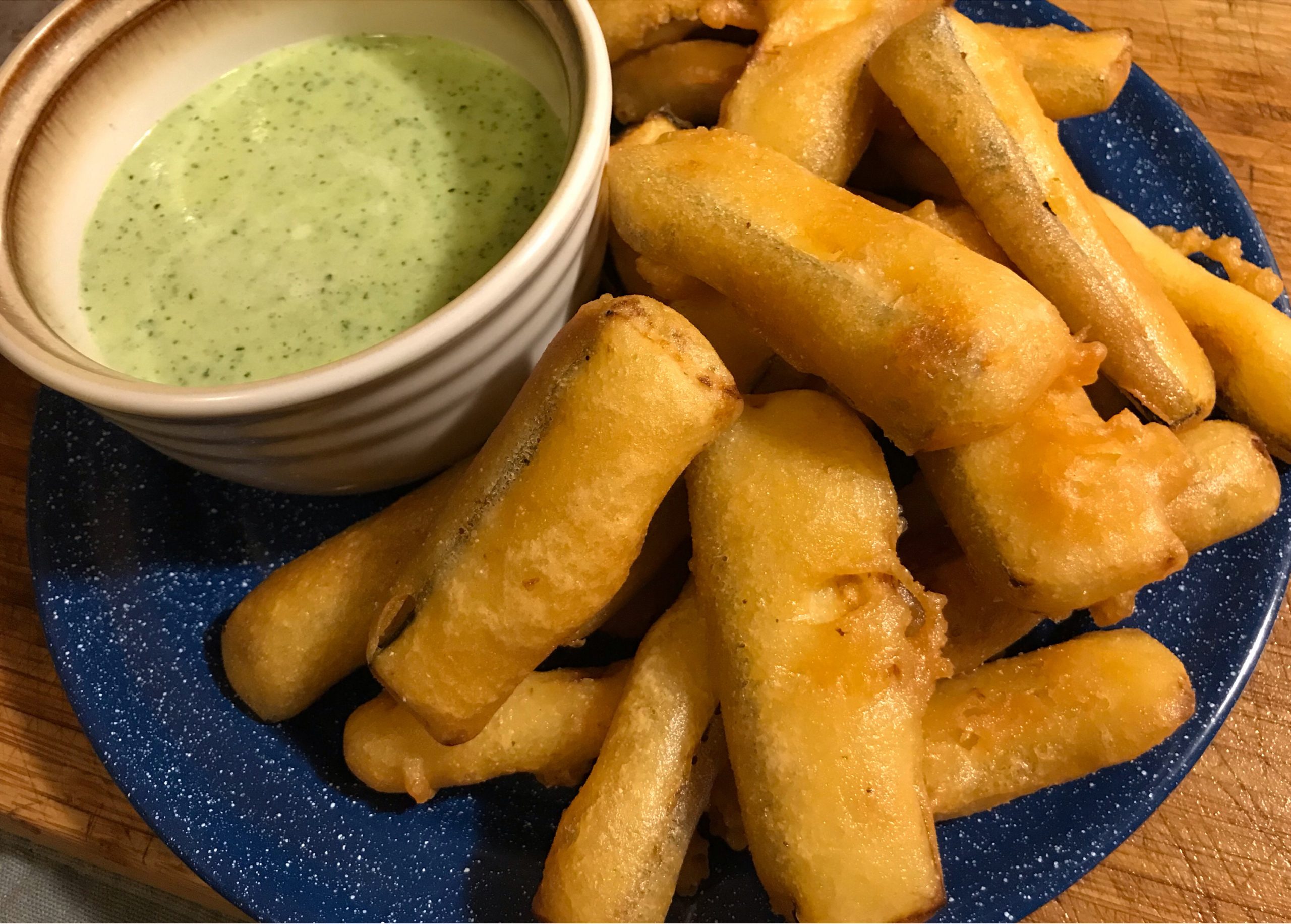 Sourdough Starter Tempura Style Zucchini Sticks & "Ranch" Dip
Hungry for some junk food but want to skip the "junk" part? Are you looking for another way to use the discard from that sourdough starter you've been cultivating? Or do you just plain have WAY too much zucchini? 'Tis the season, I know! Well, you're in for a treat! Sourdough starter tempura-style zucchini sticks and "ranch" dip made from pureed zucchini. I got you!
It turns out sourdough starter discard makes for a delicious tempura-style batter! Crispy outside, not heavy or too greasy, just wonderful. Just add the following to your discard to make the batter: a little bit of baking soda to get a bit of fizz and a generous pinch of salt for taste—Preheat a deep-sided pot with a couple of inches of frying fat or oil up to 360 degrees. As for what fat to use, Lard, as ya'll know, is, of course, my pick! Use a deep fry or candy thermometer clipped to the side of your pot to monitor your fat's temperature and avoid burning or smoking. Coat your zucchini sticks in the batter, then gently drop the pieces into your pot, turning a time or two if needed. Take them out when you see that gorgeous golden brown, which should only take a couple of minutes.
For the dip, I improvised a tad. I read that pureed zucchini could be used instead of dairy in baked goods. So, I wondered if I could turn it into a mock "ranch" dip in the same way. That's a big 'ole YES! 
I added the following to a medium-ish pureed zucchini (I left the skin on hence the greenish tint, but you could peel if you wanted): Buttermilk powder, lemon juice, salt, garlic, parsley. Tasting and adding more as I went if needed. Dill would be another great option, and I didn't have any at that moment. It definitely did the finger-licking trick as a stand-in "ranch" dip, and now I'm thinking I can make any number of creamy dipping sauces with pureed zucchini and the right spices..we shall see! There's always room for experimentation in the kitchen, and I do love it when a good "use what ya got" recipe turns out!
Enjoy!
– Big Sage Bear
BTA: @amelia.ameliorate
From the Bookshelf of Mr. Permie Bear…
Each of these books has brought information of perspective that continues to bring us value on our farm and homestead.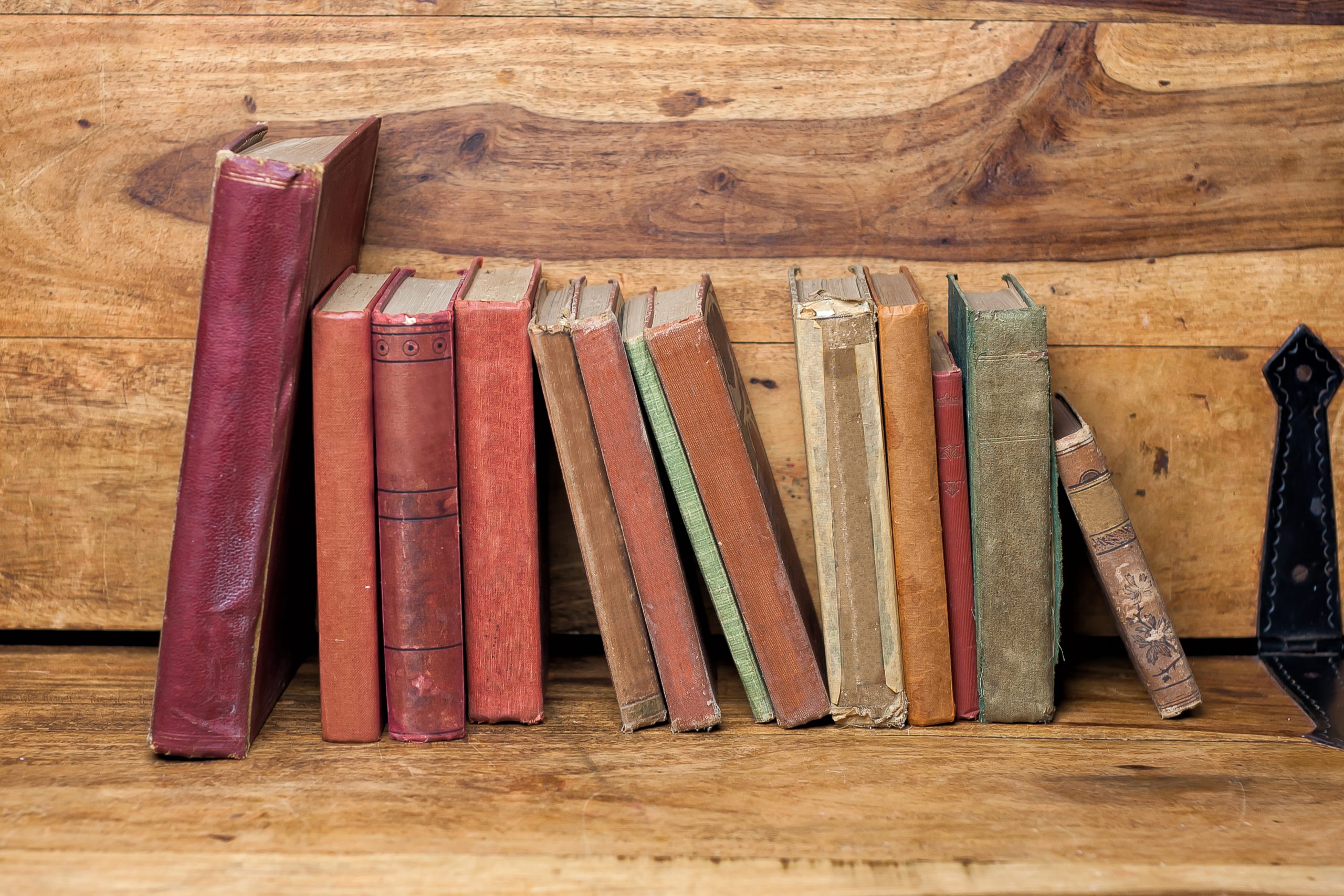 This is a sampling of what I consider some of the most valuable books on my shelf. Each of these books has brought information of perspective that continues to bring us value on our farm and homestead. The only order I have given them is to separate the more advanced books so that people just beginning their adventure don't unknowingly spend much money on something they will have a hard time applying.
Basic List:
| | |
| --- | --- |
| Title and Author | Why I like it |
| Gaia's Garden by Toby Hemenway | Classic, home-scale permaculture book. It helps give you a simplified guide to the permaculture design process and principles while giving you actionable steps. It has several reference tables for later when you are getting busy. |
| Carrots Love Tomatoes by Louise Riotte | A great all-around guide to companion planting to help you find plants that work well together and avoid ones that don't. |
| The Family Cow by Dirk van Loon | Many consider this the definitive first book and resource on your journey to dairy cow bliss. It doesn't cover every possible thing that can come up, but you will get your feet under you to have success with your cow. |
| The River Cottage Curing & Smoking Handbook by Steven Lamb | Ok, I haven't read this cover to cover yet, but we did refer to it when making prosciutto, and this book comes highly recommended by Brandon Sheard of Farmstead Meatsmith, and I trust his opinion. |
| The Art of Natural Cheesemaking by David Asher | Our favorite cheesemaking book because it focuses on what you can do with natural ingredients and processes that our ancestors would have had. I have yet to see a recipe needing the thermophilic culture. Instead, you will find your supplies to include things like kefir, whey, or lemon juice. |
| Duck, Duck, Goose by Hank Shaw | I think most homesteads need ducks. But what do you do when you have too many males, and they go to freezer camp? This book came highly recommended to us when we decided we could take or leave duck meat. Friends don't let friends eat mediocre duck recipes. |
| Polyface Designs by Joel Salatin and Chris Slattery | I couldn't decide whether this was advanced or not; after all, this isn't a cheap book. After thinking about it, I think it belongs on the basic list to help you avoid some design errors when putting your infrastructure together. These are not the only designs that work; this is a solid place to start for all kinds of things. There's always room to innovate, though, should you be so inclined. |
| Living with Pigs by Chuck Wooster | Definitely not the most in-depth book on pig keeping, and there are things I wish the author talked about that he did not, but we successfully raised pigs our first time after reading this book. It's an enjoyable read, too, not a textbook. |
| You Can Farm by Joel Salatin | Whether you intend to farm for profit or not, Joel lays out many principles that apply to running a good farm. If you ever plan to sell a product, I highly recommend this. If you don't know, he is one of the most successful smallish farmers. |
| Pastured Poultry Profits by Joel Salatin | This book is specific to raising meat birds for sale and includes chickens. Pretty dang close to everything you need to know to be successful on just about any scale any of us are likely to do. |
| Salad Bar Beef by Joel Salatin | This is all about… you guessed it, running a 5-acre orchard! Just kidding. Obviously, about beef. He introduces you to the world of managed intensive grazing, low-input farming, and all kinds of good stuff. |
| No Risk Ranching by Greg Judy | Another great resource concerning rotational grazing and pasture management, Greg has quite the track record going from losing the family farm to owning many and leasing thousands of acres without owning the cows. He goes into detail on his business model. I have not done that part, but he has solid advice for pasture management. He also has fantastically hilarious and inspiring stories. |
| Come Back Farms by Greg Judy | In the follow-up to No Risk Ranching, Greg goes into more detail and tries to cover things he either didn't know at the time or didn't explain very well. Please don't get this one without the first one; its value will be limited without foundation. |
| The Winter Harvest Handbook by Eliot Coleman | My favorite gardening author. This one focuses specifically on low-input techniques to maximize your growing season by harvesting all winter long. He is in Maine. If he can do it, it's possible almost anywhere. |
| Four Season Harvest by Eliot Coleman | Great for the small farmer and home gardener alike. Eliot lays out the foundation for year-round growth. He's all about low input and is one of the pioneers here in America when it comes to that. Did I mention he is my favorite garden author? |
| The Complete Guide to Saving Seeds by Robert Gough and Cheryl Moore-Gough | A solid book on saving seeds. It includes all kinds of veggies, herbs, flowers, trees, etc. Not absolutely everything I want to know, but I am a data nerd, and this is a pretty solid resource all around. |
| The Small-Scale Poultry Flock by Harvey Ussery | Harvey is a chicken legend. This book will give you everything you could hope for regarding chickens (primarily laying hens, but he does talk meat, too)—my favorite chicken book. |
| Grow Fruit by Alan Buckingham | I bought this at Lowe's on a whim. Glad that I did! It gives you a solid foundation on every fruit you could imagine and includes pruning time and how-to, recommended varieties, and what can go wrong. |
| Living with Sheep by Chuck Wooster | Chuck is at it again, this time with sheep. As with pigs, not an absolutely comprehensive guide that will tell you every possible thing you need to know, but you probably won't kill your first sheep either (at least on accident, he does talk about butchering). It definitely gets you going in the right direction as a newbie. Couple this with Greg Judy's info on multispecies grazing, and now you've got something! |
| The Resilient Farm and Homestead by Ben Falk | Ben is awesome. This book is another intro to permaculture-type book that takes you through the basic design process, but Ben has a really unique perspective on things that I appreciate. He might be wrong on the climate change thing, but his points as to what to do in general are spot on. The man grows his own rice in Vermont. How can you not want to read it? |
| Sepp Holzer's Permaculture by Sepp Holzer | Classic intro to permaculture book. Sepp practiced permaculture before he knew what it was and possibly before it had even been defined. He grows fruit at elevations they told him were impossible—an excellent read for any homesteader, especially those with steep land and challenging conditions. |
| The Self Sufficient Life and How to Live it by John Seymour | This was the first all-around homesteading book I got, and still my favorite. John covers just about every subject you can imagine, from growing vegetables to metalworking. Are you going to be proficient at everything he discusses by reading this? No. But you will have a basic knowledge that will help you get started and quickly learn more as you discover what you are interested in pursuing. He even gives ideas on how he would lay out an urban garden, a 1-acre, and a 5-acre homestead. |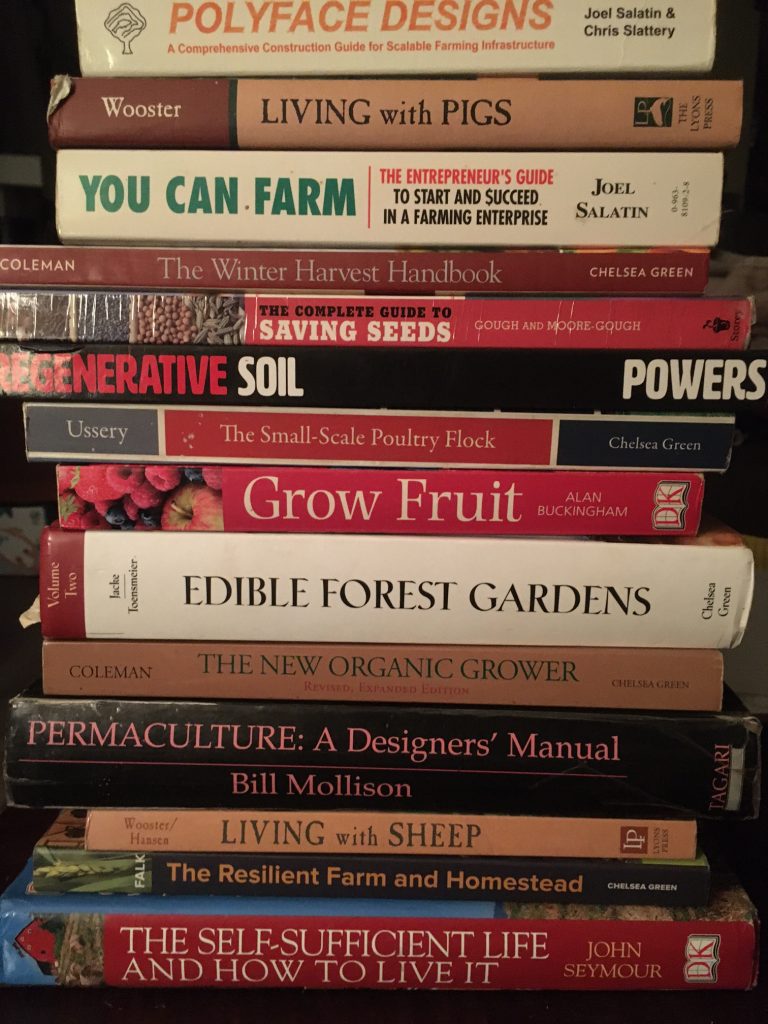 Advanced list:
| | |
| --- | --- |
| Title and Author | Why I like it |
| Permaculture: A Designers' Manual by Bill Mollison | This is the book. The most in-depth permaculture design book that I am aware of. This book is the foundation of nearly every course one could take to become a permaculture designer. This is a textbook that reads like one most of the time. The depth and breadth of information in this book about every aspect of human needs is staggering. |
| The New Organic Grower by Eliot Coleman | Look! He made the advanced list too! I almost put this on the basic list but decided on advanced because it is primarily geared toward those who want to grow vegetables as their source of income. However, so much of it is still applicable to home gardeners as well. |
| Edible Forest Gardens by Dave Jacke with Eric Toensmeier | So you want a forest garden? Do you want a 2 volume set that will give you way more information than you could ever possibly remember? Are you a data nerd wanting to know what root pattern just about any tree has, its growth habit, and its attributes that may be of use? Then this book is for you! It goes over the design theory in volume 1. Volume 2 is the process and a terrific resource with tons and tons of charts. This would be my go-to resource if you wanted to design a really well-put-together forest garden or especially if you wanted/needed to design one professionally. |
| Regenerative Soil by Matt Powers | This book blows my soil nerd mind. Just about every nutrient cycle you can imagine is explained. About every physical, chemical, or biological soil attribute you could be curious about. After reading this book, you'd be well on your way to being an expert in soil. The best part is the nearly 100 pages of solutions. How to address all kinds of problems, make your own inoculants and fertilizers, and more. Matt Powers has a gift for assembling vast amounts of information and making it understandable and actionable. Highly recommend it if you want to take your soil to the next level. |
| The Forest Garden Greenhouse by Jerome Osentowski | Jerome has a tropical greenhouse at 7800' in the Rockies of Colorado and only has to heat it 18 days a year. What's your excuse? Got some money and want to go greenhouse crazy? Incredible resource and very inspirational. So many possibilities. |
| Restoration Agriculture by Mark Shepard | This is in the advanced list, not because it's a difficult read or full of complex concepts, but because it is precisely for farm-scale permaculture with a heavy emphasis on tree crops like chestnuts. Great read. You know you want to find out what cat and robin pruning is, don't you? |
| War and Peace by Leo Tolstoy | Because I am going to read it one day and you probably should too, if not only to say that you did because you are a legend. |
– Mr. Permie Bear
How Do I Navigate The Waters of Beartaria Times As A Single?
After receiving feedback from other app users, I've devised a list of helpful tips for singles on the Beartaria Times App (BTA).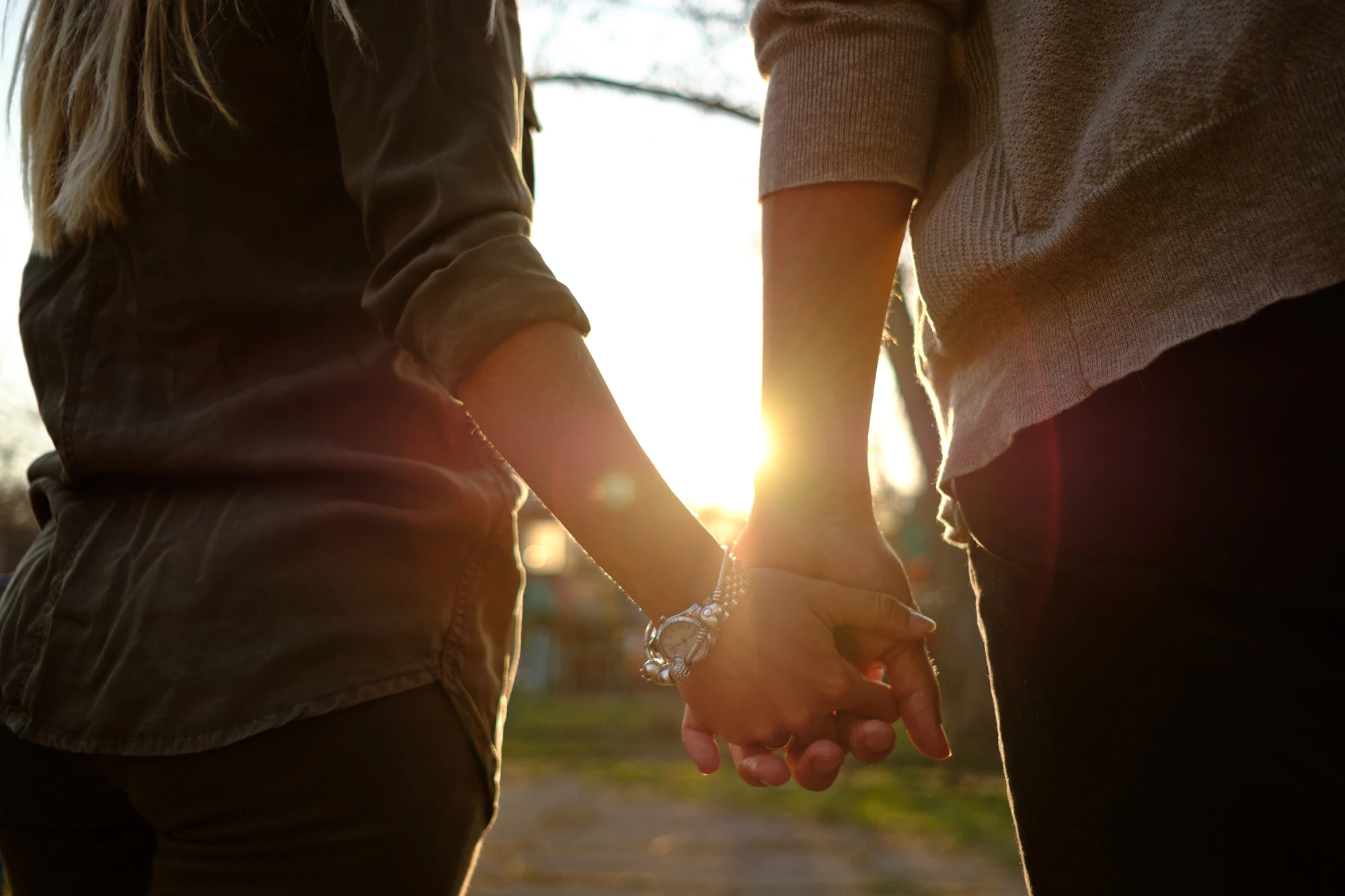 7 Tips for Singles Navigating the Beartaria Times App.
By Abigail McKinney/ QoE
First, you should know that you're not alone. After receiving feedback from other app users, I've devised a list of helpful tips for singles on the Beartaria Times App (BTA). We hope you make the most of this and other articles in the name of overcoming and planting seeds.
1. Always Connect or Follow
See someone who strikes your fancy or at least has you intrigued? If you don't follow or request to connect with them (i.e., friend request), you may never see that person again. Each Group thread features a limited number of the most current posts. That means that if you go back two days later, scrolling through to find that one post, it may have already disappeared from that group's feed. That post now exists only on that person's profile. Then what? Will you remember their username or perhaps a hashtag they used? Maybe, but you don't want to chance it.
2. Use Hashtags
Hashtags are the best way for someone to find you based on the gist of a post you've made. So maybe they don't remember your bear name or user name, but they might just remember that post about knives, books, or a particular dish you made. You can use a general or specific hashtag, like #baking or #chickenpotpie, or even #singles. You've now significantly increased the chances that your admirer will find you.
3. Be Active / Make Posts
Being active is the next best way for people to find you. There are TONS of great catches here on the BTA, but no one will know you exist if you're not posting. And, even if you burn up the comments and like up a storm—but you're not posting—you are missing the opportunity to present yourself with context.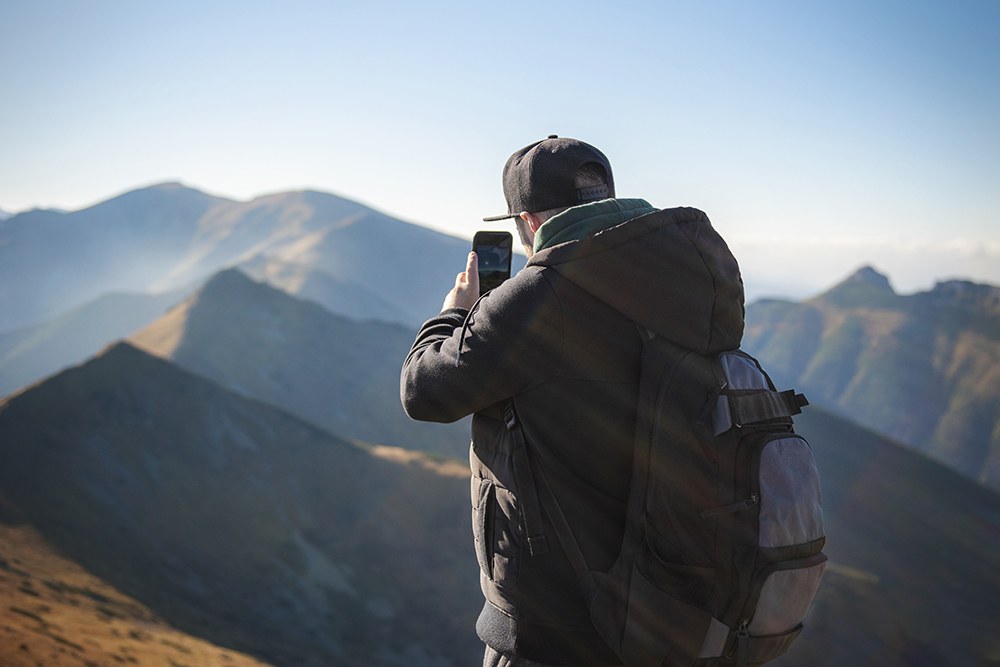 4. Join the Singles Group and Scroll through the Member List
Every location and category group shows a member list. That means that you can scroll through membership lists to peruse profile photos. You should join the Singles Group to appear on that group's member list.
5. Post in Different Threads
Sometimes the Singles Group can be daunting; it's where our expectations, hopes, and past pain come into play. But, there's too much good in this beartarian community to let past failures or fear of rejection stop you from shining your light. Not feeling quite ready to "put yourself out there?" Stay active in other categories and location groups. But you need to ensure that people know that you are, in fact, single.
6. List Yourself as Single, and Be Sure You Have A Picture of Your Face
When that future Mr. or Mrs. Bear makes it over to your page, after checking out your #gardening post, make sure that you've listed yourself as single on your profile and have at least one post with a picture of your face. Let's face it; your face is the persona of your being. You can discover in seconds whether or not you are attracted to someone by viewing their face. (This is why contact goes up exponentially.) When that special someone scrolls your page, they will be delighted to find this combo: single + your face.
Optional:
8. Use the Block Function If Someone Is Bothering You
The BTA crew is busy at work, crushing. They've given you your personal ban hammer to help you avoid being harassed by gammas and such. If someone is bothering you, block them! Don't just abandon ship. We want to keep the good energy flowing and overcome obstacles to building our community.
7. Be Positive & Open
The things that you came to Beartaria Times for are here! Have faith. You are exactly where you need to be. Trust your instincts. Be open enough to get to know people, and if there's no real compatibility or chemistry, let it go without placing blame. Do your best to communicate your thoughts and needs openly. Then, you won't have to wonder when it is right—it will be clear.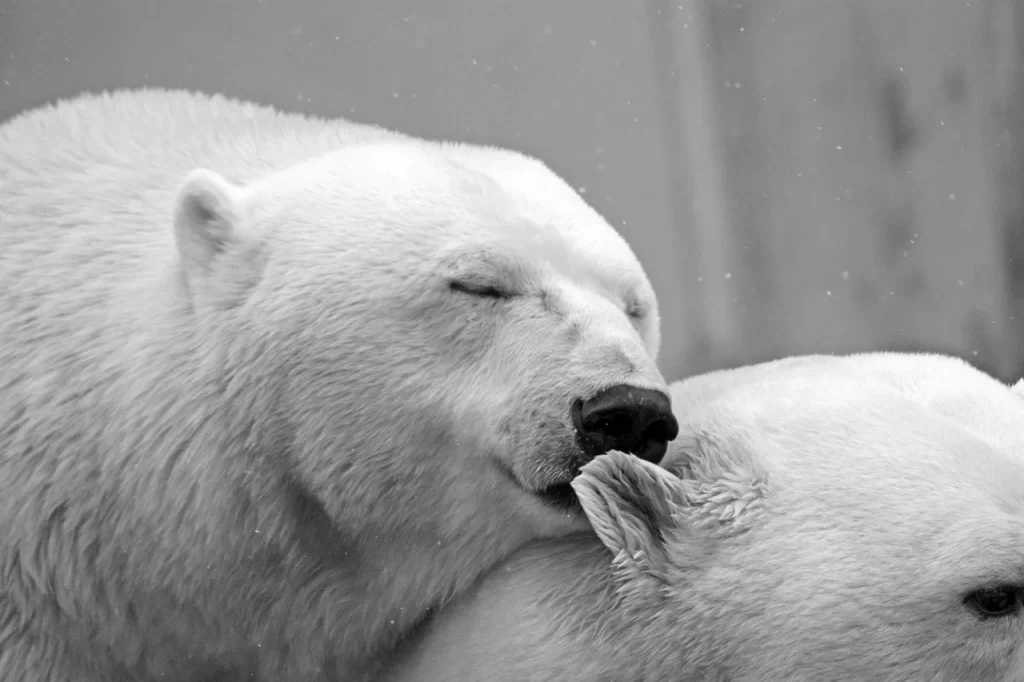 We're called to be fruitful and multiply. You can plant seeds through these eight actions, which express your cooperation with the process. Allow patience for yourself and others. Water your steps with care and consideration. Till out unnecessary expectations and worries. And watch your life bloom with family and in the community.
God sets the lonely in families. He brings out those who are bound with singing, but the rebellious dwell in a sun-scorched land. – Psalm 68:6