How Lettuce Saved This Bear's Car Battery
Planting seeds can grow friendships.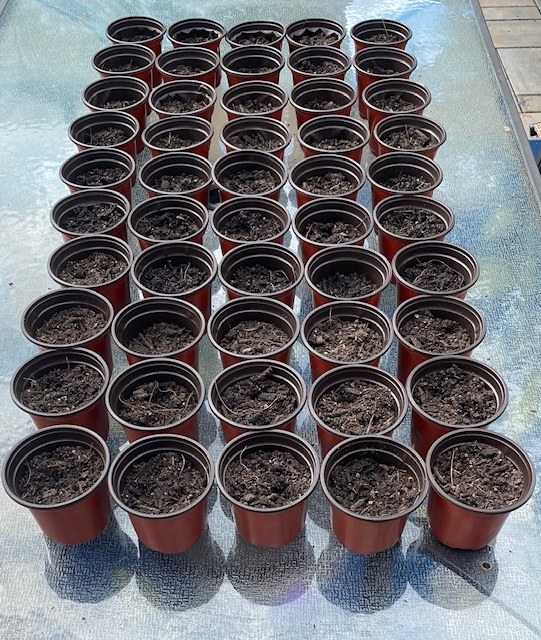 I planted lettuce seeds in 50 containers, grew them, gave lettuce to each of my neighbors, and it saved me hundreds of dollars.
What are the consequences of mass human isolation? What happens when people stop interacting? Lose the subtleties and warmth of face-to-face human interaction? What happens when neighbors are turned into viruses? "Should we spark some racial tension?"
2020 marks the most elaborate experiment in fear and isolation in human history. What are the psychological repercussions of that? What impact does isolating people in a state of despair have on the human soul? Has anyone stopped to consider the psychological damage that results from keeping children isolated in a state of fear for extended periods of time?
In many ways 2020 can be defined as the year that revealed how disconnected people already were from one another. One word, "pandemic," and neighbors morphed into viruses. People isolated in their homes for months. When they do leave, they and everyone around them are in concealment. You couldn't see them smile at you even if they did. People already didn't know their neighbors and just like that they were turned into ticking time bombs of imminent demise.
We watched as people raided grocery stores. "100 rolls of toilet paper for me and none for anyone else." Look how quickly society devolved into a fear filled pit of isolated despair. Am I going to get sick? Will we have food? Will I lose my job? Will I lose my house? Will I lose my rights? Be injected with chemicals?
The one commonality in all these fears is isolation. Why do people fear they will be unable to get a job if they are laid off? Why do people fear they will go hungry? Or that their town will be overrun with rioters?
People point out all the problems in the world but fail to do the little things to improve their world. We have all heard grandparents talk about a time when people didn't lock their doors. We think that has been taken from us, but we can only take it from ourselves. Community takes effort and trust takes time. What have you done to adjust to the present world?
Last week I had an idea, I was going to get to know my neighbors. Do something kind, unprovoked, social, in a time where all are lacking. I planted heirloom mustard cut and grow again lettuce in 50 separate containers – with the help of my son of course. A week passed, and 49 had sprouted.
I put the containers in a box and walked door to door down my block handing them out as presents. I met people that I have lived on the same block as for three years yet didn't know their names. I wasn't greeted with fear, demands to back up, or ignored, but I was blanketed with smiles and laughter. I couldn't have imagined how quickly the kind gesture would be repaid.
As it turns out one of my neighbors spends their spare time fixing clunkers and flipping them for profit. I mentioned that my car hasn't started since the week prior and I was going to have to replace the battery. He quickly replied, "no need for that, let me take a look at it." We walked across the street and back to my house and popped the hood of the car. "You don't need a new battery, let me go get my battery charger." He came back, hooked up the battery charger to my car's battery, and told me to check back in eight hours. Later that day I put my keys into the ignition, turned, and heard the sweet sound of my car engine roar.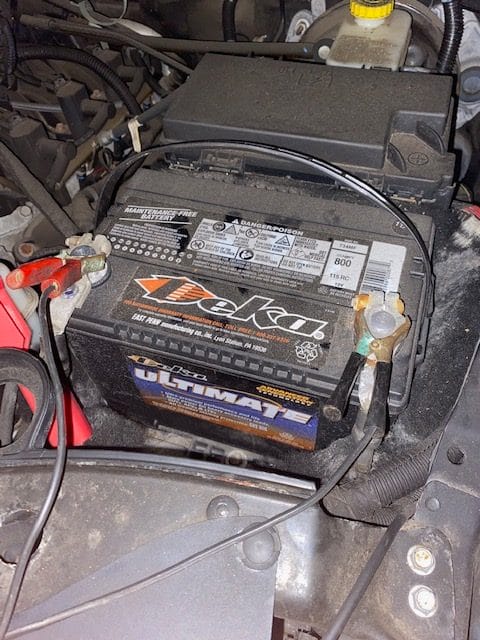 Just like that planting a seed saved me hundreds of dollars; and I'm not talking about a lettuce seed. One unprovoked act of kindness and community building sprouted a friendship. I now trust my neighbor and I'm pretty sure my neighbor trusts me.
One of the primary functions of parents is to establish the culture their children grow up in. If you don't establish the culture, outside forces will establish it for you. I don't know about you, but I'm not going to permit my child to grow up in a state of isolated fear and despair.
"You must love your neighbor as yourself"

MATTHEW 22:39
Guest Article Submitted By,
Brett Pike
Twitter: @ClassicalLearner
Instagram: @ClassicialLearnerToday
Original article published on https://classicallearner.com/,
The Béara Clann – Irish Bears July Camp Trip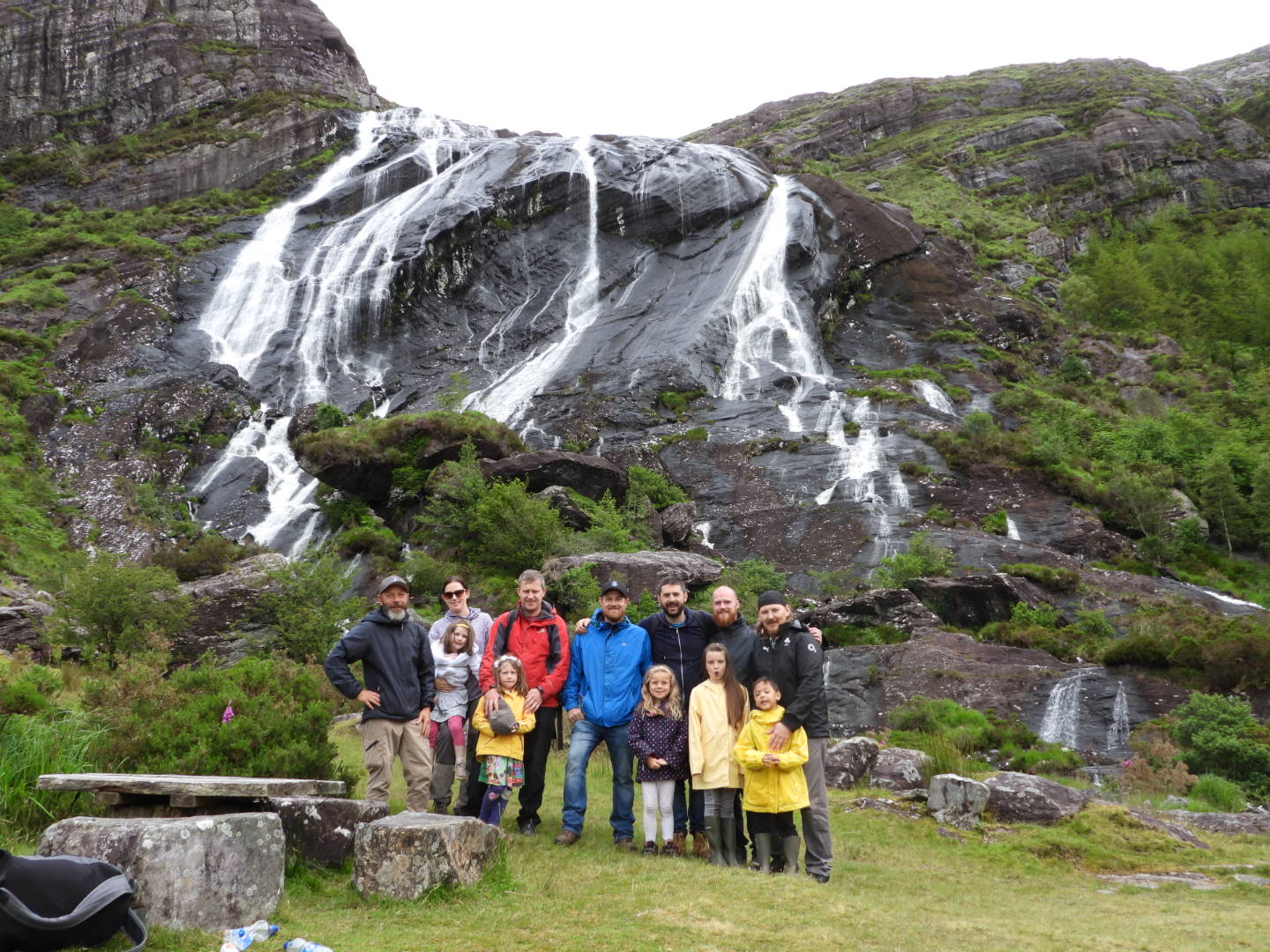 Our Story Begins
The following is an account of twenty-three legends that assembled at a campground in the Beara Peninsula of County Kerry, Ireland, in the first weekend of July 2021.  This is the story of the first Béara Clann camp trip.
Our story begins on Thursday, the first of July.  Kingdom Bear and his wife, Kerry Moma Bear, arrived at the campground to claim our corner of the camp.  Kingdom Bear, an avid camper, is also a veteran of the printing industry.  He brought with him a few surprises he'd made for the group, including a Béara Clann banner and flag.  With banner and flag in place, Kingdom Bear was ready to welcome the other members they arrived.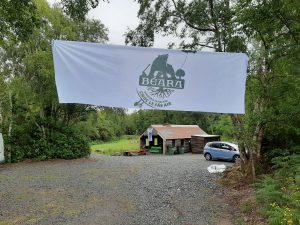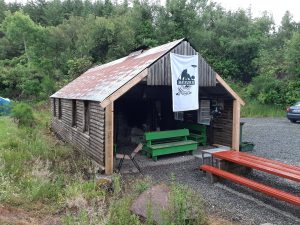 Béara Clann Assemble
Friday morning, members of the Béara Clann, the Irish Unbearables, began their journey from all corners of Ireland to the campground in County Kerry.  By the afternoon, most of the group had made their appearance.
Upon arriving, the Clansfolk were warmly greeted by the Béara banner and flag marking our little settlement.  There, we found a fire pit surrounded by tents on all sides.  Next to that, a small building for shelter from rain.
Kingdom Bear and Óbéara Bear welcomed the Friday arrivals with smiles and open arms.  Everyone joined in to help each other build their tents.  After setting up and a quick trip to a nearby village to stock up on food and supplies, everyone was settled in for the evening.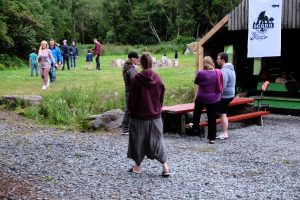 It was like old friends having a reunion, though this was the first time many of us were meeting in the real physical world that exists beyond the borders of the digital realm.  Handshakes, hugs, smiles and stories being shared were in abundance.
It was time to build a fire before nightfall.  A few bears spotted a huge broken tree limb and with teamwork, removed it from the tree with bare hands.  Then they began to break it down to smaller pieces using various saws and axes.  Everyone participated in a group effort.  As one got tired, another bear stepped up and continued the sawing.  This was also a great opportunity to teach the younger generation how to chop wood.  The Paddy Glassman Bear instructed Green Bear's sons, Strummer Bear and Pickle Bear, how to chop up some firewood.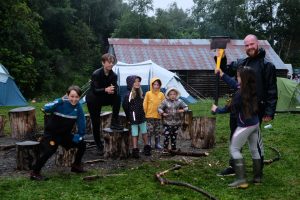 The positive vibes continued into the evening hours, as members gathered round the fire to tell stories, crack jokes and share their various interesting theories about this realm we call Earth.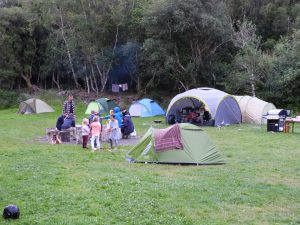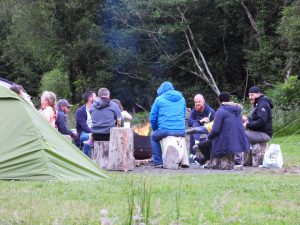 The Fellowship of the Clann
Saturday morning saw the arrival of several more members, completing our gathering of these Irish Beartarians.
That afternoon, several members embarked on a journey to hike to a hilltop where an ancient stone circle stands.  The group admired the elevated view while contemplating what the ancient people of this land had known to construct such a site.  After visiting this ancient place, some of the braver ones took a dip in the chilly waters of a nearby lake.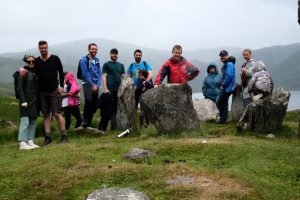 Once everyone was back at camp, the Béara Clann's Minister of Enthusiasm, Brayvy Bear, presented each of the children in the group with a gift bag.  The amazing Kingdom Bear and Kerry Moma Bear put together these lovely gift bags that included things like crayons, coloring book, bubbles and toys.  The Béara Clann children were most pleased.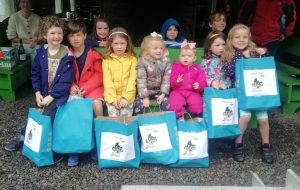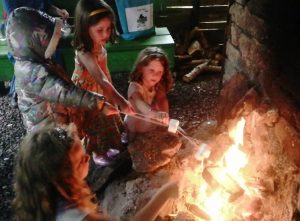 It was steadily raining that evening, so we all gathered under that nearby shelter for a dinnertime BBQ.  Spirits were high as we shared stories and crafted jokes.  There was an abundance of good cheer.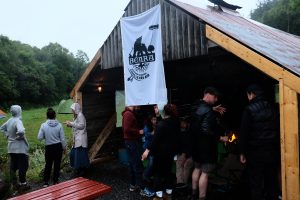 After dinner, Brayvy Bear presented all of the adults with a souvenir Béara Clann mug that he and Kingdom Bear had made for the group members.  To mark the occasion, Brayvy Bear also presented to the group a bottle of locally crafted Beara Irish Whiskey, pouring a little into each mug and proposing a toast to the Clann.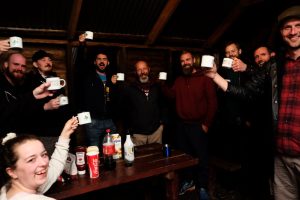 The "craic", as the Irish call it (stories, jokes and laughs), continued into the late night hours.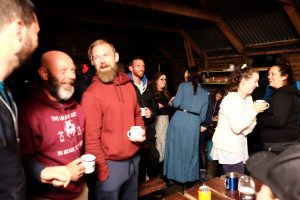 Making Our Own
Sunday morning, the group screen printed t-shirts with the Béara Clann logo.  Each member had brought with them the shirts they wanted printed.  Kingdom Bear set up a station in the shelter area to do the printing.  As mentioned earlier, he's a veteran of the printing industry, so he volunteered to man the screen printing station.  Brayvy Bear, always eager to help, stepped up to assist him.  The end result was beautiful, each member going home with a freshly printed Béara souvenir t-shirt.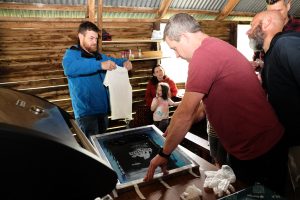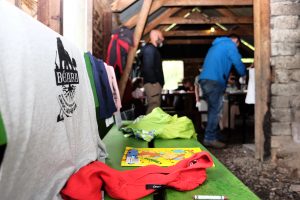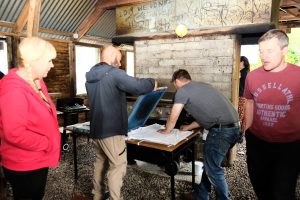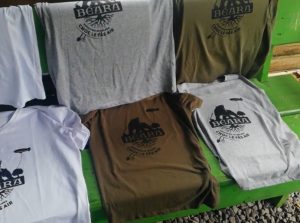 After printing t-shirts, Poppa J Bear hosted a livestream for Instagram.  The stream included a tour of the camp site and short interviews with several of the folk.  It was a great way to capture and showcase the energy of the trip.
Next, everyone gathered in front of the shelter for a group photo.  ConspiraBee Bear, an avid photographer who had been photographing the entire weekend of events captured the group photo of us.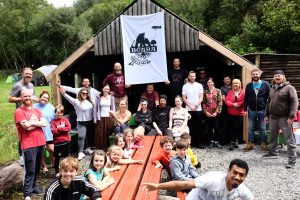 Further Exploration
Some members packed up to head home after the group photo.  The remaining members embarked on an expedition to see a famous secluded waterfall and lake not far from where we were situated.
The scenery at this location was epic, like something you would see on a postcard.  Passing through fields of sheep, you encounter the waterfall.  After a few photos were taken there, we proceeded to trek up the steep trail towards the lake.  At the lake, several in the party decided to again take a dip in the water.  The Buzz Wrecker Bear, Rua Bear, The Paddy Glassman Bear, Eire Bear and Defender Bear's girlfriend all went for a swim, those brave souls.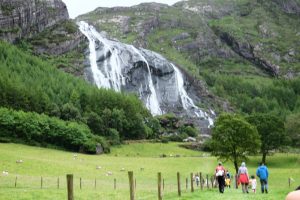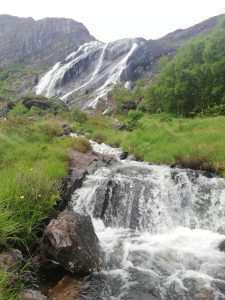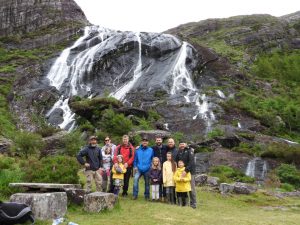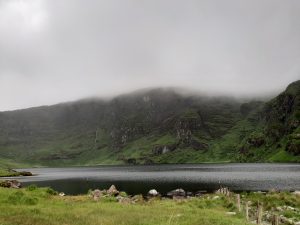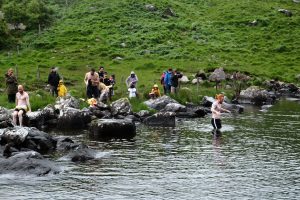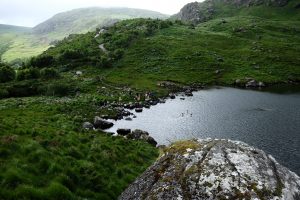 Once back at camp, the men set up a friendly axe throwing competition.  Logs were stacked for a target and the each man took turns throwing the axe.  Much fun was had, so much so that axe throwing will be a featured event at all future camp trips.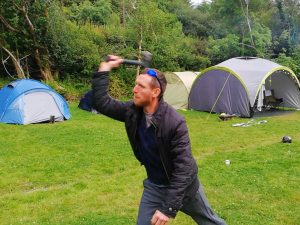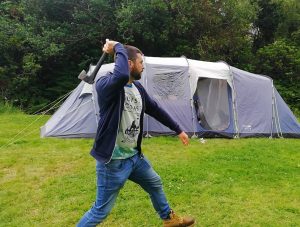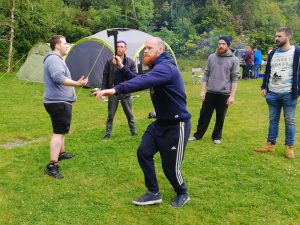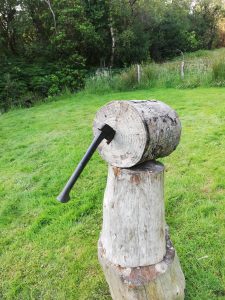 Onward to Béara!
That night, as the rain had ended, we all gathered round the fire again.  Future plans were discussed, including another camping trip, as well as the proposed formation of the Beartarian Horticultural Society.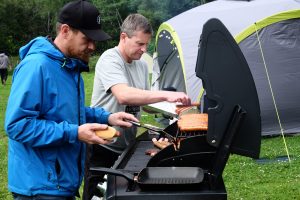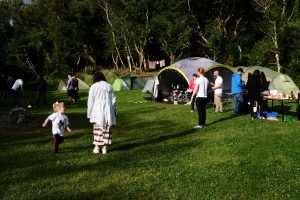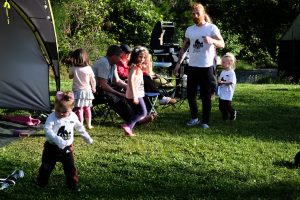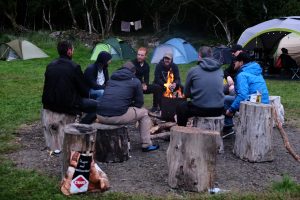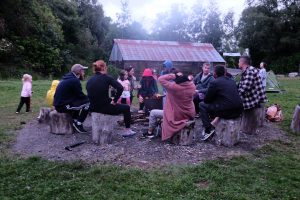 The common thread that tied this weekend camp trip together was teamwork and community building.  Each member of the Clann lending a hand to help another.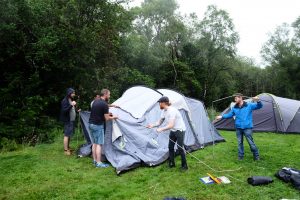 It was so good to see everyone get along so well, to see our children playing together in nature.  To watch the initially hesitant and wary wives and girlfriends go from polite conversation to genuine warmth and good natured joking, now eager to be a part of this wonderful group.  This is what community building is all about.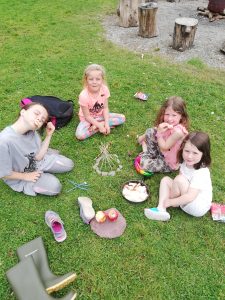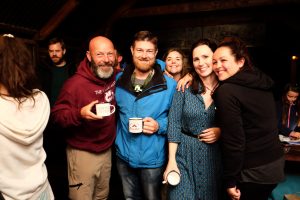 The friendships formed, friendships reinforced and memories made at this July camp trip will last a lifetime.  We, the Béara Clann of Irish Unbearables, are a young group, still growing and learning as we go, yet we show much promise of big things to come in the future!
On Monday morning, it was decided that we would all meet here again for the second weekend of August.
To be continued…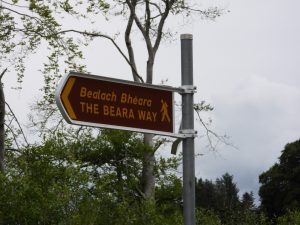 In Search of Sacha: Review
Book review by Van Allen Bear on the book In Search of Sacha, by Manuel Guzman from Lolo's art.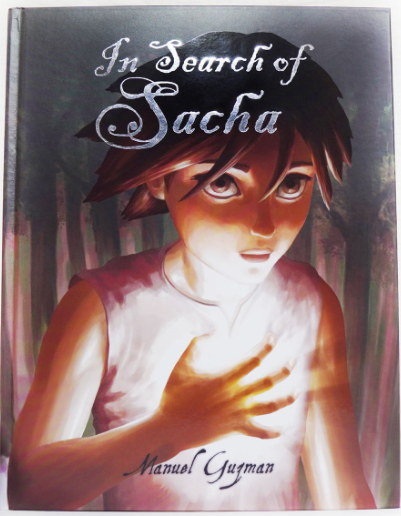 Recently I had read a book by a member of the community that was quite an enjoyable read. Many of you may know the book already, but for those like me who have read it for the first time: here is my first impressions and review.
For what I have come to understand, the author made a point to write the story in such a way that the reader is encouraged to take one, two, or three times to read through and each time draw new connections between the characters and their quest. If you haven't made it through the book already then I won't reveal too much information about the story as to do you a disservice. The summary is as follows: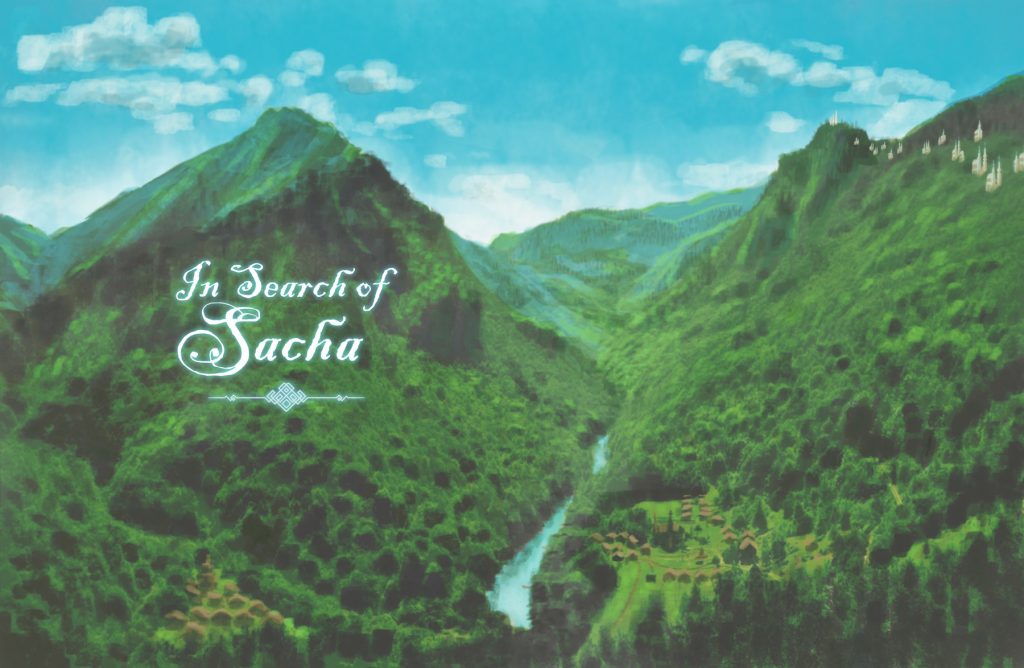 "A fully painted 80 page fantasy storybook about loving parents searching for their son in a dark forest. They are Elysia and Amar, guardians of the mountains and of Sacha. They contain a pure light within them which they have passed on to their son and can only hope it will protect him during his coming of age trials. In Search of Sacha is written and designed for all ages. Young adults as well as children and parents will find something to love from this ethereal fairy tale." – Manuel Guzman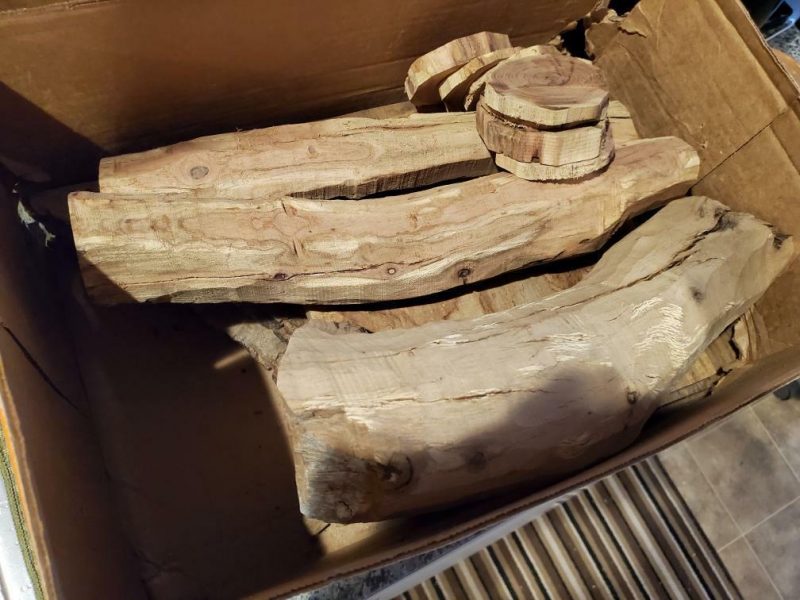 Little Bear Woodshop and I had reached an agreement, of sorts, where I send him proper currency accompanied with materials and he would use his facility to craft a pair of knives. What materials, you ask? I asked myself the same thing… If there was a knife you were going to carry with you all the time, what materials would you use? Naturally I am inclined to choose wood blanks, so I decided to take a saw to a few types of wood that were available nearby, which ended up being: mesquite, Spanish oak, cedar, and a local contact provided me with a few planks of Texan Pecan.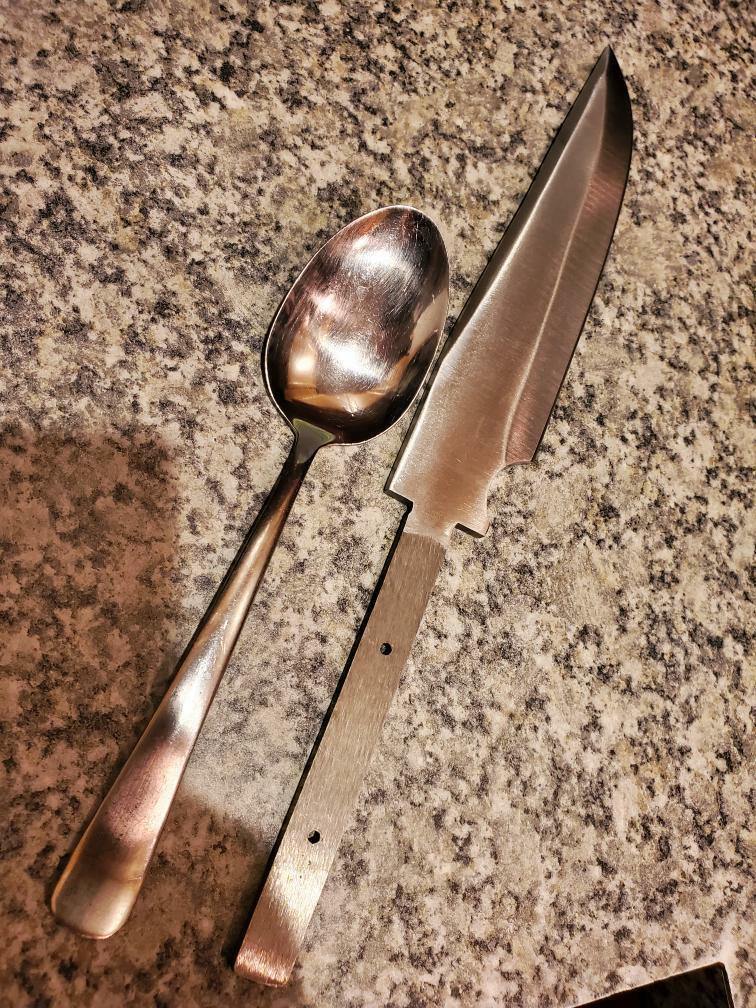 So, this was going to be quite easy, I merely send the wood to the craftsman and bark some orders. Once the materials are in his hands, then he's charged with making my cutlery. However, once showing pictures of my loot to the woodworker, I was informed that the bark had to be removed prior to both shipping and crafting. Naturally, I realized that I only had a few hours to de-bark the wood with a rotary table saw on hand. I set to it with my glasses on and table saw whirring in the garage.
The wood had been dry for quite a while, and I ran it sideways to grind off all the bark, strip by strip by strip. Curious, were these markings on the exposed hardwood beneath… what were they? Ovular and they seemed to be made of softer wood, they didn't look to me as being natural. I began cutting the wood across the diameter of the trunk when out popped a beetle the size of my thumbnail. I was fooled, thinking this wood was in tip-top shape!
"Good Heavens, what on earth is this beetle doing in my oakwood?! What corruption is this?"

surprised man, sawing wood, circa 2020
Confused and surprised, I made more and more cuts for coasters. Lo' and behold, there was another beetle that felt the sting of my rotary saw, and unfortunately had to take a very very long nap in the trashcan. The rest of the wood was untouched, for there were different cuts from different trees. Only some interesting ant-made markings marred the surfaces or the interiors of the other hardwoods.
As they were shipped out to and received by the man whom fabricates knives and things made from wood for a living, they were met with acclaim. The mesquite shall be turned into ladles, Spanish oak into spatulas, cedar into spoons, and a few planks of Texan Pecan shaped into Idaho State cutting boards. There are things to learn from this endeavor: never judge a cut of wood by it's bark. It's not that you shouldn't trust things unseen, but be prepared to slice up a couple beetles or so through your endeavors for there very well could be all sorts of insects lurking just beneath the surface.