Metaphor in the Orchard
Even with near perfect conditions and preparation, unforeseen challenges will arise.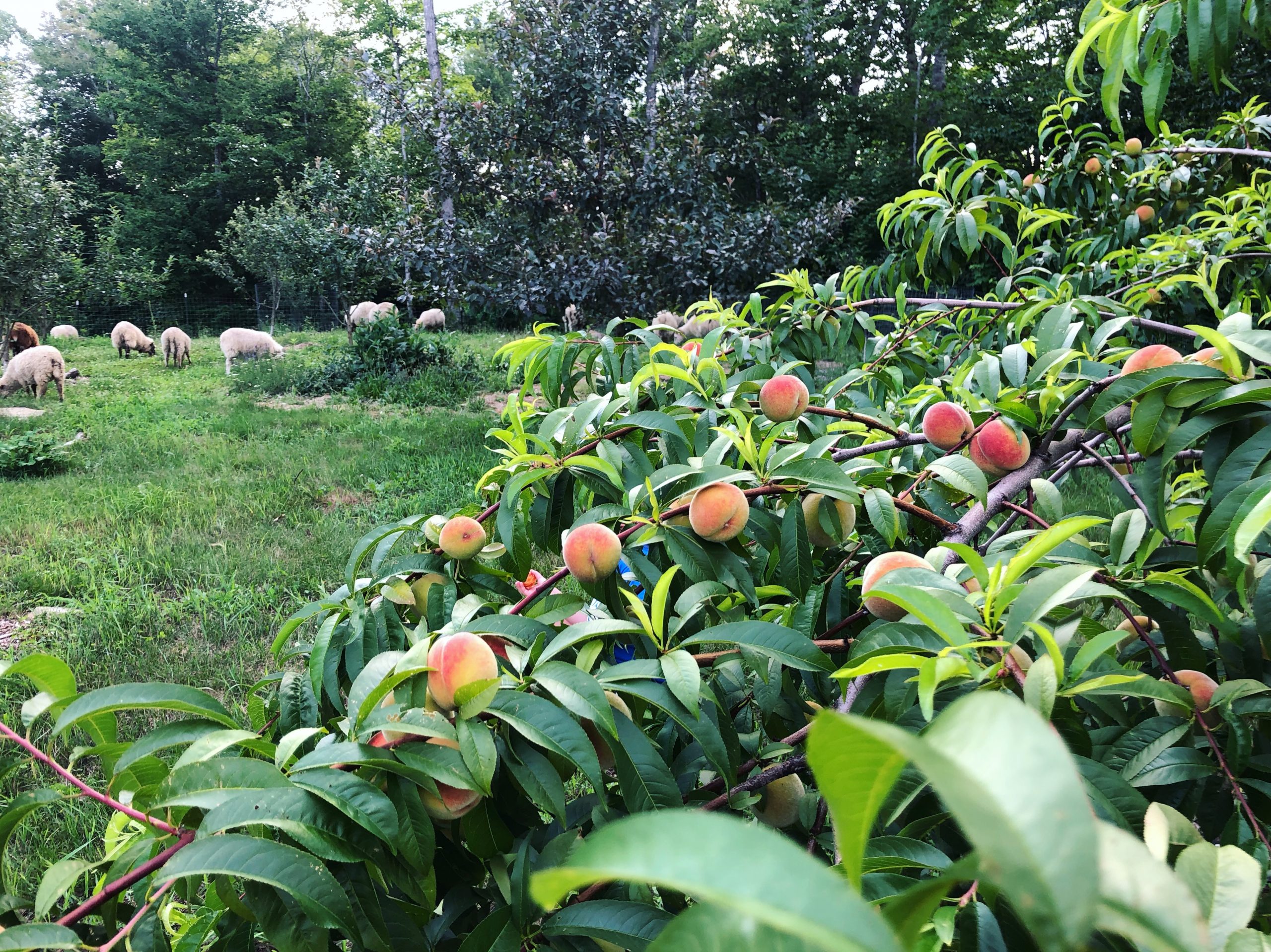 Our front "lawn" is an orchard. Apple, pear, quince, cherry and peach trees that our family started planting 4 years ago on freshly cleared, rocky Maine soil. It was dense woods full of maple, oak, beech, poplar, pine and hemlock.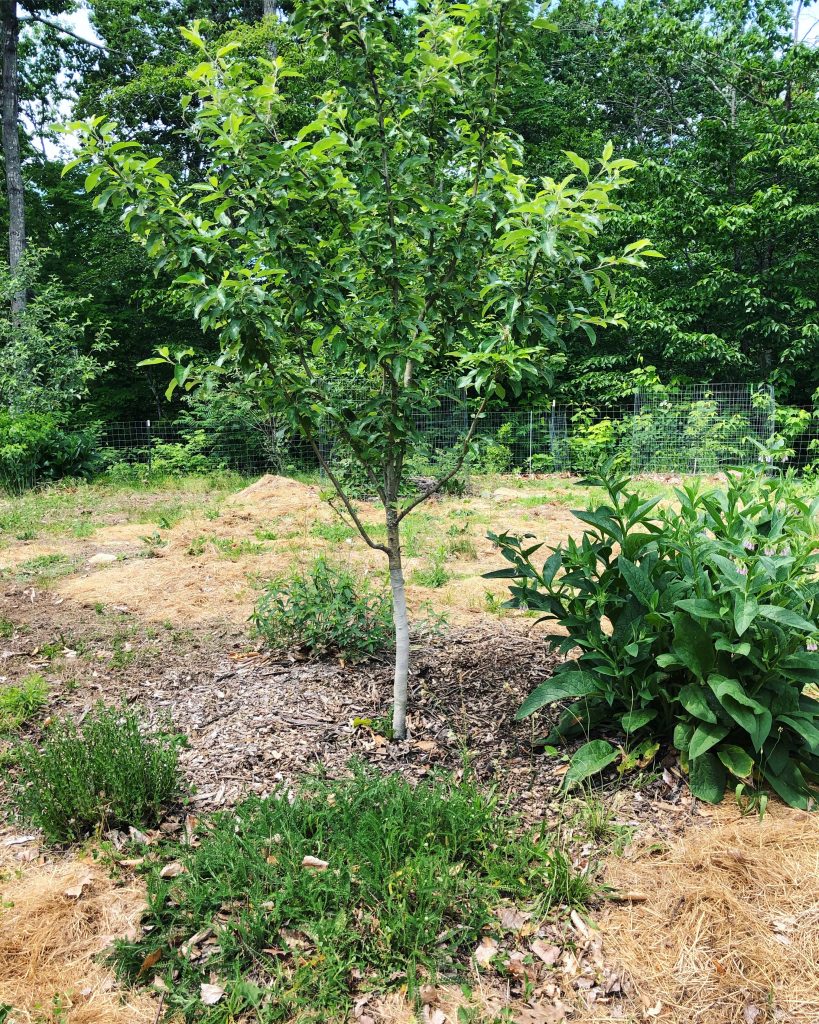 A neighbor has a business cutting trees so we rented his wood chipper to make lignin rich, ramial hardwood chips for mulching our fruit trees. The rapidly growing, spring, green budding tops (ideally a little less than one Rogan wide branches) of native hardwoods are rich in nitrogen, phosphorus, potassium, calcium, magnesium, and more! All nourishing elements that will feed a healthy, dynamic soil web, and eventually you! Mulching your fruit trees with hardwood chips provides additional benefits by keeping grass back from the trunk of the tree, some pest protection from apple Borers and of course creating a fulvic and humic acid rich humus that retains precious moisture for a heavy fruit set.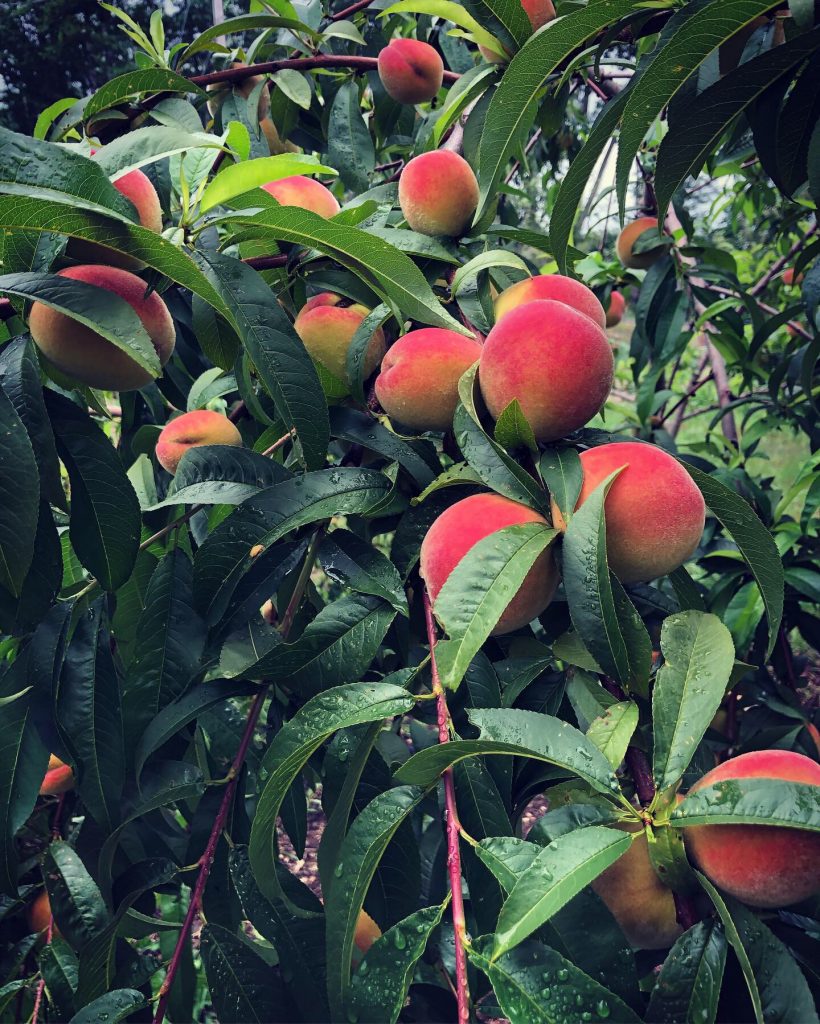 Mulching plants like Comfrey, "pest confusing" plants like Hyssop or common Tansy and beneficial insect attractors like Yarrow are great companions to plant next to fruit trees and contribute to a successful and multifunctional biodiversity. Most orchard companion plants have been used medicinally for ages for a variety of ailments. Fruit trees need our help to thrive, so if you fall from a ladder, standing on tip toes at the very top rung to reach a perfect fruit, put some Comfrey salve on it. 
Recently, it was not I who was injured, but one of my Garnet Beauty peach trees. 
I planted it as a whip in the best spot we had when it was only 8 rogans tall; Sun all day, on a knoll that has great drainage and protects from late frost, heaps of ramial wood chips, soiled hay from the sheep, chicken compost and consistent watering in dry spells. This past February, the tree was pruned and in the spring, it was covered with pink flowers that were very successfully pollinated. I ended up thinning a 5 gallon bucket of baby peaches that I then fed to the cows. It wasn't enough.
After showing off our beautiful peaches to a fellow shepherdess in the rain, the following morning homestead inspection had an emergency! The fruit was too heavy. One of the main lower branches was split in two and resting on the ground! I propped the branches up with rough cut 2x4s, filled the injury with black tree salve and then bandaged it. I think it will be ok to finish out the season, but in February I'll be pruning back some of the lower hanging branches.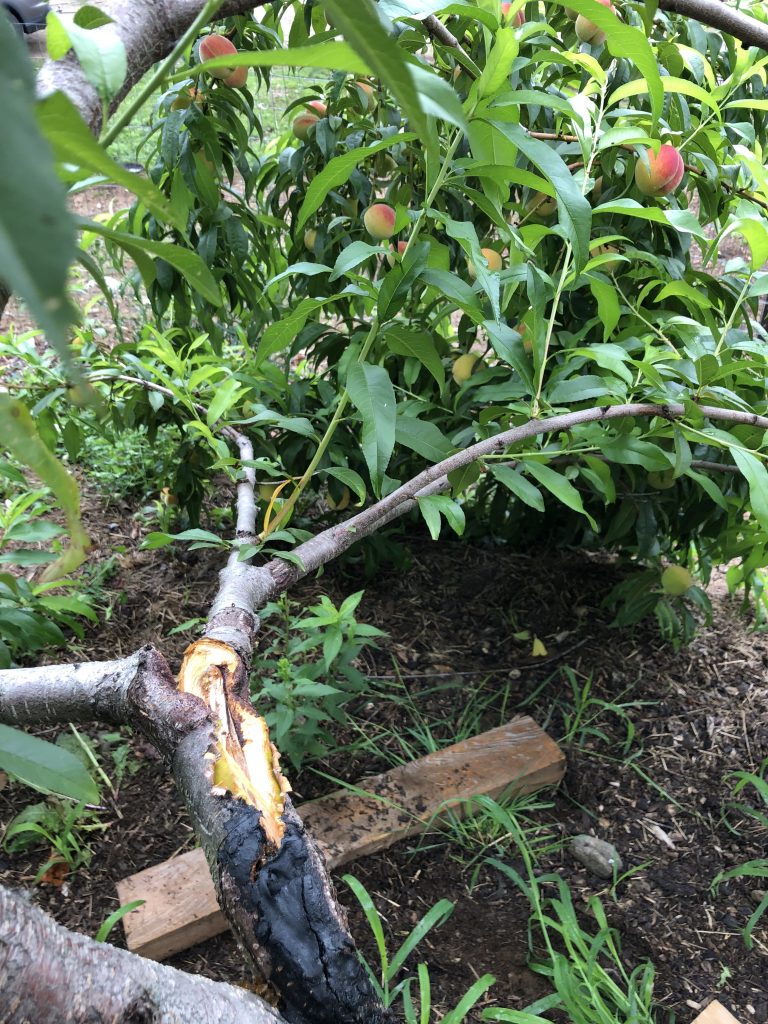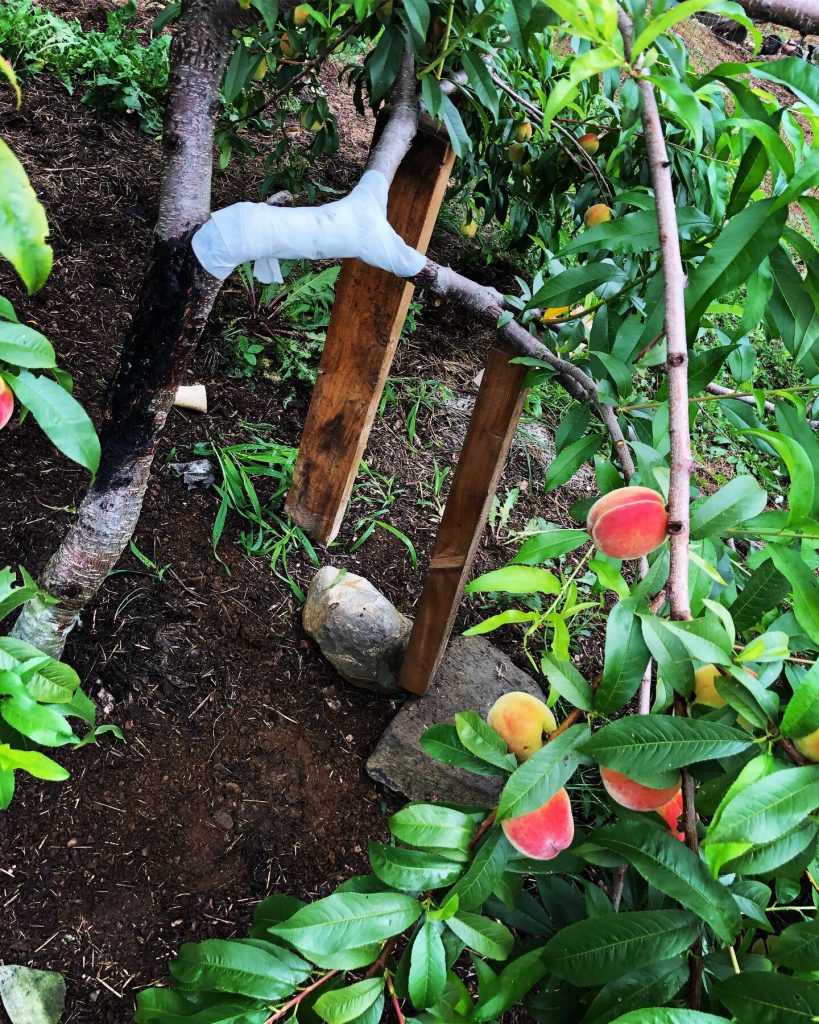 Even with near perfect conditions and preparation, unforeseen challenges will arise.Branches growing in the wrong direction must be cut and more thinning makes room for healthy, sustainable fruit while preserving the tree. Could it be that producing too much fruit, too fast can have complications? This was a reminder for me to rein in my projects and focus. 
Salt & Stone Bear 
God. Growth. Gravy. Serenity Valley Farm est. 2019 
Western Ranger Bear and I have so many ideas and things we would love to see happen here at Serenity Valley. When we talk about the future it's not just that we become self sustainable but that we are able to help the community in which we live.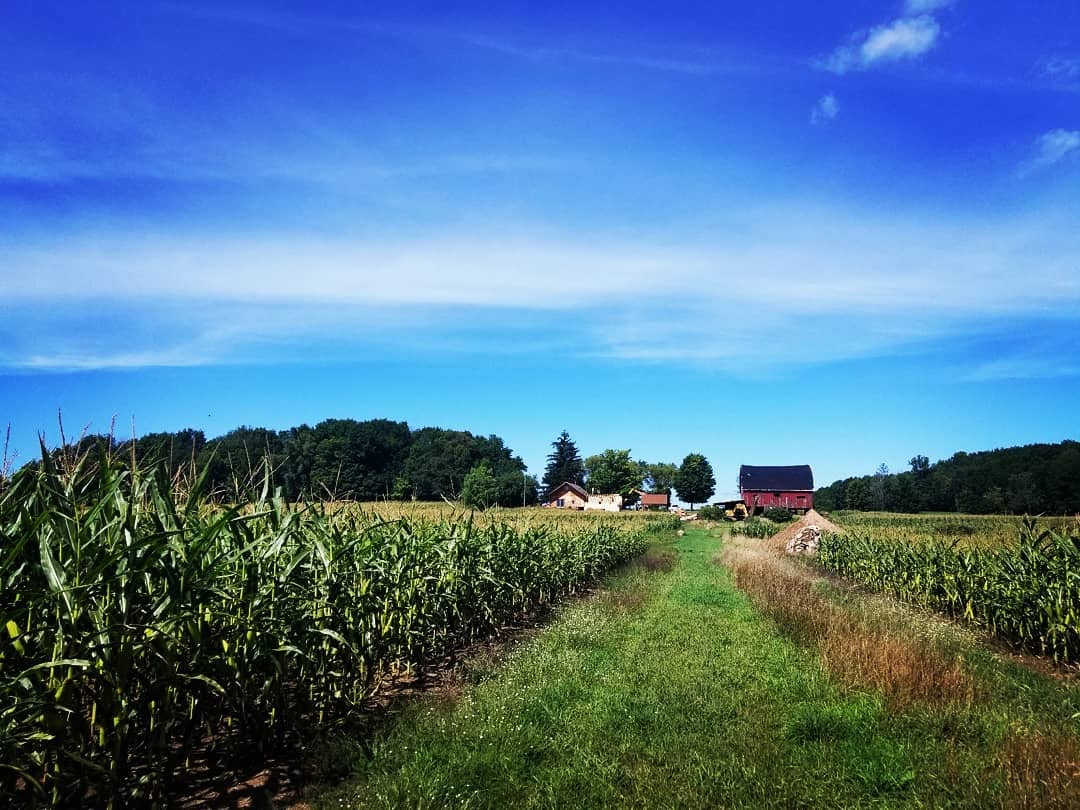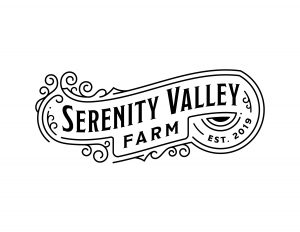 Good sun rising everyone! Birth Alchemy Bear here and I wanted to share a bit about the history and background of Serenity Valley Farm as well as our vision for the future! Western Ranger Bear and I met back in 2014, it was not love at first sight. That being said, it did become a great kind of love that comes from friendship.
We got married in 2017. Through many talks about our future we realized there were three things that we found to be fundamental in our relationship and how we approached life. Most importantly was our relationship to God, and what He was asking us to do. The second thing that we both cared deeply about was having kids and raising a family on a piece of land. Lastly, we both are deeply passionate about truth and the freedom that it brings. It was not until just last year we boiled it down to God, Growth and Gravy! But that is the underlying passion that burns the candles here at Serenity Valley Farm and we would not be here if it were not for those specific desires of our hearts. 
The land on which we live in Fremont Michigan was originally owned by my great grandpa Edward Lambert Gebben.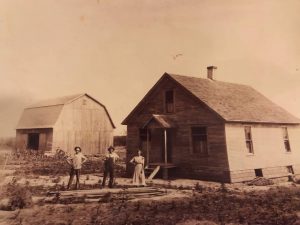 He is center in this picture flanked by his parents Albert and Alida Dunnwind Gebben. Edward was born in 1894 and was 25 years old when he cut down the trees which he milled to build this house and barn. The house was built in 1919.In 1924 Ester Helene was born to Gebben and his wife Lena Visscher. Ester was their first daughter and my grandmother. She was born right here in this house. I am hoping to homebirth (sooner rather than later! 40 weeks today!) and it really feels like coming full circle to be giving birth in the house which she was born in. 
Edward Gebben was known for being a very fun and slightly wild individual. He worked with dynamite and during the Great Depression when food was running low he would cut off a piece of dynamite and throw it in the creek at the back of the farm. The explosion would bring a bunch of fresh fish to the table for a week or two and created a lot of really deep swimming spots in the creek. He also was rumoured to have blown up the bridge down the road from his house just for fun one time, allegedly. A very hard working man who loved his family, he passed down a love of the land and independent spirit that I got to benefit from through my grandma. 
In this picture you can see Edward standing in front of the barn.
It has three floors, the first had two stalls, one for horses and one for cows. He kept about a hundred chickens on the second floor for his "egg route" where he delivered eggs in town. Third floor was for hay. He was an incredibly hard working man and had that indomitable spirit you can't help but admire. He ended up selling the farm to a neighboring family in the 70's. So while we purchased the property back in 2019 we cannot claim it is a centennial farm. So we just say it's "nearly centennial." Close enough. 
The house had several additions and the barn needed some extensive work but for us it was a labor of love. For Western Ranger Bear and myself we wanted a place where we could raise our kids on the land. A place where we could host events and grow. This place has an energy that is hard to miss when you walk around. It's a vibration and it's a freshness. The only way to really know is to visit and walk the land. It's a priority for us that everyone who comes to visit could walk away feeling blessed and refreshed.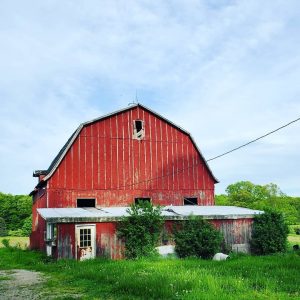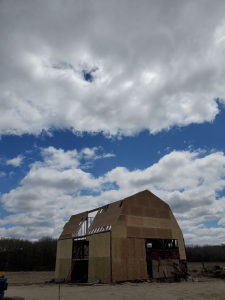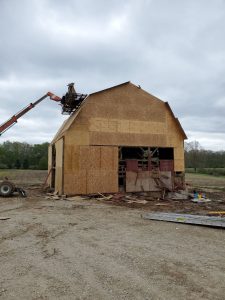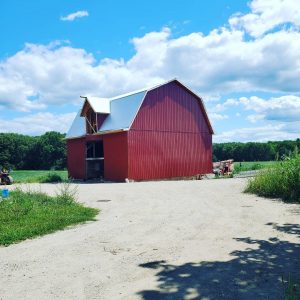 In these photos you can see where the barn was at and the extensive work we had to put into it to make it viable.
The roof had become so decrepit if we had left it another year it would have caved in. We are working on getting electric and water out to the barn to make it optimal for housing animals again. The third floor we are very excited about. We can't wait to utilize it for events and gatherings! This barn has so much potential and it's hard not to dream about all the things we could do. As all you homesteaders know, it's not that you don't have enough projects! It's that you only got so much time!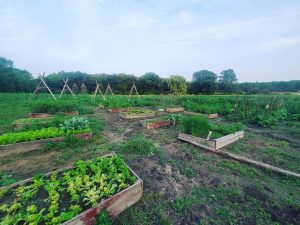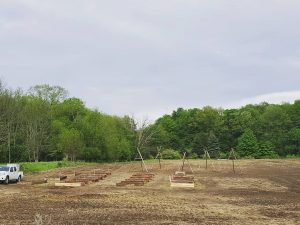 We have about 24 chickens here at SVF, our goal is to get goats and a milk cow. We are also working on getting and learning how to keep bees as well as working on turning our old basement into a root cellar which we can use for cold storage. We eventually would like to also build a smoke shack for smoking meat and cheese. This summer (2021) our biggest project was the garden. We had the ultimate builder buddie (Kit Kat Bear) agree to come stay with us and manage the garden when I was (am) super pregnant this summer. We built over 20 raised beds and planted over 100 different kinds of seeds and plants. We have learned so much this summer! We have learned about what grows well in our soil; what needs more care; pest control; and have prayed for rain a lot! As anyone growing plants knows you have to stay flexible. That was a big lesson for us this summer. From managing expectations and disappointments, equipment failure and communication issues we have all risen up to the challenges and are applying what we have learned to crush harder next year!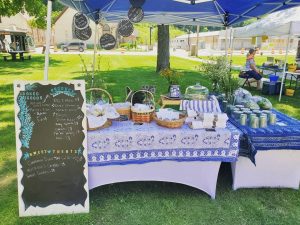 A big part of the garden work and stepping towards self sustainability was selling at the Newaygo Farmers Market this summer. We made some great connections with local farmers and craftsmen/women as well as made some extra funds. In the spring we focused primarily on baked goods because our produce had not really started producing yet. There was a wealth of knowledge to gain from the other farmers there and I definitely feel like it was a great way to meet local people who are also working on homesteading! We will definitely continue to sell at markets next summer, and hopefully increase our area by selling at multiple markets. Our produce now is going towards canning and preserving for winter for our family. We also tried to do a road side stand but after our free range chickens ate the produce we had out I decided that we would try that next year after we get a more solidified coop area.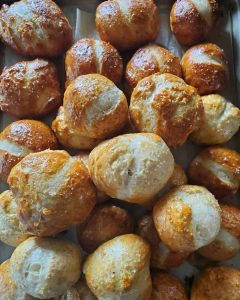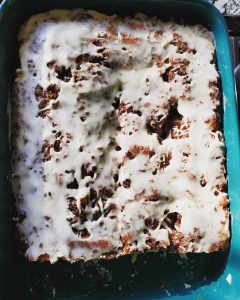 Western Ranger Bear and I have so many ideas and things we would love to see happen here at Serenity
Valley. When we talk about the future it's not just that we become self sustainable but that we are able to help the community in which we live. Making our garden big enough to help those in need and to help teach people who want to learn. We want to have a campground in the back by the woods for people who want to stay and try out living off the land. We want to be able to host classes and maybe even a homeschool co-op in the future.We want to build a life that our kids will really flourish in and be set up for success. More than any of that, we want to keep our hearts and minds open to whatever God is asking of us, because we believe that whatever He asks us to do will be even better than what we could imagine. So here is to whatever that is, whatever the goal, whatever the challenge we will continue to crush! More God, more growth and more gravy!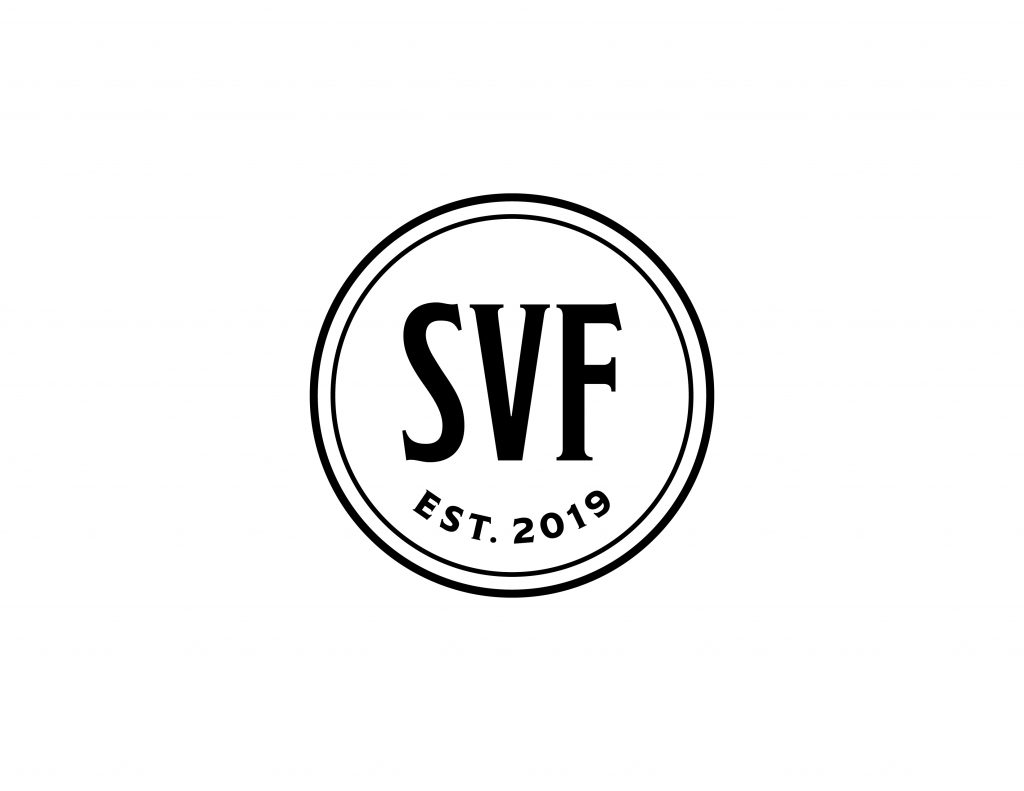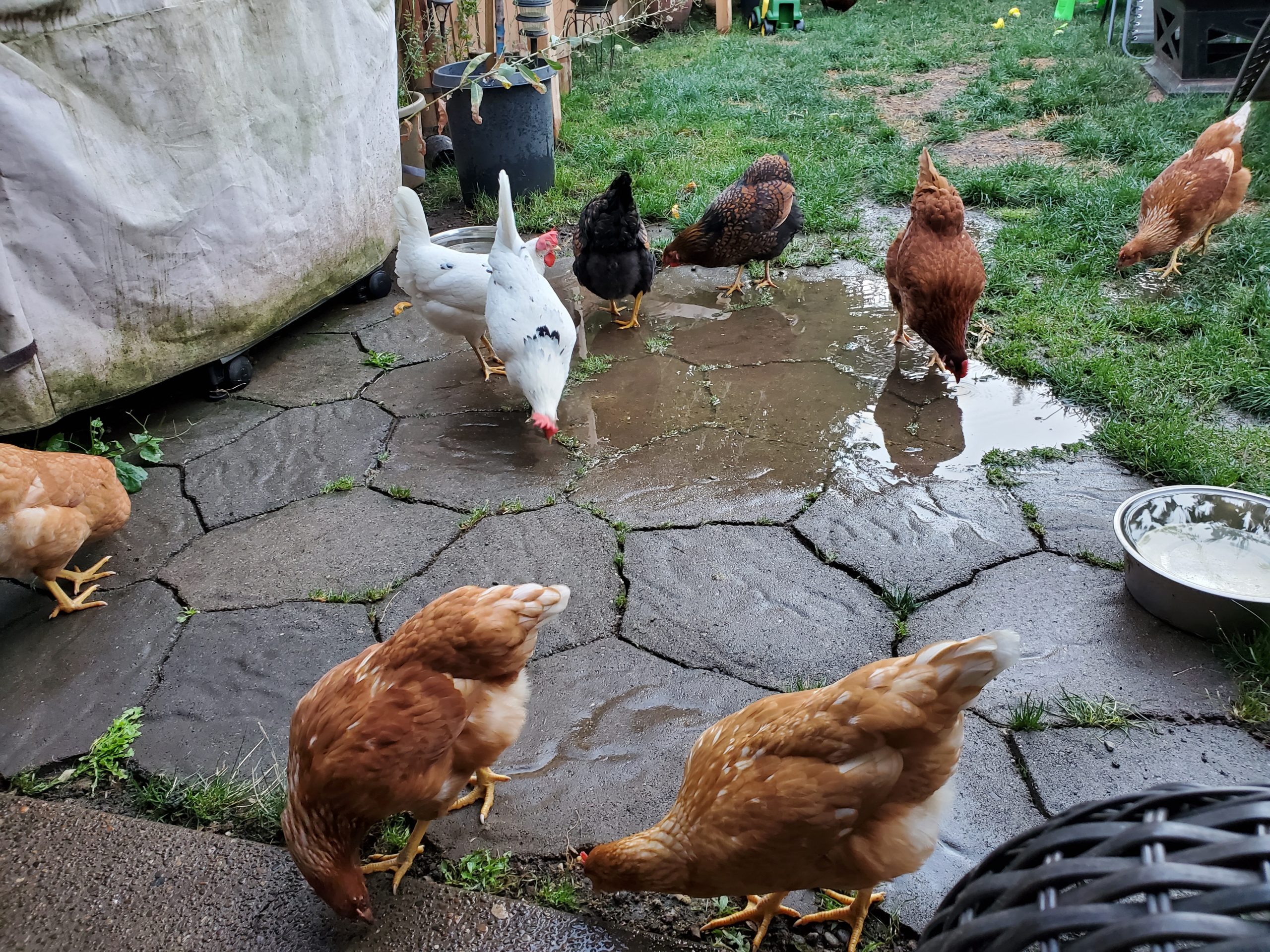 When venturing into the world of chicken ownership, one of the most common questions people ask is if it's worth it financially. In this article, let's break down some of the costs to see just how much money one can save with even a few backyard chickens.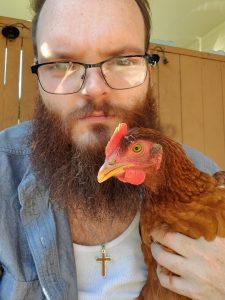 When my wife and I decided it was finally time to get some cluckers, we originally bought 6 chicks. Upon seeing that the feed store had more variety a few weeks later than when we'd originally gone, we felt it necessary to buy 4 more, bringing our total to 10. One egg bound chicken passed away later and we were gifted 4 more from our friends with a 10 acre farm. Our grand total had reached 13. Then, most recently, we found some Ameraucanas at the feed store. Who doesn't want blue eggs? 3 more were added to the flock for a total of 16 hens.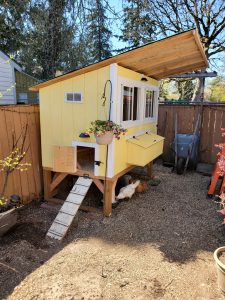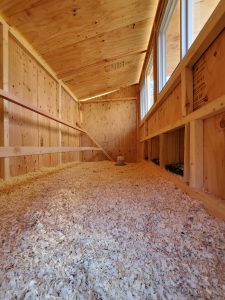 Let's break down the math. Initial investment was, on average, $2.50 per chick. Some were $4, some were on sale for $1. 16 chickens at $2.50 each is $40. Let's throw another $200 for initial supplies (brooder, heat lamps and bulbs, start/grow feed, bedding, water/feed dishes, etc). And finally, the most expensive aspect by far of owning chickens, the coop. As a builder, I wanted to build a modular coop where I could easily remove the roof, take each wall down as a single piece, and be left with the floor. Giving a total of 6 pieces to move and quickly reassemble whenever we get onto acreage. I built my coop by hand, included 2 large vinyl sliding windows, nice hardware, a melamine floor. Entire cost of the coop build, during the peak lumber price bubble, was just over $700. This coop is large enough to easily fit our 16 hens, and we could fit another 6-8 if we wanted to. But you don't need something this large or elaborate. Cost can easily be cut into 1/4 of what I paid, even with today's prices, if you're planning on having less chickens.

So, to date we've spent roughly $940 on our chicken setup, minus the monthly feed and treats. The 16% layer feed we buy runs about $200 for 3 months worth for our 16 hens. That's $800 a year. Throw in a few bags of grubs and 50lb bags of cracked corn, and we'll round it to a smooth $1,000 a year to feed them.

This all might seem like an entirely unnecessary expense and not worth it, but here's where the math starts working in our favor.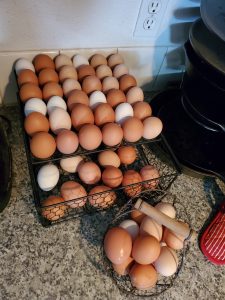 We get, on average, 12 eggs a day from our 13 laying hens. In a few months, the 3 Ameraucanas will begin laying, bringing our average to somewhere around 16 eggs a day. 16 a day is 486 dozen eggs a year, or 40.5 dozen a month. Depending on where you live, organic free-range eggs can get expensive. Here in Portland, OR, your top of the line farm eggs will run you $8 a dozen at the grocery store. So, in order to buy the 486 dozen eggs we will get in a year, we would have to spend $3,888. Our initial investment of $940, plus an entire year's cost of feed, runs us $1,940 for year 1, and $1,000 every year thereafter. We are getting $2,888 worth of free eggs every year once you subtract the cost of feed.

The savings don't just stop there though. Chickens eat bugs. That's literally all they do. They eat bugs, poop on everything, and eat more bugs. Those bugs can wreak havoc on your garden. But they don't. Because they get eaten. You get a larger harvest each year. More money saved.

Chickens, as mentioned above, poop everywhere. Chicken manure is like gold to plants/gardens/lawns. It is loaded with nutrients, and it's extremely soft. Every day I go outside in our small backyard and blast the lawn with the hose on "shower" setting and the chicken poop just melts away into the soil. Our grass has never been greener than it was last year. You can scoop this manure as well, throw it into your compost, and have the richest fertilizer imaginable. Now you don't have to buy fertilizer from the store. More money saved.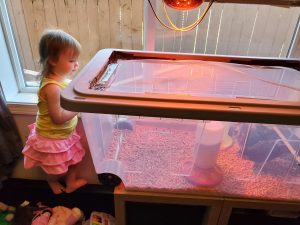 If you have children, you're in luck. Chicken watching is one of the most fun things in the world. We have 2 daughters and our oldest loves our chickens. Every day we come outside to play, and she laughs hysterically every time one of the hens flaps their wings, jumps up on a chair, flies down, etc. She loves helping throw handfuls of grubs and mealworms to them, and smiles and laughs when they all come running. It is quite literally free entertainment for children. More money saved simply by letting your children interact with and watch the chickens instead of constantly trying to buy them new and unnecessary things to keep them busy.

As you can see, the financial aspect of becoming a certified chicken bard is well worth the initial investment and upkeep. We eat a ton of eggs in our household (they're our oldest daughter's favorite), and we give many eggs to my Mother-in-law who lives a couple houses down from us. so we don't currently sell any of the eggs we get. But if we wanted to, we could easily make money just from the 16 hens in our small backyard. If we doubled the amount of chickens we had, a cool $4-5k a year from fresh chicken eggs would be easily attainable. Not only are chickens worth it, there is very real money to be made by raising them for either eggs or meat. They are the lowest maintenance animal you can own (just give them food, water, throw some treats and produce scraps in the yard every day, and change their coop bedding regularly), they're endless entertainment to watch, they provide you with more nutrients than you'll ever find in store bought eggs, they help your garden. If you're apprehensive about getting chickens, just do it. It's worth it in every capacity.

-Woodshop Bear
Bear Trail Beef
One of those businesses with a crushing 2020 year is Winter's Farm owned and operated by Jordan and Hannah Winters.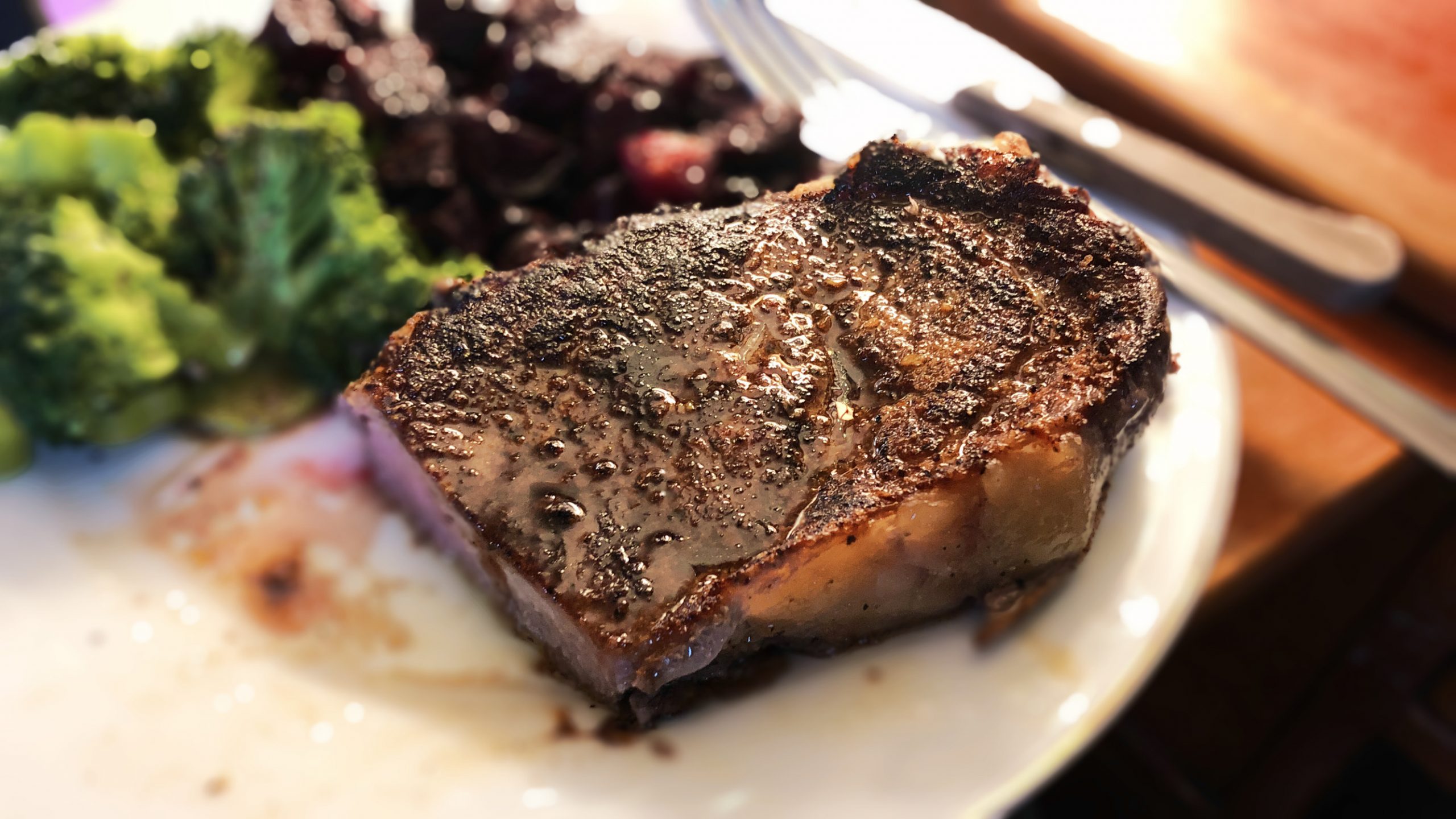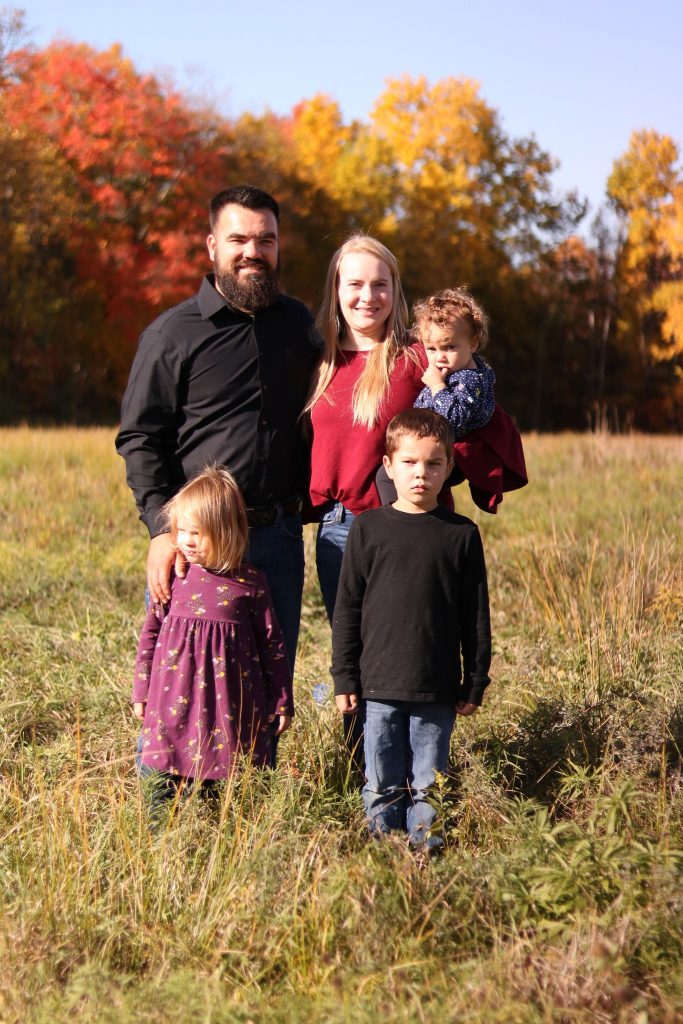 For many businesses 2020 was a year of hardship, struggles and loss. For the businesses in this community however, it was the best year ever. One of those businesses with a crushing 2020 year is Winter's Farm owned and operated by Jordan and Hannah Winters. Jordan and Hannah both spent their youth farming and started their current farm in 2015. They have provided grass fed and finished beef to their local community and have now added pasture raised pigs to the menu again. 
In late 2020 however they made the plunge and started Bear Trail Beef! Supporting our community is what we do best in the bears and like many we simply couldn't wait to purchase a package of meat from their farm. No strangers to mail order beef we jumped on the chance to place an order excited to support a small scale farmer and family. When the package arrived even the kids were excited to unbox it! We ordered the Beartarian Basics- Mixed beef bundle It was delivered promptly, well packaged and included a lovely family photo as a thank-you.  Included in the box was 10lbs of ground beef, 2 Tenderloin Medallions, 2 Delmonico/Ribeye Steaks, 2 NY Strip, 2 Sirloin steaks, 2 Roasts of their choice (we got a chuck roast and a shoulder roast). Each vacuum sealed package of beef was a stunning deep red color with beautiful marbling.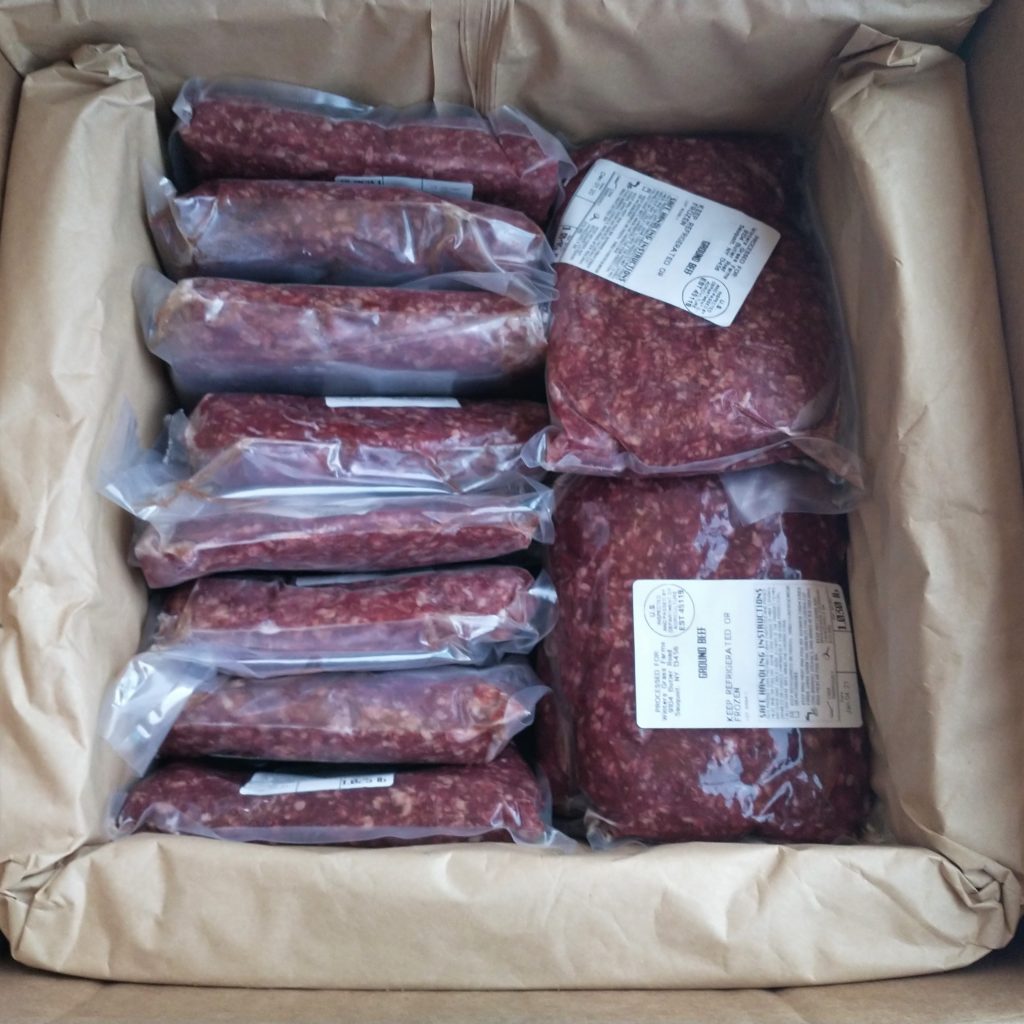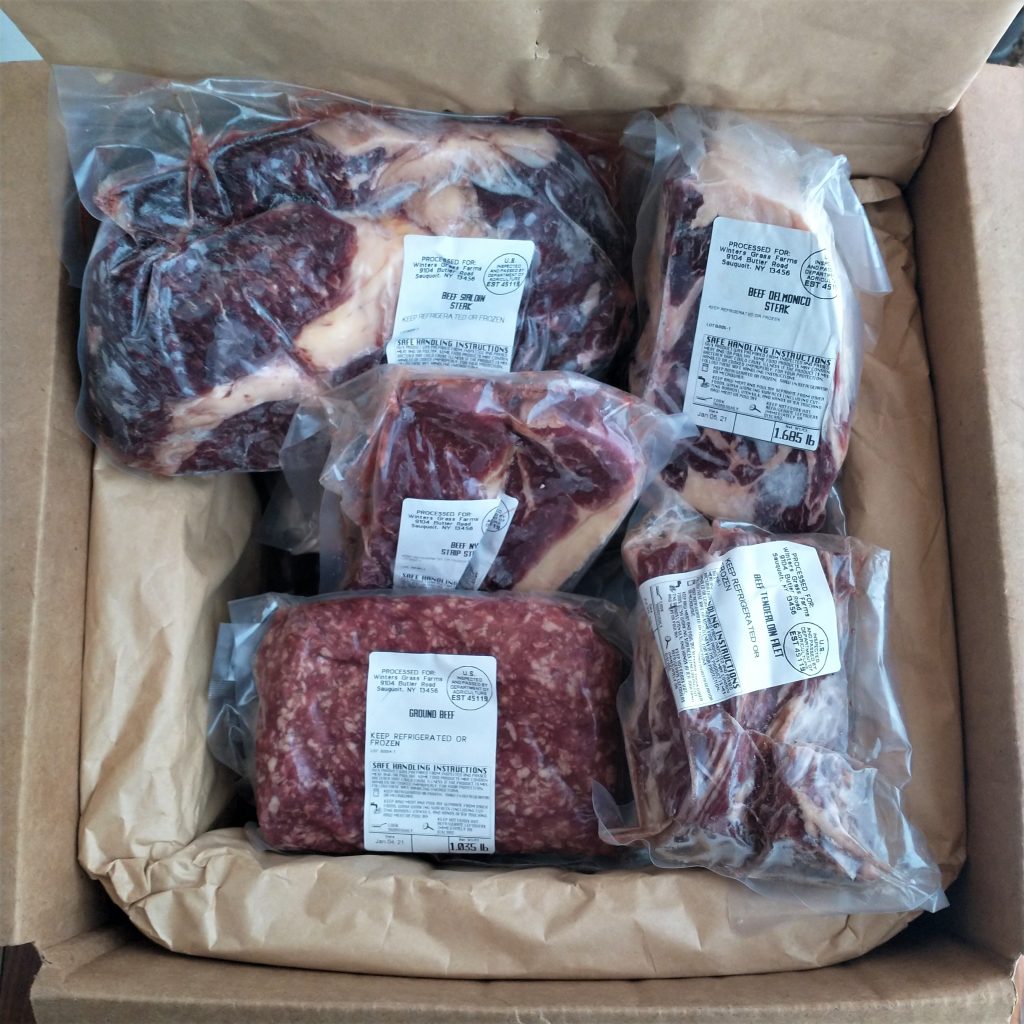 We have been purchasing grass fed beef for some time now and even just by the color you can see the difference between the beef from Winters Farm and the beef we had purchased. The steaks cooked beautifully to a wonderful rare to medium rare with ease. The ground beef was phenomenal and appeared more natural and unprocessed than any other ground beef we had tried yet. Everything was delicious and nourished our growing family well. The best part of the deal was knowing these animals lived a good life and that our purchase was helping to support a family like ours that was out there providing bears an essential service.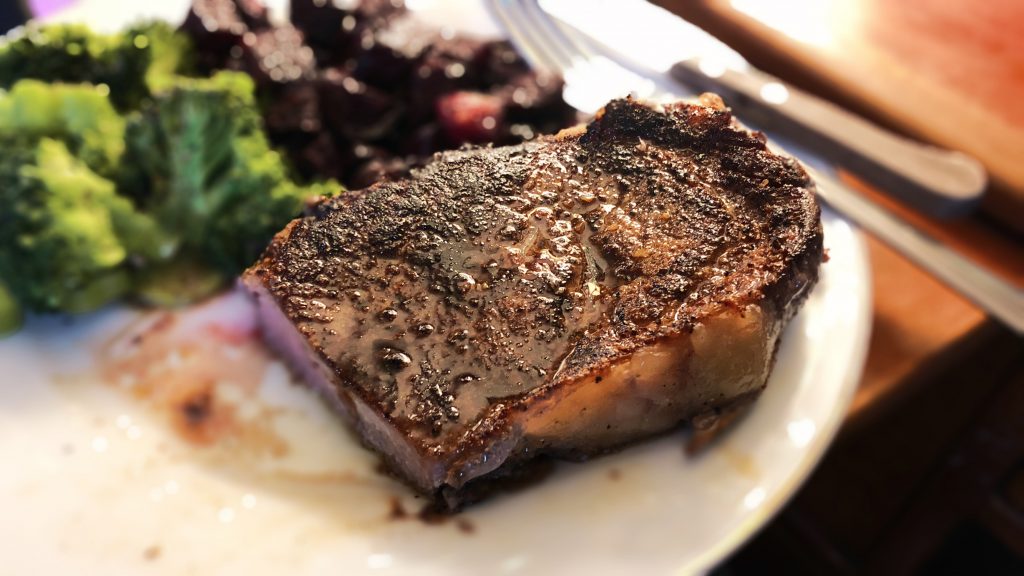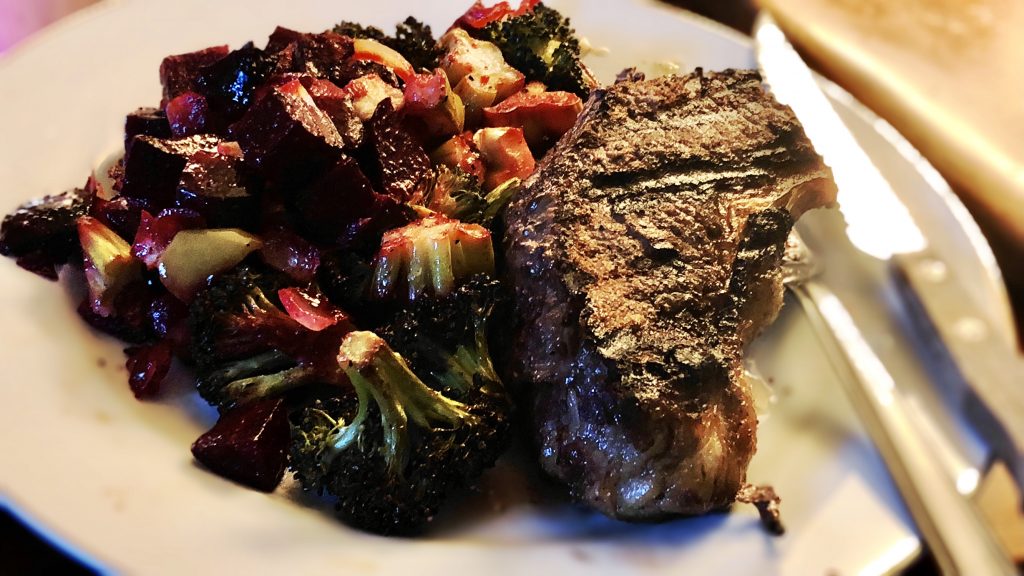 Their main goal and focus with Bear Trail Beef is to bless families with tasty, healthy, and nutritious meat, in order to grow strong heathy families and to provide access to homegrown food outside of the industrial food system. Here at the CameraBear household we would say they are absolutely crushing those goals! They are shipping to the contiguous US and you can order today at www.beartrailbeef.com . We are sure you will not be dissatisfied.