How to Tan Fur on Hides With a Note on Making Leather
This is an art. Learning takes time, but don't be afraid to make mistakes. The hide is very forgiving.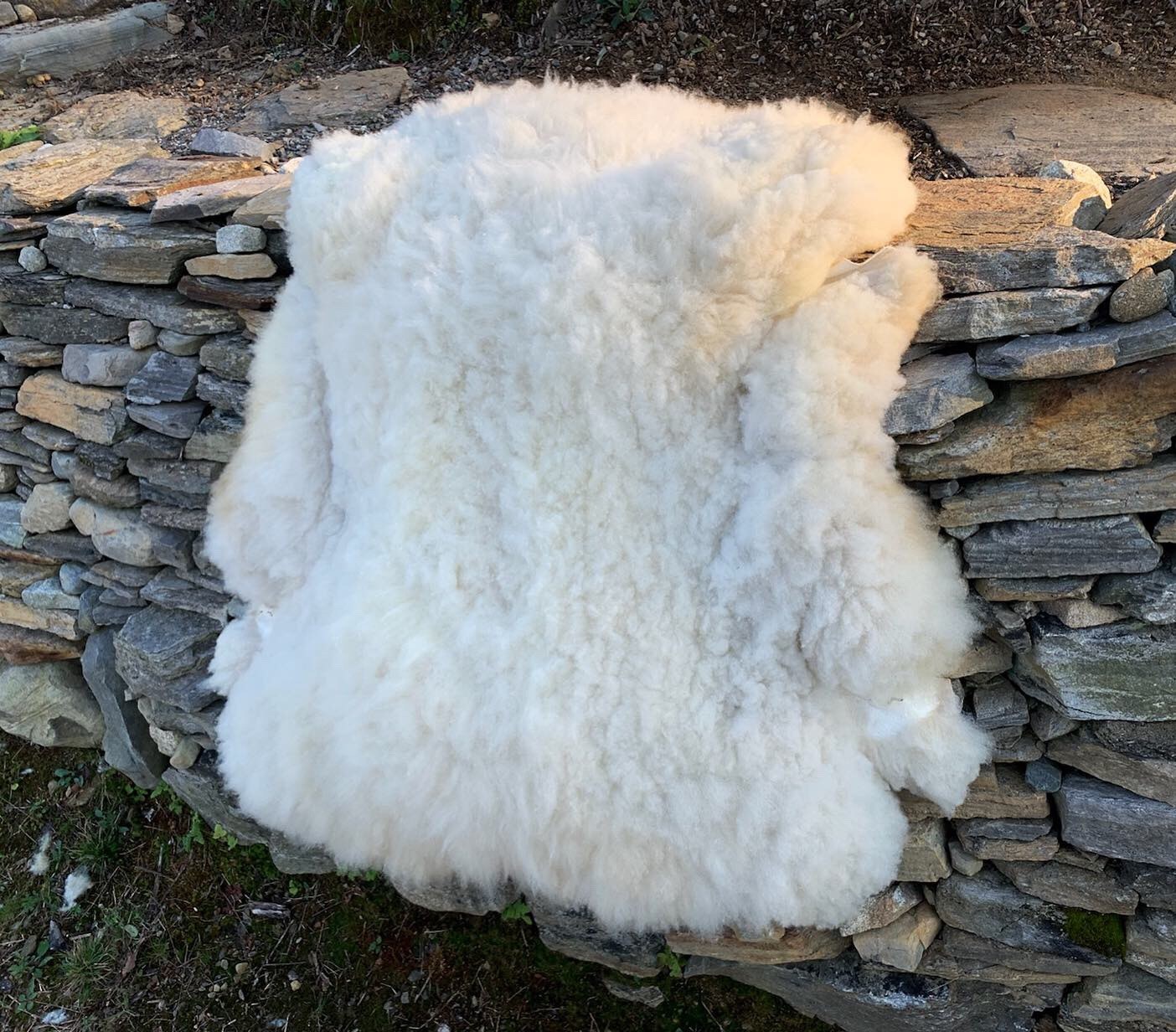 By: Salt & Stone Bear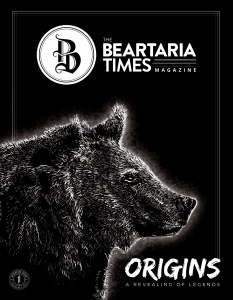 This article was first printed in our very first issue of The Beartaria Times Magazine, Origins, A Revealing of Legends
More and more folks are learning how to keep and butcher their own animals, so comes the need to learn how to tan hides. Tanning used to be a very common skill that has since been forgotten with modern textiles. Fabrics printed in China contain some nasty chemicals and the environmental impact is devastating. Buckskin pants were once as common as blue cotton jeans today, worn by people of all socioeconomic status. Currently, it is estimated that roughly 6 million deer are harvested annually and only a very small percentage of hides are ever used to make leather. Now add the endless numbers of sheep, goats, cow and even pig skin that could be used for a variety of applications. If you do not keep animals, not to worry, contact your local butcher and they will likely tell you to help yourself to whatever they have. It's a favor to them as they do not have to pay to dispose of them.
Skinning
If you are starting with a whole animal, there are plenty of online tutorials on how to do this. Mainly you just want to make sure the hide has not been "knifed up" which will leave marks on the leather. The ultimate goal being no holes or knife marks in the skin, as it will be more difficult (but not impossible) in the tanning process.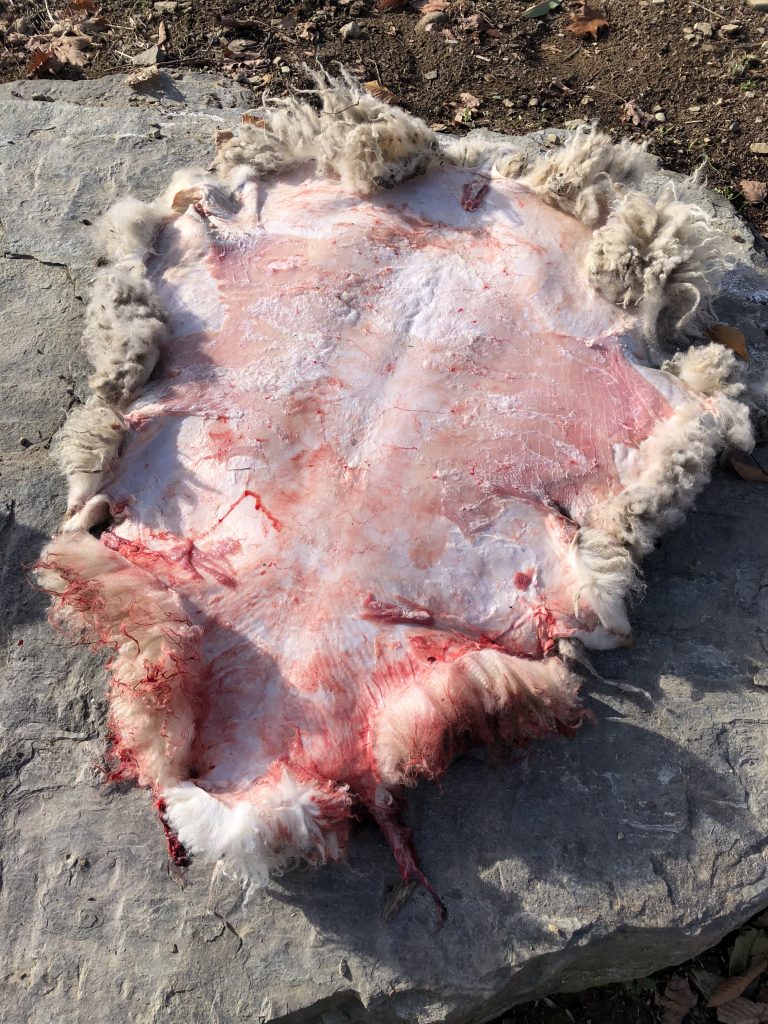 Salting
I use pallets that have hardware cloth stapled on them so that when the hide is laid out, there are no sagging or drooping parts as there are big gaps in a pallet. You could just lay it out on a tarp, but I think the air flow under the skin is helpful. Once the hide is laid out flat on the pallet, spread a good layer, about an inch of white canning salt or sea salt (no iodine) on all parts of the hide, being careful to get all the edges. Leave for 2 weeks or up to a few months if you don't have the time. I prefer wet salting (the salt stays damp) to dry salting as it makes a nicer finished product. But if you live in a very dry climate that dries out the salt, it will still be fine.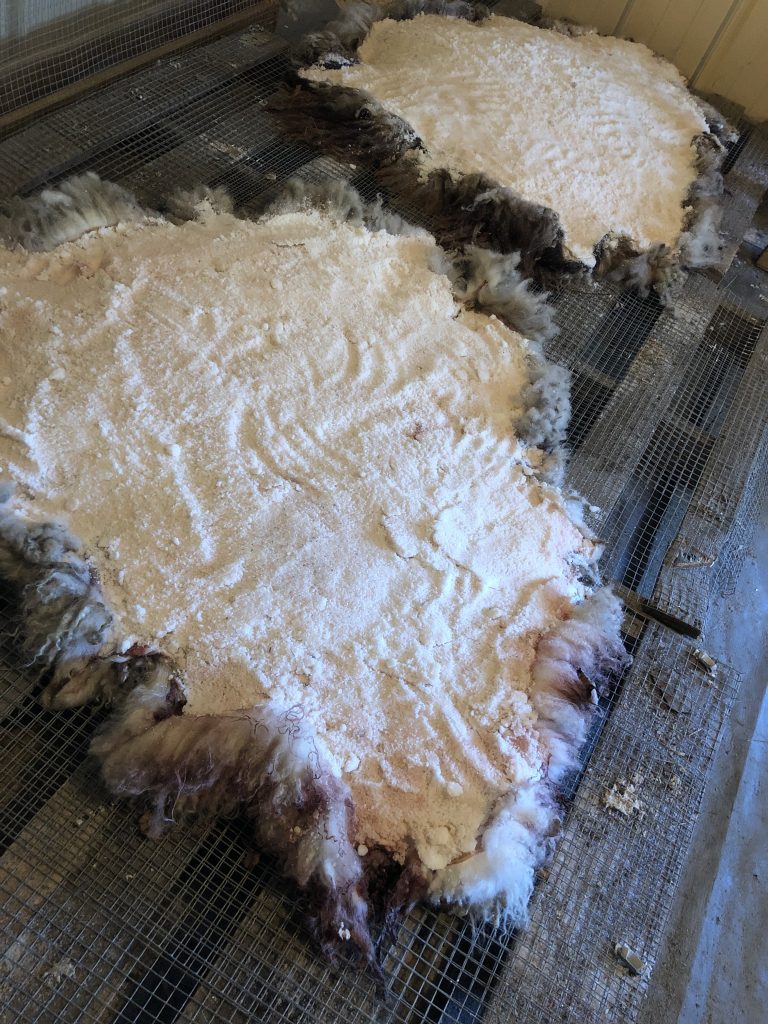 Fleshing
For this step, you will need to have a fleshing beam and fleshing knife. You can purchase them from a trapping outlet online or make a beam out of a very smooth log. Flip the salt from the hide into a rubbermaid tub or barrel as it can be used again. Then give the hide a good shake in the driveway or woods (probably not your lawn as it can kill the grass) to remove excess salt. I highly recommend watching a YouTube video on how to do this. You want to hit the right angle so you don't cut the skin.
Apply tanning solution
Once the hide is fleshed, lay the skin back on the pallet and apply the tanning solution. I like a brain/egg solution, but you can use just brains or just eggs. Or even Spinal cord fat/fluid. One brain will do one hide, but adding an egg and a splash of water will bulk up the solution, which I find to be very helpful. For a single hide, in a designated blender, combine brain(s), one egg and a tablespoon or two of water. Rub in the solution over all parts of the skin. Then, three options- cover with plastic wrap/ fold in half on itself or sandwich together with another hide if you are doing more than one. Allow to sit overnight- one day.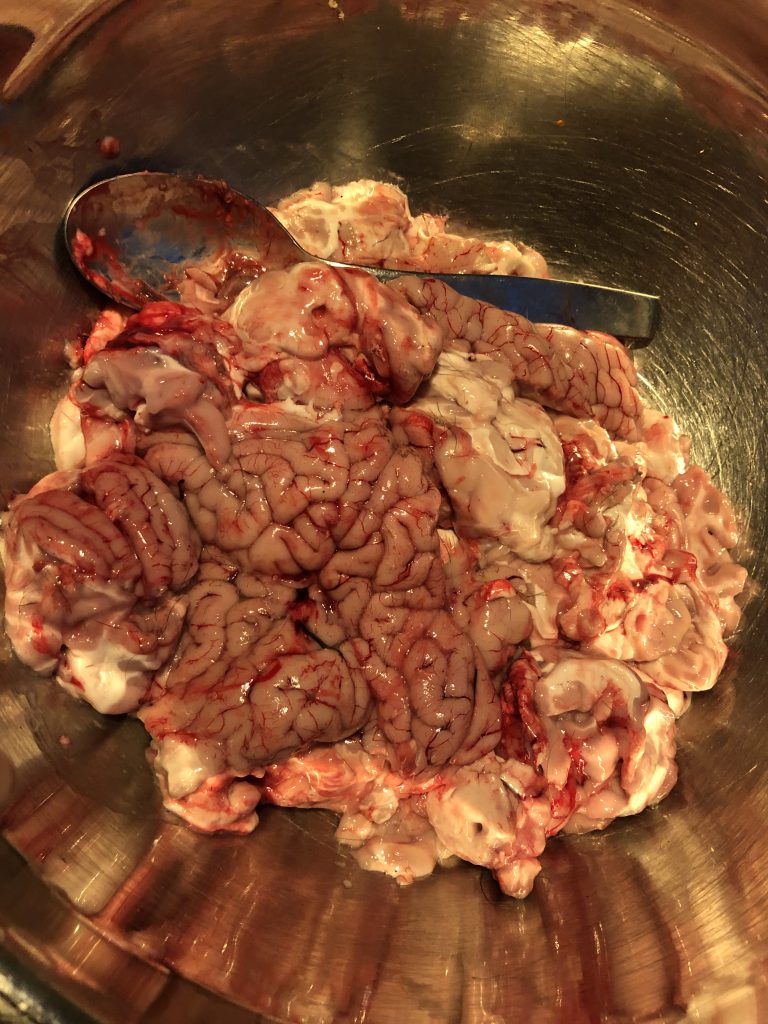 Stretching & Drying
You will need to build a frame that is a little larger than the hide you are working with. 2x4s are great for this. If you are doing something very small like a squirrel or rabbit, you can use a board with tacks to achieve the same results. Some will also bend a limb into a circle for a very small hide, or if you are doing a very large hide like a moose or cow, an old trampoline frame is great. You just have to innovate with what you have available. With a very sharp knife, carefully puncture the edge, 1/2" or so in on the skin. You don't want it too close to the edge or the twine will rip out. I really like to use butcher's twine as it holds a good knot. Start at the 4 corners of the hide, then fill in-between. Give a good pull on the string, but not too hard, stretching the skin very flat. Tie to the frame. You can go back and re-tighten the strings that become loose as you go along. Allow to dry. A dehumidifier is really great in helping this process along, especially for large hides.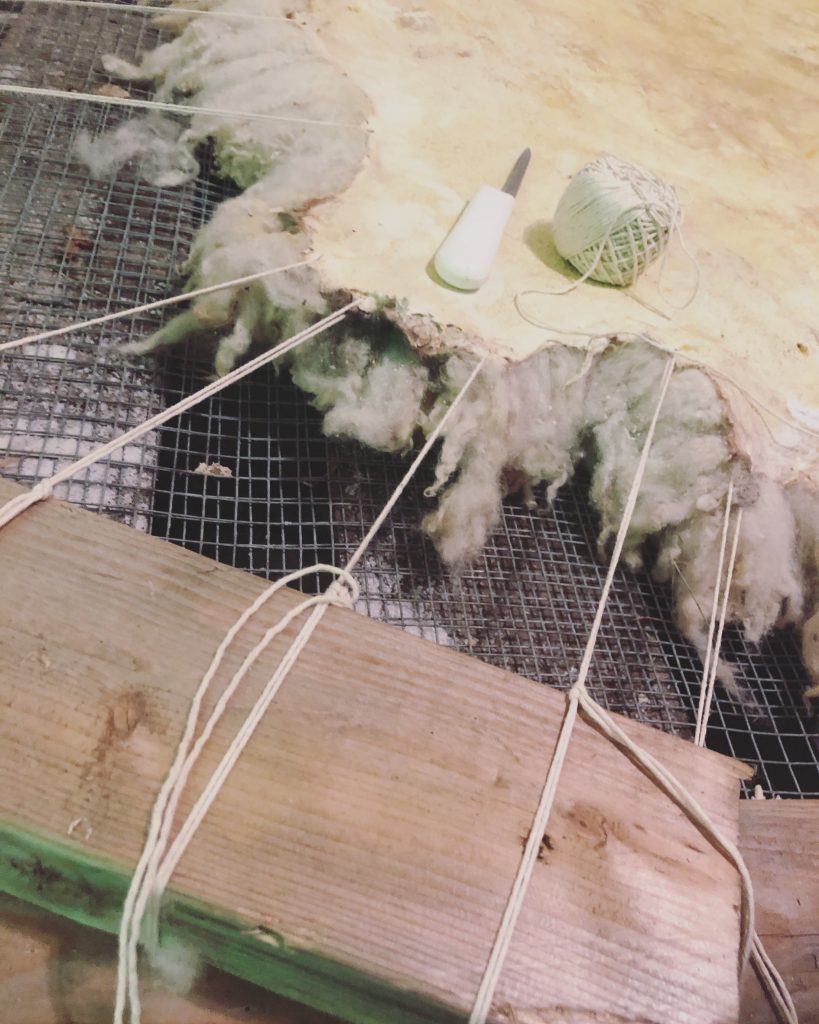 Scrape
Once the hide is completely dry to the touch, you can start scraping off the tanning solution and the layer of skin. You will need a scraping tool from a trapping outlet or you can sometimes find tools to do this at antique shops. Just nothing too sharp, more blunt. Scrape with good force, but not too hard. The skin will turn a beautiful white as you do this. It takes time. I like to give a good push on the hide with my hand as I scrape to aid in softening and stretching those skin fibers. You will know you are done when the leather is very soft. Cut the strings and remove from the frame.
Smoking
This is where tannins from wood and bark seal and finish the hide. Cut an old pillowcase in half long ways or some kind of fabric and pin on the bottom/ very edge of your hide. Then fold the hide in half long ways and use the existing holes and butcher's twine to temporarily sew it together. Make a loop at the top to hang. Go back and pin together the fabric at the bottom to essentially make a stove pipe. Collect rotten wood and bark that is wet from the forest then make a fire with dry wood until it gets down to coals. Add rotten/ wet wood and bark. Attach the fabric side to your stove pipe with a rubber band and smoke for 2-4 hours. You want to be VERY careful with this part. Do not leave unattended as you only want smoke NO fire. If it breaks out into a fire, it can scorch or burn your hide. Ruining all your hard work. You want cold-warm smoke only. Periodically check the color of the skin inside, you want a nice deep amber color. Take it down, bring inside and allow it to sit for a day to more thoroughly absorb the tannins.
Then rub in a finishing sealer. Lard is really perfect or a homemade mix of Lard, tallow and a little beeswax.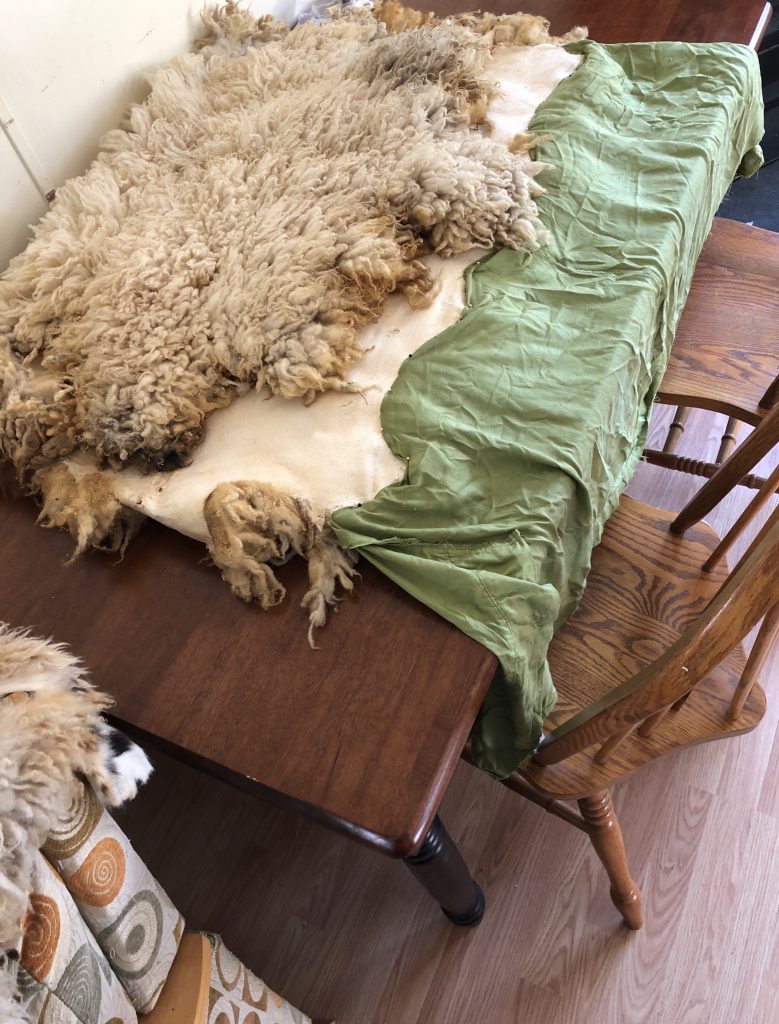 Finishing touches
At this point, you can carefully hand wash the finished hide with soap and cool water, but do not soak for too long. Try to be as speedy as possible. A designated washer is great for this stage. Run it on the spin cycle only to get the water out or shake out very well and dry.
With a razor blade, cut off the edges, about where your puncture holes are. Brush out the fleece or fur. Then celebrate haha.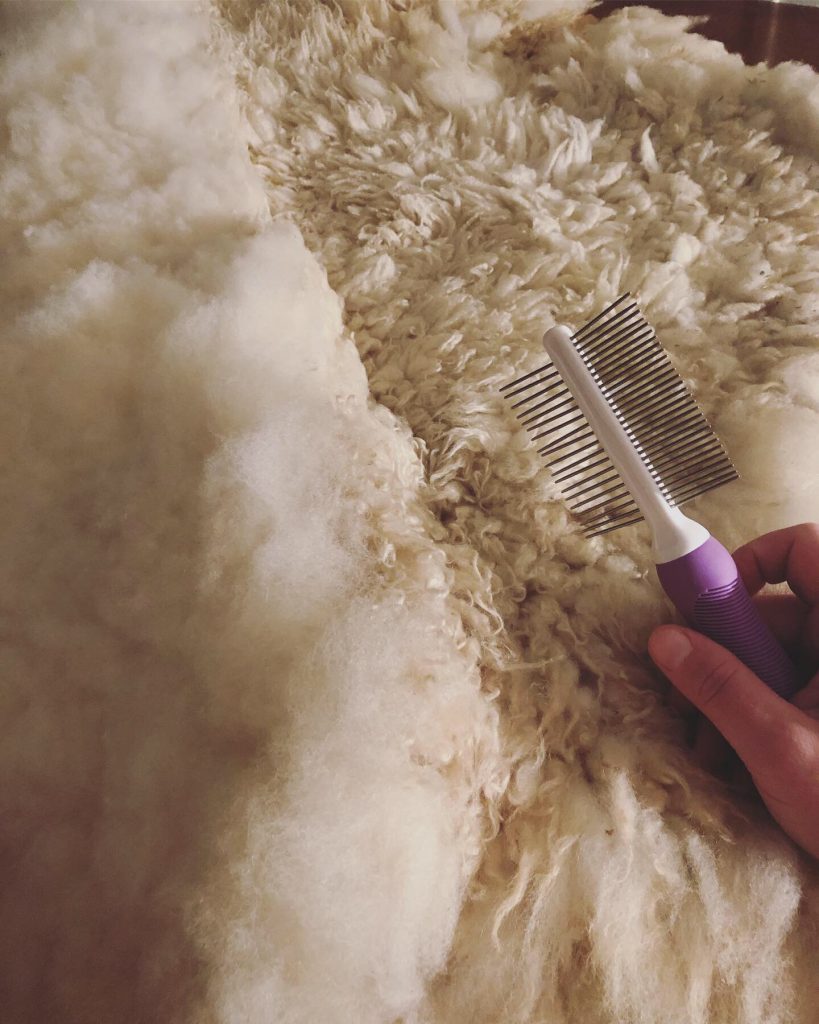 If you want to make leather without fur, dry scraping can be done at the point the hide is stretched on the frame. You can use a razor blade to carefully remove the fur, then scrape and apply tanning solution/ plastic wrap, similarly to how you did the other side. Scrape it down again. Smoke both sides in the same fashion.
This is an art. Learning takes time, but don't be afraid to make mistakes. The hide is very forgiving.
If you have questions, feel free to reach me on the Beartaria Times app – Salt and Stone Bear or Instagram @salt_and.stone
Happy Tanning!
Beekeeping Basics
According to the American Beekeeping Federation, beekeeping today contributes around $20 billion in value to U.S. crop production.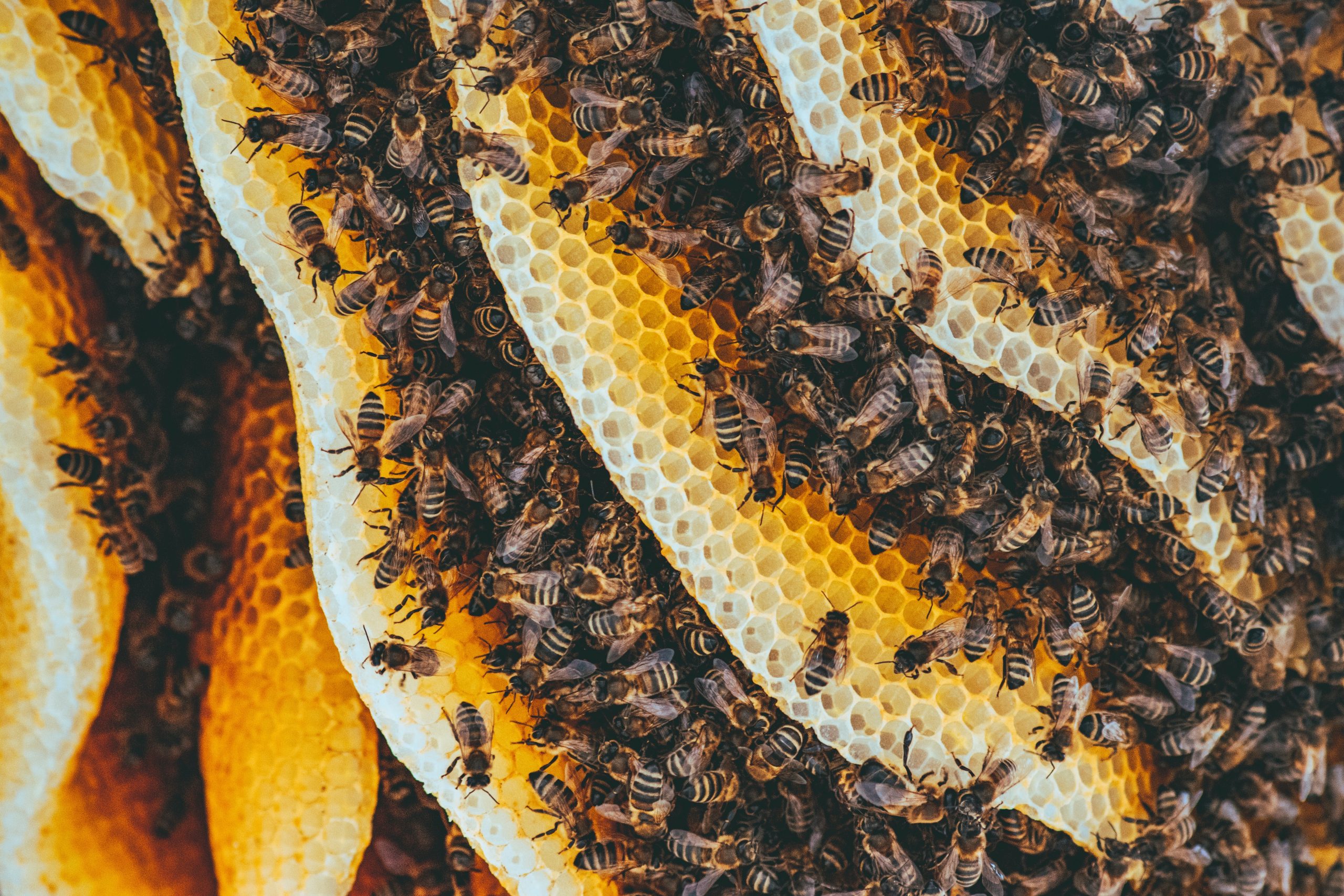 By: Tiffany Jones
A Brief History
Humans originally obtained their honey through wild harvest. A cave painting located in Valencia, Spain, depicts honey harvesting dates back 7,000 years. However, the thought is, that honey and wax collection dates back around 10,000 years. Modern-day beekeeping dates back to the 18th century when Europeans changed beekeeping by the use of moveable comb hives. Before that, the colony of bees would be destroyed to collect the honey.
According to the American Beekeeping Federation, beekeeping today contributes around $20 billion in value to U.S. crop production. Some crops, like blueberries and cherries, are 90% dependent on honeybees. Honeybees are very important, helping improve both the yield and quality of many crops.
My family also has a long history of beekeeping. When my dad was younger, he would hunt for wild bees with my grant grandpa to wild harvest. They would slowly track the bees back to their hive, where they would harvest the honey. My great-uncle Jim had a large apiary which he sold in 1975 to a friend of the family. At the time of sale, he had around 250 hives, but at his peak, he had around 800 hives.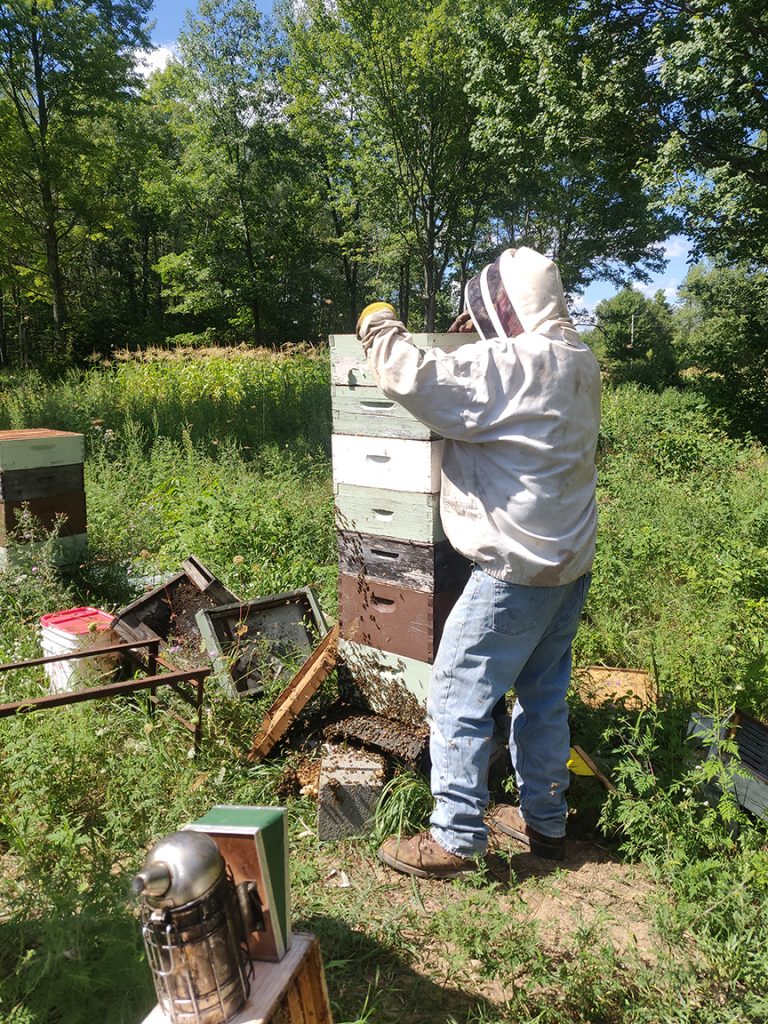 After the family friend bought the honey business, he expanded, building the business back up. My mom, sister and I would all work for the man who bought it in the late 90s and early 2000s. My mom would work in the bee yard and honey house. My sister and I would work in the honey house. When I was around 10, before we started working for a friend, my parents also started keeping their bees.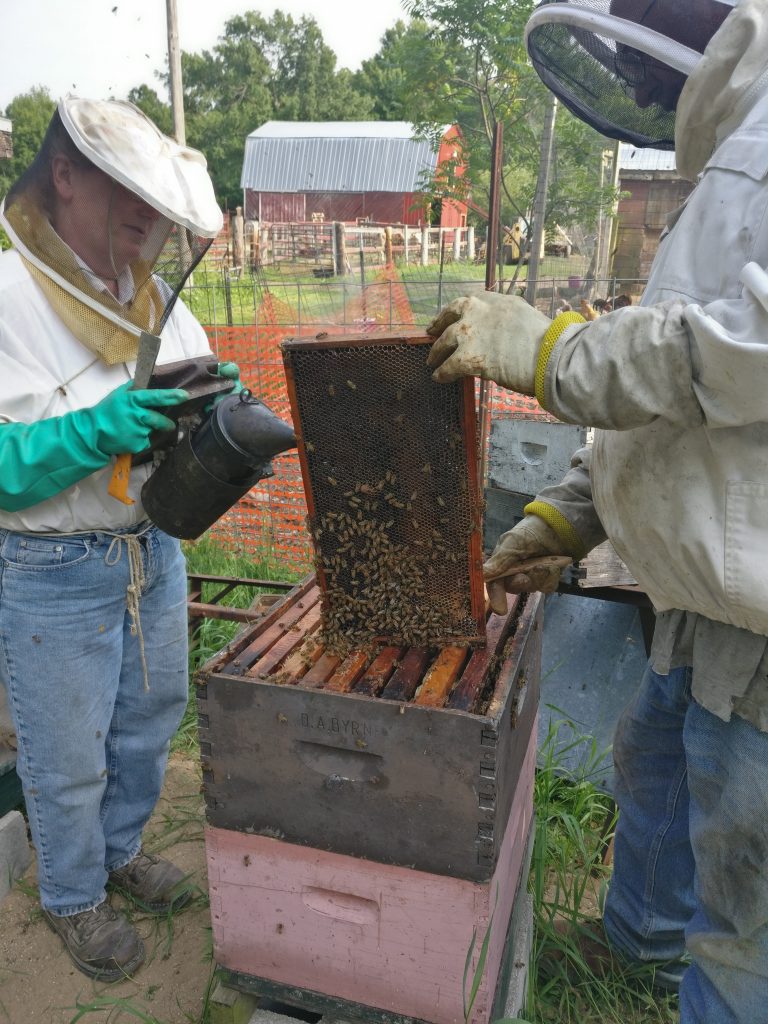 Today we keep around 15 to 20 hives in two bee yards, and the family friend is still our close mentor. Our many products at farmer's markets are honey. We also make a range of honey infusions, including sage, lavender, orange, anise, vanilla, and cinnamon. The wax is used in candles, lip balms, and salves. The propolis is used in salves and tinctures. The goal in the future is to double our number of hives once my dad retires in a couple of years.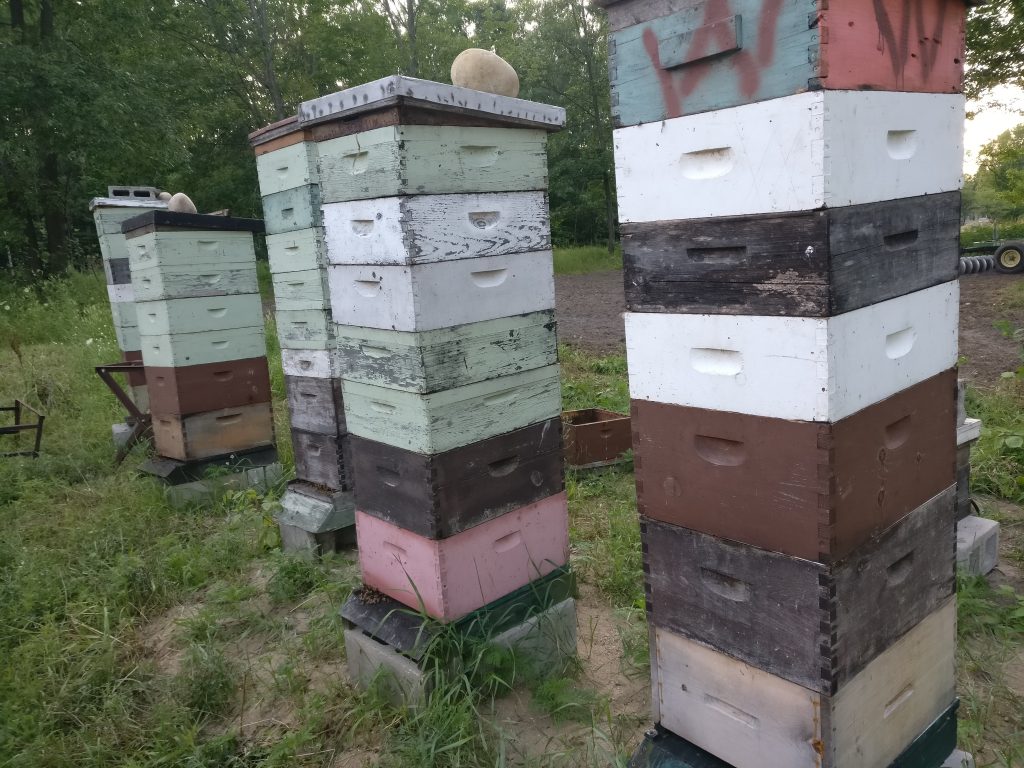 The Langstroth Hive
The Langstroth hives are the most commonly used hive in the United States and Europe. And by using the Langstroth hive, it is easier to acquire equipment that is standardized. There are two types of Langstroth hives a 10-frame and an 8-frame. The only difference between the 10 and 8 is the number of frames a box will hold. The hive itself is made of boxes stacked on top of each other and can be broken down into seven basic parts(starting from bottom to top):
Bottom Board-is the floor of the hive and provides a landing area.
Brood Chamber/Deep Supers – is where the queen lays her eggs. Most hives will have 1 or 2 brood chambers at a time. Some honey and pollen will also be stored here. These boxes are the largest at 9 5/8 inches high.
Queen Excluder – is placed between the brood chamber and honey supers to keep the queen from laying eggs in the honey supers. The worker bees are small enough to fit through, but it can slow honey production down. So, most beekeepers will avoid using it unless necessary.
Honey Supers – is where the honey is made and stored. There will be 1 or more honey super at any given time in the hive. Honey supers come in 4 different height sizes comb super (4 3/4 inches), shallow super (5 3/4 inches), medium super (6 5/8 inches), and large super (7 5/8 inches).
Frames – are used for structural support to help the bees maintain a well-structured honeycomb. They are put into both the brood chamber and honey supers. Frames come in wood and plastic, but bees always seem to prefer wood.
The foundation can be used inside the frames to help the bees start their honeycomb, but it is unnecessary. Although, it does help with increased honey production and keeping the hive more organized. Foundation also comes in a variety of ways, including plastic, pure wax, pure wax wired, and synthetic foundation.
Inner Cover – creates a dead air space to insulate the hive against heat and cold. Some covers will also have a vent for ventilation and honey production.
Outer/Telescoping Cover – is usually a wood top covered with heavy-duty aluminum to protect the hive from the elements.
Many beekeepers will put the hive on some sort of stand/base to give support and keep it off the damp ground. These bases are commonly made from wood or concrete. Some additional equipment will also be used in the winter to winterize the hive.
Tools
There are many tools when it comes to beekeeping, but there are three I would recommend.
Hive Tool – is one of the most useful tools and, I would argue, the most essential when beekeeping. It has a multitude of uses in and out of the bee yard. It can be wedged between boxes to free them, the sharp edge can be used to scrape wax/propolis off boxes/frames, it makes a decent hammer, and there is a hole in it to pull nails.
Smoker – can make caring for a hive much easier. The smoke helps to block the pheromone isopentyl acetate, which alerts other bees to be ready to attack. There is an art to smoking because you can over or under-smoke. Also, what you use to produce the smoke is important. Natural twine works well. But I prefer to use the dried fruits from the staghorn sumac. This is what my great-grandfather used, and the bees like the scent.
Bee suit and gloves – are not a necessity but can be a good idea when first starting out. There are many factors that affect how bees will act, including weather, time of year, smell, location, and energy. It is good to be safe in a suit until you understand the hive's nature better.
Honeybees
The European Honeybee (Apis mellifera) are amazing creator, traveling up to 3 miles in any direction to forage and using a wiggle dance to communicate. There are three members of a hive: the queen, the worker, and the drone. There is only one queen per hive, and she is the biggest bee in the hive. The hive is a reflection of her, and she is in charge. But can be replaced if the workers find her incompetent. She will live 2-7 years and can lay 1,500-3,000 eggs per day.
The worker bee is the smallest member; on average, there are about 50,000 per hive during the summer. They do everything from hive care, hive defender, foraging, and activities related to the queen. In their lifetime, which can last 22-42 days, they will make about 1/12 of a teaspoon of honey. The drone's one mission is to mate with a queen. If he has successes, it will kill him.
Honey
Honey, also known as liquid gold, has great value as a food. It can be used in cooking, baking, or added to tea; in addition to that, it can also be eaten raw. Honey comes in many forms and flavors. The flavor can be affected by the time of harvest and the floral source/sources. For example, honey made primarily from blueberry can sometimes have a blueberry aftertaste, and basswood/linden tree honey can have a hint of mint.
Honey's many forms:
Crystallized or Granulated Honey – is just honey that has spontaneously crystallized. It has not gone bad; it just needs to be heated to return to a liquid state. The best way to do this is a warm water bath (do not boil). Also, do not put it in the microwave, as this will destroy the beneficial enzymes and properties of the honey. Granulated honey can also be eaten, and it just has a different texture.
Raw Honey – has had minimal to no processing done to it. If heat is used, it will not be above 105-115 degrees Fahrenheit. Sometimes it will be run through a minimal strainer during bottling. But this honey will still have pollen, wax, enzymes, and the occasional bee part. Most small-scale/local beekeepers will sell their honey this way in liquid or crystallized form.
Creamed or Whipped Honey – is crystallized honey where a starter seed is used. This seed comes from a previously crystallized batch of honey and is much smaller than most naturally crystallized honey. This makes it a smoother-spreadable cream. It is lighter in color than liquid honey.
Comb Honey – is honey left in the wax comb. It is harvested by cutting the comb out of the frames or by using special frames. This is a lot more work for the bees because that have to draw out the comb every time. Normally the drawn-out comb would be reused, saving the bees time.
Infused Honey – is made with herbs and spices, such as mint, rose petal, vanilla, and lavender. The herbs are placed in warm honey and left in the jar for a few weeks. The herbs are strained or can be left in. I like to put the herbs in on a new moon and take them out on a full moon.
Beekeeping is a long-held tradition done all over the world. This is just a basic look at how my family keeps bees and the amazing ability of bees. If you have more questions, I can be found on the Beartaria Times app Farming Artist or Instagram as farmingartist13. The farm website is jonesmoonlitfarm.com.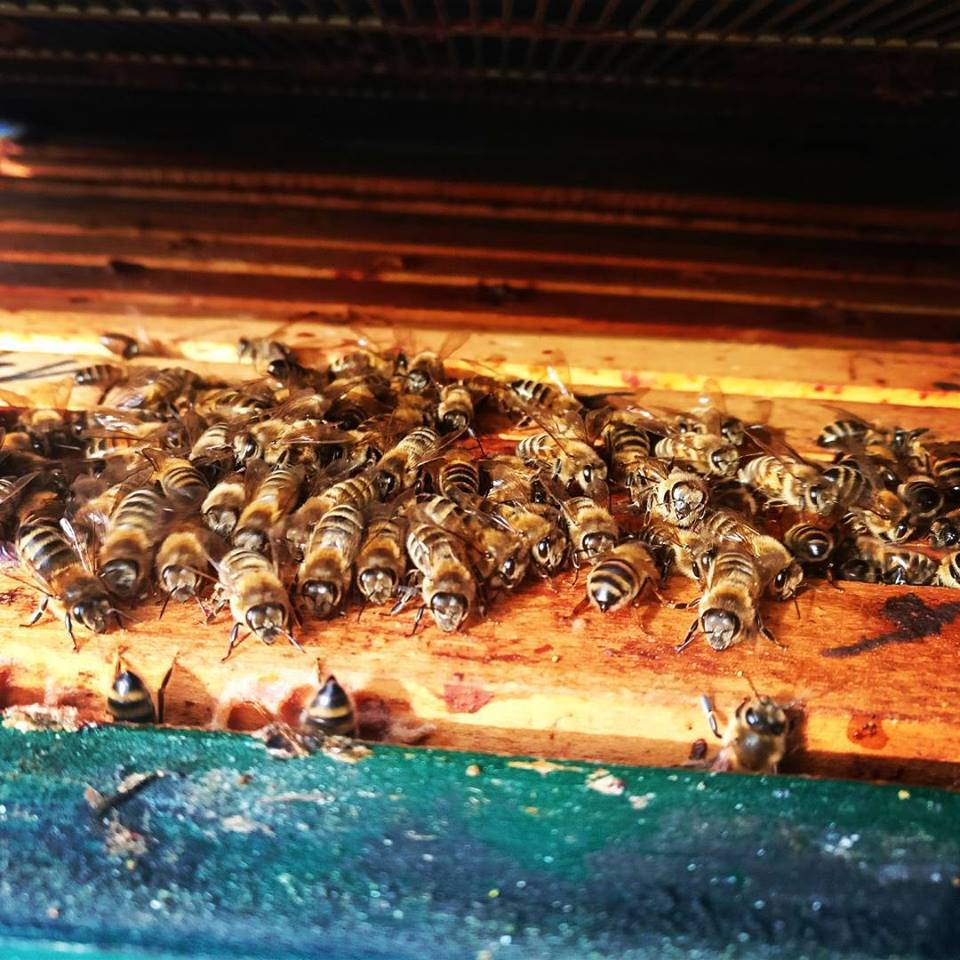 Micro Greens – Macro Benefits
Having good nutrition is important, sure, but that's just scratching the surface of the benefits growing your own greens offers.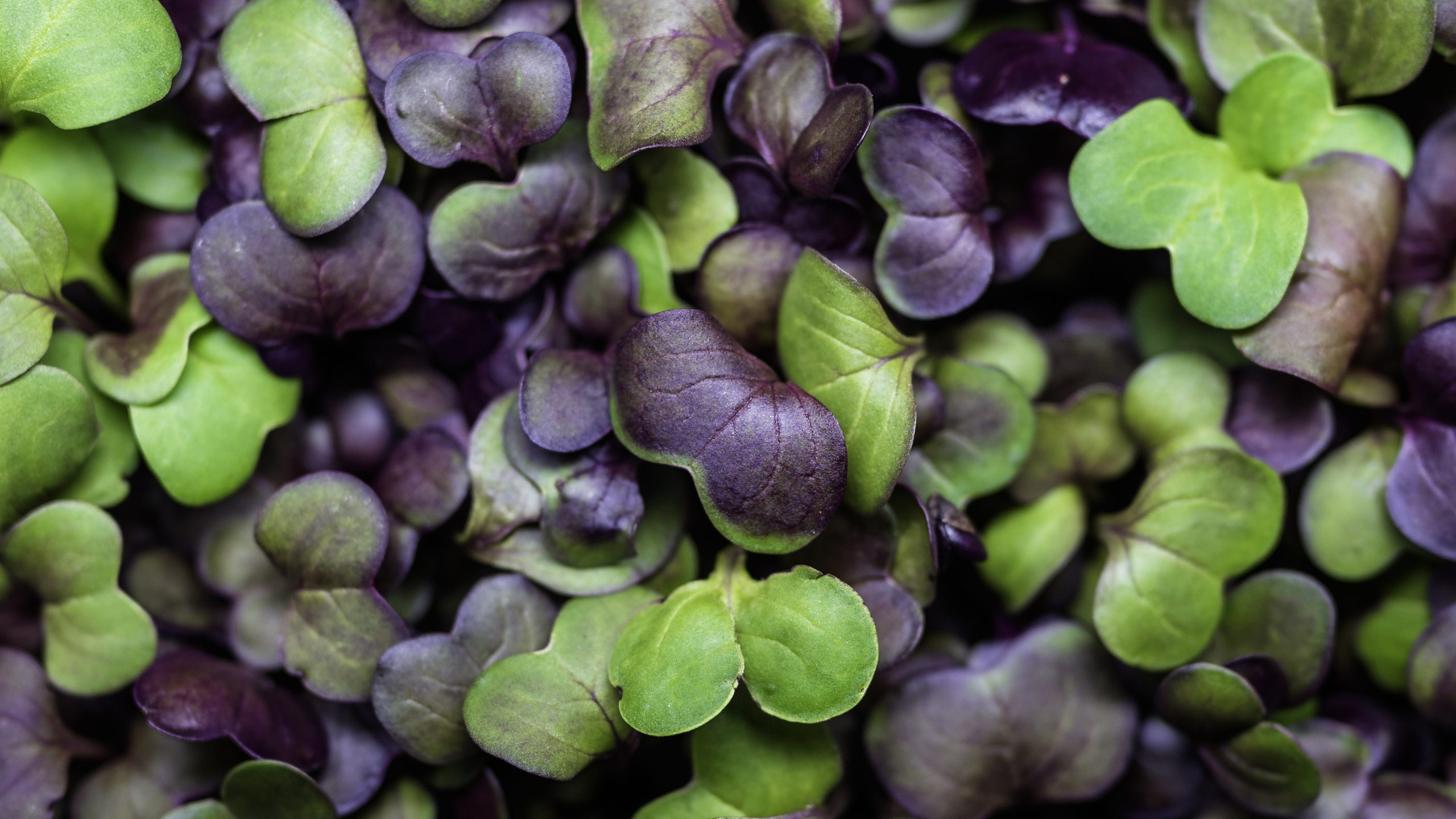 By: BalanceBear (aka @johnny.greenleaf)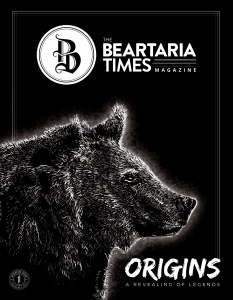 This article was first printed in our very first issue of The Beartaria Times Magazine, Origins, A Revealing of Legends
Microgreens, as the name suggests, are small by nature, but the benefits they offer are quite the opposite of their size.
What are microgreens and what exactly do they have to offer? Microgreens are vegetable greens harvested just after the cotyledon leaves have developed (7-10 days after germination for most varieties). The benefits? Well, they are countless. We'll get to many of them, but a few of the biggest advantages of growing microgreens over traditional vegetables are their space efficiency, time to harvest, & ease of getting started. Just because you don't have a yard, doesn't mean you can't grow your own food. With as little as a shelf in an apartment, and a few supplies, you can start sewing seeds and reaping the benefits of these nutrient dense greens in no-time. I was introduced to the world of microgreens this past year by the legendary Urban Farmer, Curtis Stone, and in just a matter of 8 months they have already had a profoundly positive impact on my life, and my community.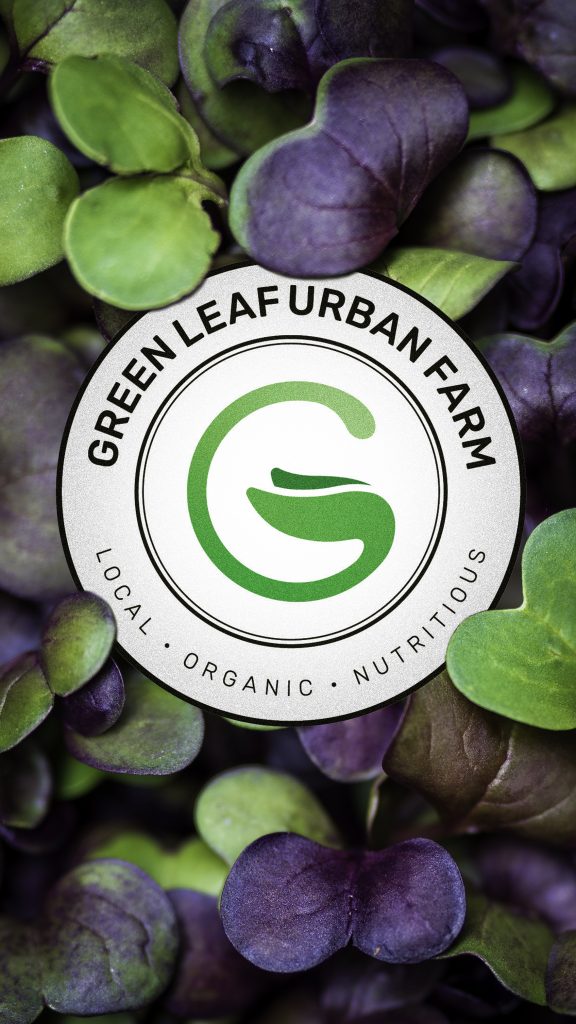 Now how could something so small offer so much? It's been theorized that the reason microgreens are so nutrient dense compared to the leaves of their mature vegetable counterparts is because they are harvested shortly after germination, when all of the nutrients they need to grow are there. Regardless if that theory holds true as to the why, nutrient tests have shown that microgreens contain 4-40 times more concentrated levels of various nutrients than leaves in the mature plants, depending on the variety & specific nutrient (i.e. red cabbage microgreens contain 40 times more vitamin E than mature red cabbage). Buying microgreens from a store can be significantly more expensive than normal mature vegetables, but growing them yourself, especially when you consider the time from planting to harvest, is much more affordable. Furthermore, when you buy anything from a grocery store, the vitality of the food has already been severely diminished due to the fact that it takes so much time for the product to be packaged and shipped off to the store. From the moment a fruit or vegetable is harvested, the nutrients begin to break down. This vitality can actually be measured. Realistically, the freshest produce you can get from a store is 4-7 days post harvest. The total time it takes to get from planting microgreen seeds to harvesting the greens is 10-14 days total (for most varieties), which is right up there with the nutrient density when it comes to the best benefits microgreens have to offer. When you compare that to typical times like 2-3 months for a mature plant to bear fruit, it's quite astonishing that the microgreens pack such a dense nutrient punch, and when you grow them yourself, you can eat them living, which means you don't lose out on any nutrients like you do when you get already deteriorated greens from a store.
Having good nutrition is important, sure, but that's just scratching the surface of the benefits growing your own greens offers. One of the biggest benefits I have personally experienced since becoming an urban farmer, is the community connection that has come from it. I believe that food and community are two of the biggest sources of energy in this realm, and when you grow your own food, and further when you exchange it within your community, the energy boost is multiplied. Picture a closed-loop energy cycle; that's what you get to experience when you buy, sell, or trade locally within your community. First, you get an energy boost from growing your own food, you then experience an additional energy boost when you exchange your food to someone in your community, because you see the joy it brings them, and you know that it will nourish them. They receive that same energy boost when you buy or trade for their food, and thus the communities' overall energy goes up by a multiple factor, and the energy loop remains closed. When people in your community buy food from a corporation, especially one that's not local, energy gets siphoned off into the ether, rather than being kept in your community where it can continue to cycle & recharge.
I'm speaking from experience here, as I have felt a tremendous difference since buying, selling, & trading with local bears at our Southern California Bartertaria Meetups, as well as exchanging my greens for fruit from my neighbors' trees.
Even if you live in an apartment in a city like I currently do, microgreens can be a great starting point for you to tap into that energy cycle. Furthermore, if you've never grown food at all, consider these greens as a great micro-step to start the journey that is gardening/farming.
I won't go too much into detail about the equipment you need to get started, as there are plenty of great resources online and on YouTube for that (seek and ye shall find), but I will tell you the basics of what you need to get started, and a few good online resources to look in to if you want more details. You will need some kind of tray or container to put the growing medium in (I use 10×20 trays from Bootstrap Farmer), seeds (I get mine from TrueLeaf Market), a growing medium (I use an organic potting soil from ProMix), and lights (I use 4' Sunblaster Fluorescents) if you want to grow indoor, otherwise you can obviously use sunlight if you have space and want to grow them outside. That's basically it. Anything else will just upgrade your operation. A few of the best online resources which helped me along my journey, from setup, to growing, all the way through harvesting are: Curtis Stone's From The Field TV, Donny Greens on YouTube, and OnTheGrow who have great experiments on YouTube & an ebook.
So, whether you just want to add some nutrient dense greens to your smoothies, juices, salads, or dishes as a garnish, have some sunflowers to snack on, take a micro-step towards learning to grow food, or go big & contribute to the energy cycle of your local community, the macro benefits of microgreens are there for you.
"To a man's heart it brings gladness to eat the figs from his own trees, and the grapes of his own vines", and to your heart gladness can come from eating the microgreens of your own stem.
Using Hay to Import Fertility and Feed the Pastures
A recent study I read indicated that pastures responded better to feeding hay directly on the field verses hauling manure and compost from the barn.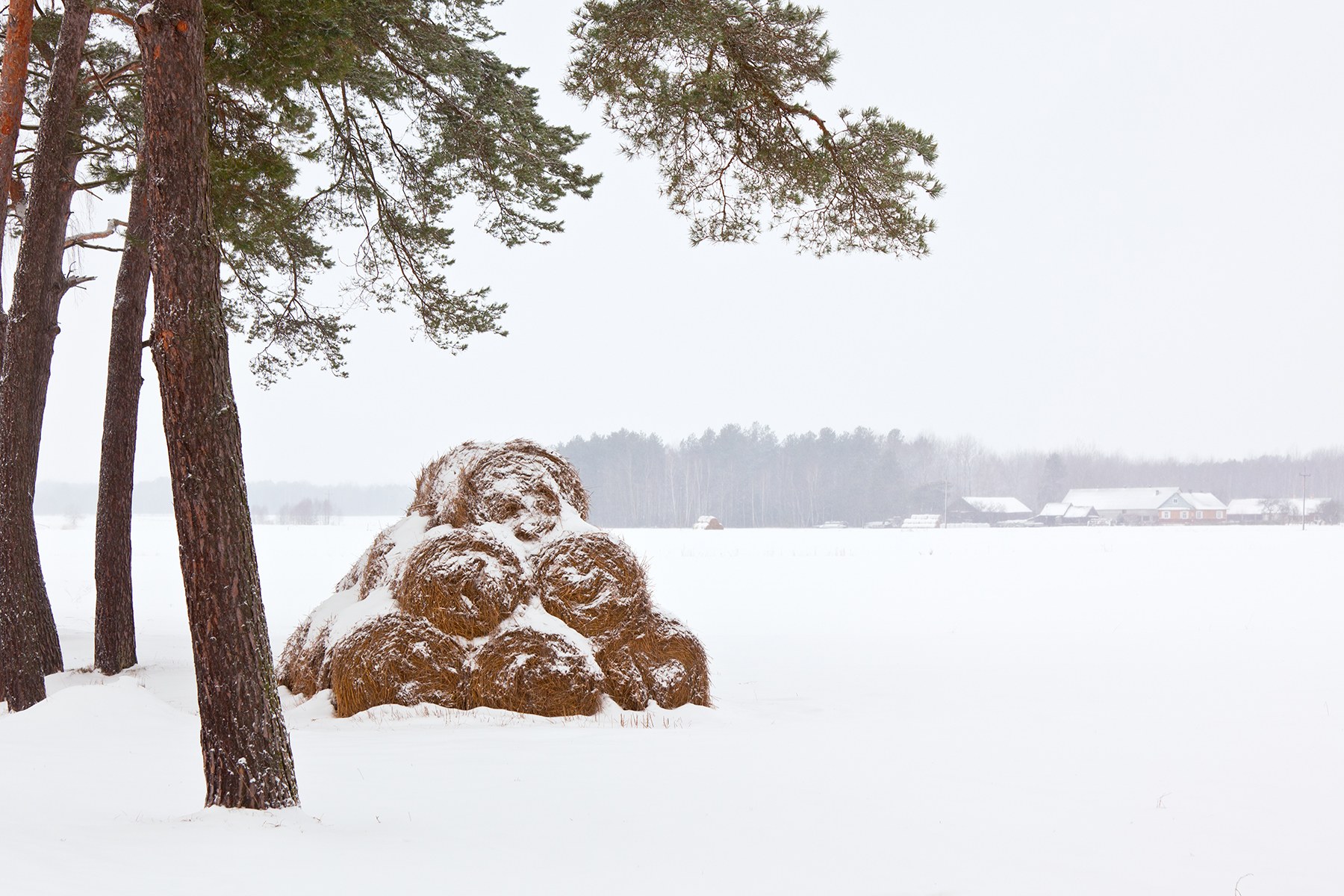 By: Mohawk Farmer Bear
When we took over the farm in 2015, the fields were constantly being cropped and hayed. Modern agriculture focuses on production at the expense of soil health and fertility. While we have good soils here, it's obvious that fertility is low, and the pastures are nowhere near as productive as they have the potential to be. This winter, rather than feeding the cows down by the barn as usual, I focused on rotating them around the pastures and feeding the hay directly on the pasture. By the time grazing starts in May, I will have fed 200 round bales of hay or 50 to 60 tons of hay onto the pastures. That's a lot of manure, organic matter from wasted hay, and fertility to spread on 50 acres. A recent study I read indicated that pastures responded better to feeding hay directly on the field versus hauling manure and compost from the barn. More fertility is captured with winter bale feeding on pastures. So, this summer, I'll get to see it. Either way, 50 tons of hay (5 tons to the acre) should have a huge impact on the pastures. More fertility means more grass, which means more beef.
Unrolled hay bale. It spreads the fertility around the pasture and gives all the cows access to the dinner table.
In early February, you can see where the cows have been without snow. I covered this part of the farm well.
The farthest and highest point on the farm. Typically the hardest to get manure spread on, but I fed a ton of hay up there this winter. It's a pretty good hill, so even with heavy baleage, I start at the top and push the bale down the hill to get it unrolled.