Business Q&A: Volume 1
Morals, Social Media and finding like minded folk. Navigating a sea of dilemmas.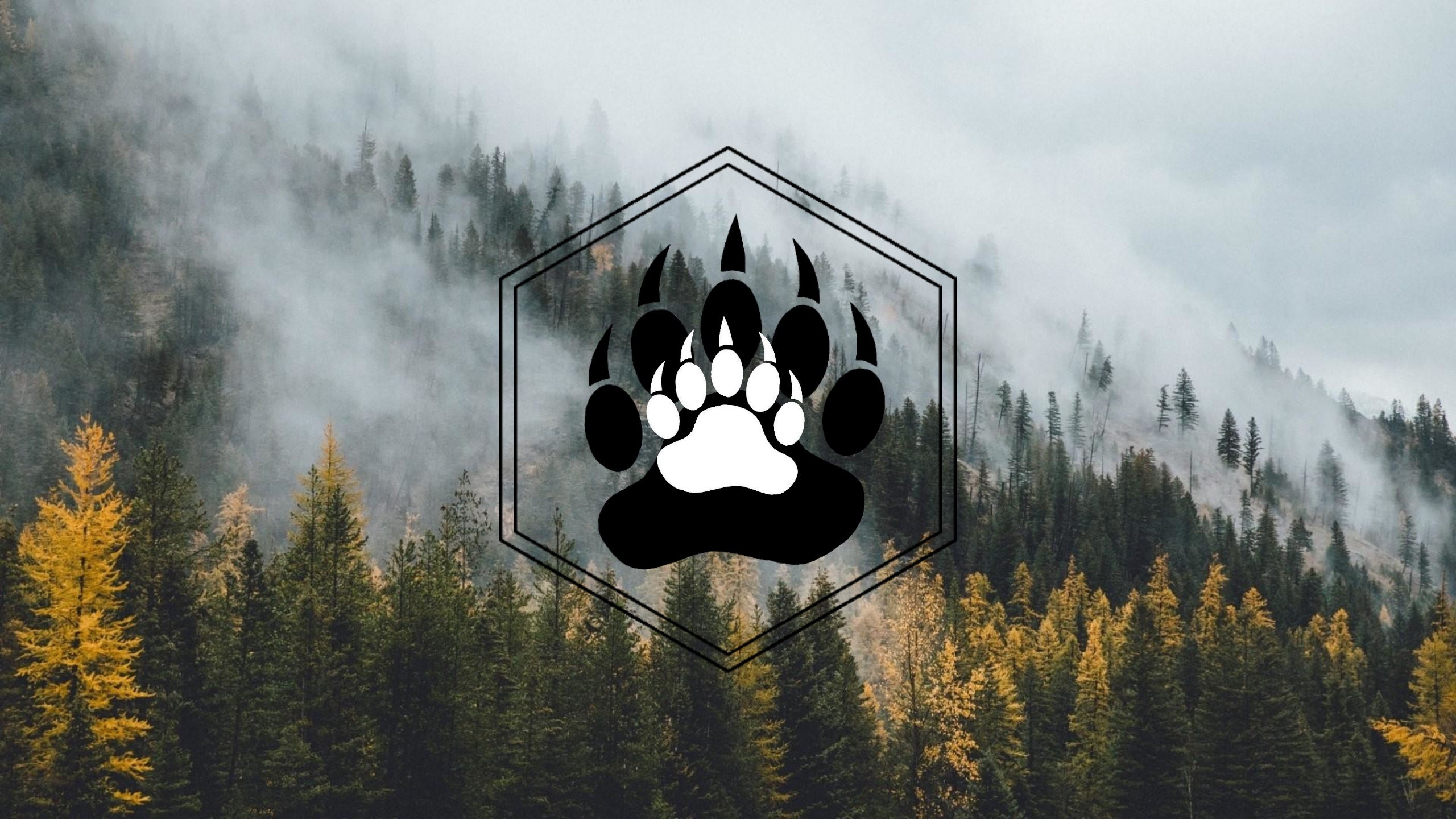 **Public Disclaimer: The views expressed in this Q&A Section are not a representation or reflection of the other authors here at The Beartaria Times, nor are they a representation or reflection of The Beartaria Times in itself. They are the individual thoughts, opinions, and suggestions of the author himself, based on his knowledge of business. Anything read in this section should not be taken as concrete business advice, but rather helpful suggestions if you find them applicable to your own business**
Welcome to our first Q&A session, my friends! For those who did not see my first article, I'll be answering business questions to the best of my ability for all to read and learn from. This week's set of questions comes from Ben, who wrote:

"Hi,

Im trying to set up a small business writing and publishing tabletop RPG adventures.
So many people and organizations in this area are SJW/converged, including all the market leaders. Should I hide my right leaning opinions from people? If so, at what point can I stop hiding and be myself?

I have no money to advertise, is it worth using traditional social media in the current environment?

How can I reach out to other people who like crushing and not get bogged down with soy boys?

Thanks for any advice,
Ben"

First, that sounds epic. Please include a character who looks like a Dwarf from the world of Tolkien, but 6'3″ tall and loves woodworking.

1.) Your first question regarding whether or not to hide your right leaning opinions is, for me, an easy answer. Absolutely not. I am a huge proponent of authenticity, and the world is starving for it right now. Do not ever fear being ostracized by the mob because of your morals. Many businesses these days are bending the knee to the mob and throwing artificial support behind causes which they do not truly care about. These causes are never good for people or their clients. Businesses do so to try to capitalize on rage most of the time. I find this practice abhorrent, and am much more fond of running a business quietly and only using your business platform to spread morals if asked (unless of course the spreading of your morals ties into your business). For every one person who has a problem with it, you'll find 5 people who agree with you and would love to support whatever business endeavor you're on simply because they want to help boost up like minded people.
I recently had a woman express interest in my products via social media before quickly informing me that she would not be supporting my business after all, citing my personal page which she snooped on and found issue with. I was given a choice in that moment to either bend for a few dollars or hold my ground. I held my ground very strongly. That particular incident spread around a bit, and opened some doors for me. I don't know if some of those doors would have ever opened had I not stood my ground.
Sometimes God tests our resolve, and the prize we win is based on our decision in that moment. Stand your ground with feet planted firm, and keep faith that upholding morality is more important than any amount of money.
In summary, I would advise you to state your beliefs and opinions if questioned on them, but let your business speak for itself all other times. Your morality will come through in whatever you do, without the need of you being vocal. This is not something that should be feared. Those who understand will be supportive, and those who take issue will quickly fall away.
2.) Regarding your question about using social media in the current environment. I would absolutely suggest you do so. I don't find any problem with using the tools at our disposal to help grow, as long as they're being used responsibly and with good intent. Many wish, myself included, that we still lived in times where you simply brought your potato harvest to the market and sold them right then and there. While this is still an option with local farmers markets, it is not the same as it used to be. Try as we might to keep things simple, it is human nature to complicate. As long as you are not creating problems for your business, utilize the infrastructure while you need to. Fingers crossed that someday your business will grow to the point of no longer needing to rely on social media, as your reputation will precede you.

3.) For your last question, as it pertains to business, I would combine answers from your first two questions to answer this one. Be who you are, stand up for morality, spill Logos everywhere, and utilize social media. It may be a slow start, but that's alright. The things that matter the most in this life are not quickly obtained. As you grow your business, you will grow as a human as well. Let it happen. Burn the dead wood, and continue on. In life, we attract what we give our energy to. Give no energy to the type of people you don't wish to be in your life or support your business. I live just outside of Portland, OR. I am in the midst of a fallen city full of people I have nothing in common with. I'm still thriving and crushing. Put your faith in God, that He will provide whatever it is you need in this life to grow. When done so with the purest of intentions, you will find that what you need most will enter your life.

This concludes our first Q&A session. Thank you to Ben for the questions, and I hope some of this can help others who may be experiencing the same dilemmas.

If you would like to have your questions answered, please send an email to: Business@beartariatimes.com

Keep crushing everyone!

-Woodshop Bear
Rebel Joe Coffee, It will give you legs…
"I think about her every day and I hope she is proud of what I'm doing." says Max.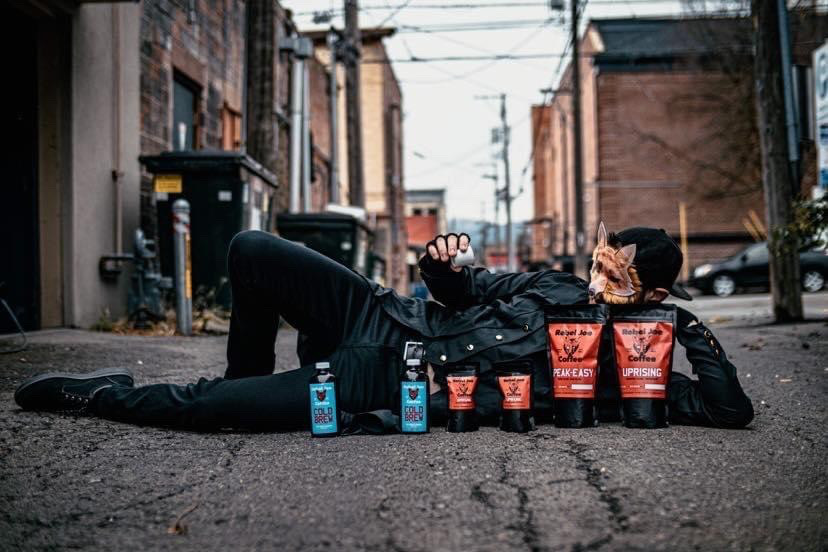 They said this coffee can really stand up for itself, that it would make your beard grow overnight, a coffee so legendary it will have you crushing in your sleep. So logically, We had to try it. We have never been crazy about where we buy our coffee from, our go to blend is the wholesale club's own organic medium roast. Once in a while we would splurge for a more local Vermont whole bean organic coffee but it was never a priority to have "great tasting" coffee. We honestly couldn't tell much of a difference between our past purchases. Then we bought Rebel Joe.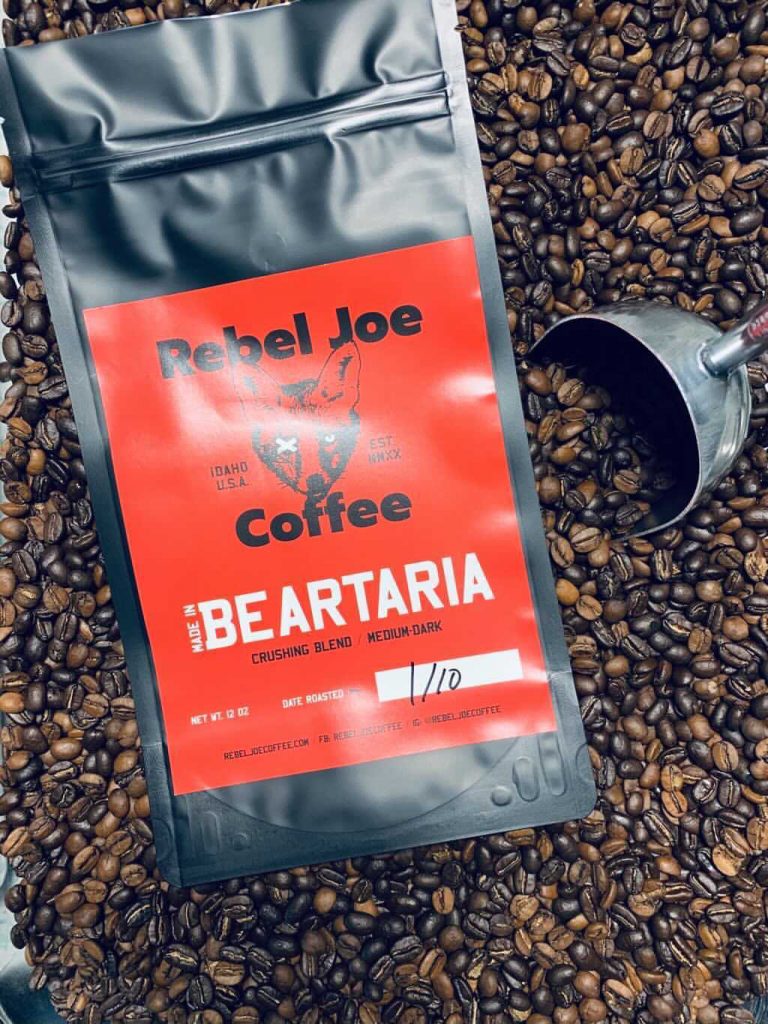 We got the 5 lb Uprising Breakfast Blend and the monthly special of Pecan or Pecan't. You can get yours here. First of all the shipping was quick from order to delivery and the cost is comparable to the coffee we had been purchasing. We immediately took note of the roasting date, it was roasted just five days prior to the day we received it. The fresh roasted smell of the whole bean coffee tickles our nostrils as soon as we opened the bag. The flavored coffee smelled like a delicious cone of butter pecan ice cream on a hot summer's day. We knew we were going to like this coffee. 
When we got our gravity filter, we thought our coffee game had changed but like a true legend Rebel Joe upped the game even more. The smooth rich taste of the coffee is notable with or without cream. There is no bitterness of over roasting or neglect that comes with store bought coffee. Delicious hot or iced this coffee is highly recommended. 
Max, better known as Board Game Bear, has really brought new life to the coffee world. The branding and creative genius behind Rebel Joe really makes him stand out as an entrepreneur. But he couldn't have done it without his mother. The love a son has for his mother is never better expressed then when she needs it most. He helped his sister care for their mother who was suffering from ALS the last years of her life. In doing so brought her back to God and made sure she was baptized 3 months before her passing. He was also baptized on Mother's Day the same year and hasn't looked back. While the task at hand was heartbreaking and nearly unbearable at times he wouldn't have chosen any other path. Rebel Joe wouldn't have come to fruition with out his mother. The modest inheritance he received after her passing allowed this venture to come to life and her memory lives on through his hard work and dedication.
"I think about her every day and I hope she is proud of what I'm doing." says Max.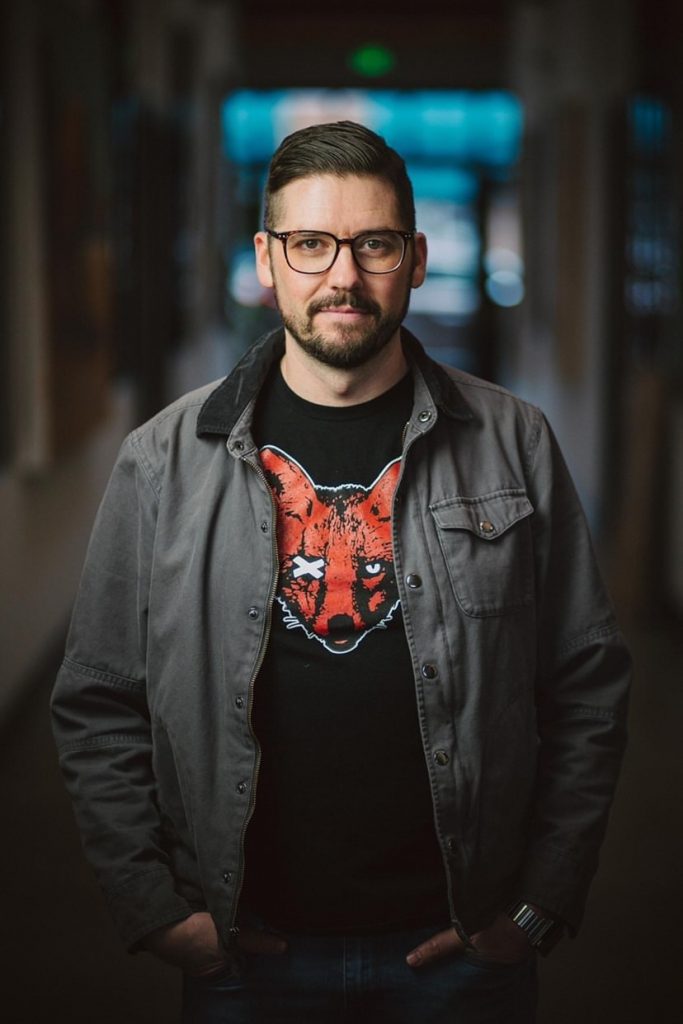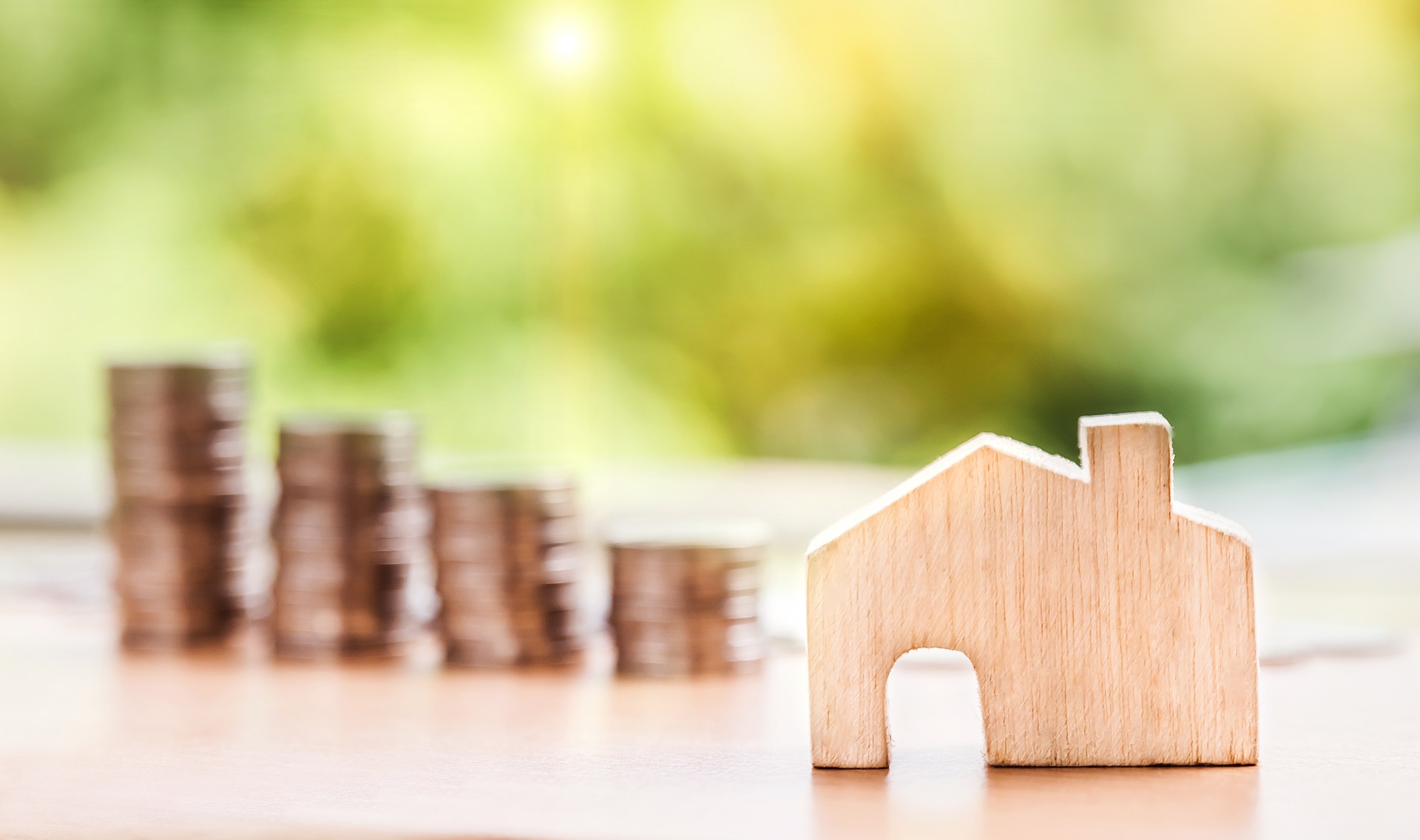 There are many reasons why someone takes the scary leap into starting their own business. Maybe they aren't happy with their salary. Perhaps they think they can build a better business than where they currently are. Could it be that they feel there's no future in their position and they're just outright bored? Whatever the cause is, more often than not the underlying reason revolves around the acquisition of more fiat currency. People will sacrifice paid health care, paid time off, sick days, vacation days, and job stability and security for the unpromised dream of more cash in their bank account. And this is where many people make their first mistake.

    When you operate from a place of fear (in this case the fear of not having enough money), both in your personal life and the decisions you make in your business, you are led down a road which will ultimately result in the sacrificing of your own morality in the never ending pursuit of more cash. And that cash will never bring you true happiness.

    The alternative to this soul sucking pursuit of material gain is to operate your business in a way where you are spreading good into the world. While this may seem counter-intuitive to every piece of business advice you've ever heard, it's the absolute truth. When you use your business power to bring others honest, selfless joy, you not only gain a customer who's emotionally invested in the future well-being of your business, but you also get to lay your head down at night knowing that you used your power to do good. Unlike paper rectangles or 1's and 0's in a computer, this will actually bring you happiness, and give you purpose going forward.

    A personal example of this from my own business is as follows. Around Christmas time of 2020, I had a customer reach out to me saying her family had experienced a very brutal year and she had only a very small amount of money to buy something for her husband, but if she was going spend it anywhere she wanted to support a small family business. She wanted to purchase one of my Deer Hunter pens, as her husband was a hunter and she thought he'd really like it. I could have very easily made the pen, sent it out, and never thought about it again. What I chose to do instead was make the pen, make an additional pen valued at $40, and send them both out with a hand written note to her husband wishing him good fortune in his future hunts. I did this in the middle of working 14hr days trying to keep up with a holiday business rush the likes of which I never could have anticipated. She received the package and was both shocked and elated, and she is now a top follower on my social media and shares my posts all of the time, giving my business tons of promotion. I lost money from my own pocket to do this small act of kindness, but if we measure good deeds in dollars, we've already lost everything that makes us good.

    Is my ego forever inflated because I did something good? Not at all. But my heart is full knowing that I have reached a point in my business where I can do small acts like this from time to time that bring joy to others. You'd be hard pressed to find an employee at any big box store who would use money from their own pocket to bring you joy when you're in a trying time. And this is the fundamental difference between operating a business from a position of money acquisition compared to spreading kindness. Both the big box store and the small family business are profiting, but when the dollar collapses the store will be left with nothing, while the family business will be left knowing they did good in this world. The question you must ask yourself when running a business is where do you want to be when that day comes? Do you want your legacy to be worthless paper, or changed lives?

    Until next time my friends, Onwards.

-Woodshop Bear
Website: www.littlebearwoodshop.com
Bear Trail Beef
One of those businesses with a crushing 2020 year is Winter's Farm owned and operated by Jordan and Hannah Winters.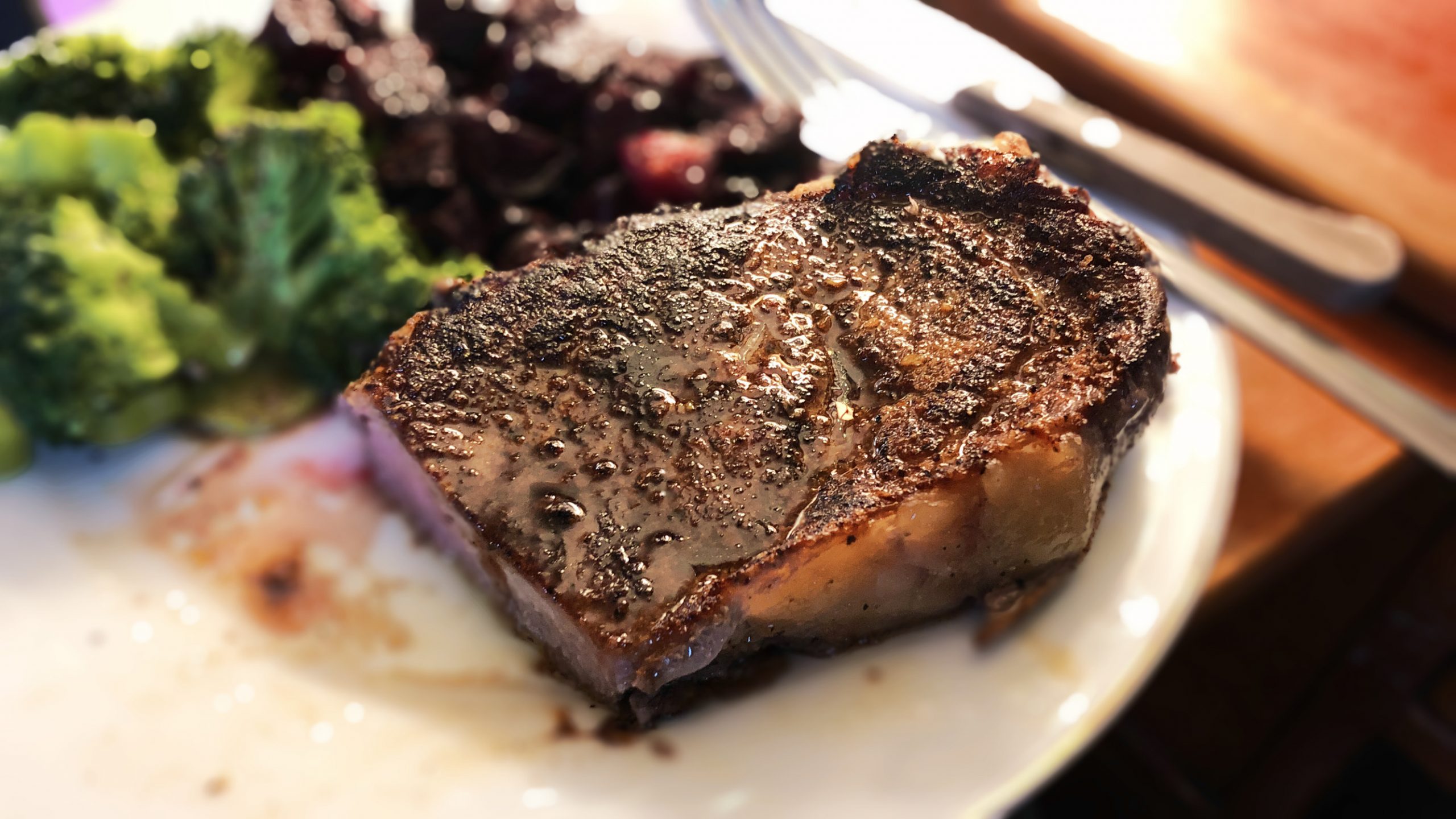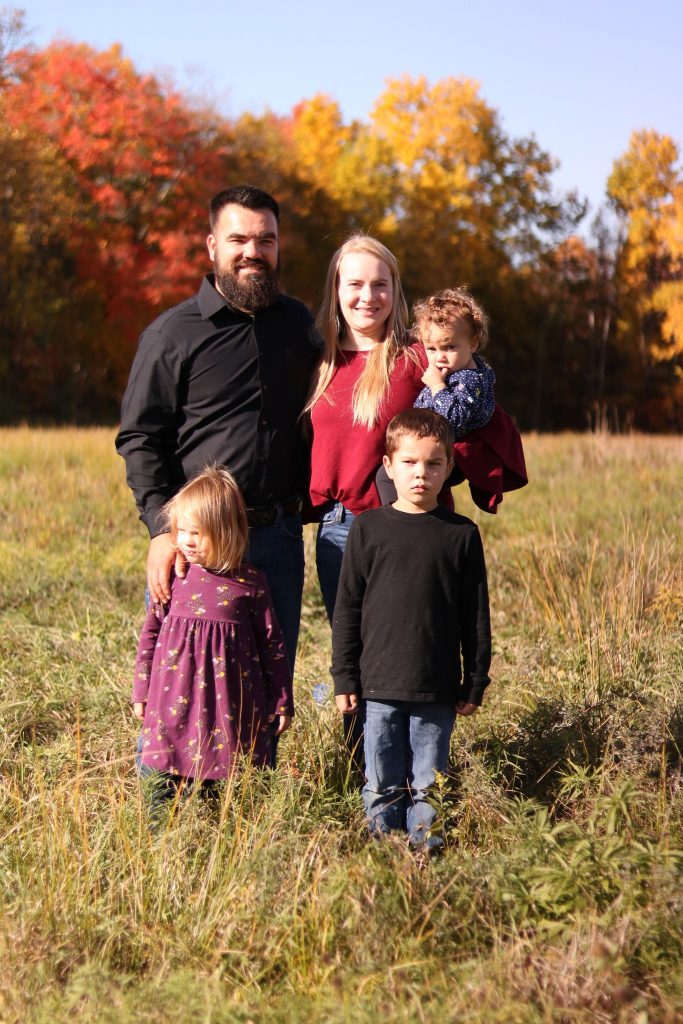 For many businesses 2020 was a year of hardship, struggles and loss. For the businesses in this community however, it was the best year ever. One of those businesses with a crushing 2020 year is Winter's Farm owned and operated by Jordan and Hannah Winters. Jordan and Hannah both spent their youth farming and started their current farm in 2015. They have provided grass fed and finished beef to their local community and have now added pasture raised pigs to the menu again. 
In late 2020 however they made the plunge and started Bear Trail Beef! Supporting our community is what we do best in the bears and like many we simply couldn't wait to purchase a package of meat from their farm. No strangers to mail order beef we jumped on the chance to place an order excited to support a small scale farmer and family. When the package arrived even the kids were excited to unbox it! We ordered the Beartarian Basics- Mixed beef bundle It was delivered promptly, well packaged and included a lovely family photo as a thank-you.  Included in the box was 10lbs of ground beef, 2 Tenderloin Medallions, 2 Delmonico/Ribeye Steaks, 2 NY Strip, 2 Sirloin steaks, 2 Roasts of their choice (we got a chuck roast and a shoulder roast). Each vacuum sealed package of beef was a stunning deep red color with beautiful marbling.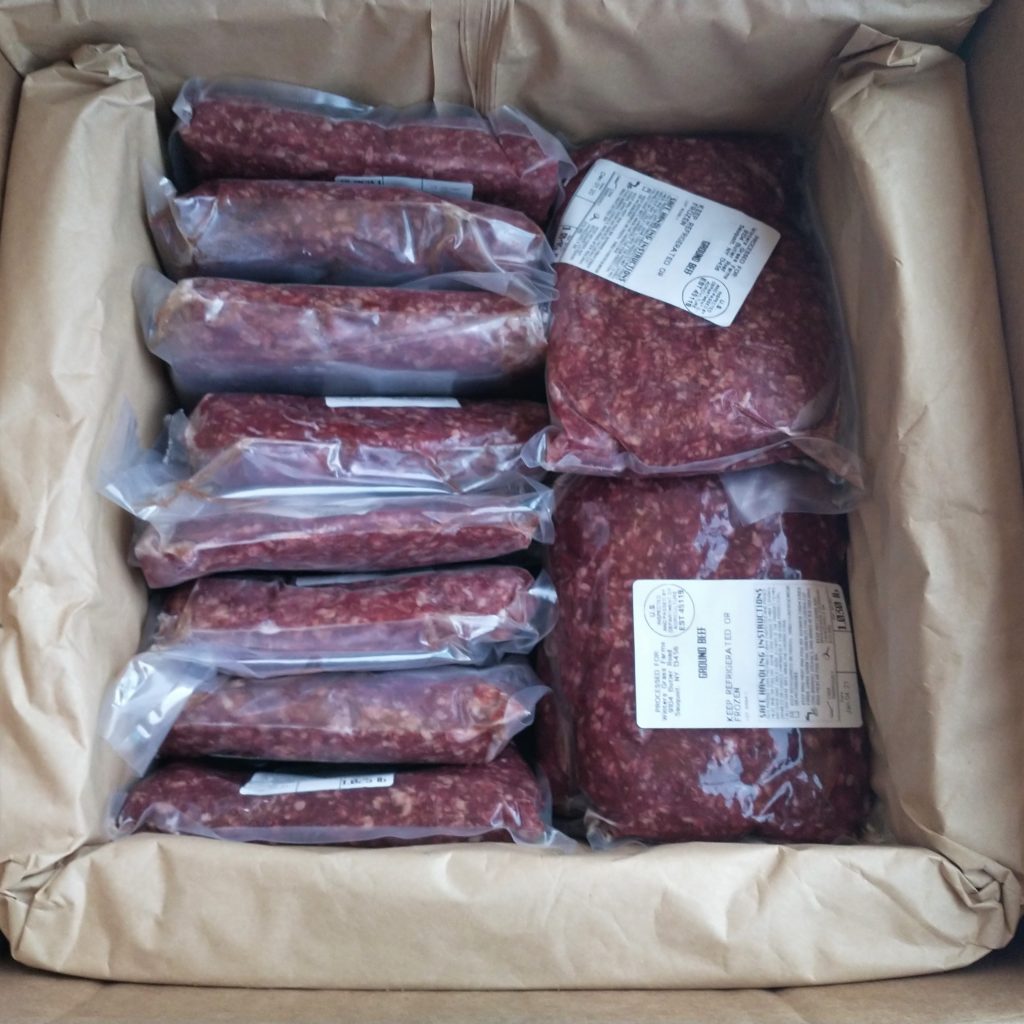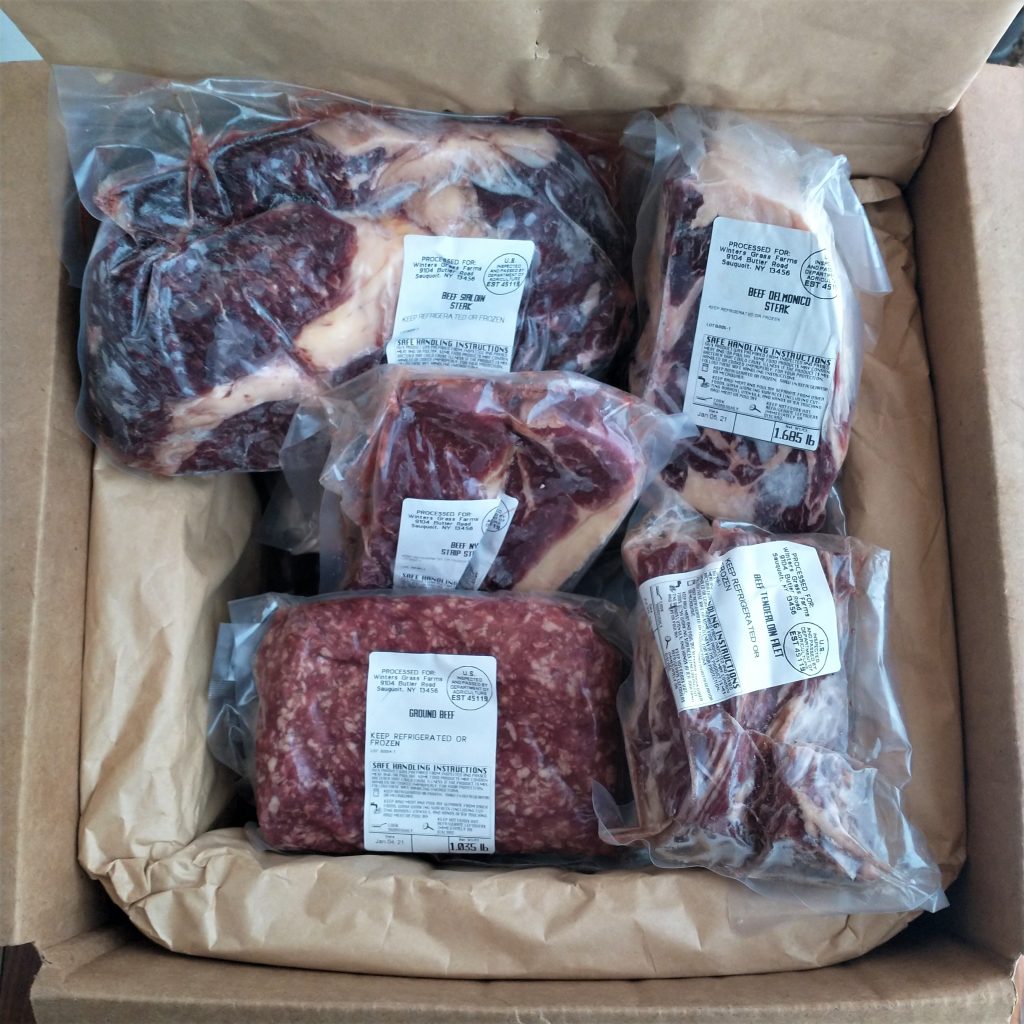 We have been purchasing grass fed beef for some time now and even just by the color you can see the difference between the beef from Winters Farm and the beef we had purchased. The steaks cooked beautifully to a wonderful rare to medium rare with ease. The ground beef was phenomenal and appeared more natural and unprocessed than any other ground beef we had tried yet. Everything was delicious and nourished our growing family well. The best part of the deal was knowing these animals lived a good life and that our purchase was helping to support a family like ours that was out there providing bears an essential service.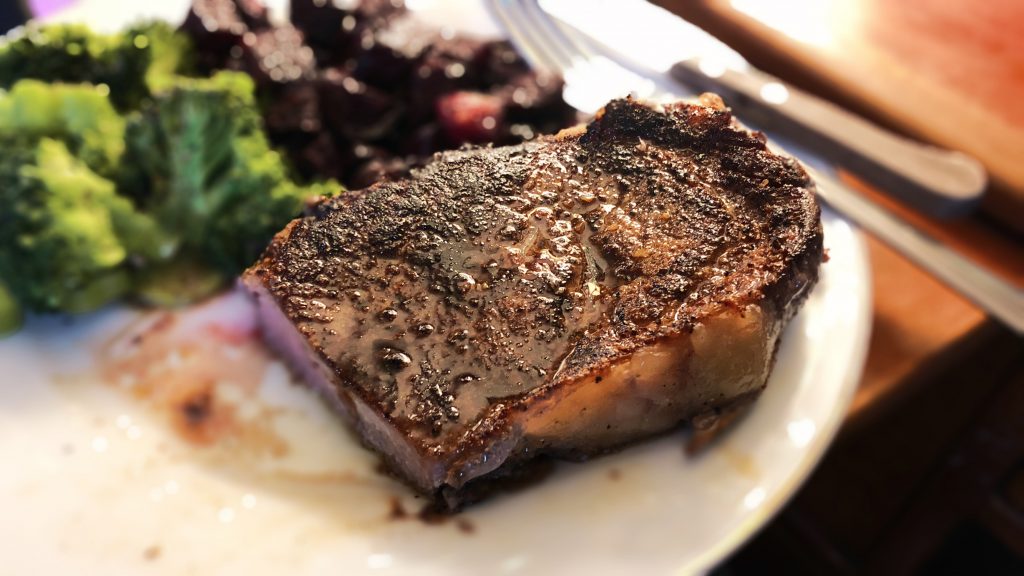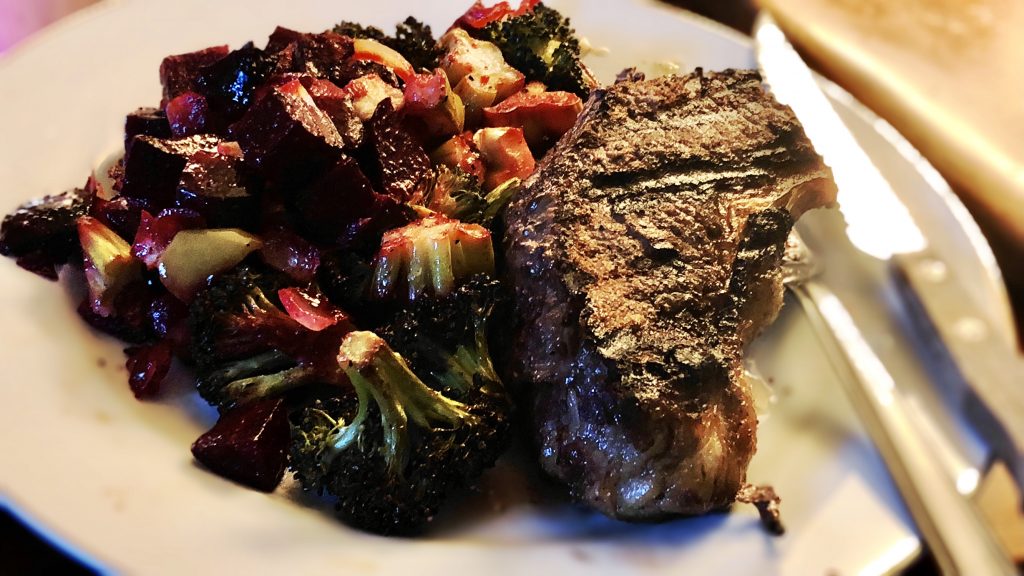 Their main goal and focus with Bear Trail Beef is to bless families with tasty, healthy, and nutritious meat, in order to grow strong heathy families and to provide access to homegrown food outside of the industrial food system. Here at the CameraBear household we would say they are absolutely crushing those goals! They are shipping to the contiguous US and you can order today at www.beartrailbeef.com . We are sure you will not be dissatisfied.