The Beartaria Times Is Evolving
Up the mountains of Beartaria…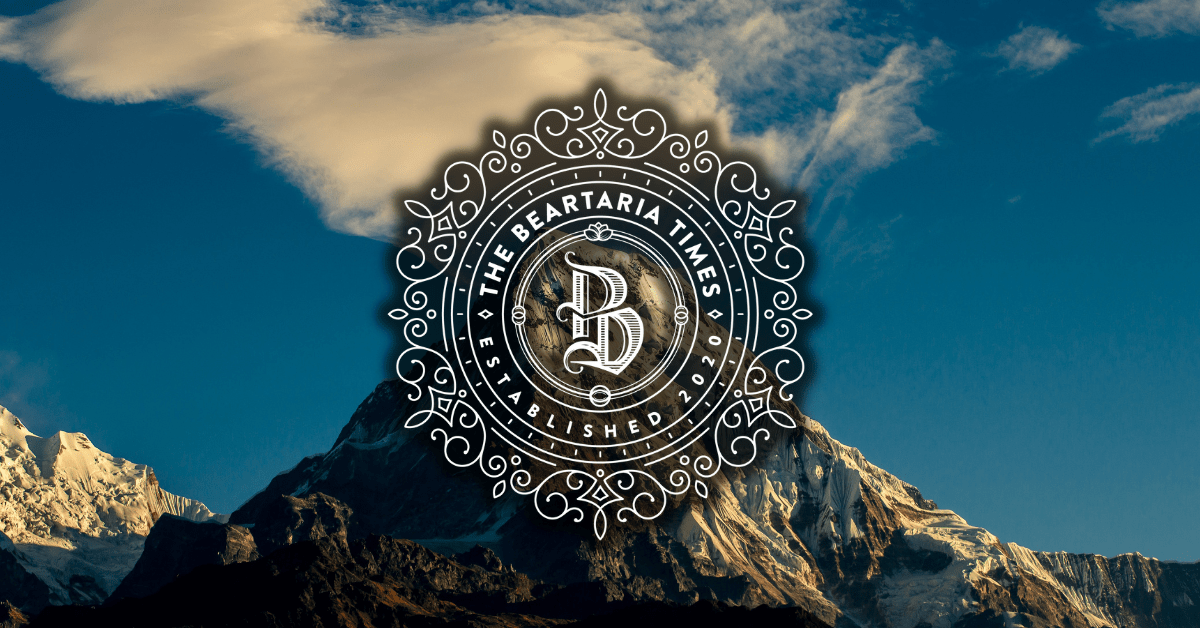 Dear Legends of Beartaria and all welcomed guests,
We are happy to share some news and developments with you.
We would like to start by thanking everyone that is making this journey with us. You have watched us grow from a simple community-driven news and media website to a social media app to a publisher of a unique community-driven magazine.
This growth and progress have come with so many challenges. How do we serve our audience with the content, products, and services they want while continuing our mission sustainably and reliably? How do we grow and optimize a community-driven news and media company?
We found early on with our website launch that our audience and community were the value we wanted to share. We discovered that sourcing our news and content from our community didn't fail. We quickly brought our online news and media website into a social setting with the Beartaria Times social media app launch.
Our app exploded with diverse and valuable content from our community.
We read each other's posts, we like each other's pictures, we inquire, we educate, and we relate to and support each other in the diverse lives we live, united by moral ideals and a vision of a healthy future.
We had various challenges when trying to onboard not just thousands of people but an entire culture. But, in the age of censorship and heavy social disputes, our community got the message, and we all saw the vision for a clean, family-friendly social media app. Productive and beneficial before just entertainment scrolling was a possibility. Don't get us wrong, our community app is entertaining. But we reconcile the entertainment with a consistent undertone of value.
Unfortunately, our website fell by the wayside. Our community has been active, getting to know each other and building their lives, families, and businesses. We realized that our community was something real. It wasn't just online consensus or agreement in wanting to homestead and holding true to certain morals. We became friends or realized that we were friends all along.
We realized our community, the news of our community and our culture deserved to be printed and held on to for years to come. A way that we can show future generations that we lived in prosperity, not because of what was done for us, but because of how we chose to view the world, how we decided to act, and the guidance we followed.
Our magazine gave us a way that we could continue to share news and highlight those in our community that are really striving. We were able to fund editors, designers, and administrators dedicated to the cause of getting your stories and experiences out there.
Our App funds moderators, support, and strategic investments.
Our magazine funds a production team.
Our community map funds the community and the ecosystem.
On labor day weekend 2022, precisely 2 years after The Beartaria Times was Incorporated, we came together for the first-ever Beartaria Times national festival! The turnout, despite all challenges, was exceptional. Our authentic culture shined through, from handshake to hugs, from dancing to throwing logs, from speeches to fireside conversations. We had a blast!
But now, we are still left with this amazing website that, as of late, we struggle to keep up with. Balancing our app, our magazine, our communications for events, and future plans. Our initial launch pad, BeartariaTimes.com, has regretfully fallen short.
We want to revisit this initial goal with new tools and experiences in a unique ecosystem of services we provide.
Our community is strong and productive, and our company is healthy, debt free, growing, and profitable. Yet, we are faced every day with essential questions:
What's the best move for our community?
What's the best expense?
What's the best reinvestment?
When we launched BeartariaTimes.com, we had close to a dozen brilliant people committed to getting it off the ground, with no promise of return besides a cool website with content we care about.
Looking at the initial donations and what we could do with the community's generosity, we decided that funding free content from donations would not be sustainable. Instead, we had to create a business. We needed revenue streams that continually provided services that benefitted people beyond some daily articles.
We made the right decision. Now we believe that with all we have going on, we can offset the financial loss of funding the operation and management of a free content website.
However, we are ready to do things differently, and we have to. Our community is not just a few thousand followers on a social media platform. There are tens of thousands of real community members, families, businesses, hyper-local groups of friends, and even massive regional and national events!
So even though our website may seem dormant while we strive to keep up with support emails for our app or updating addresses for magazine orders. We have been working, planning, and asking some really big questions.
What do we want to do?
How do we wrap up and bring together a real, realm-wide community, a physical magazine, real-world events, and thousands of ambitious and dedicated people into a single community news website?
How do we manage thousands of submissions? Editing, content approval, site management, and everything else that goes into it productively while knowing that it isn't even a revenue stream?
Why do we want to do it?
Well, first, we have to remember and never forget that the content we share matters, it matters to those that read it, and it matters to those that share it. An article on BeartariaTimes.com can launch a business, start a family, and educate the future of our nations. And it shapes the future of Beartaria.
We also, from a business standpoint, have to know that our free content shows the world what we are about, it is an open door to our community, and it puts our community, and what we are about out into the wider realm for those to get a glimpse at the wonderful life we live.. or rather, how we are trying to make life wonderful.
We haven't got it all worked out yet, but we know what we want to do.
And we know the why.
We are happy to announce that we have been in the development stages of creating some unique back-end solutions that can unify our operations from our social media app user's support needs, our publishing and fulfillment divisions, as well as the growing demand to be a contributor or guest writer for our website.
As of now, our magazine contributor email list is over 100 people.
This email list has been offered to those that have shown our magazine team keen interest and valuable ideas on our community app.
We believe that if we opened it up with the right systems in place, the demand for those who wish to write for our magazine or website would be in the thousands.
There is so much interest and genuine desire to help with everything we do. Unfortunately, we have more requests to help than we can manage. Literally. It's not that we are short-staffed or short of talent. However, we are short of highly productive systems for management and oversight to utilize all the help we are offered.
So with all this, it's time our company evolves. It's time to grow into these big boots we made for ourselves.
In early November, we will be making some announcements about our new back-end systems for various workflow-related operations, client support needs, as well as contributor and client relations. These systems will allow a potential Editor-In-Chief to navigate communications and operations across multiple divisions, including magazine and website submissions. In addition, we will be onboarding tens of thousands of community members into this system, allowing us to grant access to website portal features for private communications and team-based project management.
This is the next big step for us. While most may just see that our website will become more active again or that our email support is better, many others will gain access to contribute to The Beartaria Times more effectively with better communication.
We want to share this with our community because we hear about your business accomplishments, goals, and strategies, and these steps we are taking are necessary to us and the development of The Beartaria Times.
We know there will be some thinking,
"Well done, BT, you are setting up a CRM and doing big boy work."
and we may have a laugh.
But to those that get it, we are going to do something that has not been done before. We are going to become the news site we were always meant to be, a news site that has never existed before because the community has never existed before. The culture was always here, just maybe in fragments or covered in dust and despair.
Well, we see it; we live it. It's ours to make what we want of it. And it's ours to report on.
These developments and workflow strategies will allow us to expand our site into national, regional, or even hyper-local coverage as we build an environment that makes our teams and contributors more effective.
It was never about monetizing an audience at The Beartaria Times.
It's about utilizing all of our good intentions for a goal bigger than ourselves. It's about an elaborate synergy yet to be made fully manifest.
And now, we can safely say, for the next year at least, we will not need to add more paid services to further utilize our community's good intentions, but those services have given us the backbone we need to hold the weight of a goal we carried with just faith. And now we are ready to carry that goal up the mountain.
The mountains of Beartaria.
If you would like to contribute content for our website you can now submit content for all of our categories at one central email, Editor@BeartariaTimes.com
Until next time, keep crushing!
This is our time.
Sincerely,
The Beartaria Times.
Our Magazine Team Releases Details On Issue #4 Of The Beartaria Times Magazine
Available Now for Pre-Order and will remain open through Friday, March 17.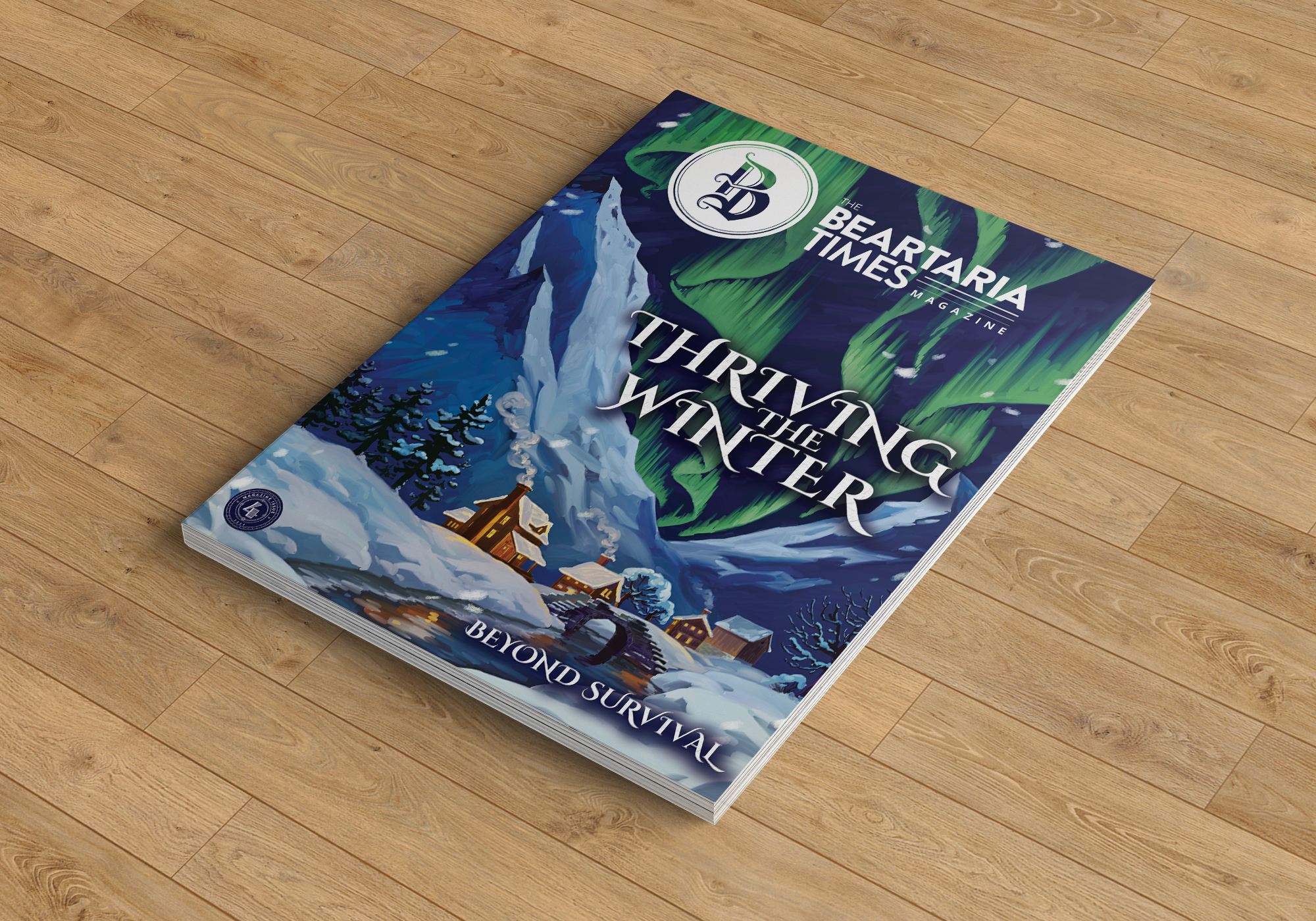 We are excited to share information on the next magazine issue! Issue #4, titled "Thriving the Winter – Beyond Survival," brings together valuable information and exciting stories from legends across the realm.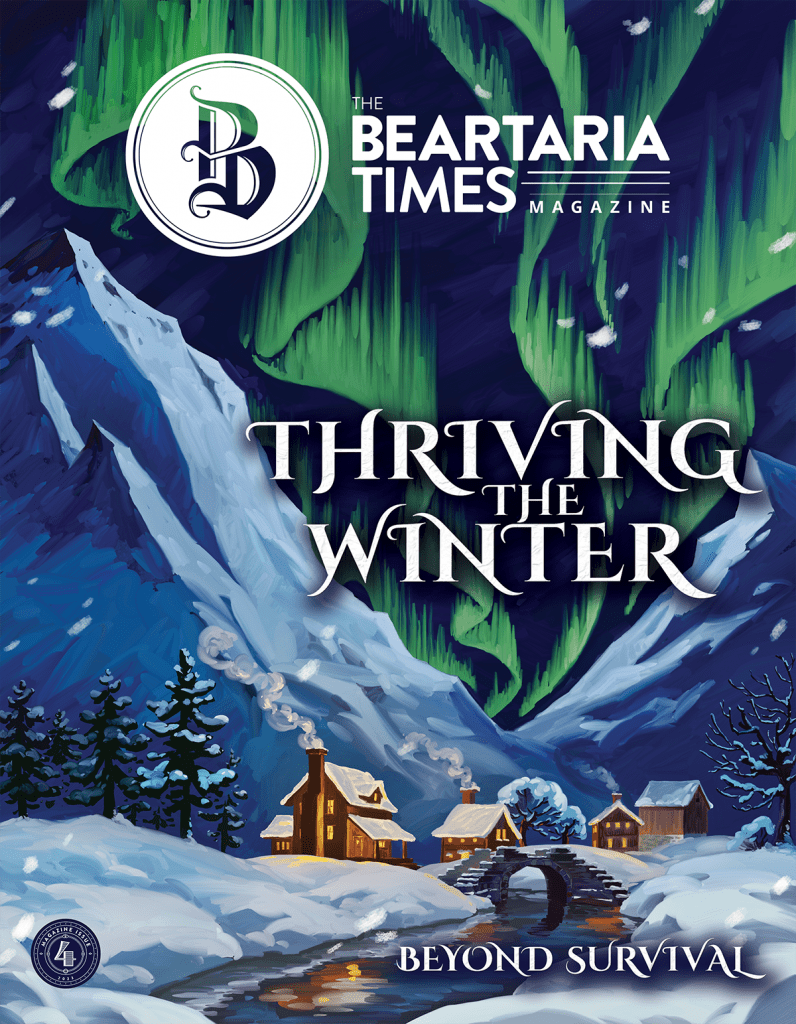 We get a story of the value of our community and what that can bring you from as far away as the wonderful Wobbly Bear in the land of New Zealand. TexMex Bear and Wordsmith Bear bring us life lessons they have learned over the last few years.
We have several valuable resources in this issue from valuable community members, such as Cinnamom Bear with some remedies for seasonal ailments and another helpful instructional from Knitting Mama Bear. In addition, Mr. Permie Bear shares useful information to help start your gardens this year. WildMedBear, Prairie Fire Bear, and Woodworking Gunny Bear also add their expertise to this issue with incredible resources.
Homesteaders like Mohawk Farmer Bear, PA Snowboarder Bear, and Pie Lady Bear give us insights into self-sufficiency and how they maintain their homesteads. Volgadeutsch Bear and several more also add their wisdom and experience to this practical section.
There are many more articles to find inside this latest issue, with many returning contributors and several first-time writers.
Pre-Orders will remain open through Friday, March 17. Click here to get yours now!
We also still have plenty of Issue #3, "Fruits of our Labor, Intentions Materialized," For Sale Here.
We are excited to send out issue #4! And appreciate all the support for these magazines!
Sincerely,
-The Beartaria Times
Bees Know Best
Bees are truly a marvelous part of God's creation and one I draw inspiration from daily as I begin the journey of tending to their homes and lives.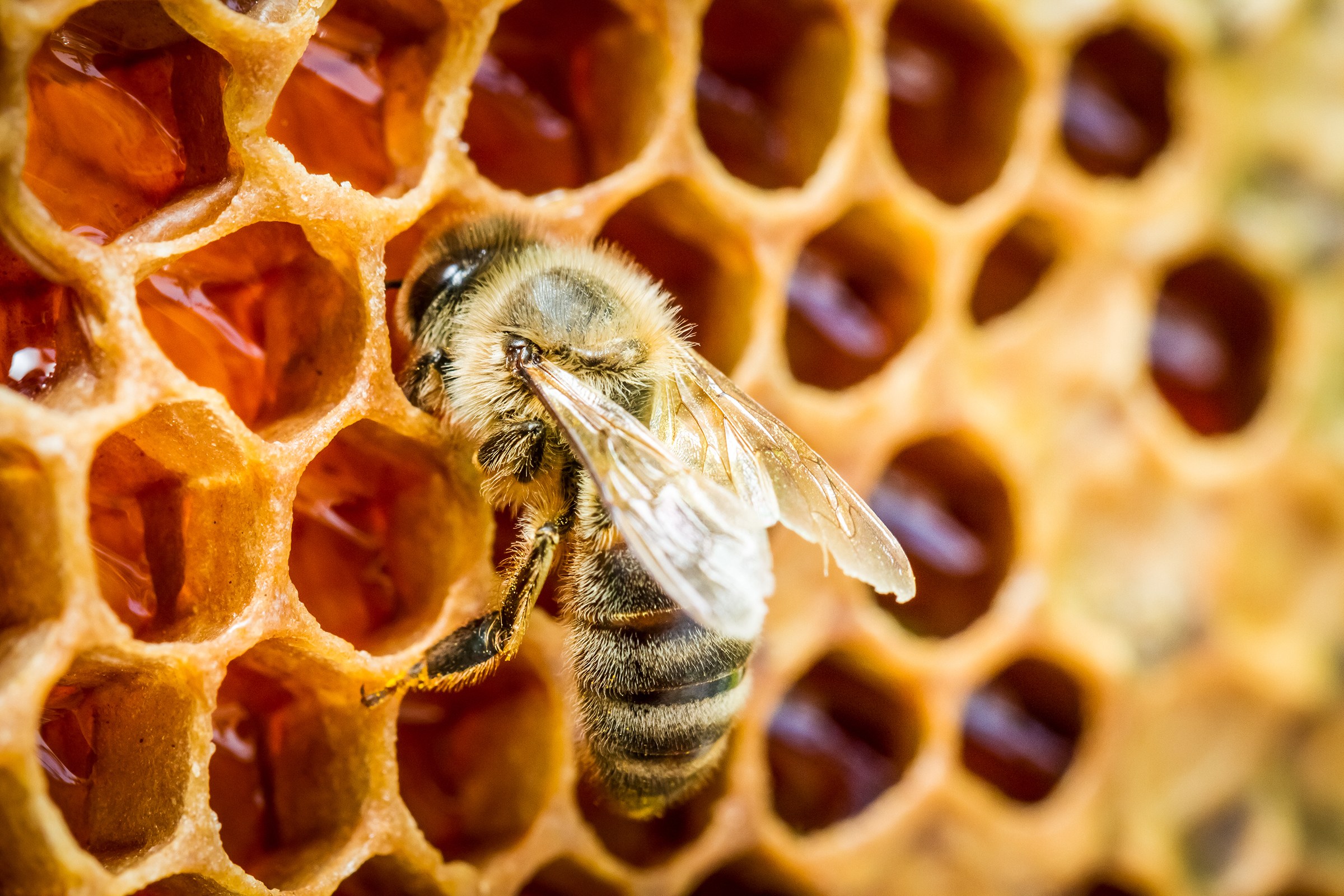 By: Pie Lady Bear
I will often sit and watch them. The importance of their continuous coming and going is apparent even at a distance. Bees are truly a marvelous part of God's creation and one I draw inspiration from daily as I begin the journey of tending to their homes and lives.
The substances that a hive uses to sustain and thrive are ones that we can also greatly benefit from, and, as the winter weather sets in and lips become chapped, were the illumination behind an impromptu batch of lip balm that you may also find useful!
Beeswax; If you can find it from a local beekeeper, who has taken it from a brace comb that is built in awkward places or melted down frames that are no longer in use, the benefit is the added propolis which is a glue-like material made by the bees from tree resins to seal cracks in their hive and contains exceptional healing properties as well as smelling incredible. My husband, DreadNaught Bear, has been making healing salves with beeswax, pine resin, and sunflower oil long before I began keeping bees. You can find his recipe in the second issue of the Beartaria Times Magazine to cure all that ails you! Beeswax can also be found at a local health food store or taken from pure beeswax candles.
Coconut oil; I prefer organic and use it in my cooking as well, so it's worth buying a jar.
Peppermint oil; I only added three drops for the small glass jar of lip balm as using more would cause a slight burning sensation and takes away from the amazing smell of the beeswax.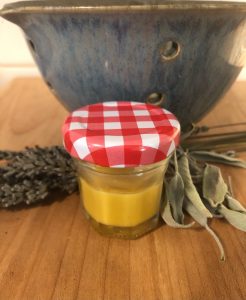 I made my lip balm in a small jar that is placed in a pot on the stove with about an inch of water surrounding it and a covered lid. Turn on low heat and frequently check until the wax and coconut oil have melted, then add the few drops of peppermint oil, stir and allow to cool. That's it! So simple, and depending on the amount you would like to make or the size of your container, I went with a ratio of 2:1 coconut oil to wax, and that made for a smoother consistency. God Bless the Bears as we strive to focus our lives around the good, the true, and the beautiful 🤎
Onward!
"Building Beartaria Part Three: The Ozark Legacy," Out NOW!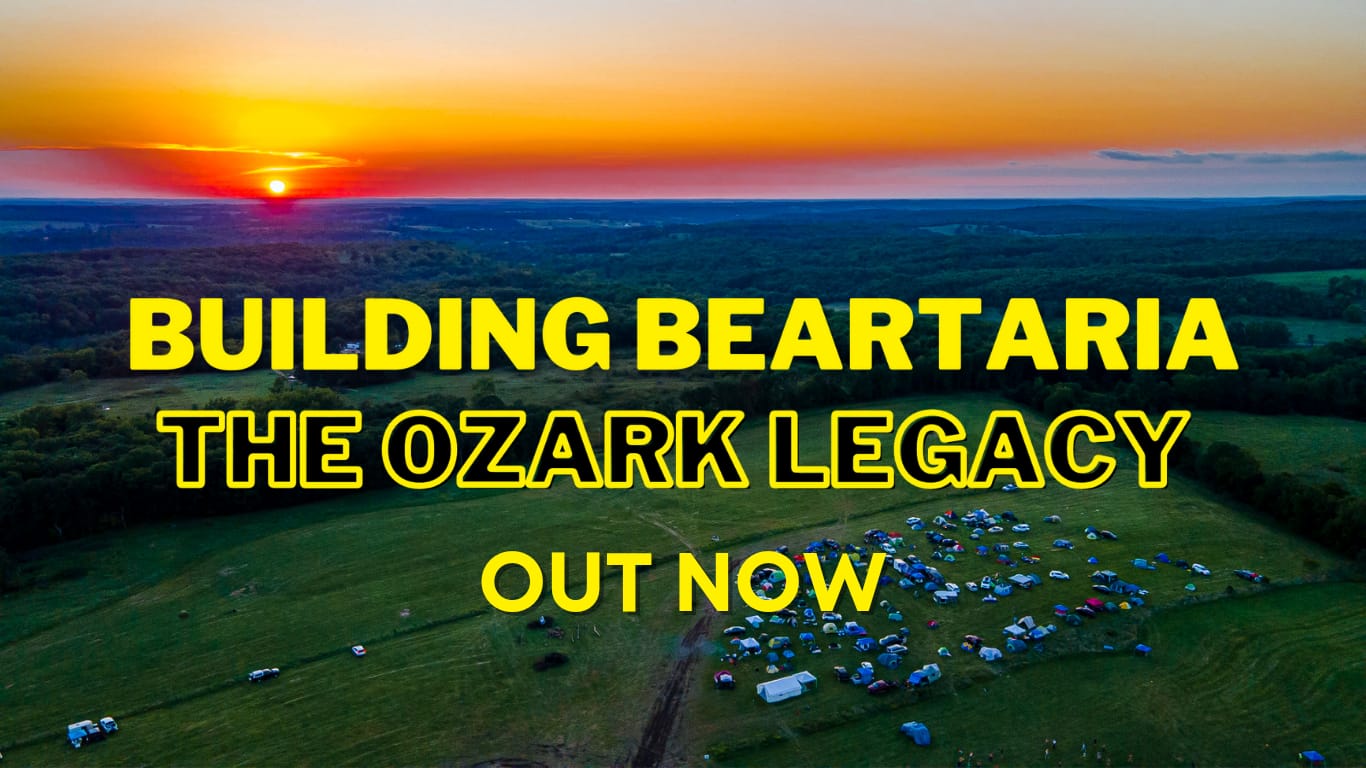 Unbearables Media and Filmgrain Studios come together again for the 3rd documentary in the series, Building Beartaria, covering the members of our Ozarks community that built a company and helped give manpower to The Beartaria Times National Festival.
When I first heard that Director Bear was going to be documenting the Beartaria Times National Festival, I reached out immediately to volunteer. I never expected that would lead to editing the documentary in a shipping container on Adam's land a couple of months later. Editing the doc was a whirlwind, I'd do it again in a heartbeat.

Red Panda Bear
Ozark BUILDER Buddy and Video Professional
This installment not only covers the first-ever, three-day festival hosted by The Beartaria Times but truly gets to the heart of a community of bears that have come together in one of the most inspirational ways we have seen yet.
"The opportunity to work with the team on this documentary was amazing. I had a chance to take the raw emotion of the stories of the community and add to the emotion with music. I experimented with many different genres of music to match the wide variety of emotions and personalities that were captured in the documentary. I wanted the audiences to resonate more with these epic stories from the bears that gathered"

Anchor Bear
Beartarian musician and Documentary Composer
The documentary is an hour and 51 minutes of unclipped material.
While the documentary is mostly clean, this original release is not child friendly as some topics are inappropriate for children.