Beartarian Summer
Fall, a Great Time to Rise.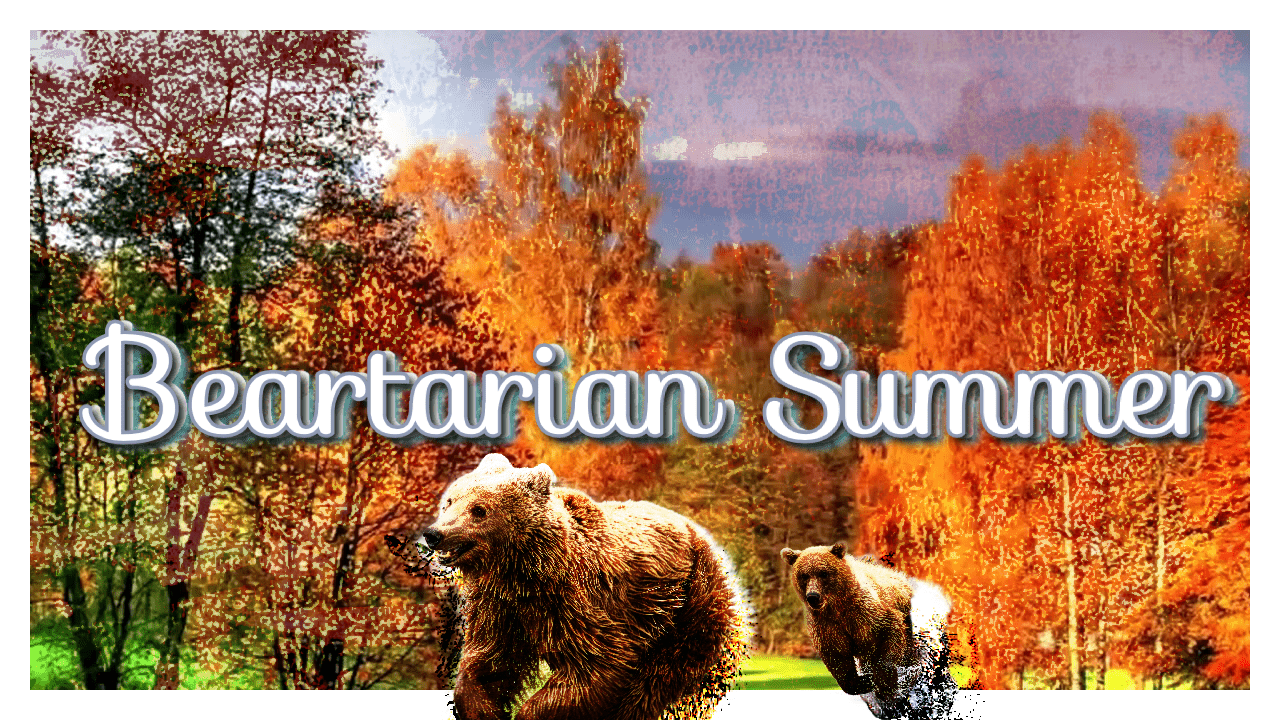 Fall, a Great Time to Rise
Not so long ago, a Beartarian Summer was something only whispered about on icy hunting trips in the upper slopes of the Rocky Mountains. Tales of the warm smoky days tempered by the cool clear nights would come and go, like a lingering glance back at the fun of summer before turning and firmly grasping the steaming chocolaty mug of winter. I am no meteorologist, nor will I claim to know what rocks allegedly striking unseen land in northern Siberia have to do with the weather, but what I do know is with the right attitude, any fall season can be made into a Beartarian Summer. 
Volgadeutsch Bear's Toast in Colorado, Ban Hammers by Nighthawk Bear, Zezzie Bear's Sunset, New England Bears.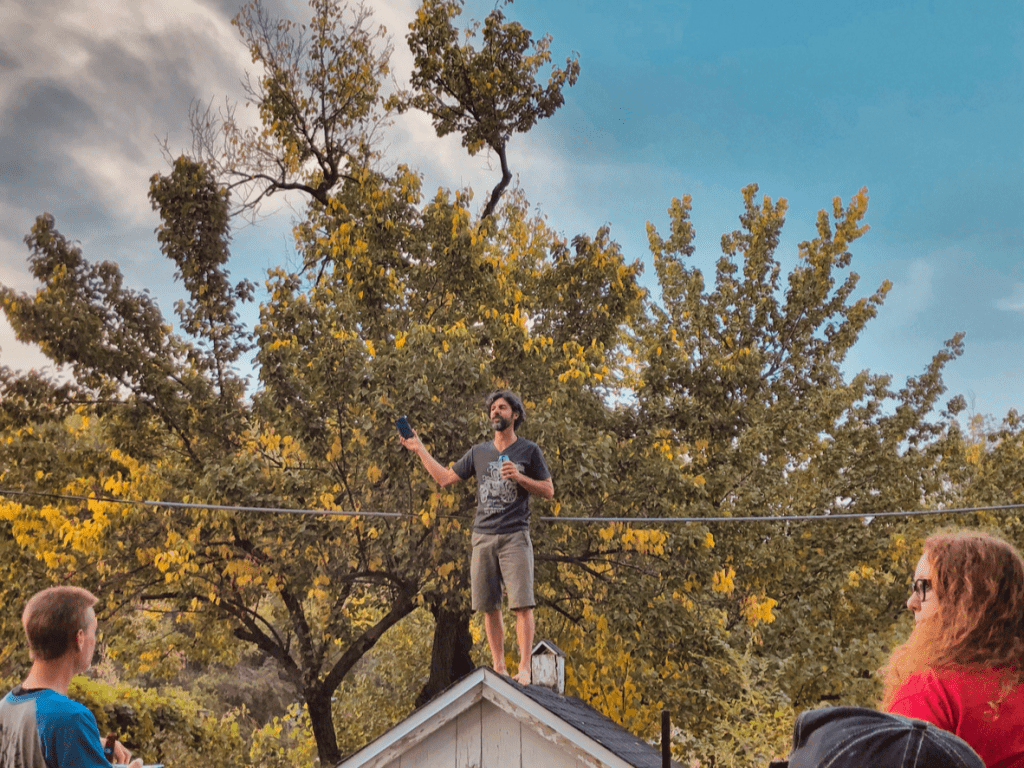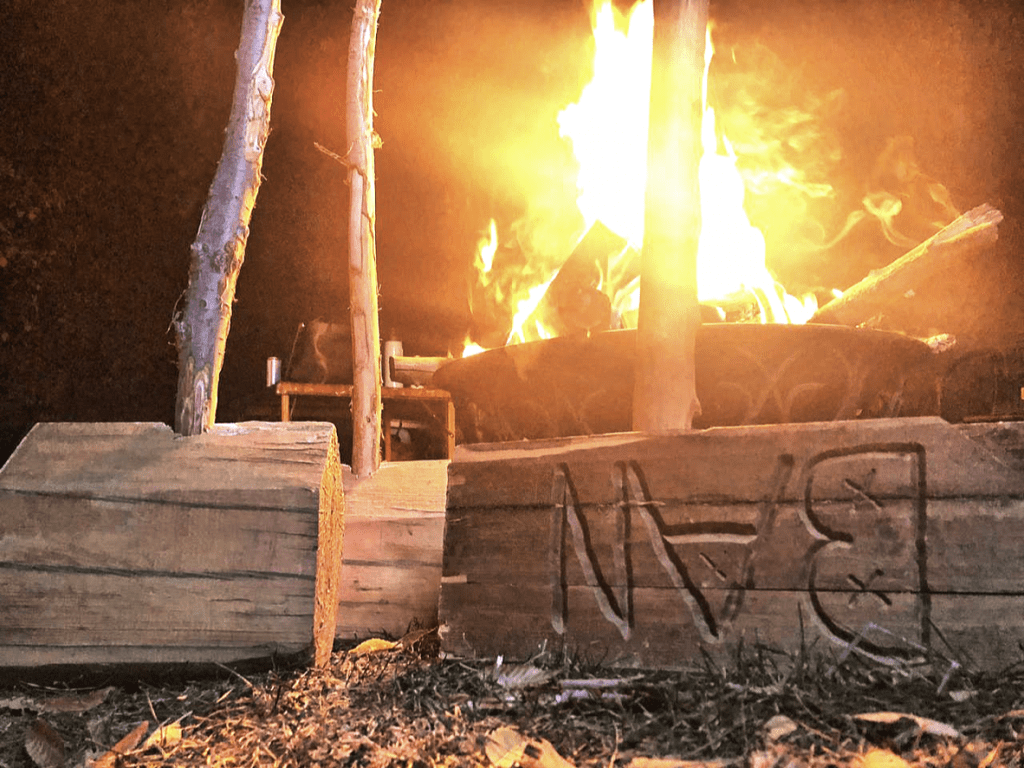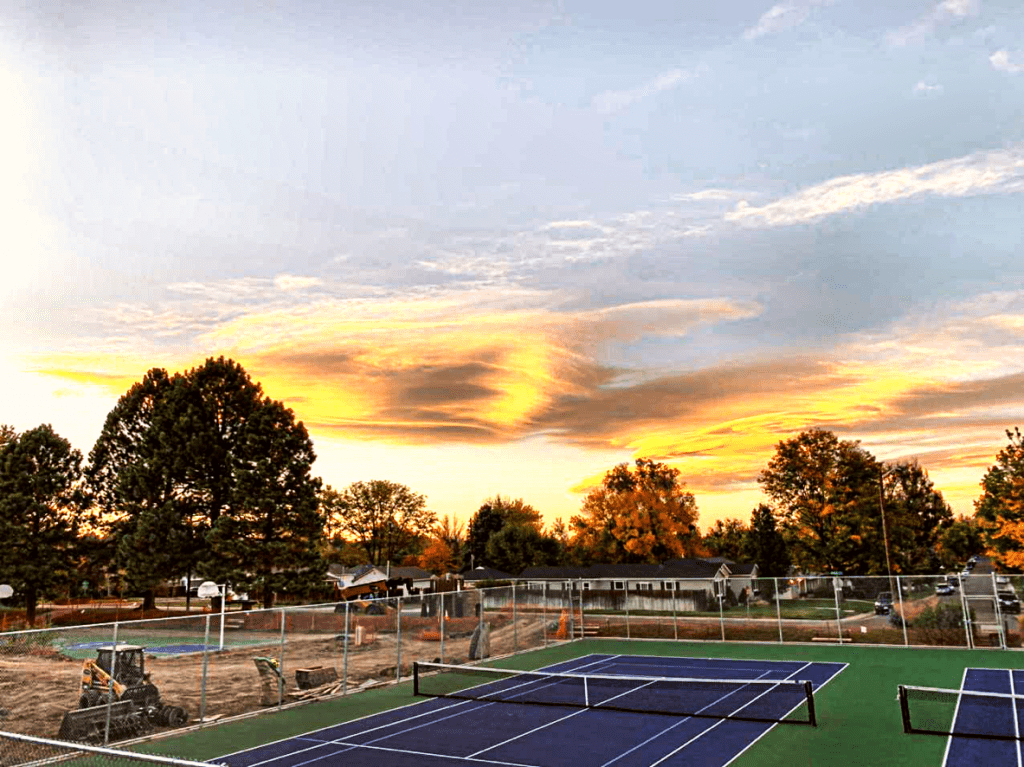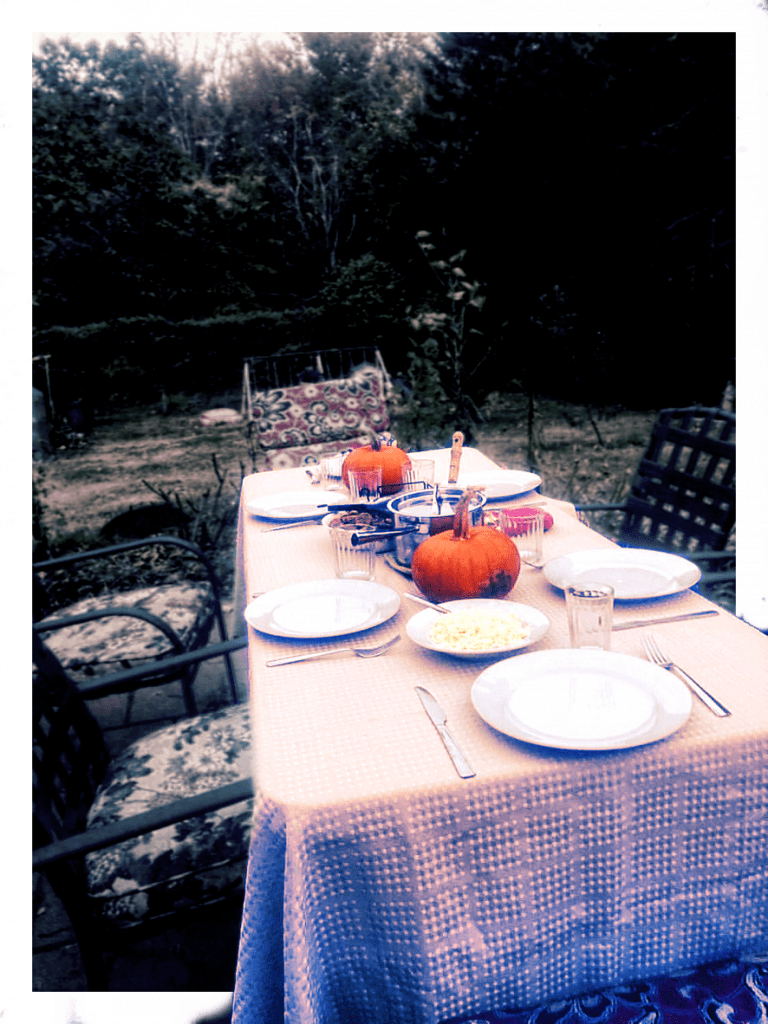 Just before the last of the summer heat falls away, while the squirrels check that they have enough nuts for the winter, cars stream into a small Colorado farm town. The backyard is lit with laughter and a 5,000 lumen work light and the young ones throw leaves in the air as pleased parents look on. New friendships are being forged around a fire pit and the hum of half a dozen enthusiastic conversations fills the air. This is the first Fall Harvest Party in our Rocky Mountain Unbearables group that I have attended. Judging by the prevalence of bare feet and the lack of jackets, the warmth was felt by all. Even the curious neighbors who stopped by were grinning ear to ear as we casually strolled from the garden to the back yard discussing what vegetables we would be planting in the spring. The energy was as close to perfect as it gets.
I lay all this out to say that the extra-seasonal warmth that a Beartarian Summer is known for doesn't begin with the position of the sun or the relative changes in atmospheric pressure. It is not decided by the calendar nor the presence of a frost and the rebound into several weeks of summer heat (what the layperson calls an "Indian Summer"). In truth, a Beartarian Summer begins in the soul. It is the inner warmth radiating off the glow from the fire that is a man or a woman's gratitude and generosity to their fellow man and, of course, their Creator. I have witnessed that warmth with each new face that enters our circle. We've faced some small and great challenges together already, and the spirit among us is strong and unbowed.
I long for the day when we will welcome to our gatherings at least 100 legendary men and women with bundles and bundles of children in tow, but it all begins with a dream. That dream isn't just for my community, but for yours as well. I'm delighted to hear of more and more groups gathering more frequently all across the land. From my family, to yours we bless you with more truth, more health, and more real friends who speak encouragement and cheer one another on in even our smallest of triumphs.
As I watch a beet red sun rolling off into the distance behind a mountain, and see the moon climb the stars and poke through the clouds, I am reminded that this is our time to rise. We will not only survive the winter, we will put some cinnamon and nutmeg on top, light some candles, and use the time spent indoors to read Marcus Aurelius and plan a 10% more efficient garden with 50% more capacity. You know, just things absolute Crushers plan and do.
If you have any fall recipes, fun fall traditions, or anything else special you'd like to share, we'd love to hear about it. For events-related items, write to events@beartariatimes.com Check out our Arts and Crafts page and share some great holiday crafts for children and adults alike. If you want to share some great ideas for harvesting fruit and vegetables in the fall, let us know. I for one would also love to see what you have as far as seasonal natural remedies to clear out all this smoke from my lungs. Thanks so much for reading. See you next time.
Nighthawk Bear
Midwest Bear Fest Recap and Reflection
Though it did not come without challenges, all expectations of this festival were met, some would even say expectations were exceeded.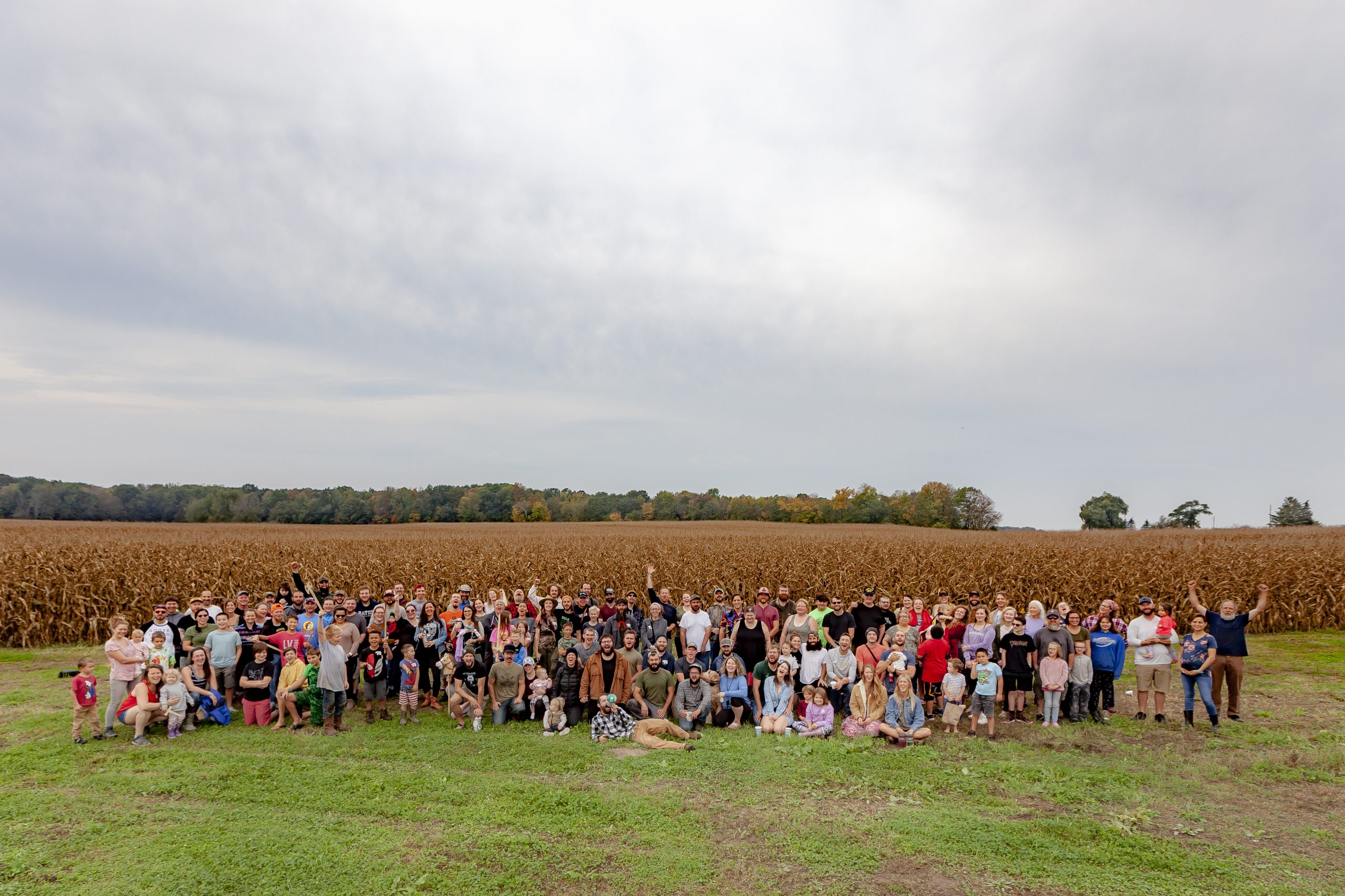 Amidst all the toil and upheaval of normal events in 2020, a seed of inspiration and ambition was planted in the minds of Lincoln and Hope Young. Attendees of their local annual renaissance festival and disappointed in its cancellation that year they decided to host a festival of their own. With the help of some local (and not so local) bears the plans for the first annual Midwest Bear Fest were formed. Over the next few months planning, designing and scheduling took place. This three day family friendly, renaissance inspired, bear fest would be of legendary proportion that no bear had ever seen before. Though it did not come without challenges, all expectations of this festival were met, some would even say expectations were exceeded.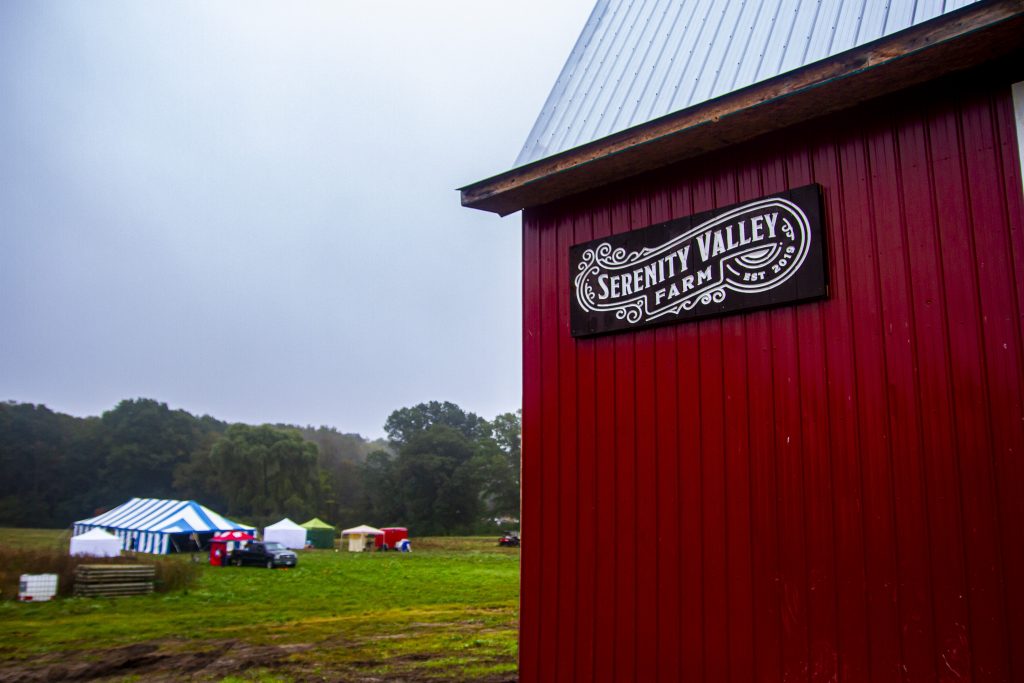 The first day of the event was Friday, October 8 though many legends and crushers arrived the day before to set up camp in Serenity Valley Farm's spacious fields. Tenters and RV campers alike claimed their spaces and enjoyed a long weekend of camping at this festival. HankBear was the camp host and he helped direct campers to ideal spots where they set up camp. The torrential down pour that Fridays weather brought us was unexpected. While everyone's tents stayed dry some vehicles got stuck in the mud. Many said that the kind of rain we all witnessed hadn't been seen in that area for countless years. The main event tent and vendor market field got completely flooded. The 5K race took place an hour late and in the pouring rain but none of this dampened the spirits of the bears. We knew we were being tested, that with all the good this festival would bring some push back from the adversary was expected. Despite the weather many legends rose to the occasion and dug trenches to drain the field, the young Cubs made a game of it and spent many hours digging the trenches deeper and longer, Farming Artist Bear and the Backwoods Bears cranked out lunch and dinner while vendors were moved to the barn and LegacyTruths Bear played his guitar and sang. Friday afternoon brought beautiful sunshine, calmer weather and a spectacular view over the corn field. The pyrotechnic delta force team got to work on the fireworks show for Saturday and a pre-baked pie contest was held. By the time nightfall came families and friends new and old returned to the camping field and enjoyed camaraderie around the various camp fires.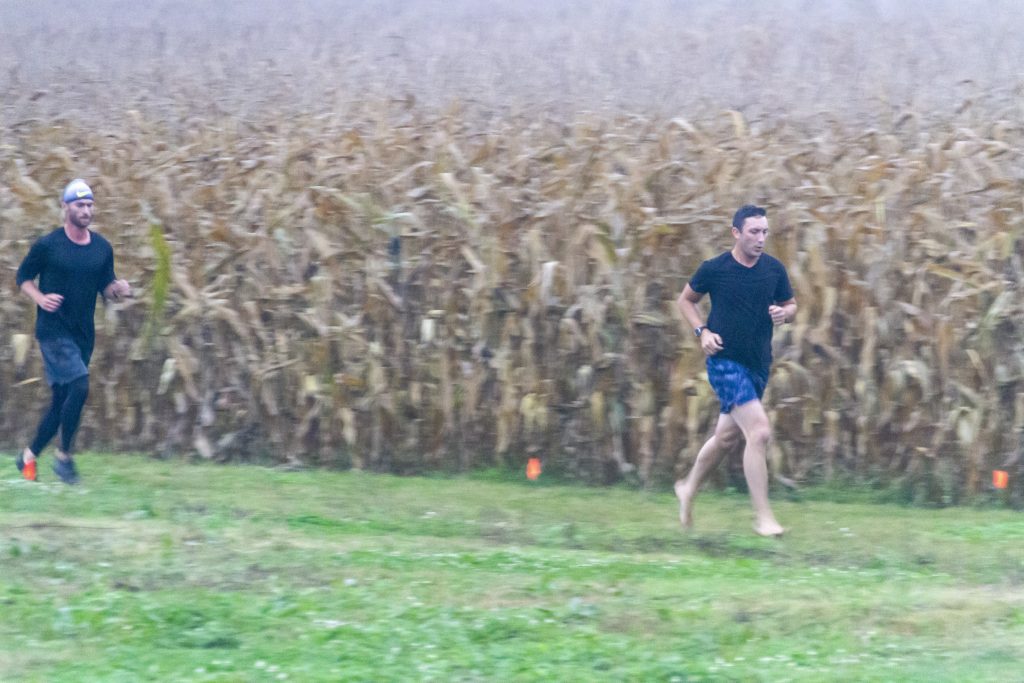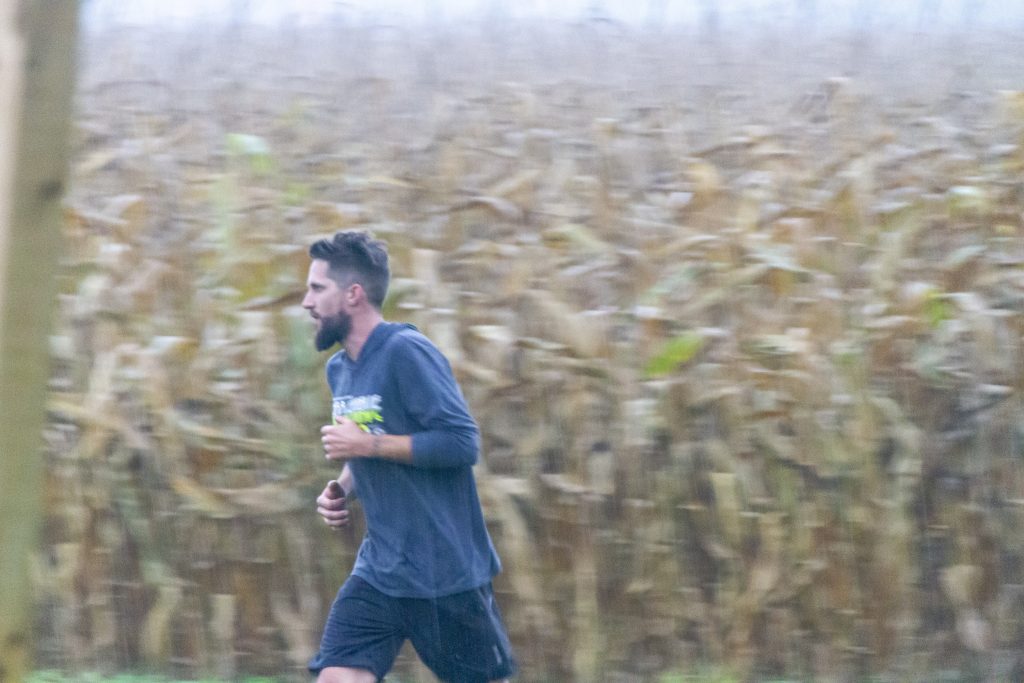 Saturday morning brought beautiful weather and the Men's Homestead Games! Tug of war, push-ups, log throw, 4-way chess, chicken wrangling, fire starting and an obstacle course that each team epically crushed for this event. But there could only be one winning team the aptly named "Absolute Crushers" took the title. Farming Artist Bear and team Backwoods Bears crushed it yet again providing made to order breakfast, lunch and dinner. Amy's music garden was a wonderful music hour for the children with games and instruments for all. Special demonstrations about knife smithing from Bladesmith Bear, trapping and tracking from Civilized Savage bear and bee keeping from Farming Artist Bear were held for those who wanted to learn new skills. A seed swap hosted by Beartaria Seed Saver's own Copper Bear and a shield painting contest were held. Bears bought shields from Woodshop Bear, painted them and brought them to the fest to be judged. Other special events were held such as kids crafts, face painting and a costume contest for all ages! The only thing capable of topping a legendary day like this was…fireworks.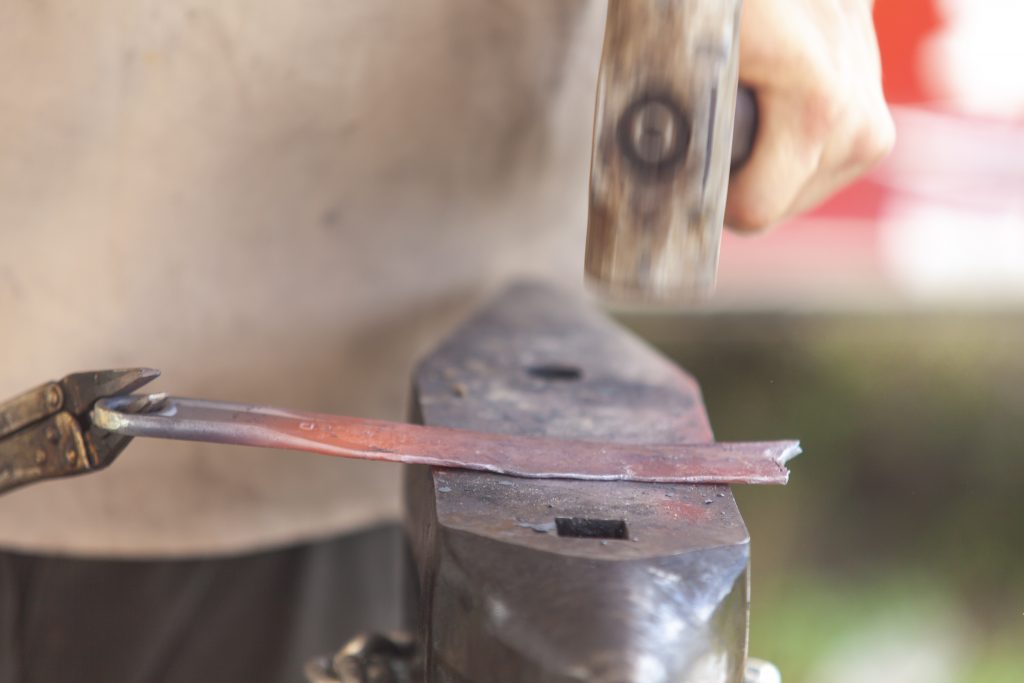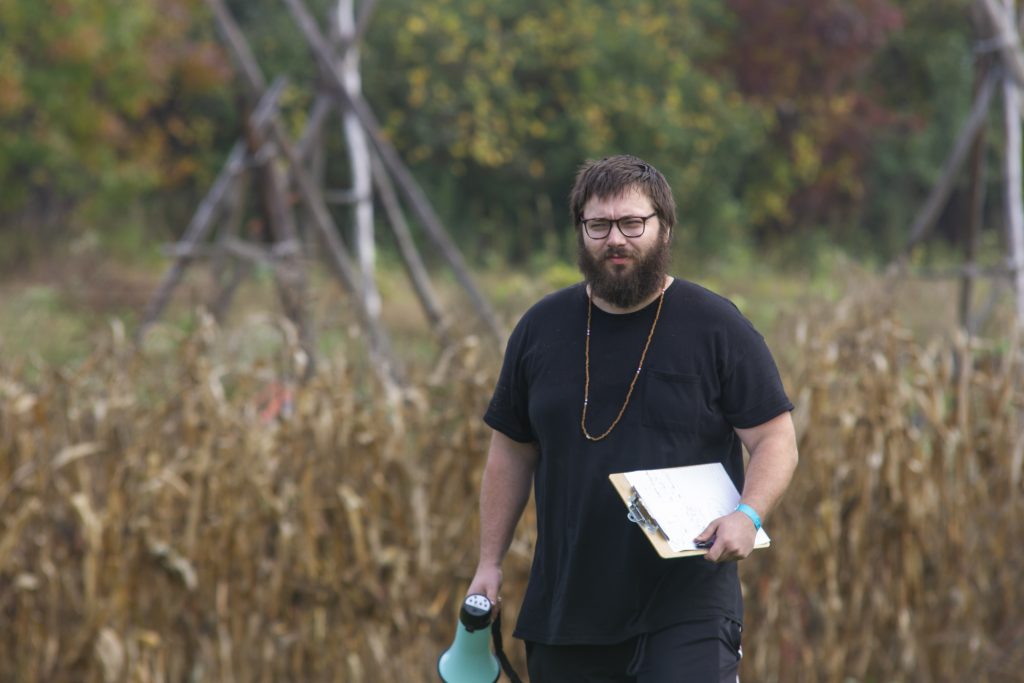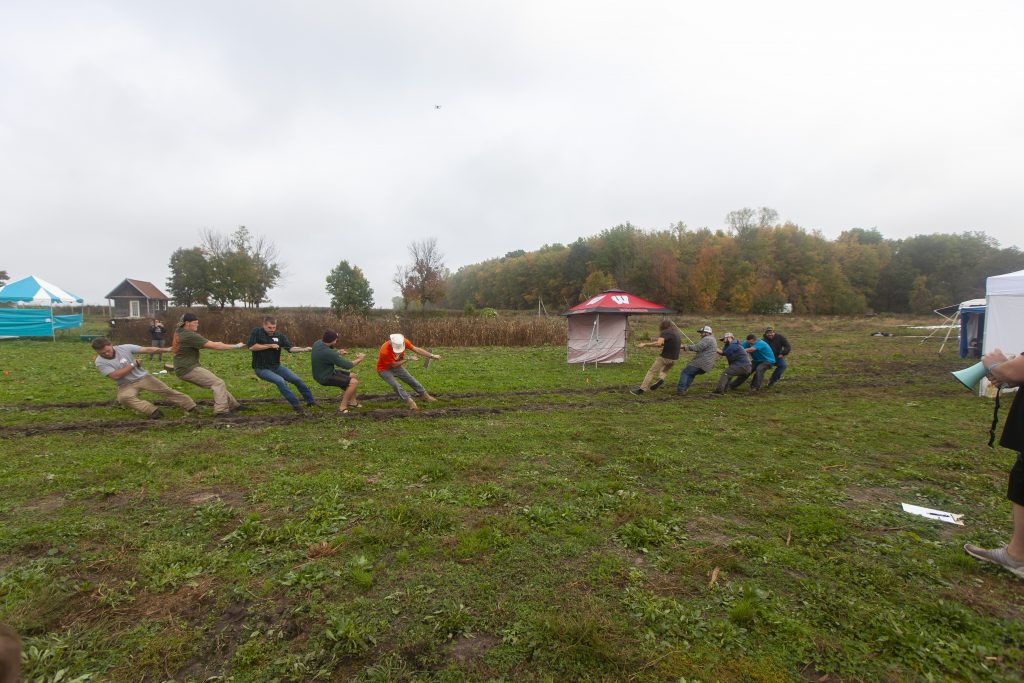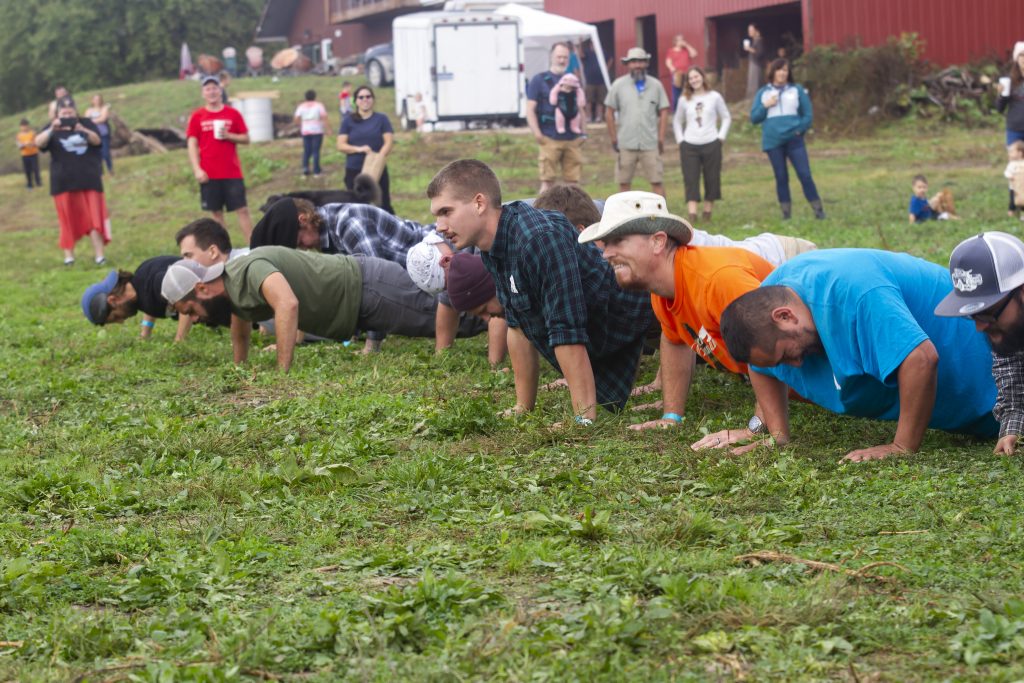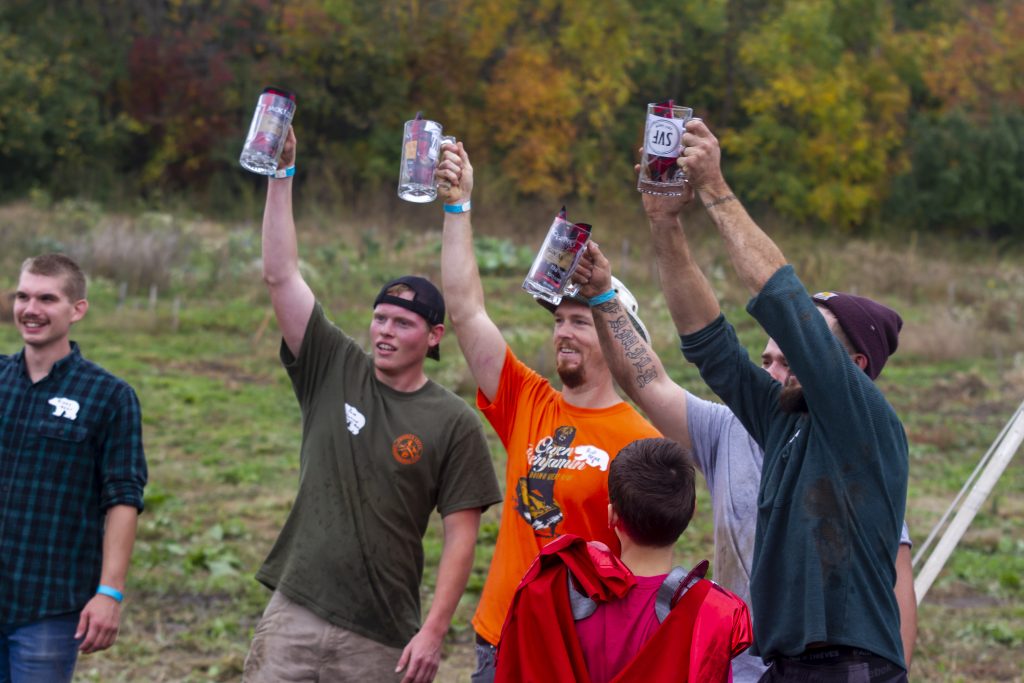 AJ Rhino Bear and his Delta Force pyro squad were hard at work all day missing out on the festivities while setting up for a not soon forgotten pyrotechnic musical show of epic proportions. If you thought the Forth of July Crushfest was the best fireworks display you had ever seen, Midwest Bear Fest's show would have blown you away! Even those who doubted that Rhino and his crew could surpass past experiences couldn't get over the legendary spectacle. Strategically choreographed to BB streams and Anchor Bear music, Rhino and the Delta Force pyro squad did not disappoint. The shouts of "Beartaria" from adult to child alike ringing through the night air, mid show, like a triumphant victory call brought tears to the eyes of even the most stoic of bears. The energy the show created was palpable and the resulting buzz was the topic of discussion for days and weeks to come.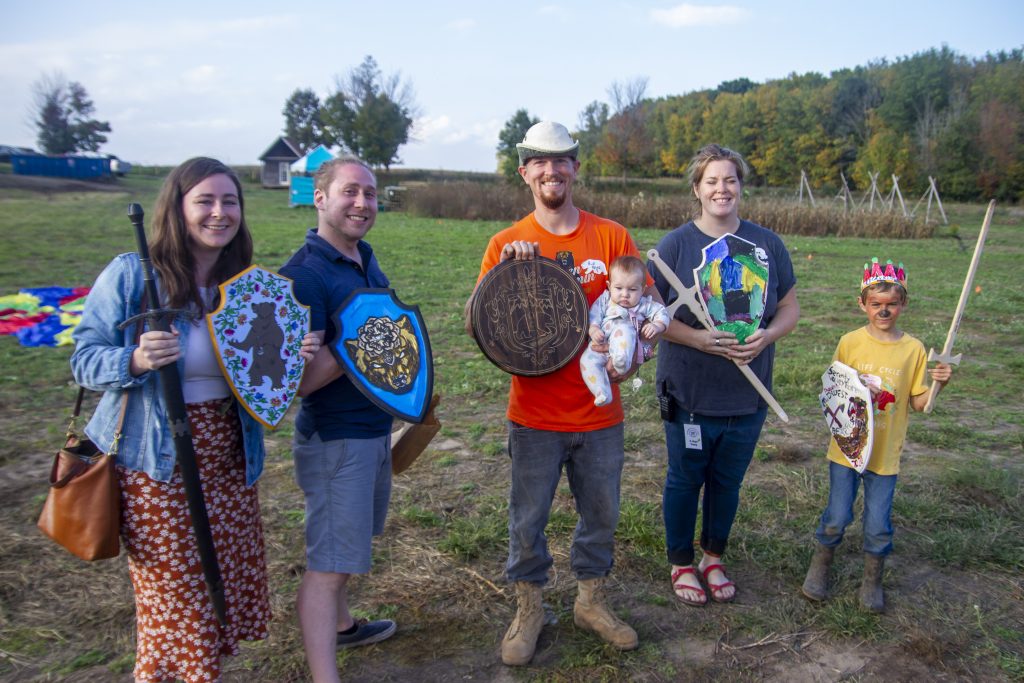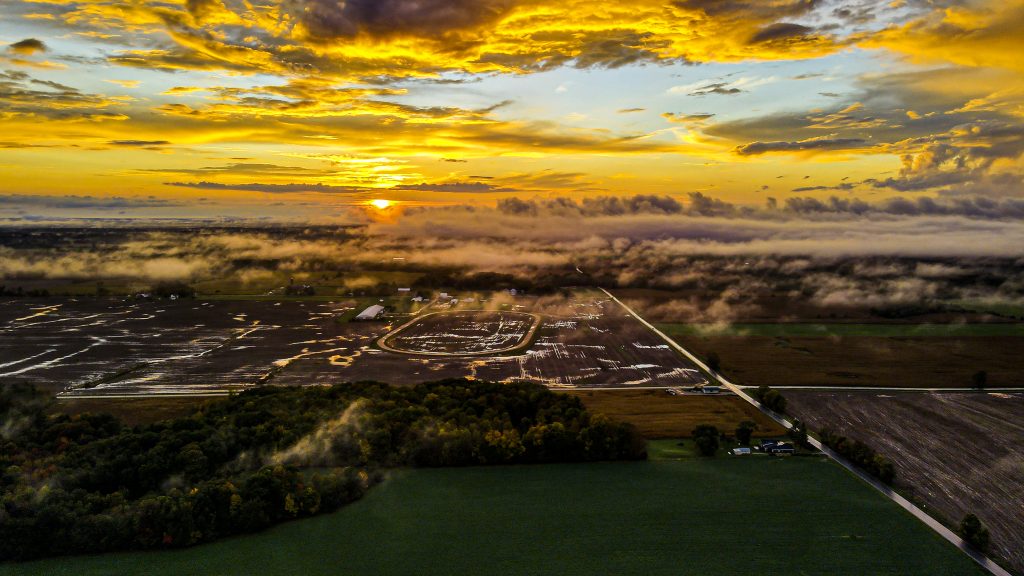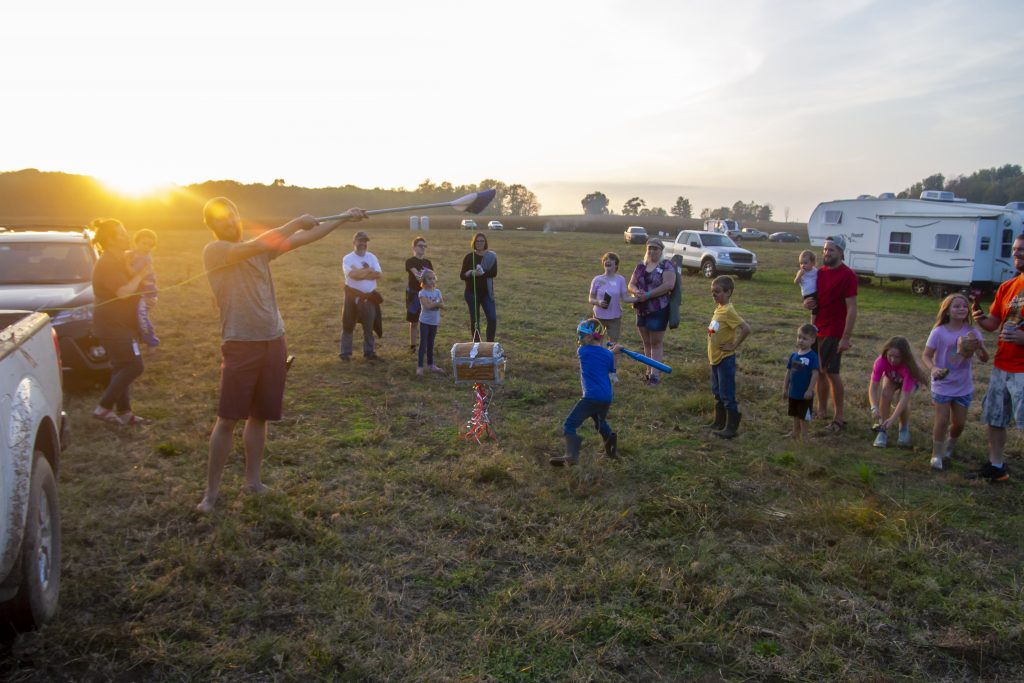 The third and final day was welcomed by some more beautiful weather, a lovely morning of prayer and a speech of gratitude for all of Hope and Lincoln's hard work. It was a day of relaxation, packing and good byes. Though some stayed an extra day most packed up their camp and headed home. The last day is always the hardest, saying goodbye to old friends who you met for the first time is never easy. But the bond is strengthened by an event such as this. For as dismal as the start of the event seemed spirits soared and positivity flowed. The energy was carried throughout the weekend and still flows for many of us. We are all looking forward to the next Midwest Bear Fest!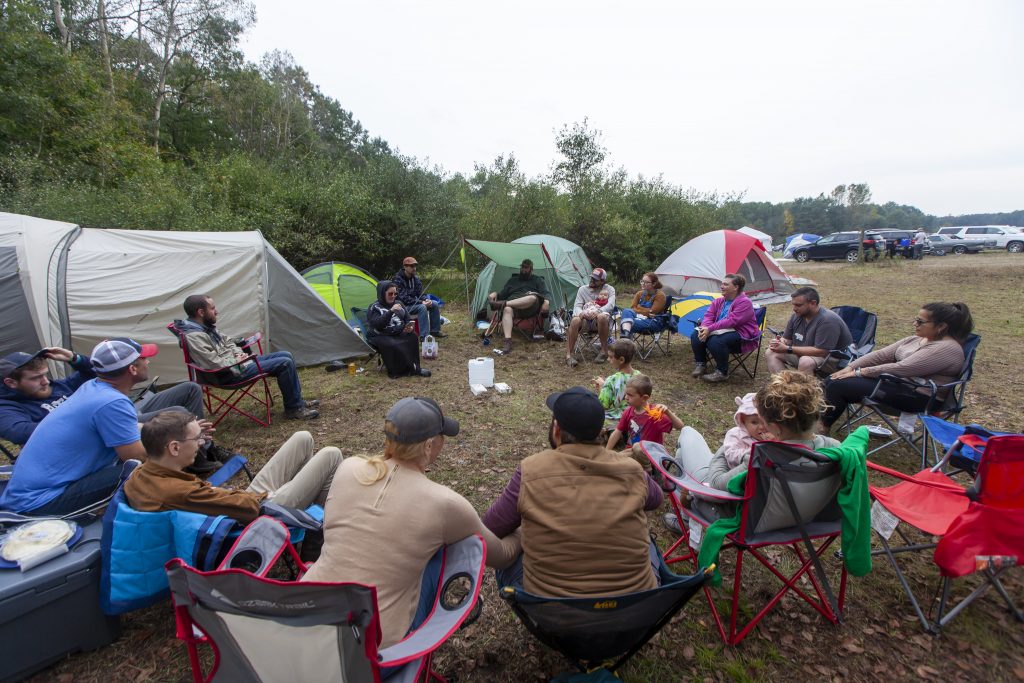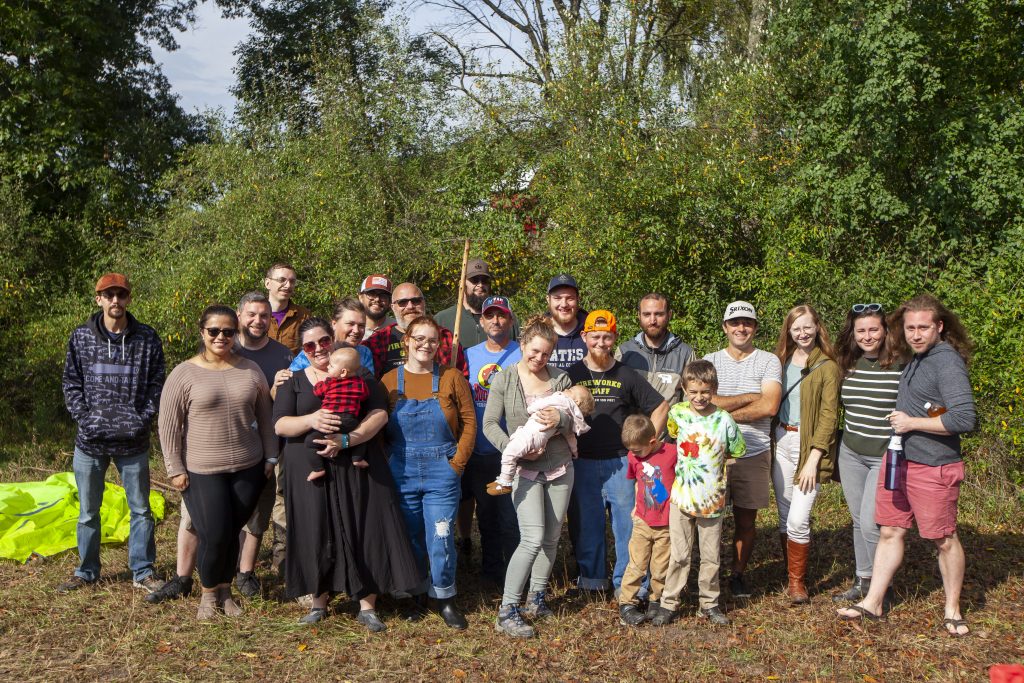 'And Then There Was "Crushfest"'
Many started with handshakes and finished with hugs.  We have something very special here in this community, and I will be grateful for it until the day I die and afterward…allegedly.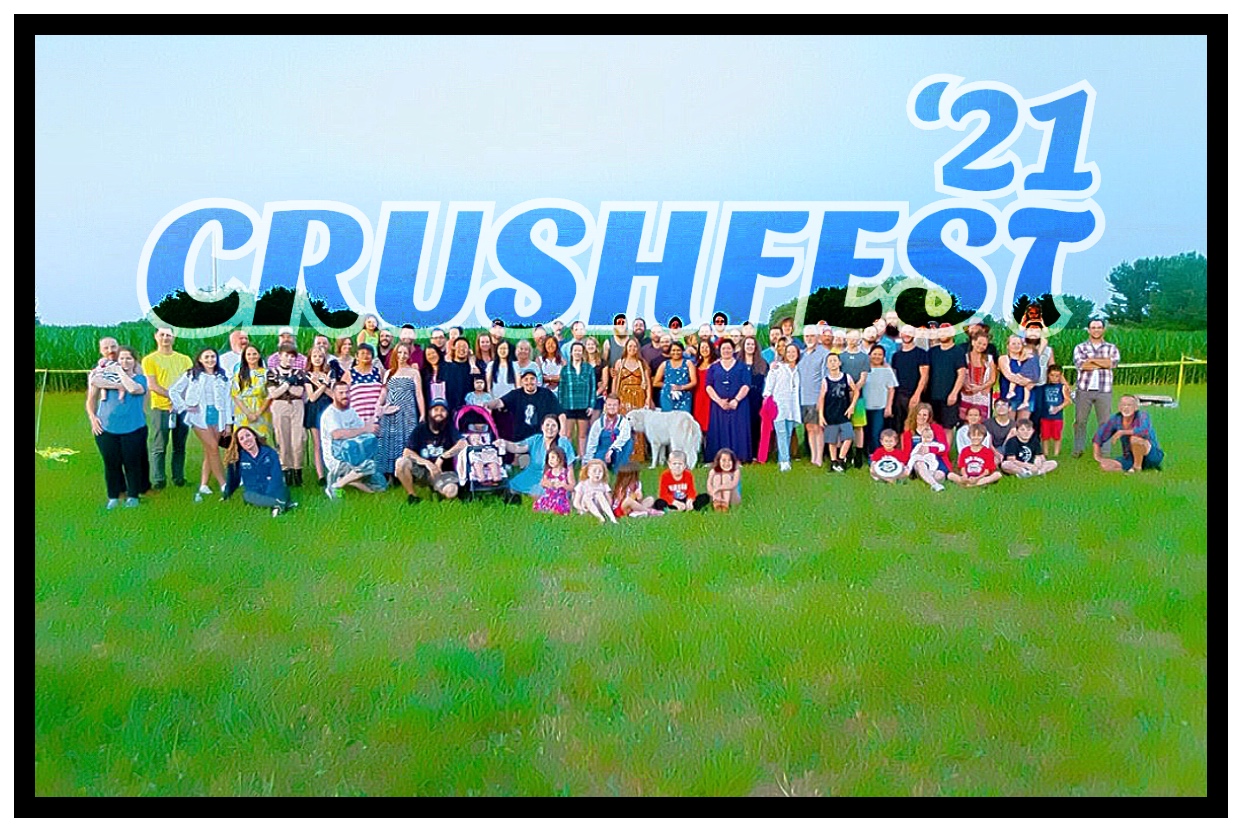 Crushfest 2021
"It was an amazing time. An event to be treasured. Excellent food and excellent conversations with new friends that felt like old friends. A recipe for a better America." – Jarrod (Teddy) Bear
I never thought it would lead to such greatness, when Longbow Bear called me to tell me that Jarrod (Teddy) Bear and Callista Bear were stopping to have dinner nearby on their way home from a road trip.  I hopped in the car and rushed off to meet them. Longbow found a place where we could sit down for dinner. I showed up late and walked downstairs, greeted by the bears to hugs all around!  Outside of a brief moment of pure rage upon hearing Teddy Bear's (Boston) accent, we jumped right into what turned out to be one of the best times I'd had all year.
During dinner, we started talking about the meetup I had hosted on New Year's weekend.  That time, it was 20 or so of us and it was great!  We also talked about my love of fireworks, and I told Callista, "I wish I was a planner, because I would love to do a big party for the 4th of July with a big fireworks show."  Well, Boss Lady Callista thought it was an awesome idea and happily stated how much she loves to plan parties.  She said that she would plan and I would do the fireworks.  We imagined how great it would be if we got 50 people to come.  And, that's how it started.
The thing about meeting bears—you feel like you've known 'em for years.  We get each other's jokes, have pretty much the same values, and while there is plenty of disagreement over certain topics, no one ever gets triggered.  Coming from VERY different world of NYC, it warms my heart knowing that I am not alone.  Feels good, man.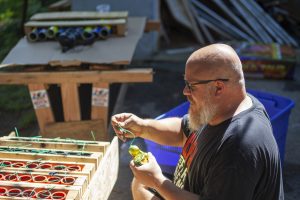 Now take those good vibes and warm heart, multiply it by 6 million, and you might have an idea of how wonderful I felt on the weekend of Crushfest 2021.  From beginning to end it was nothing short of fantastic.  I say this without any reservation whatsoever; the bears are the most wonderful people I've ever met.  Coming from 20+ states, they brought their families, food, presents and games.  Many started with handshakes and finished with hugs.  We have something very special here in this community, and I will be grateful for it until the day I die and afterward…allegedly.
Once word got out, bears started volunteering time, money, and services to make it happen.  Of those who helped out, there's way too many to name.  But, Copper Bear deserves special mention. She was vital in making our first Crushfest a huge success.  She and many others showed up a couple of days in advance just to help out.
"One of my favorite memories of the party was the day before the fireworks show there was an intimate crew of around 20 people getting the grounds prepared. As the men were dragging brush, I was on a mission to make sandwiches. I knew they would be hungry. The sky was grey and threatening. Thunderstorms were on the horizon. I could smell the rain creeping up… Right as I was finishing up the second tray, the rain poured over the earth in a monsoon.  Everyone made for cover in this summer storm and welcomed the meal readied for them."

– Copper Bear

Copper Bear (Seen right)
The kid's games were adorable as the parents watched dutifully in gratitude to share a day with them and the people they love. Frisbees made especially by Finksburg Bear soared through the sky.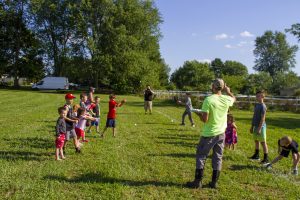 DASack Bear held a chicken culling workshop.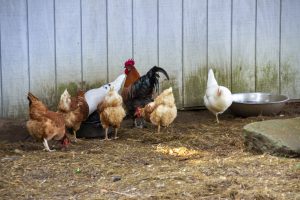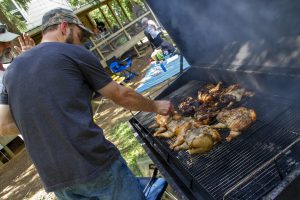 Even Bearapalegic's coffee made it up the stairs and into pots of coffee, which kept the crew going and warmed our conversations.  
The time with all the bears was richly rewarding.   Mohawk Farmer Bear provided a large pig, freshly roasted by Longbow. (Best pig I've ever tasted in my life!)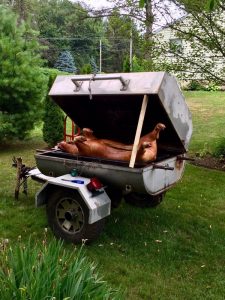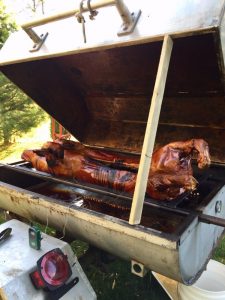 Rebeca Bear's shipment of avocados was made into guacamole (thanks to Copper managing the kitchen!). 
The delta team was hard at work setting up the pyro-musical that featured Anchor Bear's song "Onward to Beartaria."  
Copper insisted, "next show, bear produced music only," and that's exactly what we plan to do!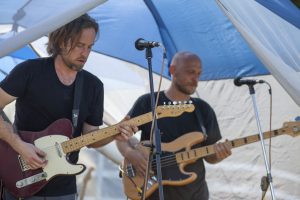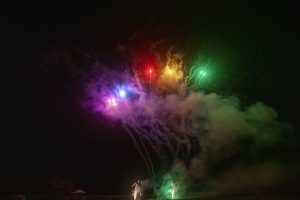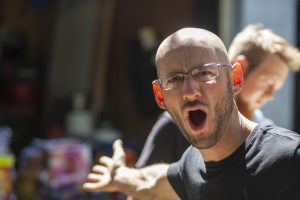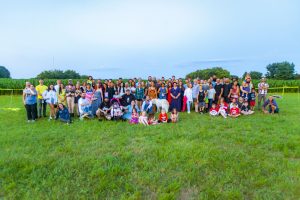 The highlight of the games was an epic tug-of-war match, featuring two teams: the Bearded and the Unbearded (shorter than 2").  We don't have to tell you how that ended.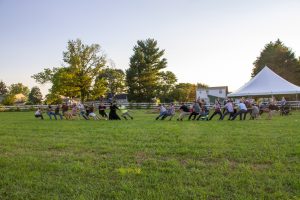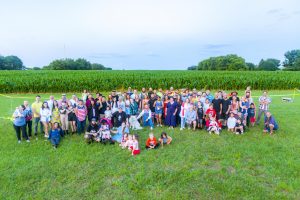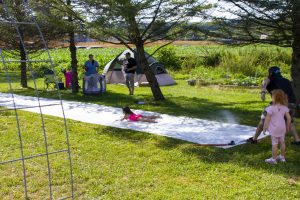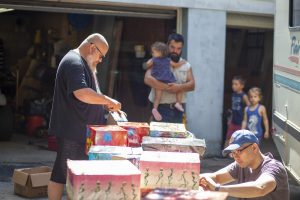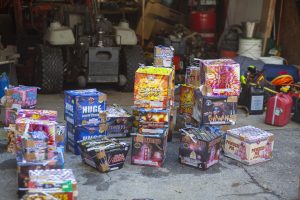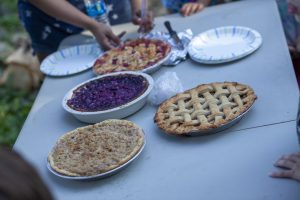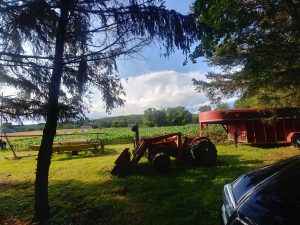 Even for a Bear meet-up though, Crushfest 2021 was unique. It was the biggest meet-up yet, there was every kind of July 4th entertainment you could want – fireworks, a slip & slide, an Ira piñata, a game of Find a Rogan in the Haystack. AJ Rhino/Rhino Bear absolutely knocked it out of the park. His garden was also one of the most inspiring "homestead goals" I've seen in my life. I am so so grateful for the bears & for Crushfest 2021. – SpiceBear
There was axe throwing and a slip & slide.  But, nothing topped the Campfire hang outs that lasted till 2am.  Seasoned bears helped give new bears their bear names; building and maintaining the fire as it would wane, we shared life stories.  There, we really got to know each other.  All of this with the backdrop of the Amish Paradise of Pennsylvania. 
And, this is only the beginning.
QUOTES
Crushfest 2021 was the ultimate bear bash! It felt like a long lost family reunion.  The food was so fresh and amazing.  I've never seen that much meat outside of a Hawaiian luau.  Like Spice Bear said, 'It's like a music festival for people who've got their stuff together.'  My husband still hasn't stopped talking about the fireworks show being the best he's even seen.  The most remarkable thing though, was the instant camaraderie with bear friends new and old, and the wonderful, peaceful feeling of being among your own tribe! – Jerusha McBear
We were there for over 6 hours and it wasn't nearly enough time to meet and interact with everyone. The people I did talk to were interesting and we always had a lot in common. The biggest thing for me though, was the family environment that helped my wife feel more engaged with the bears and to make some friends. – SackBear 
When God drops the veils from your eyes and you see through all the lies of this world the next hand the devil tries to deal you is fear, loneliness and isolation.  He wants you to believe you are all alone in a crazy world, I know because he played this hand in my life and I called his bluff. You are never meant to be an island, find your tribe, find your hill to grow on. I've found mine. Honored to be a part of this community, honored to call myself a Bear. – LongbowBear

I love bear meet ups. I have traveled over 20,000 miles to attend bear meet ups to meet around 300 bears and their families. I have hosted two bear meet ups at my home this year. This is what connects us all. Find bears in your area and hang out. – Copper Bear
Crushfest 2021 was my first Bear meet-up. I was so glad I found out about it when I did. I knew it would be awesome, but it still really floored me. There is nothing like being with the Bears in person. Virtual friendship doesn't come close. It really isn't every day you come across people who think the same way you do. It feels like a social weight lifted off your chest. And now it's like socialization itself has been revolutionized for me. Bear meet-ups will fill your heart with hope like nothing else can and utterly restore your faith in humanity. – SpiceBear
Overall, there were over 100 Bears that celebrated victory over fear and sharing joy with one another. It was a grand time; truly a night to remember. – Ukrainian Bear
What crushfest meant to me was community…It meant good food, faith, friendship and family. It was another example that we are not alone and there are plenty of people who see the world the way I do.  It meant I could let my kids be free to play and explore and know that they were safe and with good people and well raised friends. It was a break from the chains of Babylon that some of us haven't been able to escape yet. But most of all, it meant, no one is having more fun than us and no one is having more kids than us. – Camera Bear
All of the families with children did amazing! The kids found their own fun, made friends, and we're so joyful! There was so much thought put into all of the activities for the kids and there were great people to talk to everywhere you turned! – Family Force Bear
I spent several moments throughout the day just watching my kids playing or my husband chatting away, soaking it all in and feeling pure joy. And that's what this Bear community is to me. Nourishment for my soul, encouragement in my path, and pure joy in my heart. – SokeyDokeyBear
Hi!  I'm Zeel, PAsnowboard Bear's sister-in-law. I just wanted to say that the crushfest was amazing and something very different then I'd seen before. It's amazing that everyone meets online and has their own talents and interests…but at the end everyone is a big family and it's like you've known these people for a long time. I had a great time! – Zeel P.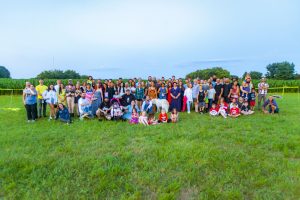 God Bless Beartaria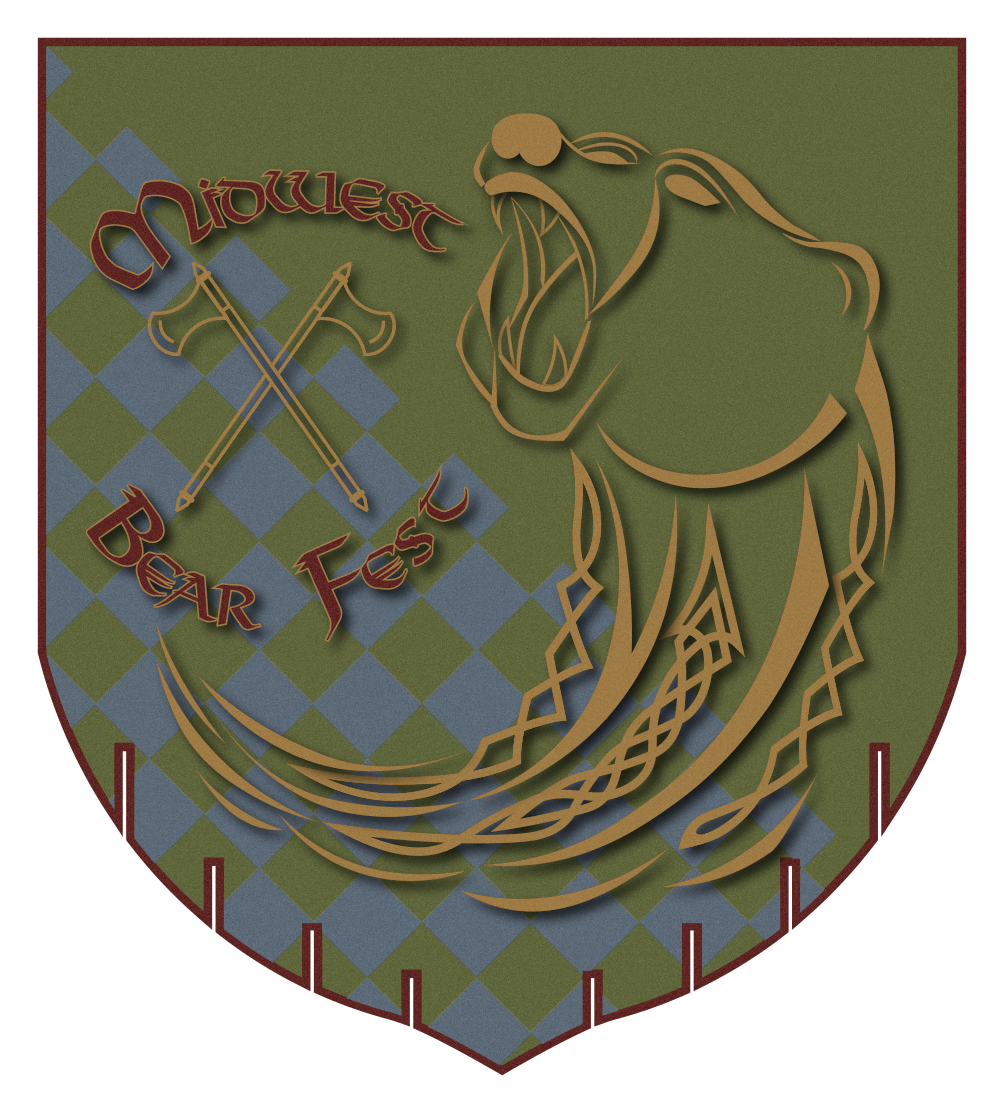 Hear Ye! Hear Ye!
The owners and operators of Serenity Valley Farm in Fremont, MI will be holding a festival on October 8th-10th this year, 2021. You WON'T want to miss this.
"Last year was an unexpected disappointment because the Renaissance Fairs were closed—that's when we suggested that we host our own! This coincided with a dream our friend Verum Bear had about our farm hosting an event he called "the thousand bear migration.

"The more we thought about it, the more excited we got. So, essentially, us and a handful of happy Bears are throwing a Renaissance themed networking-connecting-camping and family-focused festival!

We have hosted a lot of bear parties and events but to host one on this scale is daunting.

There are a lot of moving pieces and parts but this is an event we would want to take our kids to and we think we have the place and the panache to pull off a big one!

Bears should connect!

"Support what you love, or it goes away."

In support and love for the bears, this is a way we can facilitate a greater community function and also have a LOT of fun.

We want to put emphasis on the fact that this is a family focused event, not just family friendly.

This is for all bears but especially those with kids.

It's hard to find good events that you can take your kids to, so it's really important to us that it's easy for parents to bring their kids along and that they have a great time."

Click The Link Below To See More!
Details. The event spans three (3) days: Friday 8th, Saturday 9th and Sunday 10th. There will be a market bazaar where vendors of goods or services could allegedly sell/trade/barter their wares.

Entertainment and Attractions
LIVE MUSIC
We are organizing live music to be played throughout the afternoon and evenings.
      FOOD
There will be food trucks/trailers and vendors who have food available.
          SKILLS
We are organizing skills training/learning sessions for people who want to share their knowledge or teach (i.e. leatherworking). Sign ups will be first come, first serve on the days of the Fest.
              COMPETITIONS
We want to host several competitions: a mens homestead games; a shield painting competition, costume contest, and a legitimate Catan Tournament.
                    5K RUN
We are also figuring out a track to do a 5K run on Friday Morning (Start Time TBD).
                        PETTING ZOO
No farm bash is complete without a bunch of cute, pet-worthy farm animals!
                            HAY RIDES
Also, there are talks with the Amish neighbors about doing hay rides.
                                AXE THROWING & ARCHERY
We will have axe throwing and an archery range set up.
                                    KIDS CAMP
We want to have a kid's camp, with crafts and activities and adventures.
                                        SEED EXCHANGE
We would like to do a seed exchange if we can get it organized.
                                               SLOT CAR RACES
Some of our family members sell toys and will be a vendor who also does toy demonstrations and (potentially) setting up a slot car race track.
                                                  HORSE RIDING
Talks are underway with a ranch in a neighboring town about coming and sponsoring horse riding during the event.
                                                      MINISTRY
There will also be a ministry tent when people can go and get prayed for or ministered to if they wish.
                                                          FIREWORKS
We were contacted by the one and only AJ Rhino Bear about doing fireworks one of the nights, much to be excited about!
                                                                FIREARMS
Potential firearms safety instruction for beginners. (TBD)
Who to contact if you want to help out?
We have a few bears who have stepped up to take leadership for a few of the different roles:
Michelle – Director of Music and Food vendors – can be contacted on telegram

Angela – Vendor Director and Coordinator

Scott – Security Director

Cameron – Director of Photography

Katy – Petting Zoo Coordinator

Benediction by Benediction Bear on Sunday

How Much Is It?
Now this is a ticketed event, we can't afford everything out of pocket. We would if we could, but we can't (purchase tickets here) We wish to include as much as we can in the ticket cost so it's economical to everyone. It is to cover costs to throw this party! So the petting zoo is included, kids camp is included, the live music is included, the skills training is included!
Tickets are $30 for adults and children of the realm are FREE. There is also a $10 fee if you wish to enter the Catan Tournament. There are a limited # of Tournament entries available so Get Your Tickets HERE
Now because it is a multiple day event so we are talking to a nearby camp ground about hosting our people for a discount or if we can rent the campground for the weekend. Extra campsites have not been locked that in yet so we are thinking about letting people camp here if they want/need to. This is still in the works so check back to our website for details as they unfold! Logistics, Folks! There are several nice hotels nearby that also would work for accommodations and we are attempting to get them to offer a discount for our group if people decide to stay there.
Everyone who has come forward to help so far has been awesome and had a lot of great ideas! We definitely need all the support we can get to make it the best it can be. It will be worth the drive. We really just want to bless people and help people get connected! Good things happen when Bears get together.
Thank you again so much! Please feel free to reach out if you have questions or would like to be a vendor or volunteer.
Connect on Beartaria Times App!
General Information:
(BirthAlchemyBear, Camera Bear, HankBear, WesternRangerBear)
If you're interested in coming as a musician/group, contact:
(on Beartaria Times App) AngieBear or clearandpresent bear
or Email: SVFBearfestVendorsAndMusic@outlook.com
https://www.instagram.com/serenityvalleyfarm2019/
Serenity Valley Farm Website: www.serenitvalleyfarm2019.com
For inquiries about coming as a vendor for food or sales: Connect and Apply by contacting
Onward!